Wondering what to serve with tacos? Here's a collection of recipes that are the perfect side dish for your next taco dinner. Whether you're planning a taco bar party with friends or doing a simple taco dinner at home for your family there are plenty of options including salsas, dips, rice, beans, veggies and more! Plus some ideas for drinks, both cocktails and non-alcoholic. We've also included some easy dessert ideas that go with tacos to finish off your meal.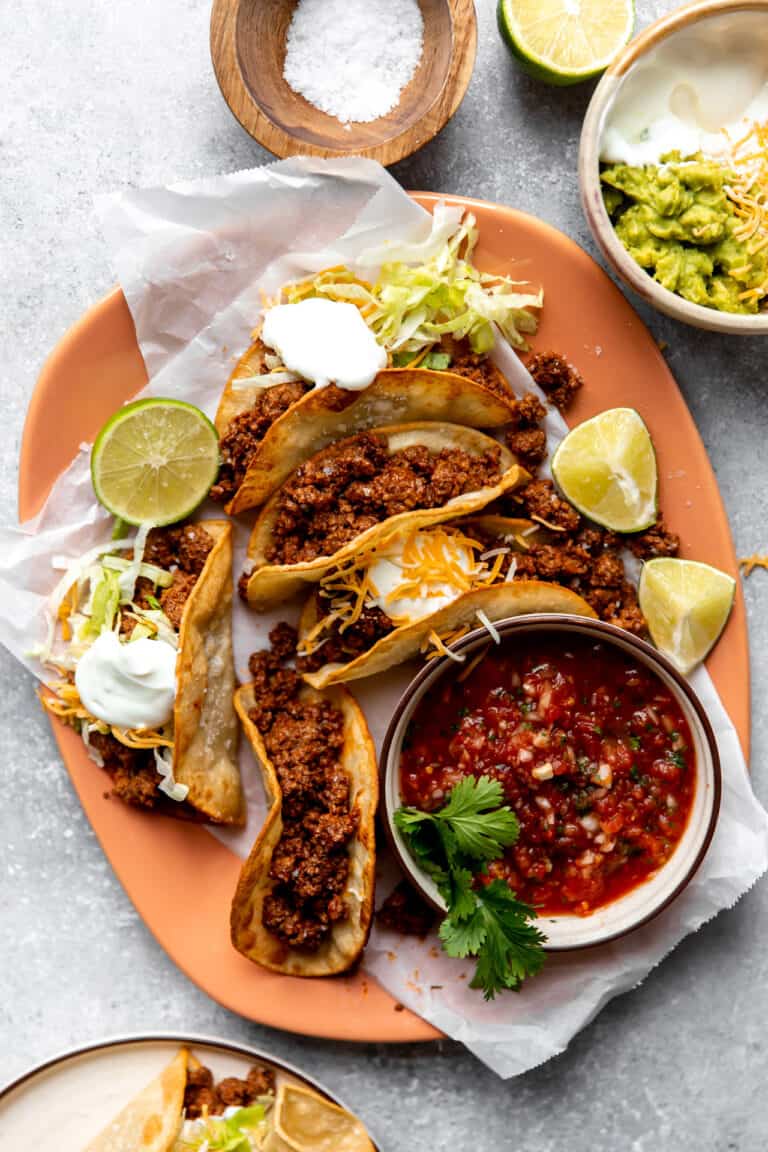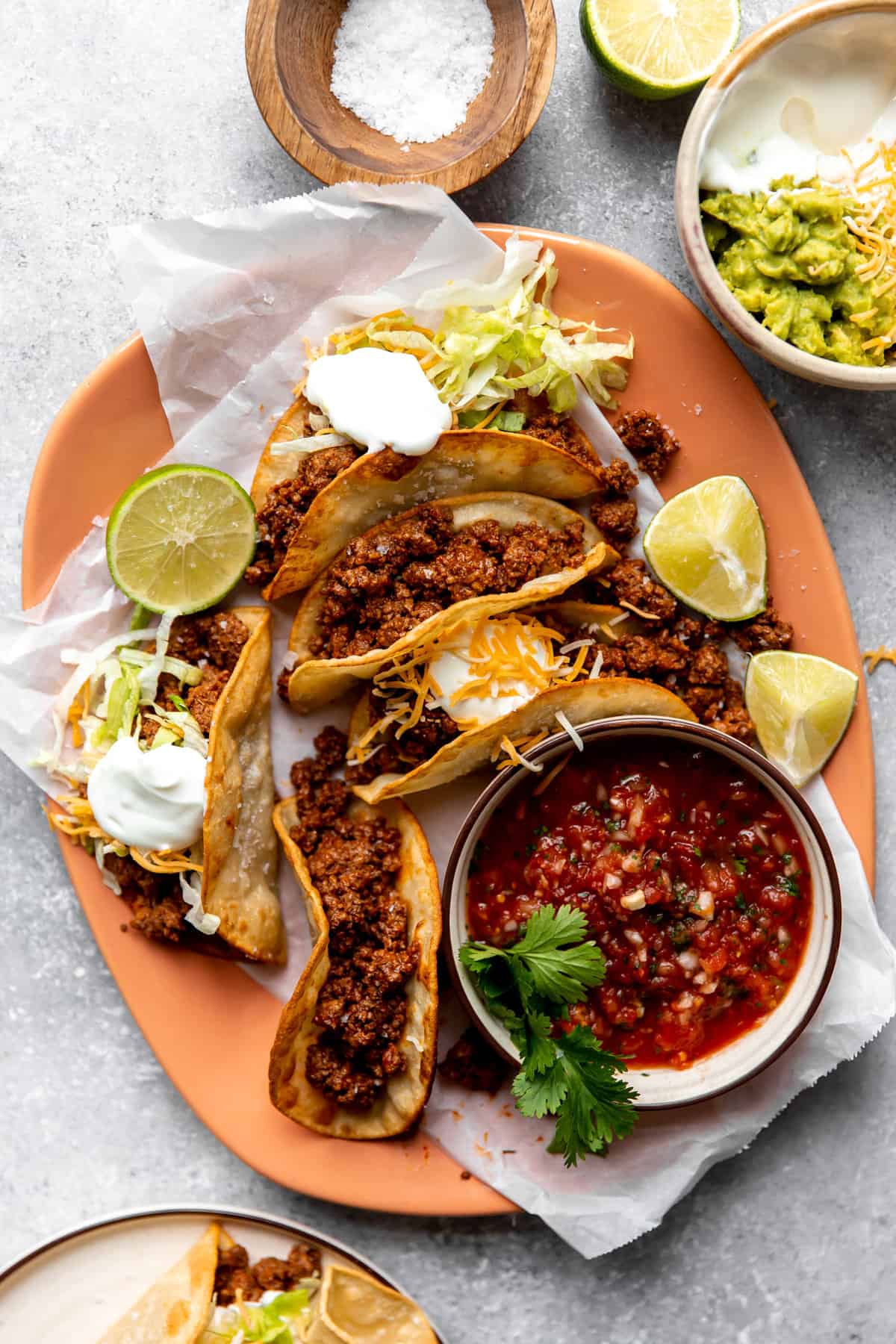 There are many options for side dishes when planning a taco dinner. Sometimes what you want can depend on which type of taco you are making, if you're using beef for Birria, carne asada, or simply ground beef. You might be using pork to make carnitas, or using seafood like fish or shrimp. Classic side dishes include rice and beans. While sometimes it's nice to have a fresh vegetable option to serve alongside the tacos, especially with fish tacos!
Bean Side Dishes: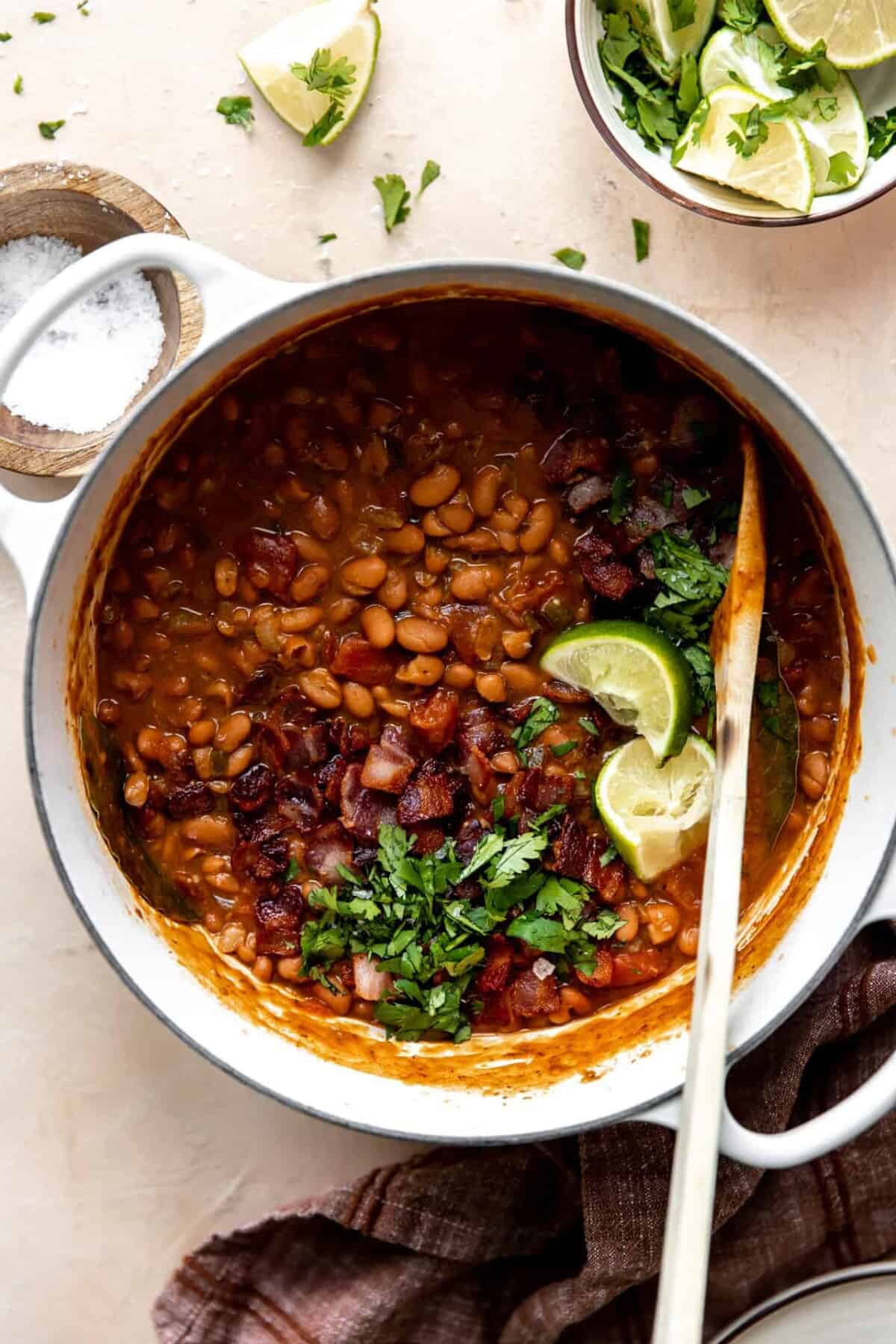 Beans are a great side dish for any taco meal. They are inexpensive and easy to make. Authentic refried beans are the most popular version, however the Borracho beans and charro beans are more commonly served in most Tex Mex restaurants in Texas. For a healthier alternative the Refried Black Beans are a nice option and pair wonderfully with the cilantro lime rice.
Rice Side Dishes: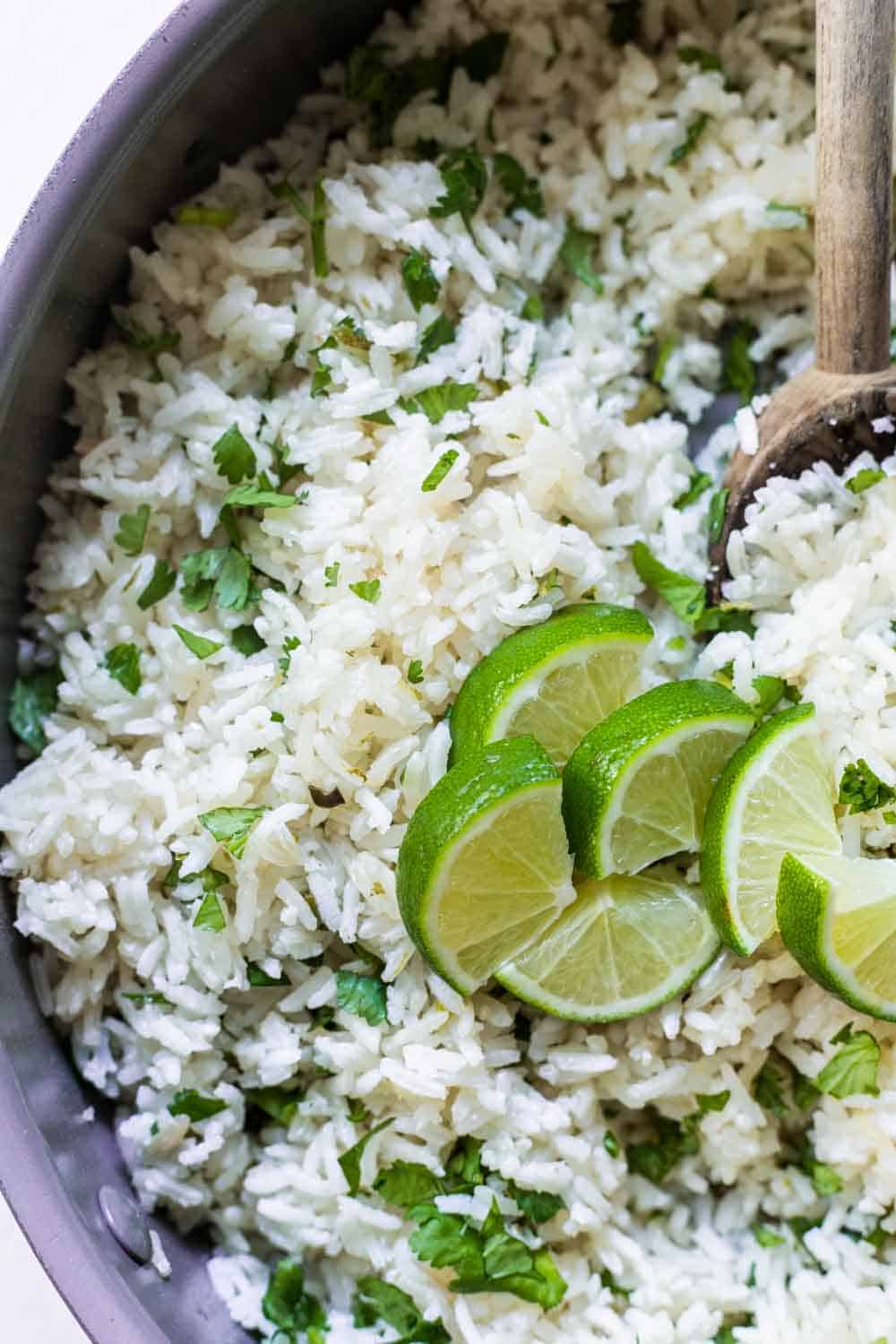 Rice is a wonderful side dish for tacos, there's a reason why it's a classic. Plus there's lot of options when it comes to flavoring and seasoning your rice. I love serving the classic Mexican Rice when I'm serving ground beef tacos. Cilantro Lime Rice is my favorite when serving Carne Asada tacos since it pairs nicely with the flavors of the marinade. It's also a wonderful pairing for the lighter flavors of fish and shrimp tacos. The green rice (arroz verde) is a nice match with carnitas tacos.
Sides that aren't rice and beans: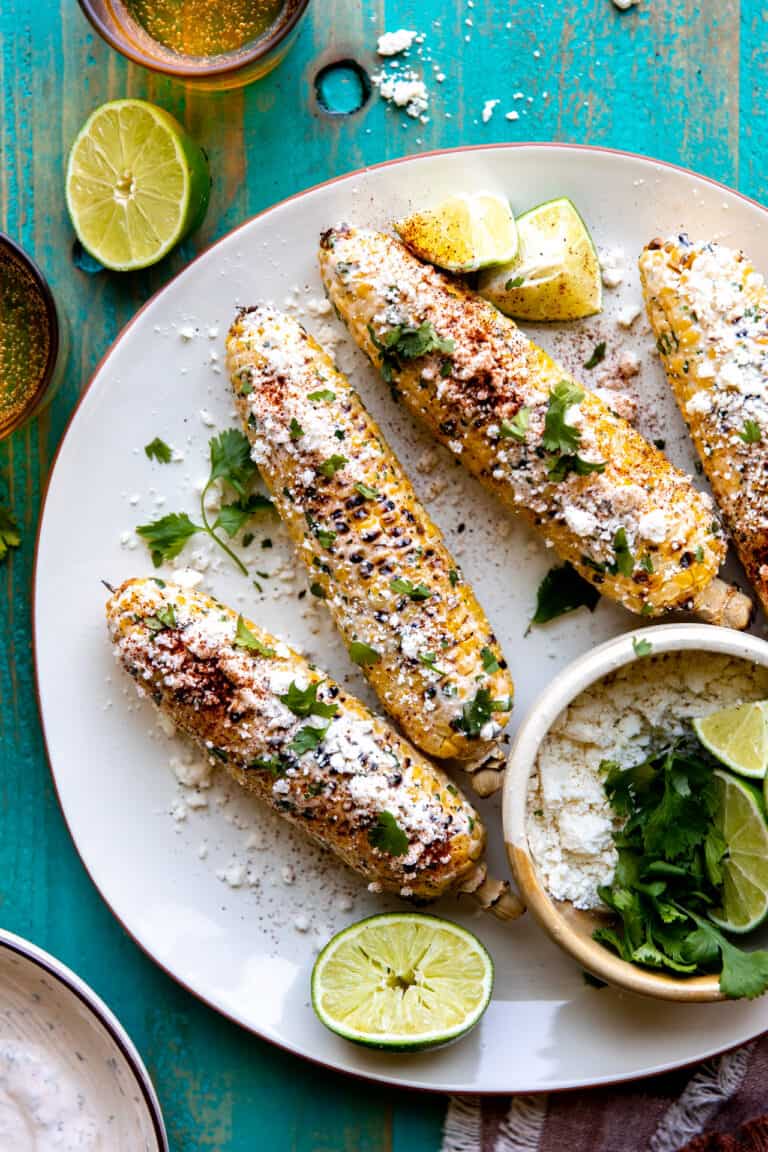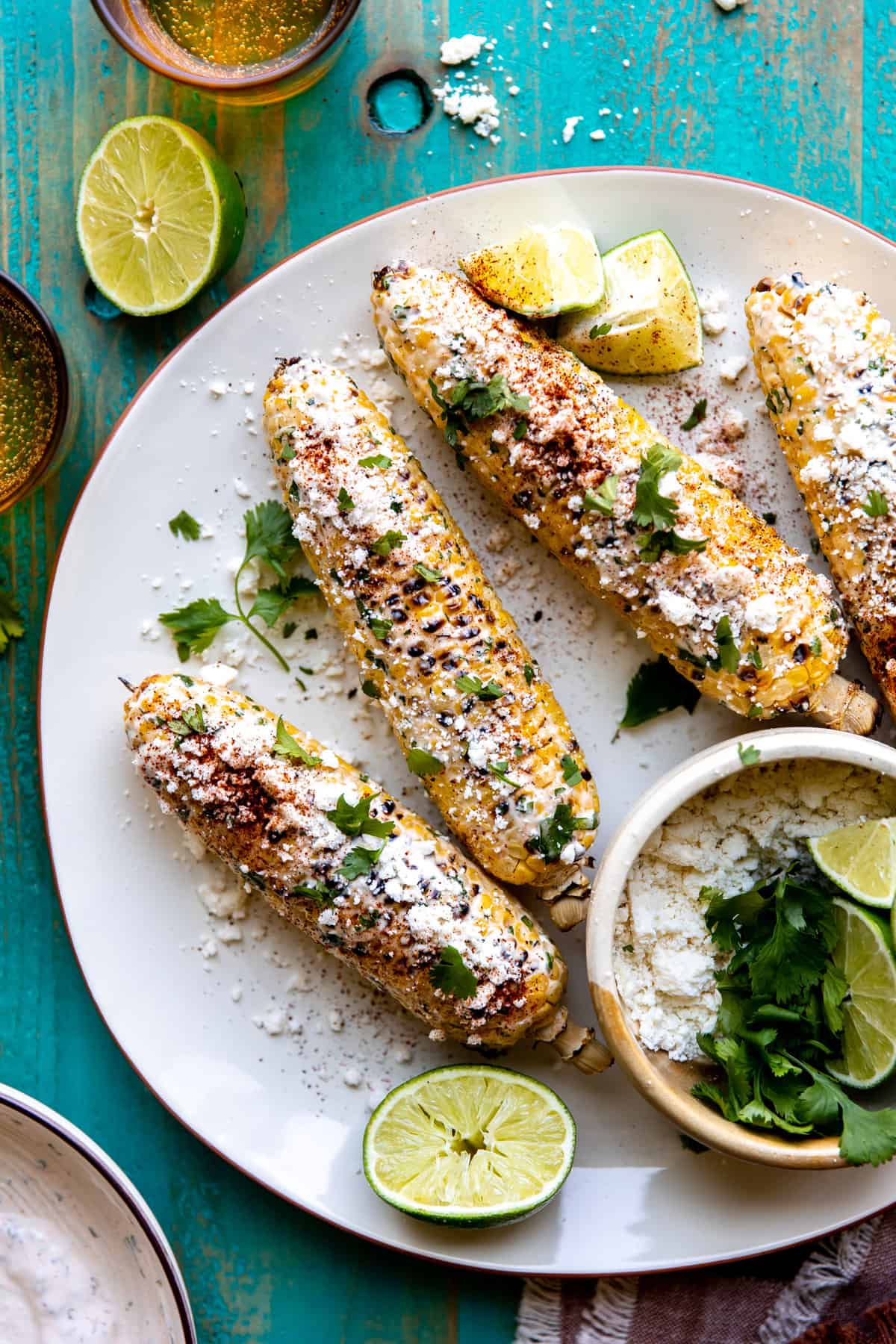 Sometimes you want something different. Some side dishes that go with tacos that aren't rice and beans include grilled veggies, salads, grilled Mexican Street Corn, or Street Corn in a Cup (Esquites), and Roasted Tex Mex Potatoes. Another fun idea is to take an appetizer, like the Queso Fundido and serve it on the side with some chips.
Drinks: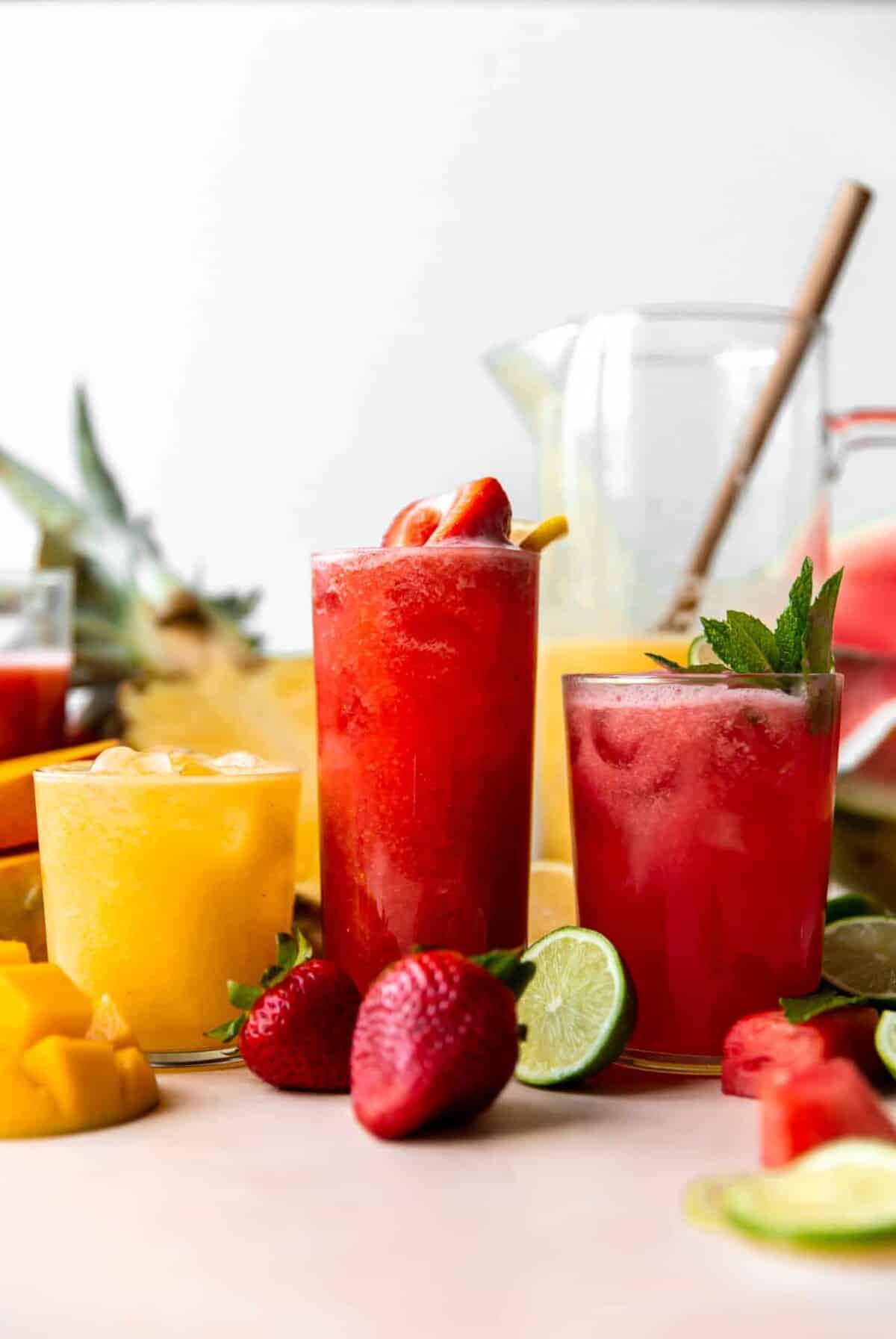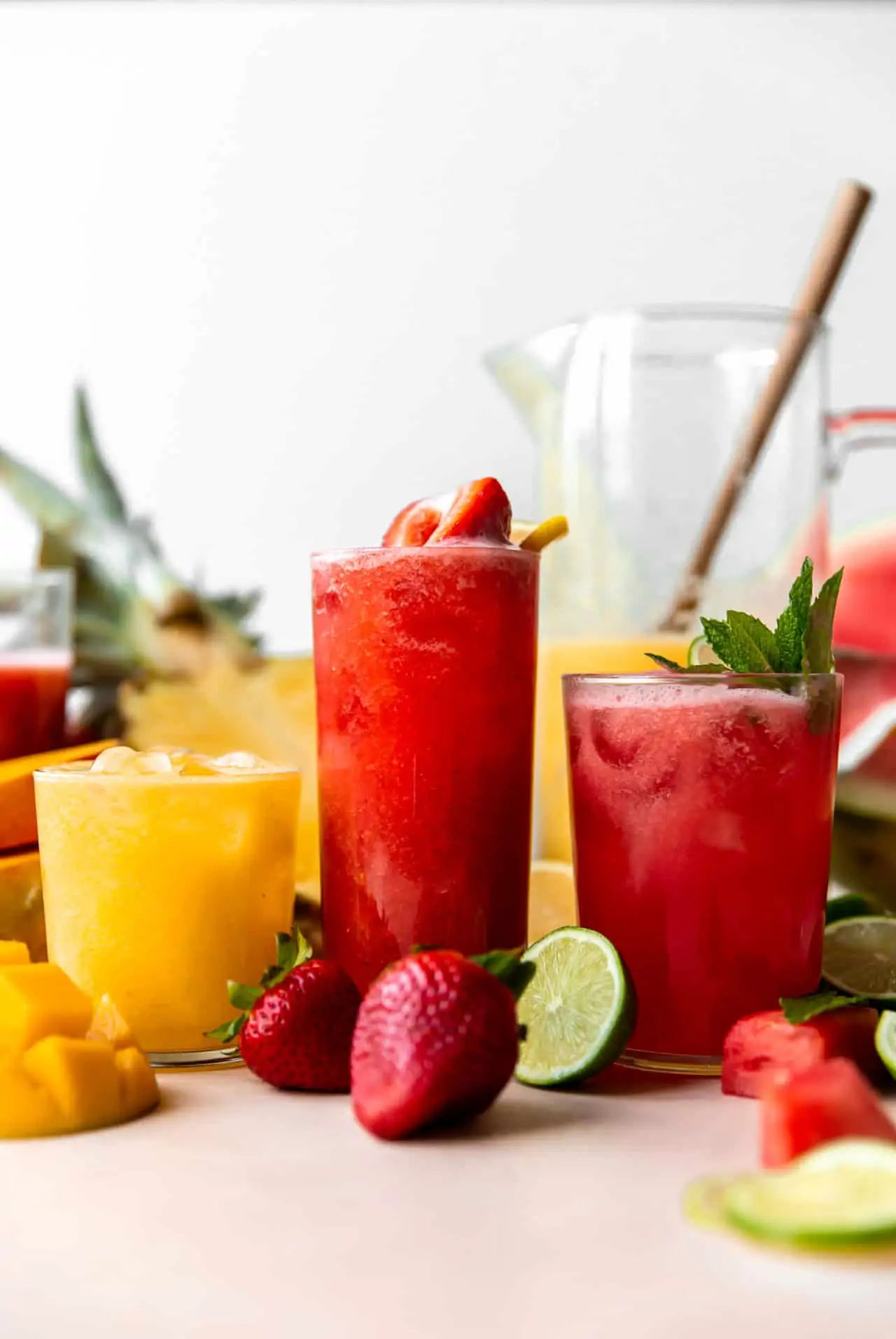 These flavorful and refreshing drinks are the perfect match for your taco dinners. Non-alcoholic options such as the agua frescas and horchata are always crowd pleasers. While those who enjoy a cocktail are sure to enjoy the frozen margaritas, classic margarita or the fresh grapefruit palomas!
Chips & Salsas: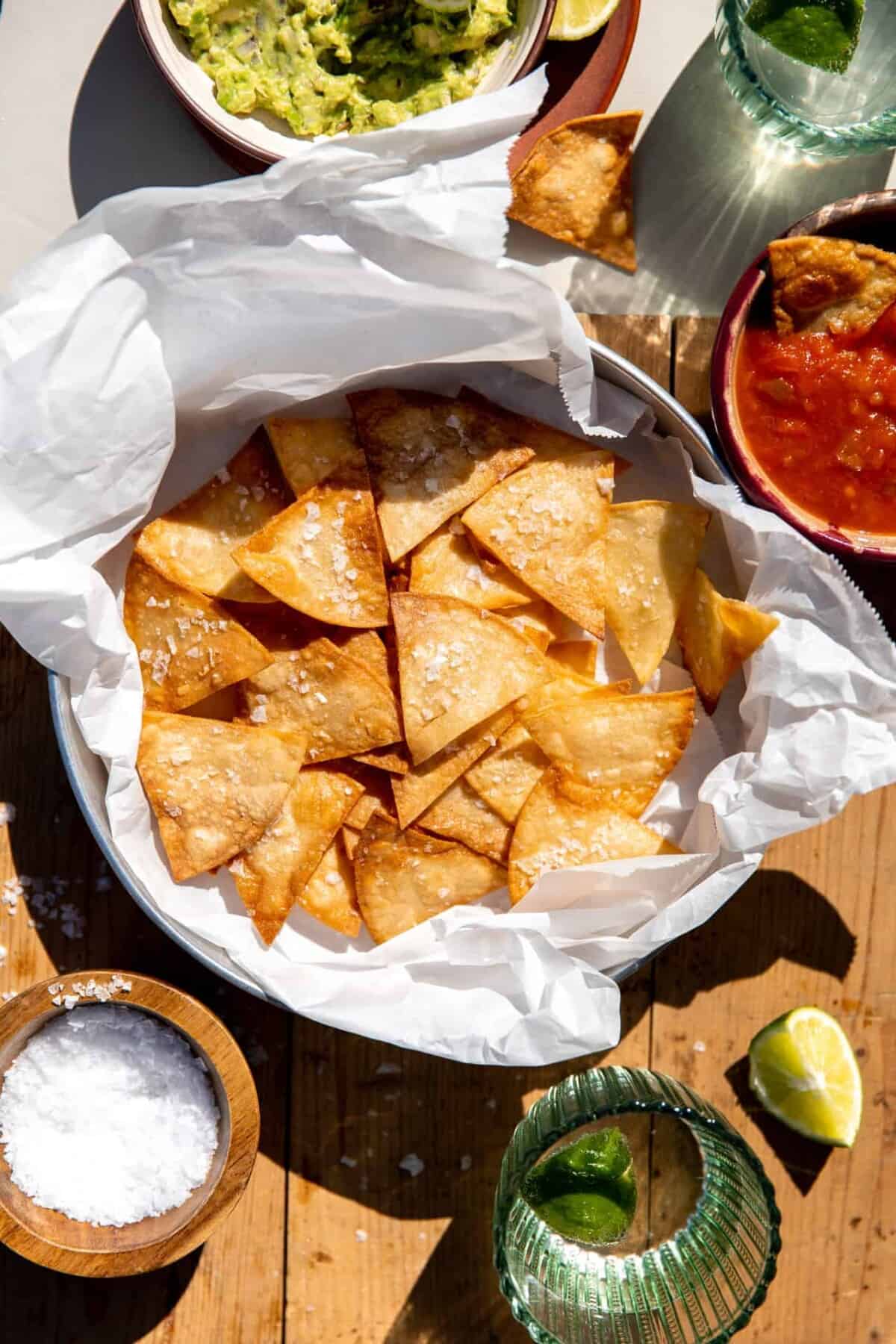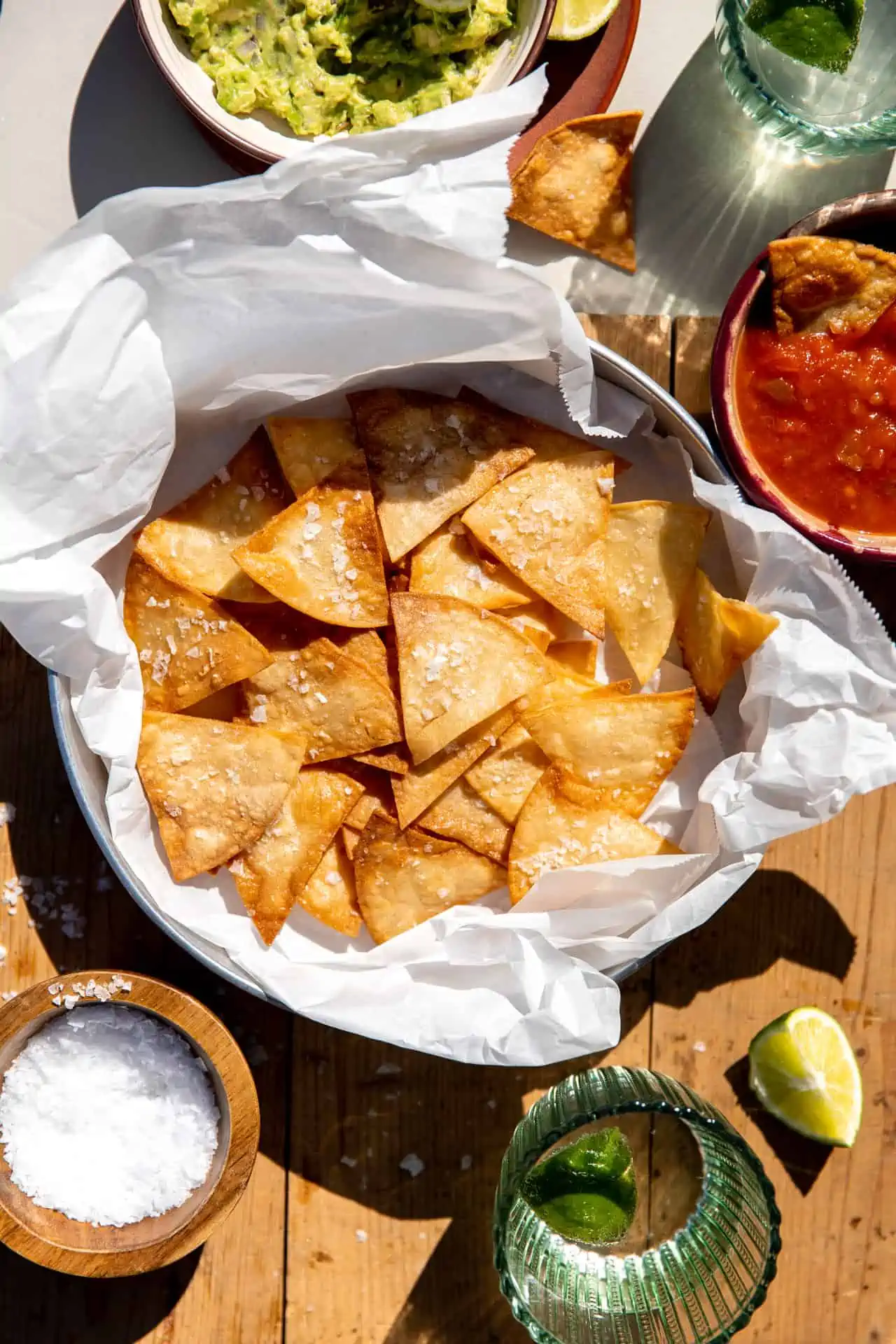 Chips and salsa are a classic appetizer or side to serve alongside any type of taco. The fresher options are perfectly paired with fish tacos. The Texas Caviar makes a great addition to the taco itself, or can be served as a dip or side dish. It's loaded with fresh flavors and is dressed with a cilantro lime vinaigrette making it a fun bean salad option.
Easy Desserts: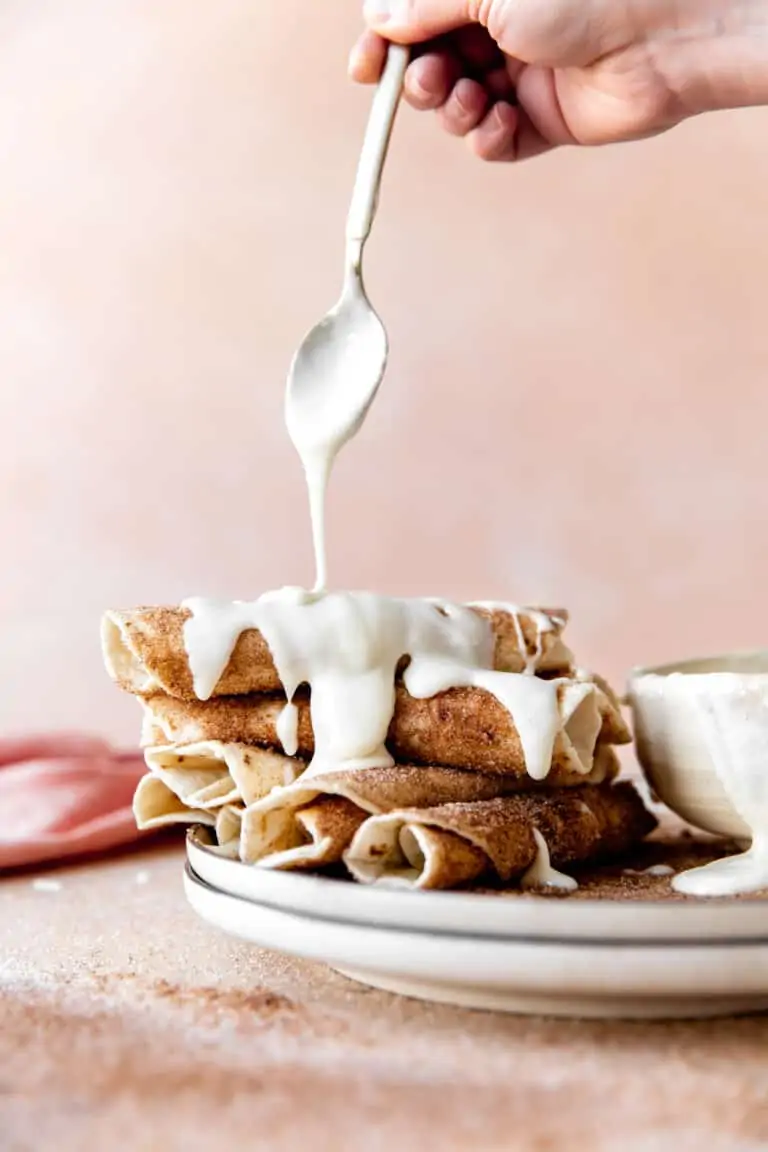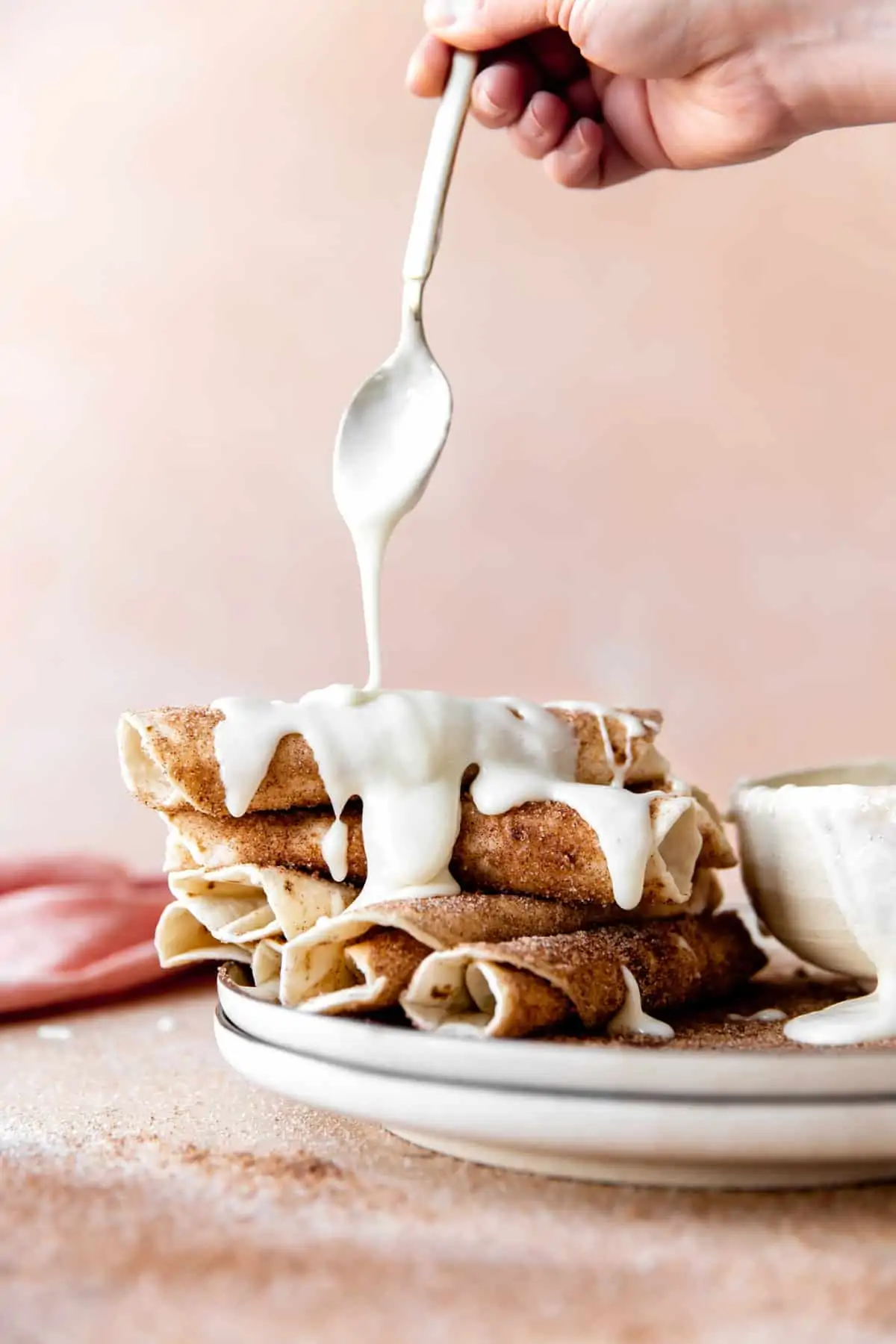 If you're looking to complete the meal these are some fun, easy desserts that pair perfectly with any Mexican or Tex Mex meal of tacos. Fresas con crema and the Cinnamon Tortilla roll-ups are nice for family meals, while the sopapilla cheesecake bars and Churro Cinnamon Squares are perfect if you are serving a larger group. Of course, you can always adapt the recipes if needed to meet your serving needs!
Do you have a favorite side dish that goes with tacos?!
Please be sure to snap a picture of the wonderful Tex Mex or Mexican style meal you prepare for your favorite people and share it on Instagram. Tag us @houseofyumm and #houseofyumm so that we can see it!