Crispy, Tex Mex Roasted Potatoes are seasoned with paprika, garlic, onion and a blend of cumin and coriander. Baked until crispy on the outside and tender on the inside, these potatoes are the perfect side dish or appetizer for your favorite Tex Mex meals. Serve with a side of queso for an ultimate snack treat!
All about these Roasted Potatoes…
Looking for a quick and easy side dish to make with your favorite Tex Mex meals that isn't beans and rice? These Tex Mex seasoned roasted potatoes are a great vegetarian, and gluten free option! Crispy skin covering tender, creamy insides, all perfectly seasoned with a mexican style seasoning blend.
Simple & Easy to Make: this dish comes together with just minutes of prep, there's no need to peel the potatoes, meaning you can simply chop, toss and bake. Making this a great weeknight option.
Ultra Crispy outside, tender inside: thanks to baking at a high temperature we are achieving the ultimate texture of the potatoes inside and out!
Ingredients Needed: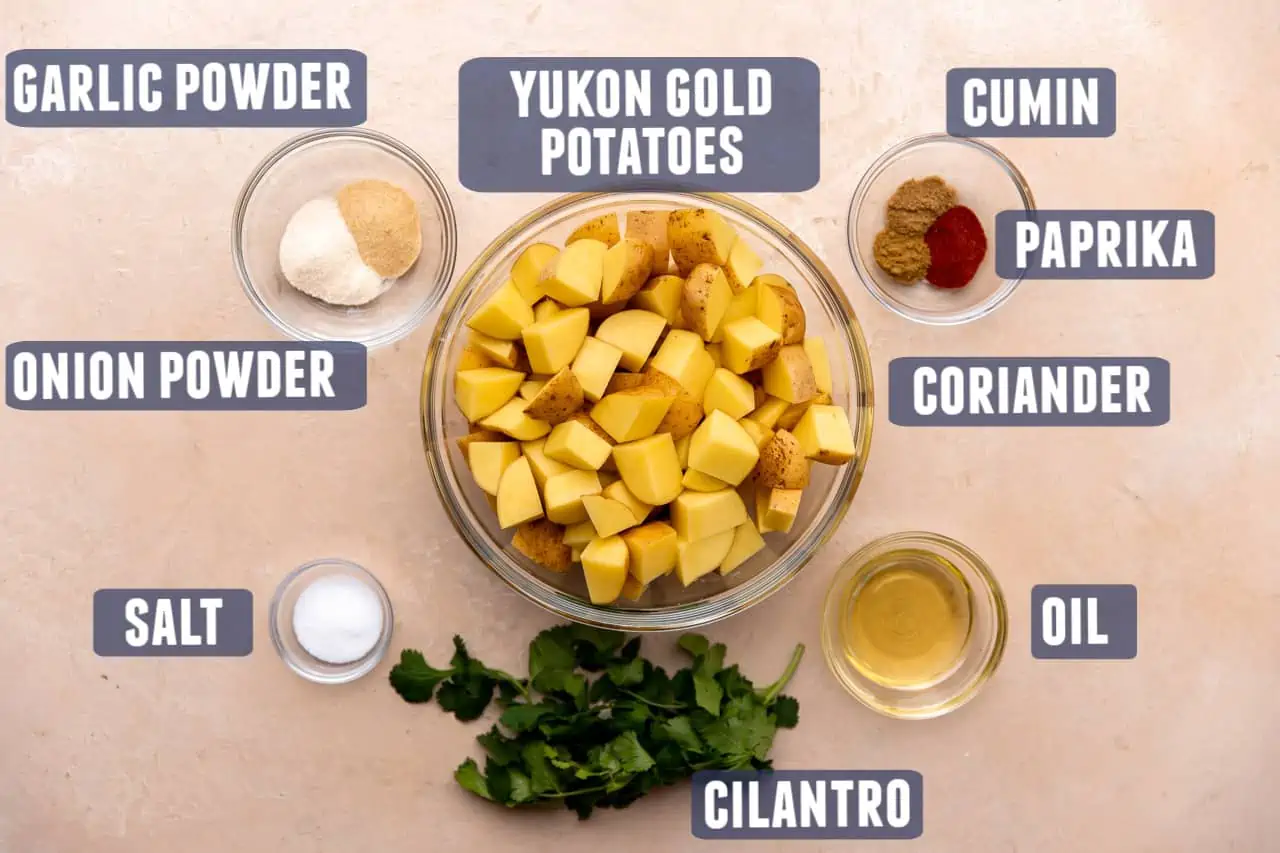 Notes about some ingredients:
Potatoes: use gold, red or fingerling to get a great creamy texture.
Oil: a high smoke point oil with a neutral flavoring like avocado oil or extra virgin olive oil are great options.
How to Make (step-by-step):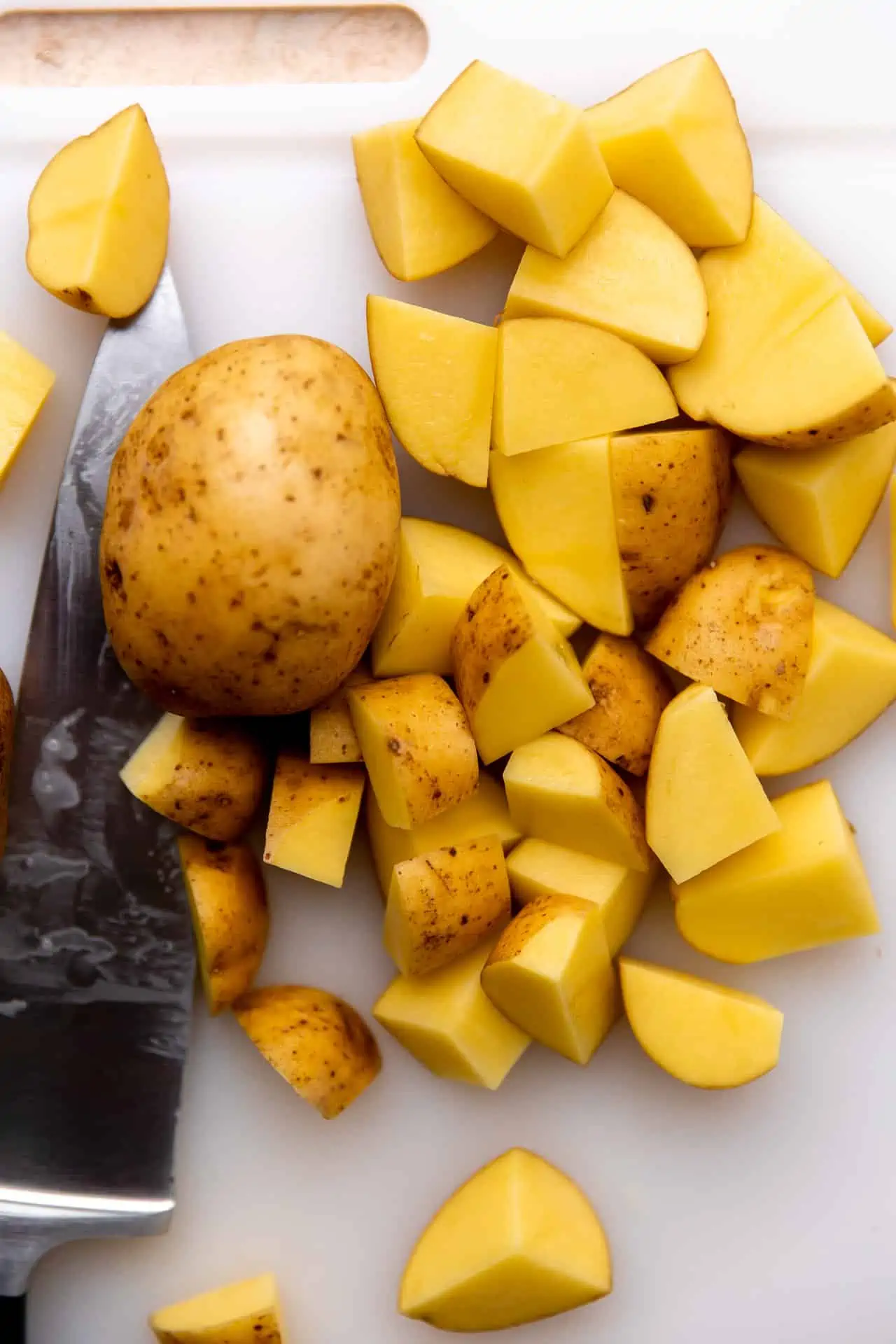 Step 1: Preheat oven to 400 degrees F, we need a nice hot oven to get that outer crisp. Dice the potatoes into consistent size chunks of 1/2 inch.
Step 2 & 3: Combine the seasonings and coat the potatoes with oil then stir in the seasonings.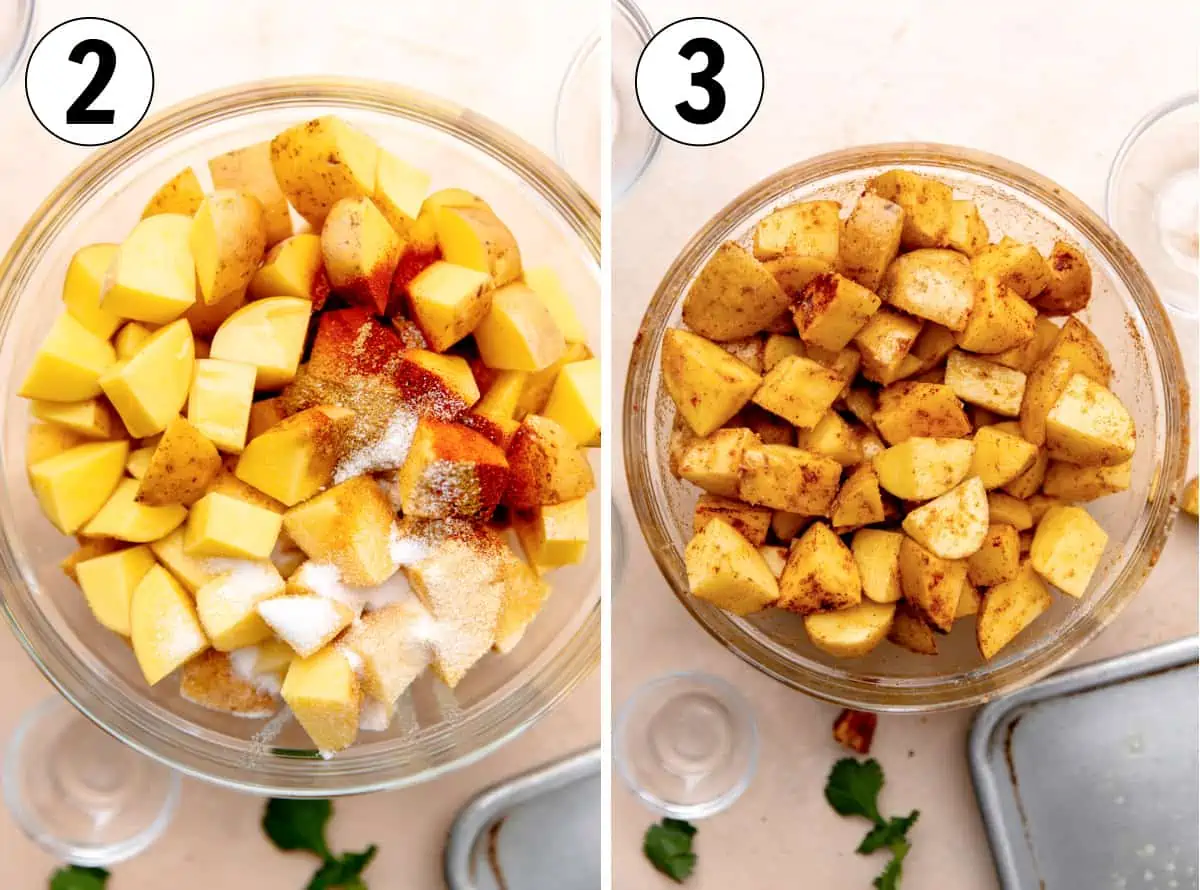 Step 4: Spread the potatoes out into an even layer on a large baking sheet, this helps ensure even cooking across all the potatoes. Bake for 40 minutes, or until crispy on the outside, being sure to flip halfway through baking to get all sides.
Step 5: after baking, toss with fresh cilantro for a burst of fresh herb flavoring and an enticing green coloring.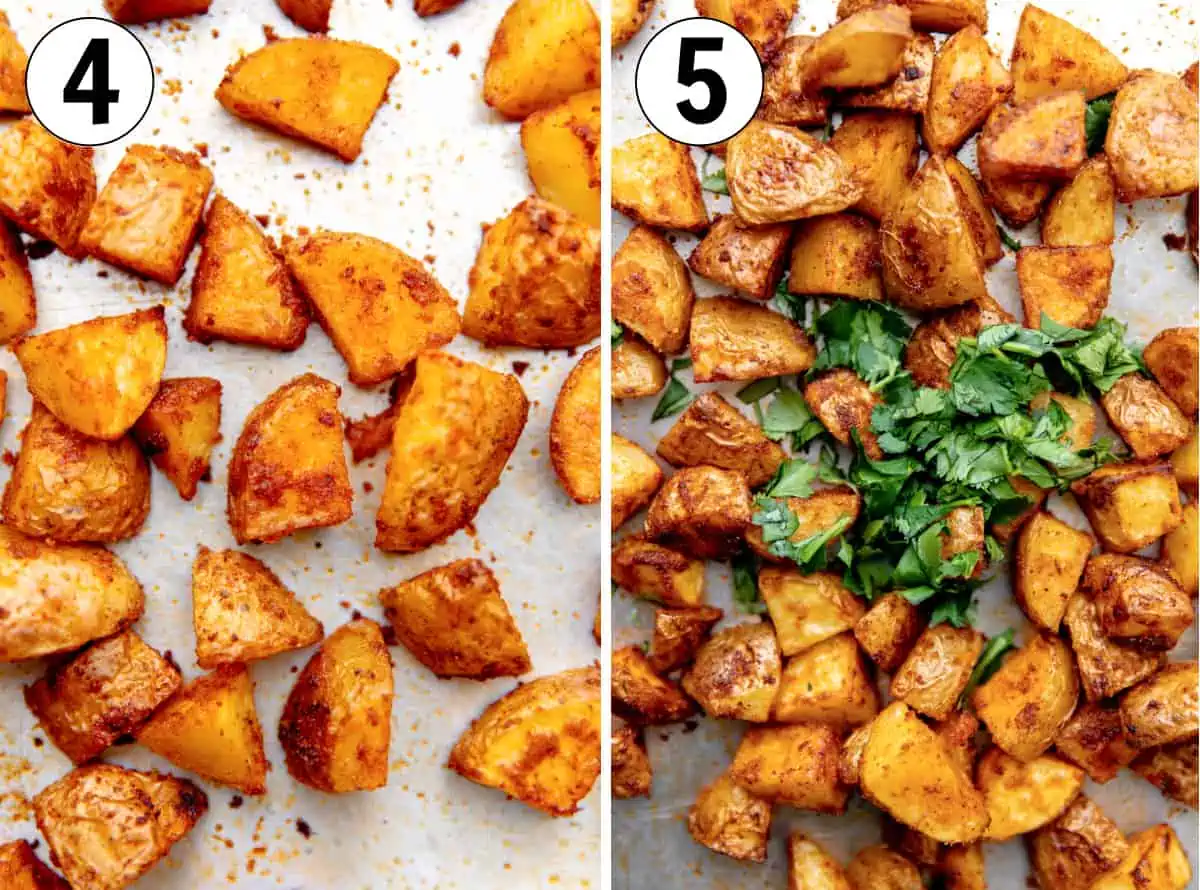 Expert Tips:
Peeling: it is not necessary to peel the potatoes for this recipe. Which makes this even easier to toss together as a side dish.
Serving Suggestions: my favorite way to serve these potatoes is with a side of queso for dipping. Pair these potatoes with any of your favorite Tex Mex meals: Shredded Mexican Beef Tacos, Chicken Enchiladas, Bean and Cheese Burritos, Ground Beef Tacos, or Homemade Crunchwrap Supremes.
Potato Type: You can really use any potato that you have on hand or can get at the market. Although gold, red, or fingerling potatoes are going to bake up with the creamiest texture. Russet potatoes are high in starch, and tend to have a drier texture when roasted.
FAQ's:
How do I make crispy roasted potatoes?
The trick to crisping up your potatoes is ensuring that the oven you are roasting them in is hot enough, but not so hot that the outsides crisp while the insides remain uncooked. 400-425 degrees F is typically a great temperature for roasting potatoes.
Do I need to parboil the potatoes before roasting?
If you are cooking the potatoes the same day then no, you don't need to boil them first. This recipe results in perfectly cooked potatoes. If you are wanting to prepare these potatoes and then freeze them to cook another day, then yes, they will need to be parboiled, then coated in seasonings and laid flat to freeze before adding to a freezer safe container.
What oil is best for roasting?
Use a high smoke point oil with a neutral flavoring. Avocado oil is one of my favorites. Another option would be Extra Virgin Olive Oil.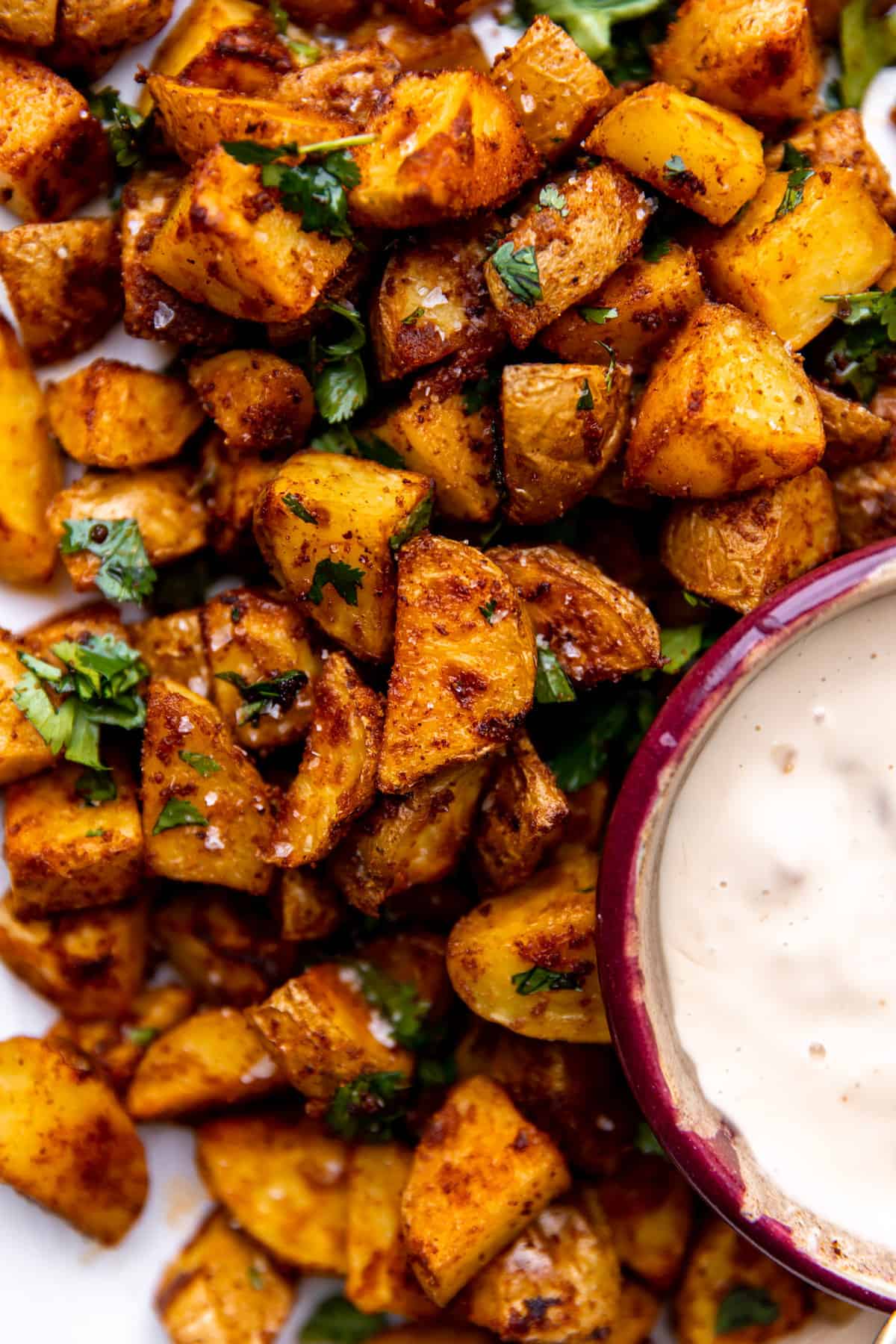 More Tex Mex Side Dish Recipes:
If you tried this recipe please leave a comment and a ⭐️⭐️⭐️⭐️⭐️ rating below! Thank you so much!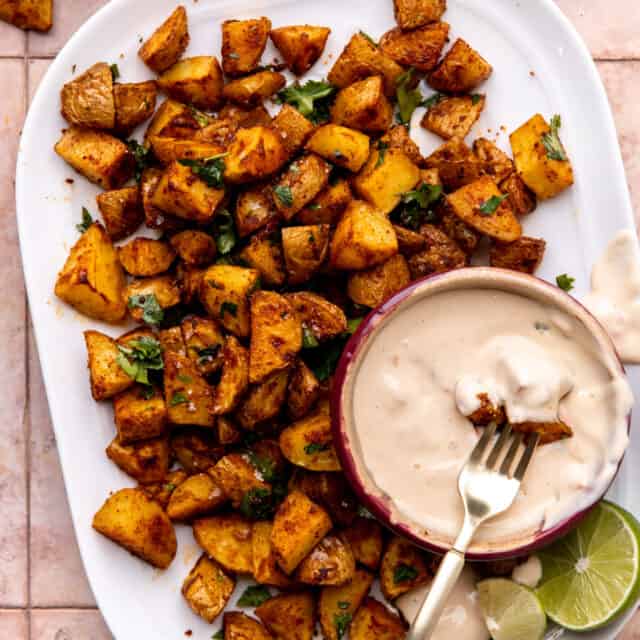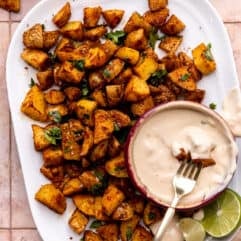 Roasted Tex Mex Potatoes
These Roasted Potatoes are seasoned with a blend of Tex Mex seasonings and fresh cilantro. Baked at a high temperature to ensure crispy skins on the outside and a creamy texture on the inside. This is a great gluten free, vegetarian side dish option to go with all your favorite Tex Mex meals!
Ingredients
1 ½ pounds Yukon gold potatoes
2 tablespoons avocado oil
1 teaspoon salt
1 teaspoon garlic powder
1 teaspoon onion powder
½ teaspoon paprika
¼ teaspoon ground cumin
¼ teaspoon ground coriander
4 tablespoons cilantro, finely chopped
Instructions
Preheat oven to 400 degrees F. Line a large baking sheet with a silicone baking mat or spray with non stick cooking spray, set aside.

Prepare the potatoes by scrubbing and patting dry. Slice into 1/2 inch size pieces (quartered or more depending on the size of the potatoes.)

Place the potatoes in a large bowl, drizzle with the oil, then add the seasonings. Stir to ensure that the potatoes are completely coated in the seasoning mixture.

Spread the potatoes out onto the prepared baking sheet into an even layer making sure to give some space between for even baking.

Bake for 40 minutes, making sure to flip around using a spatula half way through the baking time to ensure even browning. Potatoes should be fork tender.

Remove from oven, then sprinkle with fresh cilantro.

Serve with queso on the side for dipping or drizzling!
Notes
Potatoes: use gold, red, or fingerling potatoes to ensure a creamy texture when roasted.
Oil: use a high smoke point oil, can sub with extra virgin olive oil if needed.
Storage: store leftovers in a sealed container in the refrigerator for up to 3 days.
Freezing: If freezing potatoes to be cooked later, parboil for 3-4 minutes, remove from water and add to bowl of ice water to stop cooking. Pat the potatoes dry then coat with oil and seasonings. Spread out on a baking sheet and freeze overnight, then add to freezer safe bag or container and store for up to 3 months. Remove from freezer and bake at 400 degrees F for 40-50 minutes until crispy on outside and heated throughout.
Nutrition
Calories: 199kcal, Carbohydrates: 31g, Protein: 4g, Fat: 7g, Saturated Fat: 1g, Polyunsaturated Fat: 1g, Monounsaturated Fat: 5g, Sodium: 593mg, Potassium: 742mg, Fiber: 4g, Sugar: 1g, Vitamin A: 155IU, Vitamin C: 34mg, Calcium: 26mg, Iron: 2mg
Photography by the talented @KJandCompany.co
House of Yumm is a participant in the Amazon Services LLC Associates Program, an affiliate advertising program designed to provide a means for us to earn fees by linking to Amazon.com and affiliated sites.