Borracho beans, or frijoles borrachos are flavorful, savory, and the perfect Tex Mex side dish! Pinto beans cooked up with bacon, onion and garlic all simmered in a dark beer for even more flavor.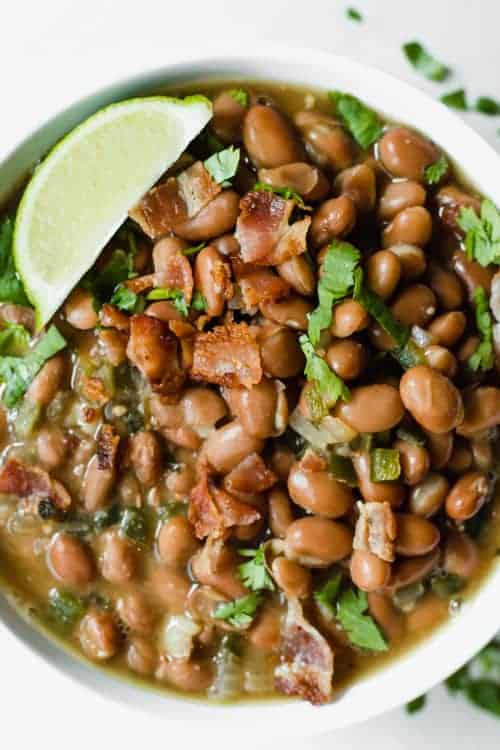 What are Borracho Beans?
Borracho beans or Frijoles Barrachos translates to Drunken Beans or Drunk Beans. These beans are simmered in a dark mexican beer instead of water or broth to help give flavor.
This is a classic Tex Mex side, similar to Charro Beans, which are made without beer and instead are served in a flavorful bean broth.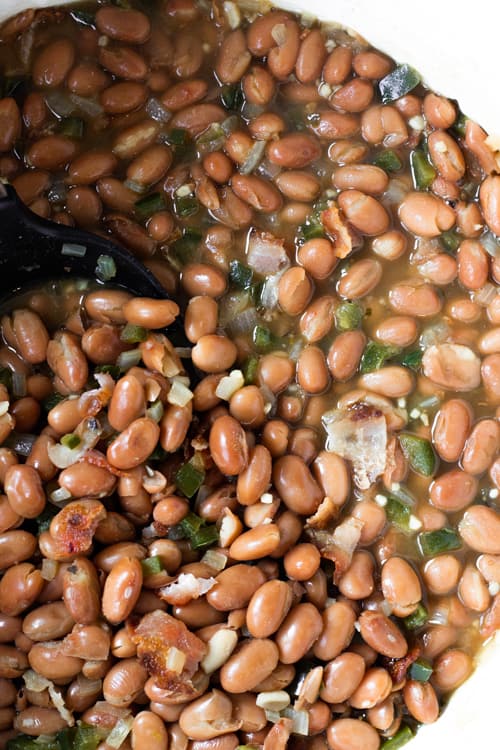 How to make Borracho Beans:
With dry pinto beans:
Soak the beans overnight (1 pound). Pour the beans into a large bowl.
Add water, ensure that there is enough water to cover the beans.
Prepare the beans as directed in the recipe, using an additional cup of liquid (water or broth) and simmer for about 1 hour.
With canned pinto beans:
Cook the bacon to desired crispness. Remove the bacon and the grease, keeping 1 tablespoon of grease in the pot.
Saute the onion and peppers. Add the onion and cook.
Add in the beans. Pour in the beer and seasonings. Let this come to a simmer.
Cook at a simmer for about 15 minutes.
Add the bacon back in and stir. Serve warm. Add a squeeze of lime juice and top with fresh cilantro.
Tips & Tricks for making these Borracho Beans:
You can change up the type of pepper you are using. I like to use Poblano peppers, you can also use jalapeño peppers, or even a Serrano pepper if you want a bit more heat.
Add fresh diced tomatoes if desired. Let them simmer with the beans to soften.
You can use any beer you prefer. A dark beer is going to give a deeper, more savory flavor to the beans. I typically grab a Shiner Bock, y'all know I love to support the Texas brands.
If more liquid is desired, you can add more beer, water, or broth to the pot while the beans cook.
The beer is simmered, meaning the alcohol amount will be reduced. The amount it reduces is determined by how long you allow it to simmer. Please use your own discretion in serving these beans.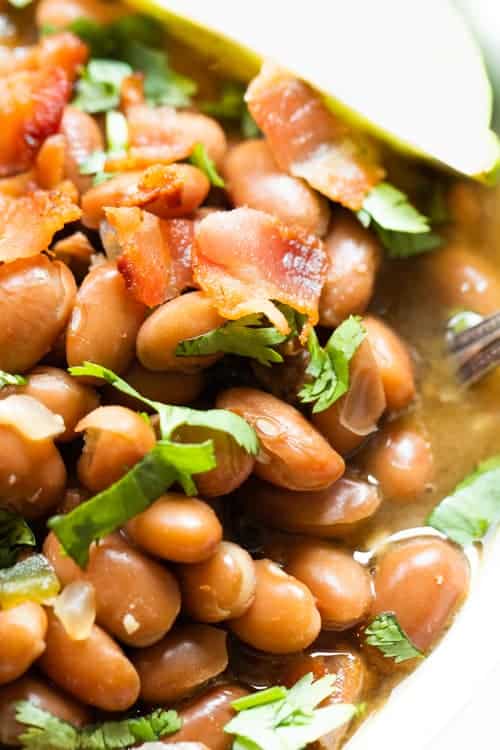 What to serve with these Borracho Beans:
These pinto beans are the perfect side for tacos and enchiladas!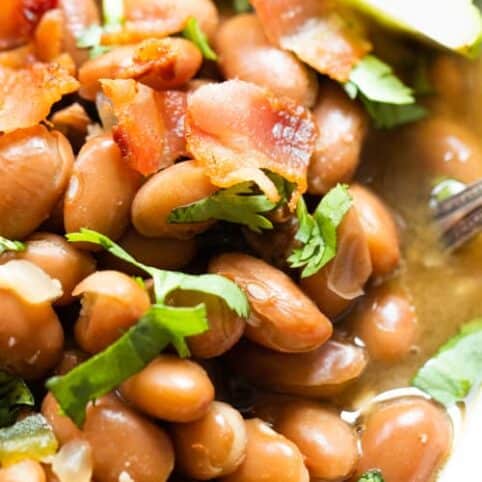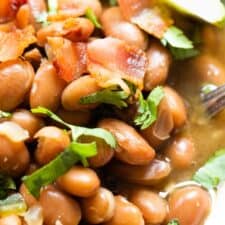 Borracho Beans (Frijoles Borrachos)
Borracho beans, or frijoles borrachos are flavorful, savory, and the perfect Tex Mex side dish! Pinto beans cooked up with bacon, onion and garlic all simmered in a dark beer for even more flavor. 
Ingredients
1 lb pinto beans , notes below on using canned beans
8 cups water
2 bayleaves
5 slices bacon, uncooked
1 jalapeno, seeds & membranes removed, diced
½ cup onion , diced
4 cloves garlic , minced
12 ounces beer, Shiner Bock or Negra Modelo
1 tsp salt
1 tsp ground cumin
1 tsp chili powder
1 tsp dried oregano
1 (14 ounce can) diced tomatoes
Toppings
¼ cup Cilantro, diced
lime juice
Instructions
Soak Beans: Sort through the beans, then pour into a colander and rinse off. Add the beans to a large bowl and cover with water. Set aside to soak for at least 8 hours or overnight. After they have doubled in size, drain the excess water and rinse the beans off.

Cook Beans: Add the beans to a large pot or dutch oven and cover with water, about 8 cups, enough to cover by 2 inches. Add the bayleaves. Bring to a boil and then reduce heat to medium allowing the beans to simmer for about 2 hours. Beans should be tender and cooked through.

Drain: Drain the beans, reserving about 1/3 a cup of the bean broth from cooking the beans, and set aside. Rinse out the pot and wipe dry.

Cook Bacon: Heat the large pot or dutch oven over medium high heat. Add the bacon and cook until crispy. Remove the bacon and set aside. Drain the grease, reserving 1 tablespoon in the pot.

Cook veggies: Add the diced onion and jalapeno. Cook until the onion and jalapeno are soft and tender. Add in the garlic and cook an additional 30 seconds. 

Make Broth: Add in the pinto beans, reserved broth, beer, diced tomatoes, oregano, cumin, chili powder and salt. 

Simmer: Bring to a simmer, let the beans simmer covered for about 15-20 minutes over medium heat. 

Add Bacon: stir in the bacon and diced cilantro before serving.
Notes
*Recipes containing alcohol are intended for those 21 years of age and older only. Please drink responsibly. 
Pinto Beans: recipe can be made using four 14 ounce cans of pinto beans. Skip soaking the beans and precooking the beans. Proceed to step 4 with cooking the bacon. 
Jalapeno: use any kind of Chile you would prefer, poblano will have a milder heat, Serrano would give more heat. 
Beer: use a dark beer, either a Shiner Bock or Negra Modelo. 
Omit the beer: If you don't want to add alcohol, make charro beans instead.
Vegetarian/Vegan Borracho Beans: leave out the bacon and substitute with additional vegetables as desired: bell peppers, diced tomatoes, celery.
To make ahead: Prepare the dry pinto beans by soaking and cooking, then storing in a sealed container 2-3 days in advance. The completed recipe can be made 2-3 days in advance and stored in a sealed container in the fridge. Reheat on stovetop over low heat.
To freeze: Once the beans are cool store them in a freezer safe container for up to 3 months. Thaw overnight in the fridge and reheat on the stovetop.
Nutrition
Serving: 1, Calories: 400kcal, Carbohydrates: 60g, Protein: 22g, Fat: 7g, Saturated Fat: 2g, Cholesterol: 10mg, Sodium: 490mg, Potassium: 1027mg, Fiber: 20g, Sugar: 2g, Vitamin A: 73IU, Vitamin C: 19mg, Calcium: 108mg, Iron: 5mg
House of Yumm is a participant in the Amazon Services LLC Associates Program, an affiliate advertising program designed to provide a means for us to earn fees by linking to Amazon.com and affiliated sites.