Cinnamon Blondies! The ULTIMATE soft & chewy cinnamon blondie! Easy dessert recipe.
These cinnamon blondies are loaded with spicy cinnamon in every bite. Warm and gooey in the center, crackly on top, and dusted with a sprinkling of cinnamon sugar. These bars smell heavenly while baking, and taste even better!
What is a Blondie?
A blondie is basically a brownie. The difference being that a blondie doesn't contain cocoa and is comprised of more brown sugar which provides a rich depth of flavor thanks to the molasses. Plus the moisture from the brown sugar provides blondies a bit more chewiness.
A slight under-baking will ensure that the centers are nice and gooey while still being cooked and safe to eat. I found that baking between 25-30 minutes is prime time for taking these out of the oven. How gooey you want them to be is really up to you and what time you take them out. At 25 minutes you will need to give them some time to cool before cutting since the center will be very gooey. At 30 minutes these bars have more of a solid, almost cookie/cake like texture.
Personally 28 minutes in my oven gave the perfect texture for me.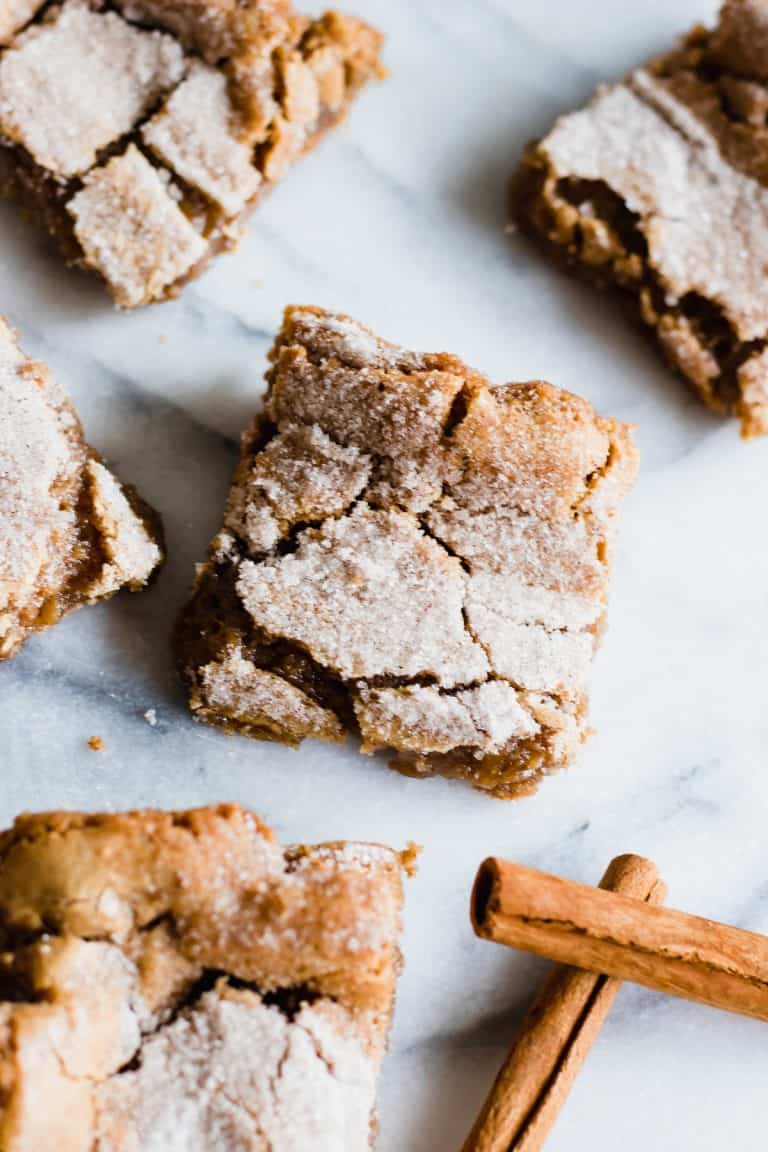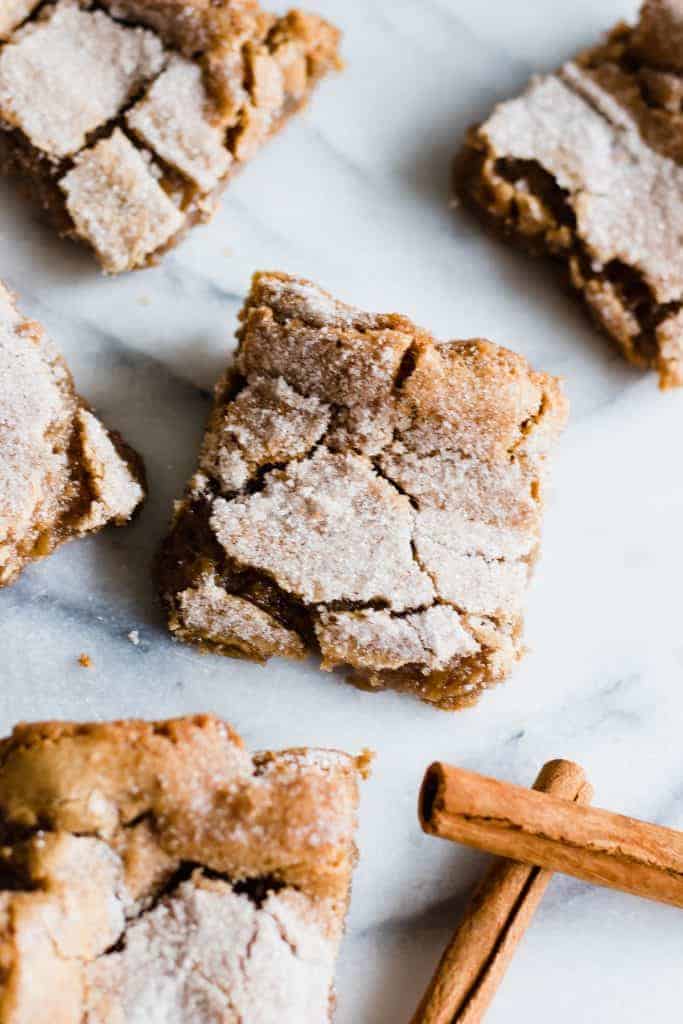 After the bars have cooled and you go to cut into them you will notice the very top of the bars is like a crust. So as you cut the crust will slightly crack, which is absolutely gorgeous!
More Easy Dessert Recipes to Enjoy: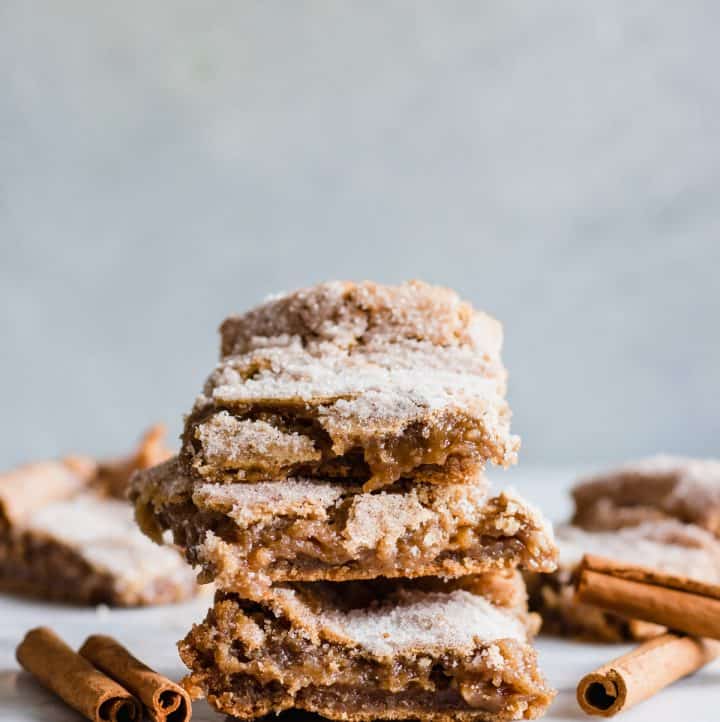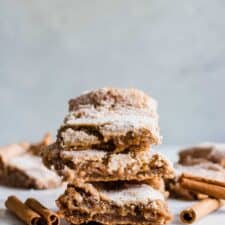 Cinnamon Blondies
Cinnamon Blondies! The ULTIMATE soft & chewy cinnamon blondie! Easy dessert recipe.
Ingredients
1¾ cup all purpose flour
1 tbsp ground cinnamon
1 tsp baking powder
¼ tsp baking soda
2 cups light brown sugar, packed
½ cup unsalted butter
2 large eggs
2 tsp vanilla extract
Topping
1 tsp ground cinnamon
¼ cup granulated sugar
1 tbsp unsalted butter, melted
Instructions
Preheat oven to 350 degrees F. Line a 9x9 baking pan with foil. Grease the foil with baking spray or butter. Set aside.

In medium bowl mix together the flour, cinnamon, baking powder and baking soda. Set aside.

Add the brown sugar and butter to a medium sized saucepan. Cook over medium low to medium heat for about 5 minutes or until melted and smooth. Remove from heat and cool for approximately 10 minutes.

Add the eggs and vanilla. Stir to combine.

Stir in the flour mixture. Spread the batter in the prepared baking pan.

Bake at 350 degrees F for 25-30 mins. Bars will be very gooey in the center at 25 minutes. They will be more cake like at 30 minutes. Remove from the oven and cool in the pan for 5 minutes. Mix together the sugar and cinnamon for the topping in a small bowl. Brush the top of the bars with the melted butter and sprinkle with the cinnamon sugar mixture. Lift the bars out by holding the foil and set to continue cooling on a wire rack.
Notes
Can also be made in an 8x8 baking pan also. The bars will be thicker and bake for about 30 minutes for gooey bars.
Nutrition
Serving: 1, Calories: 235kcal, Carbohydrates: 41g, Protein: 2g, Fat: 7g, Saturated Fat: 4g, Cholesterol: 38mg, Sodium: 67mg, Potassium: 59mg, Fiber: 1g, Sugar: 30g, Vitamin A: 229IU, Calcium: 53mg, Iron: 1mg
Adapted from a recipe in Better Homes & Garden magazine, 100 Best Cookies.
**This recipe has been updated as of February 13, 2018. There were comments that the recipe was turning out too dry for some. The changes in the recipe of reducing the amount of flour and shortening the bake time should prevent any of those problems!
SaveSave
House of Yumm is a participant in the Amazon Services LLC Associates Program, an affiliate advertising program designed to provide a means for us to earn fees by linking to Amazon.com and affiliated sites.