Cinnamon Blondies! The ULTIMATE soft & chewy cinnamon blondie! Easy dessert recipe.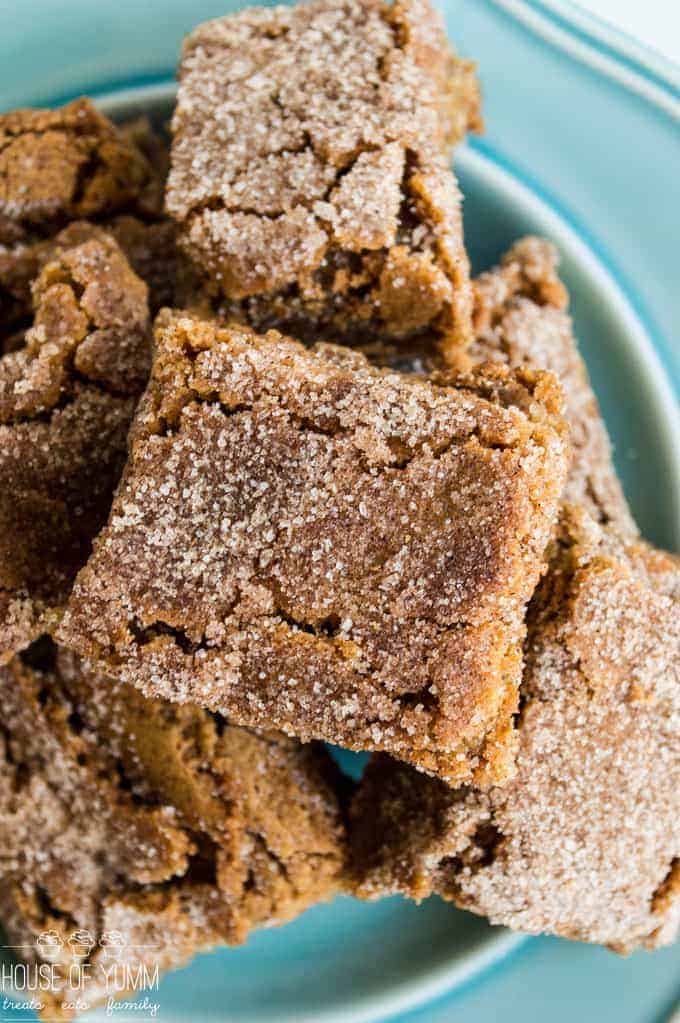 Serious question for you. Do you love cinnamon? I hope you do! Just like the name suggests these chewy Cinnamon Blondies are bursting with spicy cinnamon flavor. If you're wondering, a blondie is basically a brownie. The difference being that a blondie doesn't contain cocoa and is comprised of more brown sugar which provides a rich depth of flavor thanks to the molasses. Plus the moisture from the brown sugar provides blondies a bit more chewiness.<– Nerd Moment 🤓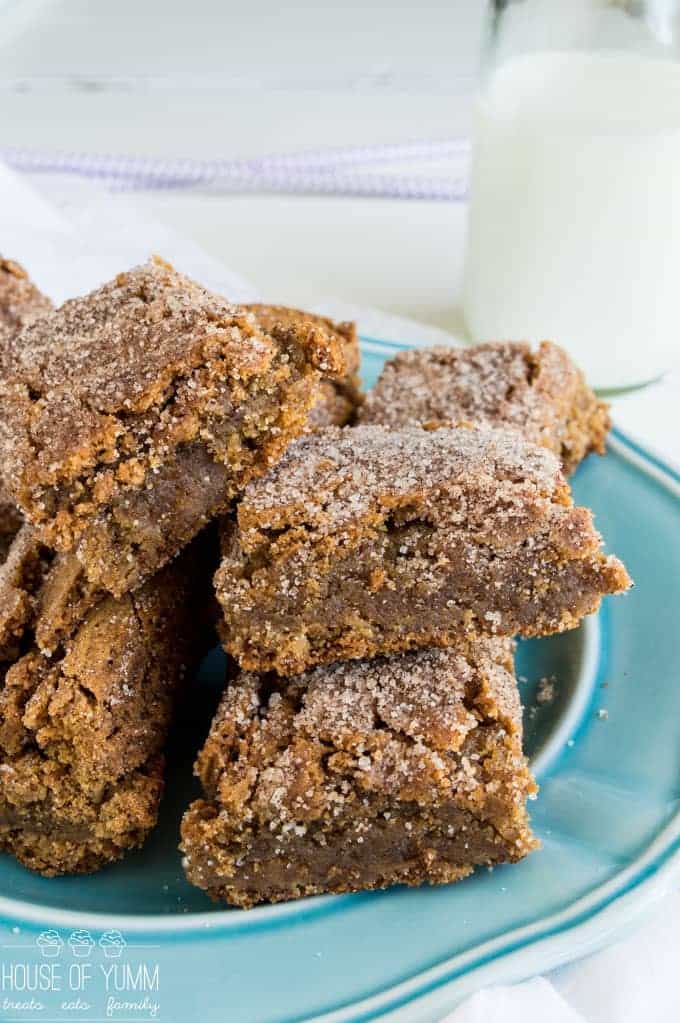 I saw a version of this recipe in a Better Homes & Garden magazine, 100 Best Cookies. The moment I saw them I knew I HAD to attempt them.
These are the epitome of Fall! Is there anything better than the smell of cinnamon filling the house? Possibly eating the treats after. Yea, that's definitely better. If the cinnamon baked into the bars isn't enough for you there's more. A cinnamon sugar topping. Which we sprinkle onto melted butter so it melts into the tops of the bars.
After the bars have cooled and you go to cut into them you will notice the very top of the bars is like a crust. So as you cut the crust will slightly crack, which I think is absolutely gorgeous! 😍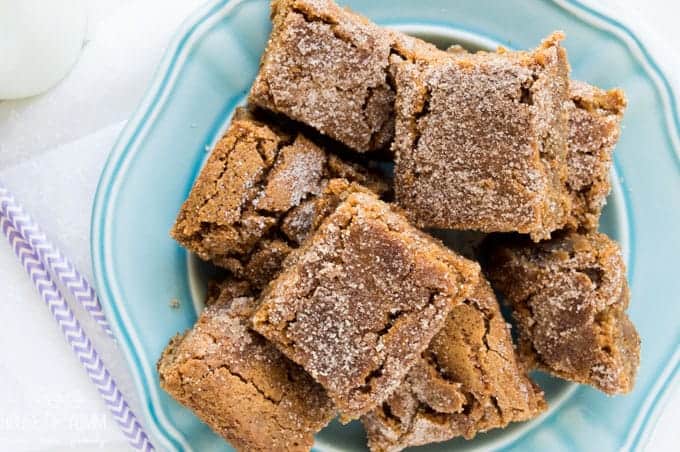 If you love cinnamon I know these will be a huge hit in your house, and with that cinnamon sugar topping no one will be able to resist these!
Follow me on Instagram and tag #houseofyumm so I can see all the recipes you make. And if you want to follow along in my everyday life, find me on snapchat: houseofyumm 💜
Print
Cinnamon Blondies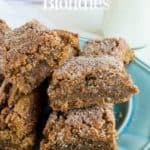 Cinnamon Blondies! The ULTIMATE soft & chewy cinnamon blondie! Easy dessert recipe.
Author:

Serene

Prep Time:

15 minutes

Cook Time:

40 minutes

Total Time:

55 minutes

Yield:

16
Ingredients
2 cups all purpose flour
1 tablespoon ground cinnamon
1 teaspoon baking powder
1/4 teaspoon baking soda
2 cups packed light brown sugar
1/2 cup butter
2 large eggs
2 teaspoons vanilla extract
Topping
1 teaspoon ground cinnamon
1/4 cup granulated sugar
1 tablespoon butter (melted)
Instructions
Preheat oven to 350 degrees F. Line a 9×9 baking pan with foil. Grease the foil with baking spray or butter. Set aside.
In medium bowl mix together the flour, cinnamon, baking powder and baking soda. Set aside.
Add the brown sugar and butter to a medium sized saucepan. Cook over medium low to medium heat for about 5 minutes or until melted and smooth. Remove from heat and cool for approximately 10 minutes.
Add the eggs and vanilla. Stir to combine.
Stir in the flour mixture. Spread the batter in the prepared baking pan.
Bake at 350 degrees F for 40 mins. Remove from the oven and cool in the pan for 5 minutes. Mix together the sugar and cinnamon for the topping in a small bowl. Brush the top of the bars with the melted butter and sprinkle with the cinnamon sugar mixture. Lift the bars out by holding the foil and set to continue cooling on a wire rack.
43