Homemade Authentic Guacamole! Simple, easy, flavorful. The avocado shines in this easy to make guacamole. Perfect for dipping or to put on tacos or your favorite Mexican dish!
This guacamole is:
Addicting!
Perfect for dipping chips into.
Customizable. Make it exactly how you want! If serving several people, offer bowls of diced tomato, jalapeño, lime wedges, and cilantro on the side for people to make it their own.
The best topping for tacos, nachos, and burritos!
Truly authentic. Pure, basic, guacamole. No extra fuss needed.
How to Make Homemade Guacamole
Making homemade guacamole is easy and simple. No fancy equipment is needed for this recipe. Although a molcajete is traditional and makes it quick and easy to mash, a fork will easily mash the avocados also. You want to make sure the avocados are ripe and soft to allow for easy mashing. If the avocados are hard then you may need to wait a few days.
Finely dice: the onion, cilantro and any other ingredients you may be adding (ie jalapeno, garlic, tomatoes).
Mix: In the bowl or molcajete add the onion, cilantro, salt and lime juice. Mash this together and let sit while you prepare the avocados. This allows the lime and salt to work wonders on the onion and cilantro.
Prepare avocados: slice the avocados in half, remove the pit, then dice the avocados while in the peel. I prefer to dice into squares, just a few slices in both directions gives a chunky square dice. This helps create a wonderful chunky texture to the guacamole.
Mash: at this point, add the avocados to the bowl or molcajete with the other ingredients. Mash until desired consistency is reached.
Add tomatoes if desired. I like to do this step last so the tomatoes remain in their nice dice and not mashed.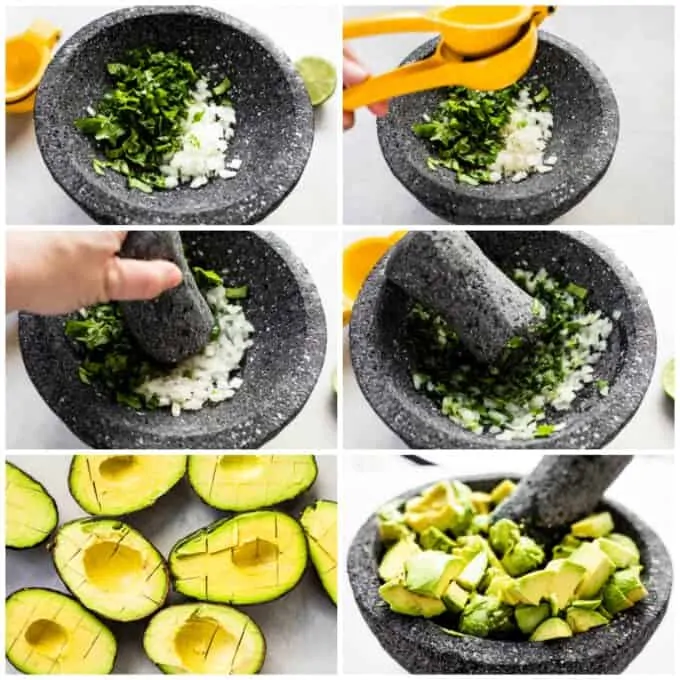 What Ingredients are in Guacamole?
Avocados: make sure your avocados are nice and ripe. You should be able to gently press the avocado and feel a slight give. If the avocados are too hard, place them in a brown paper bag on your counter for a couple days and try again. If your avocados are mushy, then they've gone too far. Try to pick another if possible!
White onion: I love the flavor of classic white onion in this dip. But you can easily swap it out for red onion or even green onion if desired.
Cilantro: diced fresh cilantro (leaves and stems!) adds a fresh herbiness to the guacamole. If you are one of those offended by cilantro, you can leave it out.
Salt: an important ingredient to bring out the flavors.
Lime juice: fresh juice helps add flavor and softens the onion and cilantro in the first step.
Optional ingredients:
Garlic: add some minced garlic in the beginning if desired.
Jalapeno: add a bit of heat with some finely diced jalapeño or Serrano pepper.
Tomato: some diced up Roma tomatoes mixed in at the end add a bit of a juicy texture to the guacamole.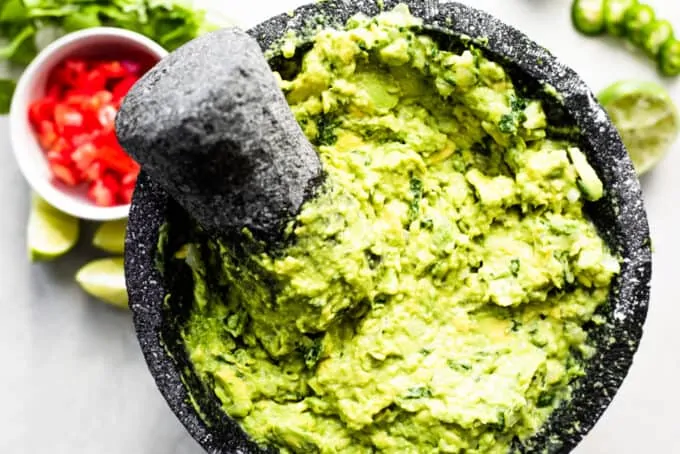 Storage:
Guacamole is best served fresh. That said..
If you need to store leftovers, take some plastic wrap and press it directly on top of the guacamole. Browning occurs due to oxidation. So preventing air directly on the guacamole itself will help prevent browning.
The trick to keeping this green if you make it ahead of time is to place the plastic wrap directly over the top of the actual guacamole.
Press it down so that the guacamole is actually smooshed up against the plastic. This will keep the air off it and keep that green color. Then seal in a container and store in the refrigerator for up to 3 days.
More dips and salsa recipes: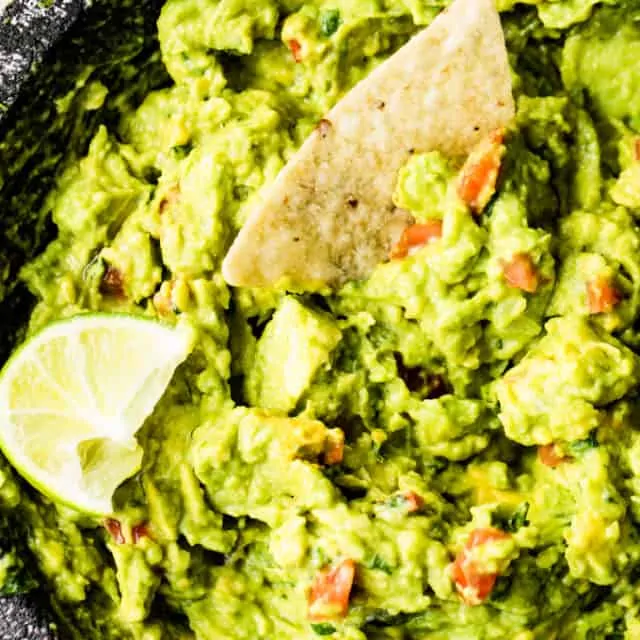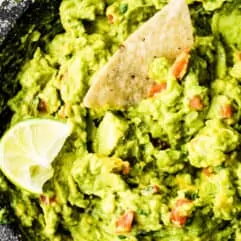 Homemade Guacamole
Homemade Guacamole! Simple, easy, flavorful. The avocado shines in this easy to make guacamole. Perfect for dipping or to put on tacos or your favorite Mexican dish!
Ingredients
¼ cup white onion, finely diced
¼ cup cilantro, diced
½ tsp salt
1 tbsp lime juice, freshly squeezed (approx 1/2 a lime)
4 avocados
Optional Ingredients
1 roma tomato, diced
1 jalapeno, seeds and membranes removed, finely diced
1 clove garlic, minced
Instructions
Add the diced onion and cilantro into a medium size mixing bowl or molcajete. Add the salt and lime juice. Mash together. Let this sit while preparing the avocados. (add garlic and jalapeno during this step if desired.)

Slice the avocado in half, remove the pit. While in the shell dice the avocado into square pieces. Larger chunks for chunkier guacamole, smaller dice for smoother guacamole.

Scoop the avocado out with a spoon, add to the bowl or molcajete. Mash together to desired consistency.

Stir in diced tomato if desired.

Serve immediately.
Notes
Storage: Cover the guacamole with plastic wrap and press it down to completely cover. Store in a sealed container in the refrigerator for up to 3 days. Guacamole is always best served fresh!
Nutrition
Serving: 1, Calories: 166kcal, Carbohydrates: 10g, Protein: 2g, Fat: 15g, Saturated Fat: 2g, Sodium: 153mg, Potassium: 513mg, Fiber: 7g, Sugar: 1g, Vitamin A: 264IU, Vitamin C: 14mg, Calcium: 12mg, Iron: 1mg
House of Yumm is a participant in the Amazon Services LLC Associates Program, an affiliate advertising program designed to provide a means for us to earn fees by linking to Amazon.com and affiliated sites.