The ONE AND ONLY Homemade Guacamole recipe you will ever need!  Never buy store bought again!!  This easy to make creamy guacamole is the perfect dip for chips, tacos, burritos, nachos, anything and everything you can think of! Be careful though, this dip will disappear fast!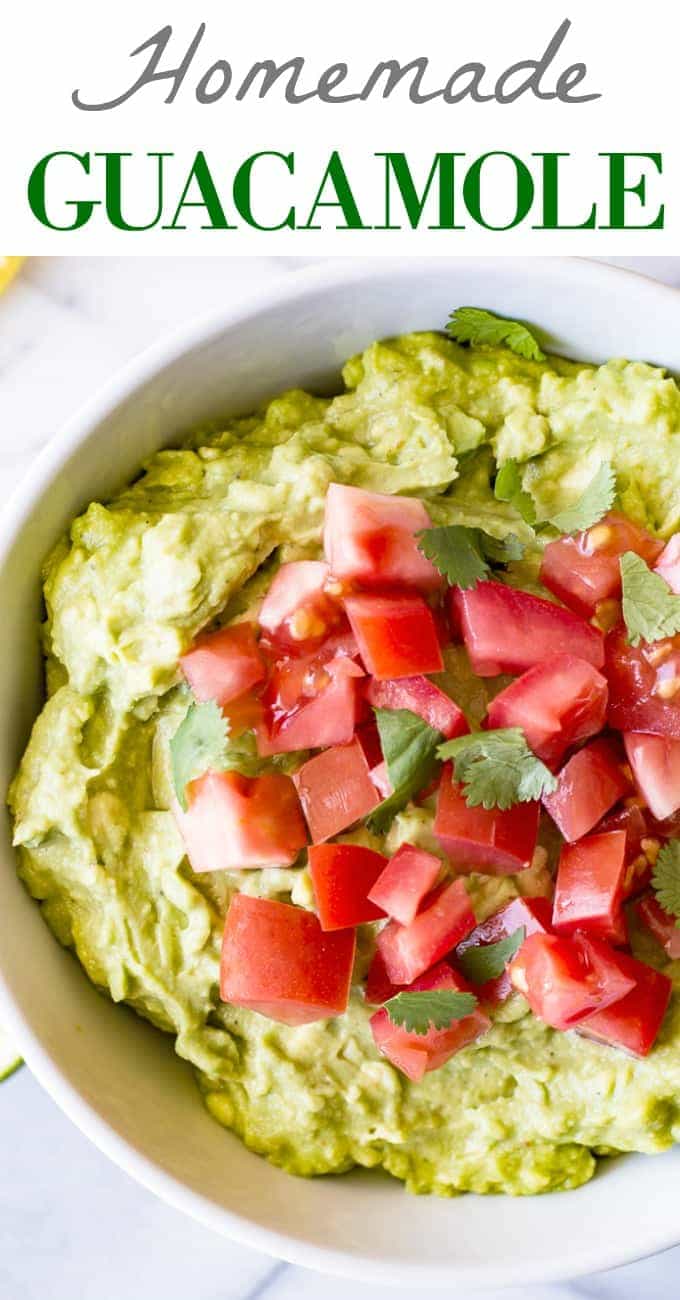 Homemade Guacamole.  It's a basic.  It's a staple.  It's something that everyone should be able to make.  This is a topic I feel strongly about.  I can't stand store bought guacamole.  I have yet to taste a good one.  My mom always made homemade guacamole growing up and I remember the first time I even tried a store bought guacamole I was so confused!  It doesn't taste like actual avocados at all!  In fact I really don't know what it is they do to it since when we make guacamole at home it will be brown and not tasty anymore by the end of the day, this is a recipe that you can't have leftovers.  But store bought guacamole..it stays green 😳 and that scares me..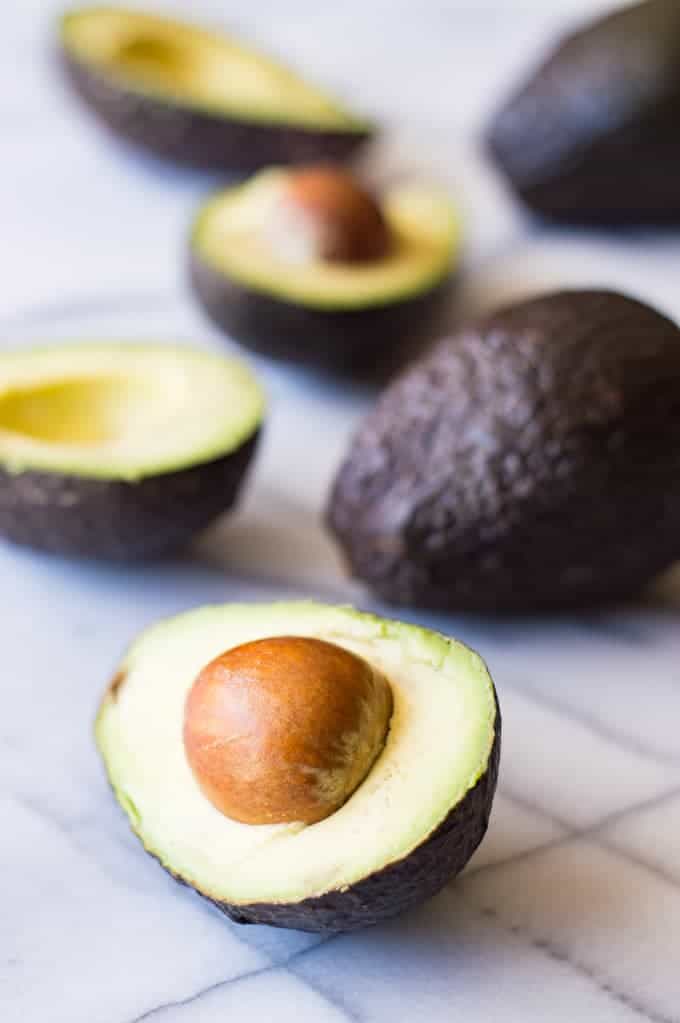 So I know I just told you my mom always made homemade guacamole, her method was to mash up the avocado and add some salsa.  Super easy right?  Definitely feel free to go that route.  Or I also have a recipe here for you that is just as easy and a little more flavorful.  Sorry mom!! This version I am sharing is from the hubs. He's not a fan of chunks in his guacamole.  Are you like that?  I'm kind of on the same page just because I don't like biting into a chunk of onion.  In this recipe the avocado itself takes the center stage.  Which is where it deserves to be.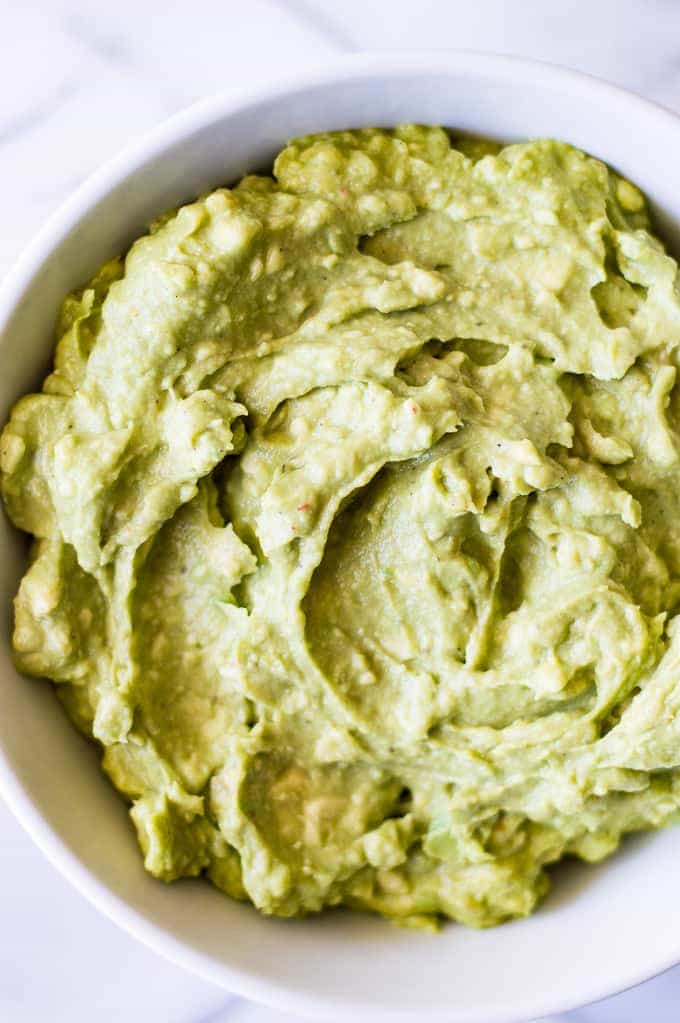 Tips for Making the Perfect Homemade Guacamole:
Slice the avocado in half, remove the pit and set it aside! You will want to use this later.
Slice the avocado while still in the shell, larger pieces will make for chunkier guacamole, smaller pieces will make for creamier guacamole.
Scoop out the avocado with a spoon.  The hubs gets mad when I squeeze it out..
Add all ingredients to the bowl with the avocado before you stir!  Then stir only once everything is in there.  This gives you more control over the texture.
To Lime or Not to Lime.  That is the question… Seriously.  It's up to you.  Some things to keep in mind though: lime will mask the flavor of the avocado.  In this recipe we're adding just a bit of lime, just for the slightest hint of citrus.  I think most people will tout lime as what keeps the guacamole from turning brown.. but for the amount of lime juice we would need to add for that to happen we would drown our guacamole.  We also find that as the guacamole sits, the lime just seems to become overpowering.  If you want to leave out the lime juice definitely feel free!
Put the pit back in!!  Leave the pit in the guacamole to help keep the guacamole green and fresh.  You can remove it just before serving, or be like us and just leave it there..we're classy like that 😉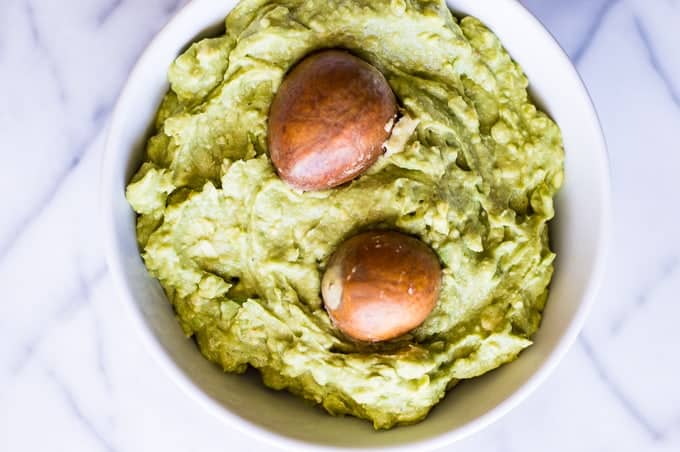 If you want to be extra fancy and add a pop of color toss some tomato and cilantro on top!  And there you have it, the perfect appetizer, side dish, accompaniment to all your mexican meals, and perfect for all get togethers!  Who doesn't love guacamole??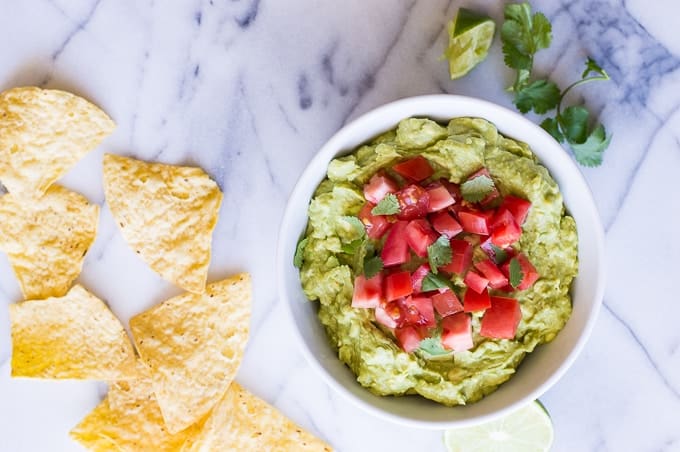 I hope you enjoy the recipe!  You can follow along with me and never miss a recipe by signing up for my newsletter.  Follow me on Instagram and tag #houseofyumm so I can see all the recipes you make.  Plus follow me on snapchat! @houseofyumm 💜
Print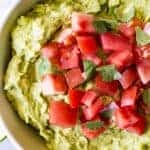 Homemade Guacamole
---
Ingredients
4 large ripe avocados
1/4 teaspoons black pepper
1/8 teaspoon ground cumin
1/4 teaspoon garlic powder
3/8 teaspoon salt
3 squirts of hot sauce (approx 1/4 teaspoon)
lime juice from 1 wedge (approx 1/4 teaspoon)
---
Instructions
Slice the avocados in half and remove the pit, set aside.
Slice the avocado while in the shell, into square pieces, scoop out of shell with a spoon. Place the avocado in a medium size mixing bowl.
Add all the spices, hot sauce and lime juice, and stir with a fork while mashing the avocado. Stir until avocado is desired texture and consistency.
Serve immediately and enjoy!
14