The BEST Easy Guacamole
Homemade Guacamole! Simple, easy, flavorful. The avocado shines in this easy to make guacamole. Perfect for dipping or to put on tacos or your favorite Mexican dish!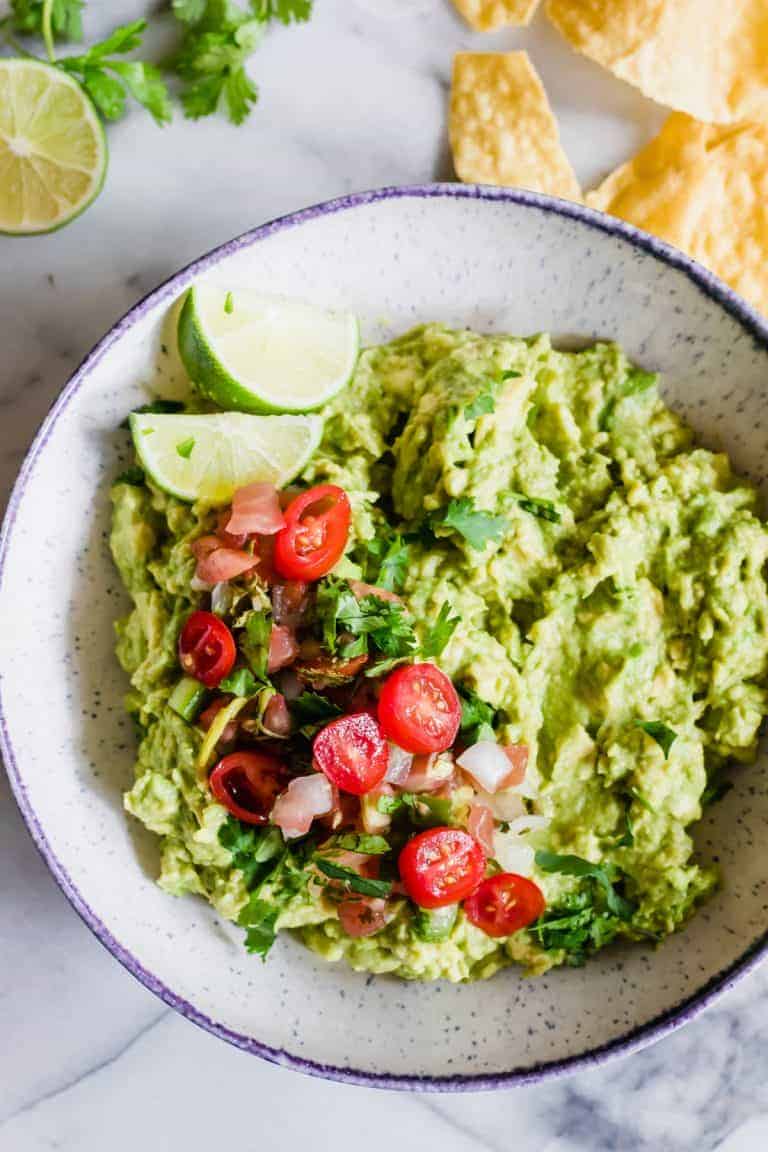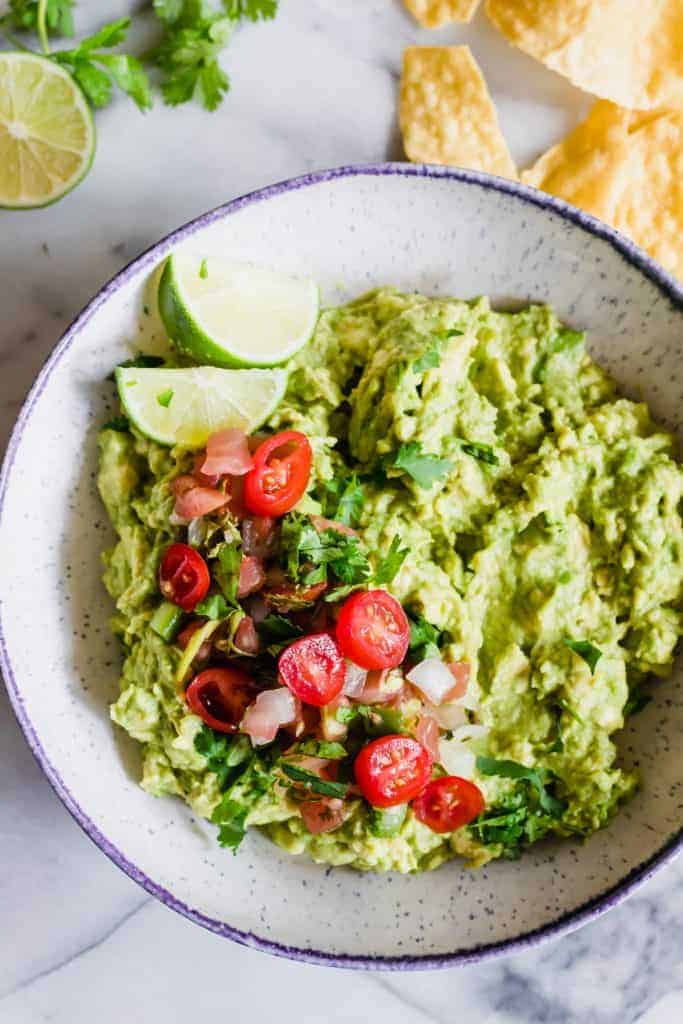 How to Make Homemade Guacamole
Making homemade guacamole is easy and simple. No fancy equipment is needed for this recipe. A fork will easily mash the avocados. You want to make sure the avocados are ripe and soft to allow for easy mashing. If the avocados are hard then you may need to wait a few days.
What Ingredients Are Used in Guacamole?
This simple recipe keeps the avocado as the star attraction. We will simply add some salt, pepper, a little garlic powder, some cumin and a dash of hot sauce.   A little lime juice completes the dish. 
The toppings are completely optional. I like to toss a little pico de Gallo on top, or even just some diced up tomato and cilantro for a little extra color and flair.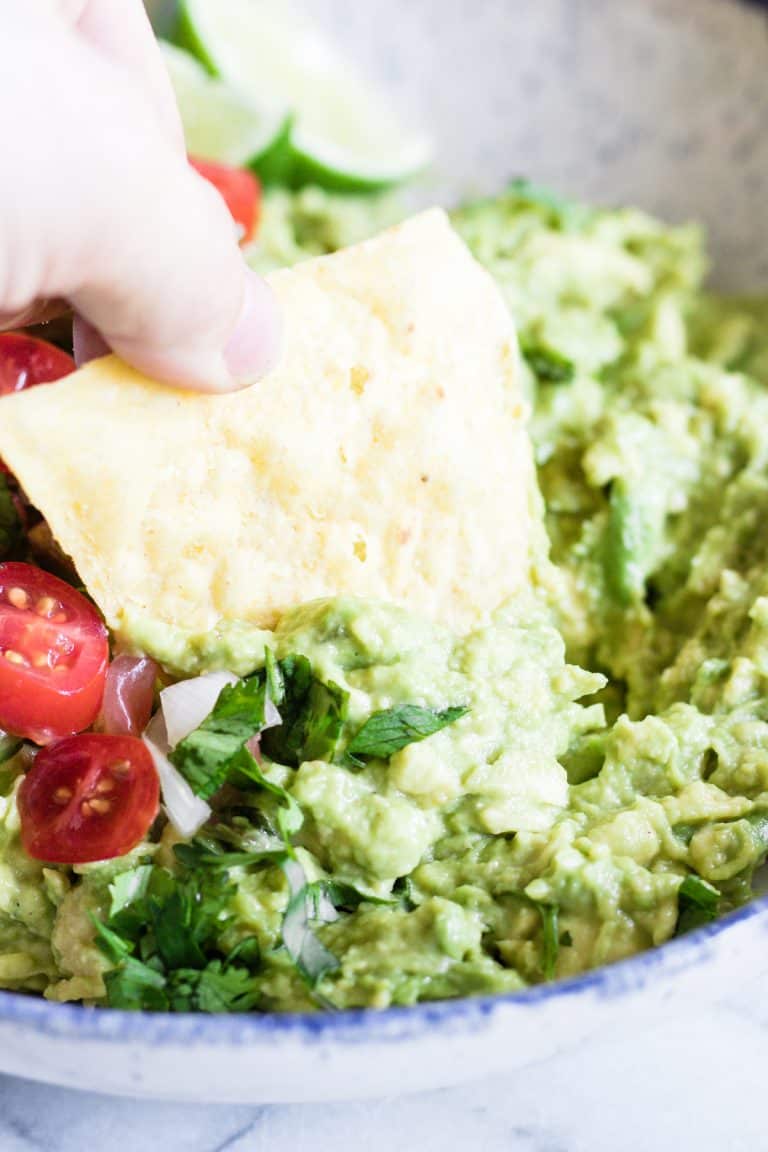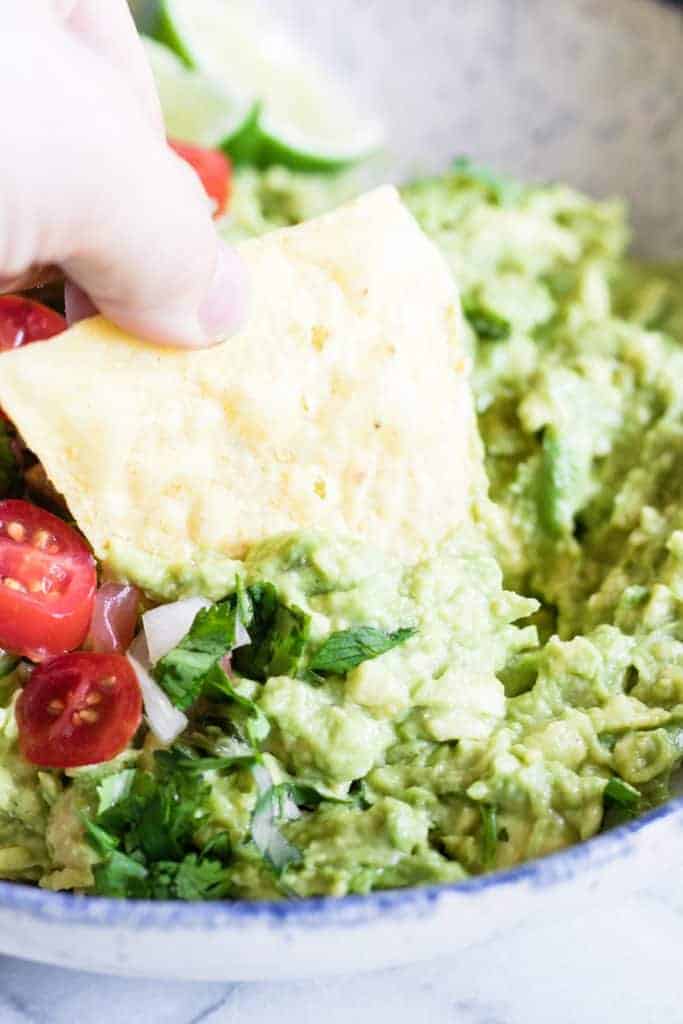 Tips for Making Guacamole:
Slice the avocado in half, remove the pit and set it aside. You will want to use this later.
Slice the avocado while still in the shell, larger pieces will make it chunkier, smaller pieces will make it creamier.
Scoop out the avocado with a spoon.  This makes sure you get it all out.
Add all ingredients to the bowl with the avocado before you stir!  Then stir only once everything is in there.  This gives you more control over the texture.
To Lime or Not to Lime.  That is the question… Seriously.  It's up to you.  Some things to keep in mind though: lime will mask the flavor of the avocado.  In this recipe we're adding just a bit of lime, just for the slightest hint of citrus.  I think most people will claim lime is what keeps the guacamole from turning brown.. but for the amount of lime juice we would need to add for that to happen we would drown our guacamole.  We also find that as the guacamole sits, the lime just seems to become overpowering.  If you want to leave out the lime juice definitely feel free!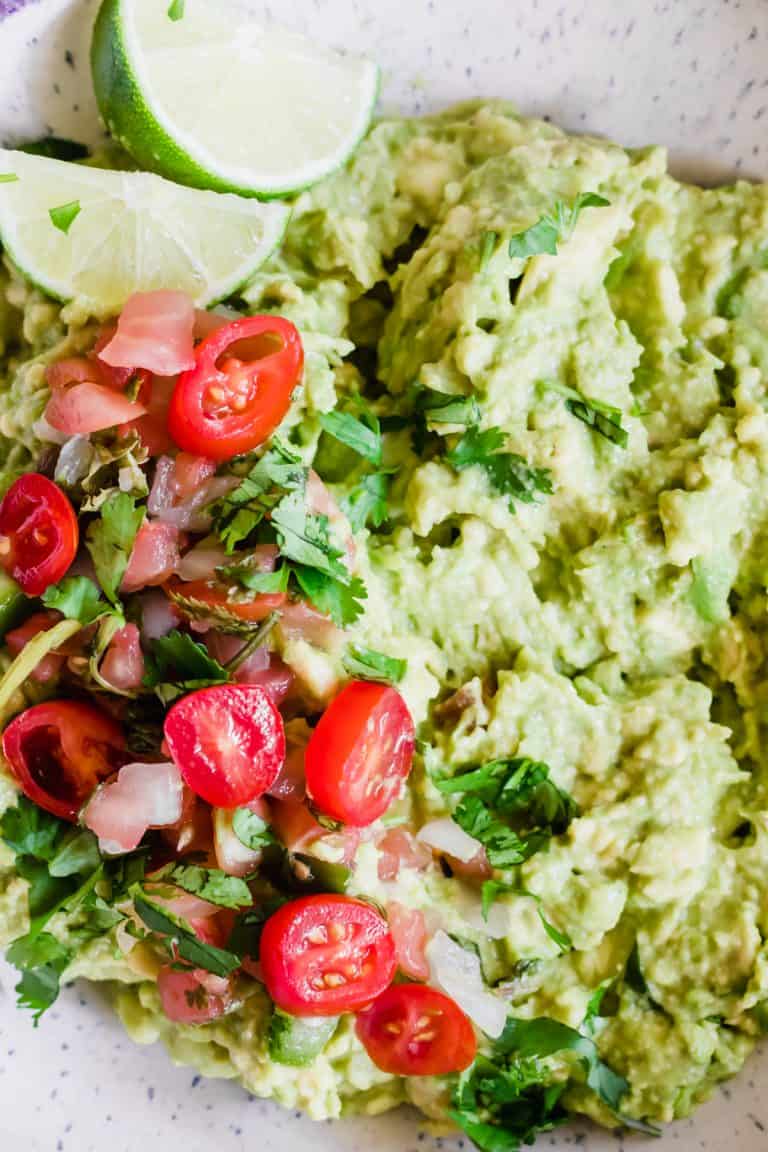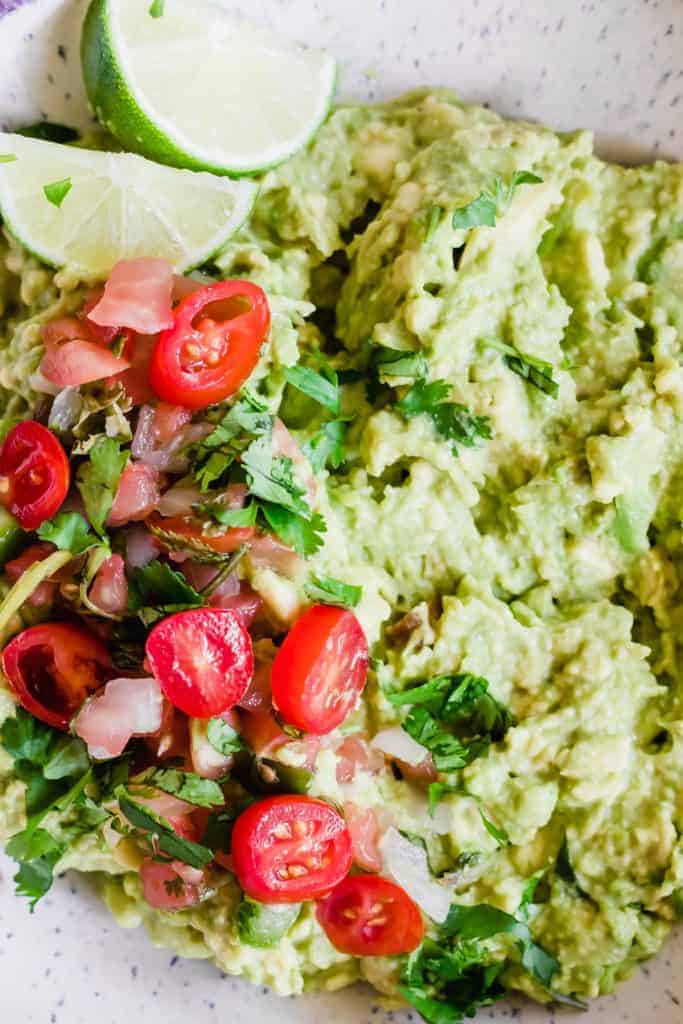 How Do You Keep Guacamole Green?
The trick to keeping this green if you make it ahead of time is to place the plastic wrap directly over the top of the actual guacamole.
Press it down so that the guacamole is actually smooshed up against the plastic. This will keep the air off it and keep that green color.
More dips and salsa recipes:
Print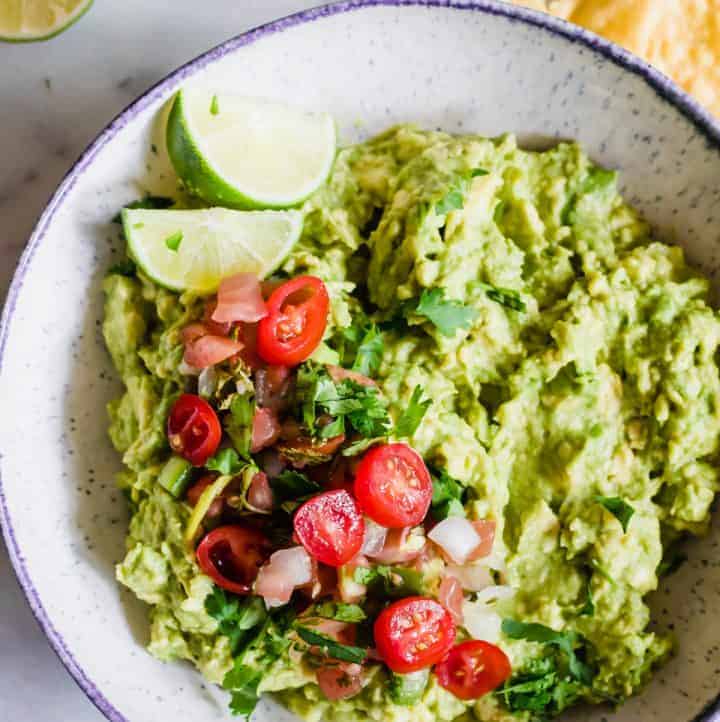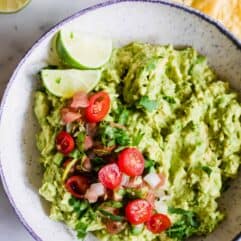 Homemade Guacamole
---
Author:
Prep Time: 5 mins
Total Time: 5 mins
Yield: 8 1x
Description
Homemade Guacamole! Simple, easy, flavorful. The avocado shines in this easy to make guacamole. Perfect for dipping or to put on tacos or your favorite Mexican dish!
---
Scale
Ingredients
4 large ripe avocados
1/4 teaspoons black pepper
1/8 teaspoon ground cumin
1/4 teaspoon garlic powder
3/8 teaspoon salt
3 squirts of hot sauce (approx 1/4 teaspoon)
lime juice from 1 wedge (approx 1/4 teaspoon)
---
Instructions
Slice the avocados in half and remove the pit, set aside.
Slice the avocado while in the shell, into square pieces, scoop out of shell with a spoon. Place the avocado in a medium size mixing bowl.
Add all the spices, hot sauce and lime juice, and stir with a fork while mashing the avocado. Stir until avocado is desired texture and consistency.
Serve immediately and enjoy!
---
Nutrition
Serving Size: 1
Calories: 159
Fat: 11 g
Carbohydrates: 15 g
Protein: 4 g
House of Yumm is a participant in the Amazon Services LLC Associates Program, an affiliate advertising program designed to provide a means for us to earn fees by linking to Amazon.com and affiliated sites.