This tableside guacamole recipe is simply the best. The use of fresh ingredients makes all the difference, and the best part is that it's so easy to make. It's a go-to recipe for any gathering or just a little treat for yourself.
Homemade guacamole is so easy to make, and perfect for loading on top of your favorite Mexican or Tex-Mex dishes (tacos, burritos, nachos, carne asada, pollo asado, and more!) or just serve with some fresh homemade tortilla chips for a snack with a frosty margarita.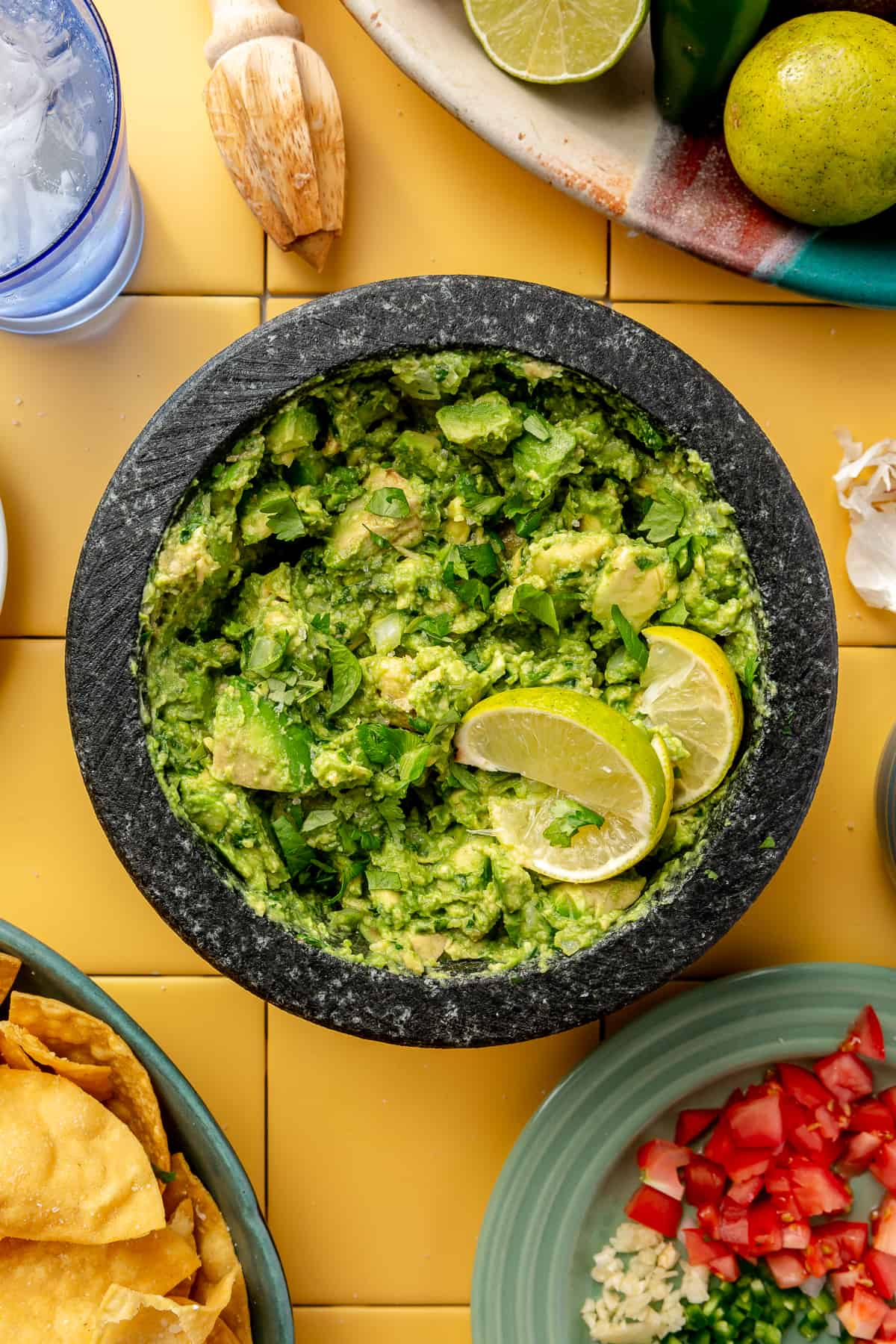 Ingredients for Authentic Guacamole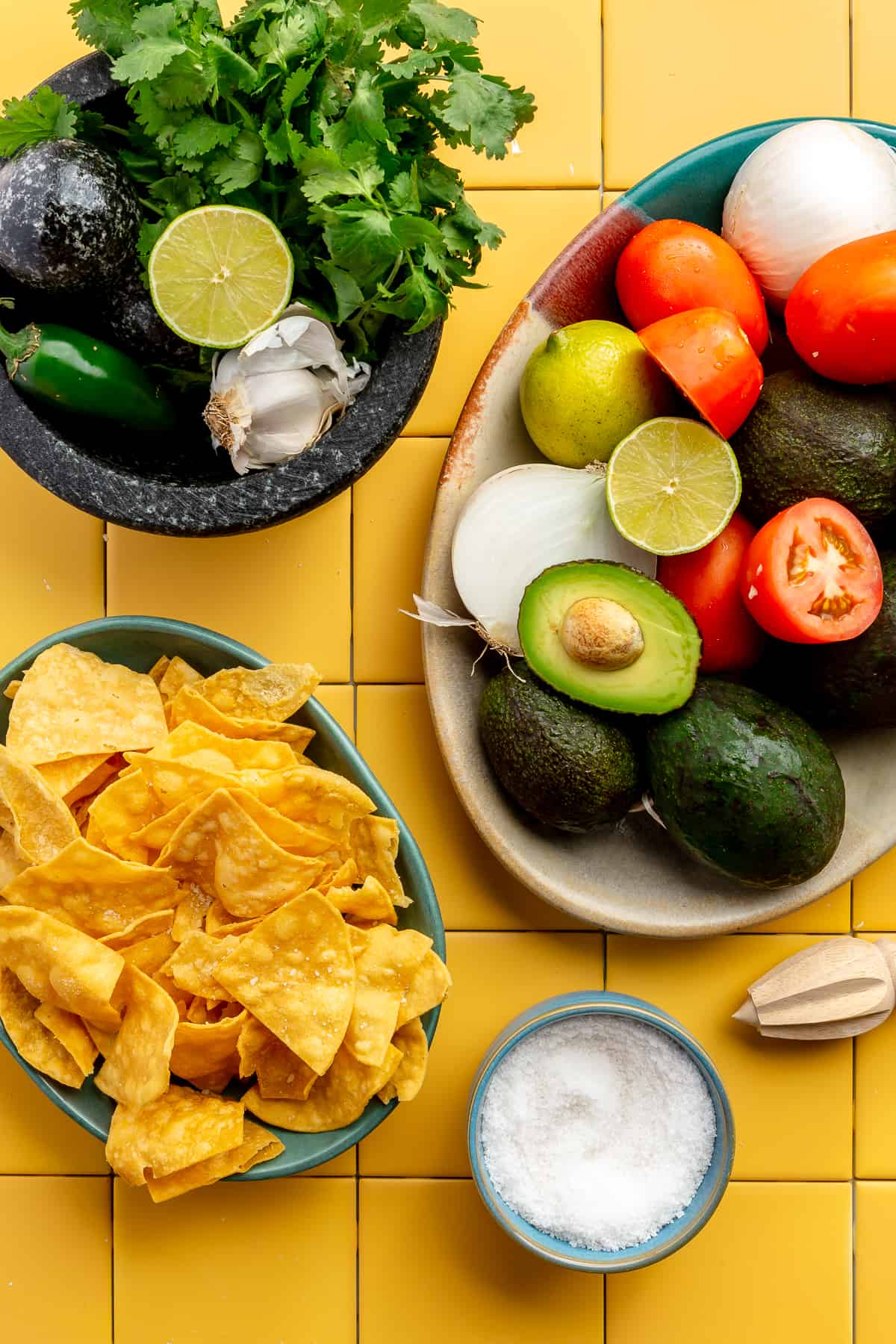 Avocados: follow the guidelines below to ensure you're getting a good one.
Onion: white onion is typically used in Mexican cooking, although yellow will work also.
Cilantro: gives a fresh, herbaceous flavoring. Using leaves and stems chopped together gives more flavoring.
Salt: use a nice sea salt to bring out all of the natural flavors.
Lime: use freshly squeezed juice.
Optional: tomato, jalapeño, garlic
Picking the Perfect Avocado
Choosing the perfect avocado is the first step to making excellent guacamole. Here are three simple tips to help you pick a ripe one:
Check the Color: Look for avocados with dark green to almost black skin. A ripe avocado typically darkens as it matures.
Gently Squeeze: Lightly press the avocado with your fingers. It should yield slightly to gentle pressure but not feel overly soft or mushy. If it's rock hard, it still needs to ripen.
Inspect the Stem: Remove the small stem or cap at the top of the avocado. If it comes off easily and is green underneath, it's likely ripe. The avocado may be overripe if it's brown or difficult to remove.
By following these guidelines, you'll consistently select ripe avocados for your guacamole, ensuring that creamy, flavorful result we all love.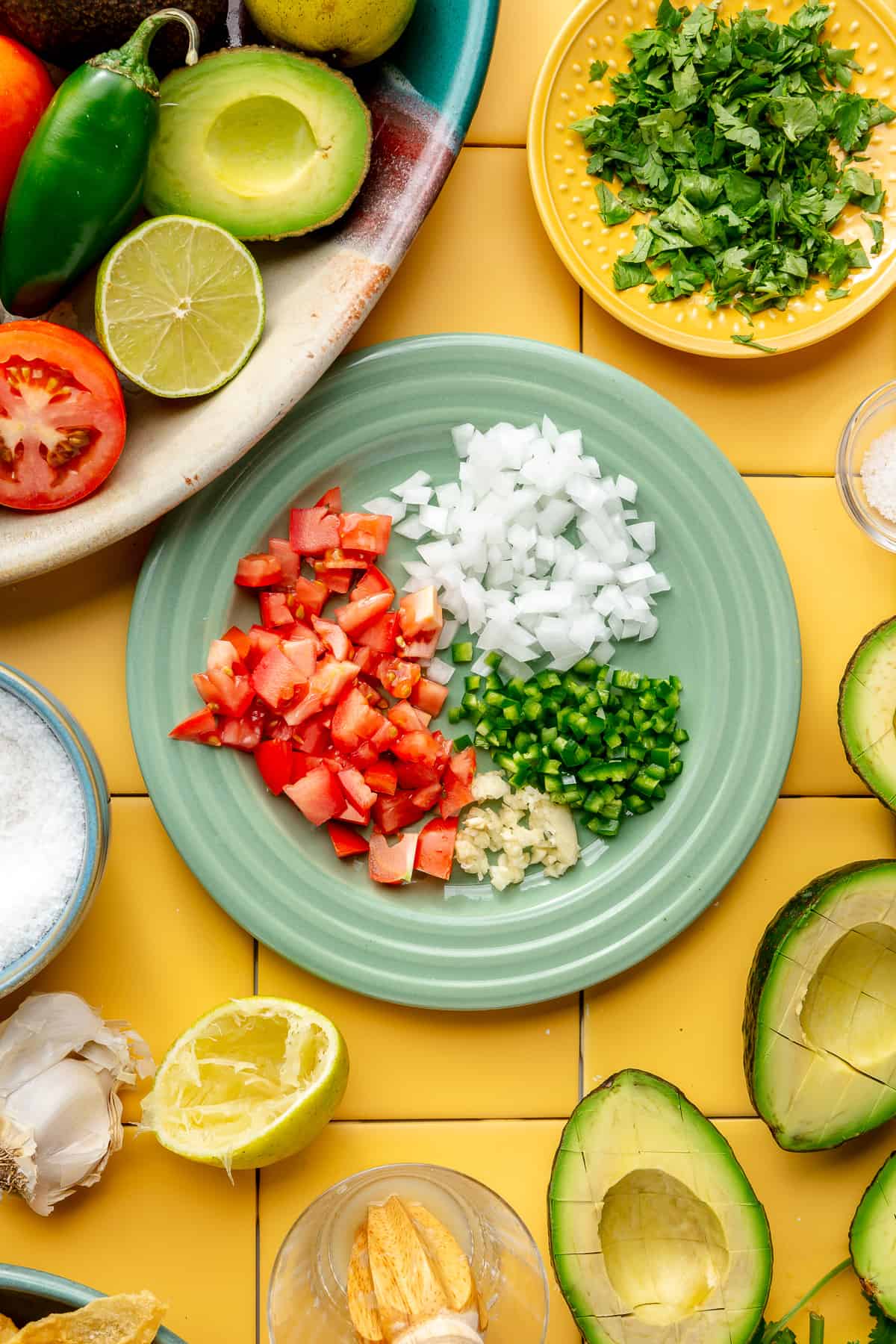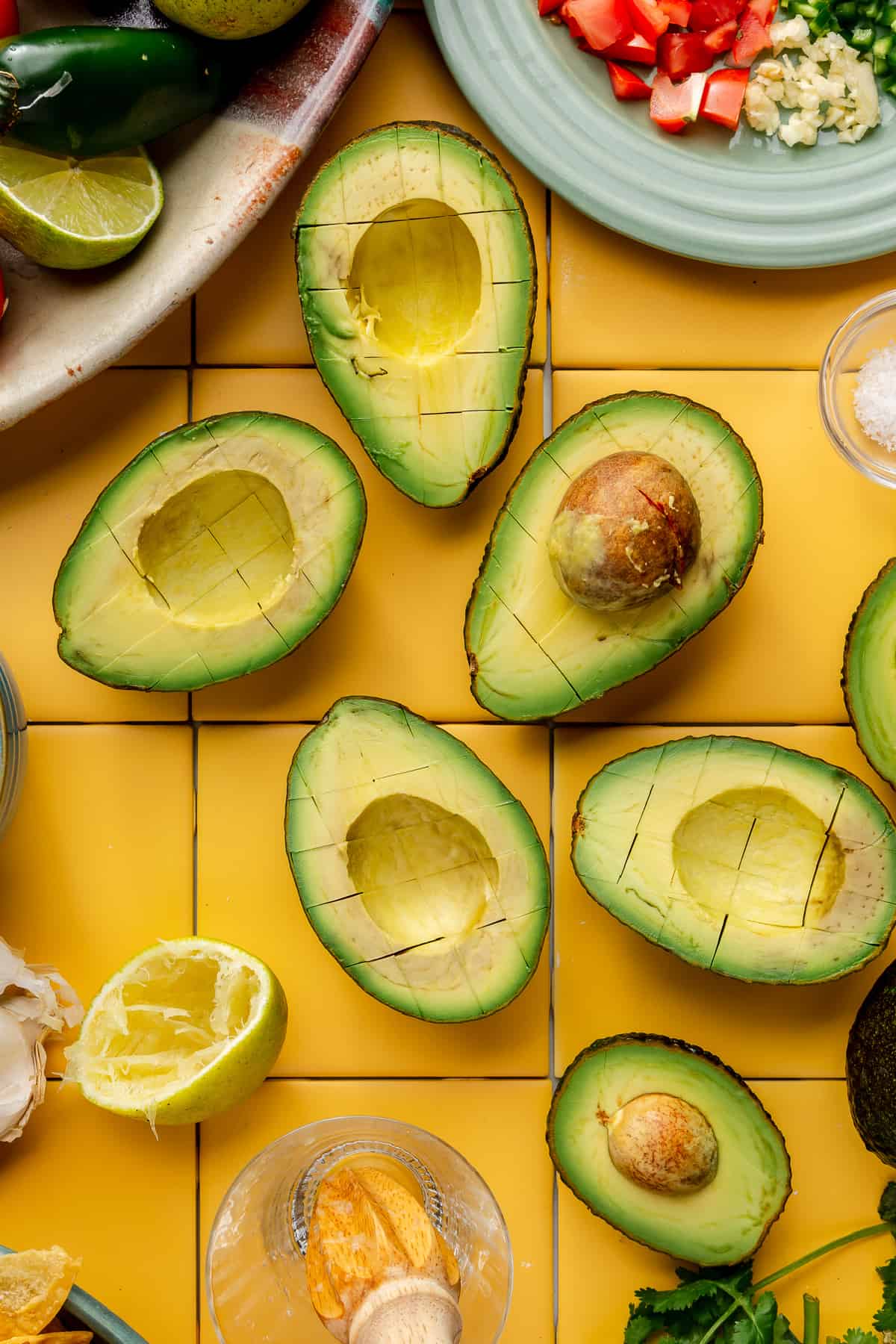 How to Make Homemade Guacamole
Making homemade guacamole is easy and simple. No fancy equipment is needed for this recipe. Although a molcajete is traditional and makes it quick and easy to mash, a fork will easily mash the avocados also. You want to make sure the avocados are ripe and soft to allow for easy mashing. If the avocados are hard then you may need to wait a few days.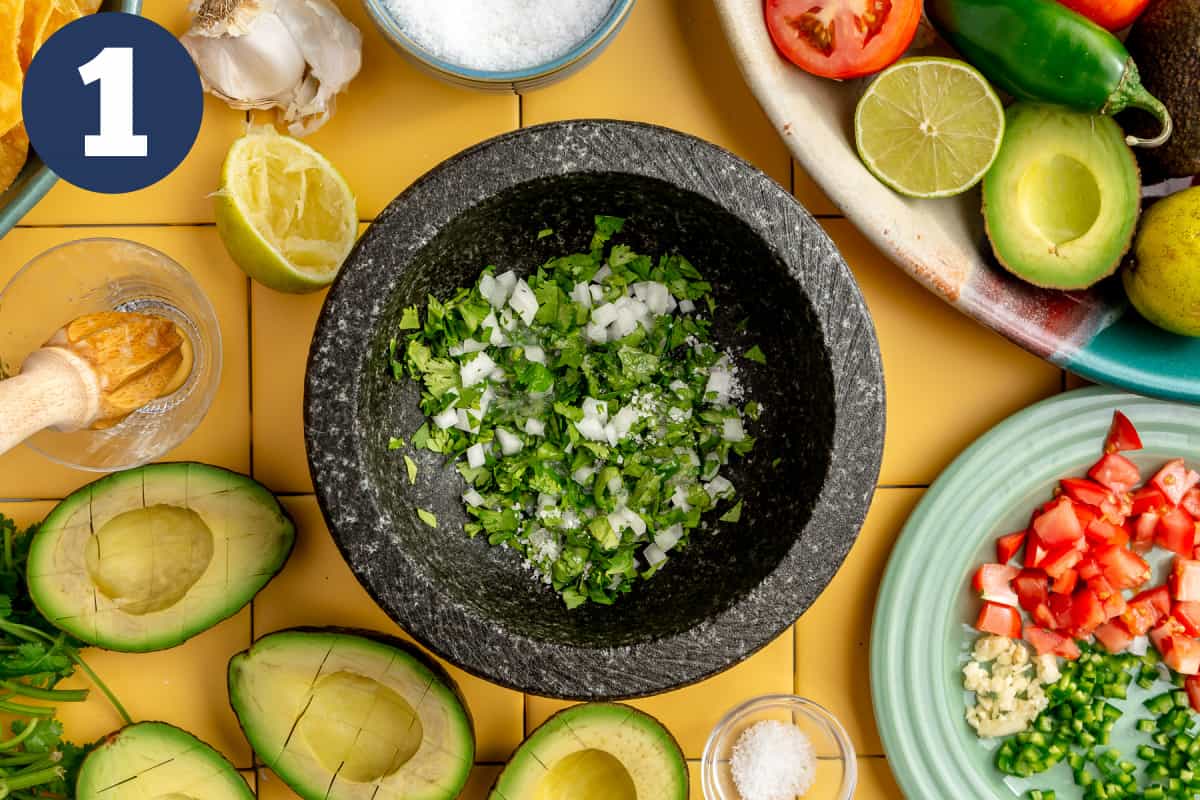 Finely dice: the onion, cilantro and any other ingredients you may be adding (ie jalapeno or garlic). In the bowl or molcajete add the onion, cilantro, salt and lime juice.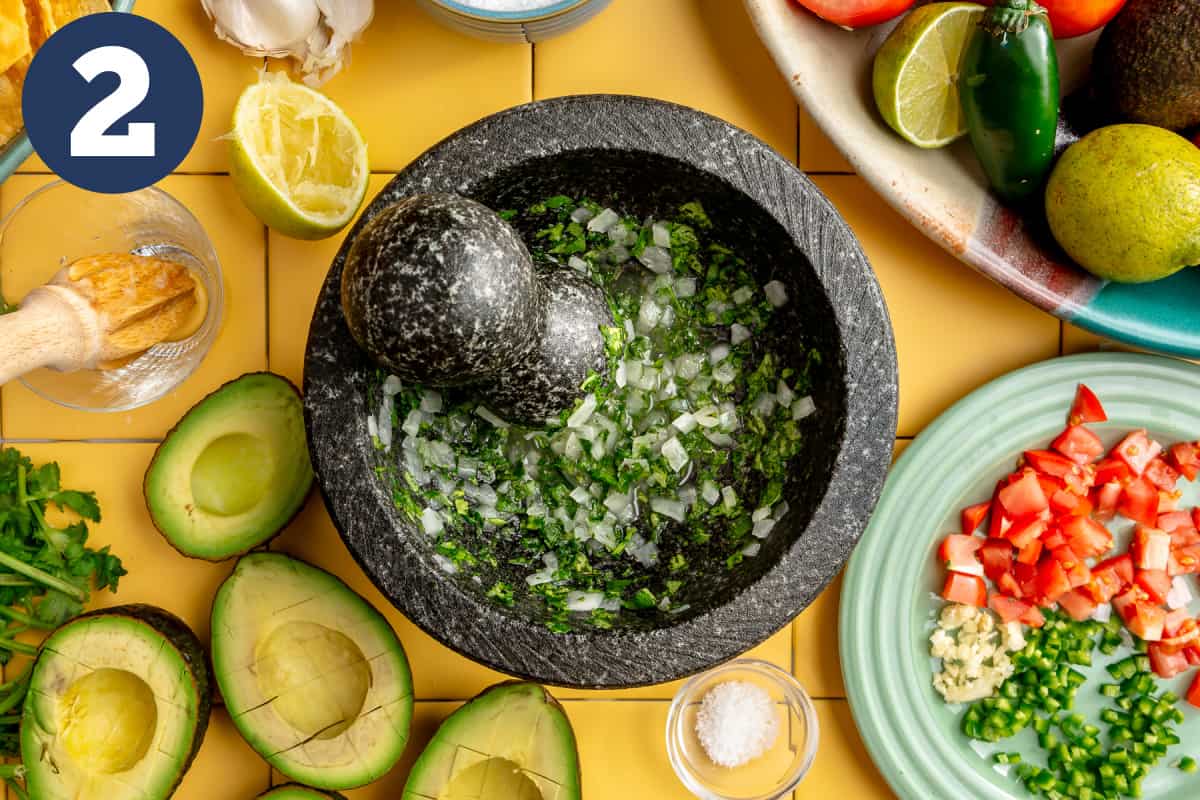 Mix: Mash this together and let sit while you prepare the avocados. This allows the lime and salt to work wonders on the onion and cilantro softening them up.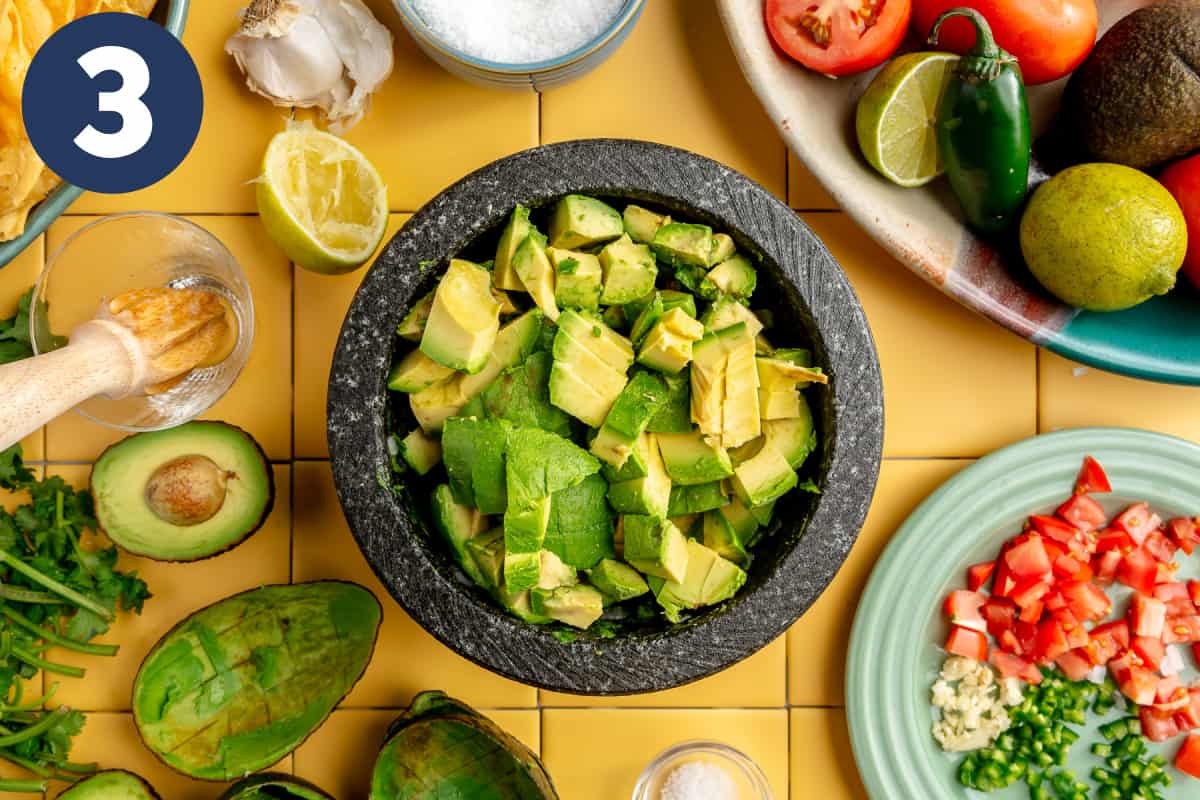 Prepare avocados: slice the avocados in half, remove the pit, then dice the avocados while in the peel. I prefer to dice into squares, just a few slices in both directions gives a chunky square dice. This helps create a wonderful chunky texture to the guacamole. At this point, add the avocados to the bowl or molcajete with the other ingredients.
Mash: using the pestle or a fork, mash the avocado to your desired consistency.
Add tomatoes if desired. I like to do this step last so the tomatoes remain in their nice dice and not mashed.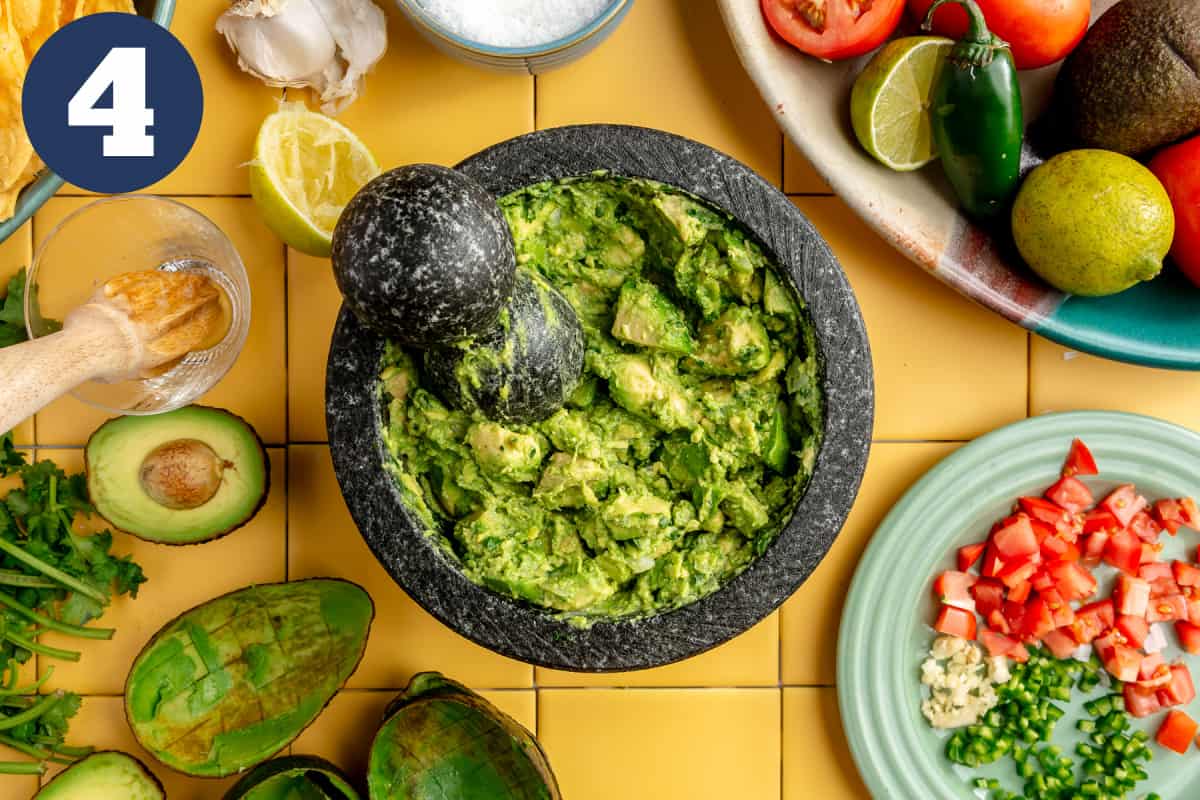 What is a Molcajete?
A molcajete is a Mexican kitchen tool made from volcanic rock. It looks like a heavy stone bowl with a matching stone grinder. It's used to crush and mix ingredients like spices, herbs, and avocados.
It's famous for making delicious salsas and guacamole, giving them a unique flavor. The molcajete is an essential tool in Mexican cooking and adds a touch of tradition to every meal.
This simple guacamole can also be made in a bowl using a fork to mash also.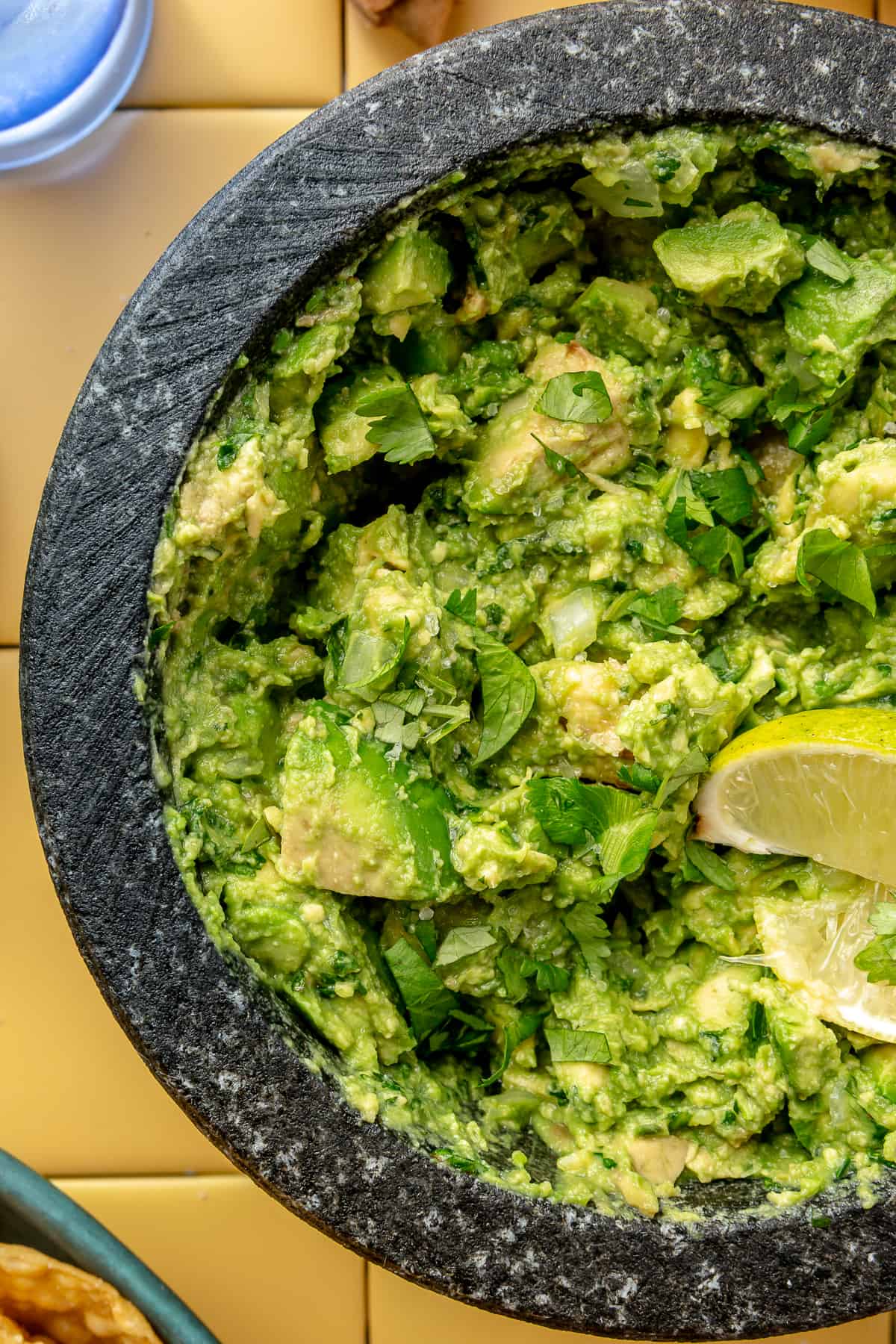 Storage Information
Storing guacamole to keep it fresh is crucial, especially if you want to enjoy it later.
Use an airtight container.
Add plastic wrap directly on the guacamole's surface.
Seal the container tightly.
Refrigerate the guacamole promptly to slow down oxidation. Stored this way, it can stay fresh for 2-3 days. When you're ready to enjoy it again, gently stir to mix any separated liquids and savor that vibrant flavor again.
Keep Your Guacamole Green
The trick to keeping this green if you make it ahead of time is to place the plastic wrap directly over the top of the actual guacamole. Guacamole browns from oxidation, preventing as much air as possible with the plastic wrap keeps it green longer.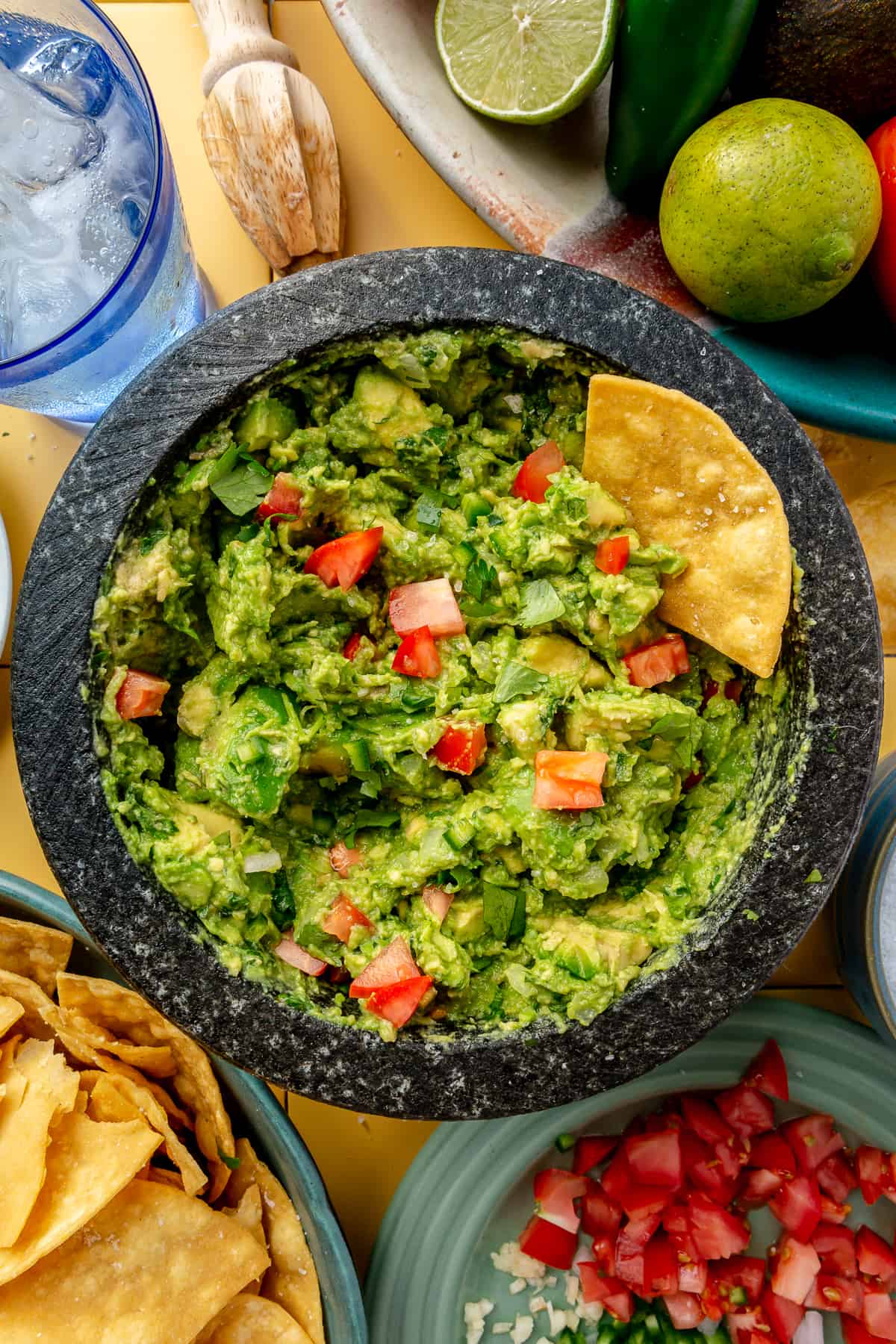 More dips and salsa recipes:
Tableside Guacamole
This tableside guacamole recipe is simply the best. The use of fresh ingredients makes all the difference, and the best part is that it's so easy to make. It's a go-to recipe for any gathering or just a little treat for yourself.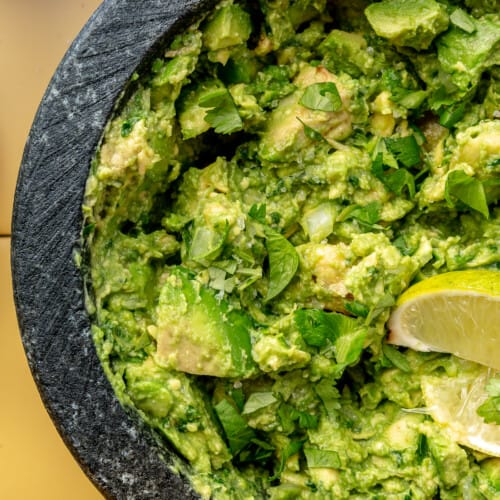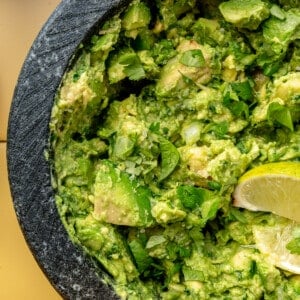 Ingredients
¼

cup

white onion

finely diced

¼

cup

cilantro

diced

½

tsp

salt

1

tbsp

lime juice

freshly squeezed (approx 1/2 a lime)

4

avocados
Optional Ingredients
1

roma tomato

diced

1

jalapeno

seeds and membranes removed, finely diced

1

clove

garlic

minced
Instructions
Add the diced onion and cilantro into a medium size mixing bowl or molcajete. Add the salt and lime juice. Mash together. Let this sit while preparing the avocados. (add garlic and jalapeno during this step if desired.)

Slice the avocado in half, remove the pit. While in the shell dice the avocado into square pieces. Larger chunks for chunkier guacamole, smaller dice for smoother guacamole.

Scoop the avocado out with a spoon, add to the bowl or molcajete. Mash together to desired consistency.

Stir in diced tomato if desired.
Notes
Storage:
Cover the guacamole with plastic wrap and press it down to completely cover. Store in a sealed container in the refrigerator for up to 3 days.
Guacamole is always best served fresh!
Nutrition
Serving:
1
|
Calories:
166
kcal
|
Carbohydrates:
10
g
|
Protein:
2
g
|
Fat:
15
g
|
Saturated Fat:
2
g
|
Sodium:
153
mg
|
Potassium:
513
mg
|
Fiber:
7
g
|
Sugar:
1
g
|
Vitamin A:
264
IU
|
Vitamin C:
14
mg
|
Calcium:
12
mg
|
Iron:
1
mg
Nutrition information is automatically calculated, so should only be used as an approximation.
Like this? Leave a comment below!
Photography by Jess Gaertner Creative
Recipe first published April 27, 2020. Updated September 8, 2023 with new images and video. Recipe is unchanged.