Paloma cocktail recipe. This refreshing cocktail is made with a mixture of tequila, fresh lime and grapefruit juices. Serve over the rocks for a bubbly, sweet citrus flavored delight!
Paloma cocktail recipe. This refreshing cocktail is made with a mixture of tequila, fresh lime and grapefruit juices. Serve over the rocks for a bubbly, sweet citrus flavored delight!
What is a Paloma?
A paloma is a very popular Mexican cocktail drink. Very similar to a margarita. The paloma is made with a mixture of grapefruit and lime juices, mixed with tequila. This drink can be prepared with a simple mixture of tequila and grapefruit soda, however, the method in this particular recipe is to use fresh juices mixed with a simple syrup and club soda for carbonation.
How to Make a Paloma:
My preference for making a Paloma is to use fresh juices instead of carbonated grapefruit soda. Many recipes will call for Grapefruit Jarritos, or other brands of grapefruit soda.
I love using real juice! Although to save time, I will often use Simply Grapefruit juice also.
Prepare a simple syrup. Since we're using real fruit juices and not a soda with artificial sweetener already added, we will need to add our own sweetener. Simple syrup or agave are great options. To make your own simple syrup simply heat water either in a microwave or stovetop and add an equal amount of sugar, stirring until it fully dissolves and appears clear.
Combine the grapefruit juice and lime juice.
Add in the tequila and simple syrup, stir together.
Top off with club soda for a wonderful carbonated fizz.
Serve this drink over ice.

What is the best tequila for a Paloma?
I'm a huge fan of using a tequila blanco with palomas. The fresher taste of the tequila blanco pairs nicely with the crisp refreshment of the grapefruit juice.
But honestly, you can use whichever kind you prefer, or have on hand.
How to serve a paloma:
Palomas are served in a glass over ice. Unlike their counterpart the margarita, which can be either on the rocks or blended, this cocktail is traditionally just served over ice.
Salting the rim is optional, although again, since this drink is very similar to margaritas it will typically be served salted.
Garnish this cocktail with a wedge of grapefruit and lime to make it not only complete, but beautiful!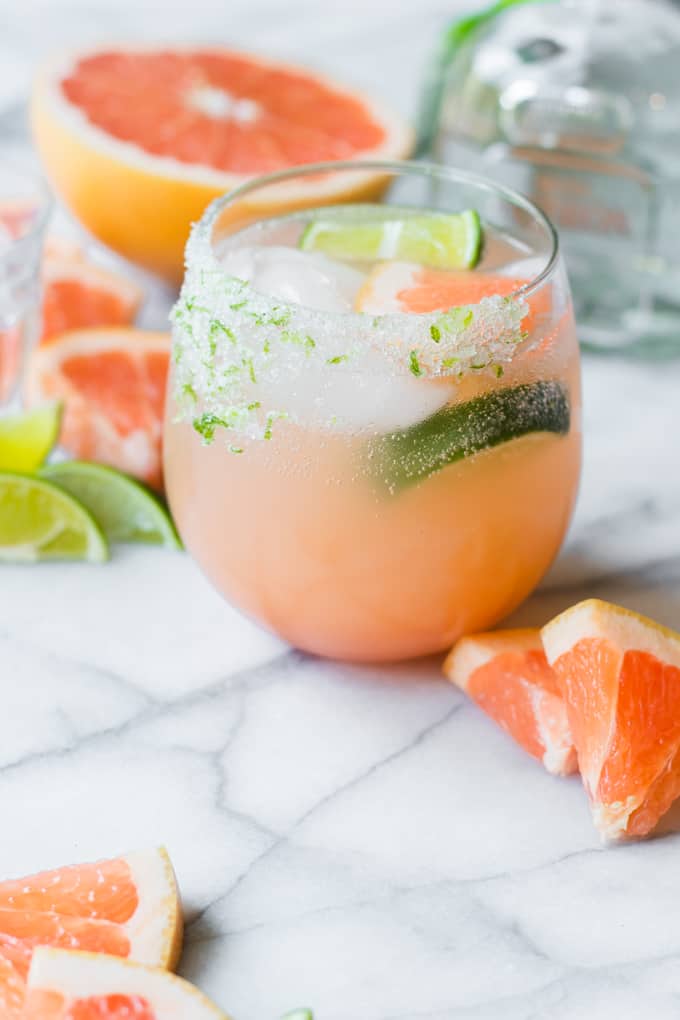 You can also substitute Grapefruit Soda in this recipe in place of the fresh grapefruit juice and simple syrup.
More Cocktail Recipes You May Enjoy: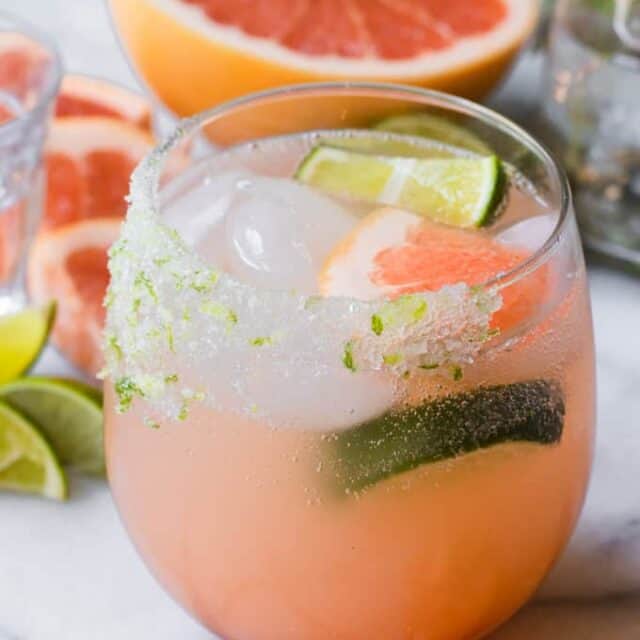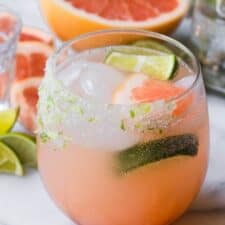 Grapefruit Paloma
This Grapefruit Paloma recipe is so refreshing and classy! This easy to make tequila based drink is perfect for sipping on this weekend!
Ingredients
2 ounces tequila
.5 ounce fresh lime juice
.5 ounces fresh grapefruit juice
2 ounces club soda
1 tbsp simple syrup
Lime Simple Syrup
¼ cup lime juice, optional- you can make simple syrup without the lime
¼ cup water, (if not using lime juice use ½ cup water)
½ cup sugar
Instructions
To prepare the simple syrup pour the lime juice and water into a small saucepan. Heat over medium heat until boiling. Add the sugar and stir until dissolved. Remove from heat and allow to cool.

To make the lime sugar pour the sugar into a small plate (easier to dip the rim of the glasses into) and add the lime zest. Mix together with fingers until all the zest is combined with the sugar. Rub a slice or grapefruit or lime on the rim of the glass and press down into the lime sugar. Set the glasses aside.

In a shaker or a large glass combine the tequila, lime juice, grapefruit juice, and simple syrup. Shake or stir to combine.

Pour over ice into the glasses rimmed with the lime sugar.

Top with club soda. Stir to combine. Garnish with additional lime or grapefruit slices.
Notes
Substitutions:
Use store bought grapefruit juice in place of fresh squeezed.
Can use grapefruit soda in place of grapefruit juice AND simple syrup.
Nutrition
Serving: 1, Calories: 210kcal, Protein: 1g, Sodium: 8mg, Sugar: 10g
House of Yumm is a participant in the Amazon Services LLC Associates Program, an affiliate advertising program designed to provide a means for us to earn fees by linking to Amazon.com and affiliated sites.