Horchata. This creamy, Agua de horchata is cold and refreshing. The sweet cinnamon flavor will pair perfectly with your next Tex Mex meal!

Smooth and creamy, this horchata drink has the perfect cinnamon spice and sweetness. Serve up a cold glass on ice! This drink is perfect after a meal of tacos or enchiladas. The cold creaminess perfectly balances the heat and spice of the meal.
What is Horchata?
Horchata is a traditional drink of Latin American countries. Origins go back to Spain, where they prepare an horchata that is made of Tiger Nuts. This recipe that I'm sharing on the blog today would be a Mexican Horchata. Which is a version made with white rice. You might also see this drink referred to as Agua de Horchata.
Ingredients for this Easy Horchata Recipe:
Long grain white rice– this can be substituted for another rice, but any change will also change the flavor of the horchata.
Cinnamon sticks– using full cinnamon sticks gives the best flavor. You can typically find pouches with 3-4 sticks, or grab as many as you need from the bulk spice bins at most markets.
Vanilla– use your favorite kind. Madagascar vanilla has a rich, creamy flavor. Mexican vanilla will be dark and smokey. Both of those are great options in this drink.
Sugar– white granulated sugar to sweeten the drink. Can be substituted for another sweetener of your choice. Again, any changes will change the flavor. Options to sweeten include: honey, maple syrup, agave, or even blended medjool dates.
Milk– I love using whole milk, it gives a creamier horchata drink. Other options would include almond milk or coconut milk. Again, any changes will change the flavor of the finished horchata drink. Some recipes call for sweetened condensed milk. If you are using this option then cut out the sweetener or the drink will be way too sweet.
Almonds (optional!) some recipes call for almonds, personally I don't like the overwhelming almond flavor they give, but if you personally love it, you can sub out 1/3 cup of rice for 1/3 cup of almonds. For best results blanch the almonds and remove the skin. Bring a small pot of water to a boil, add the raw almonds to the boiling water, boil for just about one minute, not longer, pour into a strainer, then rinse the almonds with cold water. The skins will easily fall off with your fingers.

How to make Horchata:
Blend: water, long grain white rice, and cinnamon sticks. 
Soak: Pour the mixture into a container and store in the refrigerator overnight, or for at least 3 hours.
Strain: After chilling, pour the mixture through a fine mesh strainer, or into cheesecloth and into another container. I typically will strain twice to get all the fine, tiny pieces
Sweeten: add milk of choice, vanilla, and then sweeten to preference. I prefer 1/3 cup, however, I would recommend starting with 1/4 cup and adding to taste. Remember, if you are using sweetened condensed milk, you do not want to add any other sweetener.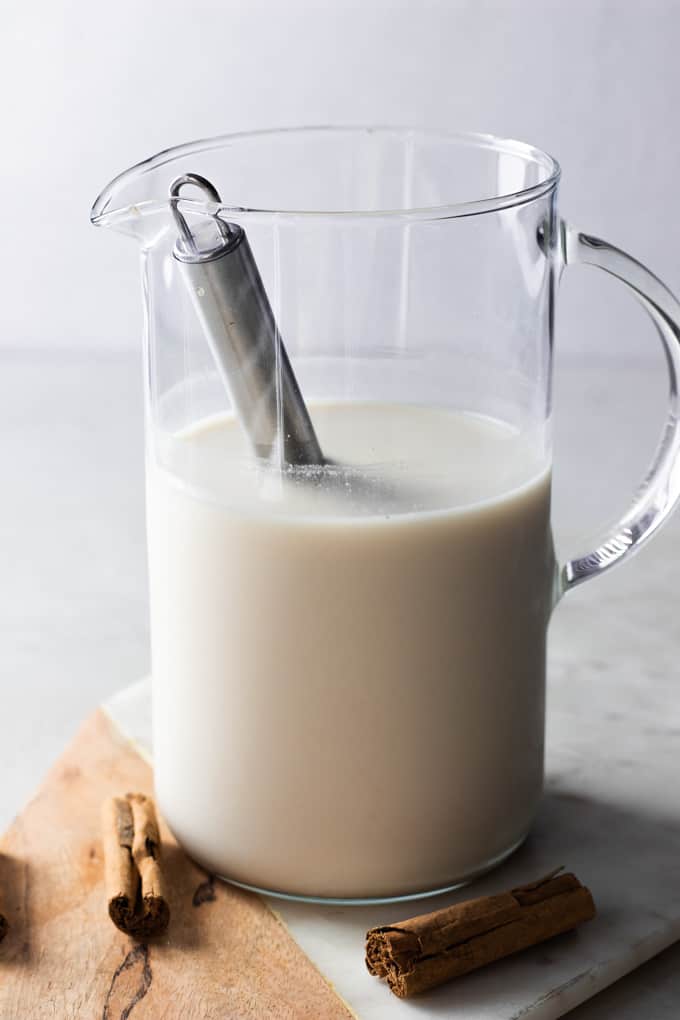 How to store Horchata:
Horchata should be kept in the refrigerator. This drink will keep for 3-5 days. You might need to give it a stir before serving if any small bits were left in the drink from straining or if the sugar wasn't mixed well enough. There might be some settling to the bottom of the container. Just give it a quick whisk and you're good to go.
How to make a large batch of horchata:
You can absolutely make a large batch of horchata if you are planning for a party or gathering. Simply keep the ratios the same. You will need a large container to hold everything and you will need to work in batches when blending.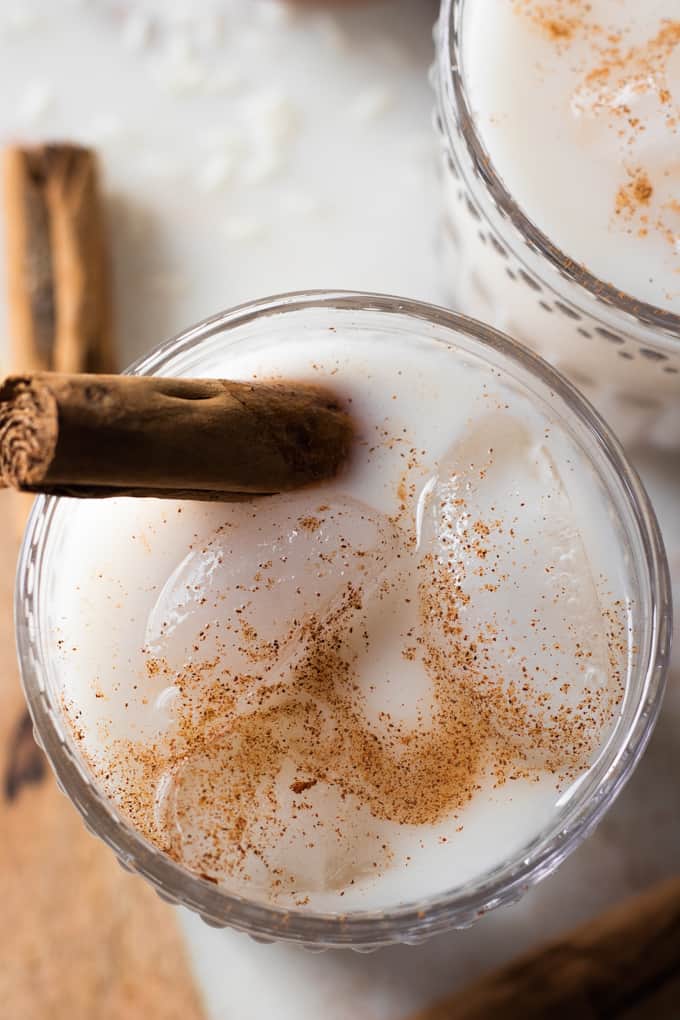 Tips for the BEST Horchata:
Use a high powdered blender. This will help ensure the cinnamon gets blended really well, giving the best flavor.
Use whole cinnamon sticks instead of ground cinnamon
Soak time. Make sure you are giving enough time to soak to get the most flavor.
Strain the mixture twice! This gets all those tiny bits and gives you the smoothest horchata drink.
Sweeten at the end so that you can control the amount of sweetness you are getting.
Serve cold! Horchata is meant to be cold. So store it in the refrigerator while soaking to help make sure it's cold when you make it.
More Recipes you may enjoy: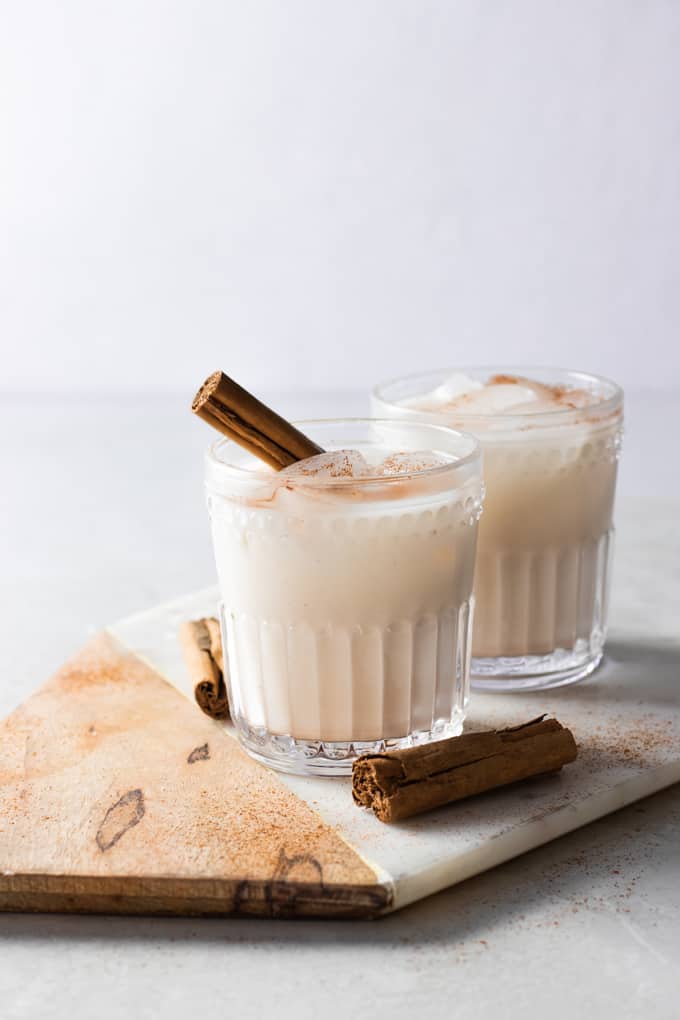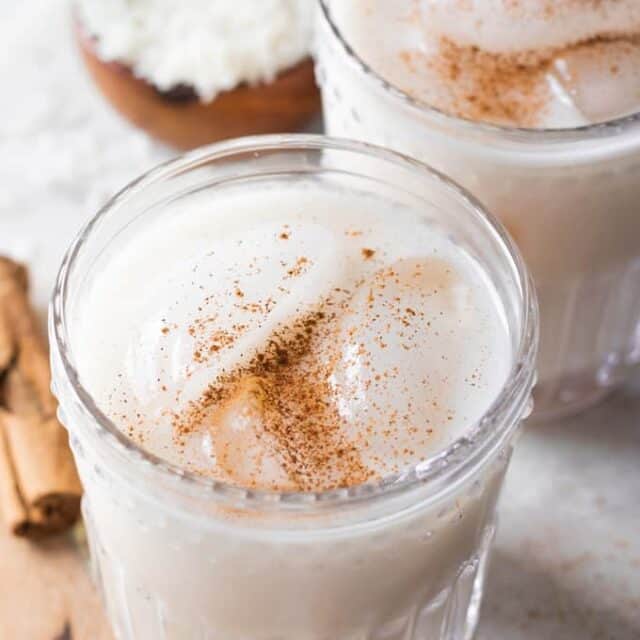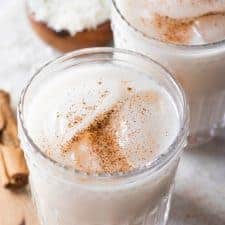 Horchata
Horchata. This creamy, Agua de horchata is cold and refreshing. The sweet cinnamon flavor will pair perfectly with your next Tex Mex meal!
Ingredients
1 and 1/3 cups long grain white rice, uncooked
2 cinnamon sticks
4 cups cold water, filtered
1/3 cup sugar
1 tablespoon vanilla extract
1 cup whole milk , or milk of preference
Instructions
Add rice, cinnamon sticks and 2 cups of water to a blender. Blend until rice and cinnamon are broken down.

Add the remaining 2 cups of water and blend.

Pour this mixture into a pitcher. Make sure to scrape all the rice bits from the bottom of the blender.

Store in the refrigerator overnight.

After soaking overnight, pour the mixture through a fine mesh strainer into another large pitcher.

Rinse the original pitcher and clean. Then pour the rice drink back through the fine mesh strainer back into the pitcher. This way the drink is being strained twice.

Stir in milk, vanilla extract, and 1/4 cup of the sugar. Stir together with a whisk. Taste and sweeten more to taste if desired. 
Nutrition
Serving: 1g, Calories: 340kcal, Carbohydrates: 71g, Protein: 6g, Fat: 2g, Saturated Fat: 1g, Cholesterol: 6mg, Sodium: 30mg, Potassium: 151mg, Fiber: 2g, Sugar: 20g, Vitamin A: 99IU, Calcium: 104mg, Iron: 1mg
House of Yumm is a participant in the Amazon Services LLC Associates Program, an affiliate advertising program designed to provide a means for us to earn fees by linking to Amazon.com and affiliated sites.