There's nothing better than sipping on a cold, frosty Frozen Margarita on a hot sunny day. What's even better is that this "recipe" can be easily adjusted and adapted to make any flavor you want! Simply grab your favorite frozen fruit and get blending.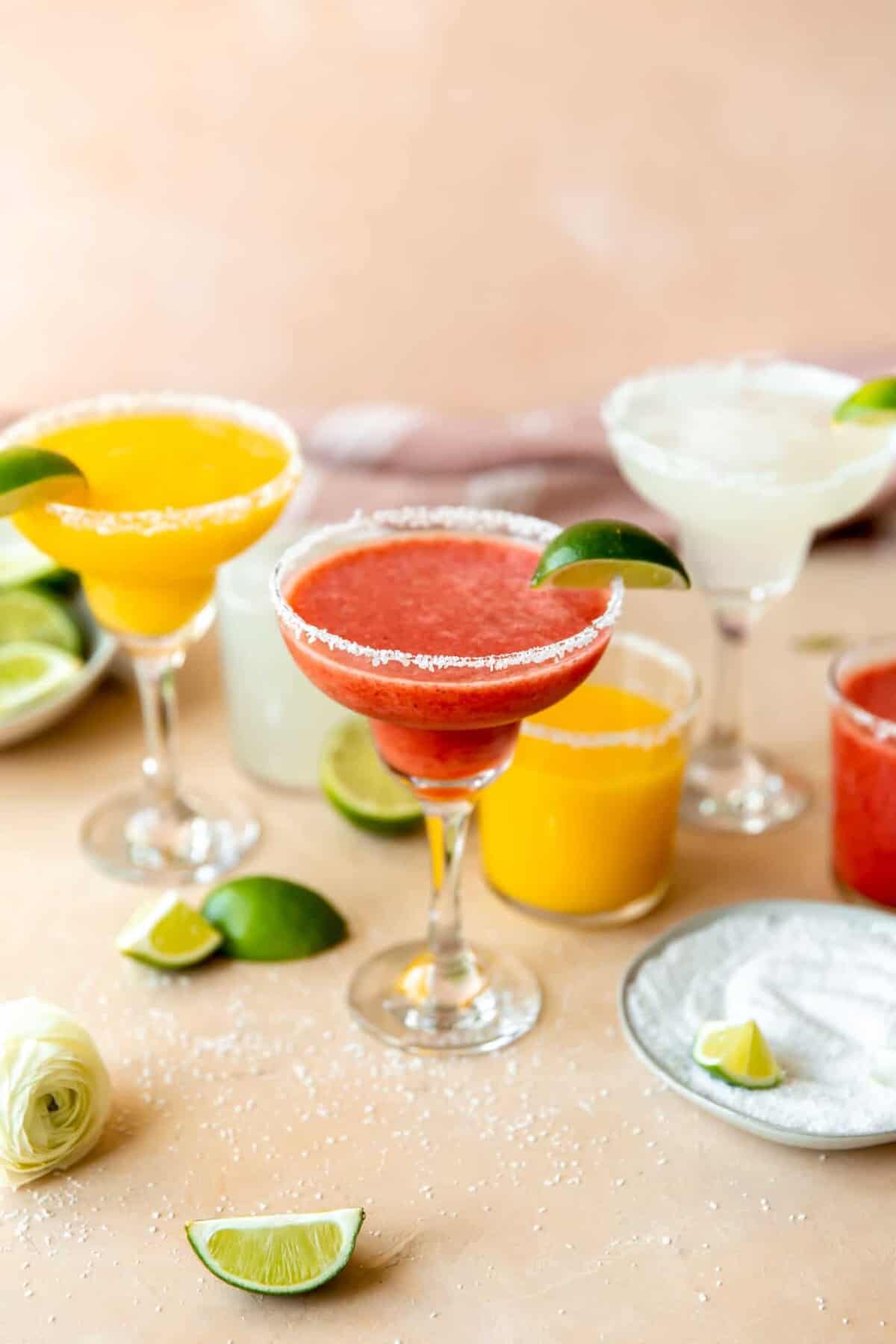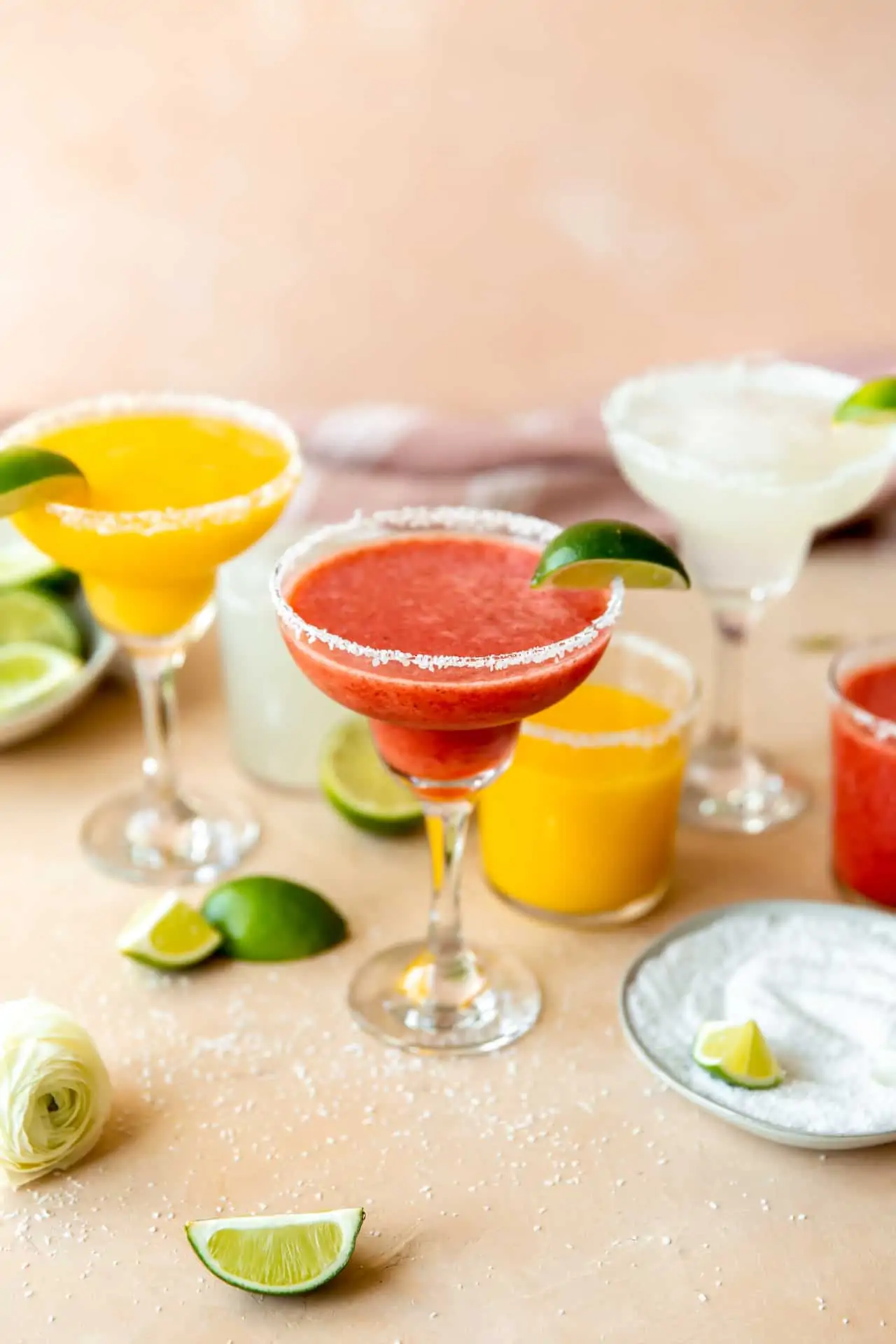 All about these Frozen Margaritas…
Blended: Thanks to using frozen fruit these margaritas come out frosty, slushy and fruity without the worry of a watered down, diluted drink.
Adaptable: This recipe is easily adapted to create the margarita you want with your favorite fruit!
5 minutes: is all that is needed to whip this recipe together! Prepare your simple syrup ahead of time, or swap out with agave syrup to cut out that step.
5 ingredients: you are only 5 ingredients away from creating your own restaurant worthy cocktail in your own home! Tequila, orange liqueur, frozen fruit, limes, and sweetener. (Extra salt and sugar for lining the rim of your glass if desired, but not necessary!)
Ingredients You Will Need: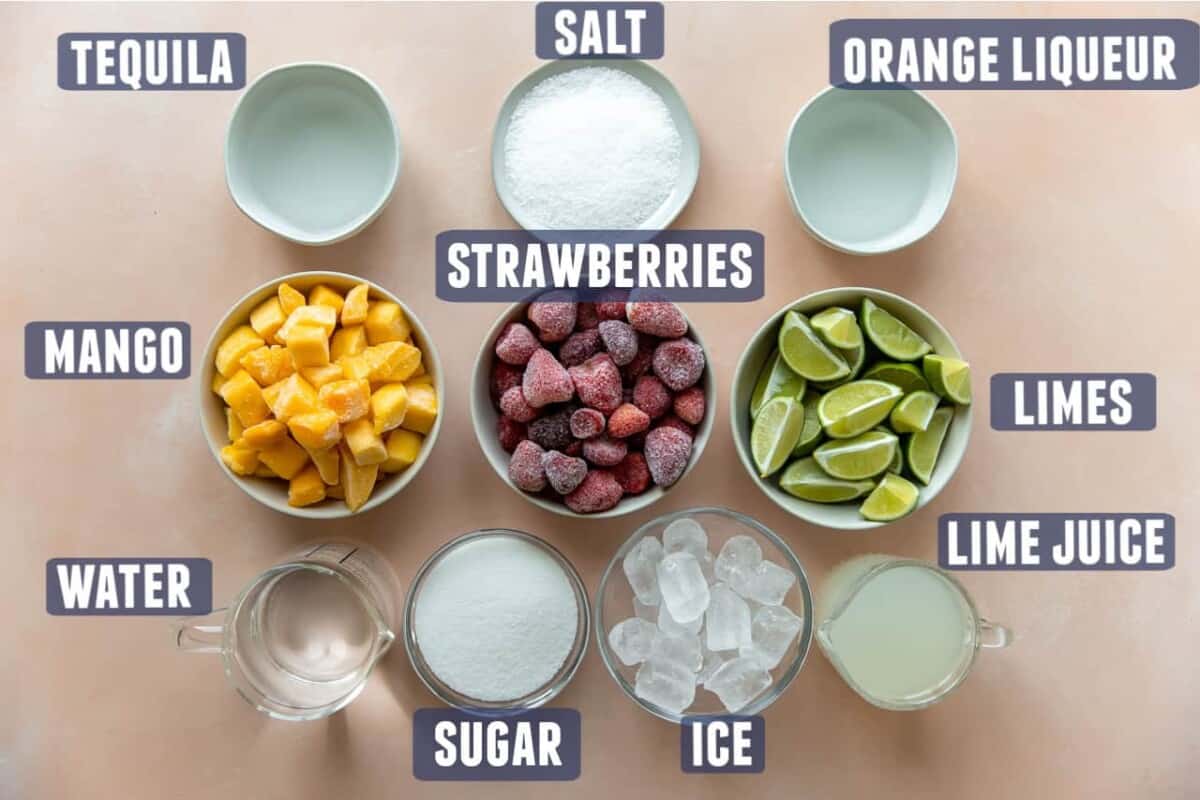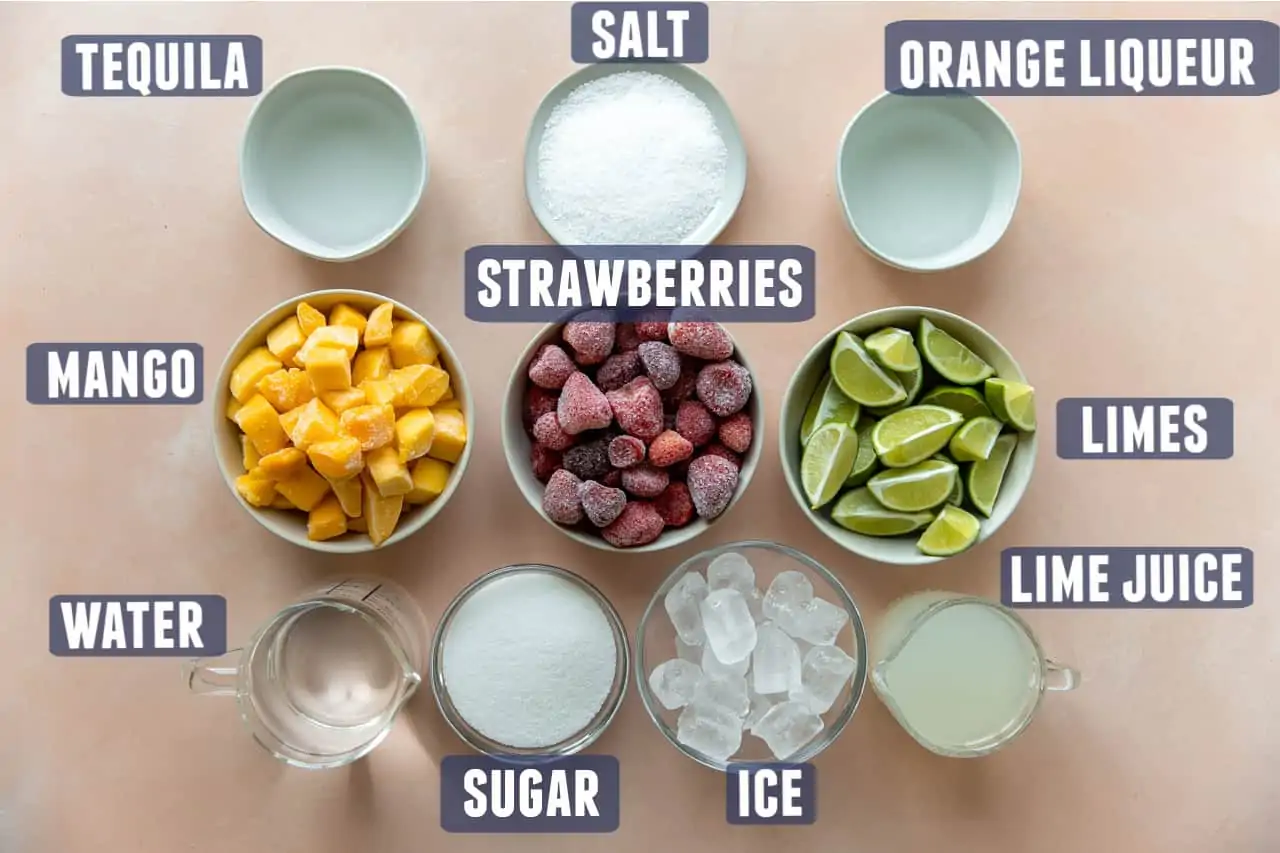 Notes on some of the Ingredients:
Tequila: use a 100% Agave Tequila. Either a blanco or a reposada will work well in this recipe.
Orange Liqueur: Triple Sec is a common option, you could also use Cointreau.
Frozen Fruit: You can use any kind of frozen fruit in this recipe.
Ice: make sure you have lots of ice on hand for making a large batch!
Salt: Use a coarse salt or a coarse sugar if you would prefer. You can line the entire rim of the glass, or you can just do a side portion if you prefer.
How to Make (step by step):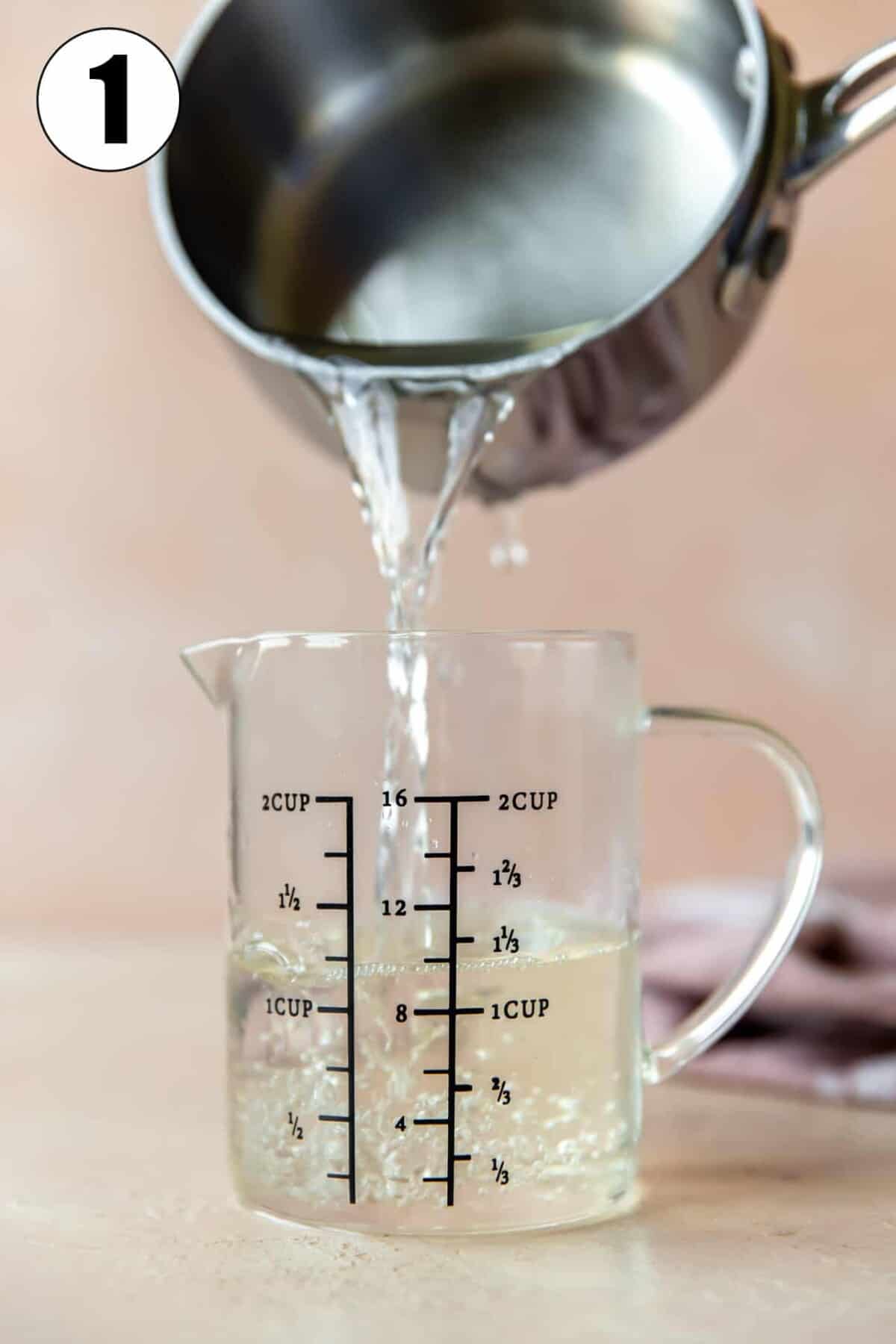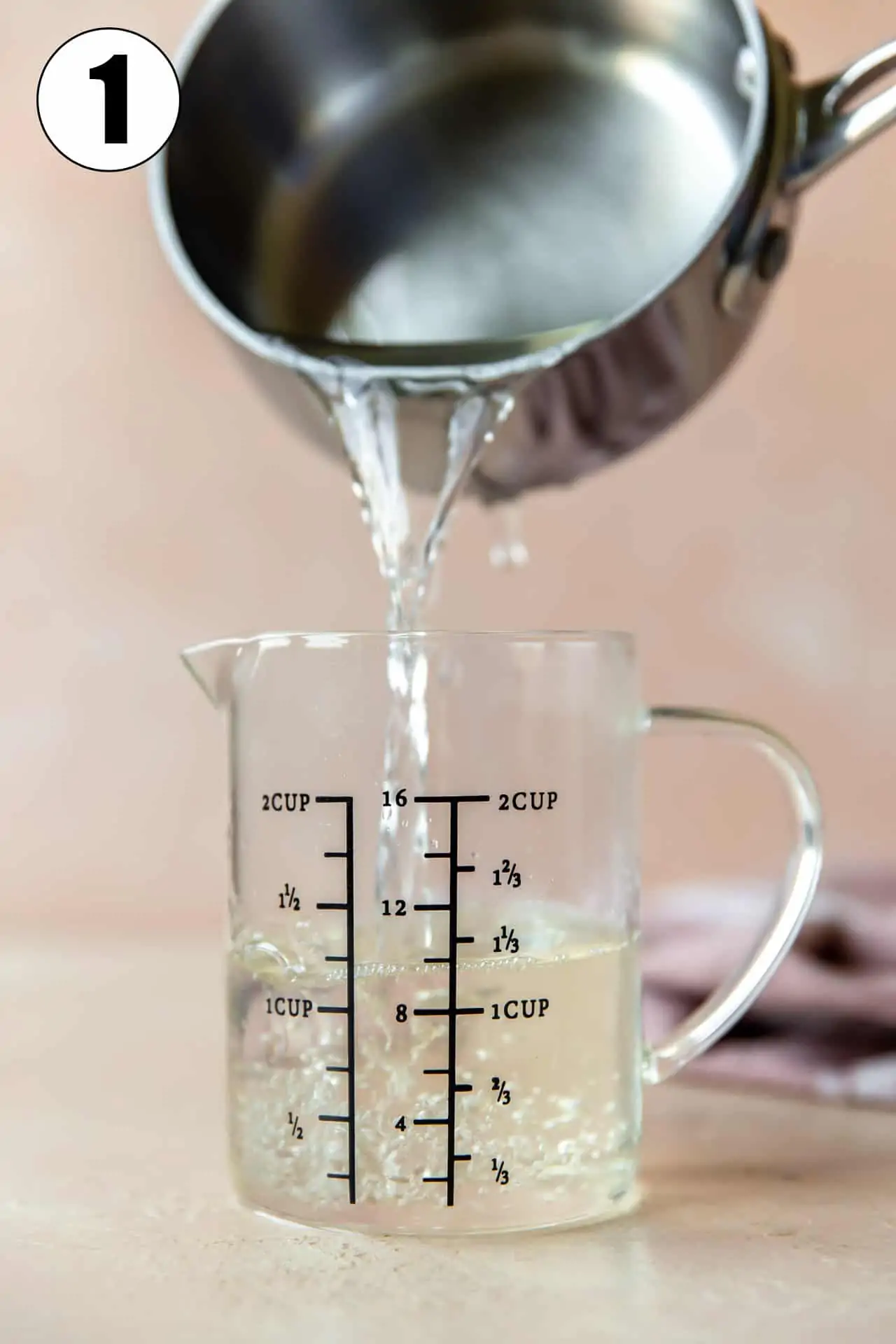 Step 1: Prepare the simple syrup. Simple syrup is a combination of sugar and water. Heat the water in a pot on the stovetop with the sugar, stir while it heats just until the sugar completely dissolves into the water. This is used to sweeten the margaritas.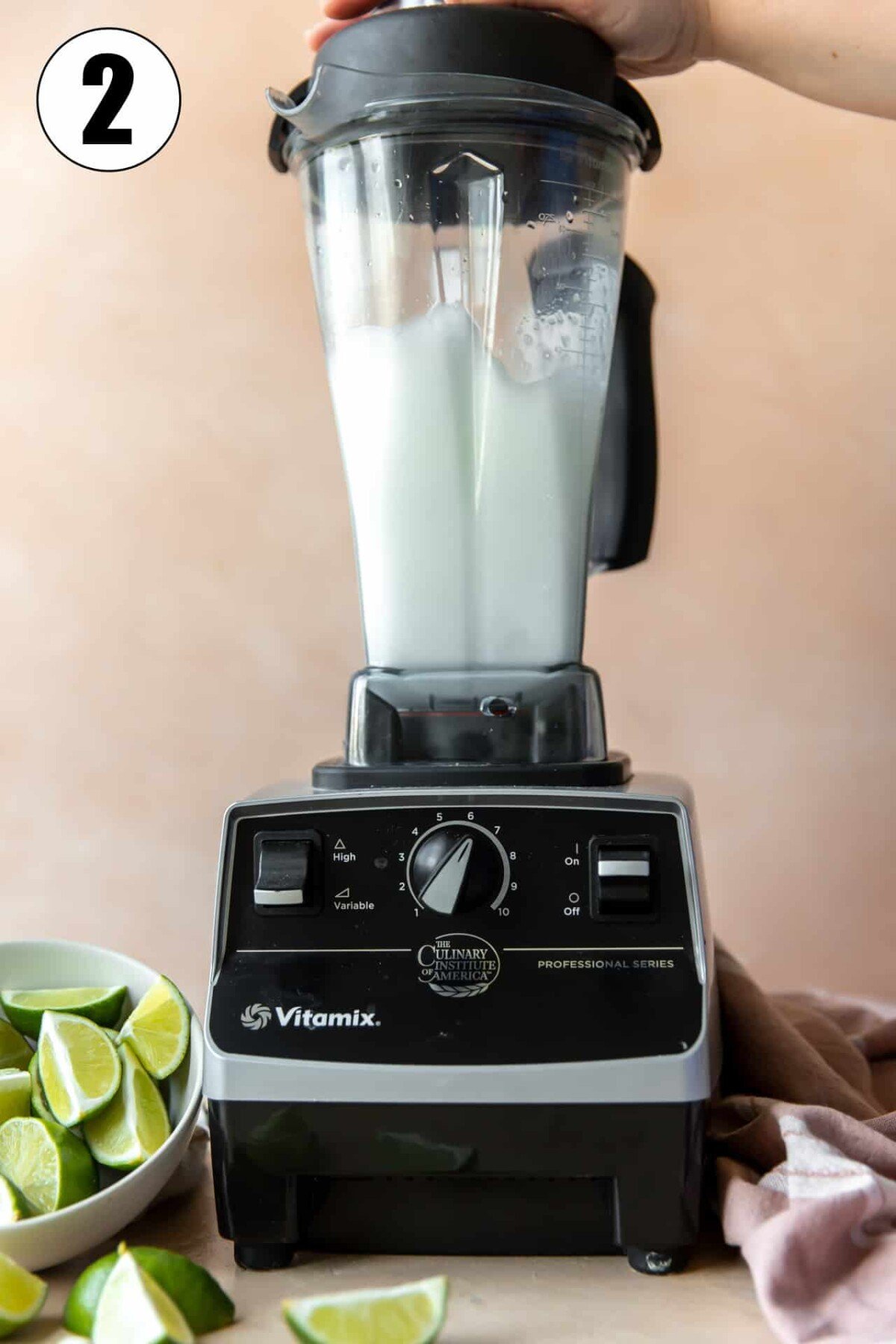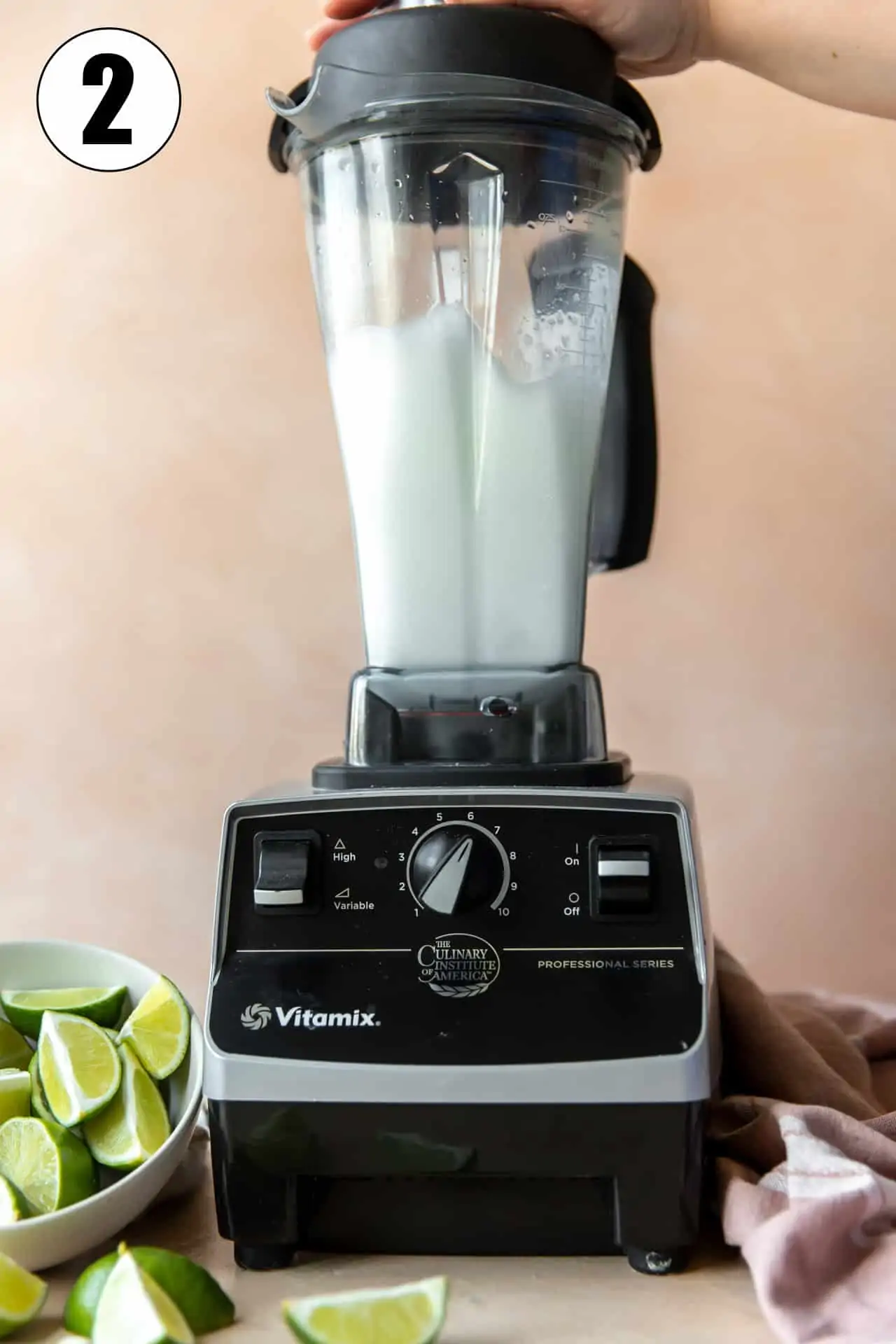 Step 2: Add the ingredients (fruit or juice, simple syrup, tequila, orange liqueur, and ice into the blender. Blend until smooth. Taste and adjust with more simple syrup as needed.
Step 3: Serve! Grab a lime wedge and rub it around the rim of the glass. Dip the glass into a coarse salt or sugar depending on your preference. Then pour the margarita into the glasses. Garnish with a fresh cut lime wedge.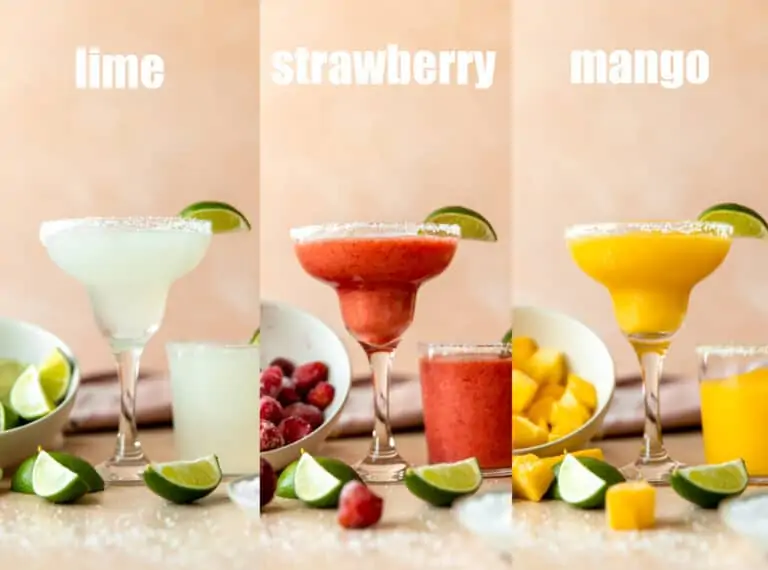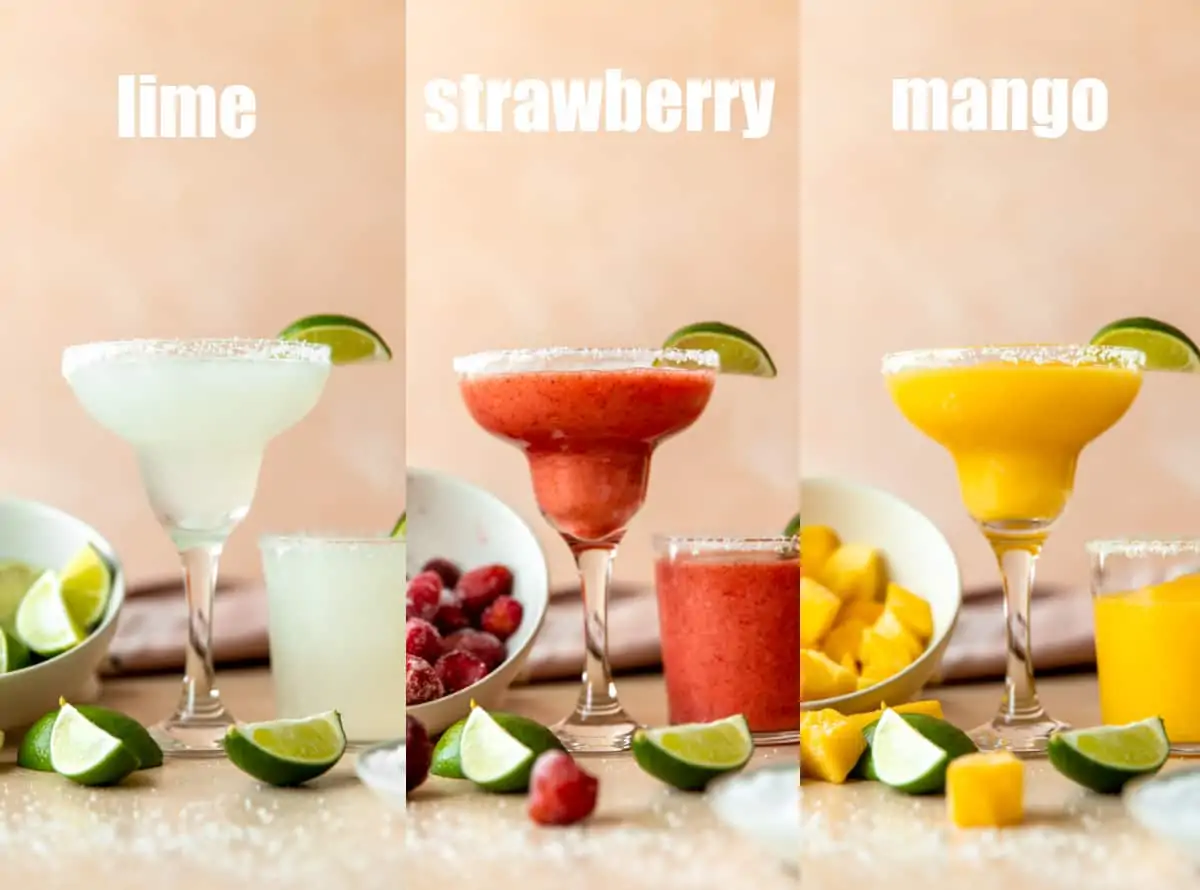 Expert Tips:
Simple Syrup: Be sure to prepare the syrup ahead of time to allow it to cool down to room temperature before adding to the margaritas. Warm syrup will cause your frozen margarita to melt.
Ice: Start with less ice, you can always add more, it's more difficult to thin out a very thick margarita from too much ice.
Tequila: With this being one of the main ingredients in this cocktail, it's also one of the main flavors you will be tasting. Make sure you're getting a good one! Tequila Reposada is always a top pick!
F.A.Q's:
Can I use Fresh Fruit in a frozen margarita?
No. This will cause you to have a watery margarita. To have a frozen drink we have to use ice, using too much ice will give you a diluted, watery drink. To balance that out, we use frozen fruit to cut down on the amount of ice needed.
How do I thicken my frozen margarita?
Simply add more ice. When starting out, I recommend using a bit less ice since it's more difficult to thin out a margarita once it's too thick. It's simple to add just a bit more ice and blend to thicken it up.
Can I use this recipe to make a large batch of margaritas?
Yes! You can easily adjust the number of servings in the recipe card to increase the amounts you need for a larger batch.
What is the difference between a Margarita and a frozen Margarita?
A regular classic margarita is a mixed drink poured over ice and served "on the rocks" While a frozen margarita is blended with the ice to make a frozen, slushy like drink.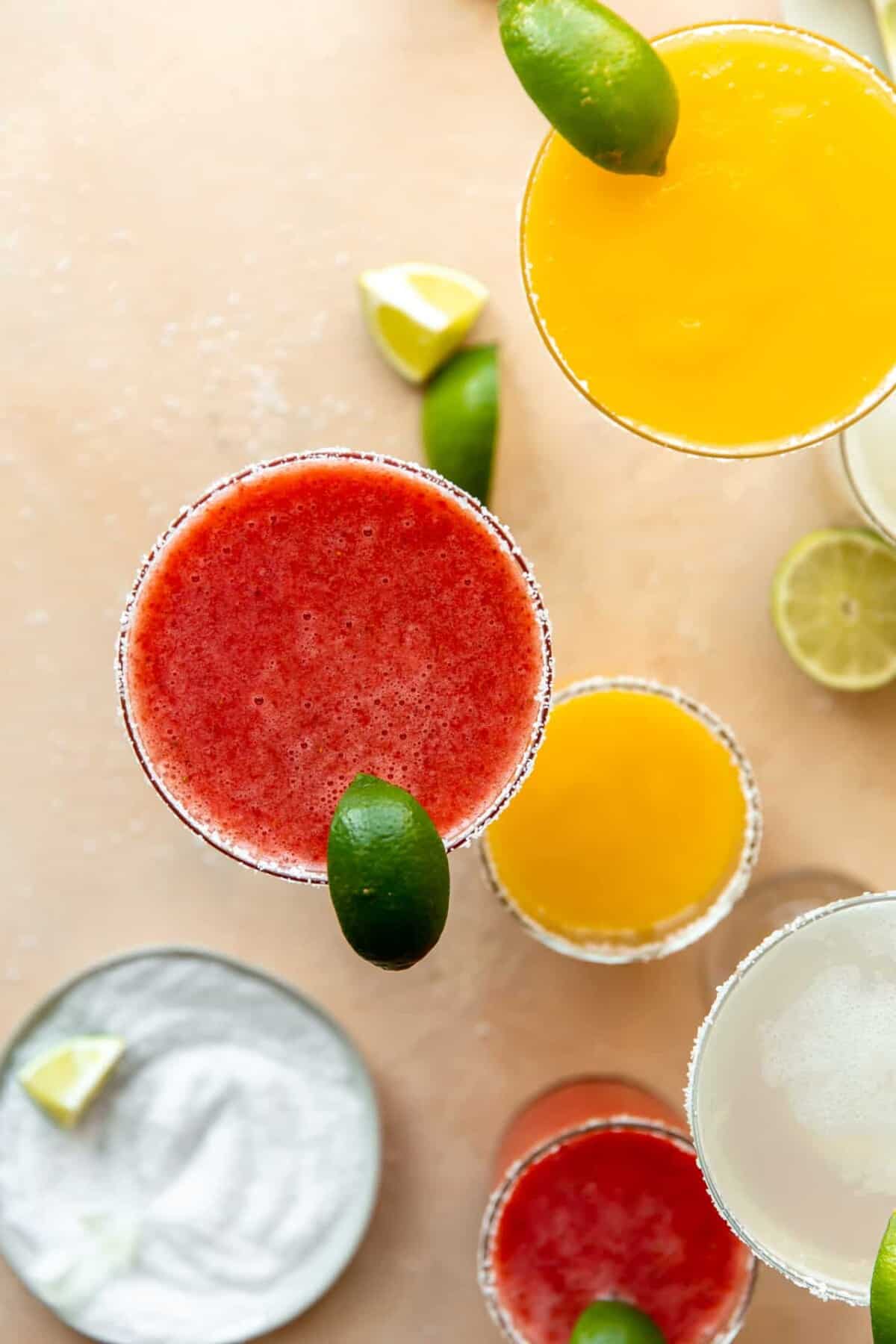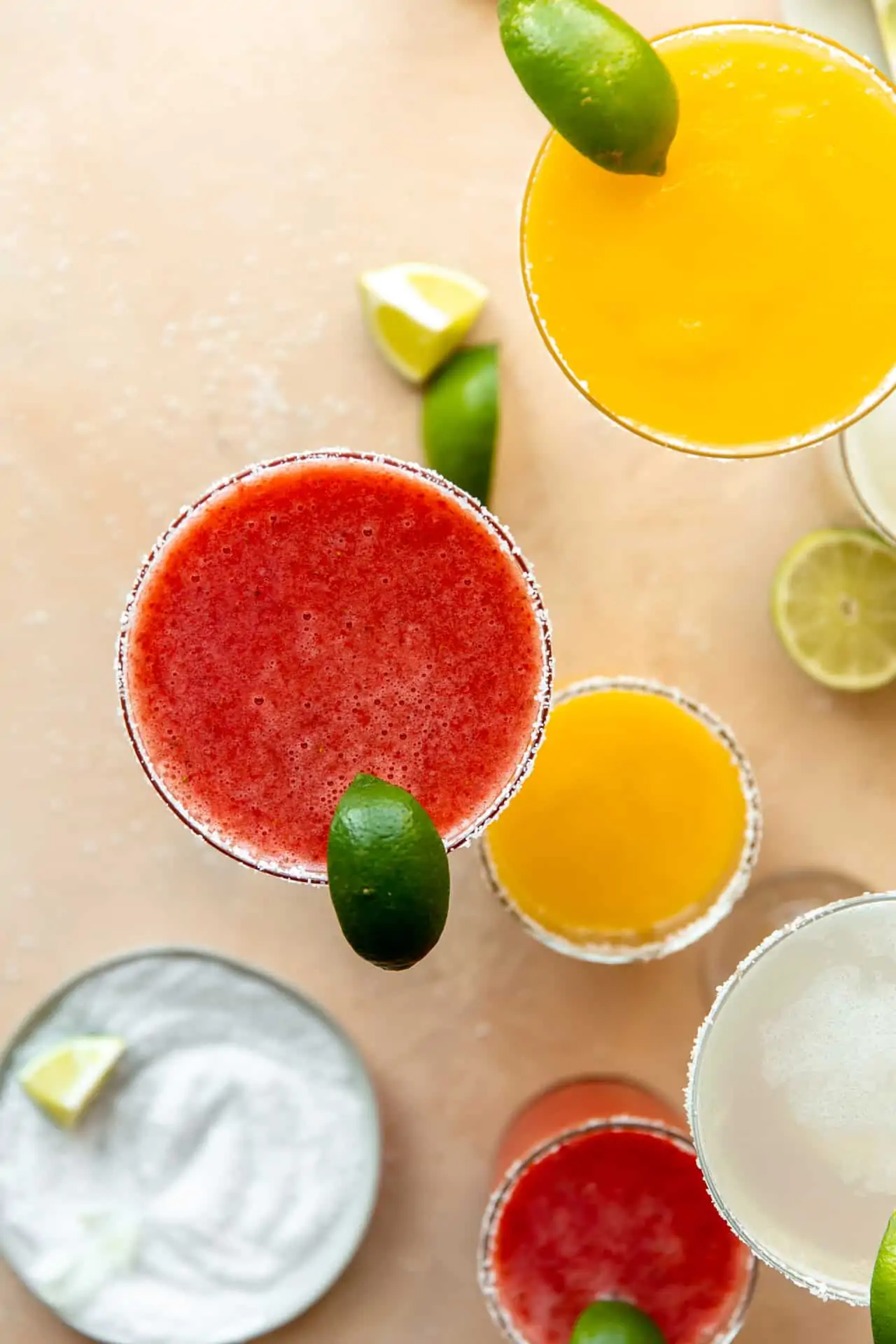 More Mexican Drink Recipes to Enjoy:
Frozen Margarita Recipe (using ANY fruit)
These Frozen Margaritas are cold, frosty, and fruity! You can blend up a batch of these slushy margaritas in less than 5 minutes and with only a handful of ingredients. The perfect drink for any hot and sunny day.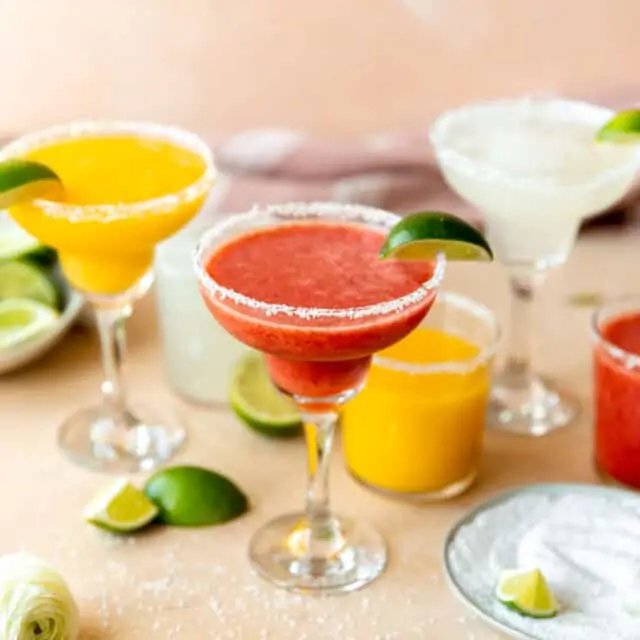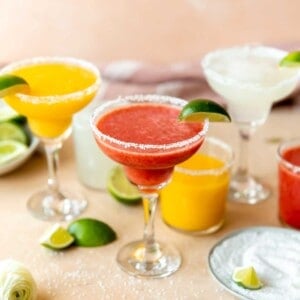 Ingredients
Simple Syrup
1

cup

water

1

cup

white granulated sugar
Margarita
½

cup

frozen fruit OR 3/4 ounce fresh lime juice

¼

cup

simple syrup

recipe above

3

oz

tequila

1

oz

orange liqueur

1

cup

ice

lime wedges

coarse sugar/salt
Instructions
Simple Syrup
Heat: Add the water and sugar to a small pot, heat over medium heat. Whisk while cooking. Once sugar is completely dissolved and mixture is clear, remove from heat and allow to cool to room temperature.
Margaritas
Blend: Add the frozen fruit of choice, or fresh lime juice, simple syrup, tequila, orange liqueur and ice to a blender (start with less ice than you think, too much ice will make the drink too thick). Blend for about 1 minute until completely mixed and no large chunks remain.

Adjust: Taste and add more ice or sweetener as needed.

Serve: Run a lime wedge around the rim of the glasses. Dip into sugar or salt. Pour margarita into glass, serve and enjoy!
Notes
Simple Syrup: can sub with agave syrup if desired as a sweetener.
This simple syrup recipe will make enough for 6-8 margaritas, leftovers can be stored in a sealed container at room temperature for 3-5 days.
Tequila: use a 100% Agave Tequila. Either a blanco or a reposada will work well in this recipe.
Orange Liqueur: Triple Sec is a common option, you could also use Cointreau.
Alcohol amounts: This recipe includes slightly more than one shot per drink. Amounts of alcohol can be adjusted according to preference.
Large Batches: Keep the ratios the same, and prepare a larger batch of margaritas at one time.
Nutrition
Serving:
1
margarita
|
Calories:
267
kcal
|
Carbohydrates:
38
g
|
Protein:
1
g
|
Fat:
1
g
|
Saturated Fat:
1
g
|
Sodium:
32
mg
|
Potassium:
87
mg
|
Fiber:
1
g
|
Sugar:
37
g
|
Vitamin A:
4
IU
|
Vitamin C:
21
mg
|
Calcium:
15
mg
|
Iron:
2
mg
Nutrition information is automatically calculated, so should only be used as an approximation.
Like this? Leave a comment below!
Photography by the talented @KJandCompany.co
Post first posted April 8, 2016. Updated May 25, 2022.