Cinnamon Tortilla Rollups!  Only 4 ingredients and 1 minute of your time to make this quick, simple, and delightful dessert!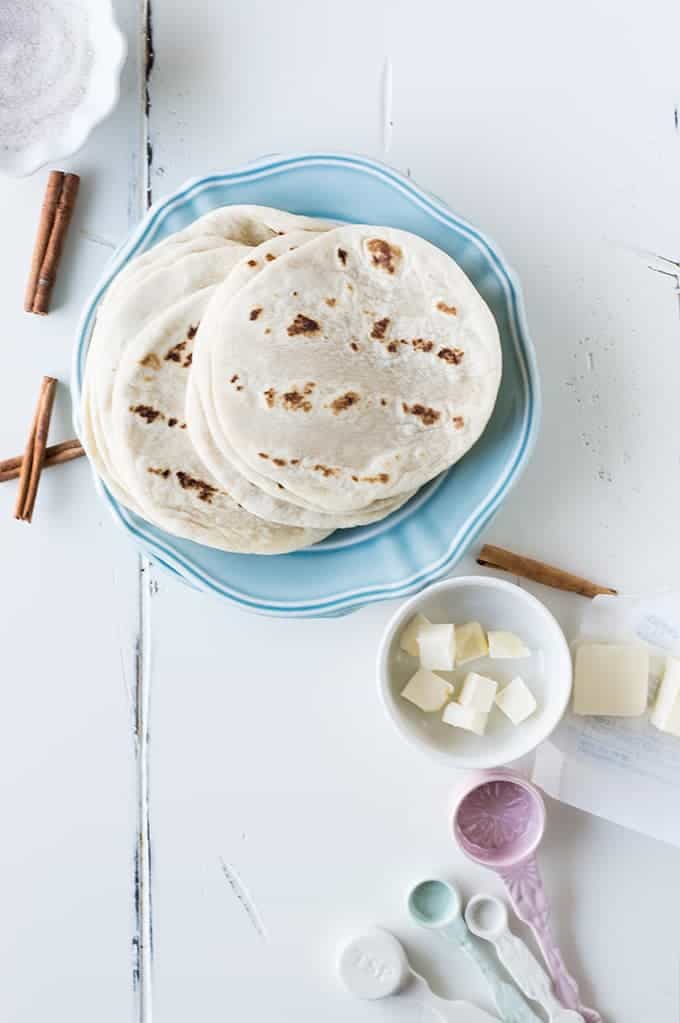 Cinnamon Tortilla Rollups.  Like a churro.  But not.
Simple, quick, and easy.  I'm not even sure that this counts as a recipe.
But they're so good I had to make them and share them with you.
Plus the pictures turned out cute so I want to put them all over the internet.
Yea, it's Monday. I know. Total bummer. I know it's cliche to say the weekends fly by, but they really do! There's so many things to do and people to see and kid's activities to attend. Side note: have you seen the Powerball's estimated amount!?? There was a drawing this Saturday, of course we bought tickets along with 5856838495872946 other people. Sadly we didn't win. No one won. Now the last I saw its up to 1.3 billion!? ?? wowza.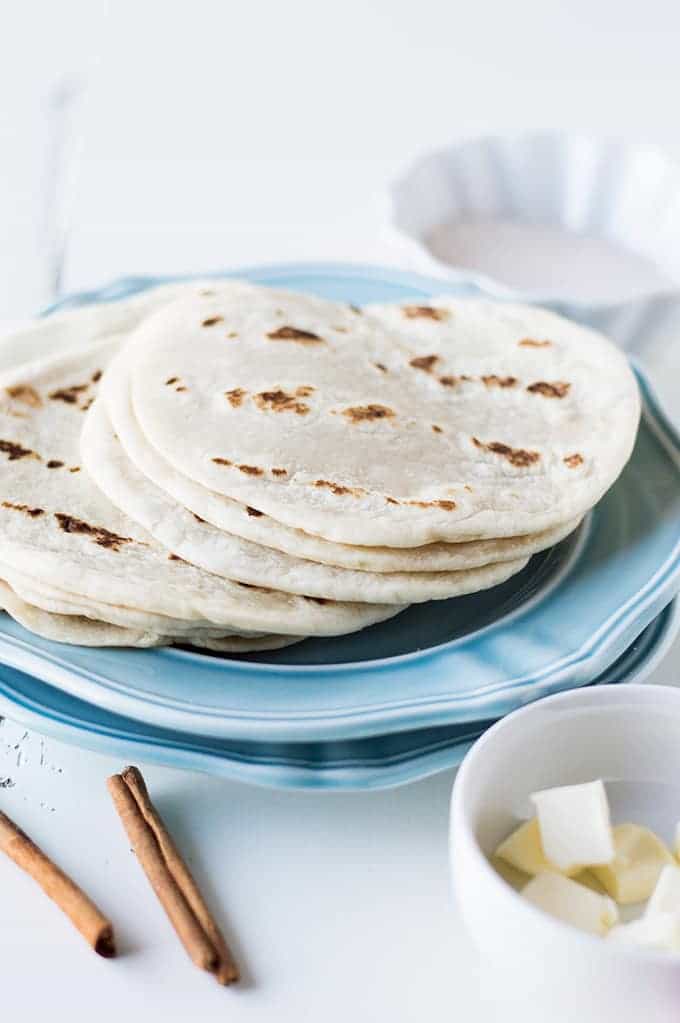 Absolutely getting  tickets for that one too. The hubs and I don't watch the drawings. We go and scan our tickets the next day. This gives us more time to dream. So I'm not going to lie, I went  to sleep Saturday making plans in my mind about how we would spend the money. I would definitely have a house be built. And plan the most epic kitchen ever. I fell asleep debating over if I would want white or dark cabinets. This is what winning the lottery would be for me. What color of cabinets would I get. Someone has to win the lottery right? As long as that chance is out there I'm going to dream about what color backsplash I would want.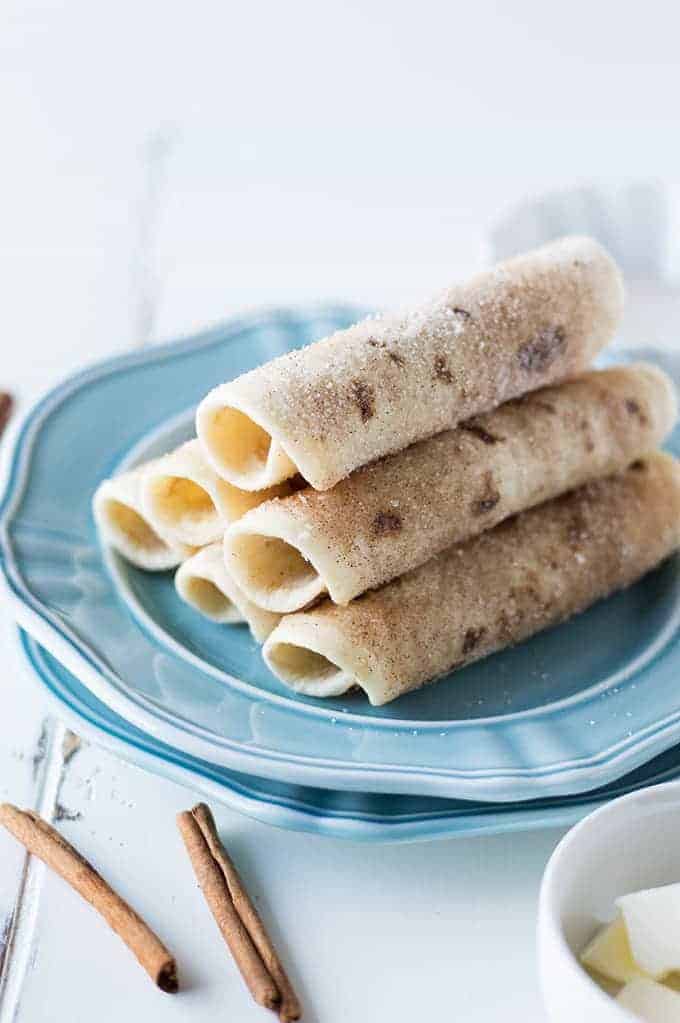 I would love to have some segue from my lottery talk into these Cinnamon tortilla roll ups. But I don't. I suppose I could tell you these would be the next best thing to winning! But cmon. In what world are tortillas a suitable runner up prize to 1.3 billion dollars? What I can tell you is that these are easy to make, and wonderful in their simplicity. I got this idea from a restaurant here that I'm slightly obsessed with, Costa Vida, it's kind of like Cafe Rio, but not. The same but different. I want to eat their sweet pork burrito bowls with queso every day of my life. Anyway, the kids meals always come with this wonderful dessert.  Super simple little cinnamon sugar tortillas.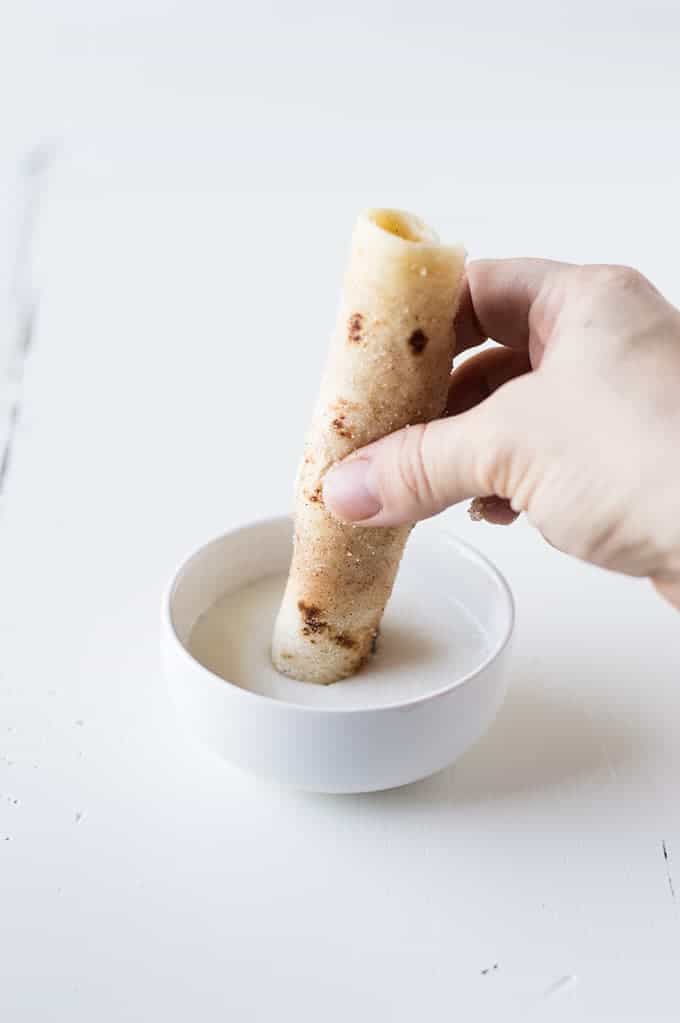 I would say since these are so simple, we want to have good ingredients.  Spend an extra dollar and get some good tortillas.  If there's a place nearby where you can get fresh tortillas that would be best.  There is nothing better than fresh tortillas.  I also made a cream cheese glaze for dipping.  Or for pouring allllllll over.  Whichever way you prefer to get your glaze on.  Or you could even do both if the mood strikes.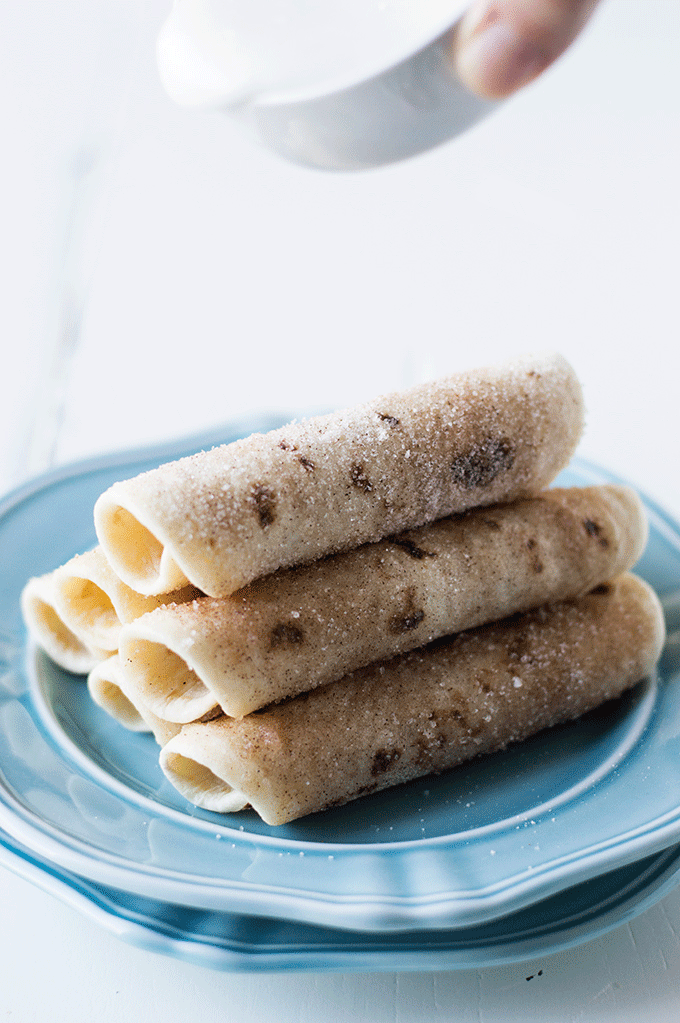 I hope you enjoy the recipe!  You can follow along with me and never miss a recipe by signing up for my newsletter.  Follow me on Instagram and tag #houseofyumm so I can see all the recipes you make.  Plus follow me on snapchat! @houseofyumm ?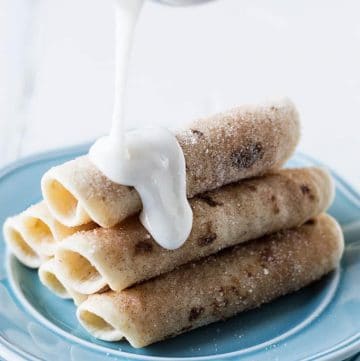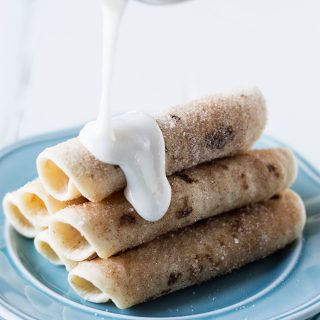 Cinnamon Tortilla Rollups
Cinnamon Tortilla Rollups! Only 4 ingredients and 1 minute of your time to make this quick, simple, and delightful dessert!
Ingredients
2 tbsp butter, softened to room temperature
4 tbsp white granulated sugar
1 tsp ground cinnamon
Cream Cheese Glaze
4 ounces cream cheese , softened
1 cup powdered sugar
1 tsp vanilla
4 tbsp milk
Instructions
Add the sugar and cinnamon to a small bowl, stir to combine. Set aside.

Warm the tortillas in the microwave for about 30 seconds.

While the tortillas are warm spread one side with the butter, until the entire side is covered with melted butter.

Sprinkle the cinnamon sugar mixture over the tortilla. Roll the tortilla up. Serve and enjoy!
Cream Cheese Glaze
Place all ingredients into a small mixing bowl and stir until smooth and creamy. Add milk or powdered sugar as needed to get desired consistency.
Nutrition
Calories: 253kcal, Carbohydrates: 38g, Protein: 4g, Fat: 10g, Saturated Fat: 5g, Cholesterol: 24mg, Sodium: 280mg, Potassium: 75mg, Fiber: 1g, Sugar: 23g, Vitamin A: 291IU, Calcium: 57mg, Iron: 1mg
House of Yumm is a participant in the Amazon Services LLC Associates Program, an affiliate advertising program designed to provide a means for us to earn fees by linking to Amazon.com and affiliated sites.