These Aguas Frescas are light and refreshing Mexican drinks that are made with only 3 ingredients! Grab your favorite fruit, some sugar and water and you can be sipping on these cold, fruity drinks in only minutes. Follow the easy steps below to make your own creation, you can even blend your favorite flavors together.
Why Make This Agua Fresca Recipe?
This drink recipe is made with natural ingredients. Feel free to substitute the sugar for a different sweetener of your choice.
This recipe makes the best use of seasonal produce. Use what is currently in season for a fresh, sweet drink.
Making your own agua fresca at home is a much healthier drink than store bought juices.
Ingredients Needed: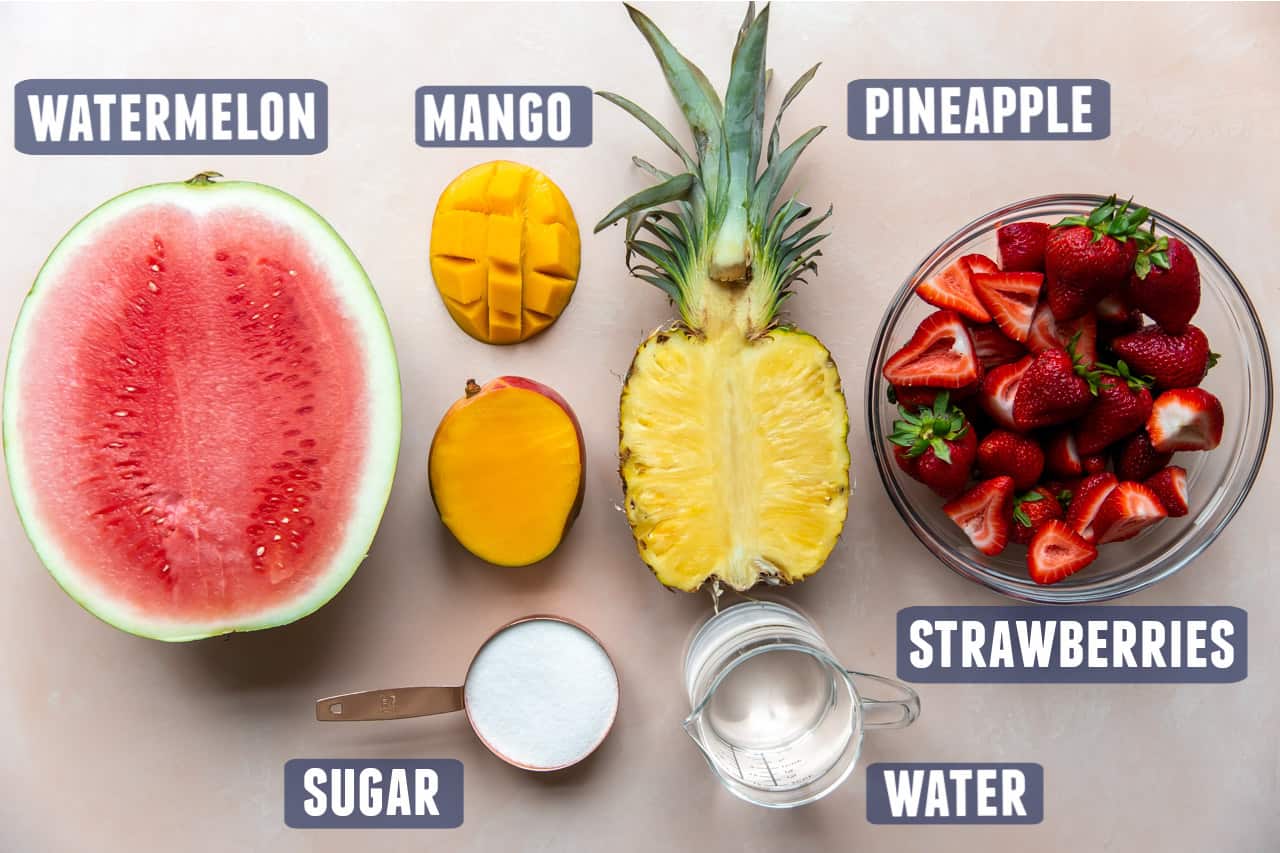 Notes on Some Ingredients:
Fruit: use your favorite fruits or a combination of fruits. Some classic examples that are shown in this post are watermelon, mango, pineapple and strawberry. Some other options that are popular are: cucumber, cantaloupe, honeydew, lime, tamarind, and Jamaica.
Water: use a filtered, drinking water. This recipe is not cooked or boiled, so ensure that you are using a good drinking water.
Sugar: feel free to swap the white sugar with any kind of sweetener you prefer. Always taste the drink and add more sweetener if needed after blending.
How to Make (step by step)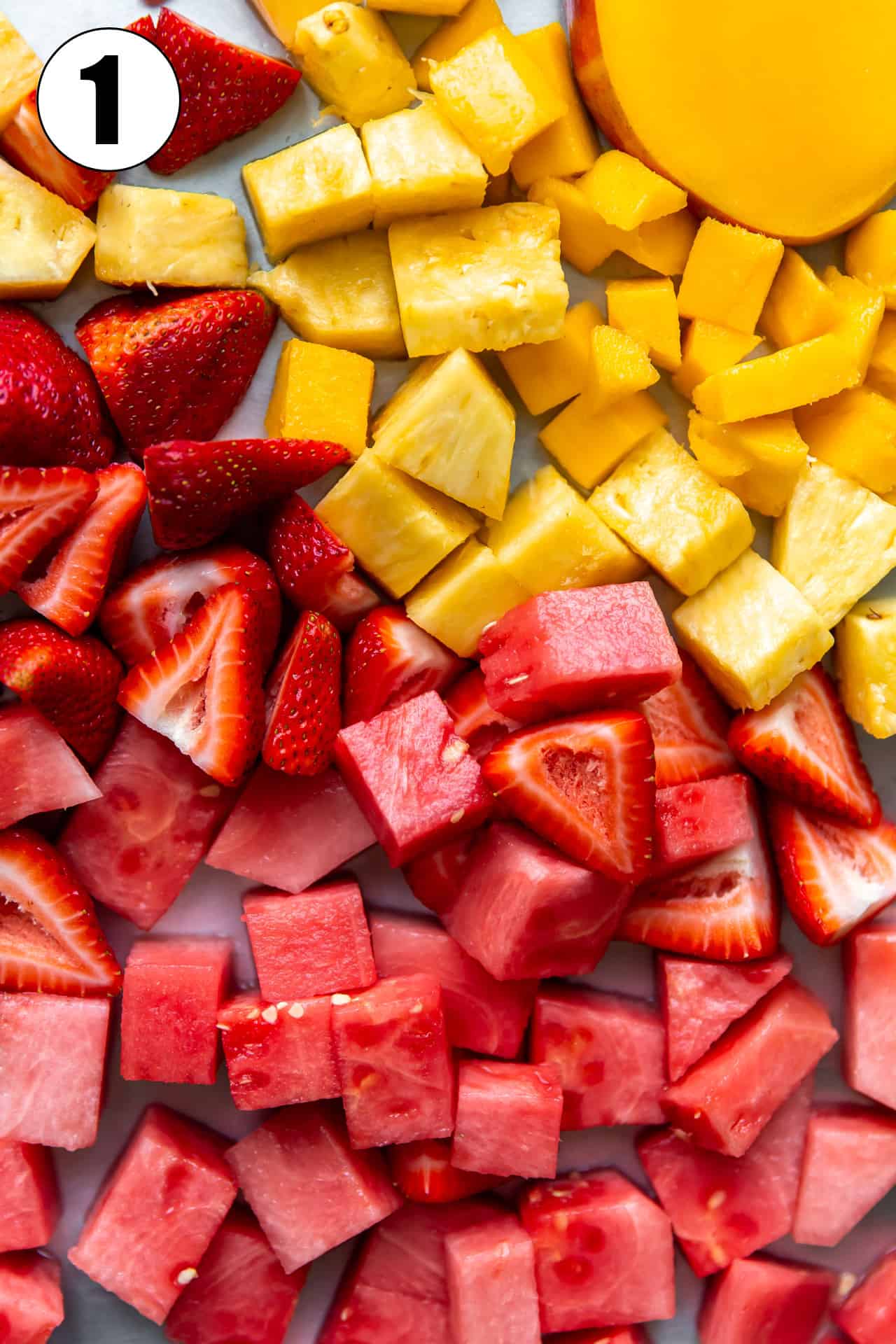 Step 1: prepare your fruits. All peels and seeds should be removed from whatever fruit you are using. Give the fruit a rough chop to help the blending process.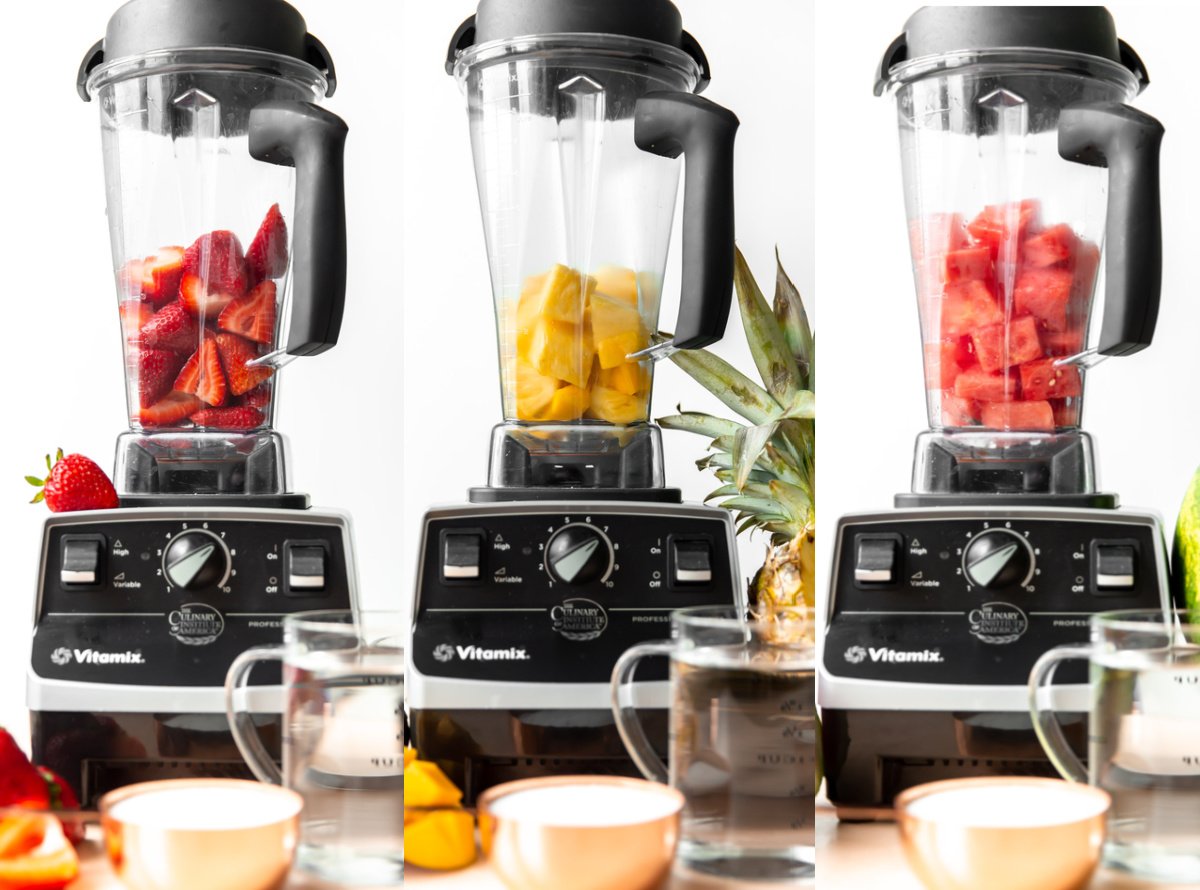 Step 2: Add the water, sugar and fruit to the blender and blend until smooth.
Step 3: Strain. Pour the drink through a fine mesh strainer to get rid of any excess pulp. Then serve the drink over ice.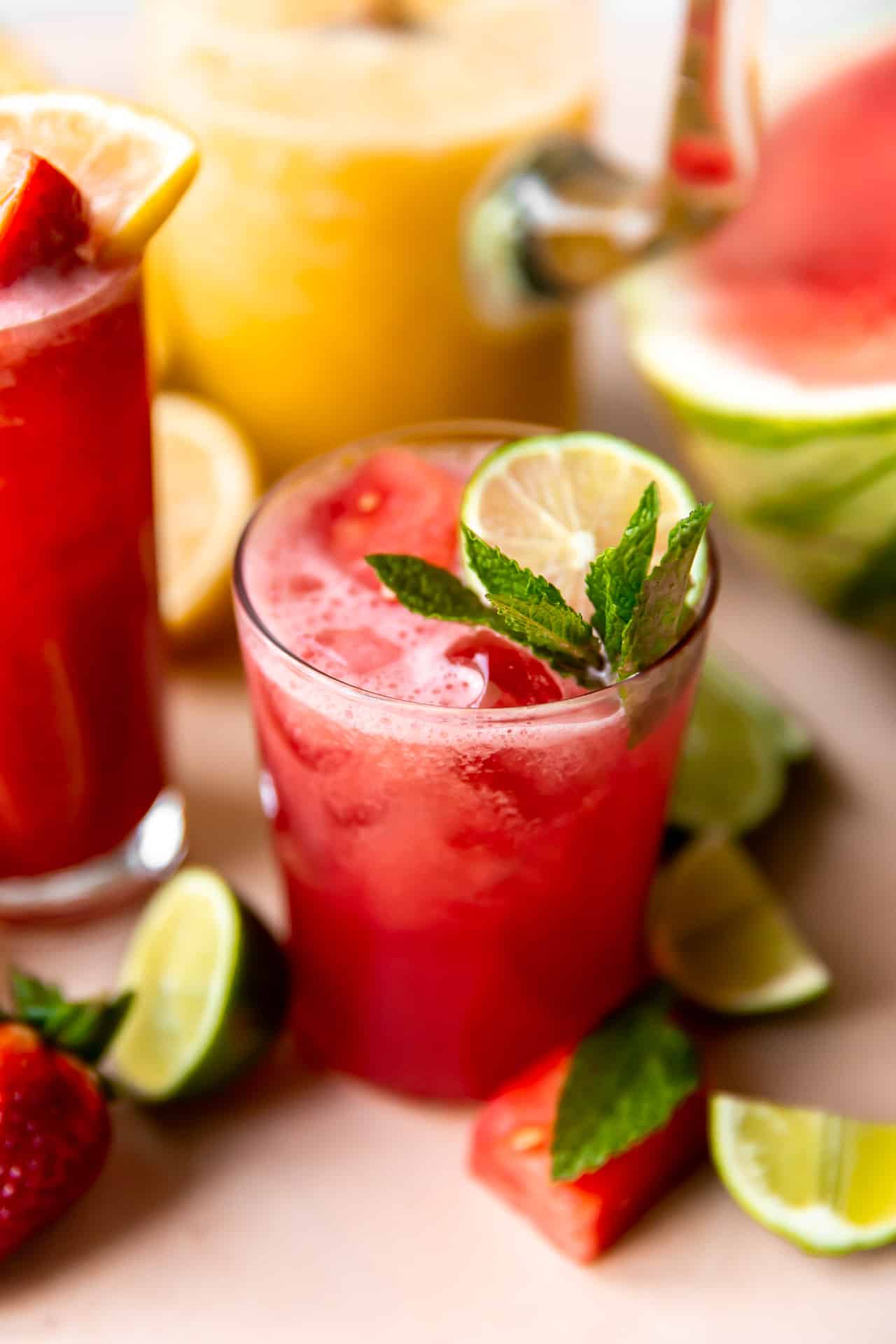 Best Type of Fruits to Use:
Watermelon
Strawberry
Mango
Pineapple
Cantaloupe
Honeydew
Guava
Papaya
Cucumber
Some berries, like blueberries and blackberries don't blend and strain well for this particular recipe. I would advise you avoid them.
Serene's Tip: Add a squeeze of lemon or lime to any of the drinks for a burst of fresh citrus flavor.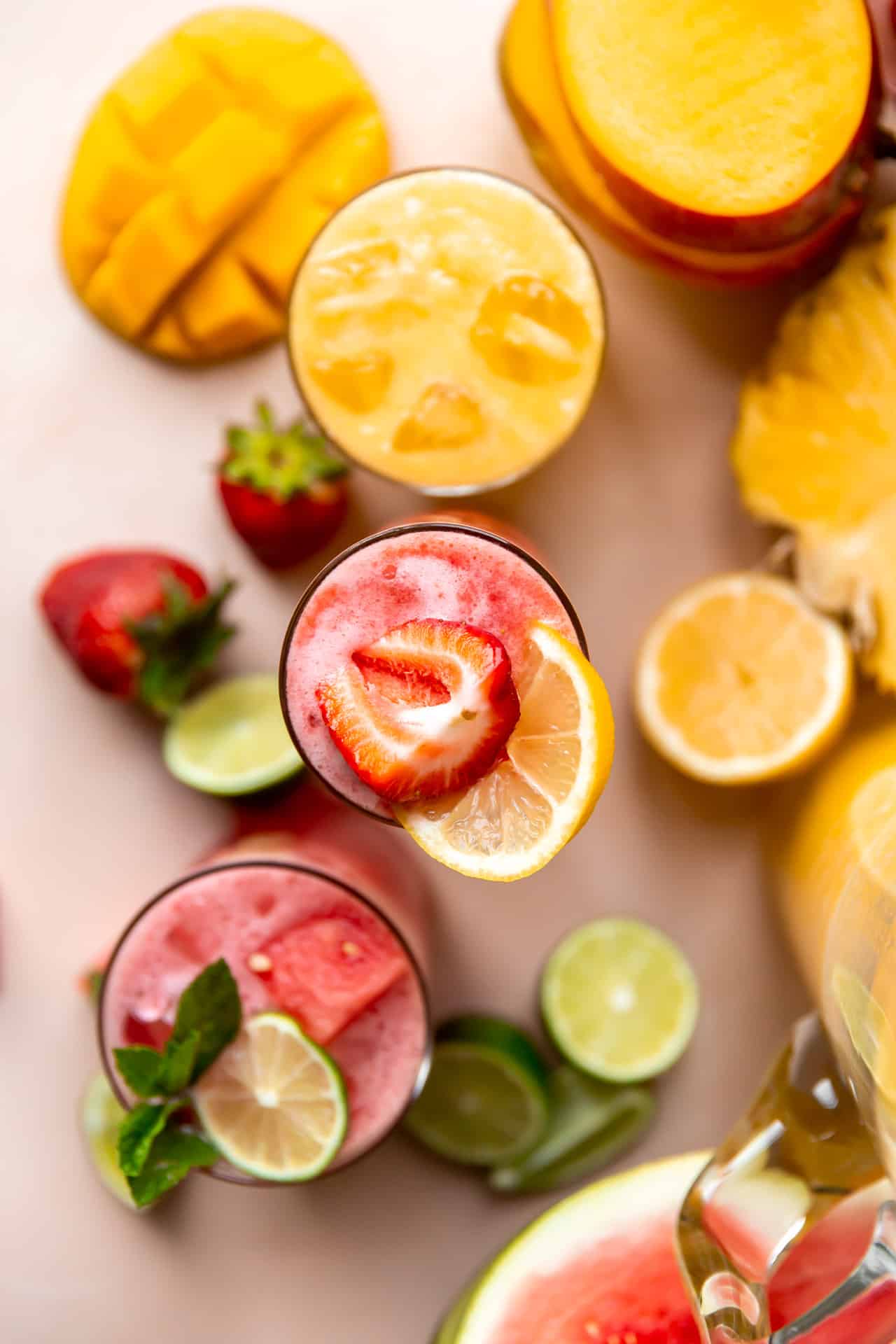 More Drink Recipes to Try:
If you tried this recipe please leave a comment and a ⭐️⭐️⭐️⭐️⭐️ rating below! Thank you so much!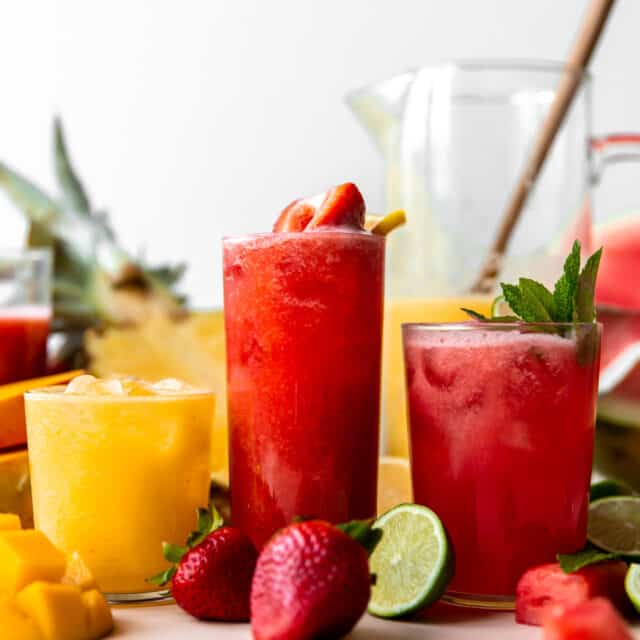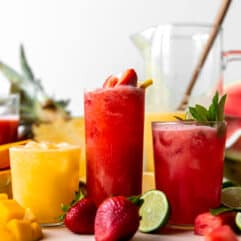 Agua Fresca Recipe (Basic Recipe for ANY fruit)
This easy Agua Fresca Recipe can be used to make a refreshing, non-alcoholic, fruit drink using any of your favorite fruits. Perfect for cooling down and relaxing on a hot summer day.
Ingredients
4 cups filtered water
2 cups fruit, peels and seeds removed
¼-⅓ cup sugar, or sweetener of choice
Optional
fresh herbs & fruit, for garnish
ice
Instructions
Clean the fruit: remove any leaves, stems, peels, seeds and give the fruit a rough chop if needed.

Blend: Add water, sugar, and cleaned/chopped fruit to a blender.

Blend until smooth.

Strain: Pour the fruit mixture through a fine mesh strainer into a cleaned pitcher or container.

Taste and add additional sugar if needed.

Serve: pour over ice with garnishes of fresh herbs or fruit.
Equipment
Notes
Fruit: choose your favorite, some great options include:
Watermelon
Strawberry
Mango
Pineapple
Cantaloupe
Honeydew
Guava
Papaya
Cucumber
It is not recommended to use blueberries or blackberries.
Sweetener: use sugar or substitute with your favorite sweetener.
Storage: Drinks can be served as soon as prepared over ice. Or store in a sealed container in the refrigerator for up to 3 days. After chilling be sure to stir the drink since it can separate as it sits.
Nutrition
Serving: 1cup, Calories: 116kcal, Carbohydrates: 30g, Protein: 1g, Fat: 1g, Saturated Fat: 1g, Sodium: 18mg, Potassium: 106mg, Fiber: 2g, Sugar: 26g, Vitamin A: 358IU, Vitamin C: 3mg, Calcium: 13mg, Iron: 1mg
Photography done by the talented @KJandCompany.co
House of Yumm is a participant in the Amazon Services LLC Associates Program, an affiliate advertising program designed to provide a means for us to earn fees by linking to Amazon.com and affiliated sites.