Homemade Refried Black Beans made at home the easy way! Flavorful and tender these beans cook up in 15 minutes, making them the perfect Tex Mex side dish to all your favorite family meals.
All about these Refried Black Beans…
Typical refried beans are made with pinto beans, but this hearty side dish is made with a nutritionally dense black bean! Rich and flavorful, these refried black beans are perfect for serving alongside your favorite Tex Mex meal with some rice. This dish is:
Quick and easy: thanks to using canned beans this dish can come together in under 30 minutes! If needed you can always make this with dried beans also, but that does increase the time needed.
Few ingredients: using mostly pantry ingredients this is a dish that can be tossed together with little to no planning!
Flavorful and nutritious: black beans are full of dense nutrition making this a great side dish option that the entire family can benefit from.
Ingredients Needed: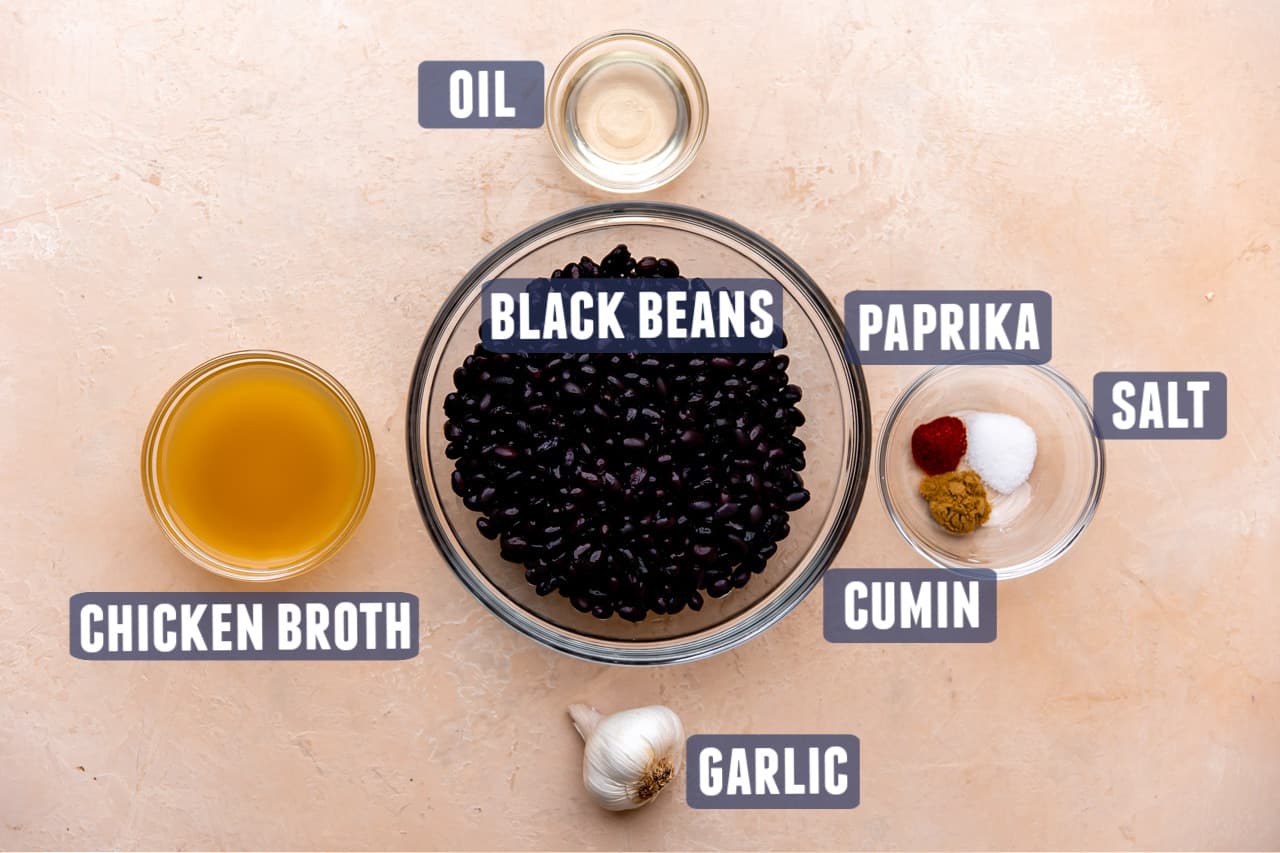 Notes on some ingredients:
Black Beans: this recipe is written using canned beans for ease, however you can easily make this using dried beans also.
Chicken Broth: if you need to make this a meatless dish, simply swap this out with vegetable broth. Add more or less broth to help reach the desired consistency of the refried beans.
Oil: Avocado oil is my favorite for cooking with due to the extremely mild flavoring and high smoke point. Extra virgin olive oil is another good option, but does have more flavoring.
Seasonings: feel free to taste and adjust the finished dish as needed.
How to Make (step-by-step):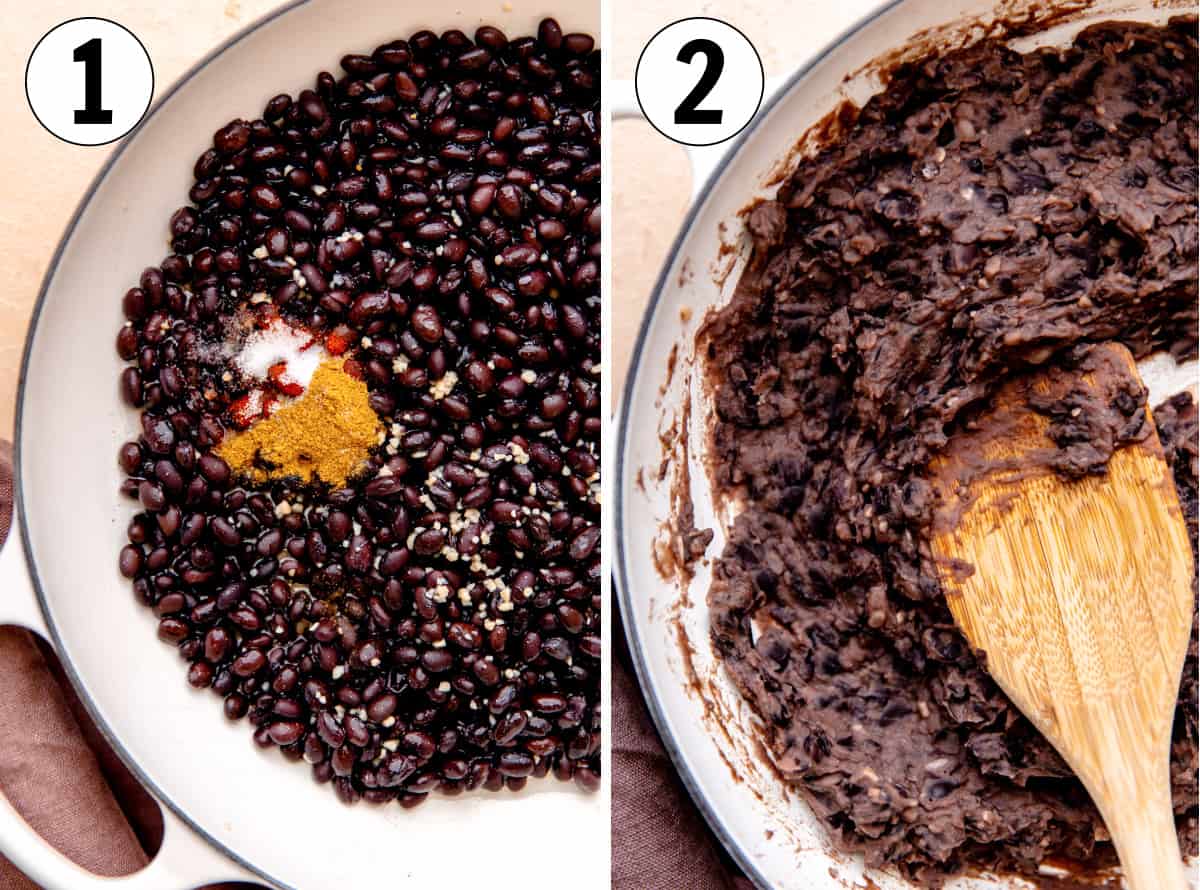 Step 1: Heat the oil, sauté the garlic and then add the beans, seasoning and chicken broth. Let this come to a simmer, cover and cook.
Step 2: Remove the lid and mash the beans to desired consistency. Add more broth as needed to get the consistency you want. Taste and adjust the seasonings as needed to make this a dish you and your family will love.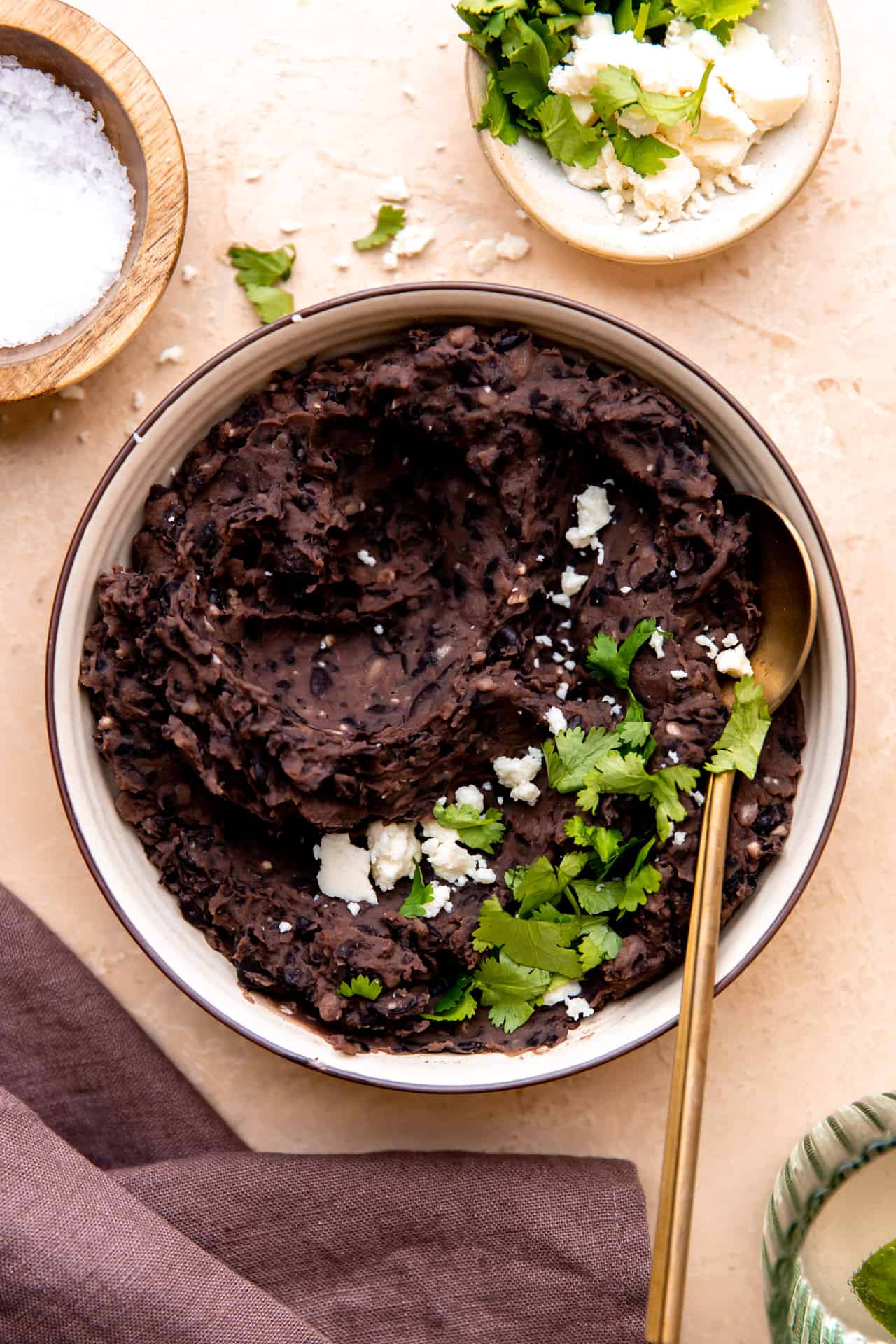 Expert Tips:
Vegan/Vegetarian Option: swap out the chicken broth for a vegetable broth to make this a completely meat free side dish.
Broth: for a creamier, smoother finished dish, add more broth to get the consistency you are after.
Dried Beans: this dish can be made with dried beans also, to make them into refried beans, the beans will need to be cooked and drained, then continue with the recipe as follows.
FAQ's:
What is the difference between refried beans and black beans?
Typically refried beans are made with pinto beans, which when mashed give a really creamy texture. Black beans have a bit more structure and don't mash up as creamy, but they have a wonderful rich flavor.
Are black beans more healthy than pinto beans?
Both beans offer a lot of nutritional value when it comes to iron and fiber. When compared next to each other, the black beans come with fewer carbs and fat which might make it a better option for some.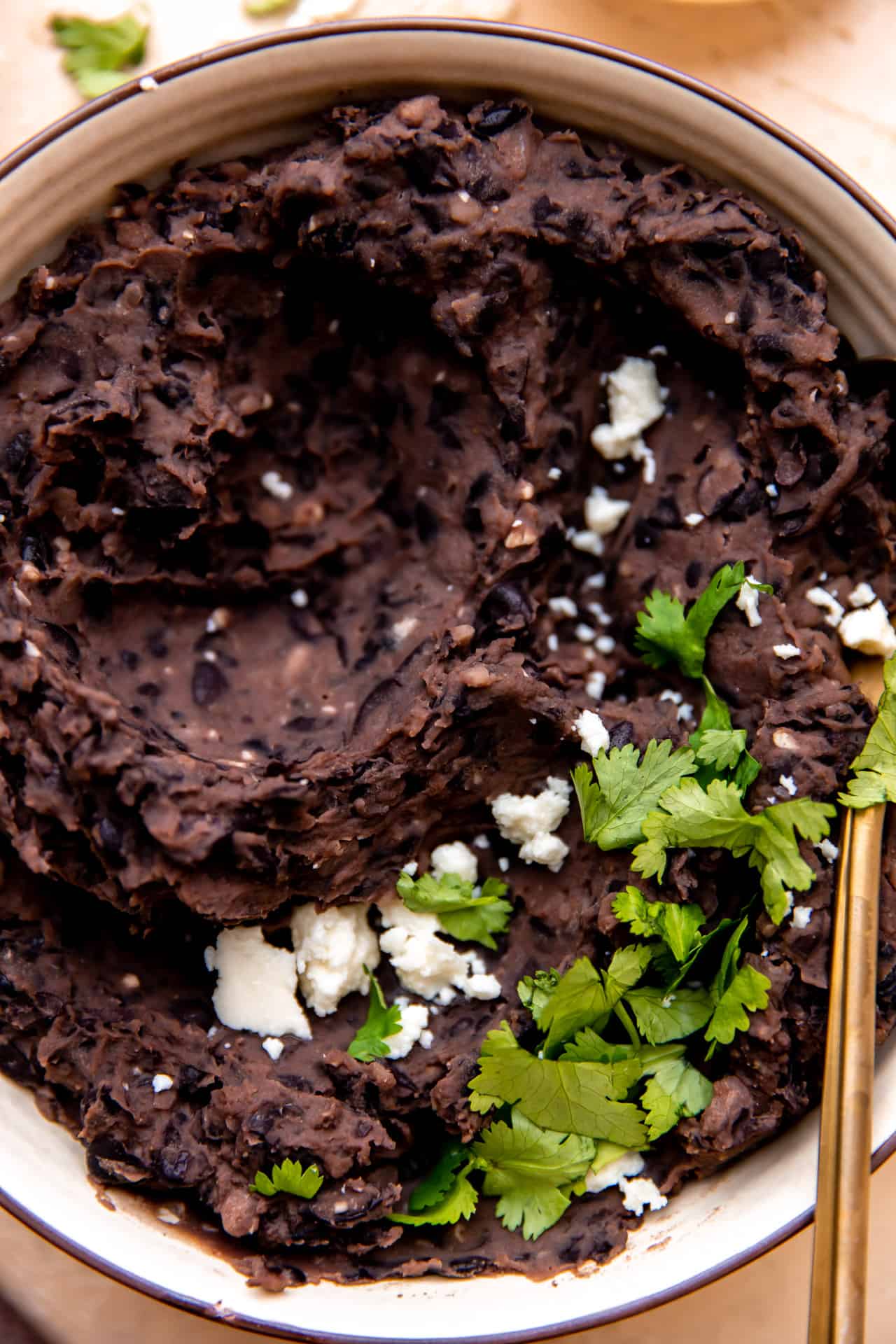 More Tex Mex Side Dish recipes:
If you tried this recipe please leave a comment and a ⭐️⭐️⭐️⭐️⭐️ rating below! Thank you so much!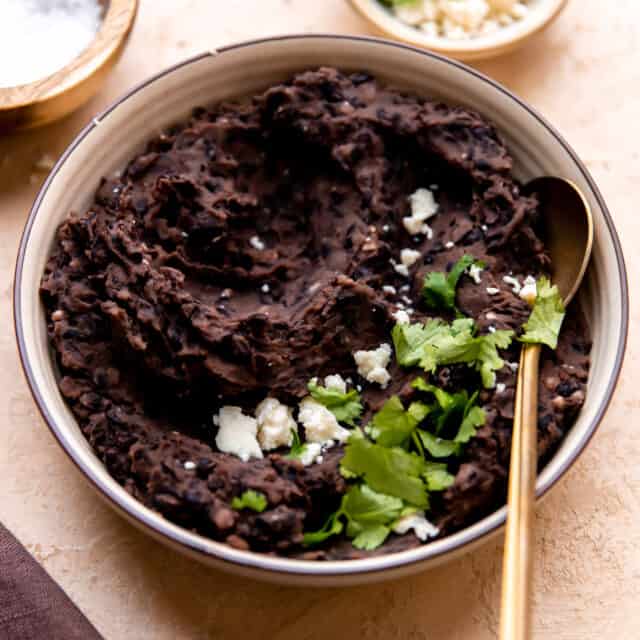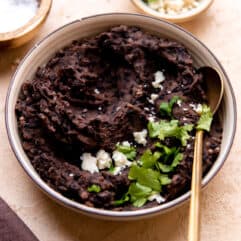 Refried Black Beans
Tender and flavorful these Homemade Refried Beans cook up in 15 minutes and are the perfect Tex Mex side dish.
Ingredients
2 tablespoons avocado oil, or extra virgin olive oil
4 cloves garlic, minced
2 (15 ounce cans) black beans, or 3 cups cooked black beans, drained and rinsed
⅓-½ cup chicken broth, or vegetable broth
½ teaspoon salt, (or more to taste)
½ teaspoon ground cumin
¼ teaspoon paprika
Instructions
Heat oil in a medium size saucepan over medium heat.

Add in the garlic and cook for 30 seconds until fragrant.

Add the beans and 1/3 cup broth and stir to combine.

Add seasonings and bring to a simmer, cover and cook for 7-8 minutes.

Remove the lid, stir and reduce heat to low.

Using a potato masher, mash the beans to desired consistency.

Add more chicken broth as needed to thin out the beans if they become too thick from mashing.

Taste and adjust seasonings as desired.

Cover and let cook over low heat for an additional 5 minutes.

Serve with fresh cilantro and any other favorite toppings.
Equipment
Nutrition
Calories: 69kcal, Carbohydrates: 1g, Protein: 1g, Fat: 7g, Saturated Fat: 1g, Polyunsaturated Fat: 1g, Monounsaturated Fat: 5g, Cholesterol: 1mg, Sodium: 364mg, Potassium: 25mg, Fiber: 1g, Sugar: 1g, Vitamin A: 65IU, Vitamin C: 1mg, Calcium: 9mg, Iron: 1mg
Photography done by the talented @KJandCompany.co
House of Yumm is a participant in the Amazon Services LLC Associates Program, an affiliate advertising program designed to provide a means for us to earn fees by linking to Amazon.com and affiliated sites.