These Tacos de Camaron feature juicy flavorful shrimp, fresh crunchy cabbage, and a cool cilantro lime cream sauce all wrapped in warm corn tortillas. This quick and easy shrimp taco recipe is ready in under 20 minutes!
These tacos de camaron are one of my all time favorite quick and easy meals to put together. Shrimp cooks up in minutes, making this meal come together in less than 15 minutes. These tacos are perfect for a weeknight meal!
Ingredients Needed
Shrimp: use medium sized raw shrimp that has already been peeled, deveined, and tails removed. It saves time when prepping to cook. Buy medium size shrimp, they are the perfect size for tacos, larger shrimp typically take more than one bite and can be awkward in the tacos.
Taco Seasoning: this homemade taco seasoning is the BEST!
Corn Tortillas: use store bought standard size corn tortillas, or make your own homemade corn tortillas.
Shredded Cabbage: buy bagged pre-shredded cabbage at the market, or thinly slice your own.
Queso Fresco: crumble some up to go on top. Can substitute with Feta cheese if needed.
How To Make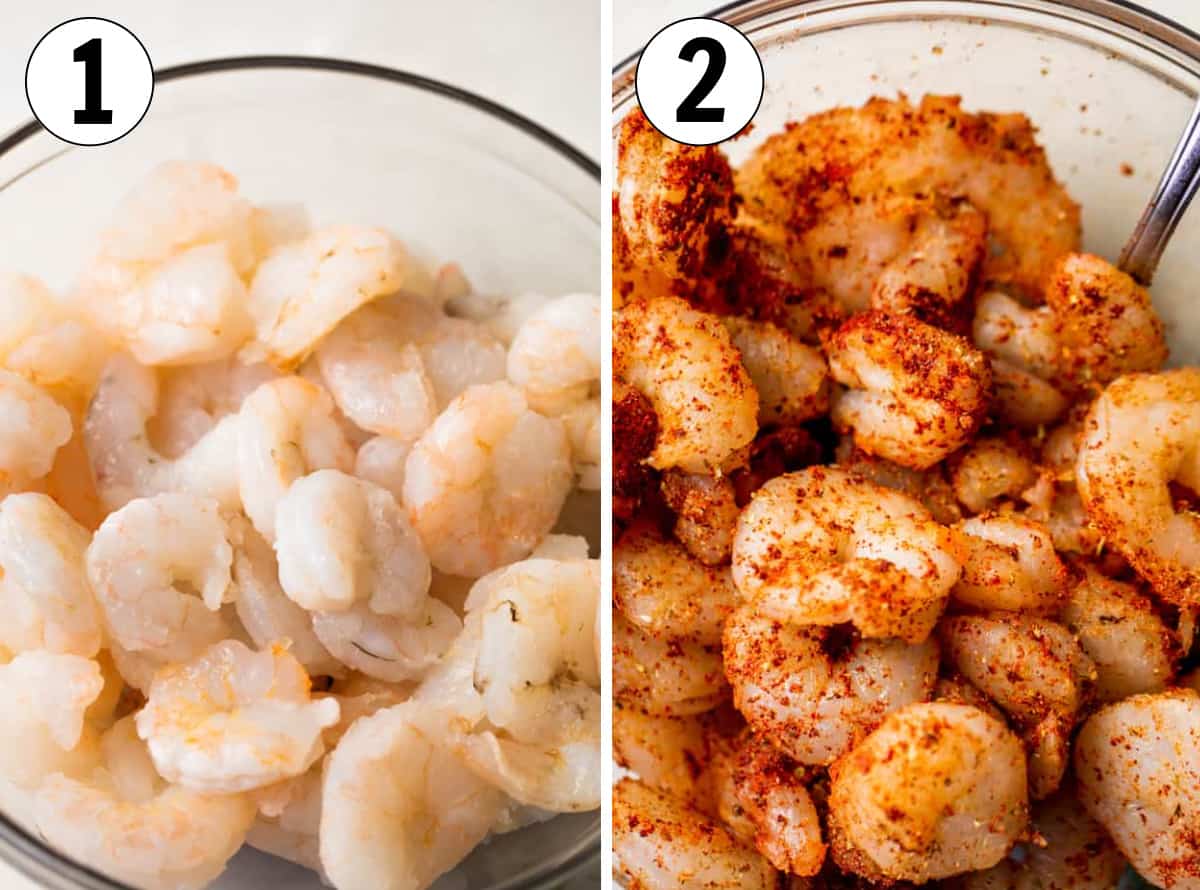 Prepare the shrimp, ensure shrimp is completely thawed, peeled and deveined.
Coat with the taco seasoning.
Cook the shrimp in a skillet with a small amount of avocado oil. The shrimp will become opaque and have a pinkish coloring when they are done. They cook quickly, keep an eye on them.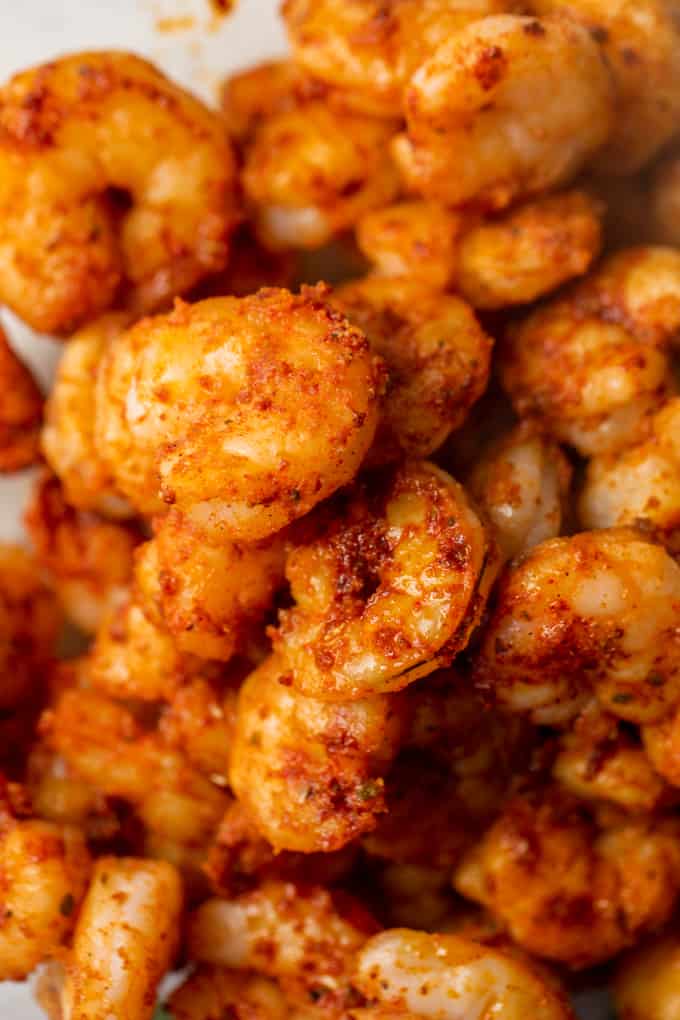 How to Buy and Thaw Shrimp
Most 'fresh' shrimp you will buy at the market has been frozen and thawed to be sold as fresh. For the freshest shrimp you should buy your own frozen shrimp and thaw it yourself.
To save time look for shrimp that has been peeled and deveined as this process takes a bit of time and there is no real benefit to doing it yourself. If you have shrimp that needs to be peeled and deveined, watch this video to see how.
To thaw shrimp place them in a bowl with a lid or a sealed bag in the refrigerator overnight. If you are in need of a quick thaw option you can fill a large bowl with cold water, place the shrimp in a sealed plastic bag, and submerge them for 20 minutes. You may need to place a bowl on top to ensure the shrimp are completely submerged during this time.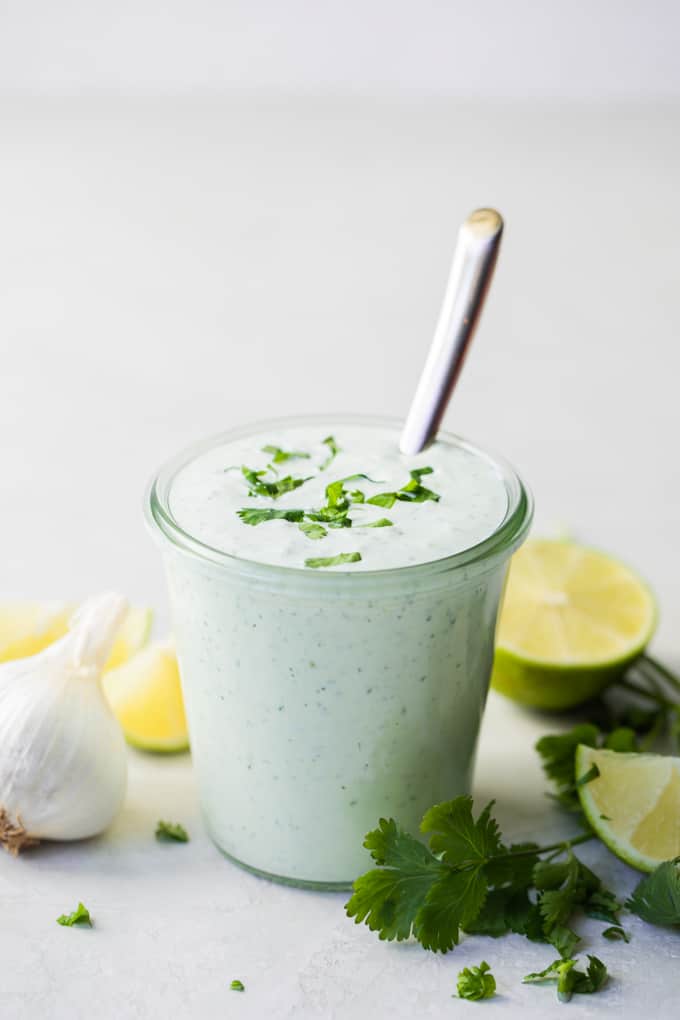 Seasoning
These shrimp for these tacos de camarones are tossed and seasoned in a quick homemade taco seasoning of chili powder, garlic and onion powder, cumin, Mexican oregano, and salt. If you want to punch up the spice and heat factor you can add I some cayenne powder.
Topping Ideas
Shredded cabbage or lettuce
Coleslaw
Crumbled Mexican Cheese (queso fresco or cotija) or feta
Fresh diced cilantro
Fresh squeezed lime juice
Cilantro Lime Crema (recipe included below)
Fresh fruit salsa like this Mango Salsa or Pineapple Salsa
Sour cream or Crema
Sliced avocado or guacamole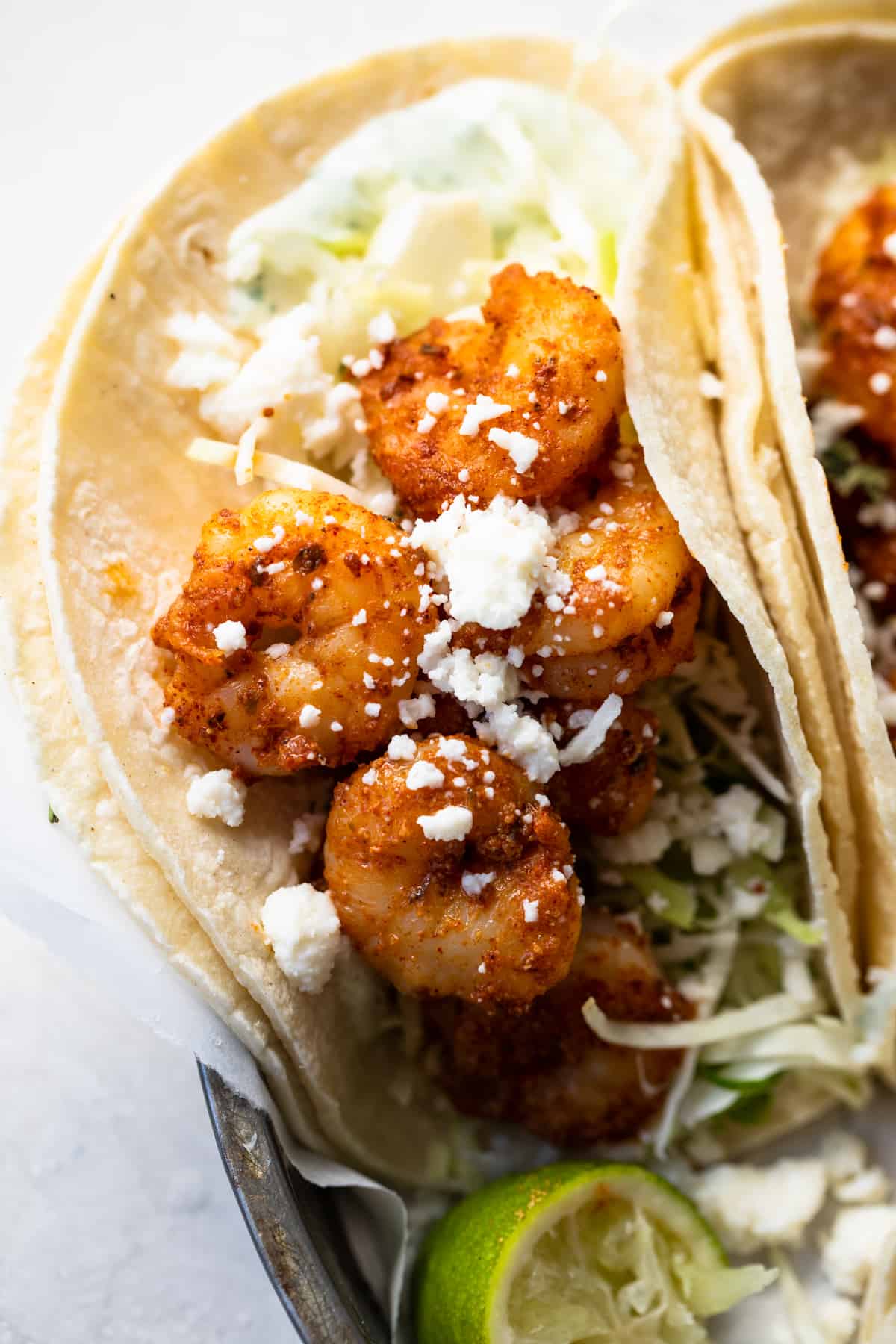 Commonly Asked Questions
How long does shrimp keep once cooked?
Once shrimp is cooked it will keep in the refrigerator in a sealed container for 3-4 days.
Is it better to use fresh or frozen shrimp for tacos?
This recipe can be made with fresh or frozen shrimp. If using frozen, make sure you prepare in advance since you will need to thaw the shrimp, it's best to let the shrimp thaw in the refrigerator overnight.
What to Serve on the Side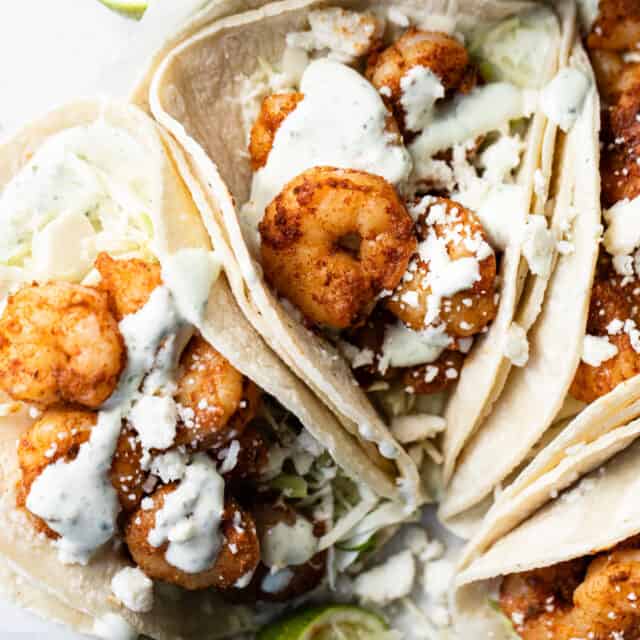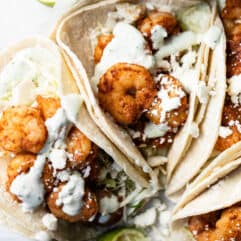 Tacos de Camaron
Only minutes are needed to put these shrimp tacos together. The shrimp are cooked in a homemade taco seasoning giving a slight spice. Top with a creamy cilantro lime sauce to complete the dish!
Ingredients
Shrimp Tacos
1 tbsp oil, avocado or extra virgin olive oil
1 lb medium shrimp, peeled, deveined, tails removed
16 corn tortillas
2 cups shredded cabbage
½ cup queso fresco, crumbled
Cilantro Lime Sauce
¾ cup sour cream
¼ cup mayonnaise
4 cloves garlic
½ bunch cilantro, chopped
¼ tsp salt
1/2 tsp lime juice, freshly squeezed
Instructions
Combine the ingredients for the taco seasoning in a small bowl.

Pat the shrimp dry and add to a medium size bowl. Sprinkle with taco seasoning and stir to coat the shrimp.

Heat oil in a medium size skillet over medium heat. Lay the shrimp in the skillet spaced apart, cook in batches if needed, and allow to cook for about 2 minutes, then flip and continue to cook an additional 2-3 minutes until the shrimp is cooked through and has a pink coloring.

Remove the shrimp from the skillet and cook additional shrimp if needed in batches.

Briefly heat corn tortillas on a skillet to soften them. Layer the tortillas to help prevent breaking. Fill with shredded cabbage and cooked shrimp. Top with crumbled queso fresco and a drizzle of cilantro lime cream sauce.
Cilantro Lime Sauce
Combine the ingredients in a food processor or blender. Pulse until well combined and smooth.
Notes
Shrimp: use medium sized raw shrimp that has already been peeled, deveined, and tails removed.
Corn Tortillas: use store bought or make homemade. Either white or yellow corn can be used. Standard size is 6 inches.
Storage:
Cooked shrimp can be stored in a sealed container in the refrigerator for 3-4 days.
Assemble tacos just before serving.
Leftover cilantro lime sauce can be stored in a sealed container in the refrigerator for 3-4 days.
Nutrition
Serving: 2tacos, Calories: 384kcal, Carbohydrates: 49g, Protein: 30g, Fat: 8g, Saturated Fat: 1g, Cholesterol: 286mg, Sodium: 1255mg, Potassium: 353mg, Fiber: 8g, Sugar: 2g, Vitamin A: 610IU, Vitamin C: 11mg, Calcium: 266mg, Iron: 4mg
House of Yumm is a participant in the Amazon Services LLC Associates Program, an affiliate advertising program designed to provide a means for us to earn fees by linking to Amazon.com and affiliated sites.