Light and fluffy cilantro lime cauliflower rice 
I love burrito bowls.  I love Mexican food.  No matter how you put together the ingredients for Mexican food it always comes out delicious!  This rice is no exception.  Lime and cilantro is one of my favorite combinations.  It goes together like..peanut butter and chocolate!  And because I eat so much peanut butter and chocolate, I need to balance my other meals.
So this rice is made from cauliflower.  Which makes it gluten free and vegan friendly!
Not only that, it's super easy to make!  The main tool needed is the handy dandy food processor.  Probably the most used piece of equipment in my kitchen other than my mixer, is my food processor!!  I love it.  I use it pretty much every day.  If not several times a day.  If you don't have one, I highly recommend getting one!  If you think you won't use it, you are wrong!   I used to live my life without one too and I never realized anything was missing.  Until I got one, and again, I use it daily.  And this recipe would be quite difficult without one.
The main step to this is….drumroll please… Process the cauliflower until it turns into those tiny pieces that resemble rice.  You really could stop there, but I like mine slightly cooked.  So I heated it up in a pan, no oil.  I just tossed it into a pan on the stove and cooked it with some garlic, while stirring for about 5 minutes.  Just to basically get it warm and slightly toasted.
Then I removed it from the heat, tossed with the chopped up cilantro and fresh squeezed lime juice.  And I ended up with this incredibly light, fluffy cauliflower lime cilantro rice.
Now what did I do with this rice?  Well as I said, I love burrito bowls!!
Since I went with the healthy cauliflower rice I stuck with the clean eating theme and loaded this up with spicy black beans, sliced avocado, and some fresh homemade pico de gallo!!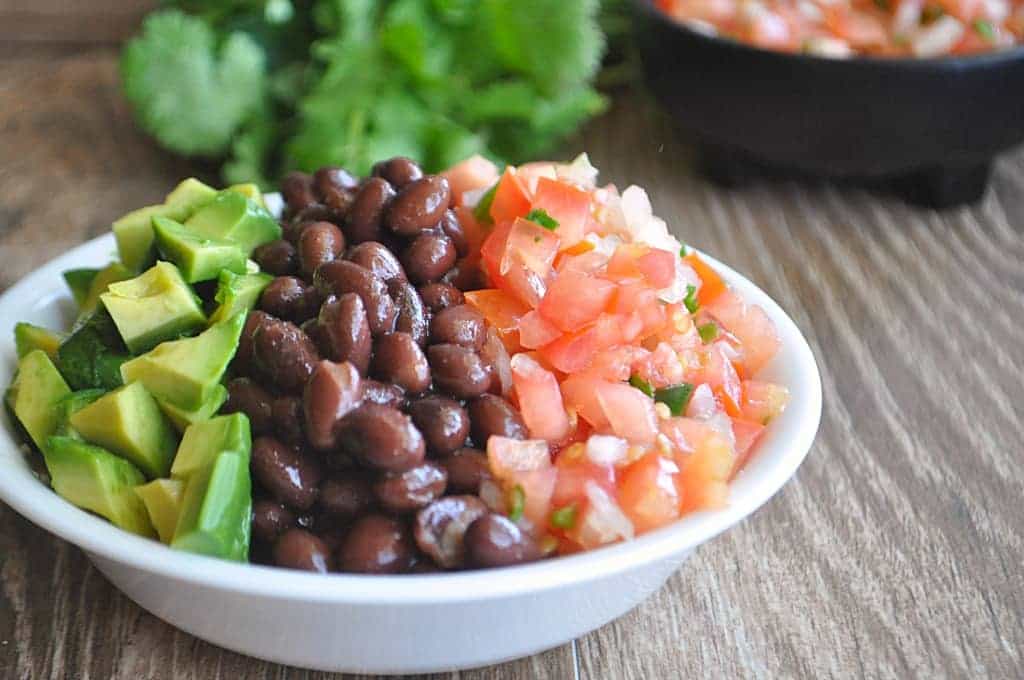 YUM!!
Clean eating is always beautiful! So many colors!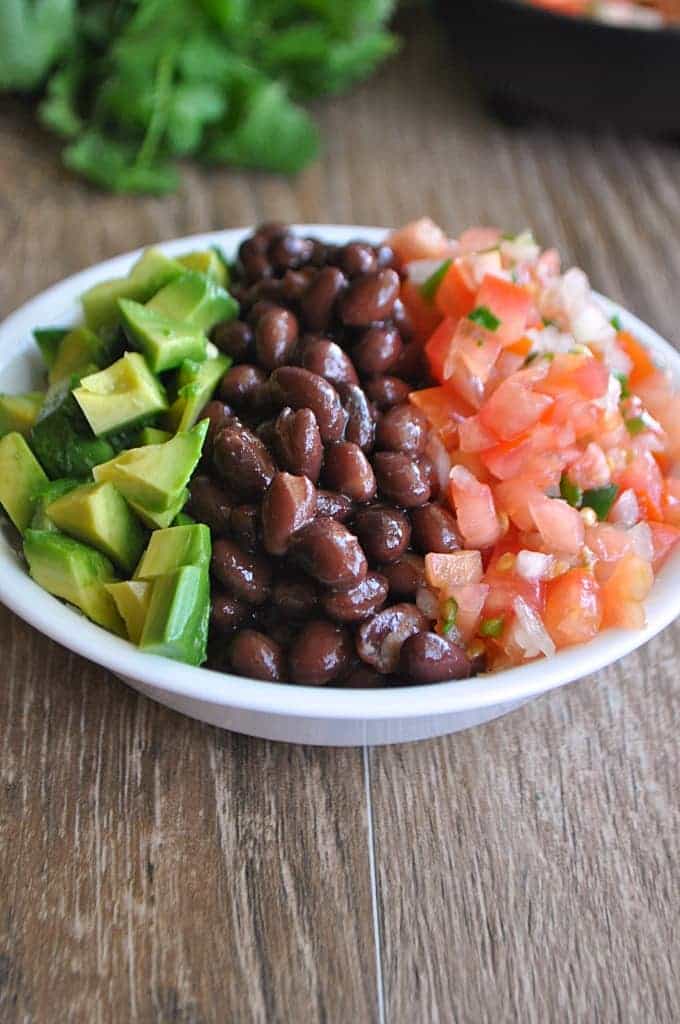 Never miss a recipe from the House of Yumm:
FACEBOOK | PINTEREST | GOOGLE+ | TWITTER | INSTAGRAM | BLOGLOVIN
Cilantro Lime Cauliflower Rice
Ingredients
1 head of cauliflower
1 lime
2 cloves of garlic
1 handful chopped cilantro
Instructions
Remove the leaves from the cauliflower, and cut the head in half. Remove the cauliflower from the core so you only have the florets. Place half the cauliflower into the processor and process until only small pieces remain. Remove from the processor and place into a pan. Process the remaining cauliflower repeating the steps.
Mince the garlic and add to the cauliflower in the pan. Cook over medium heat for about 5 minutes, stirring constantly. When cauliflower is slightly toasted, and garlic cooked, remove from heat.
Toss with cilantro and juice from the whole lime.
7.6.4
254
https://houseofyumm.com/cilantro-lime-cauliflower-rice/