Easy Homemade Salsa. This homemade salsa comes together in minutes and tastes just like it came from your favorite Mexican food restaurant! But better! Better than a store, better than a restaurant.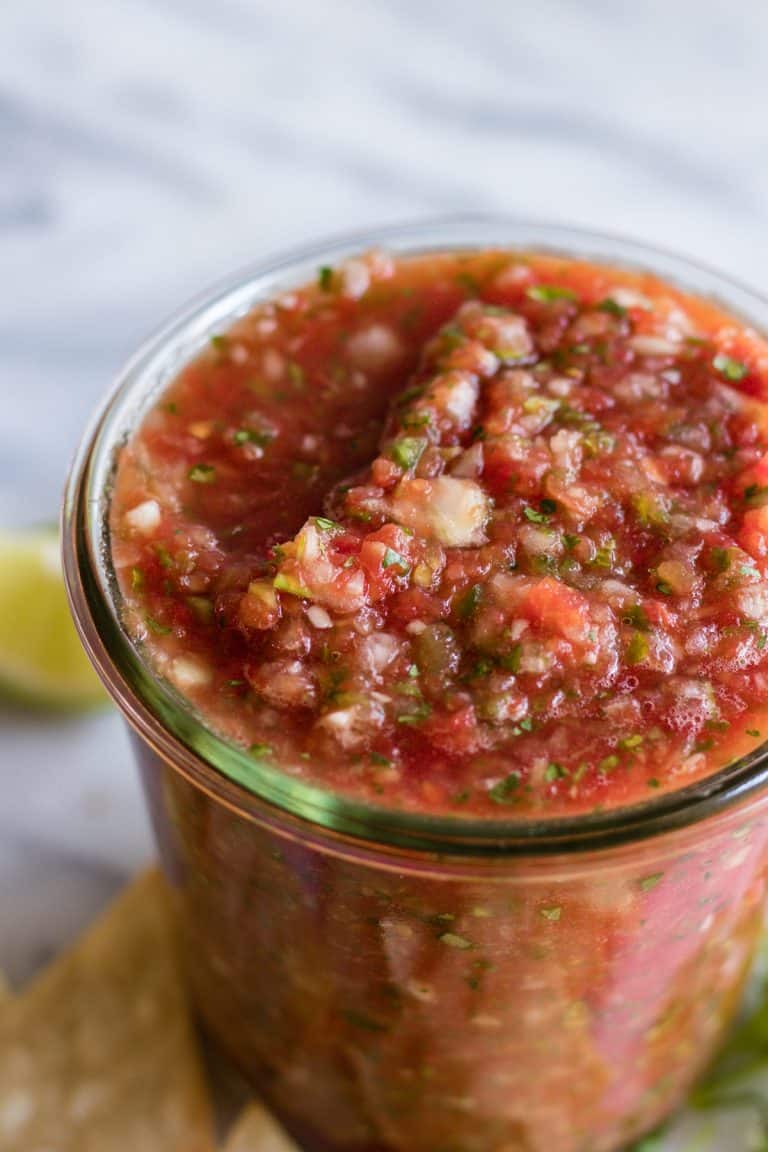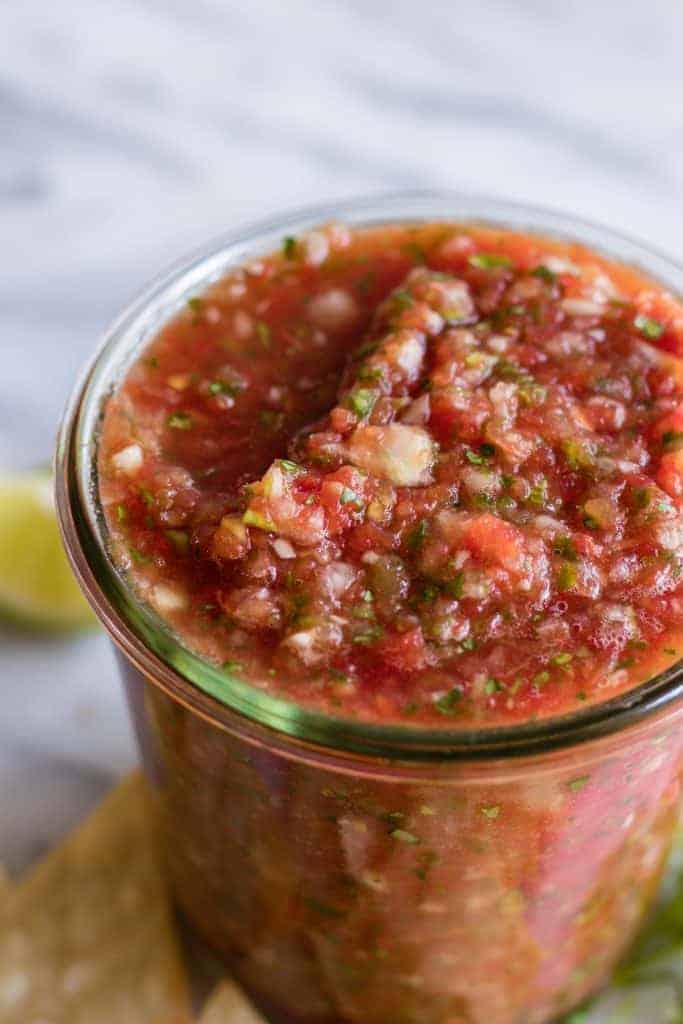 Chips and salsa are a way of life. A staple food in our home and in the state of Texas. This homemade salsa is one of the easiest to make, and it's one of my personal favorites.
Also great for serving alongside some migas, or on some breakfast tacos.
Thanks to using canned tomatoes this salsa comes together super quick and easy with the use of a food processor or blender. Plus you can control the amount of heat to suit your preference! Ready the chips because this salsa is going to be your new favorite!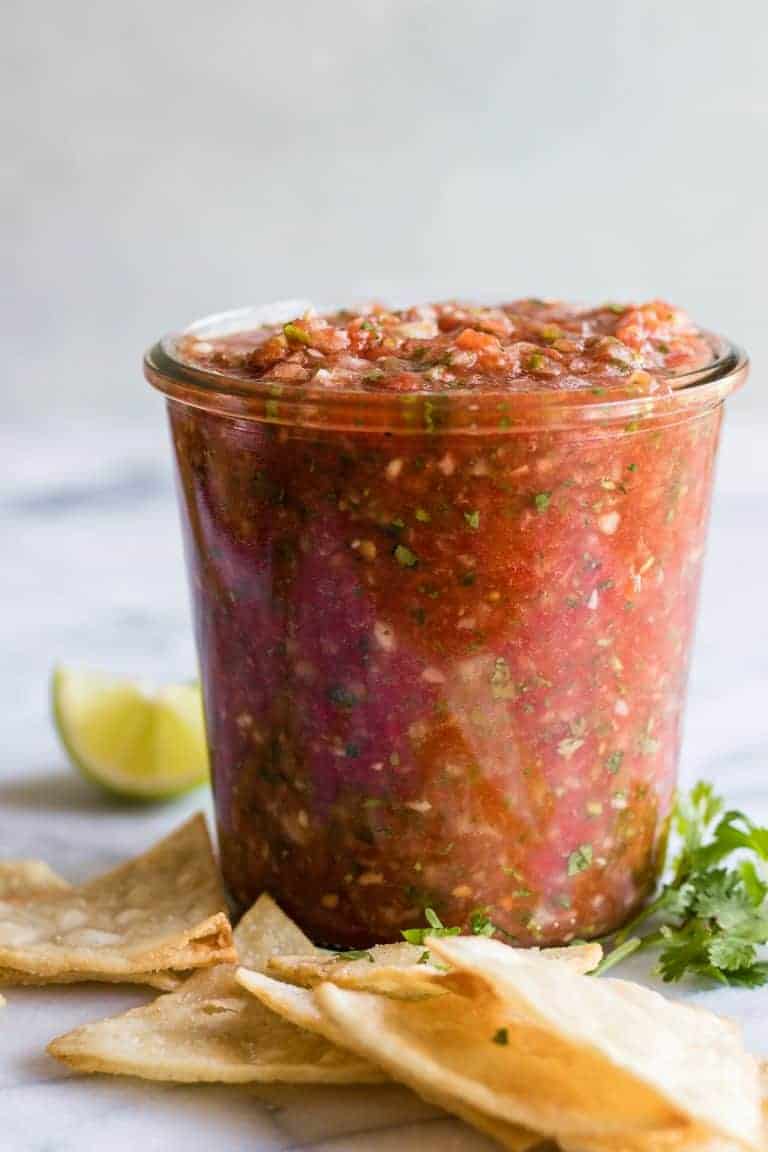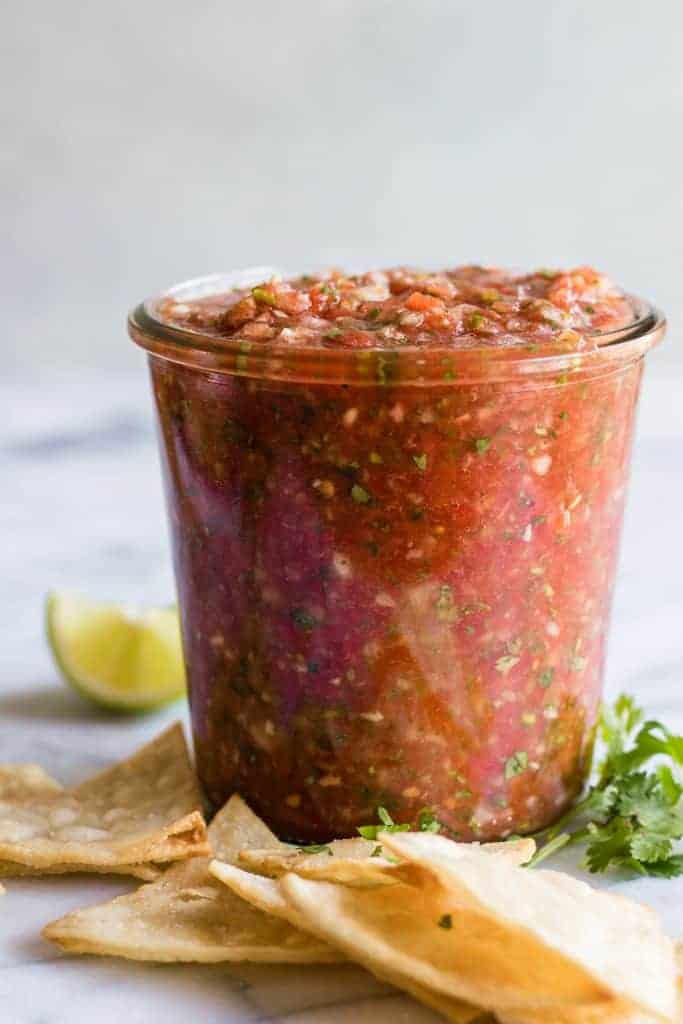 How do I make homemade salsa?
Making a homemade salsa is super easy with the use of a blender or food processor.
This recipe takes a short cut in using canned tomatoes and fresh ingredients. Which means it can be put together within minutes. You can also very easily use fresh tomatoes instead! 
This recipe can be made in either a food processor or a blender. Pulse it just a few times, we want the onion, garlic, tomatoes and cilantro to get chopped up but still be chunky.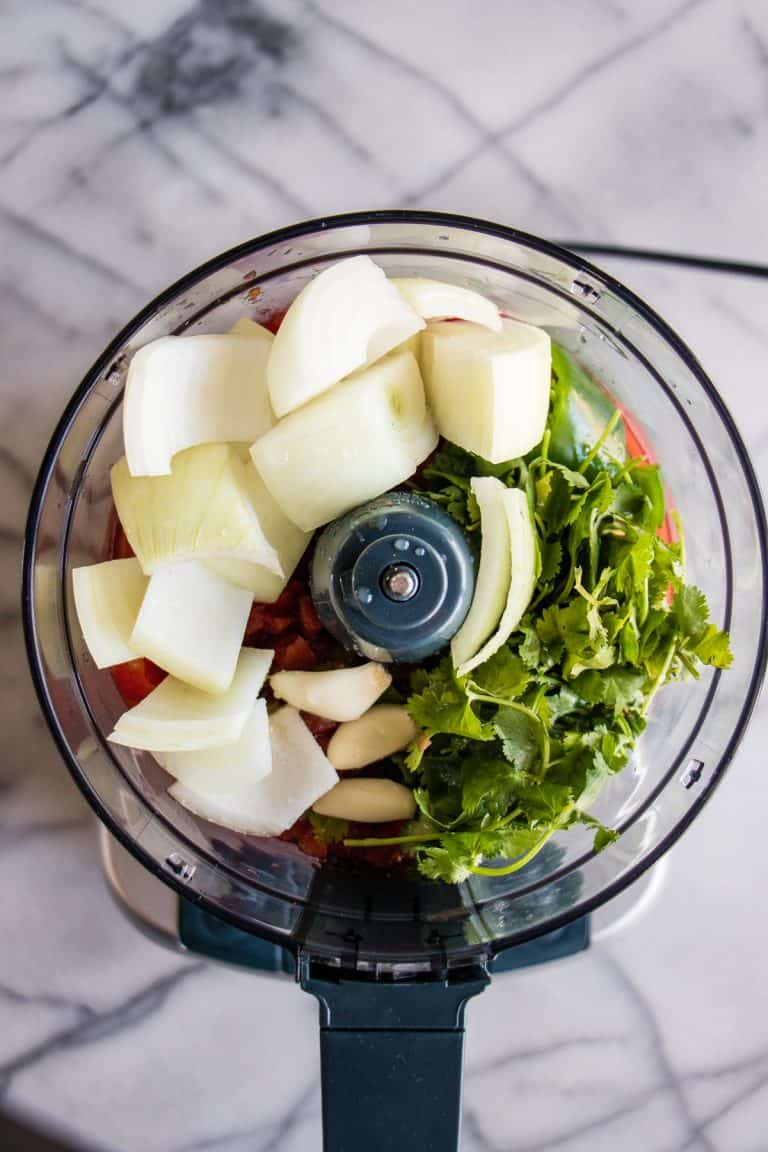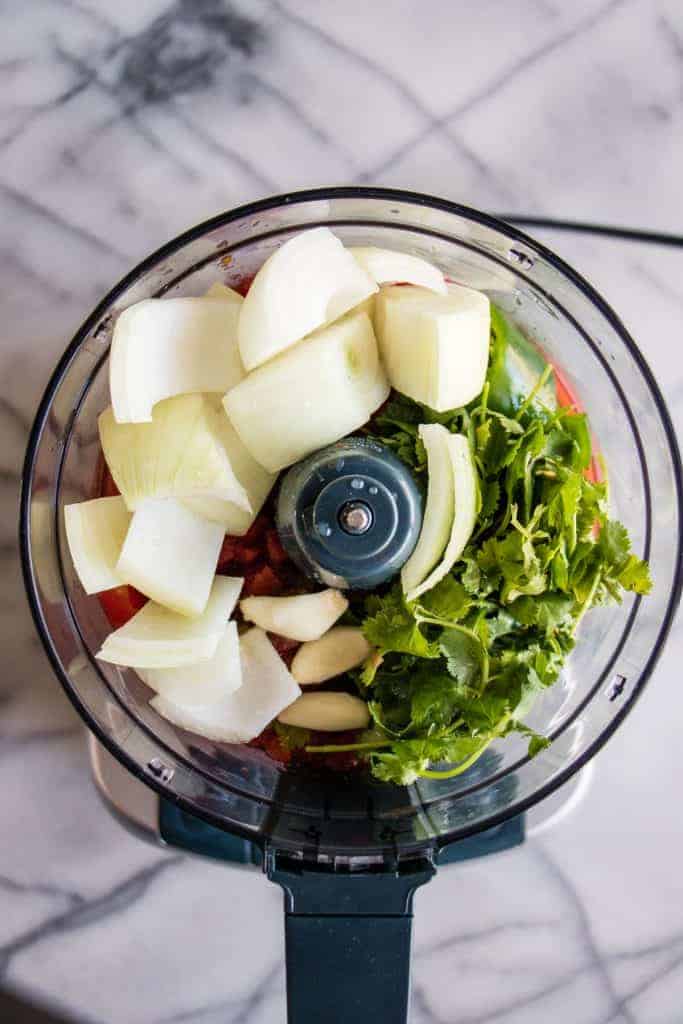 What ingredients are in homemade salsa?
This salsa is made with a tomato base. Plus some diced green chiles for a bit of heat and flavor.
Adding fresh jalapeño adds the heat to the salsa. Make sure to cut out the seeds and membranes otherwise the salsa may be too overpowering and not enjoyable.
Add in fresh onion, garlic and cilantro for flavor. I prefer my salsa with lime juice, you can of course omit this if you don't like it. I suggest starting with a small amount of lime, the most I ever add is half of a lime. The lime juice can be overpowering if too much is used.
The honey adds just a hint of sweet and helps with the acidity of the tomatoes.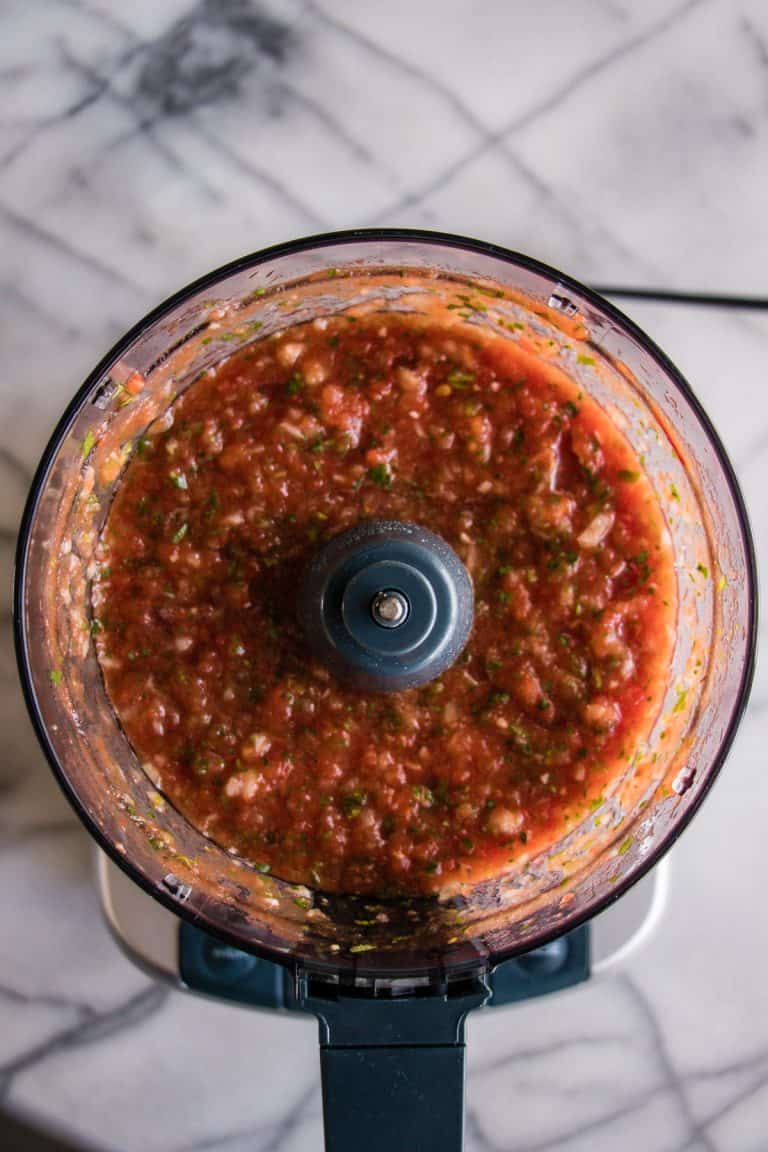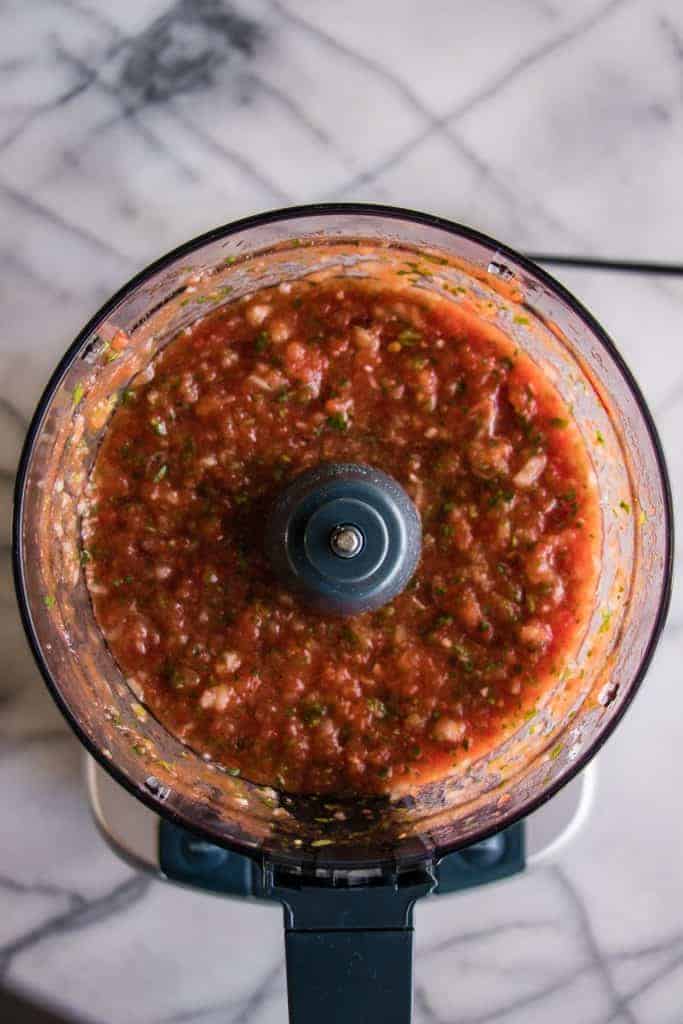 Tips and Tricks for making the BEST salsa:
The type of tomatoes you use matter! For this particular salsa I love using canned tomatoes. It's quick and easy. If you're using fresh I would go for a Roma tomato or a San Marzano. If using fresh tomatoes I would recommend roasting them in the oven first, or even boiling them on the stovetop for about 10 minutes.
When adding the ingredients to the processor add the garlic, jalapeño and onion first. This ensures that it gets chopped up nice and fine. No big chunks of garlic left to disrupt your enjoyment.
Start with a small amount of lime juice. Lime can be overpowering. So start small and add more to taste if needed. If you add too much there's no going back.
Adjust to taste. One of the best things about making your own salsa is that you can customize it and make it more to taste. More salt, more jalapeño for more spice, more honey, or more lime juice.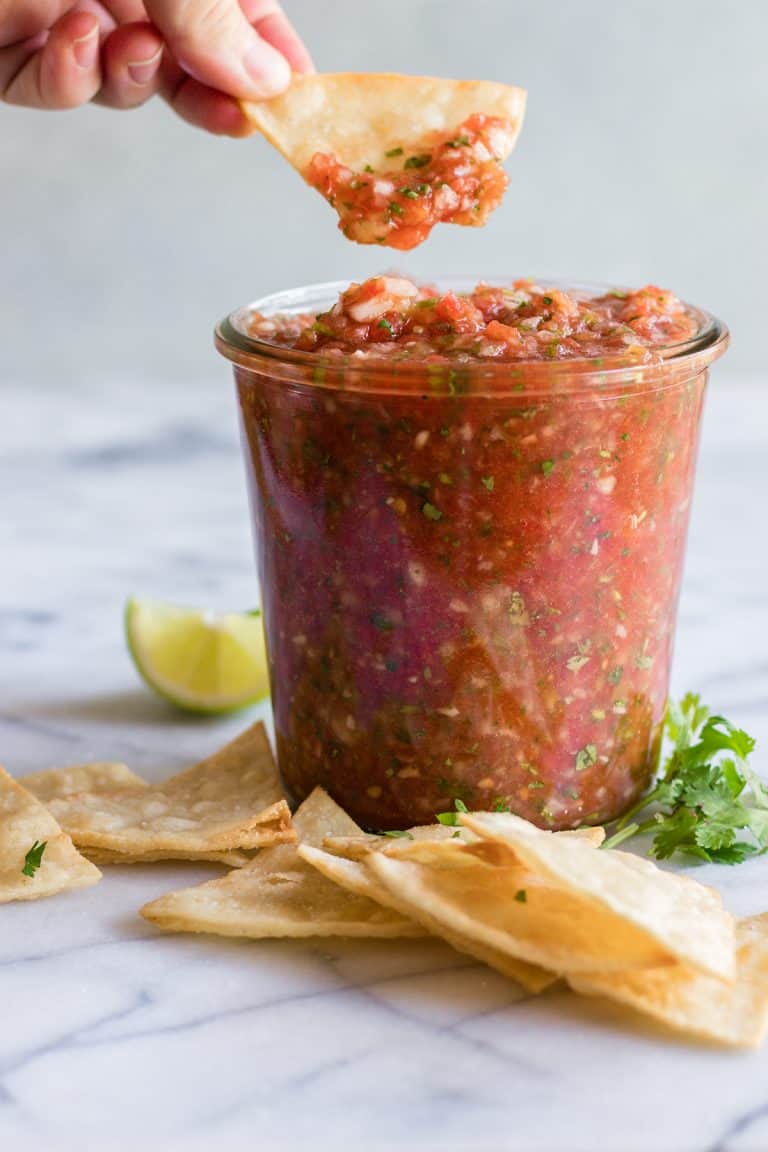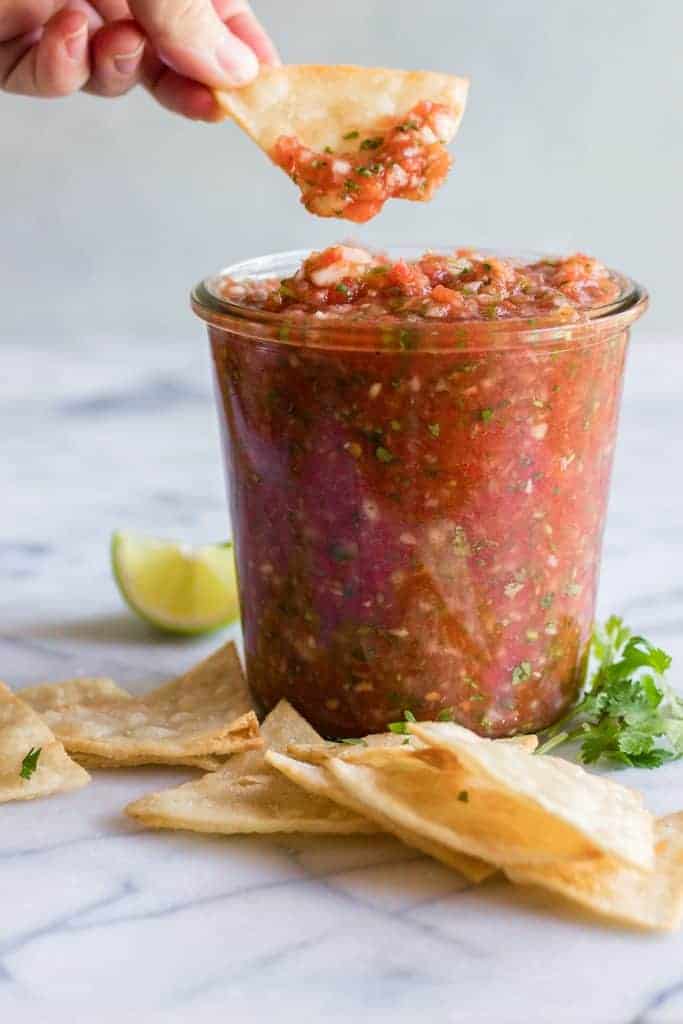 What is the difference between salsa and pico de gallo?
While using similar and often the same ingredients, pico de gallo is going to be a chunkier version of a salsa. Salsa is more liquid-y due to blending the tomatoes up.
Pico de gallo is not going to be made in a food processor or blender and will be put together by dicing up the ingredients.
Here is a recipe for how to make Pico de Gallo!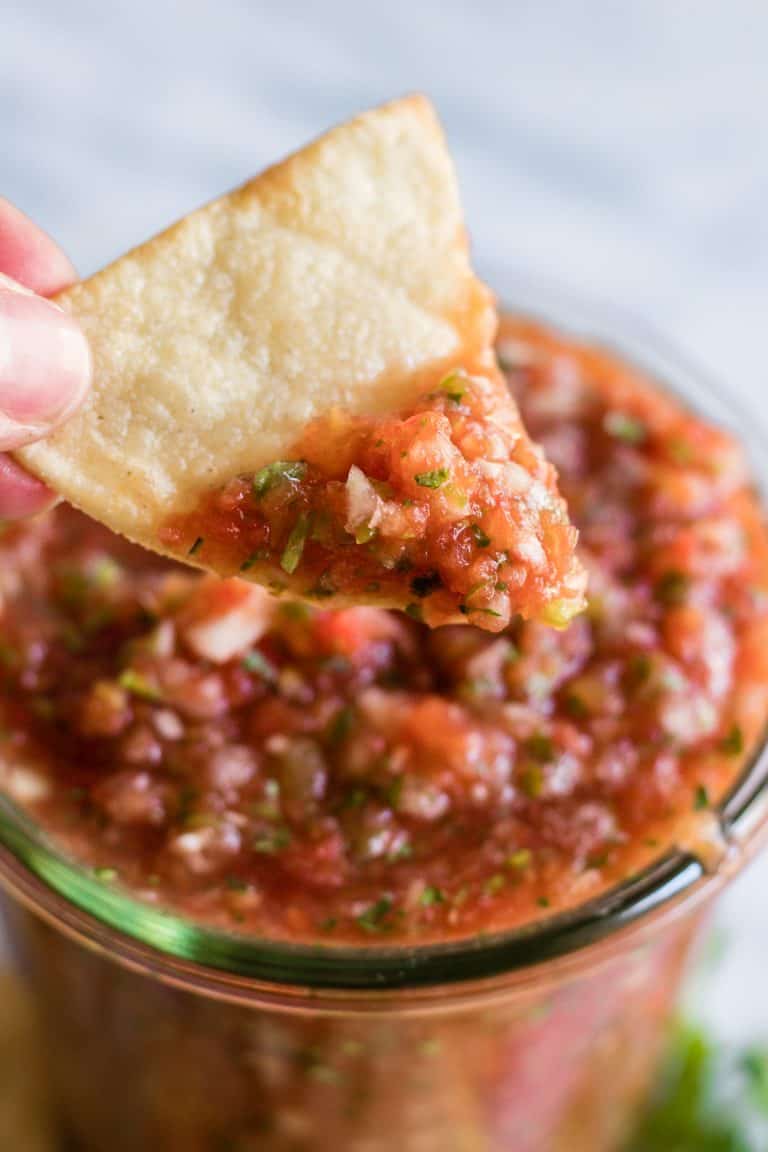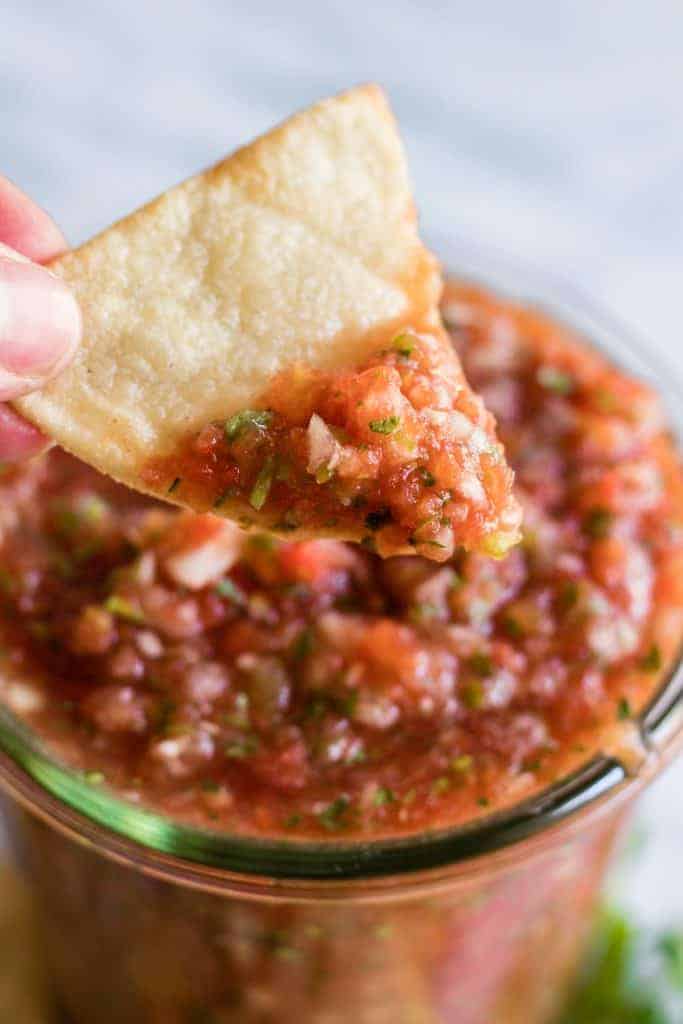 More Salsa Recipes:
Watch How To Make Salsa:
WANT TO TRY THIS EASY RESTAURANT SALSA?
PIN IT TO YOUR APPETIZERS OR PARTY BOARD TO SAVE FOR LATER!
FIND ME ON PINTEREST FOR MORE GREAT RECIPES!
Print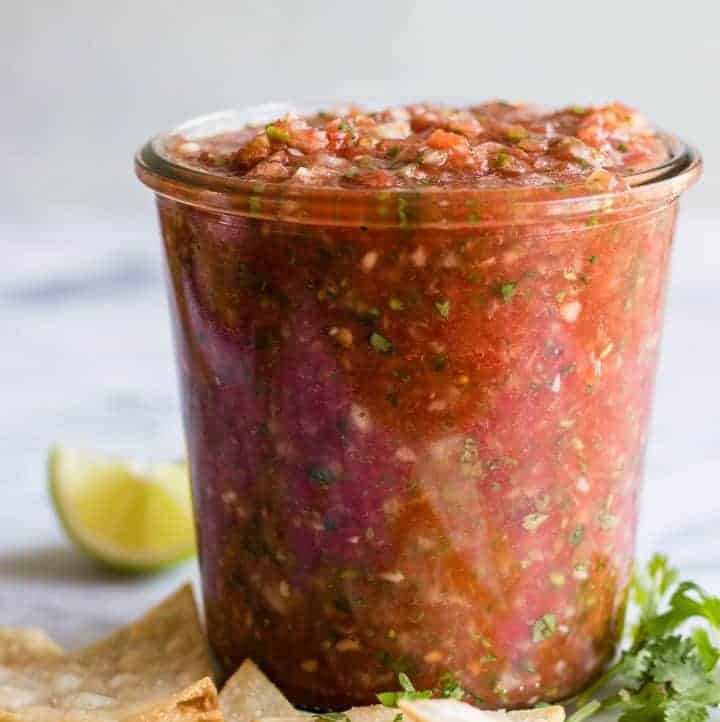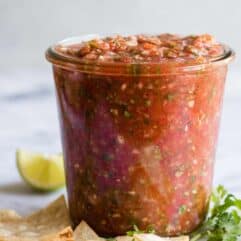 Easy Homemade Salsa
---
Author:
Prep Time: 10 minutes
Total Time: 10 minutes
Yield: 3 cups 1x
Description
Homemade restaurant style salsa! So easy to make and tastes just like it's from your favorite restaurant! Perfect for dipping chips into or spreading all over some tacos!
---
Scale
Ingredients
1 –14.5 ounce can diced tomatoes
1 –10 ounce can diced tomatoes with green chiles
3 cloves garlic
1/2 onion
1 jalapeno deseeded and membranes removed
1/2 tablespoon honey
1/2 cup cilantro
1/4 teaspoon salt
Juice from 1/2 lime
---
Instructions
Roughly chop up 1/2 an onion, 1 jalapeno (remove seeds as desired, the seeds will add heat), and 3 cloves of garlic. Add to food processor.
Add in 1 can of diced tomatoes and 1 can of diced tomatoes with green chiles.
Add in honey, salt, 1/2 cup cilantro leaves, and juice of 1/2 lime (start slow with the lime as it can overpower, you can taste and add more if desired)
Blend in food processor for about 30 seconds or until desired consistency.
---
Notes
This is a medium salsa. To make this salsa mild substitute the jalapeño pepper for an Anaheim pepper, or just use the green chiles.
Category: salsa
Method: processed
Cuisine: Mexican
Nutrition
Serving Size: 1/3 cup
Calories: 26
Carbohydrates: 5 g
Protein: 1 g
Keywords: salsa, Mexican food, dips, appetizers, sauces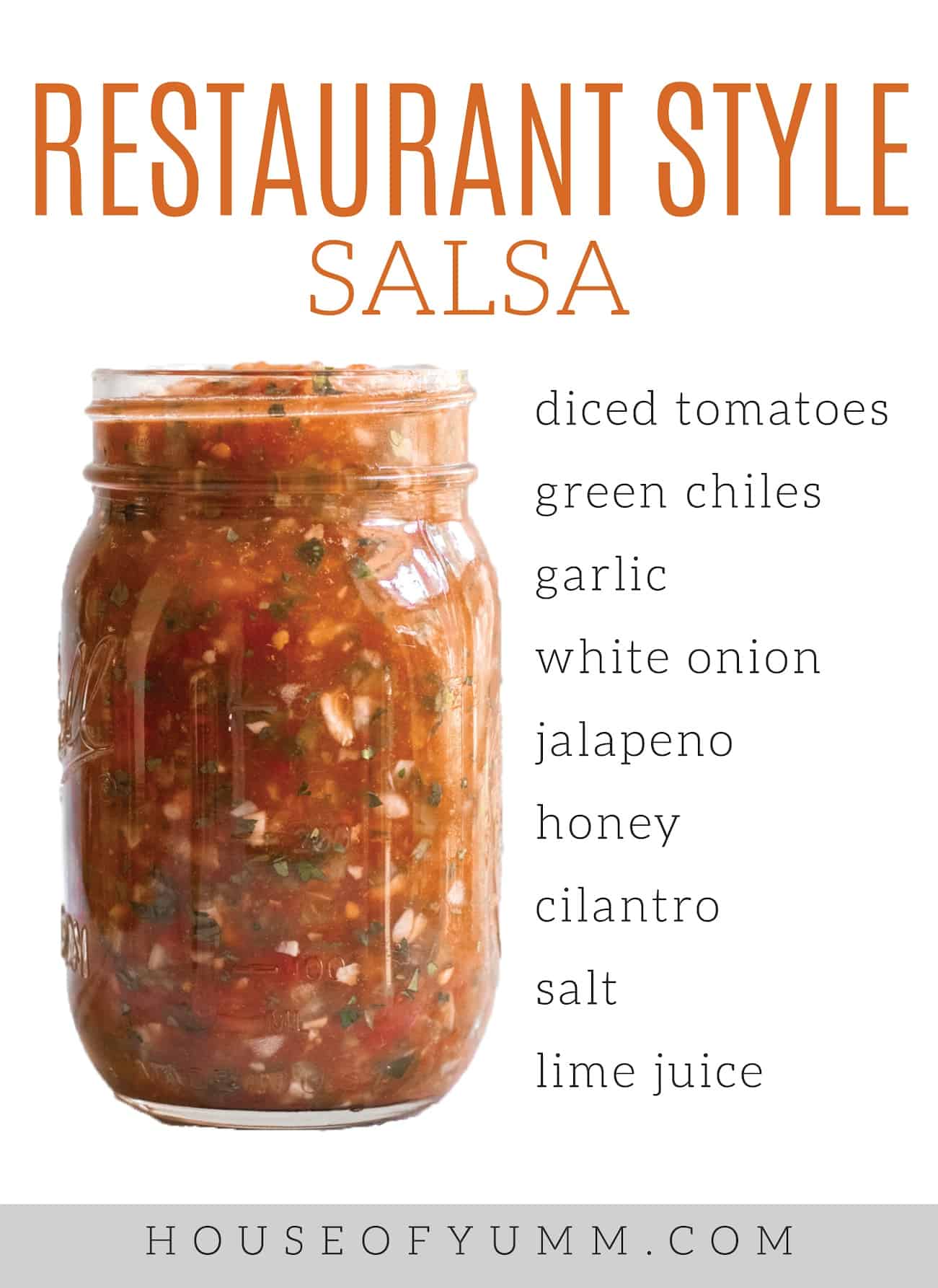 House of Yumm is a participant in the Amazon Services LLC Associates Program, an affiliate advertising program designed to provide a means for us to earn fees by linking to Amazon.com and affiliated sites.