Salty and crisp, these freshly made homemade tortilla chips are the ultimate companion for your favorite salsa and guacamole. Only 3 ingredients and less than 30 minutes are needed to make this favorite snack! Serve as a snack or appetizer with your favorite Tex Mex meal.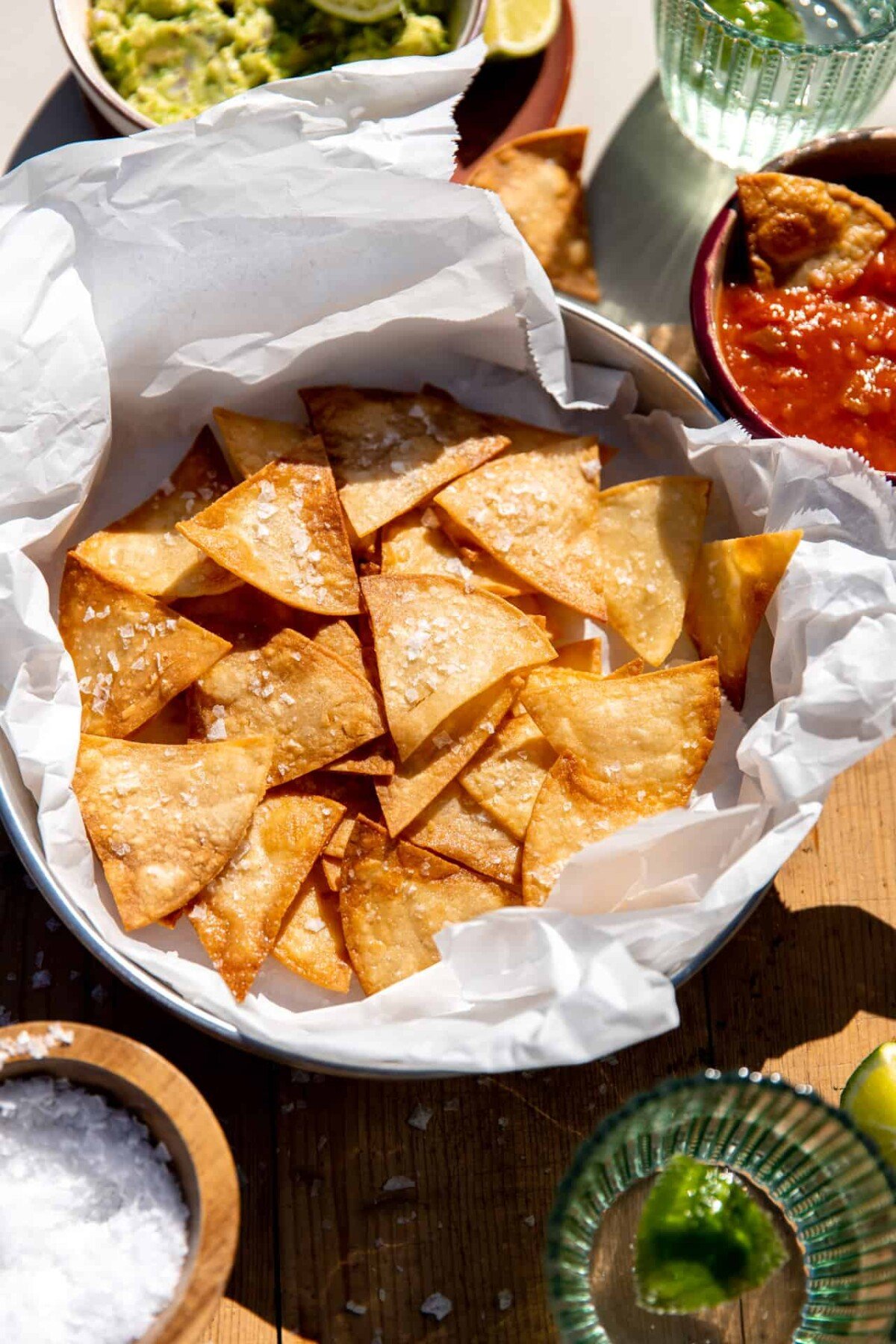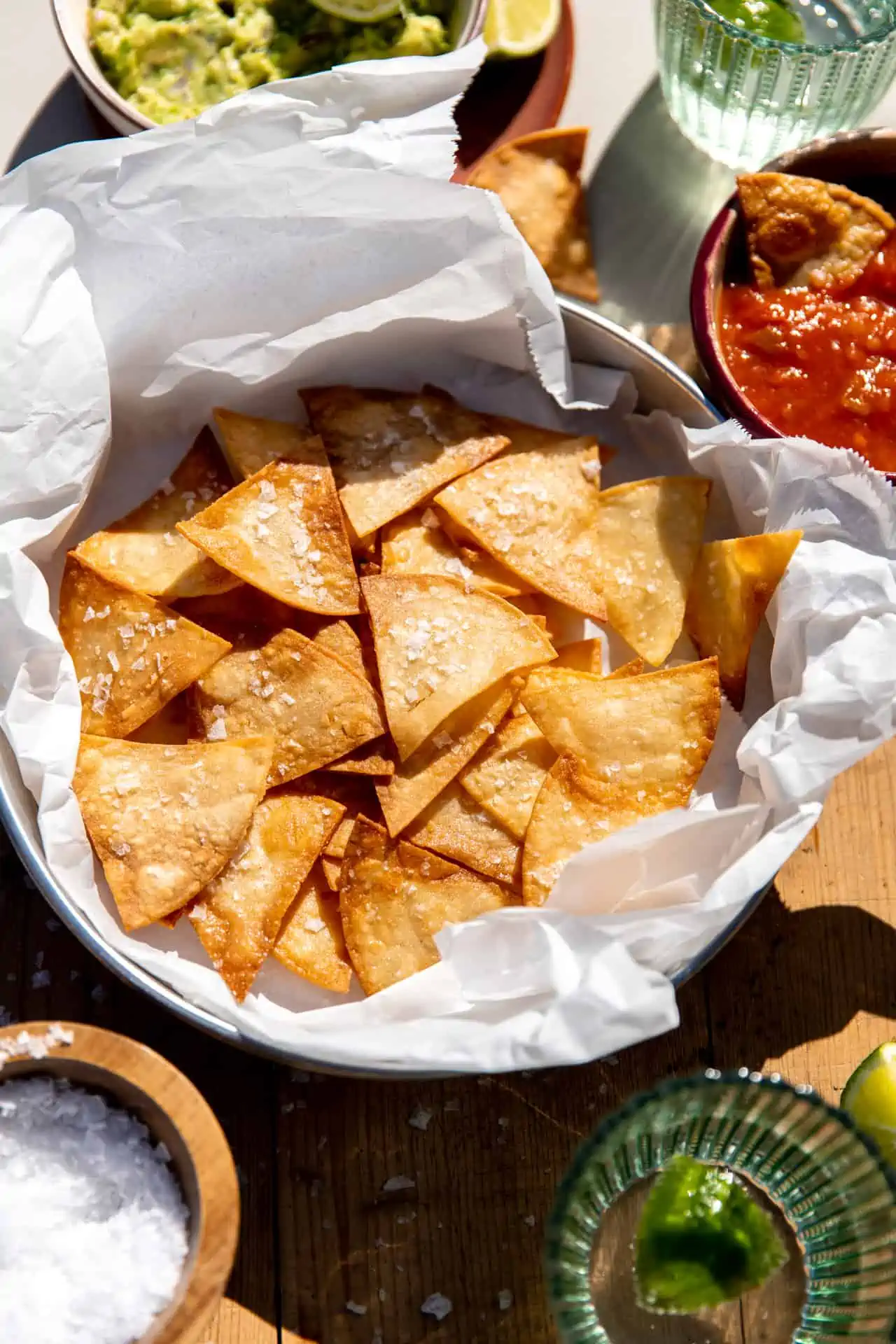 All about these homemade tortilla chips…
Quick and easy: less than 30 minutes and only 3 ingredients are needed.
Always Popular: fresh made chips and homemade salsa is a simple snack that always pleases! Set some out for your family or friends and watch them quickly disappear.
Versatile: use these chips for snacking with salsa, season them with a taco seasoning for a flavorful snack on their own, or use as a base for some nachos!
Ingredients Needed: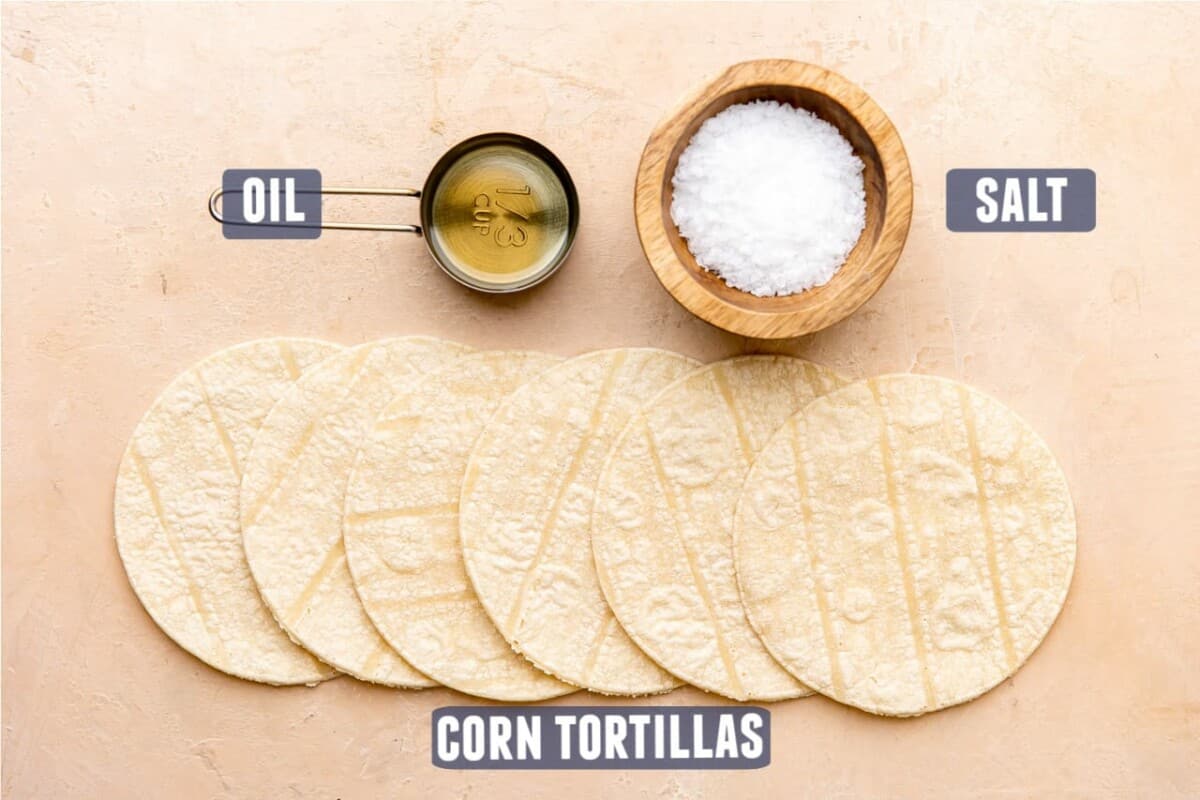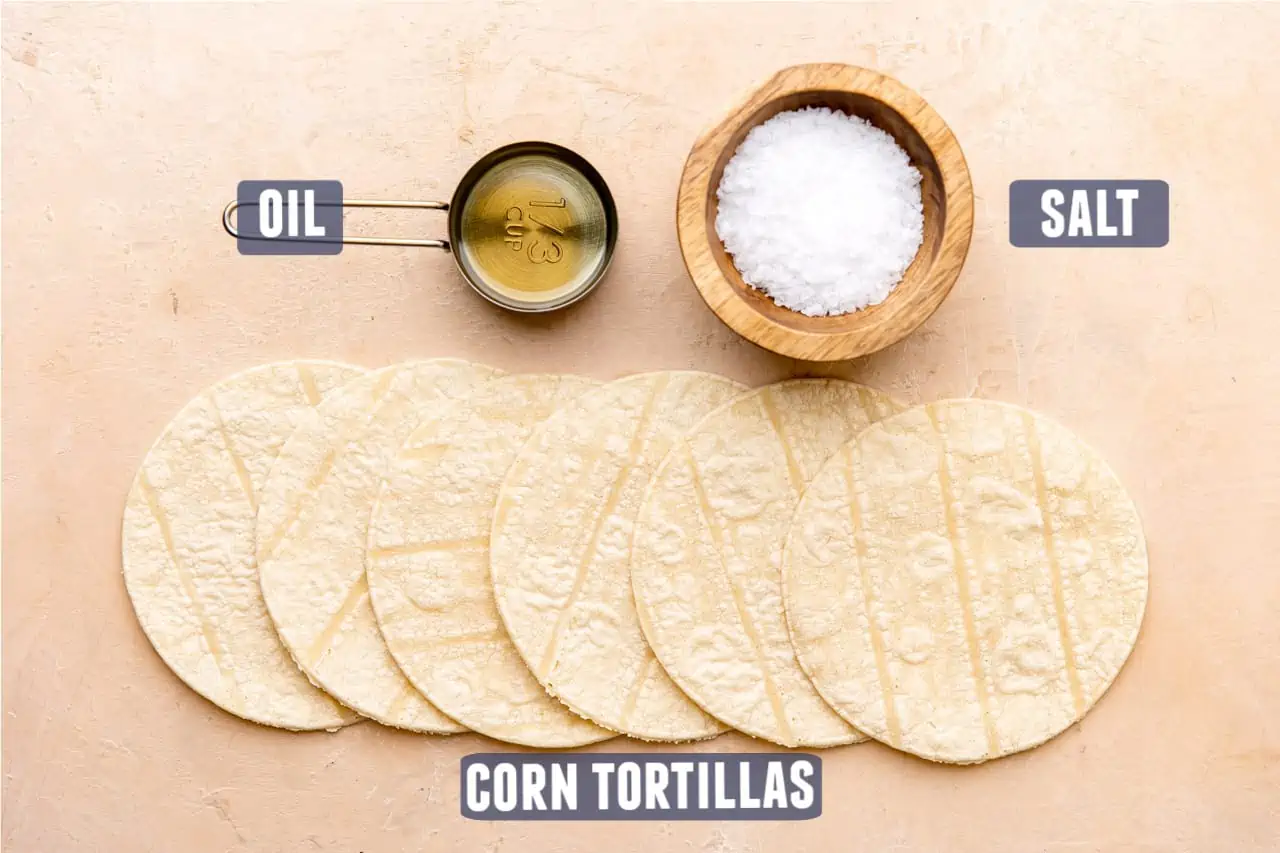 Notes on some ingredients:
Corn tortillas: use either store bought or use some homemade corn tortillas.
Oil: use a neutral tasting oil with a high smoke point. My favorite is avocado oil.
Salt: use your favorite salt and sprinkle as much or as little as you want.
How to Make (step-by-step):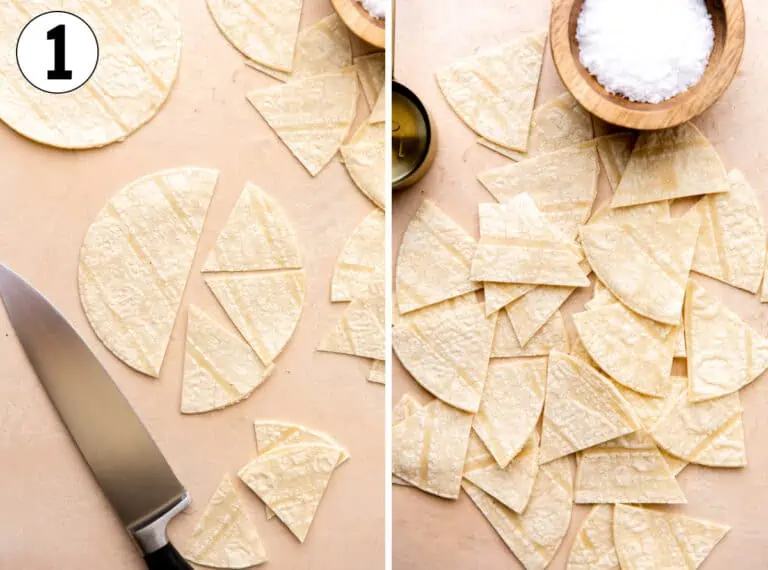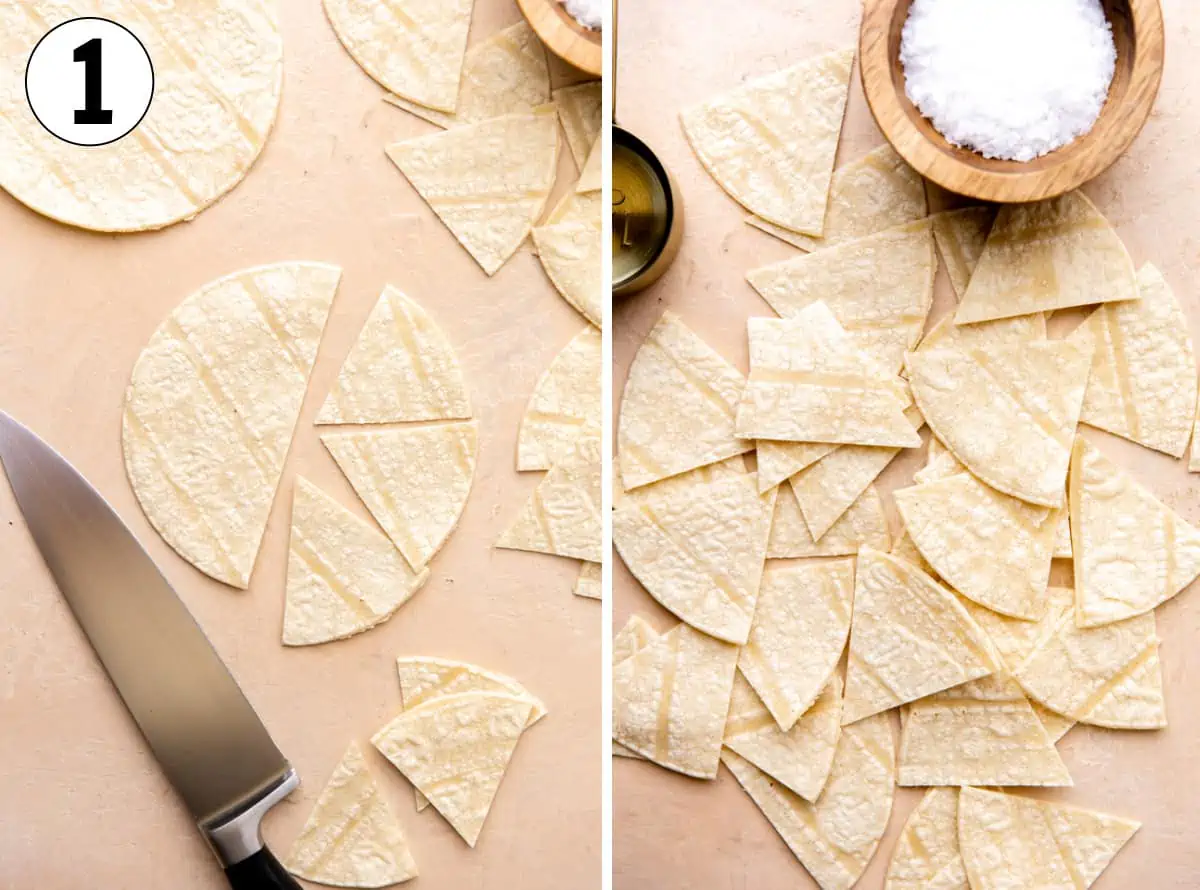 Step 1: Slice corn tortillas. Cut the tortillas into six equal portions creating the classic triangle chip shape.
Step 2: Heat oil to 350 degrees F. Use a shallow amount of oil in a wide skillet and work in batches to fry the tortillas on each side until golden.
Step 3: Remove the chips from the oil and spread onto a wire cooling rack, sprinkle with salt while still warm to allow the salt to stick to the chips.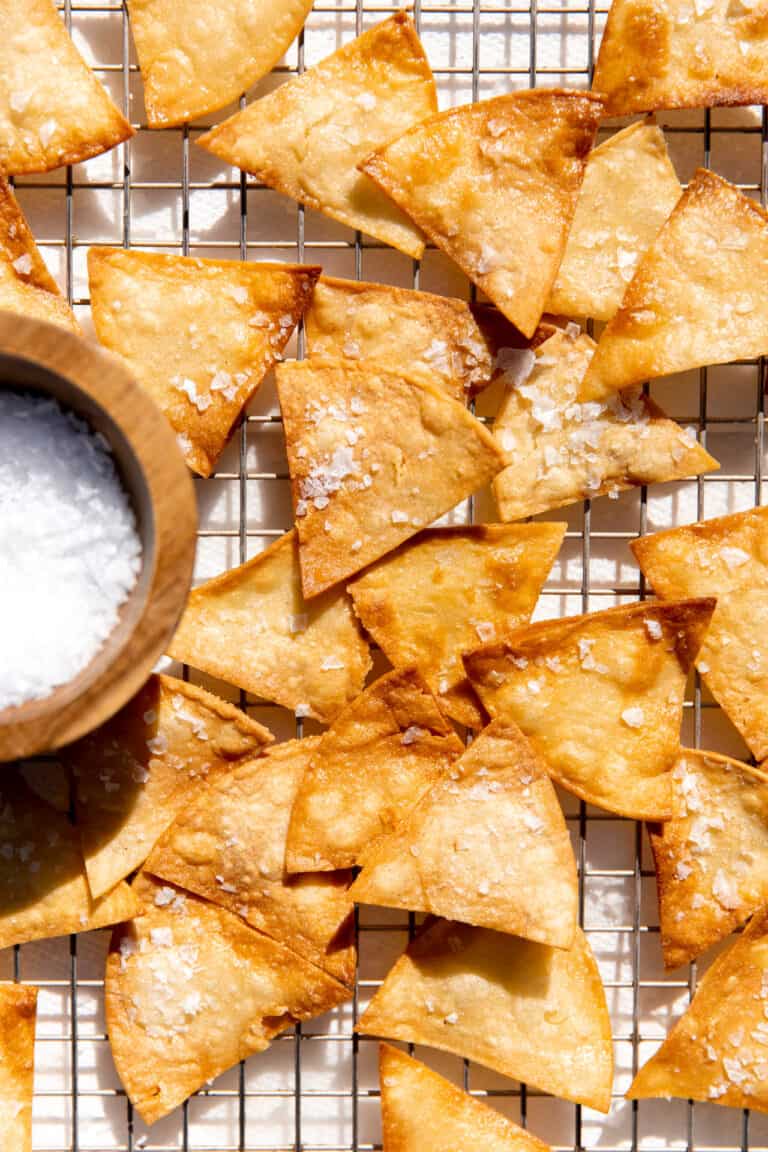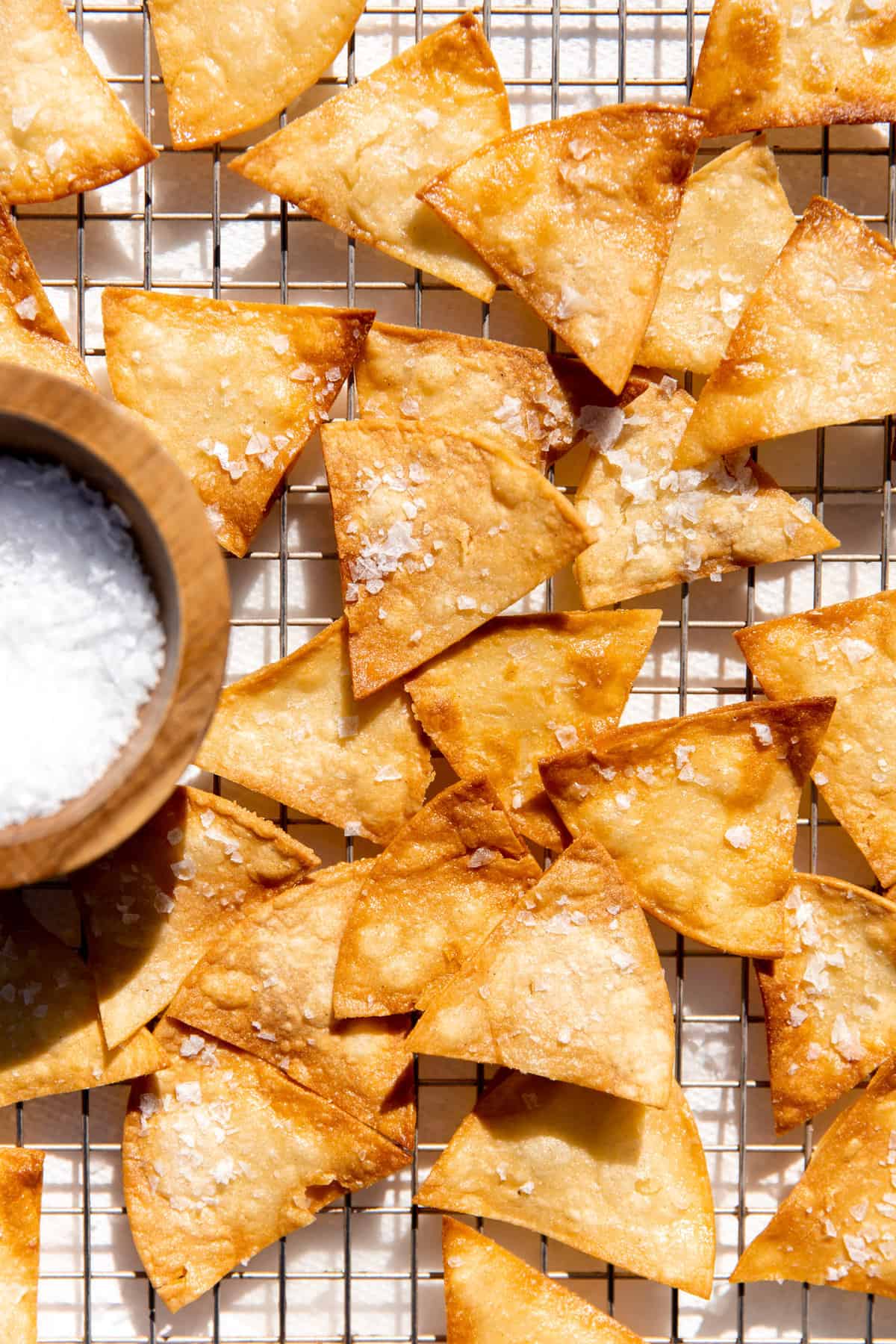 Expert Tips:
Oil Temperature: ensure the oil has reached the temperature needed to avoid having chewy chips. Make sure to bring the oil back up to temperature between batches.
Tortillas: use basic corn tortillas. If using homemade tortillas remember that the thickness can determine cooking time and it also determines how thick or thin and crispy the tortilla chips end up.
Storage: if you end up with some leftover, store them in a resealable bag, pressing out as much air as possible. These chips are best enjoyed fresh, but can be stored for up to 3 days.
FAQ's:
Why are my tortilla chips chewy?
Tortilla chips can turn out chewy if your oil isn't hot enough. Be sure to allow the oil temperature to reach 350 degrees F before adding the corn tortillas. Oil temperature can drop in between batches also, to avoid this wait for a minute or two in between batches to allow the oil to come back up to temperature.
What is the best oil for frying tortilla chips?
Pick a neutral tasting, high smoke point, oil. Some popular options include: avocado oil, peanut oil, grapeseed oil, sunflower oil, or vegetable oil. Extra virgin olive oil tends to have a stronger flavor making it not the best choice.
Can I reheat tortilla chips?
If you have some leftover chips that are slightly lacking in that fresh crispness, spread them out on a baking sheet and bake in a 400 degree F oven for 3-5 minutes until they crisp back up.
How to Make Baked Tortilla Chips:
Would you rather bake your tortilla chips instead of frying? You absolutely can. Just keep in mind the texture of the chip will be more chewy and not as light and crisp. To make Baked Tortilla Chips:
Preheat oven to 375 degrees F.
Cut the tortillas into chips, then coat with oil by either spraying or brushing with oil.
Place a wire cooling rack onto a large baking sheet. Lay the oiled tortillas on top of the cooling rack.
Bake until crispy, approximately 12-15 minutes.
Remove from the oven, spread onto another wire rack to cool and sprinkle with salt.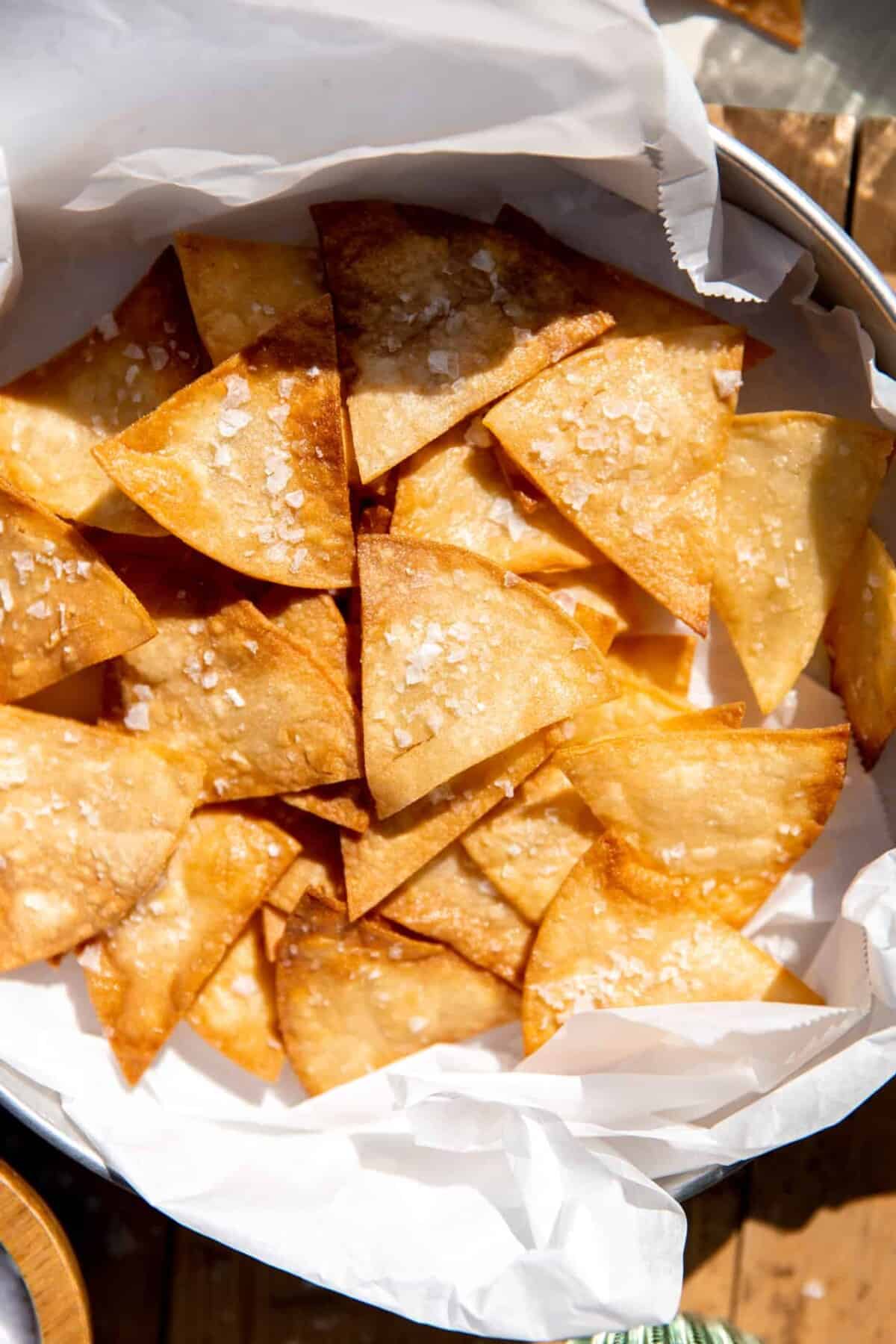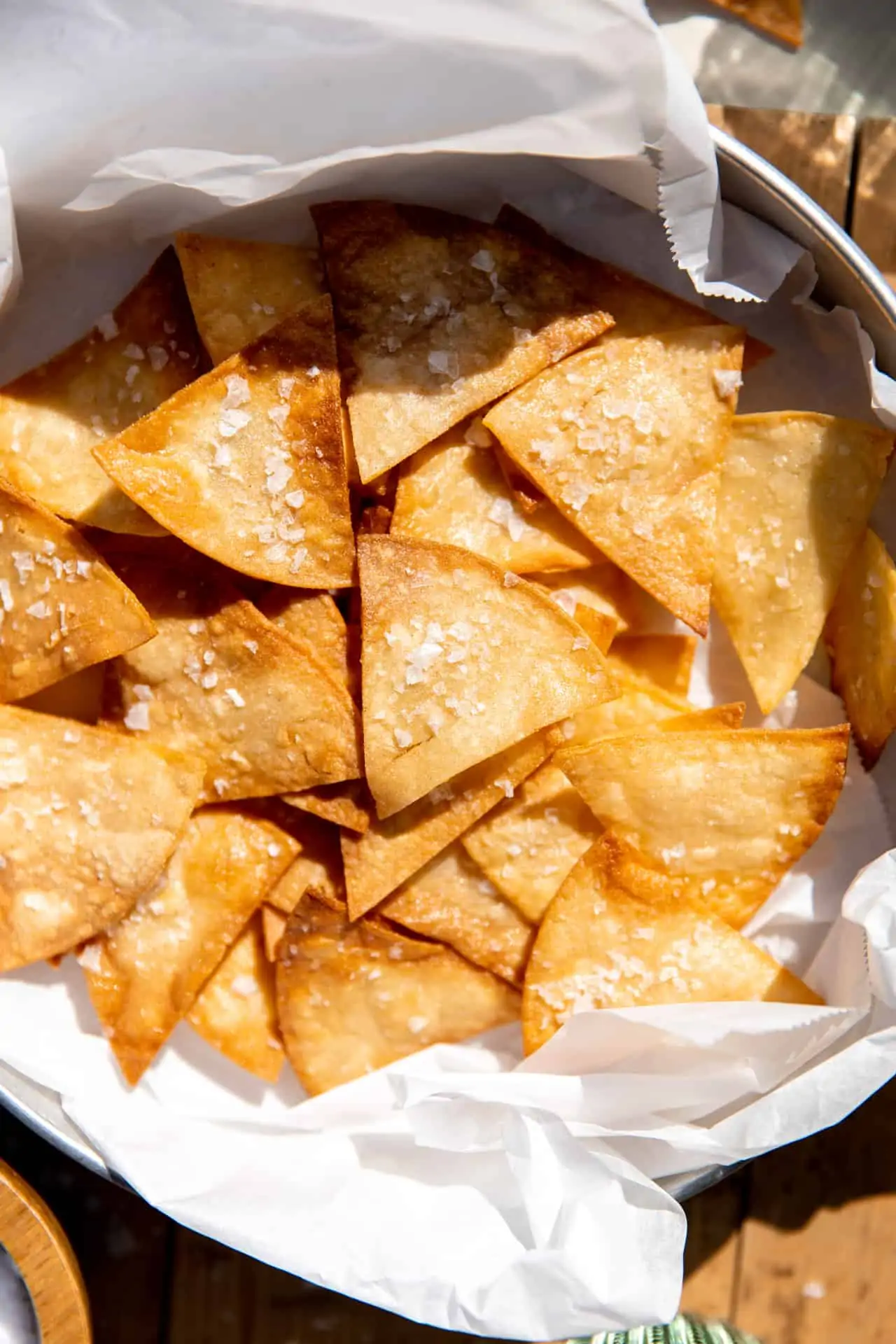 More Tex Mex Recipes to Try:
Homemade Tortilla Chips
Crisp and salty homemade tortilla chips perfect for loading up with your favorite salsa or guacamole.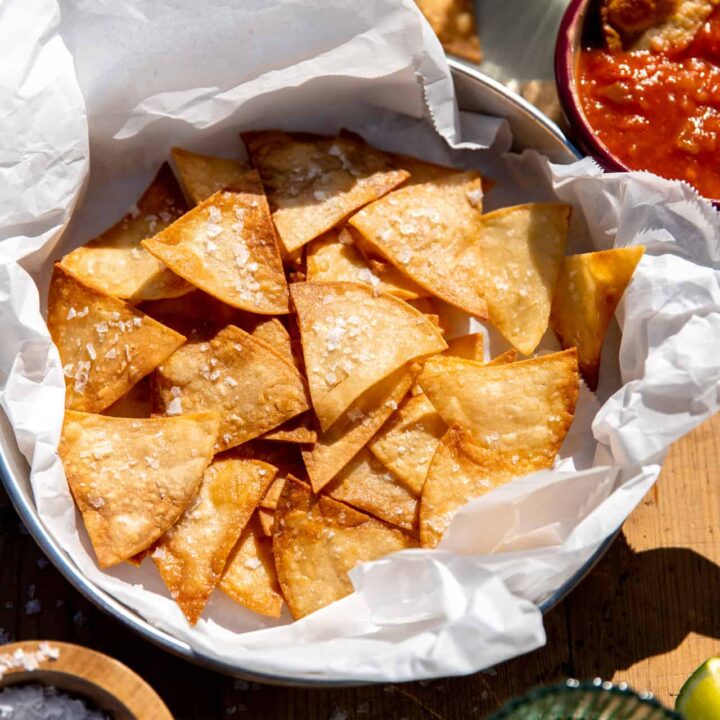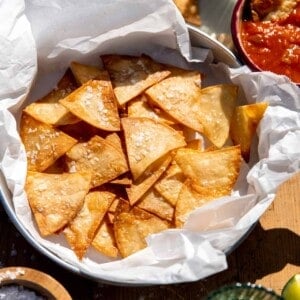 Ingredients
Instructions
Prepare a large baking sheet with a wire rack on top and set aside.

Slice the tortillas into 6 equal sized triangles.

Pour 1/4 inch of oil in a large frying pan. Heat over medium high heat until the oil reaches a temperature of 350 degrees F.

Working in batches add the sliced corn tortillas into the hot oil and allow to cook for 30-45 seconds then carefully turn the chips using tongs. Chips should have a nice golden crispy texture.

Continue cooking until both sides are golden and crispy, then remove from the oil and place on the wire cooling rack, then sprinkle with salt while still warm to ensure the salt sticks to the chips.

Continue this process until all tortillas are cooked. Leave a bit of time between each batch to allow the oil to come back up to temperature.

Serve with your favorite salsa, dip, or guacamole.
Notes
Nutritional Info: only including the corn tortillas, adjust as needed with the oil that you are using.
Corn tortillas: thicker tortillas may take longer to cook. Thinner tortillas may cook faster. The thinner tortillas will result in thinner chips.
Oil Temperature: maintain the oil temperature to ensure crispy chips. Allow time for the oil temperature to rise back to 350 degrees F in between batches.
Oil: use a neutral tasting, high smoke point oil. Options include: avocado, vegetable, grapeseed, and peanut.
Nutrition
Calories:
57
kcal
|
Carbohydrates:
12
g
|
Protein:
1
g
|
Fat:
1
g
|
Saturated Fat:
1
g
|
Polyunsaturated Fat:
1
g
|
Monounsaturated Fat:
1
g
|
Sodium:
12
mg
|
Potassium:
48
mg
|
Fiber:
2
g
|
Sugar:
1
g
|
Vitamin A:
1
IU
|
Calcium:
21
mg
|
Iron:
1
mg
Nutrition information is automatically calculated, so should only be used as an approximation.
Like this? Leave a comment below!
Photography by the talented @KJandCompany.co