Homemade Refried Beans! Quick and easy! Only a handful of ingredients. These are the perfect side dish for a Tex Mex or Mexican meal.
I'm so excited to share today's recipe with you! Homemade Refried Beans. These are so easy and so so flavorful. You will never want to eat the canned beans again! And I know for a fact that they are the best because, well, this is Gramma Herrera's recipe.
I love serving these refried beans alongside some homemade Mexican rice with our meals. Or using these beans in some Smothered Burritos. Or even in some tacos with the best taco meat.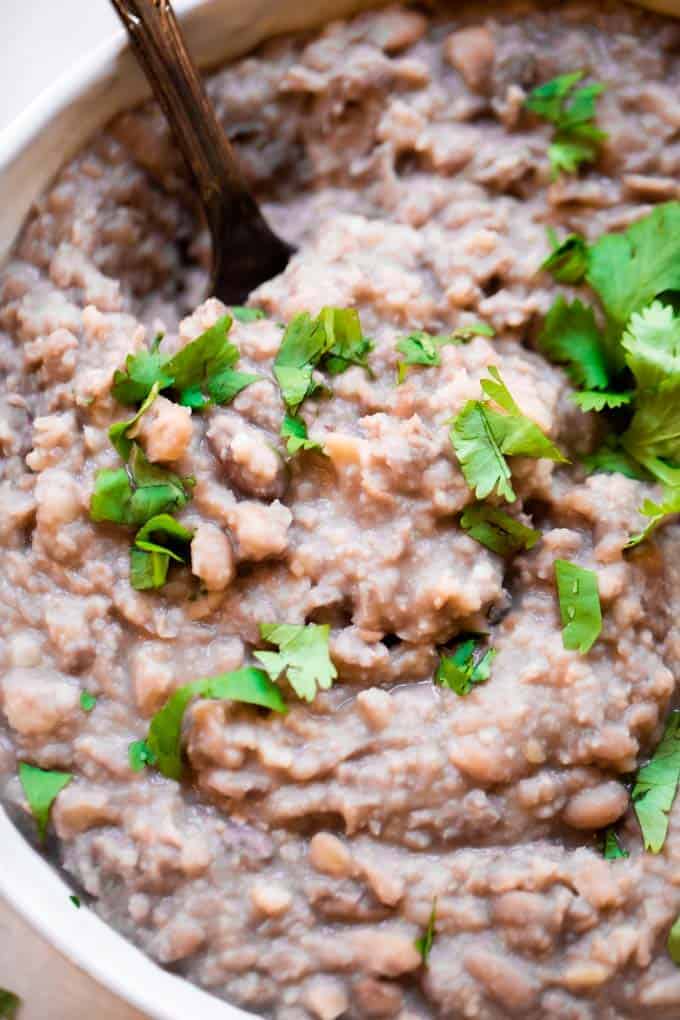 Some tips for making these the best beans FOR YOU.
You don't have to soak the beans: Soaking the beans can save some time when it comes to cooking though. So if you soak them overnight, then you don't need to cook them as long. If you decide the day of that you want to make some beans, still go for it. Just know that cooking time will be increased.
Water: Kind of important to this recipe. If you are cooking your beans hotter, then you may find that your water is evaporating too quickly. At this point you can add some more water, just make sure it's hot water so that the cooking process isn't stopped or slowed by adding cold water.
Garlic, onion and salt. Really, it's all to taste. I'm going to tell you how much I add to mine. But if you find that you want more of any of these flavorings you can definitely add more.
To mash or not to mash: If you do mash them, just use a potato masher and really it's up to you how much you mash them. Do you want them lumpy? No lumps? Not mashed at all? It's completely up to you.You could even add the beans to a blender or processor to make them completely smooth.
Bean Broth: this is what the water turns into as you cook the beans. It makes bean broth. This is what you will spoon into the beans while mashing to get the consistency you want. If you want a thicker refried bean, then use less water. If you want thinner beans, then you will use more broth.
---
How to make authentic Refried Beans:
It's a simple process. Simmer the pinto beans with some onion, garlic and salt. Then once the beans are soft enough mash them up while frying in some oil.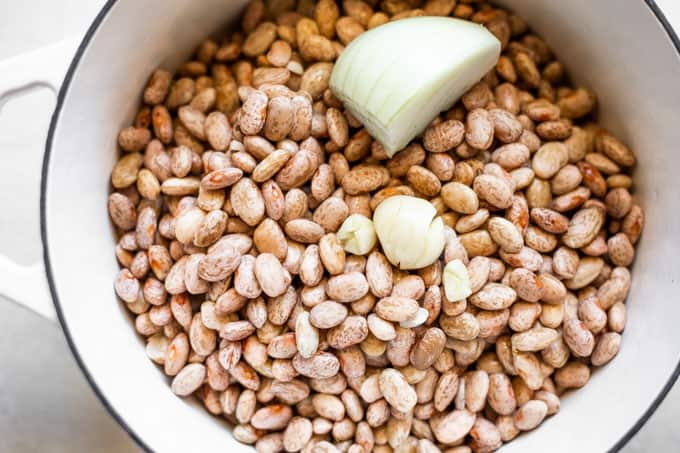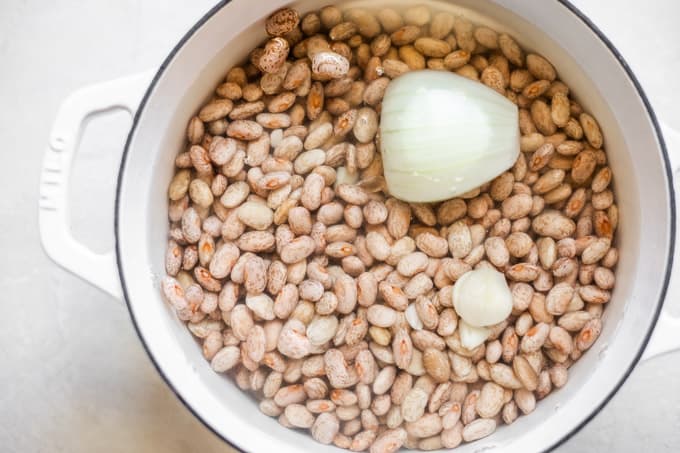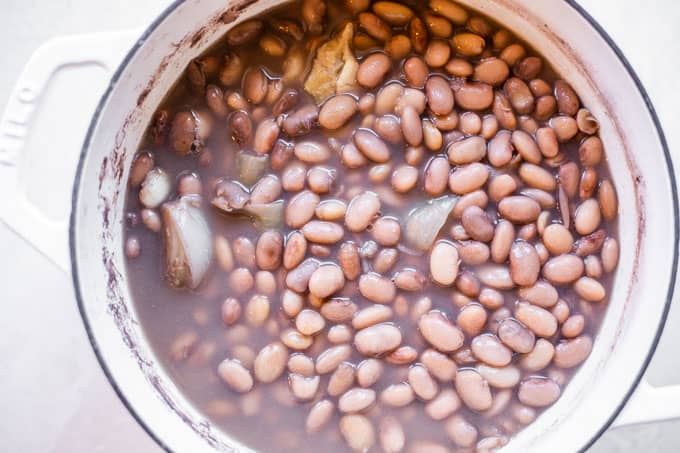 ---
What oil can I "fry" the beans in?
Again, pick what works for you. Keep in mind that whatever you use will flavor the beans. So keep it mild. For this reason I don't recommend using Olive oil. Some good choices are:
Lard
Corn or Canola oil
Vegetable oil
Leftover bacon grease (this has a strong flavor, but if you want bacon flavored beans you will LOVE it!)
Want to keep it clean? You can skip this step! Simply spoon out the beans into a large bowl and mash. They don't need to be fried.

---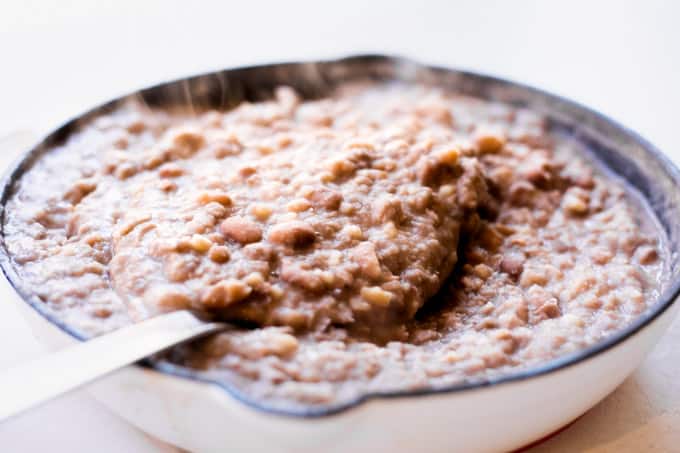 Helpful Tip!
Save the leftover bean broth and use it to stir into any beans that may be leftover. As the beans sit in the refrigerator and chill, they will thicken. Using the bean broth when you reheat the beans will ensure that you don't lose any flavor and will help thin them back out.
If you don't use the broth for the refried beans, you can hang onto it and use in a batch of QUICK Charro Beans. This lets you use canned pinto beans and still have amazing bean broth as though you slow simmered your beans for hours.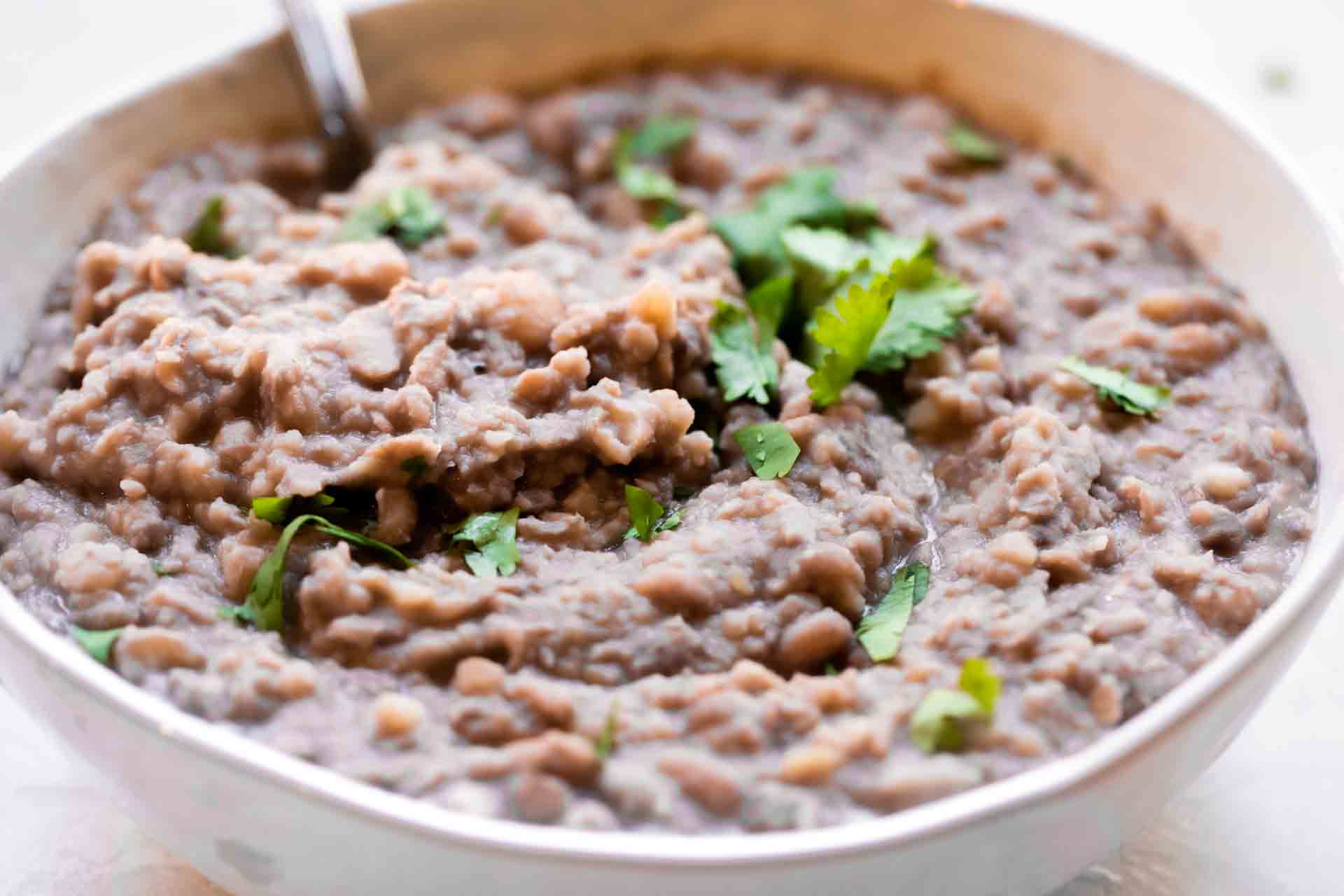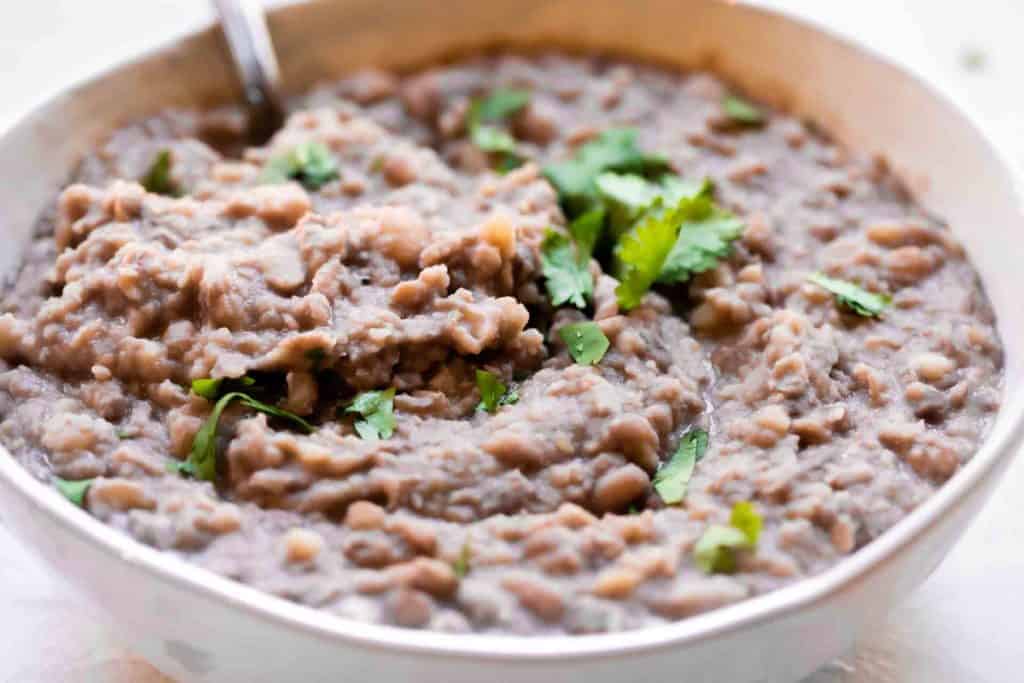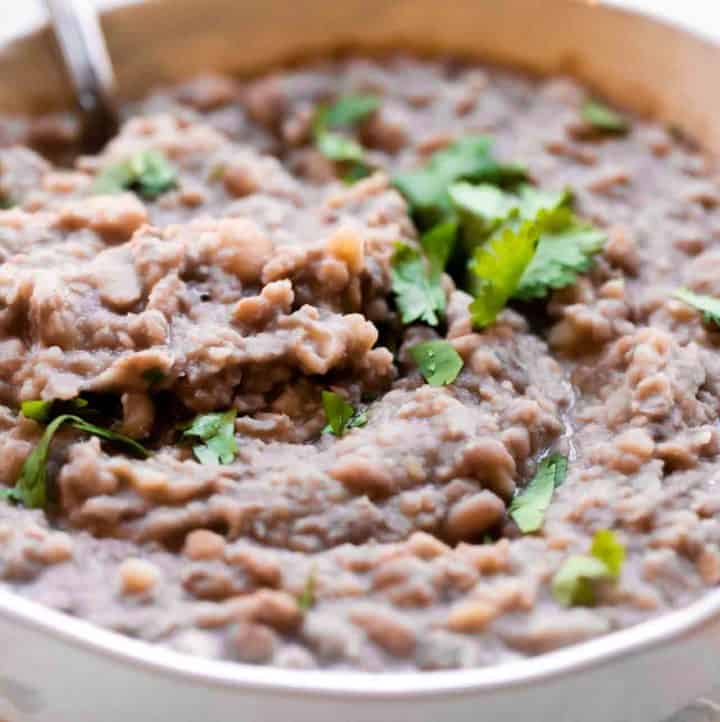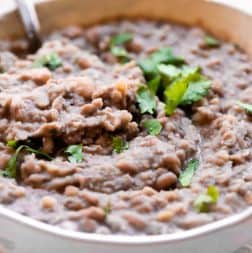 Homemade Refried Beans
Homemade Refried Beans! Quick and easy! Only a handful of ingredients. These are the perfect side dish to any mexican meal, or any meal.
Ingredients
1 lb pinto beans, dried
2 cloves garlic, smashed
½ onion, quartered
6 cups water
1   teaspoon salt
2 tablespoons lard, or oil
Instructions
Sort through the beans to ensure that they are good and no rocks are mixed in.

Rinse with water in a stainer to clean. Or if soaking the beans, place in a medium size mixing bowl and cover completely with water. Let sit overnight. Strain the beans the next day after soaking.

Add the beans smashed garlic and onion to a large pot or pan. Pour the water in. Beans should be fully submerged in water.

Bring to a boil, stir in the salt, then turn the heat to low and continue to simmer covered. Allow to cook for about 30 minutes, remove lid, stir, and continue to cook an additional 30-60 minutes until the beans are softened and easily mashed. 

Once the beans are soft, heat lard or oil in a large cast iron skillet over medium heat. Once the oil is heated, carefully ladle the beans, garlic and some of the bean broth into the skillet. Allow the beans to "fry" in the oil while mashing. Add more bean broth as needed to get desired consistency to the beans.

Serve beans warm and enjoy! 
Notes
If the beans are old, they will take longer to cook and might not become soft enough to mash. 
Nutrition
Serving: 1, Calories: 90kcal, Carbohydrates: 11g, Protein: 5g, Cholesterol: 3mg, Fiber: 3g
The recipe for Homemade Refried Beans was originally published on January 29, 2016. This recipe has been updated from it's original to include new images, video and new instructions on January 3, 2020.
Original instructions did not include any frying of the beans. Again, this is a step that can be left out if desired.
SaveSave
House of Yumm is a participant in the Amazon Services LLC Associates Program, an affiliate advertising program designed to provide a means for us to earn fees by linking to Amazon.com and affiliated sites.