Homemade Refried Beans! Quick and easy!  Only 2 ingredients.  These are the perfect side dish to any mexican meal, or any meal.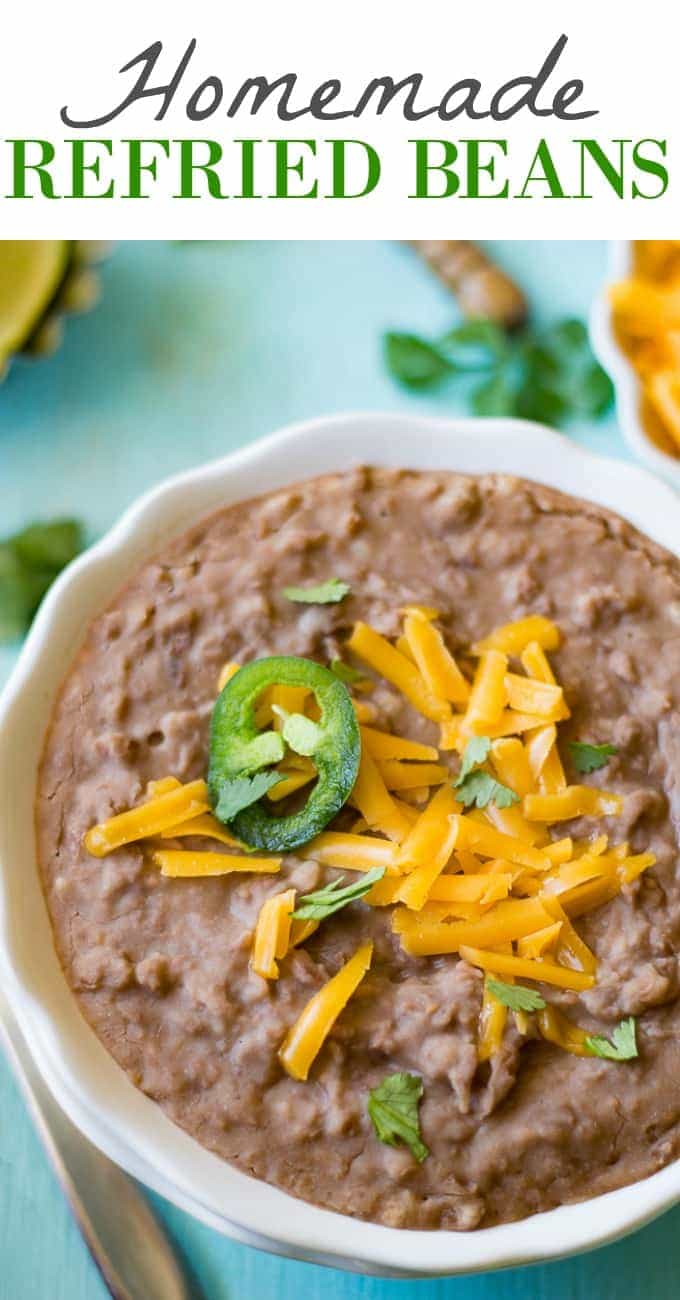 I'm so excited to share today's recipe with you!  Homemade Refried Beans.  These are so easy and so so flavorful.  You will never want to eat the canned beans again!  And I know for a fact that they are the best because, well, this is Gramma's recipe.
Gramma Kruz, remember her from the Mexican Rice and Cheesy Corn Casserole?  There are a few things I miss about living in California.  One is the ability to take the kids to the beach and let them play in the waves and sand while  the hubs and I relaxed, enjoyed some drinks and got our tans on (well the hubs would tan, I would be doing my best to prevent burning).
Another thing I miss is that on our way to those beach visits we would always stop and visit Gramma.  She would doggy sit our Frenchie while we were at the beach.  We could always count on Gramma for good food.  There was always a pan of beans on the stove simmering, a pan of rice right next to that, tamales from the neighborhood 'tamale guy' inside the fridge, and fresh cilantro from her garden drying next to the sink because she had just finished cleaning it.  After a day at the beach we would get to hang out with Gramma, enjoy the food, and wait for the ice cream truck that we could hear that always would sound so close, but would take FOREEEVER to actually show up.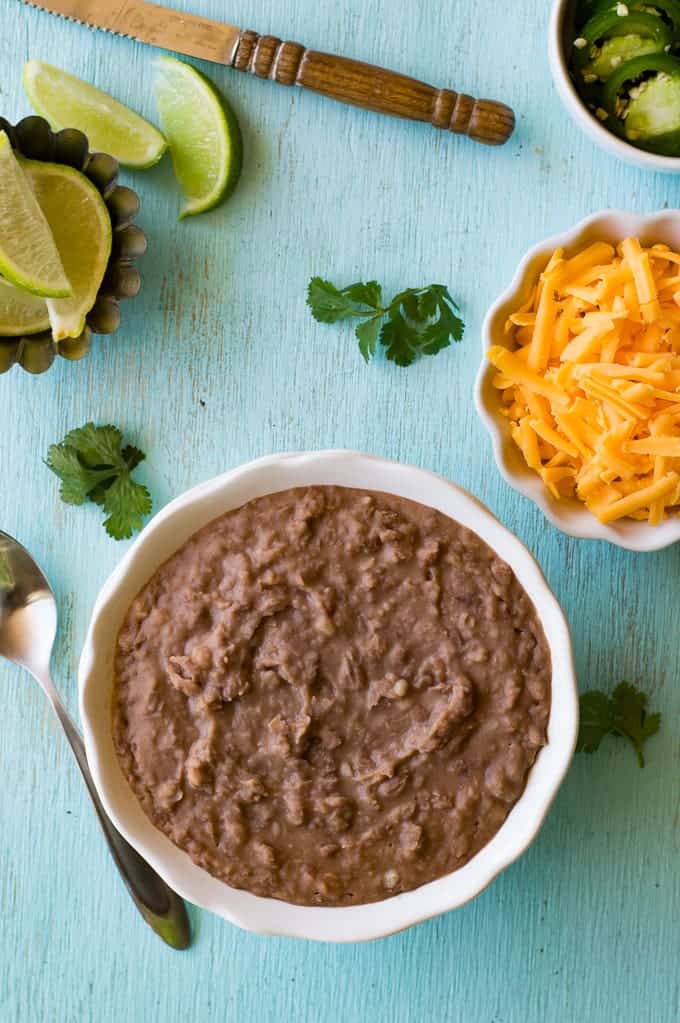 Believe it or not I actually didn't get her recipe for homemade refried beans right away.  It's only recent that I started making them.  Probably because she's like a locked vault when it comes to recipes.  But the first time I made these beans the hubs got all nostalgic on me.  I think I made him kind of proud.
Is it weird that him telling me that I made the house smell like Gramma made my day?  Actually it probably made my whole week.  There's no one my hubs loves as much as his Gramma.  I think he loves her slightly more than our own children.  Juuuust kidding, I hope.. Let's just say that he has Gramma's name tattooed on him and no one else's.  Well, other than our dog's name.  Not kidding.
So, now you have my sappy love story about homemade refried beans.  Let's look at some of the highlights of the recipe while we're here though shall we?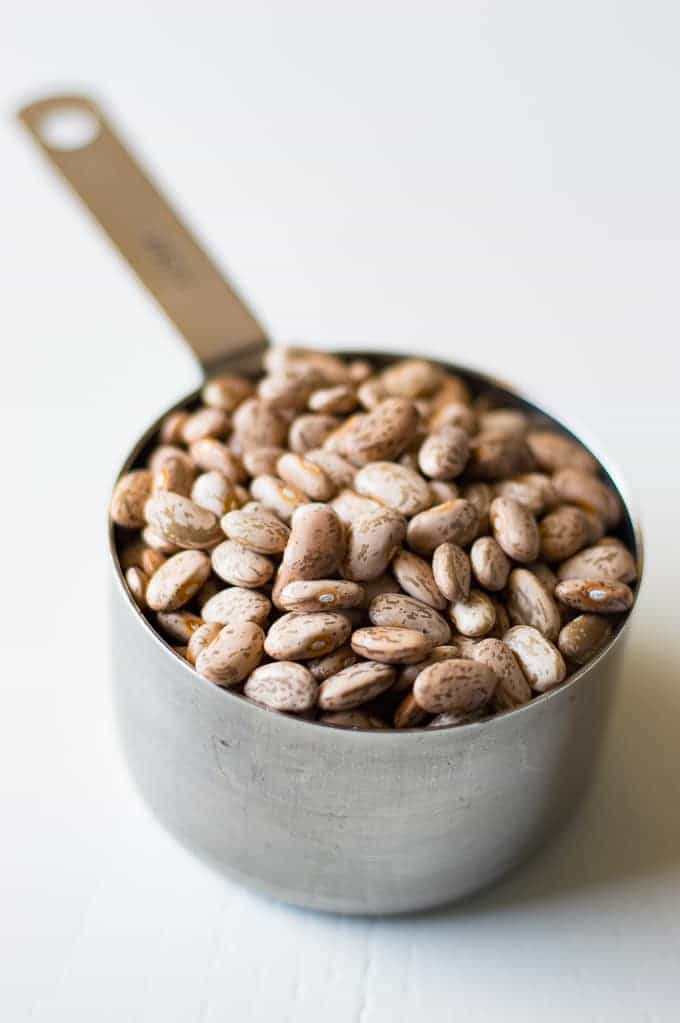 Homemade Refried Beans
No need to soak the beans!  Who knew right?  I always thought beans had to be soaked.  The hubs response: "Gramma doesn't soak her beans."  Allllrighty then!  Gramma says it's not necessary then it's not necessary.  Saves me a step and some time anyway.
Water. Kind of important to this recipe.  I can tell you how much water to add, but it's really going to be up to you.  Beans coming out too thick?  Add more water! I think it's kind of a personal preference thing.  Just make sure it's hot, boiling water so that you don't stop or slow the cooking process.  Just give it a minute or two in the microwave to get that accomplished.  But seriously, don't be afraid to add more water as these are cooking, or even once they're cooked.  Just mix the water in and bam! your beans aren't as thick.
To mash or not to mash.  That is the question.  According to the hubs: Gramma doesn't mash her beans.  Well then.  I mash mine.  Shhhhh.  Don't tell Gramma.  And lucky for me the hubs is ok with this.  If you do mash them, just use a potato masher and really it's up to you how much you mash them.  Do you want them lumpy?  No lumps?  Not mashed like Gramma?
Garlic and salt.  Really, it's all to taste.  I'm going to tell you how many cloves of garlic I add to mine.  Want more garlic?  Add more!  You cooked the beans and they don't have enough garlic?  Add a little garlic powder.  Are you noticing that my recipe seems like it's going to be very vague?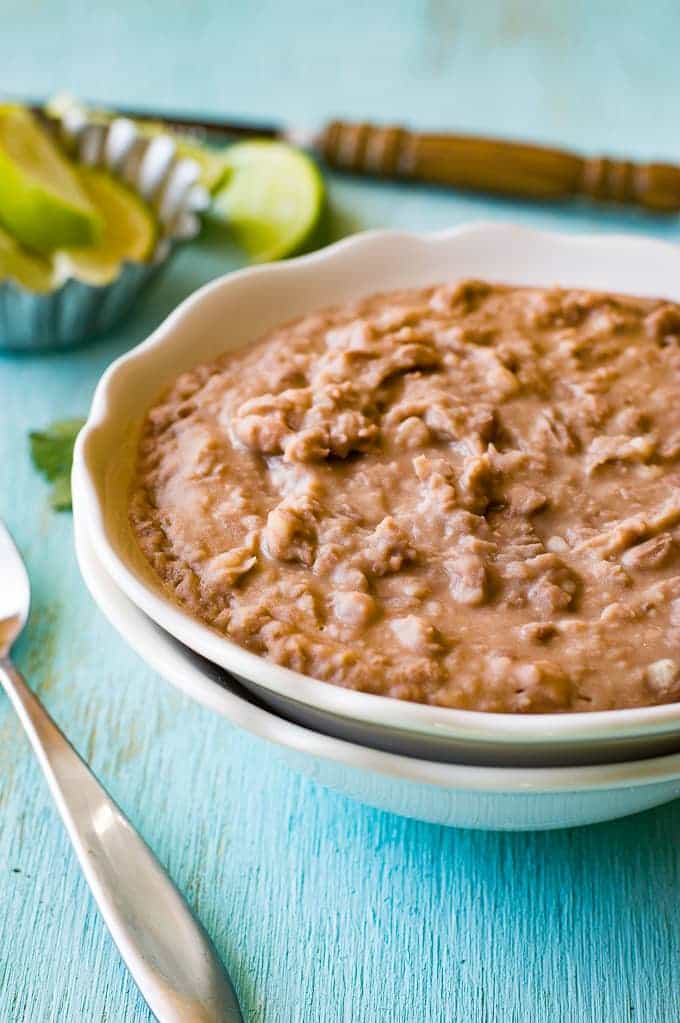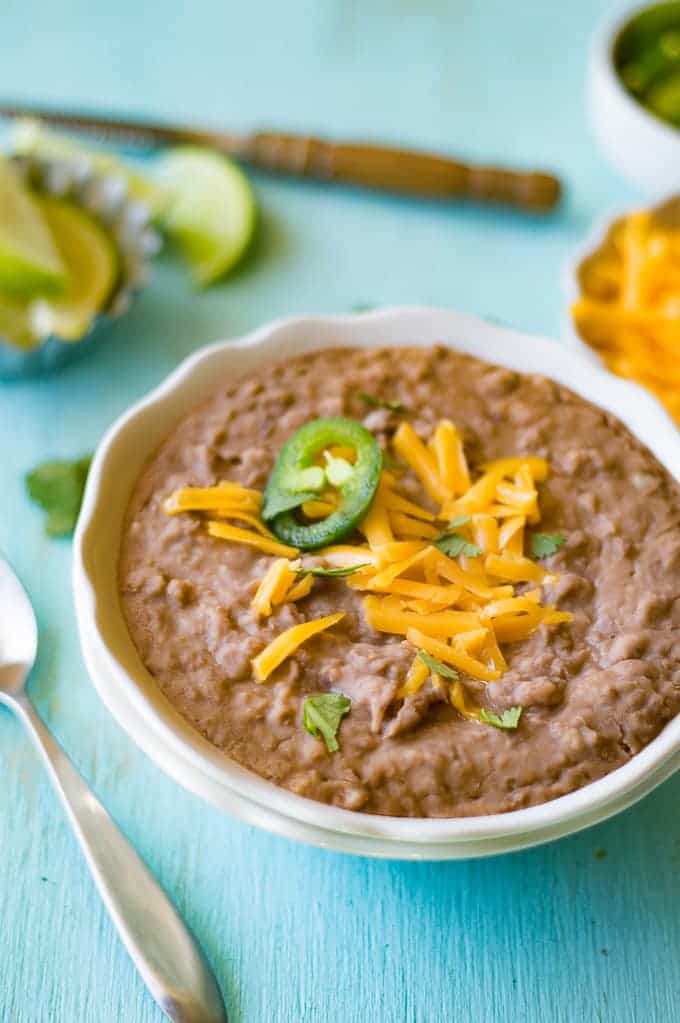 Toppings?  Yes please!!  All the cheese and cilantro and I'm even down for some salsa, sour cream, tomato, whatever I can load up on my beans I'm all for it.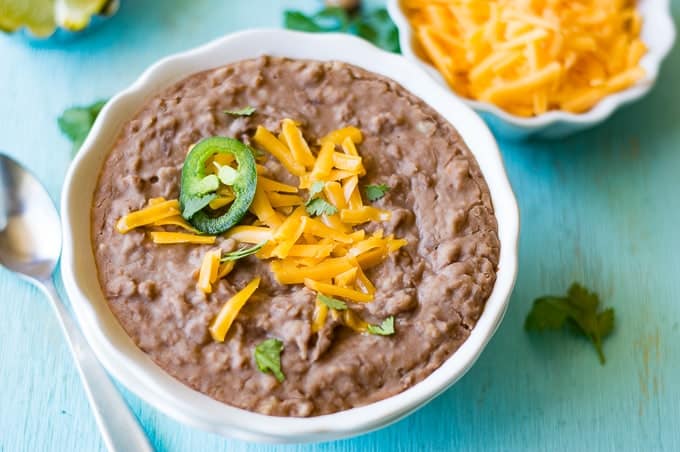 Now go make some rice and beans and find the tamale guy.  It's going to be a good day!
Not into a mashed version of beans?  Make sure you check out the recipe for Charro Beans too while you're here!
Need Some More Tex Mex Inspiration to complete the meal?!
Print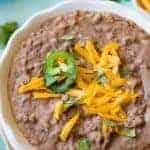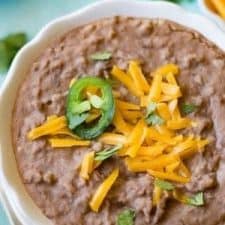 Homemade Refried Beans
Author:

Prep Time:

1 minute

Cook Time:

1 hour 45 minutes

Total Time:

1 hour 46 minutes

Yield:

6-8
---
Description
Homemade Refried Beans! Quick and easy! Only 2 ingredients. These are the perfect side dish to any mexican meal, or any meal.
---
Ingredients
1 lb dried pinto beans
5 cloves garlic minced
6 cups water
1 and 1/2 teaspoon salt
---
Instructions
Sort through the beans to ensure that they are good.
Rinse with water in a stainer to clean
Add the beans and the minced garlic to a large pot or pan. Pour the water in. Beans should be fully submerged in water.
Bring to a boil, then turn the heat to low and continue to simmer covered. Allow to cook for about 1 and 1/2 hours, stirring every half hour, until beans are soft.
Once the beans are soft, remove the lid and continue to cook uncovered until all water is absorbed. Mash the beans to desired consistency and add salt.
If beans are not as soft as desired add more water! Stir to combine.
Serve warm and enjoy!
SaveSave
685