This easy to make bright and tangy salsa verde is loaded with fresh ingredients. Full of flavor and a vibrant green color, this homemade salsa is quick and easy to make.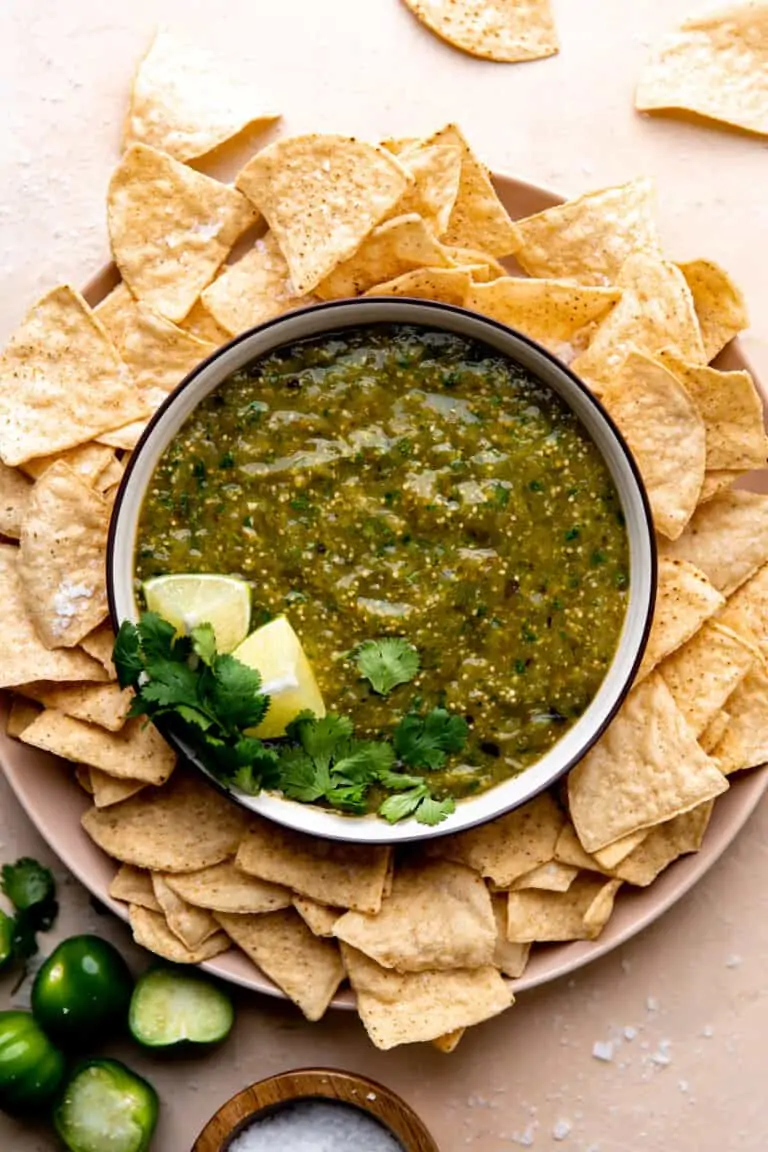 Full of flavor and a vibrant green color, this tomatillo salsa is quick and easy to make for all your favorite Tex Mex meals! An easy blend of tart tomatillos, jalapeno, cilantro, jalapeno, onion, and fresh lime juice makes this tangy and vibrant salsa an instant favorite. Serve over your favorite tacos, as a side for tortilla chips, or use with burritos and enchiladas.
Ingredients Needed: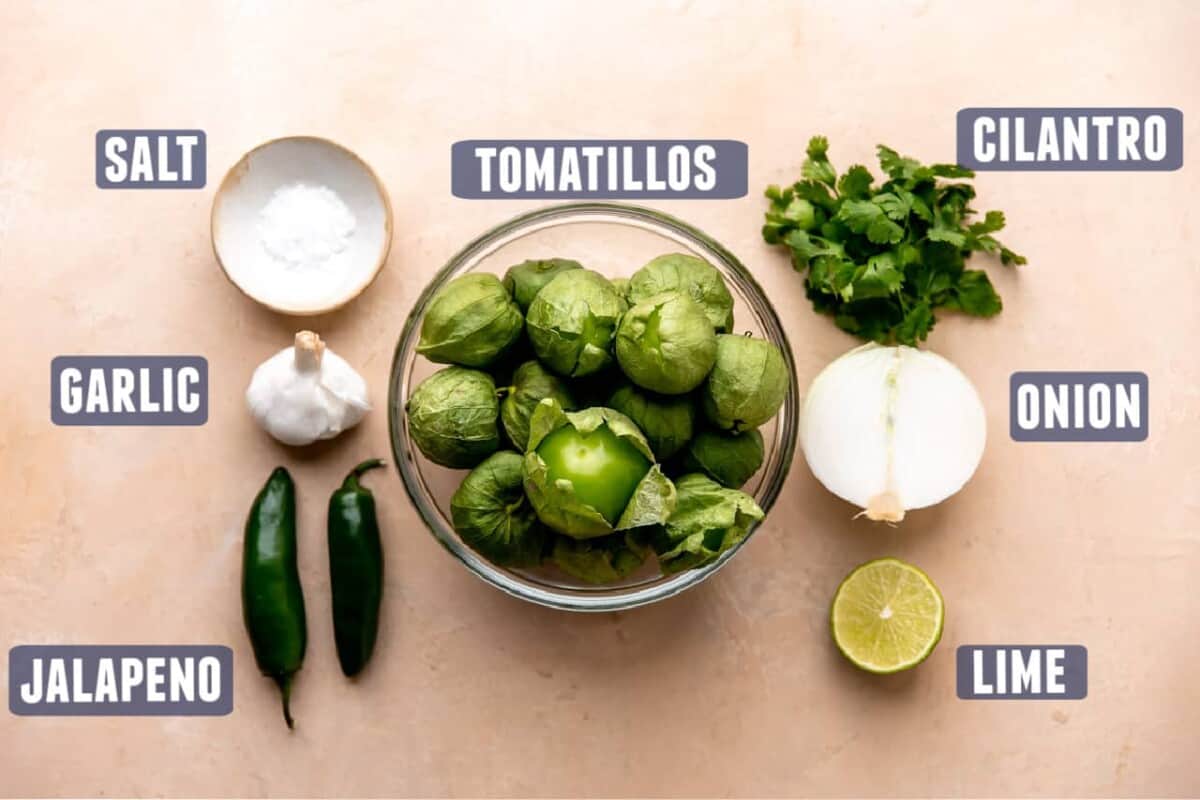 Notes on some ingredients:
Tomatillos: these are small green tomatoes that are covered in a paper husk.
Jalapeños: this is a great mild option, to reduce the heat remove the seeds and membranes, the membranes is where most of the heat comes from. If you want the heat, keep that in.
Lime: fresh juice is always better.
Water/Broth: have some on hand, if the salsa blends up too thick, you can use this to thin it out to get the desired consistency.
How to make (step-by-step):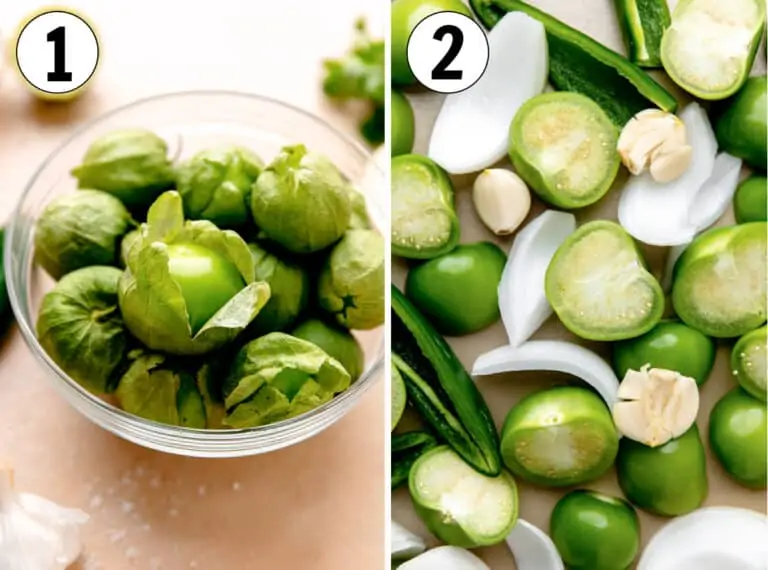 Step 1: Remove husks from tomatillos, they will feel sticky, rinse with water to clean them.
Step 2: Slice tomatillos, onion, jalapeño, and crush the garlic. Spread this out evenly on a large baking sheet.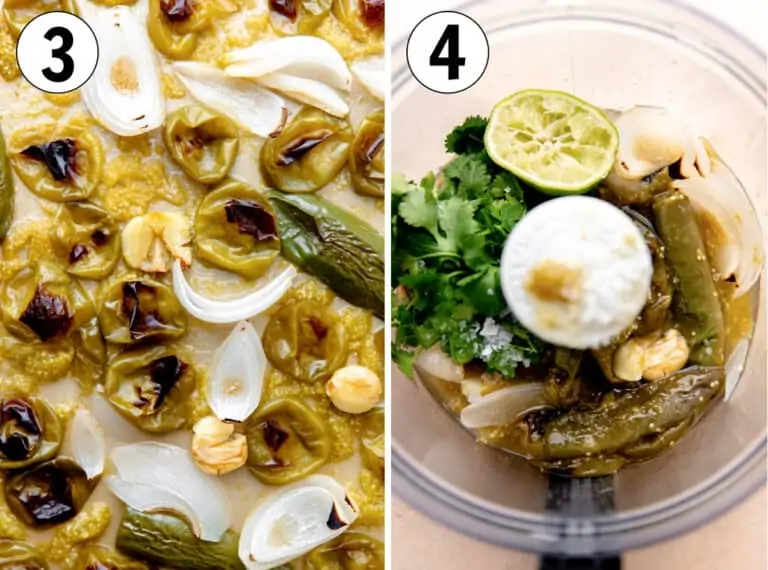 Step 3: Boil/Roast/Grill tomatillos, peppers, onion. If roasting you can add the garlic to the pan also. Spread ingredients on a large baking sheet and cook 15-20 minutes until softened, then give them a couple minutes under the broiler to get additional color.
Step 4: Add ingredients to a blender or food processor. Blend until desired consistency is reached. Salsa can be thick, you can use water to thin it out if needed.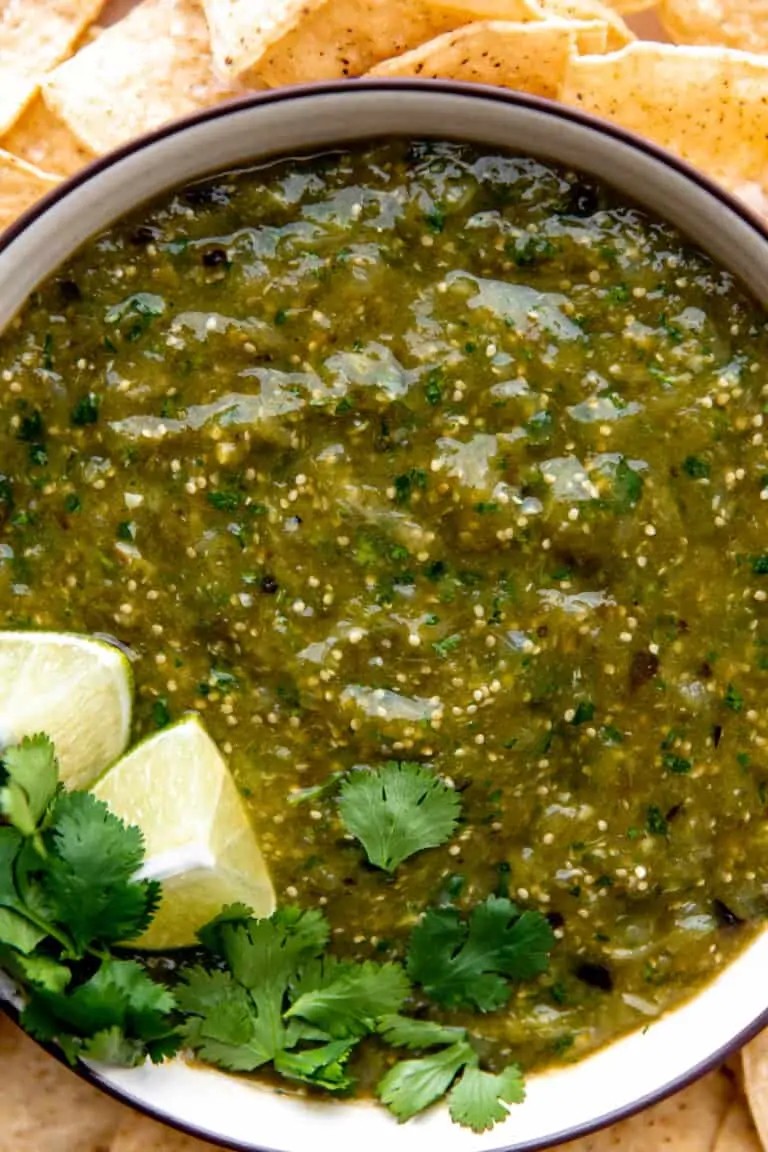 Expert Tips:
Water: If you boil the ingredients, keep the water to use in the salsa to help thin it out if needed.
Roast or boil the ingredients prior to blending. This will ensure that we're getting the best flavor from the tomatillos.
Start with smaller amounts of lime juice, lime can be overpowering. If too much is added it can make the salsa too tangy. So start small and you can add more to taste.
Customize! Making your own salsa verde recipe means that you can customize the flavor. More or less cilantro. More heat with more peppers or less. More or less salt. More or less lime. Maybe you want more sweetness and add some honey. You can make this just the way you want.
FAQ's:
What pepper should I use in salsa verde?
It depends on how much heat you are wanting, some common options would be: Serrano (10,000-23,000 SHU), Jalapeño (2500-8000 SHU), and Anaheim (500-2500 SHU).
What is the difference between salsa and salsa verde?
Salsa is traditionally made with tomatoes and/or red chiles, which gives a red coloring. This salsa verde is green due to using tomatillos.
What are some ways to use this salsa?
Dipping with chips, drizzling on grilled or cooked chicken, shrimp, or fish. Stir in some sour cream and create a creamy sauce perfect for enchiladas. Top chicken and bake with cheese on top to create an easy chicken dinner.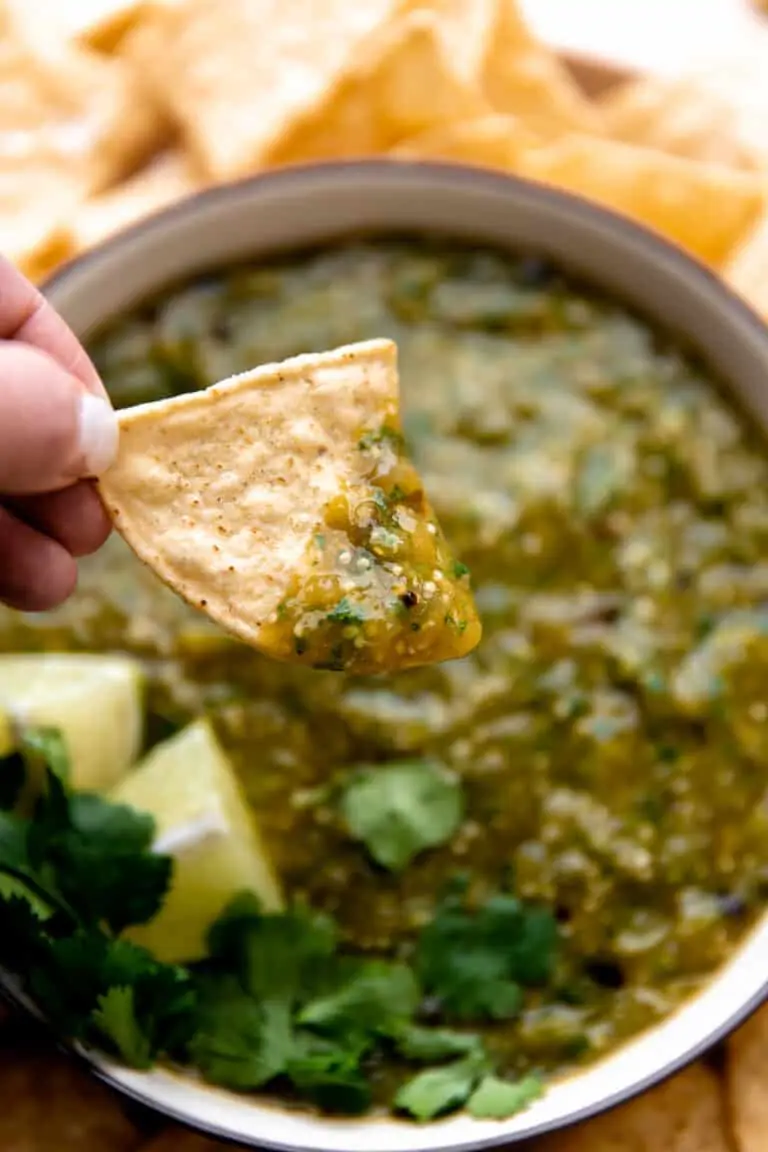 Other Salsa Recipes:
If you tried this recipe please leave a comment and a ⭐️⭐️⭐️⭐️⭐️ rating below! Thank you so much!
Salsa Verde Recipe
Full of flavor, this tangy and vibrant green salsa is easy to make, and perfect for all your favorite Tex Mex meals.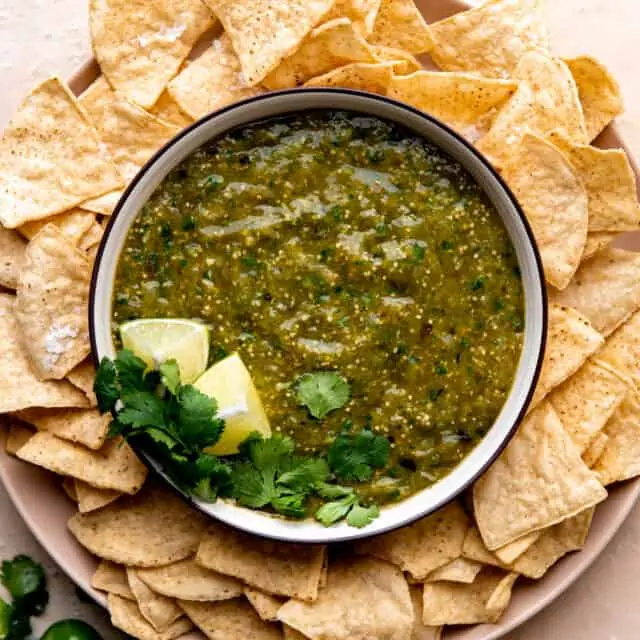 Ingredients
Instructions
Preheat oven to 400℉. Prepare large baking sheet with a silicone baking mat, foil, or parchment paper.

Remove husks from tomatillos and rinse with water to clean.

Slice tomatillos in half.

Prepare large baking sheet by laying out all the tomatillos, cut side down, halved jalapeno, chopped onion and garlic cloves.

Bake in oven for 15-20 minutes until the tomatillos are softened. Then broil for an additional 3-5 minutes to get additional color to the skins of the tomatillos.

Remove from the oven and allow to cool briefly.

Add the all ingredients to a food processor/blender. Blend for about 30 seconds until all ingredients are mixed and combined and there are no large pieces remaining. (If too thick, add a small amount of water to reach desired consistency.)

Store in a sealed container in the refrigerator. Can store for about 1 week.
Notes
To boil ingredients: add the tomatillos (whole but with husks removed), onion and jalapeno into a large pot. Cover with water and boil for about 20 minutes until soft.
Peppers: If you prefer more heat, you can opt for a Serrano pepper, or add a portion of a Serrano pepper to taste. For less heat an Anaheim pepper can be used.
Thickness: if the salsa is too thick, just add a small amount of water to the salsa to get the desired consistency.
Nutrition
Serving:
1
|
Calories:
43
kcal
|
Carbohydrates:
8
g
|
Protein:
1
g
|
Fat:
1
g
|
Saturated Fat:
1
g
|
Sodium:
196
mg
|
Potassium:
324
mg
|
Fiber:
2
g
|
Sugar:
5
g
|
Vitamin A:
244
IU
|
Vitamin C:
17
mg
|
Calcium:
12
mg
|
Iron:
1
mg
Nutrition information is automatically calculated, so should only be used as an approximation.
Like this? Leave a comment below!
Recipe first posted on June 5, 2018. Updated January 14, 2022 with new images. Recipe is unchanged.
Photography by the talented @KJandCompany.co
SaveSave