Homemade salsa verde!  Made with tomatillos, the perfect amount of heat and sweetness.  Perfect snack or topping to your favorite mexican food recipes!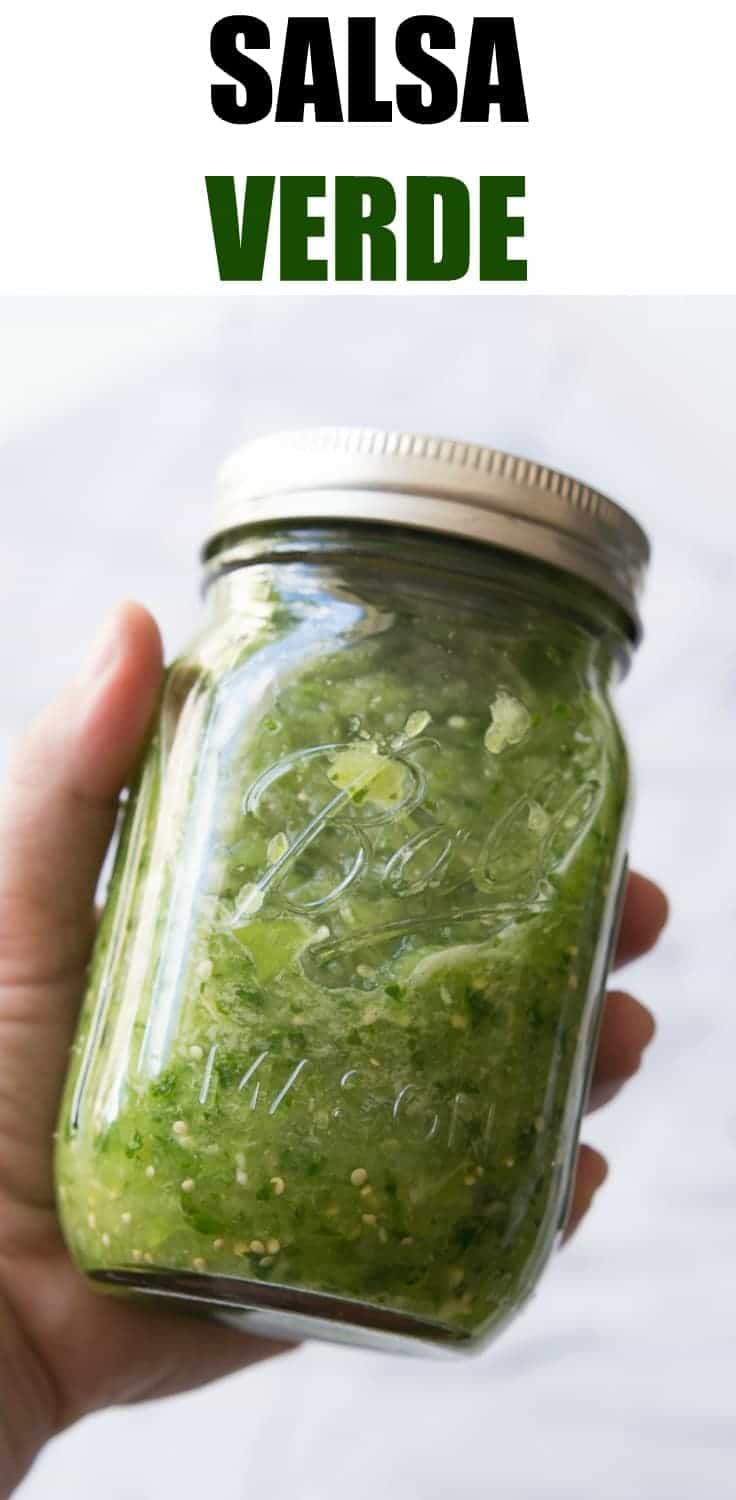 Homemade salsa verde.  This easy to make recipe is perfect for dipping chips into, or using to top your favorite Mexican food recipe.  I have a thing for salsas.  You know the taco places that have salsa bars set up?  That's my favorite.  I wish I had a salsa bar set up in my home.  I have a feeling I would have a hard time keeping it full.  We go through so much salsa in our house.   I already have my favorite Restaurant Style Salsa on the site.  So today I'm sharing a wonderful classic Salsa Verde recipe with you.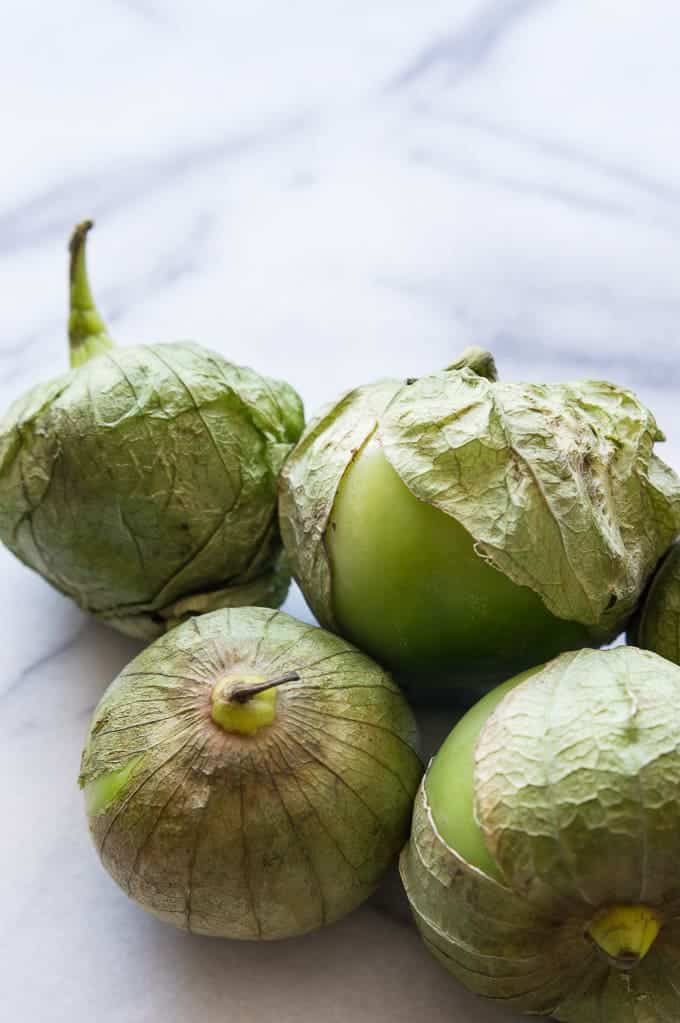 The star of the show, these tomatillos.  Have you used them before?
Tomatillos are basically green tomatoes. They have a husk on them that needs to be peeled off before using. The inside is white and "meatier" than a regular tomato. Basically, it's more dense. You know how regular tomatoes are full of seeds and juice? Not so much with tomatillos.
When you buy them you want to pick the smaller ones. And since they are in a husk you can't see the condition of the actual tomatillo so you want to pick them based on how the husk looks. Don't get the dried up shriveled looking ones. Yuck.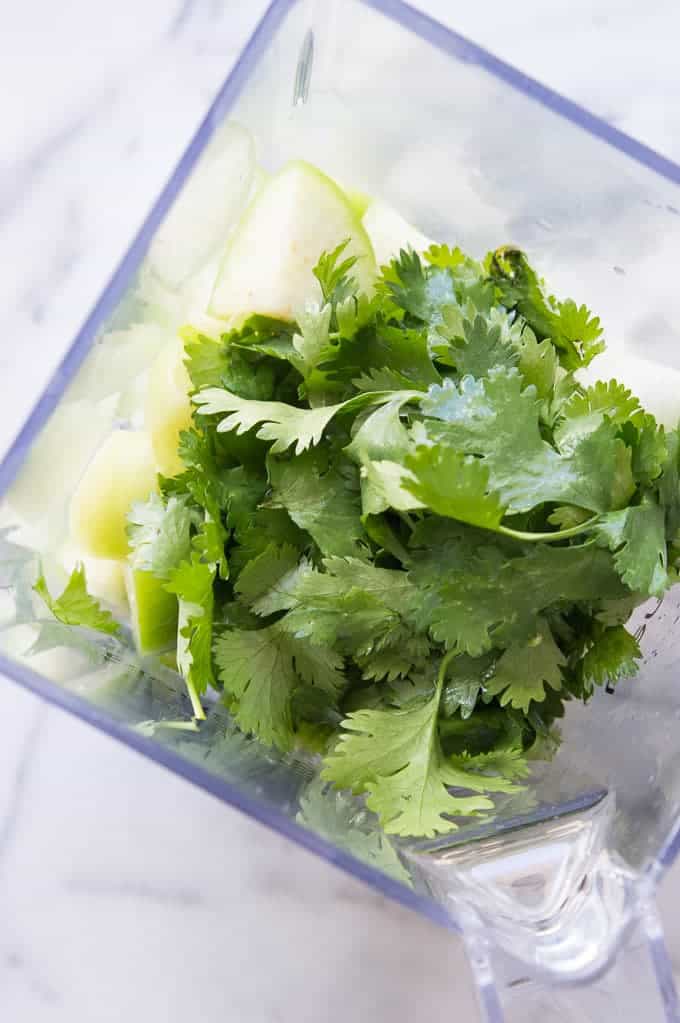 Tomatillos have a slightly tart flavor. They're a little sweeter than regular tomatoes. But adding sweetness to recipes that call for tomatillos can help to cut the tartness. Which is why I have added honey to this salsa verde.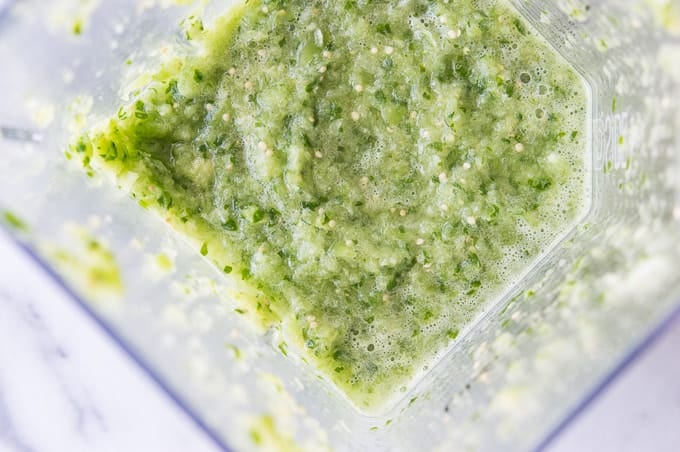 Store these in the fridge with their husks still on. They'll keep longer this way. Once it's time to use them we will need to remove the husks and wash them off since they'll be kind of sticky.
Yeaaa. I'm a bit of a nerd 🤓 But seriously, taking care of our ingredients means that our food will taste better. Just trust me on this and all will be right when it comes time to enjoy some chips and salsa.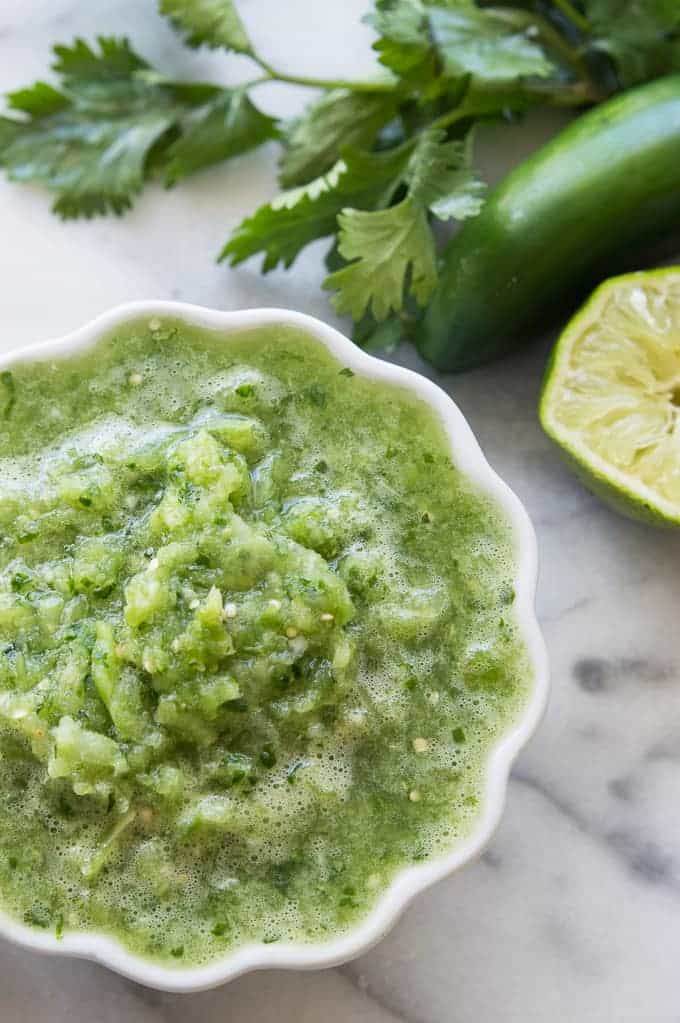 Tips on How To Make Salsa Verde:
Blanch.  Blanch.  Blanch.  Blanch.  I did a lot of research on salsa verde. And there's a lot of recipes out and about that are for a "fresh" salsa verde.  Basically just cutting up the tomatillo and putting it into the processor to make the salsa.  Umm.  No.  I know, there's some well respected American Chefs who specialize in Mexican cooking that say it's not necessary to blanch.  And on this point I will have to respectfully disagree with them.  The tomatillo has a tough skin.  Which is why it's blanched when used in cooking.  Same concept here with the salsa. I've made this without blanching and the salsa was..how do you say… chewy.  It was chewy.
Taste as you go! Salsa, as with most things is a by taste adventure.  I would highly recommend to add the seasonings and the lime juice at the end.  Also the honey.  So basically just blend all the veggies and the tomatillos first.  Taste.  Then add the seasonings to suit you.  Lime can be overpowering, so start with small amounts.  Then increase as needed.  Same with the honey.  You may actually not like the added sweetness to the salsa.  Try it without first.  It makes a huge difference when you do add it, so again, start small then add more if needed.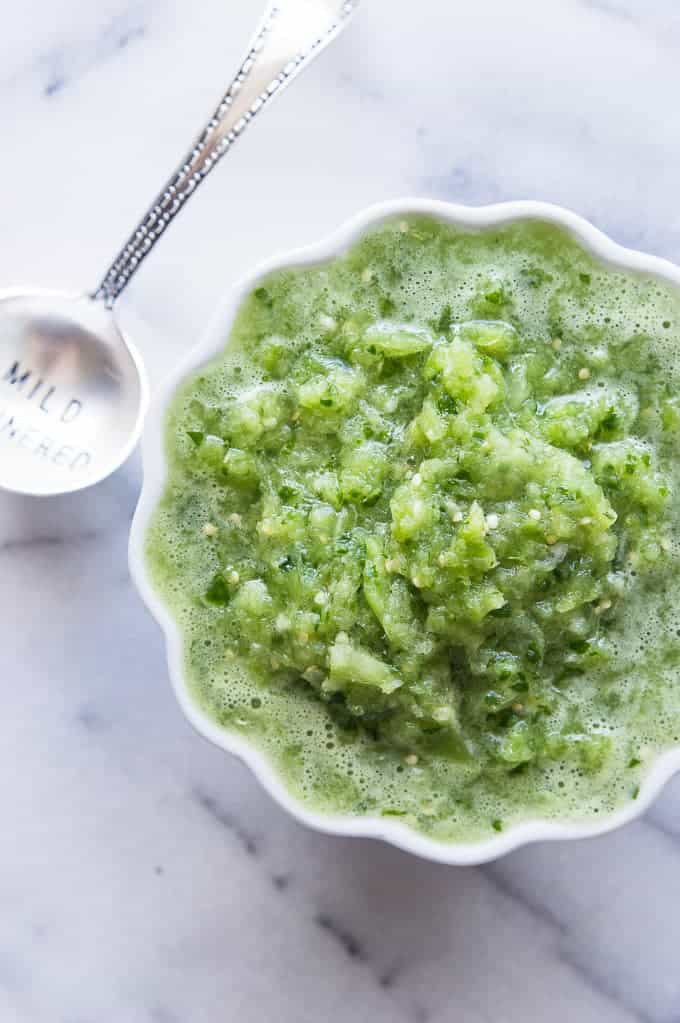 I hope you enjoy the recipe!  You can follow along with me and never miss a recipe by following along on Instagram 💜
Print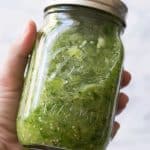 Salsa Verde Recipe
Author:

Prep Time:

10 minutes

Cook Time:

3 minutes

Total Time:

13 minutes

Yield:

2 cups
---
Description
Homemade salsa verde! Made with tomatillos, the perfect amount of heat and sweetness. Perfect snack or topping to your favorite mexican food recipes!
---
Ingredients
1 lb fresh tomatillos
water for boiling and cooling
1/2 a medium yellow onion
1 jalapeno de-seeded
1/2 cup cilantro
juice from 1/2 lime
1/2 teaspoon salt
1/2 teaspoon ground cumin
1/2 teaspoon honey
---
Instructions
Bring a large pot of water to a boil.
Prepare the tomatillos by removing the husks, washing, cutting out the core.
Prepare a bowl of ice cold water.
Add the tomatillos to the boiling water. Allow to boil for about 3 minutes, the tomatillos will turn a darker almost olive green. Remove from the boiling water and submerge into the ice water. Leave for another 3 minutes. Remove from the water, score the bottom and peel the skin off.
Add the tomatillos to a blender or food processor (affiliate link). Add the remaining ingredients. Blend or process until desired consistency.
Serve with chips or on your favorite mexican dish like these Tequila Lime Chicken Enchiladas
Products I recommend for this recipe:
**This post may contain affiliate links, but I only recommend products that I actually use and <3. Thanks for supporting House of Yumm!
SaveSave
4