Mexican Rice! The best side dish for all your Tex Mex and Mexican meals! This rice is flavorful and fluffy! This is a great base recipe that you can add to and customize to make your own.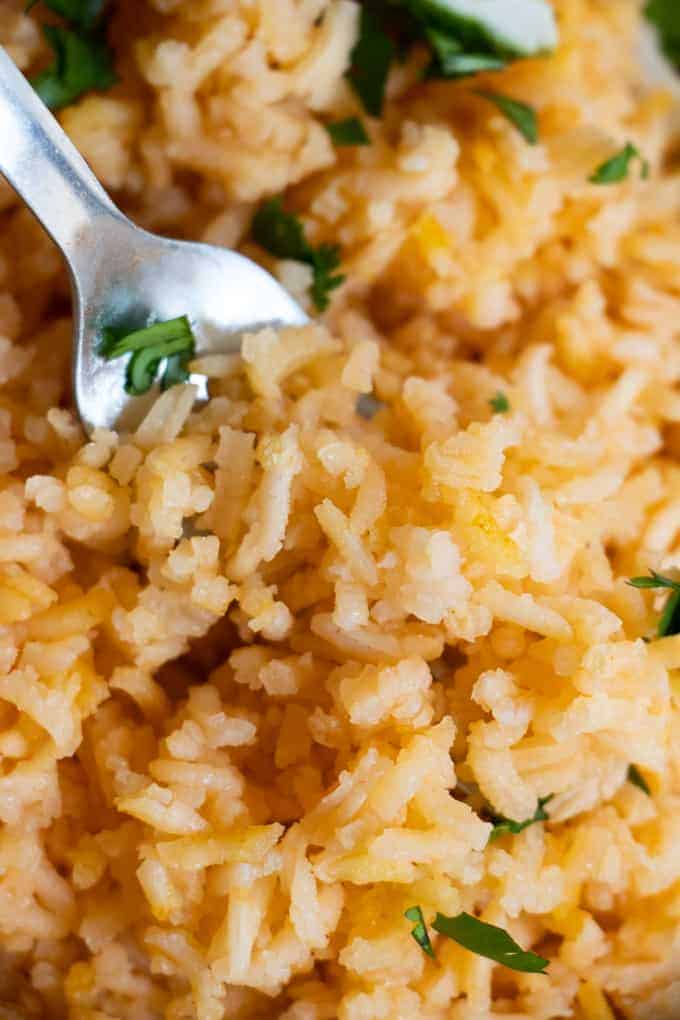 There is no better, or more popular side dish for a Tex Mex or Mexican meal. This Mexican Rice recipe and instructions is guaranteed to give you the fluffiest, most flavorful rice, just like you would get at a restaurant! Some may refer to this as a Spanish Rice, but I tend to think of Spanish rice as more of a yellow rice, thanks to the addition of saffron. This particular recipe could be considered a Mexican Spanish Rice.
What is Mexican Rice?
Mexican Rice also known as Arroz Rojo, is a very popular side dish. It can also be an ingredient used in other dishes, like these Smothered Burritos. It makes a perfect side to these Ground Beef Tacos and Cheese Enchiladas.
What is in Authentic Mexican Rice?
Every family has their own method it seems. Some make rice with blended tomatoes, some with tomato sauce, some with tomato bouillons or Caldo de tomate. I have tried ALL of these methods. And what I have found to be easiest, and what gives the best flavor, is using the bouillons. I love the flavor that the chicken bouillon gives to the rice. And while I often will make my rice with tomato sauce, I find it just as easy to add a spoon of tomato bouillon as well.
As for making the rice with blended tomatoes, it does take more time, and I just don't find the flavor as ..bold. So if you're looking for a very mellow taste to your rice you might enjoy doing the blended tomatoes.
Also there's the additions. At most restaurants there will be peas, carrots, bits of peppers, or tomatoes. This recipe is so easy, and gives you a base Mexican Rice to work with, please customize it to suit your needs and add what you enjoy and your family likes to eat.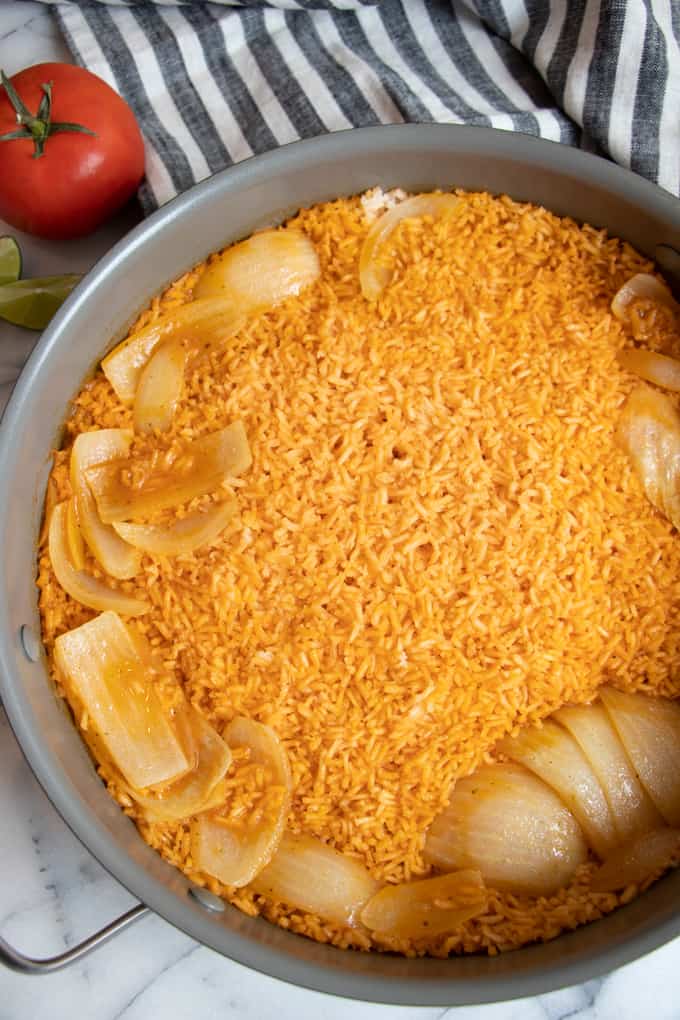 How to Make Mexican Rice:
This recipe comes down to the method.
Fry the rice. I always use a long grain white rice. Add a small amount of oil or lard in your skillet, stir in the rice. Cook this over medium heat while stirring. We want the rice to start to get toasted. You will see bits of golden brown come through in the rice. This is also where I add in the onion. I quarter the onion into large chunks and saute it while I'm cooking the rice. This lets me get the flavor of the onion, and once the rice is cooked I can remove it and my husband will always eat the onion with whatever our main dish is, and my kids are happy theres no bits of onion in their rice.

Add the water. Always use 2x the amount of water that you used rice. If you're making 1 cup of rice, use 2 cups of water. 2 cups of rice will need 4 cups of water. During this, keep the heat up at medium high. It will sizzle when you pour the water in, it's ok.

Add in the seasoning. Measure out the tomato and chicken bouillons. Stir to ensure that all the rice is getting seasoned.

Bring this to a boil and let the rice simmer for 3-5 minutes.

Cover the rice and turn the heat to low. Let this cook for 20 minutes undisturbed. DO NOT LIFT THE LID.

After 20 minutes, peek through the lid, if you have a glass lid (I LOVE my Green Pan skillet with the glass lid!) make sure all the liquid is gone, if you don't have a glass lid just have faith. Turn the heat off, and leaving the lid on, let the rice sit for another 10 minutes.

Remove the lid and fluff the rice. After the 10 minute cooling off time, you can remove the lid, and fluff the rice up to serve!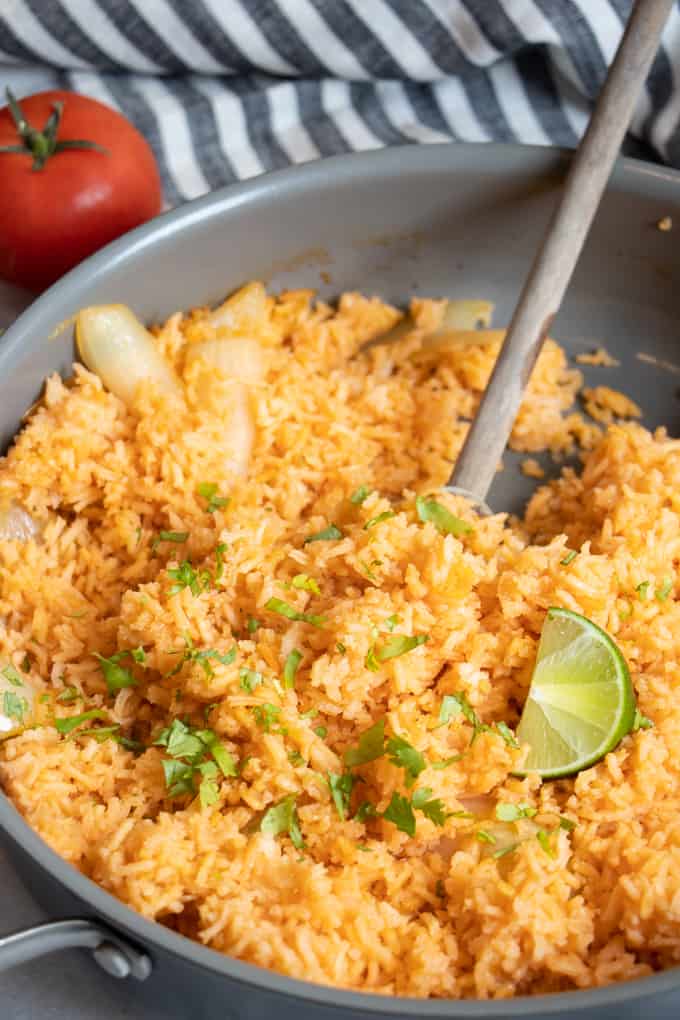 How do I make this recipe with tomato sauce instead of tomato bouillon?
I get this question frequently. And I do it this way myself often too. Just add the tomato sauce to the measuring cup with the water. I typically will use about 1/4 a cup of tomato sauce per 1 cup of rice. This will be part of the liquid you cook the rice in. So if you are making 1 cup of rice, add 1/4 cup of tomato sauce to the measuring cup and the remaining 1 and 3/4 cup of water to complete the 2 cups of liquid.
How do I make this rice using real tomatoes?
To make this recipe using real tomatoes instead of the bouillon or the tomato sauce, you will need about 2 vine ripe tomatoes, or 3-4 Roma tomatoes. Cut the stem off and quarter the tomatoes. Add to a food processor or blender. Then add this liquid to a measuring cup and this will be part of the liquid needed to cook the rice. So if making 1 cup of rice, use the liquid from the tomatoes and add water to complete the 2 cups needed to cook the rice.
You can also add onion and garlic to the tomatoes when blending to add more flavor to the rice.

What if I don't have the chicken bouillon can I use chicken stock instead?
Yes! You can skip the bouillons, and cook the rice in chicken stock instead of water. This will also give great flavor to your rice.
I want to add the peas, carrots, tomatoes, other veggies to my rice. When do I add that in?
Add all your desired additions when you add the water and stir in the seasonings. That way these can cook with the rice and become flavorful as well.
Can I make this Mexican Rice with brown rice?
Yes!! Brown rice does need more liquid. For every 1 cup of brown rice used you will need 2 and 1/2 cups of liquid. Also, brown rice does take longer to cook. I find that it takes 45 minutes of cooking for brown rice to become tender. So instead of cooking covered for 20 minutes, you will need to increase that time to 45 minutes and still keep the 10 minutes cooling time with the lid on.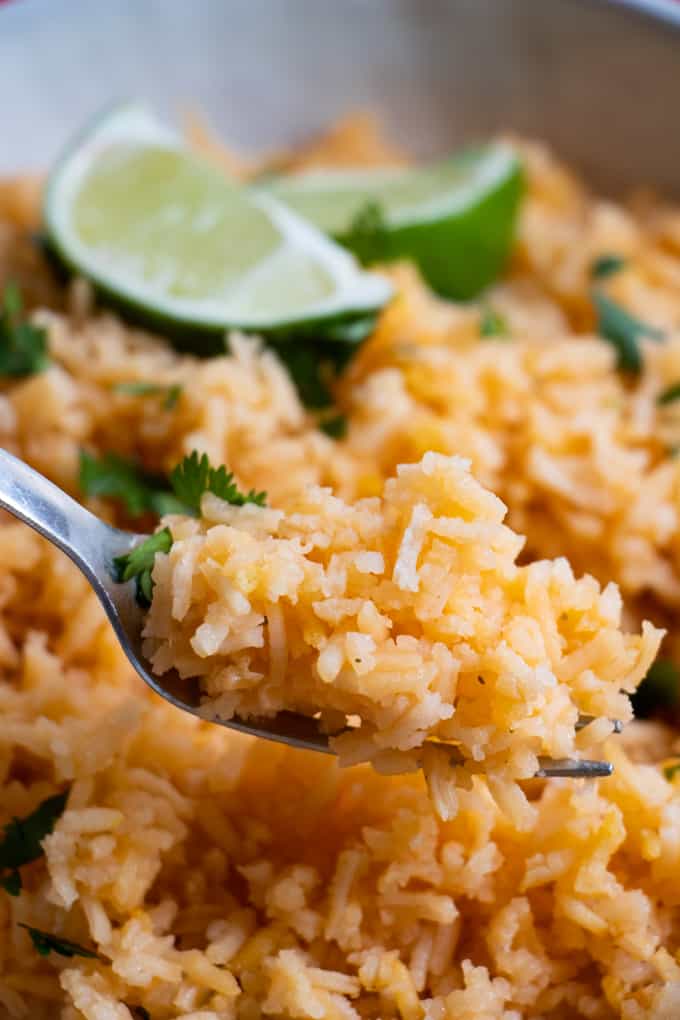 Some other recipes you will enjoy:
Kitchen Tools used for this recipe (affiliate links):
Watch how to make Mexican Rice:
Still Hungry? Subscribe to my newsletter and follow along on Facebook, Pinterest and Instagram for all of the latest updates.
Mexican Rice
Mexican Rice!
The best side dish for all your Tex Mex and Mexican meals! This rice is flavorful and fluffy! This is a great base recipe that you can add to and customize to make your own.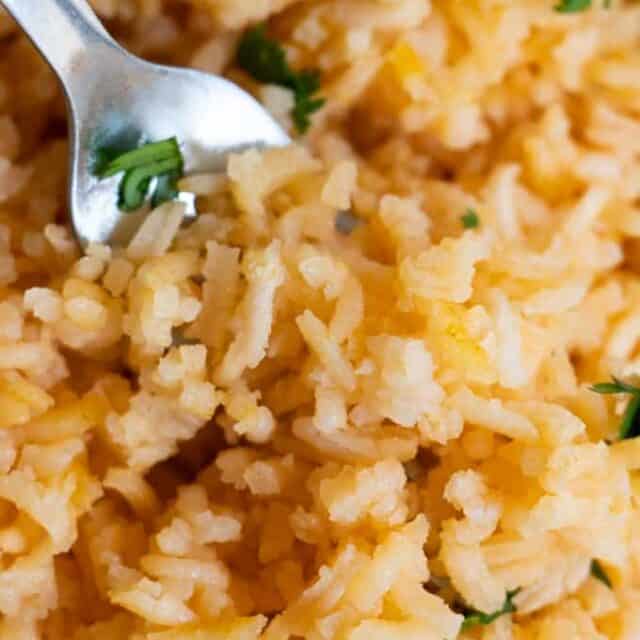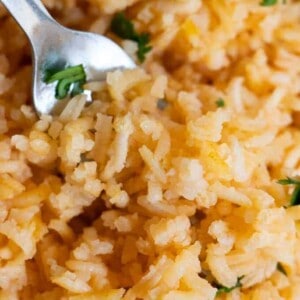 Ingredients
2

tbsp

extra virgin olive oil/vegetable oil/canola oil

2

cups

white long grain rice

½

yellow onion

sliced or quartered

4

cups

water

1

tbsp

chicken bouillon

caldo de pollo*

1

tbsp

tomato bouillon

caldo de tomate*
Instructions
Heat the oil in a large skillet over medium/high heat.

Add the rice and stir to coat in the oil. Add in the onion. Cook while stirring for about 7-10 minutes, the rice will turn very white as it cooks. Continue cooking until the rice starts to toast and turn slightly golden on the edges.

Pour in the water. Add in the chicken and tomato bouillon. Stir to combine. Keep the heat at medium. The water will sizzle when you pour it. Let the rice cook in the water until it starts to boil stirring occasionally. Once boiling, let the rice continue to cook 2-3 minutes. Then place the lid over the skillet.

With the lid on the skillet, turn the heat to low and let the rice cook undisturbed for 20 minutes.

After 20 minutes, remove the rice from the heat, BUT KEEP THE LID ON.

Keep the lid on for 10 minutes after removing from the heat. After this time, you can lift the lid and fluff the rice using a fork. Serve and enjoy.
Notes
Substitutions:
Caldo de pollo- can use chicken broth
Caldo de tomate- can use tomato sauce, or pureed tomato.
If substituting these ingredients add in salt to taste.
Nutrition
Serving:
1
|
Calories:
203
kcal
|
Carbohydrates:
38
g
|
Protein:
3
g
|
Fat:
4
g
|
Saturated Fat:
1
g
|
Sodium:
16
mg
|
Potassium:
63
mg
|
Fiber:
1
g
|
Sugar:
1
g
|
Vitamin C:
1
mg
|
Calcium:
18
mg
|
Iron:
1
mg
Nutrition information is automatically calculated, so should only be used as an approximation.
Like this? Leave a comment below!