This shop has been compensated by Collective Bias, Inc. and its advertiser. All opinions, as always, are mine alone. #MustHaveMayo & #CollectiveBias
 Impress with this easy to make Mexican Street Corn. A gorgeous, flavorful side dish for any meal! 
I love the Holidays!  It's the perfect time to invite people over and have delicious food.  Well, I suppose that's something we do all year long, but it's just more fun during the Holidays!  One of our favorite things to do is make sure that we feed our guests well.  No one ever leaves our house hungry.  Which makes it difficult when we're expecting a lot of people.  We always plan on serving almost double the amount, we like to send people home with leftovers, if we're having 5 people we plan for 10!  Sometimes we have to get creative with our food choices.  Dishes that are delicious, impressive, filling, and not too expensive or difficult to prepare.  That's where this recipe for Mexican Street Corn made with KRAFT Real Mayo Mayonnaise comes in.
Now, don't get me wrong, this dish absolutely is not just for when you have guests coming over.  The hubs and I will make this when it's just us.  It's the perfect side to any dinner that you may be having as a family.  We will even cut the corn off the cob and make it into a side dish for the baby to enjoy also.  This is definite family dinner appropriate.

This dish definitely looks impressive, and it tastes like it would be a complicated dish to make.  In actuality, it's one of the simplest, and most fun!  Plus corn on the cob can definitely be filling, so this is the perfect side dish to serve up when having friends and family over for the Holidays, or anytime!  I was able to find my KRAFT Real Mayo Mayonnaise at Walmart as you can see in the picture below:
Adding a few additional ingredients and garnishes dress this dish up so that it's ready for even the fanciest of parties that you have in mind.
Like I said this dish is easy and fun.  A few simple steps as shown below in the picture, and there is of course a handy dandy printable recipe below at the bottom of the post.  We first boil our corn which takes maybe about 10 minutes.  Remove the corn from the water and allow it to cool, we placed ours in the freezer to speed up that process slightly.  The reason you want it cooled is that the next steps (the fun) involve spreading the KRAFT Real Mayo Mayonnaise on the corn and rolling into two different types of cheeses.  That's right folks.  TWO cheeses.   Some simple garnishes and seasoning and voila!  That's all there is to it!
Super simple right?  Trust me if I can handle this dish while being terrorized by an 18 month old who is starving it's got to be easy.
 If you're looking for some more delicious dishes that you could make this Holiday Season to impress your guests definitely check out this Artichoke Dip on the KRAFT website here.    Doesn't it look scrumptious?!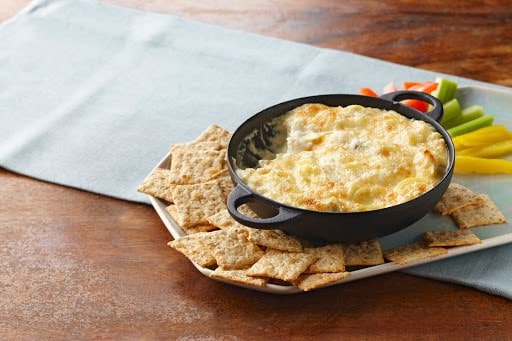 If you need more inspiration, check out the Cooking Up Good website. It has recipes, sweepstakes, loyalty programs, coupons and more! What's not to love? If you're looking for a new dinner idea or a chance to win some awesome prizes, be sure to check it out!
  I hope you enjoyed the recipe and will follow along on my cooking adventures:
FACEBOOK | PINTEREST | GOOGLE+ | TWITTER | INSTAGRAM | BLOGLOVIN
Serene
Serves 4
Mexican Street Corn
Impress with this easy to make Mexican Street Corn. A gorgeous, flavorful side dish for any meal!
10 minPrep Time
10 minCook Time
20 minTotal Time
Ingredients
4 whole corn cobs
1/2 cup KRAFT Real Mayo Mayonnaise
10 ounces of Queso Fresco
1/2 cup of grated parmesan cheese
2 tablespoons chopped cilantro
juice from 1/4 lime
pico de gallo seasoning to taste
Instructions
Cut the ends off of the corn, and cut the cobs in half or to desired size. Bring water to a boil in medium sized saucepan over medium heat. Once water is boiling, add the corn. Boil the corn for approximately 7-10 minutes or until completely cooked. Remove the corn from the water and set aside to allow to cool, to make easier to handle. *we placed ours in the freezer to speed up the cooling time.
Finely chop the queso fresco. Leave on cutting board, or move to plate, or other flat surface. Set up the parmesan cheese on another flat surface.
Once the corn is cooled, coat with the mayonnaise, roll in the queso fresco patting to ensure the corn is fully coated. Then roll in the parmesan, again patting to ensure fully coated.
Set the corn on serving plate. Sprinkle with the Pico de Gallo seasoning as desired, (or other spicy seasoning of choice) garnish with cilantro and coat with the fresh lime juice.
Serve warm, or store in the refrigerator and serve cold! Enjoy!
7.6.4
346
https://houseofyumm.com/mexican-street-corn/
Popular Recipes: