Fresas con Crema is sure to be one of the easiest dessert recipes you will make. This no bake Mexican dessert recipe is loaded up with fresh strawberries, all covered in a smooth cream. This dessert is ready in less than 10 minutes and only needs five ingredients.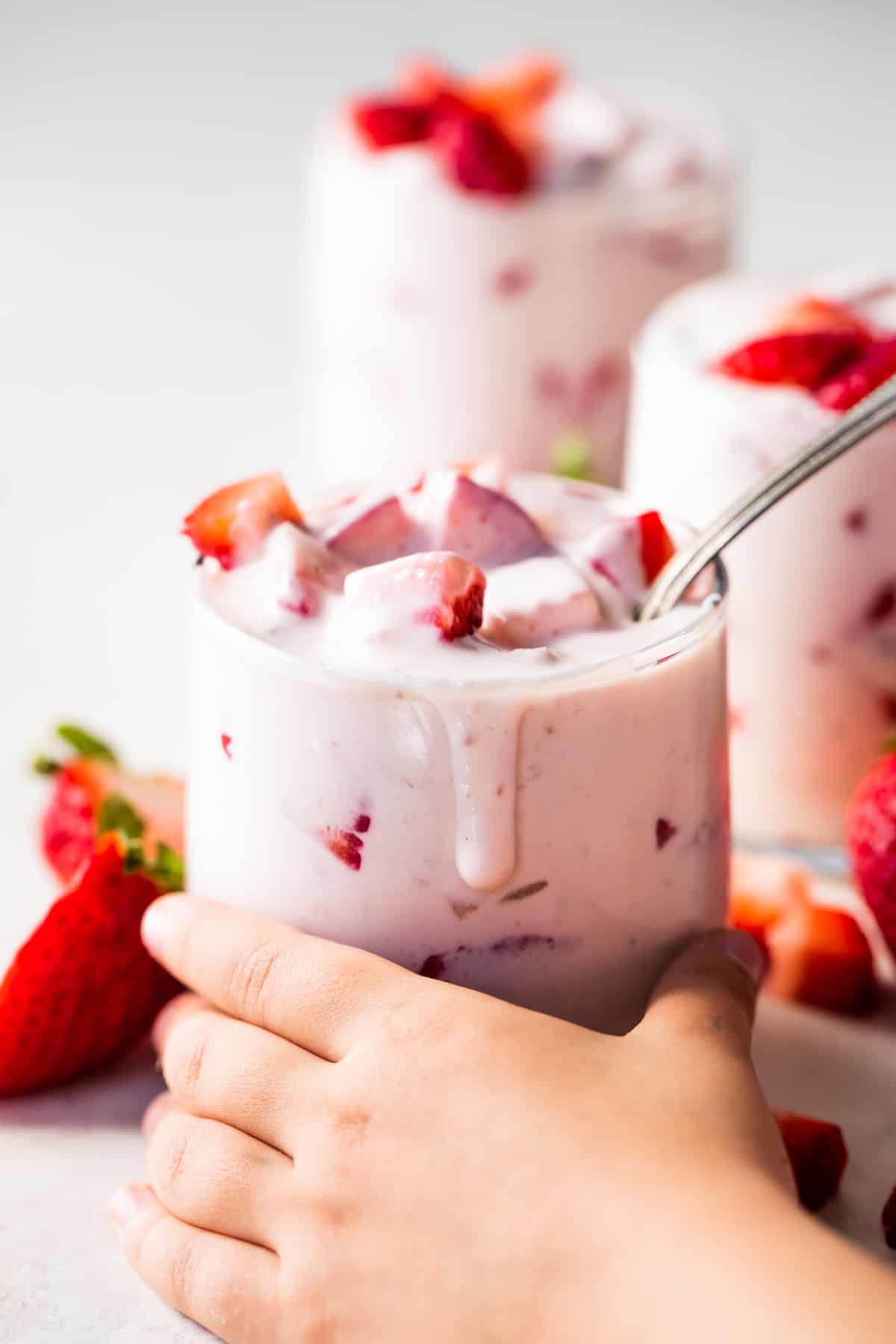 What is Fresas con Crema?
Fresas con crema is a traditional mexican dessert. A quick and easy Strawberries and cream recipe. Ripe and juicy strawberries are diced and added into a sweetened cream sauce. Made with easy to find ingredients, this recipe is easy to customize to make it just how you and your family love!
How to make Step by Step: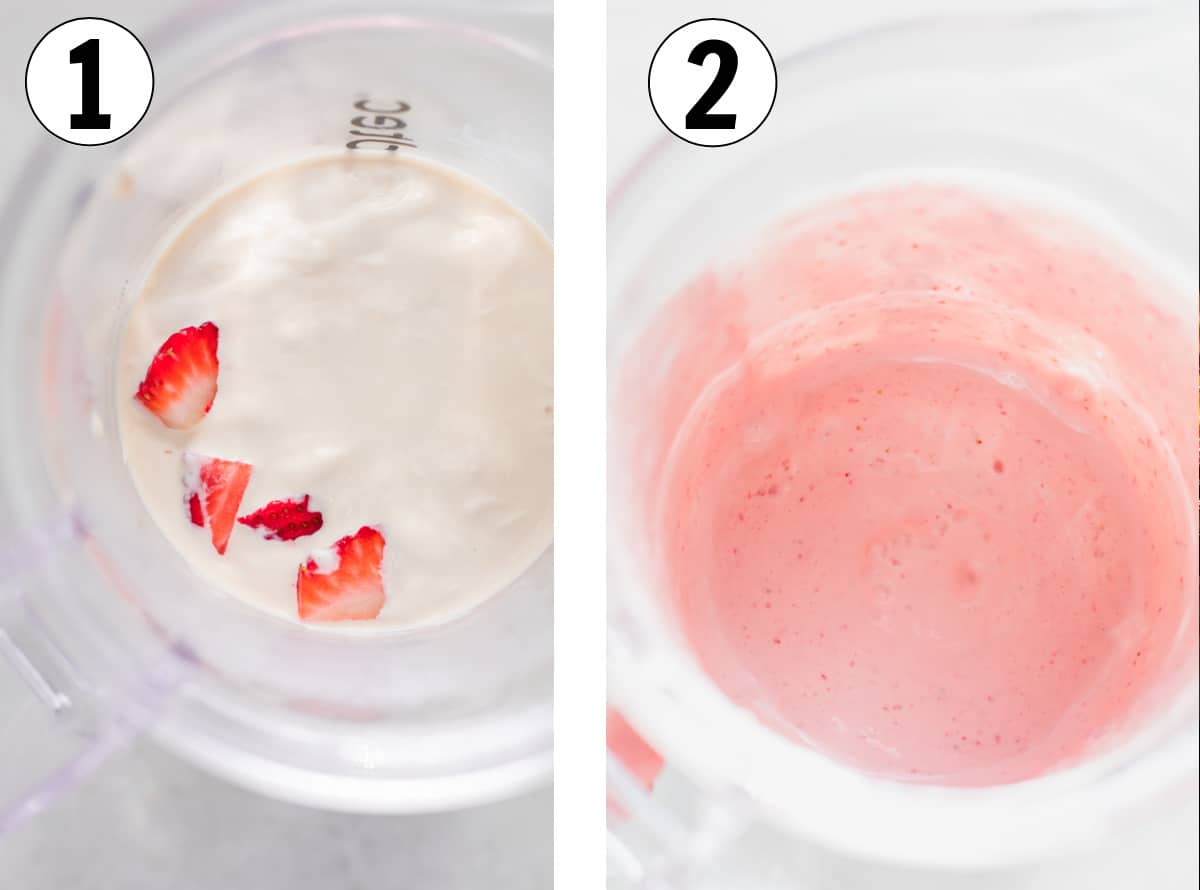 Step 1: Dice strawberries & Blend: dice however you prefer. Some people like slices, I prefer to dice them into chunks. Dice to a size that is easy to fit onto a spoon so that you can easily enjoy your dessert. Blending some of the strawberries with the media crema, also called table cream (image below). This gives a strawberry flavor throughout the cream, plus a natural pretty pink color to the cream.
Step 2: Mix Cream: combine the remaining ingredients for the cream. The base of the recipe is the media crema (found in the hispanic aisle in most markets, it's a canned milk), sweetened condensed milk, and sour cream. Plus a hint of vanilla for extra flavor.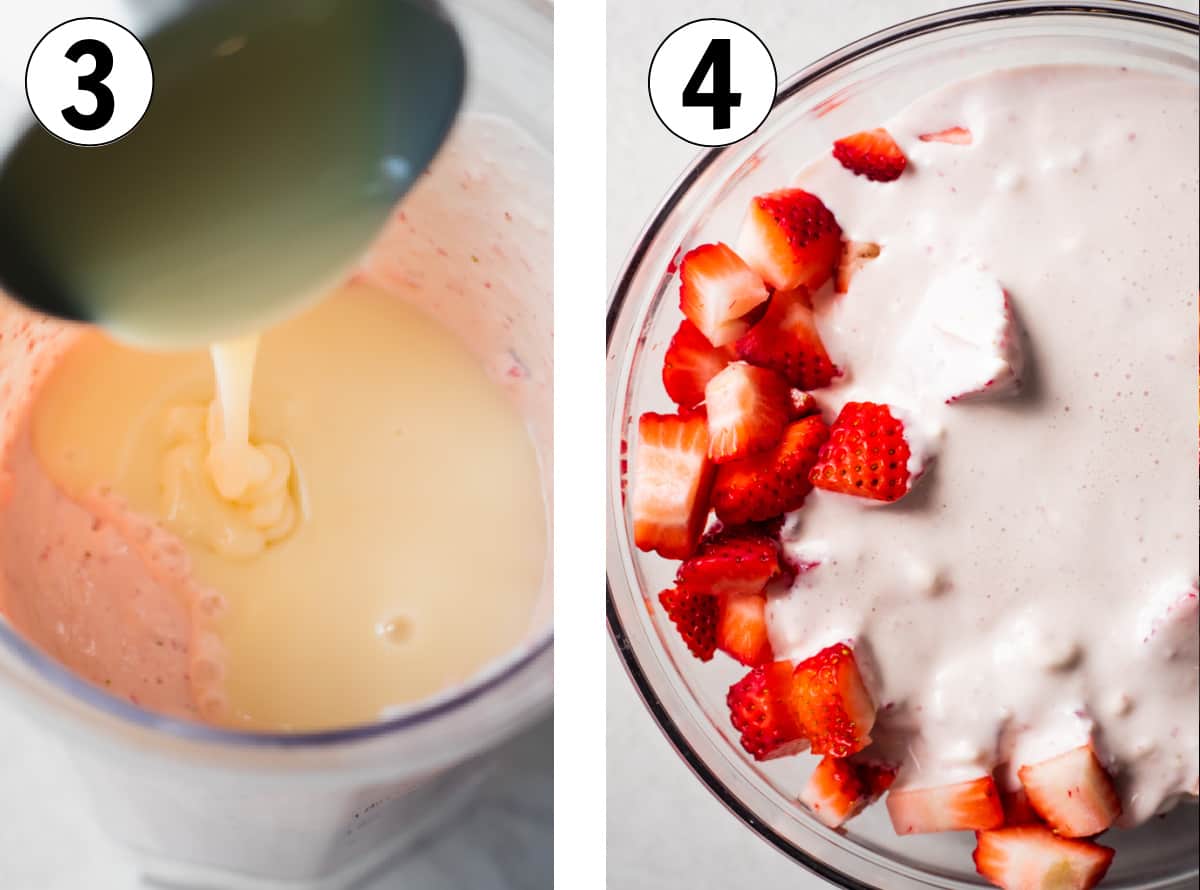 Step 3: Combine: pour the cream over the strawberries. Thanks to the sour cream the mixture is nice and thick.
Step 4: Chill: this dessert is best served COLD! I love letting it chill in the refrigerator for a little bit. But it can also be served as soon as it's made.
Substitutions/Variations:
Milks/creams: this dessert can be made with a variety of milks/creams. Some popular options include:
Media crema(table cream)
Sour cream
Sweetened condensed milk (La Lachera is a popular brand to use for this recipe, any brand can be used)
Evaporated milk
Whole milk
Heavy cream
Greek Yogurt
It's all about finding the balance of thickness and sweetness that you prefer. Media cream is an in-between thickness, more than milk or evaporated milk. But not as thick as sour cream.
Serene's Tip: Add the sweetened milk last, this is used to sweeten the dessert. Start with a small amount and add more to preference.
Optional Toppings
A cup or bowl filled with just the strawberries and cream is a tasty treat on it's own. Add a dollop of whipped cream, or make this dish suitable for breakfast by adding some crunchy granola on top.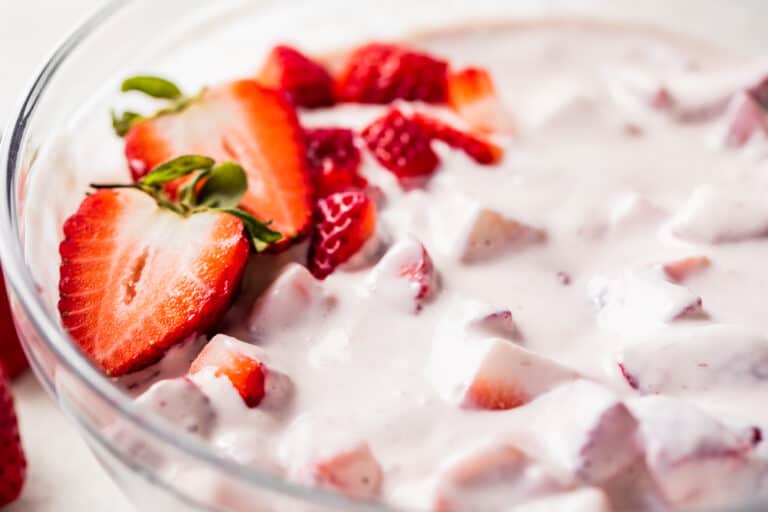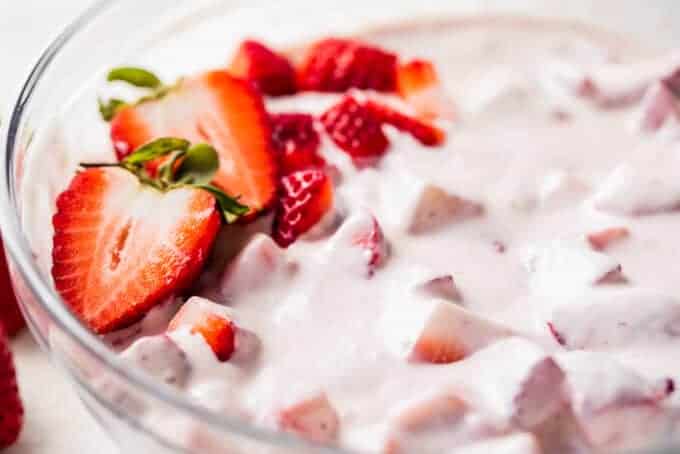 More Mexican desserts:
This Tres Leches Cake is soaked in a three milk mixture making it ultra moist and decadent.
Enjoy a cold glass of this Horchata made with rice, cinnamon and a hint of vanilla.
A Classic Rice Pudding is always a hit as a family dessert.
If you tried this recipe please leave a comment and a ⭐️⭐️⭐️⭐️⭐️ rating below! Thank you so much!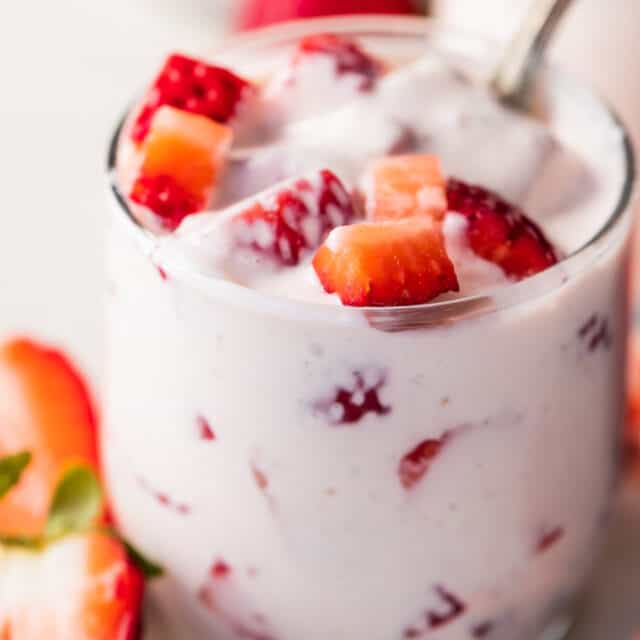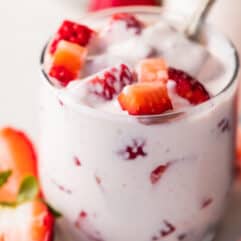 Fresas Con Crema (Strawberries and Cream)
Fresas con Crema. Quick and easy Strawberries and Cream recipe! Ripe, juicy strawberries in a cold, sweet cream sauce. Perfect easy dessert recipe!
Ingredients
2 lbs strawberries
1 (7.6 ounce) can media crema
1 tsp vanilla extract
⅓ cup sweetened condensed milk
½ cup sour cream
Instructions
Dice the strawberries to preference and add to a medium size bowl

Combine the media crema and 3/4 cup of diced strawberries in a blender or food processor. Blend until smooth.

Add the vanilla, sweetened condensed milk and sour cream to the strawberry cream. Stir to combine.

Pour the cream over the strawberries. Stir to combine.

Serve immediately or cover and chill in the refrigerator.
Notes
Milks/Creams: easily customize based on your preference some options include
Media crema(table cream)
Sour cream
Sweetened condensed milk (La Lachera is a popular brand to use for this recipe, any brand can be used)
Evaporated milk
Whole milk
Heavy cream
Greek Yogurt
Storage: Store in a sealed container in the refrigerator for up to 5 days. 
Nutrition
Serving: 1serving, Calories: 142kcal, Carbohydrates: 22g, Protein: 3g, Fat: 6g, Saturated Fat: 3g, Cholesterol: 16mg, Sodium: 39mg, Potassium: 321mg, Fiber: 3g, Sugar: 17g, Vitamin A: 183IU, Vitamin C: 90mg, Calcium: 94mg, Iron: 1mg
House of Yumm is a participant in the Amazon Services LLC Associates Program, an affiliate advertising program designed to provide a means for us to earn fees by linking to Amazon.com and affiliated sites.