With the cooler weather comes all the comforting, hearty and cozy soup recipes! Grab your favorite soup pot, bowls and ladle and lets cook our way through this flavorful collection of soup recipes perfect for any weeknight family meal or weekend gathering!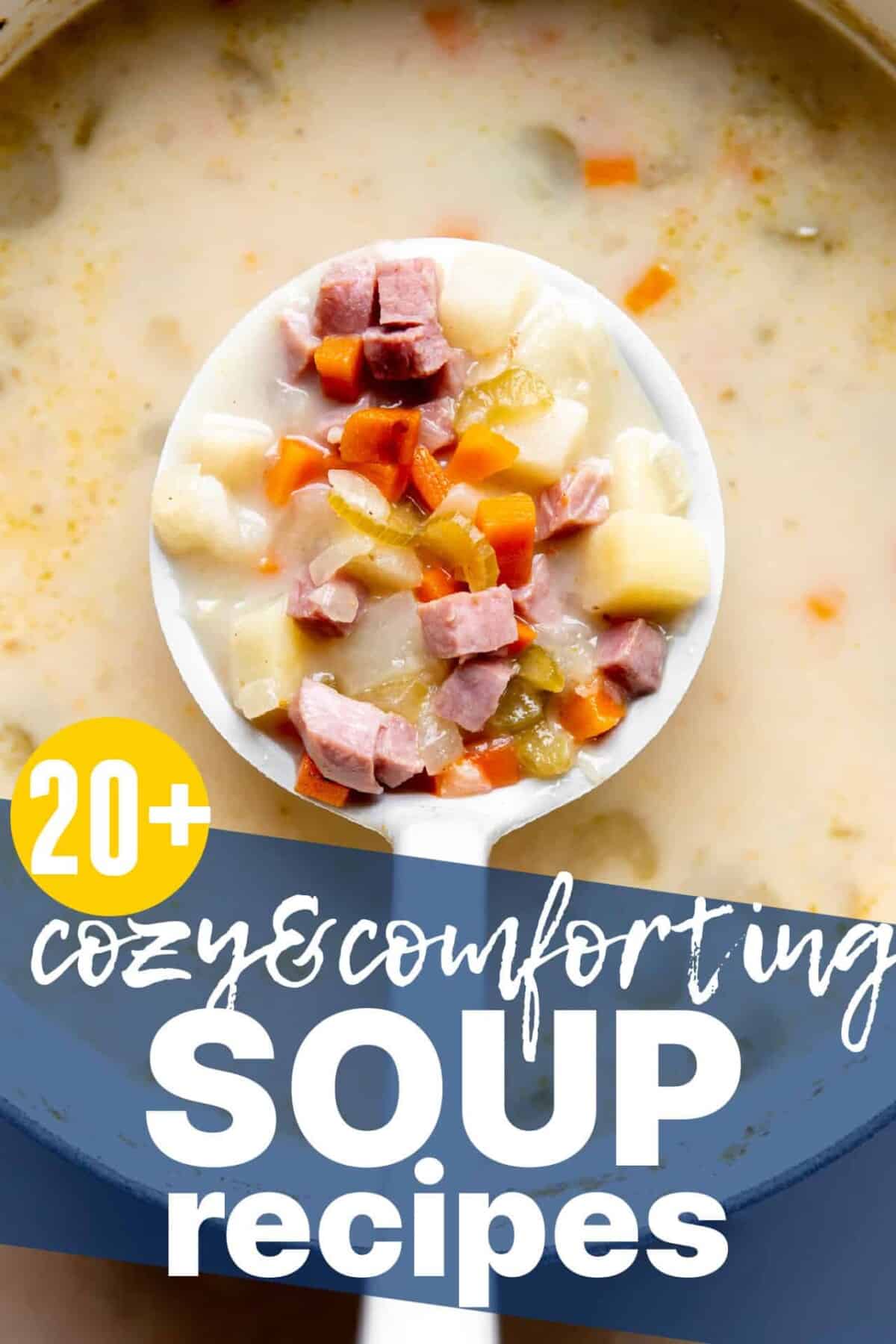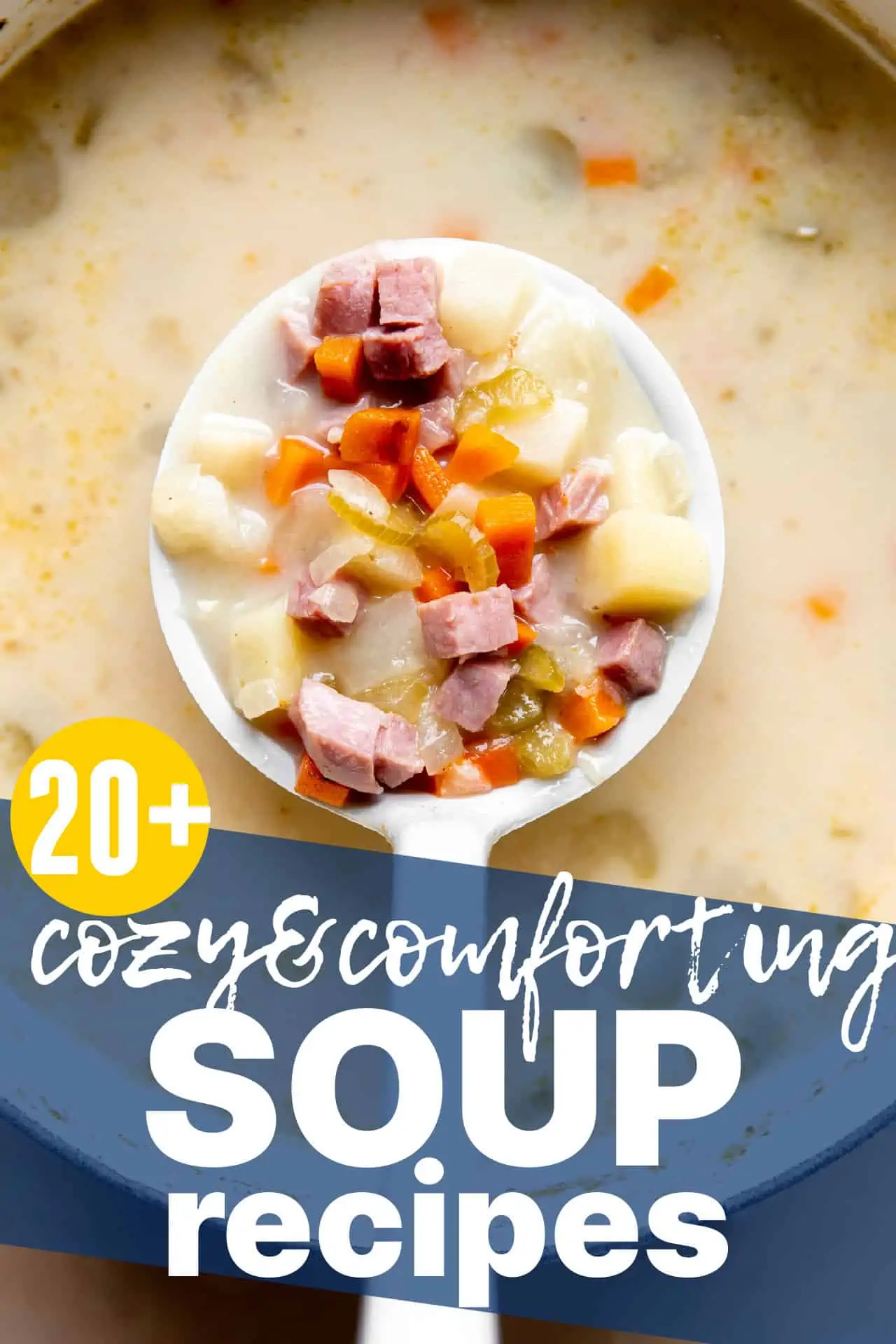 Comforting Creamy Soup Recipes:
If you're looking for comforting recipes look no further than this collection of creamy soup recipes. Thick, cheesy, and hearty all of these soups are huge hits when served for family dinner. Bake a batch of some dinner rolls or your favorite artisan bread to sop up all the goodness these soups have to offer.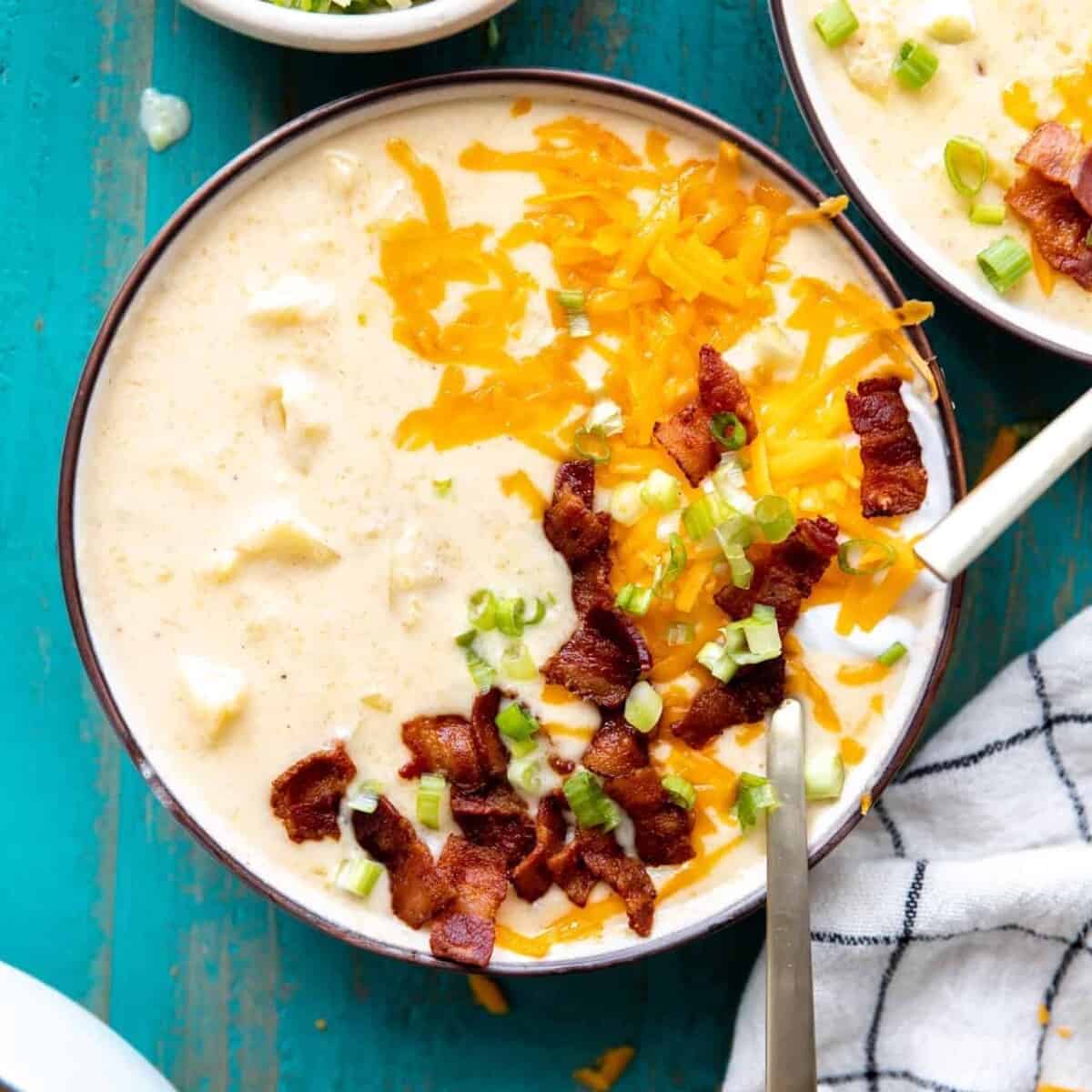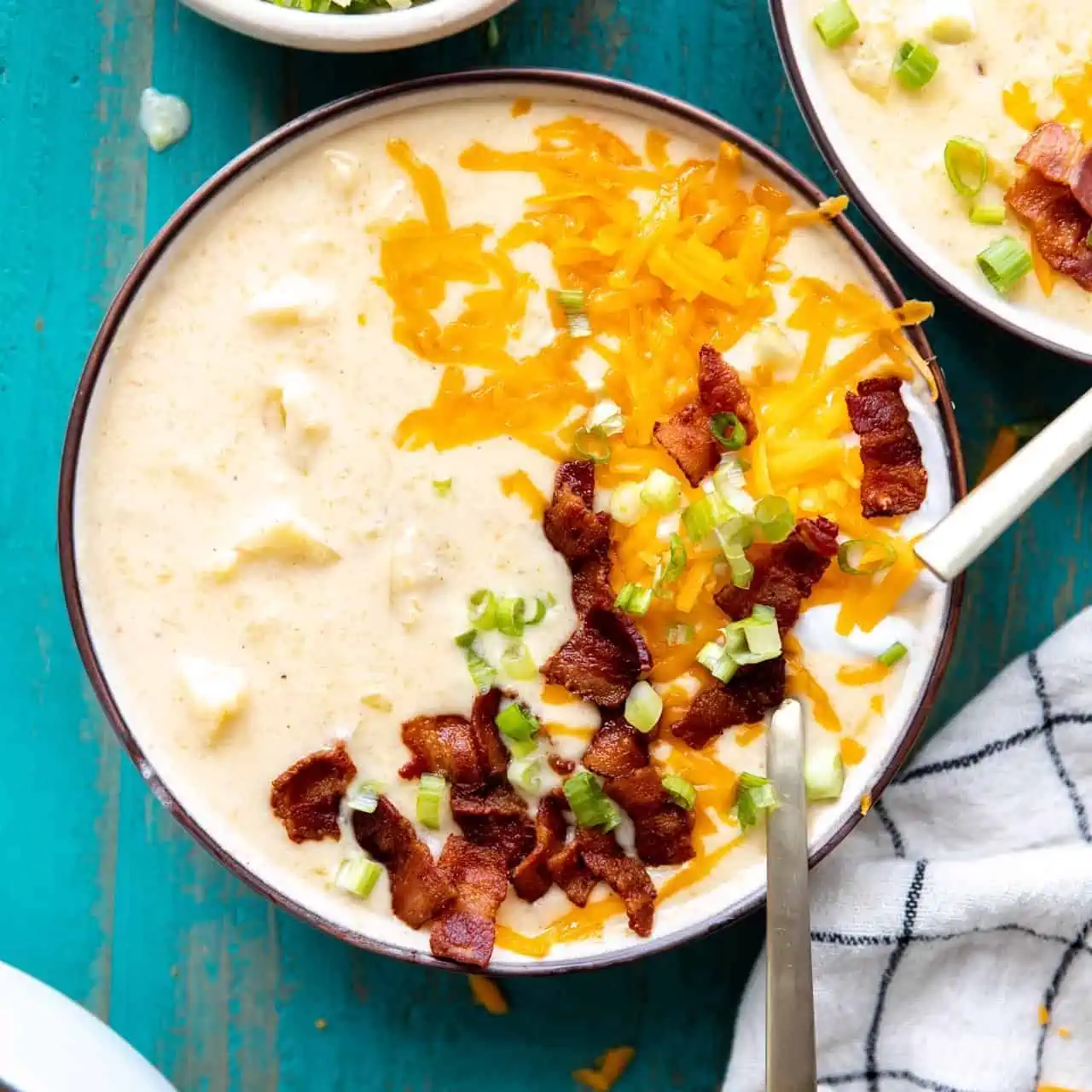 This simple potato soup is ultra creamy and comforting! With only a few ingredients this soup comes together quickly on the stovetop. Load it up with all your favorite toppings for the ultimate in comfort food!
---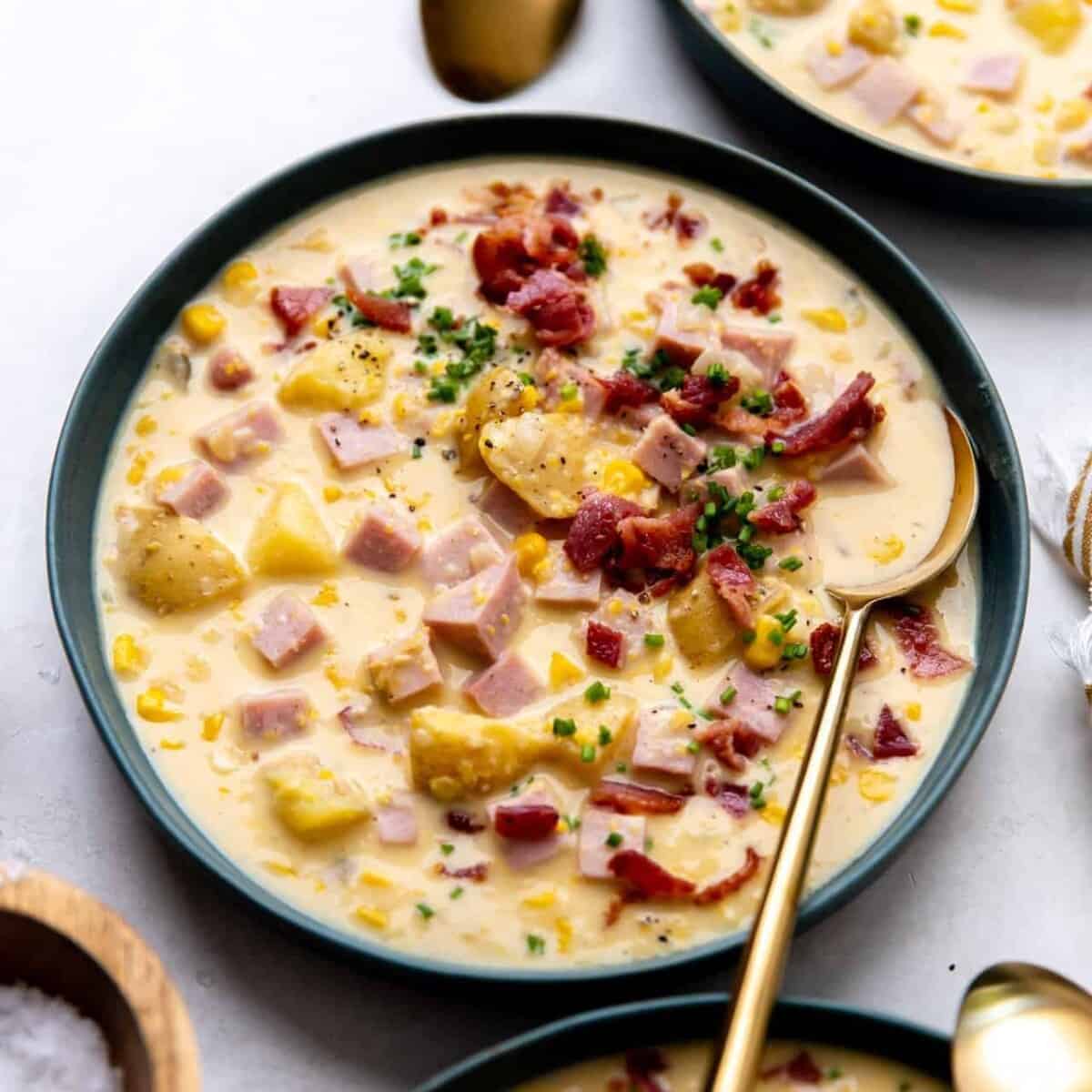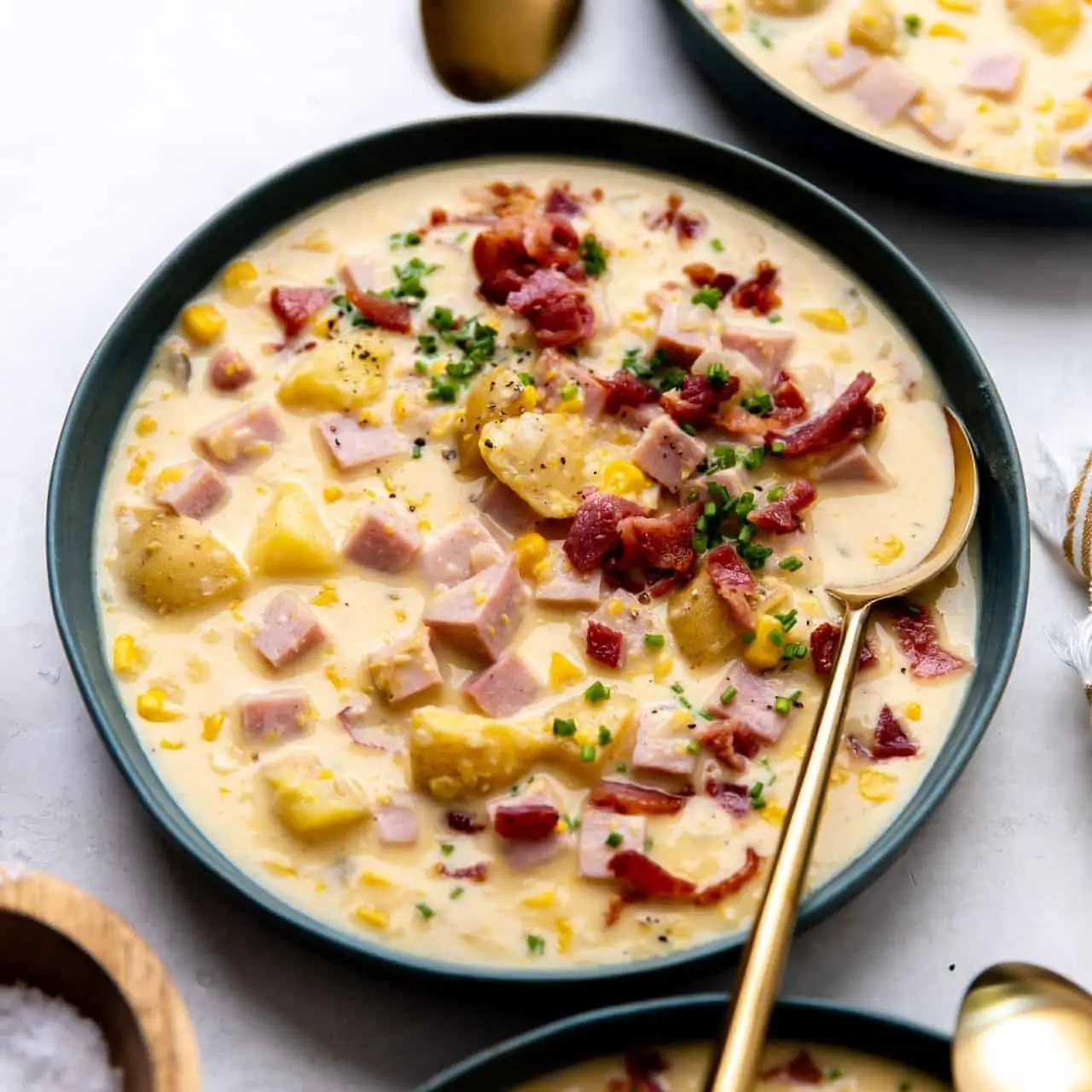 This hearty corn chowder is loaded with bacon, ham and potatoes. Plus it comes together in 30 minutes on the stovetop. Instructions included on how to make this in the slow cooker or instant pot. Great easy dinner idea for the family.
---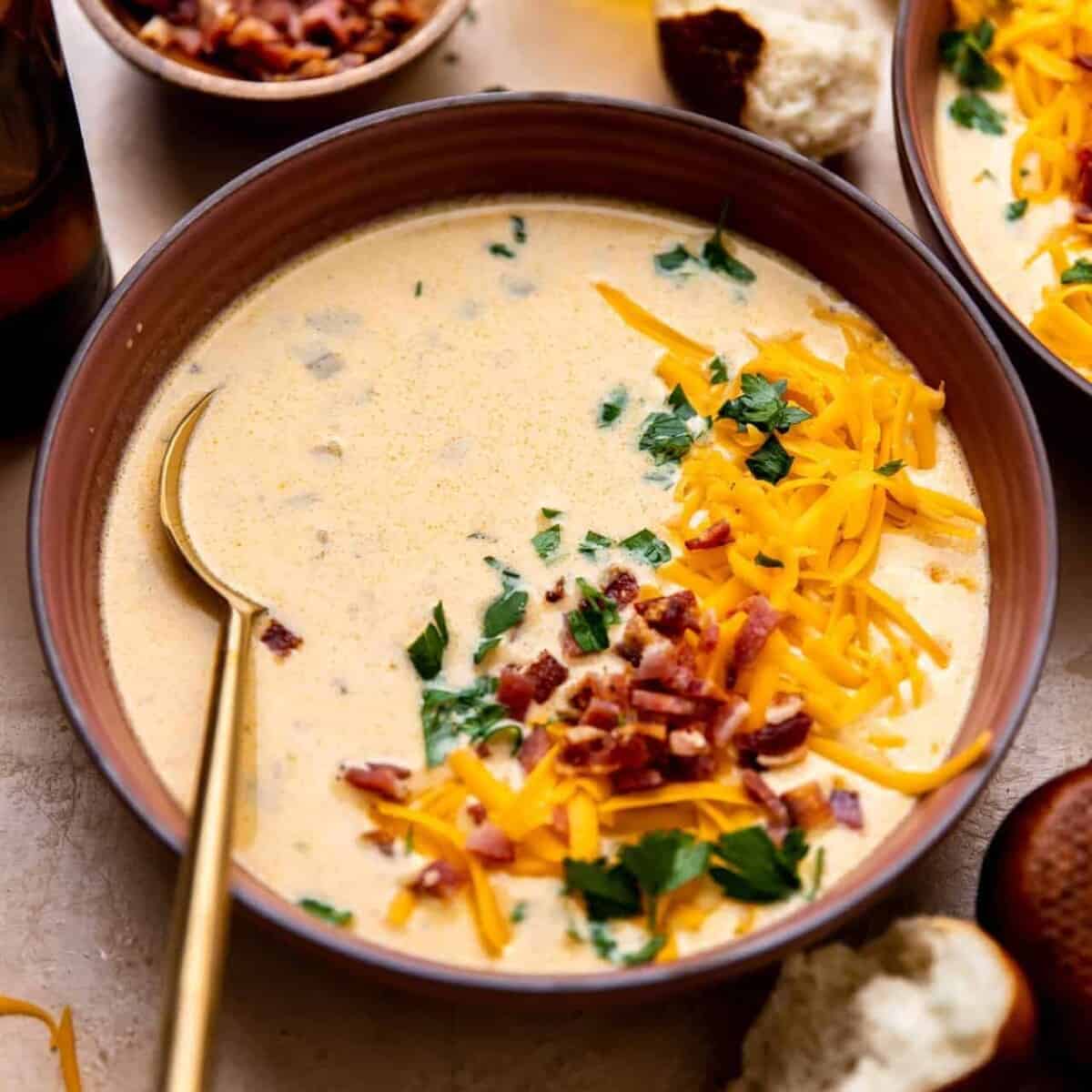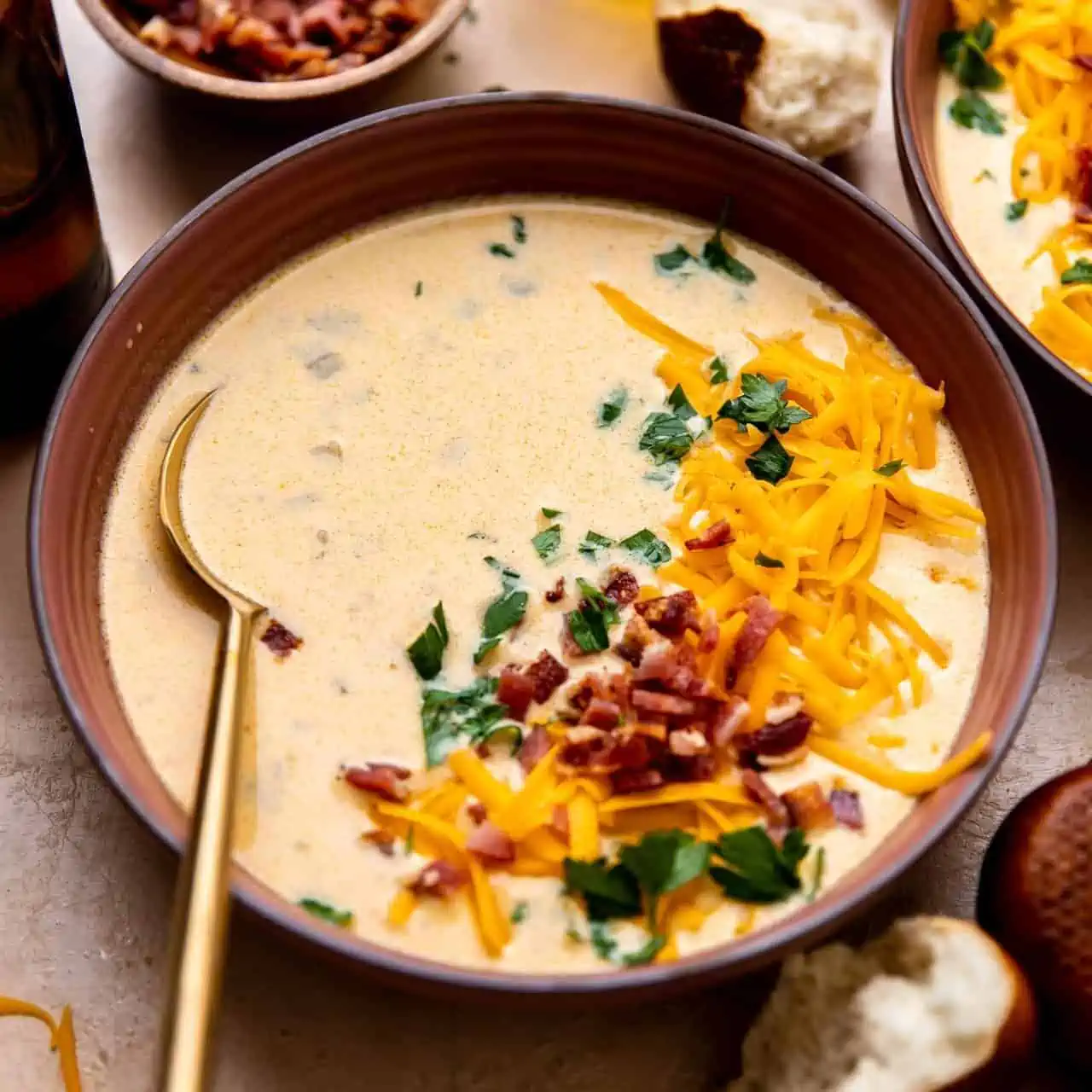 Hearty and comforting, this Beer Cheese Soup is smokey, creamy and loaded with flavor. Ready in 30 minutes on the stovetop this soup is a great weeknight meal idea!
---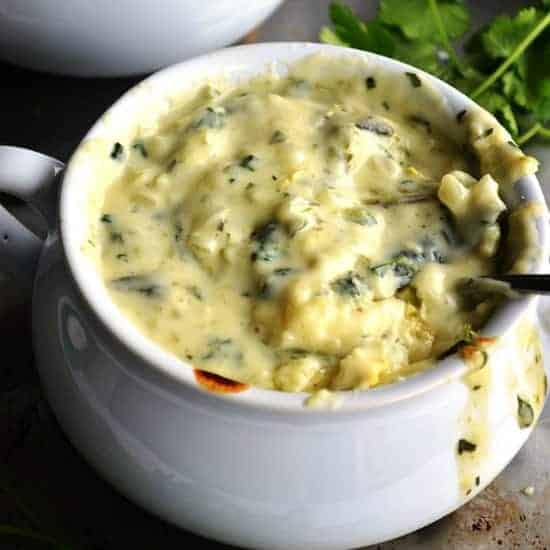 A creamy poblano soup topped with an open faced chile relleno.
---
Hearty Soups & Stew Recipes:
Loaded up with meat and veggies, these soups and stews are perfect for a filling meal! Serve with a side of crusty bread, tortilla chips, or a homemade flour tortilla for a complete family dinner everyone will love.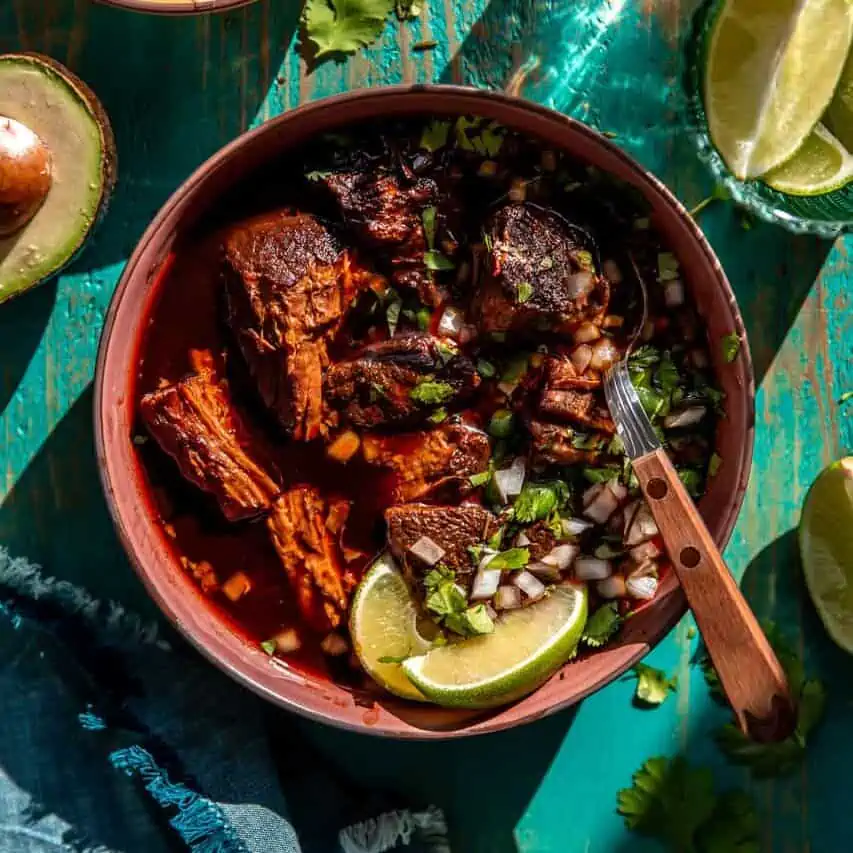 Rich and flavorful this beef birria is perfect served as a stew topped with onion, cilantro and a squeeze of fresh lime juice.
---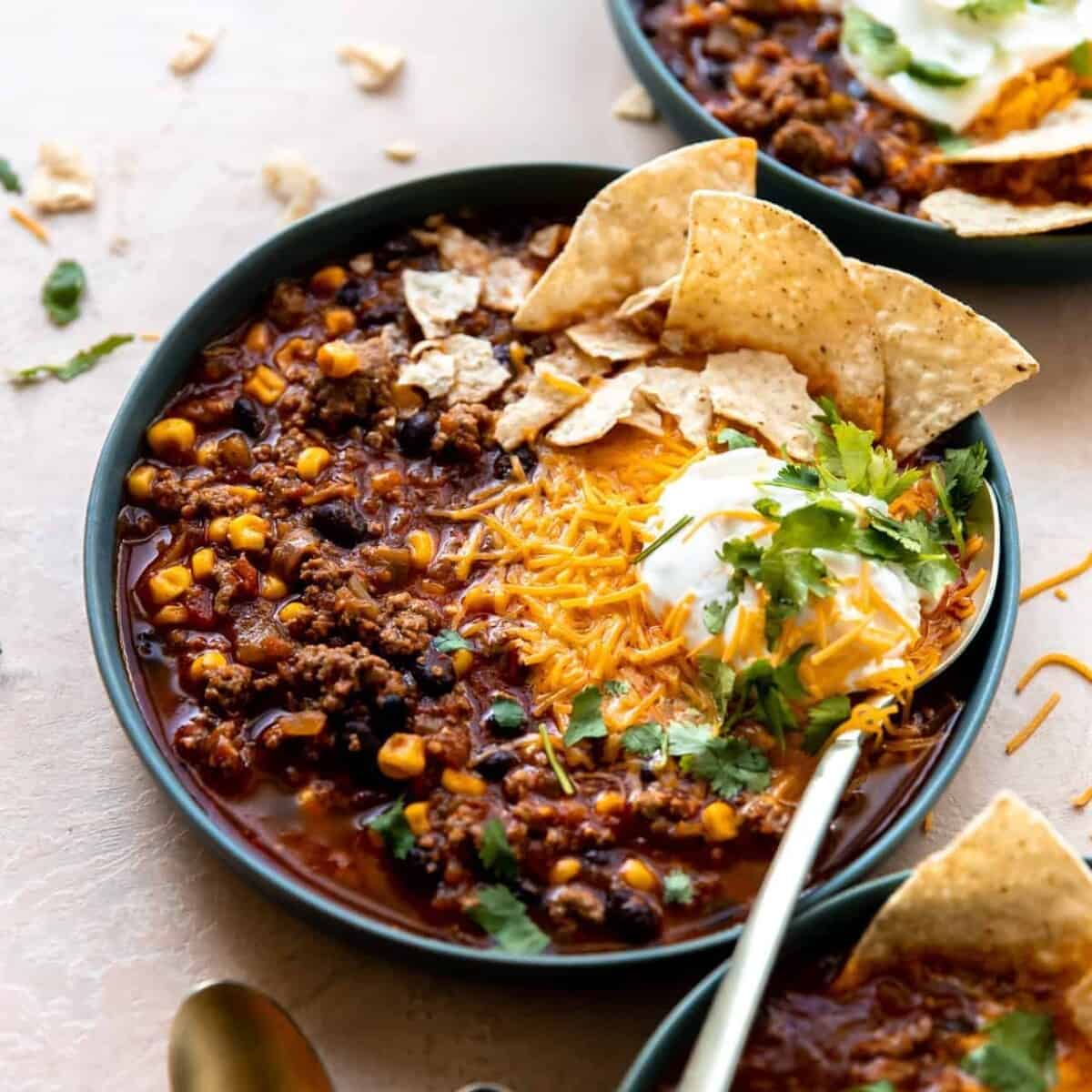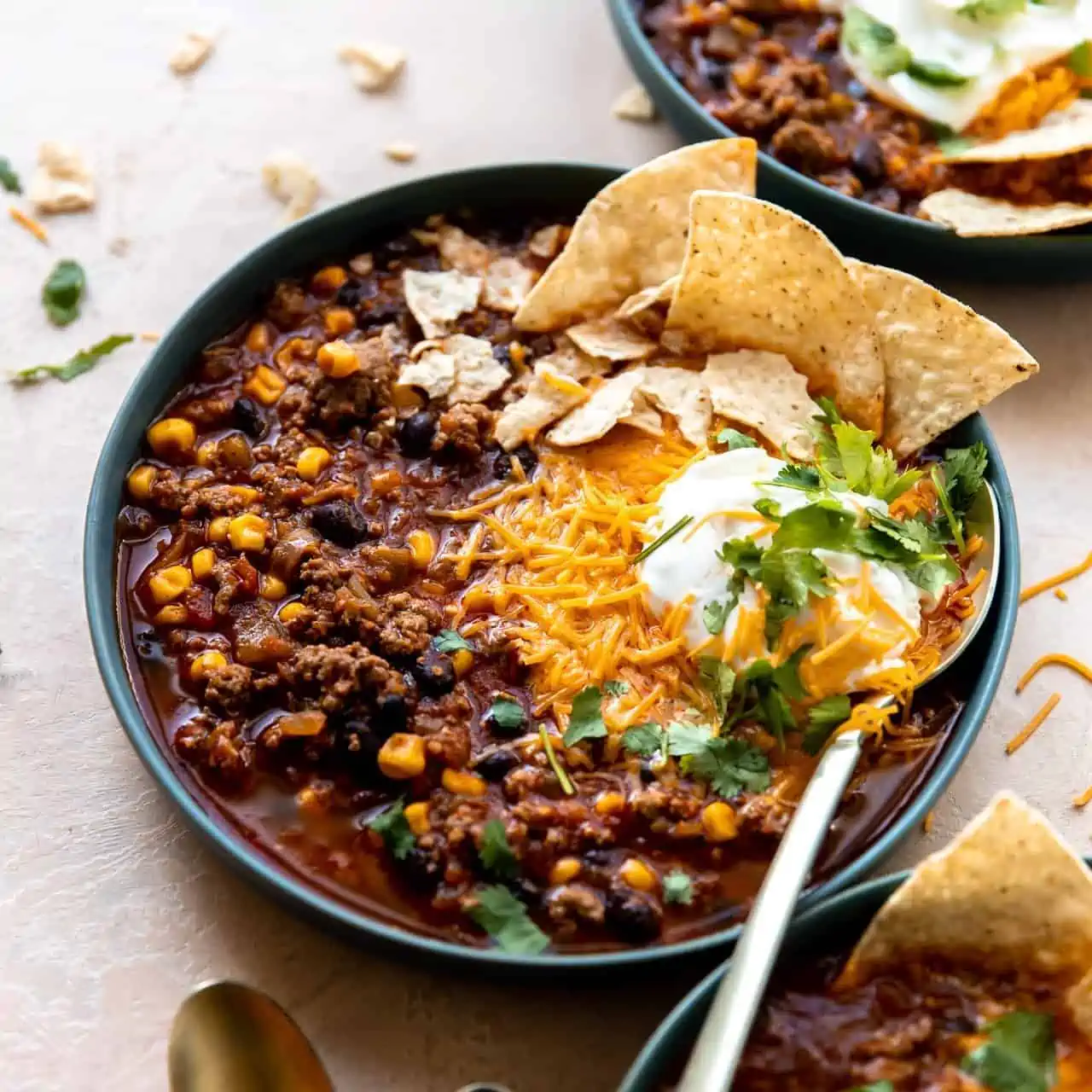 This easy and comforting Taco Soup is a perfect family friendly meal that comes together in only 30 minutes! This recipe is great for a busy weeknight and makes for perfect lunch leftovers. Loaded up with beef, beans, corn, and all your favorite Tex Mex ingredients.
---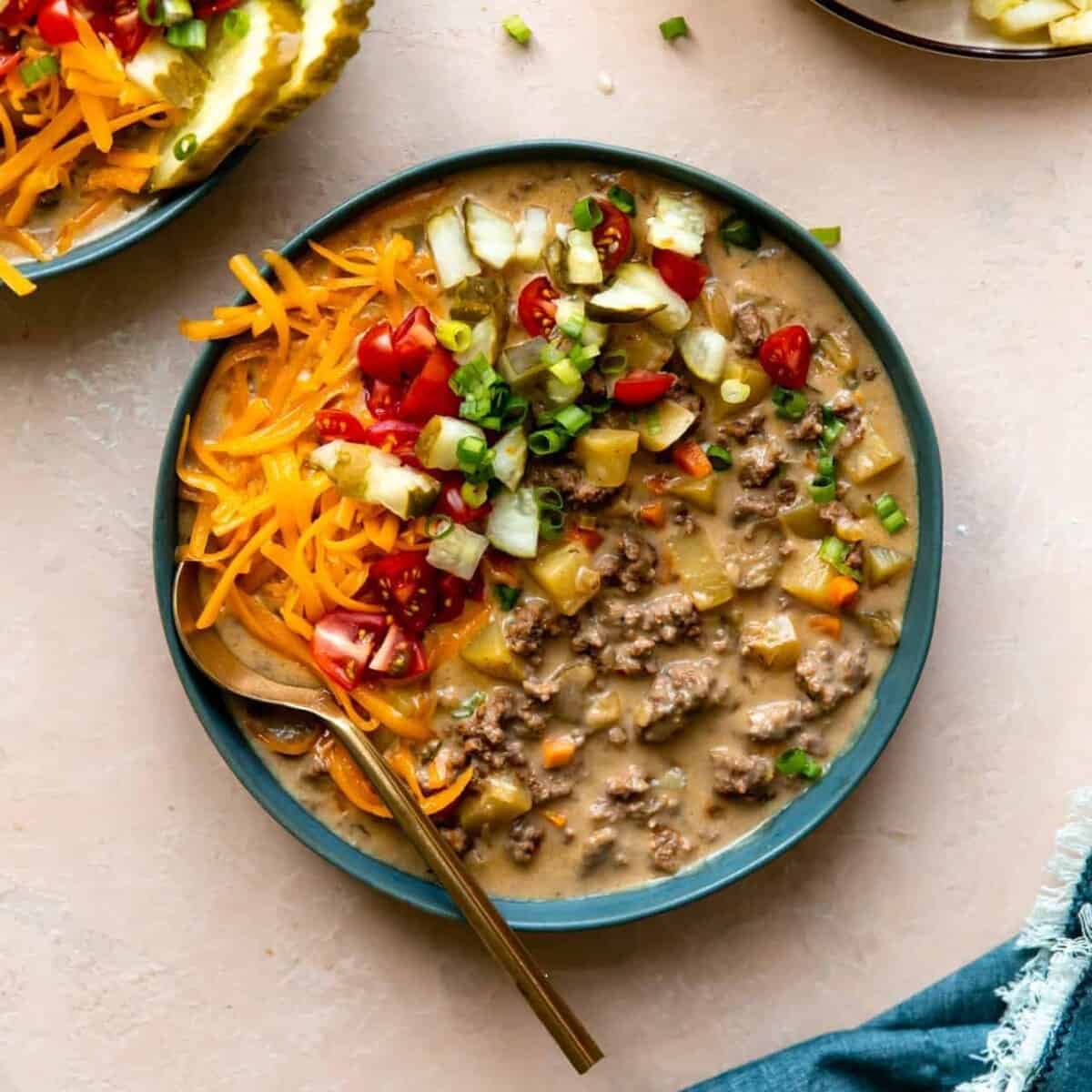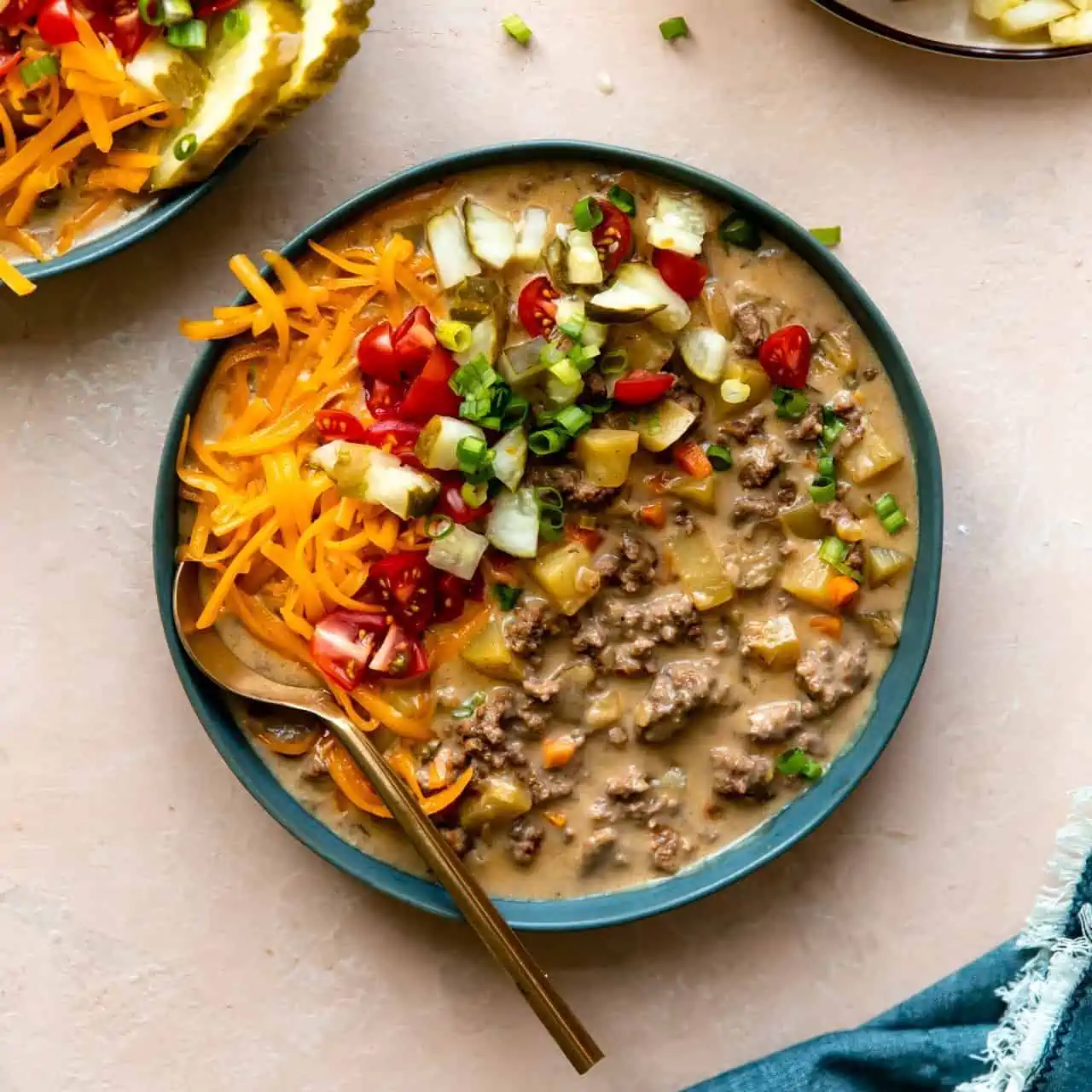 This thick and hearty Cheeseburger Soup comes together in 30 minutes. Made with tender ground beef, potatoes, and vegetables all in a cheesy and creamy broth.
---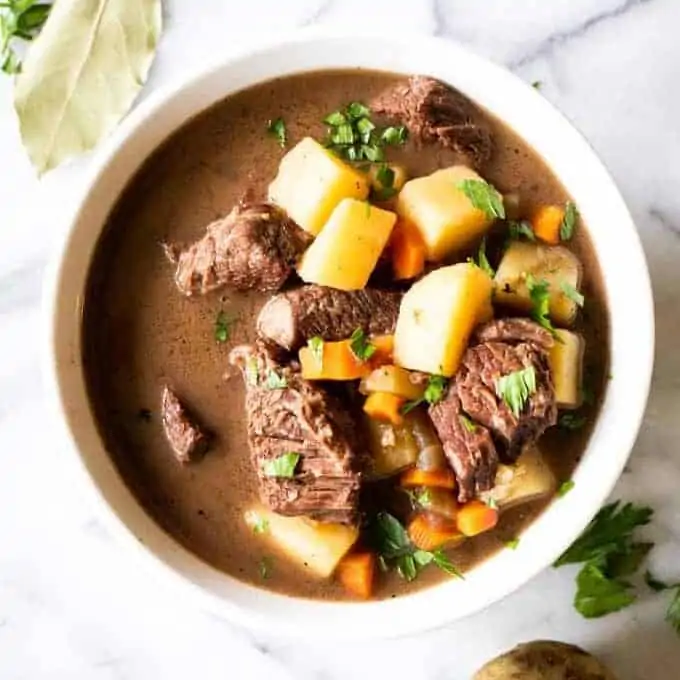 Melt in your mouth tender bits of beef simmered in a thick, flavorful broth. Loaded up with chunks of potatoes and carrots. This classic beef stew will warm your soul from the inside out.
---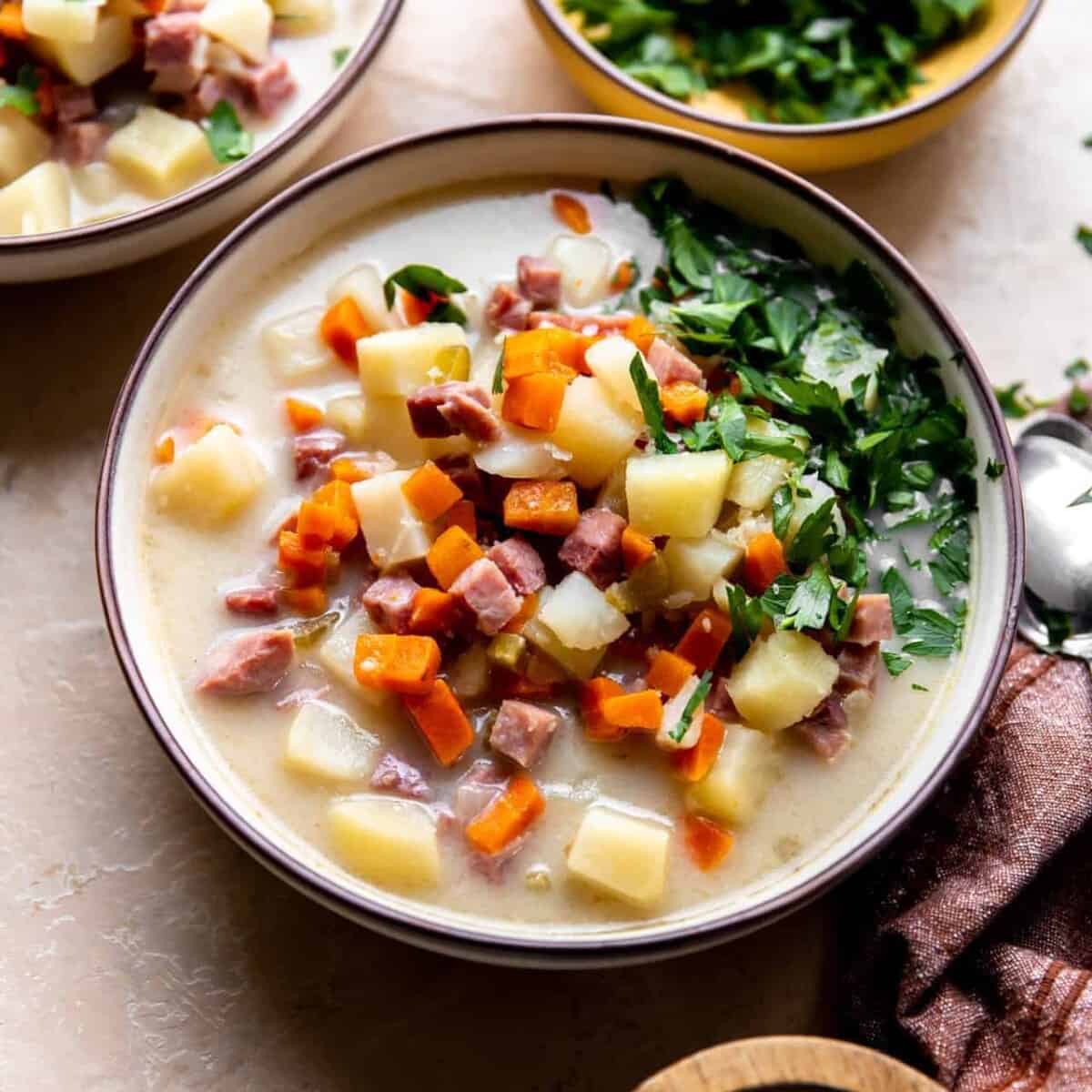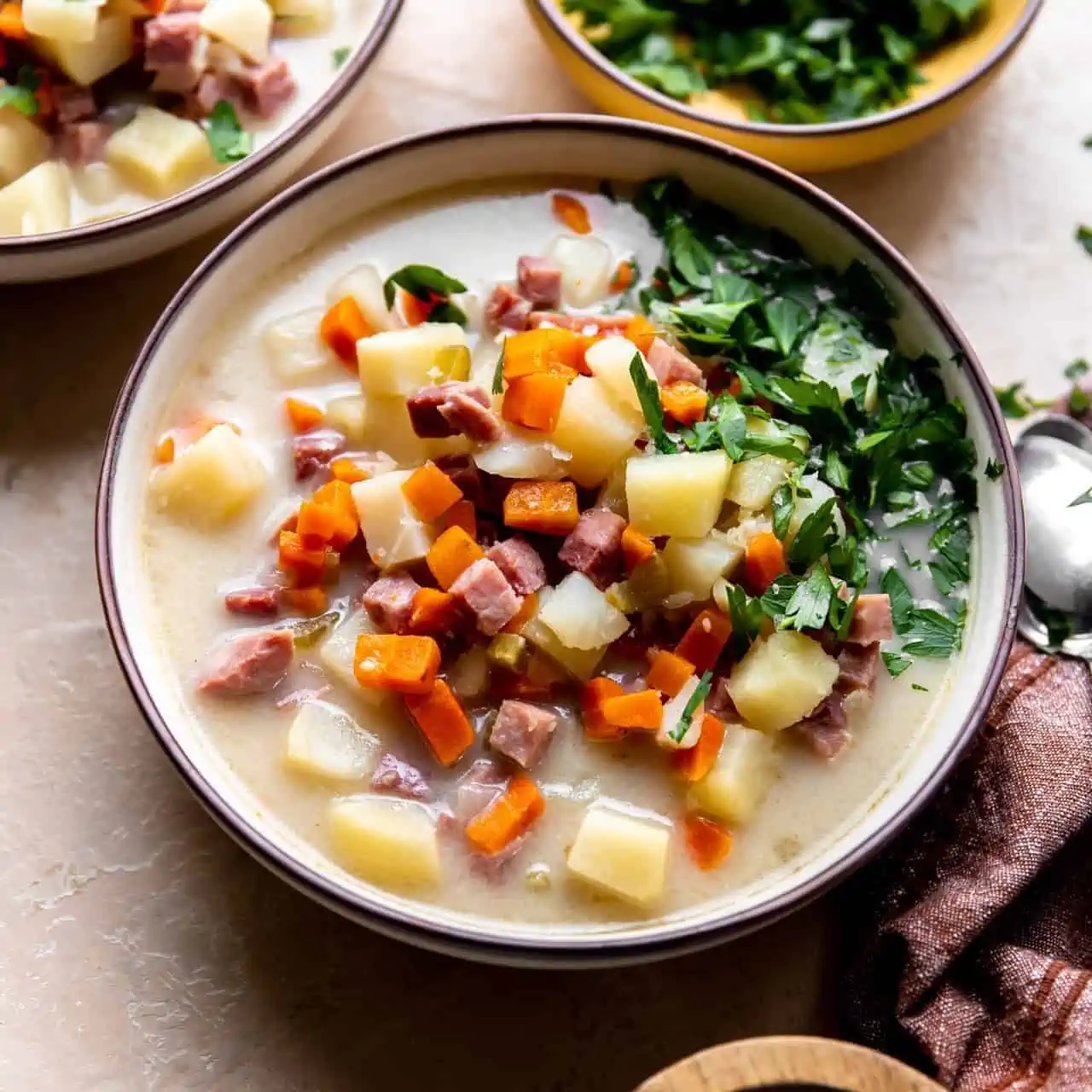 This leftover ham bone soup uses the bone from your holiday ham to make a smooth and flavorful broth perfect for this ultra comforting Ham and Potato Soup. This soup involves nothing but classic ingredients including carrots, celery, onion, potatoes and diced ham all swimming in a deeply flavorful homemade creamy ham broth.
Dressed Up Chicken Soup Recipes: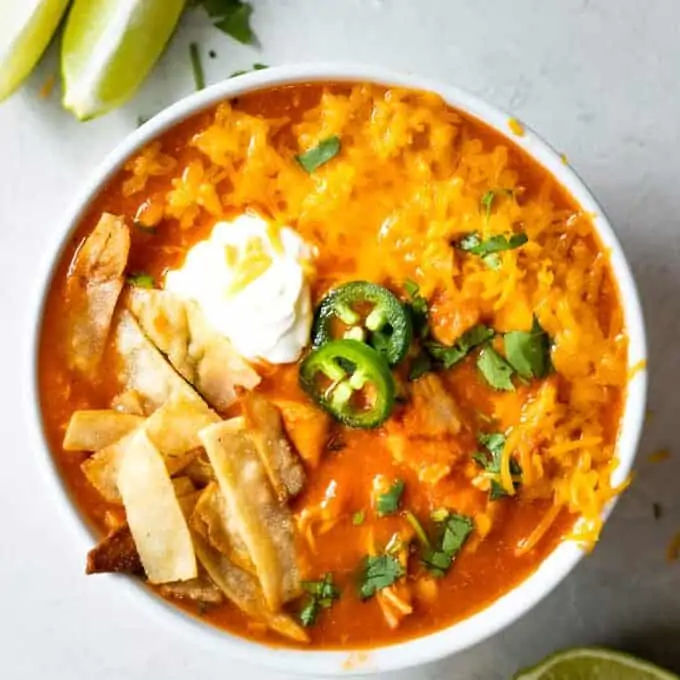 This creamy, cheesy tortilla soup is loaded with juicy chicken and seasoned with tomatoes, bell pepper, jalapeño, and a Chile powder seasoning blend. Top with crispy tortilla strips and more melty cheese for a hearty meal!
---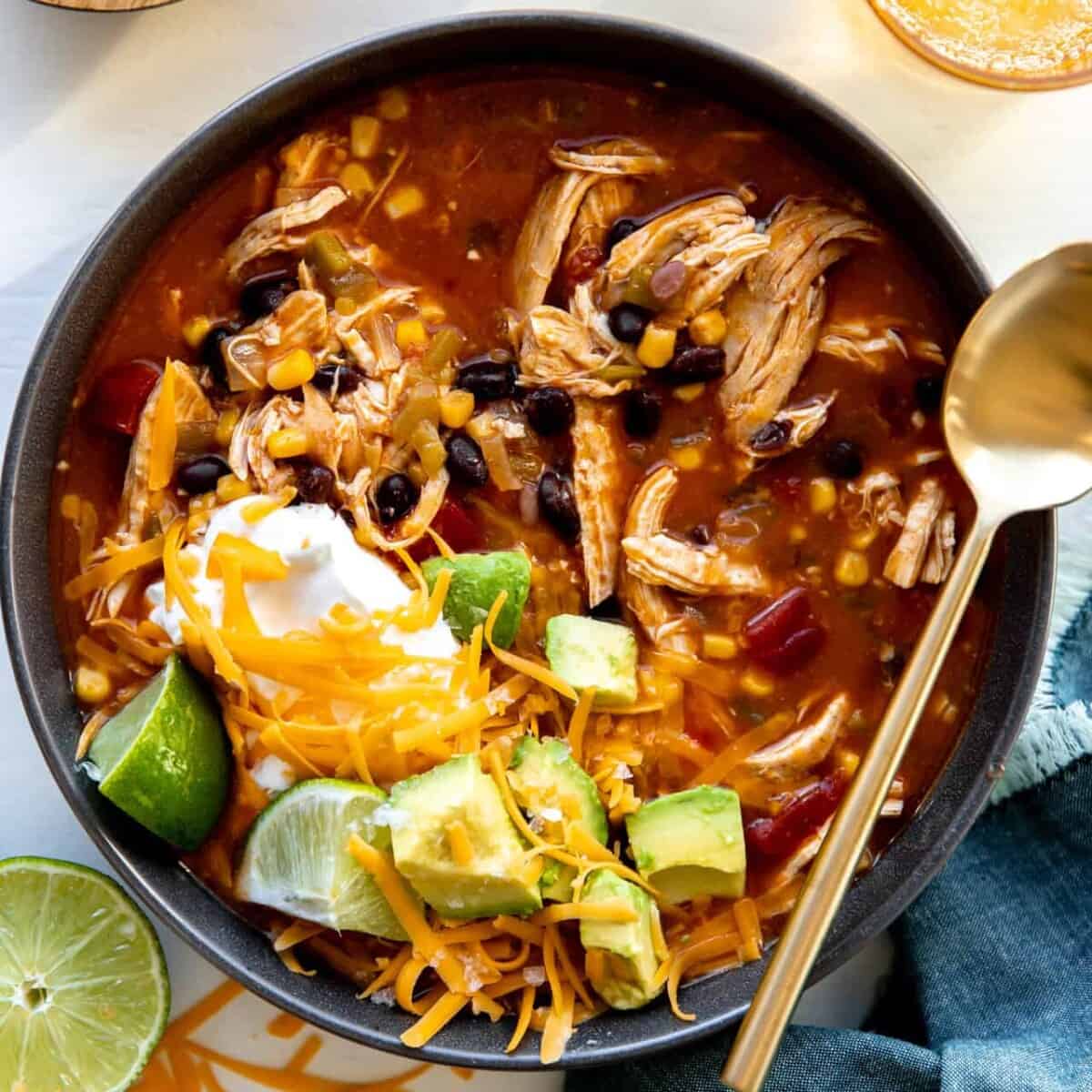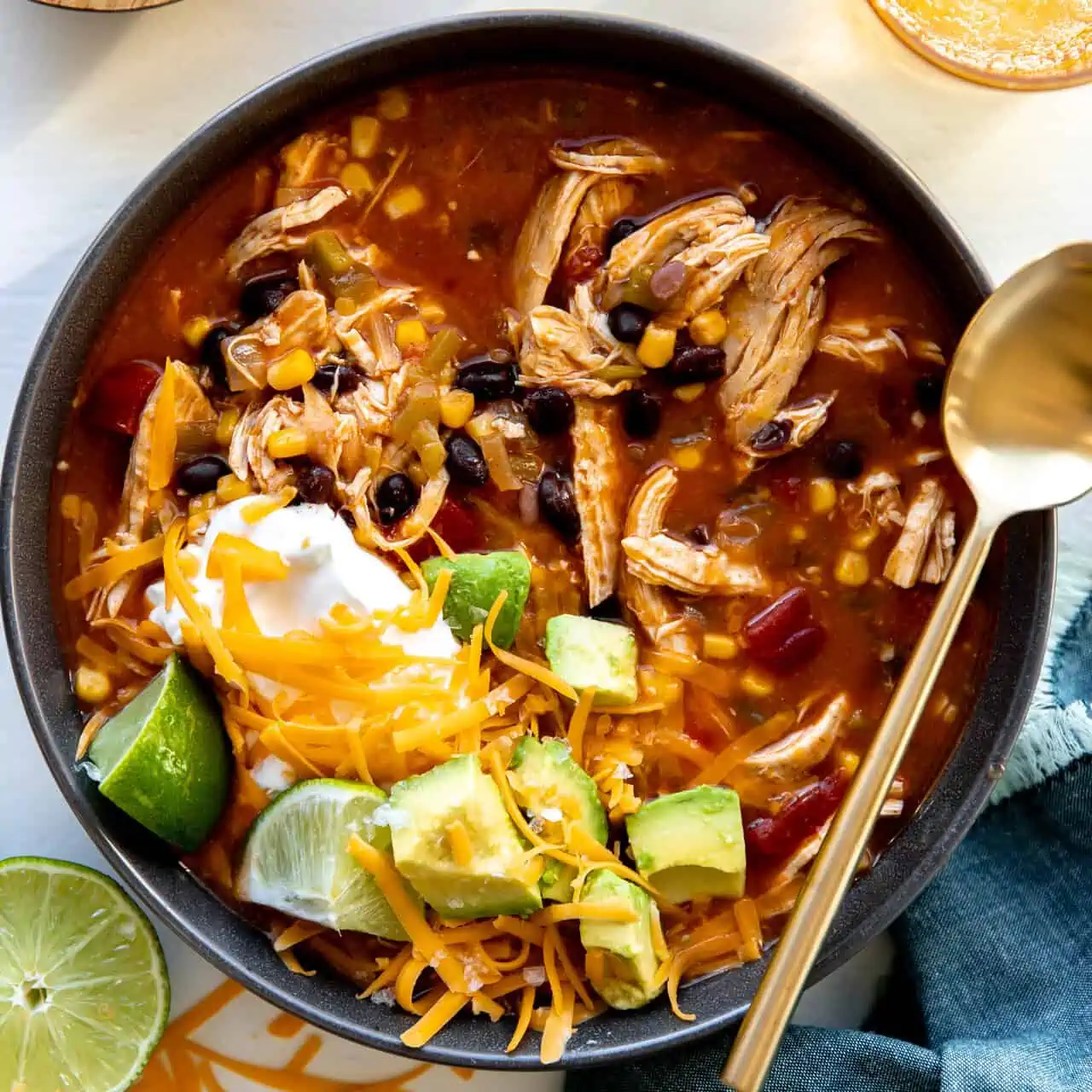 This easy to put together slow cooker meal is loaded with bold flavor, hearty chunks of meat, and lots of melty cheese. Better than any soup you will get at a restaurant and perfect for loading up with your favorite toppings!
---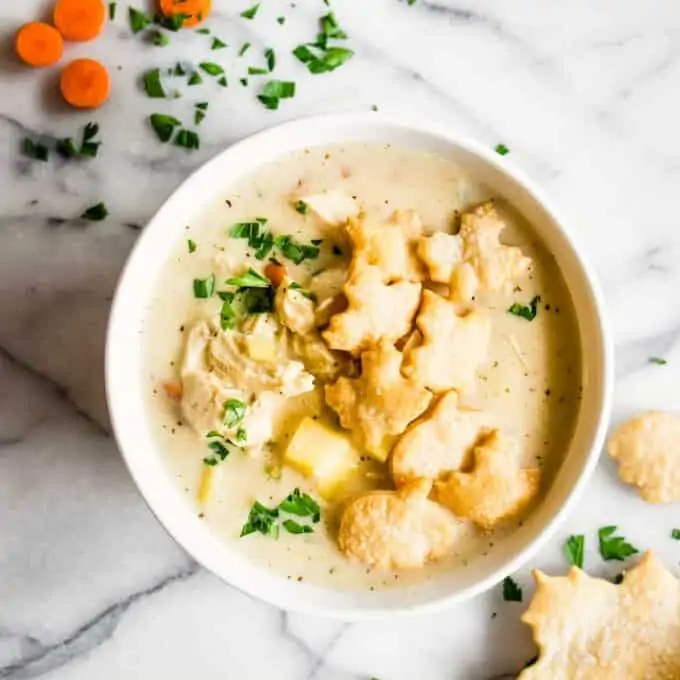 This easy to make chicken soup is creamy and comforting. Loaded up with tender chicken, lots of veggies, and fun pie crust crackers. Perfect weeknight family dinner.
---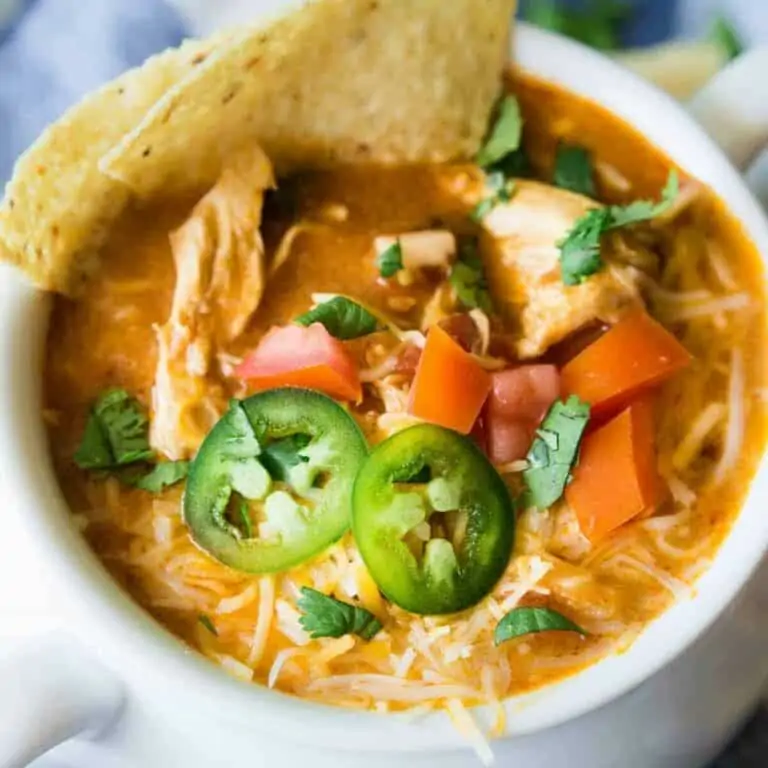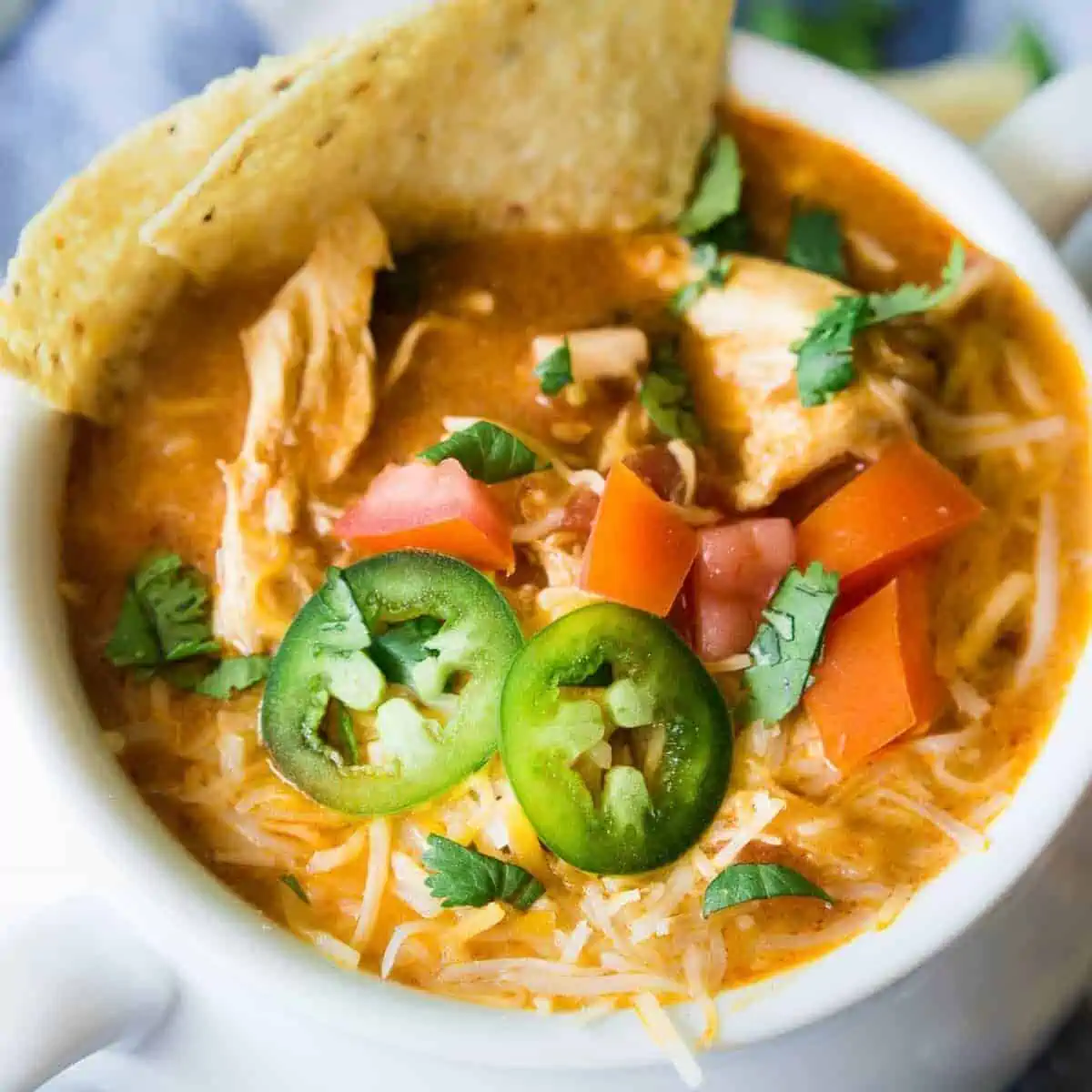 This EASY creamy soup tastes just like the beloved King Ranch Chicken Casserole. Loaded with cheese, juicy chunks of chicken, and tons of flavor! Simply load up the slow cooker and let this soup simmer during the day. Everyone will be waiting with bowls in hand to enjoy this one!!
---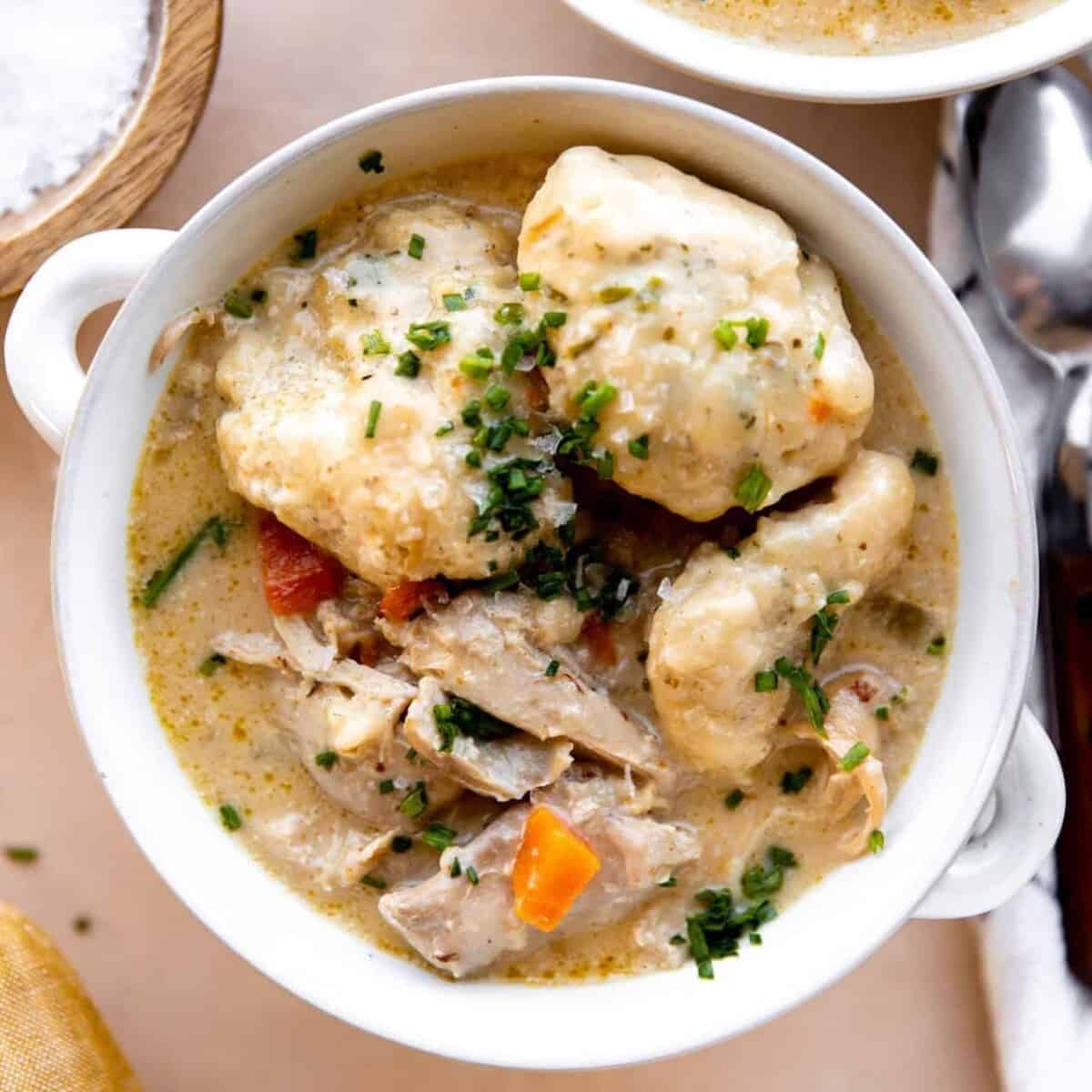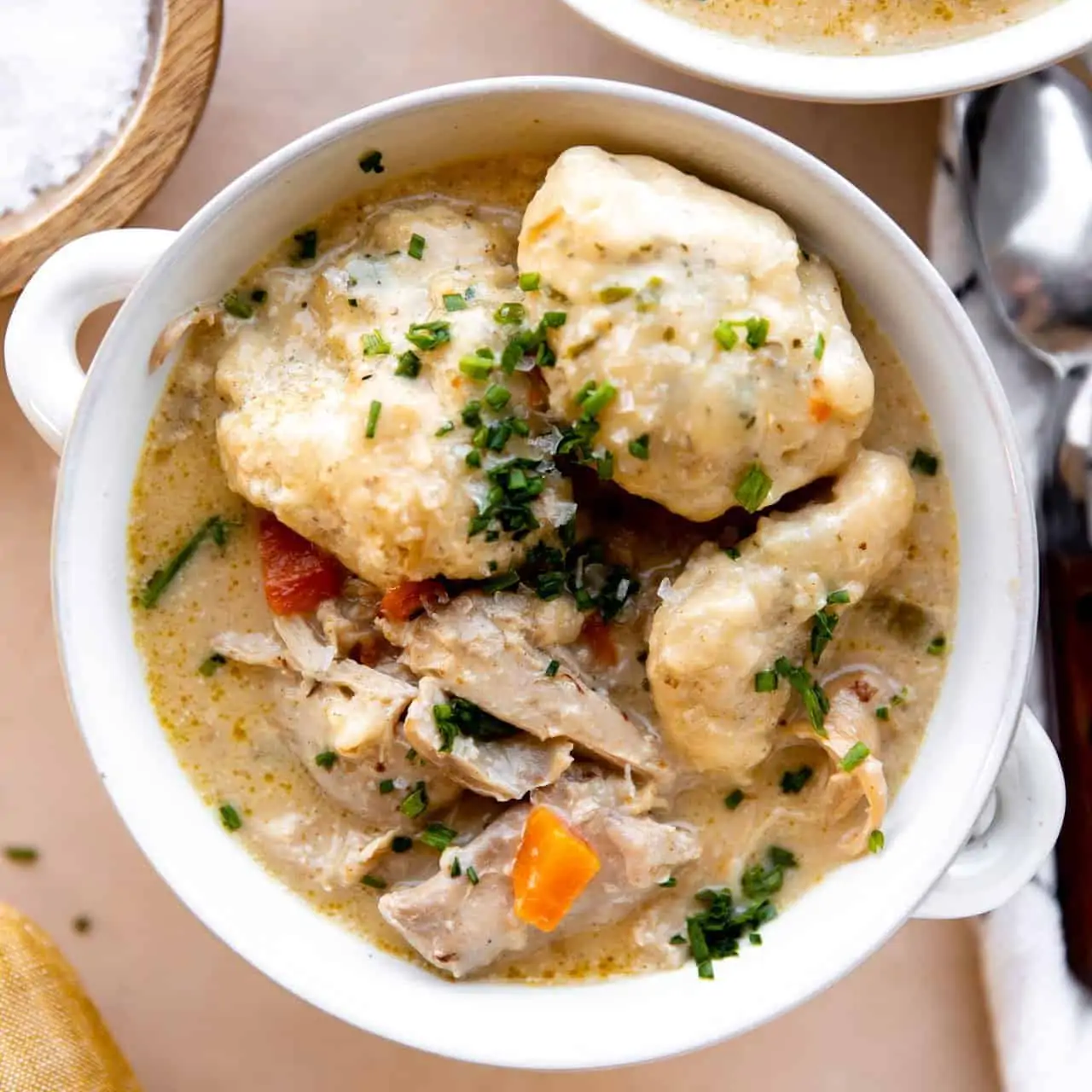 Comforting Chicken and Dumplings
This easy recipe is loaded with juicy chicken, veggies, and fluffy garlic and herb dumplings. Made from scratch, this recipe is comforting and filling.
Vegetarian Soup Recipes:
Looking for some meatless soup options? These Vegetarian Soup Recipes are sure to leave you feeling full and satisfied! Simply ensure you are using a vegetable broth when making these to have them be completely meat free.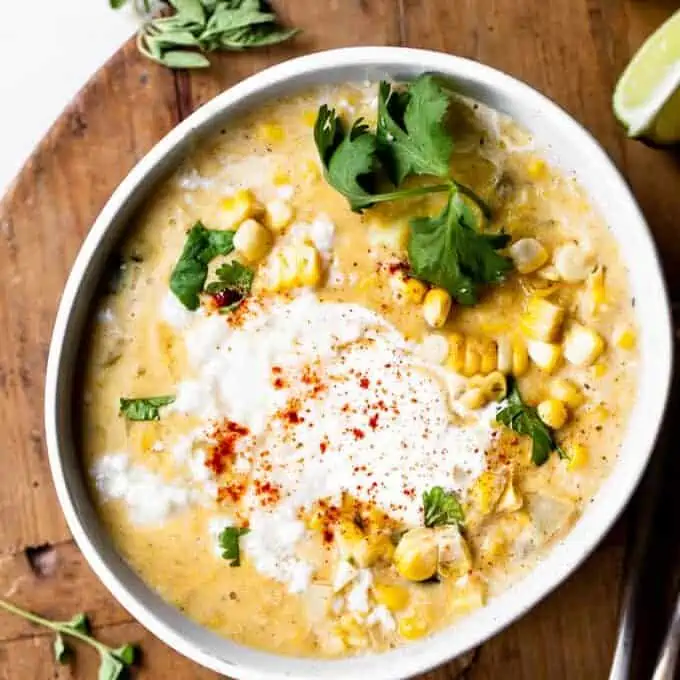 Thick and creamy corn chowder swirled with crema and flavored with chili powder and lime juice. Top with some crumbly queso fresco and fresh cilantro. This soup is hearty and reminiscent of Mexican Street Corn!
---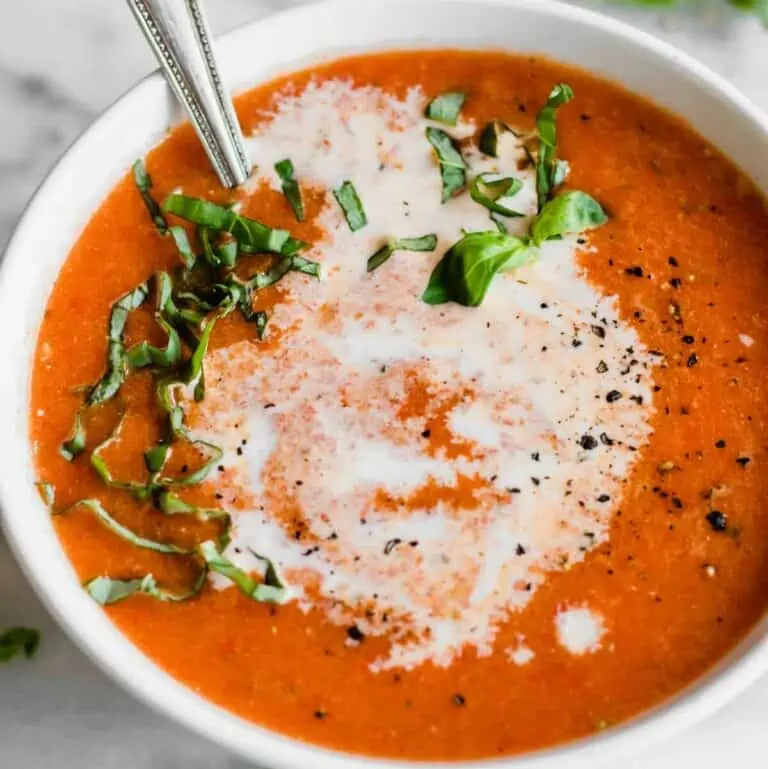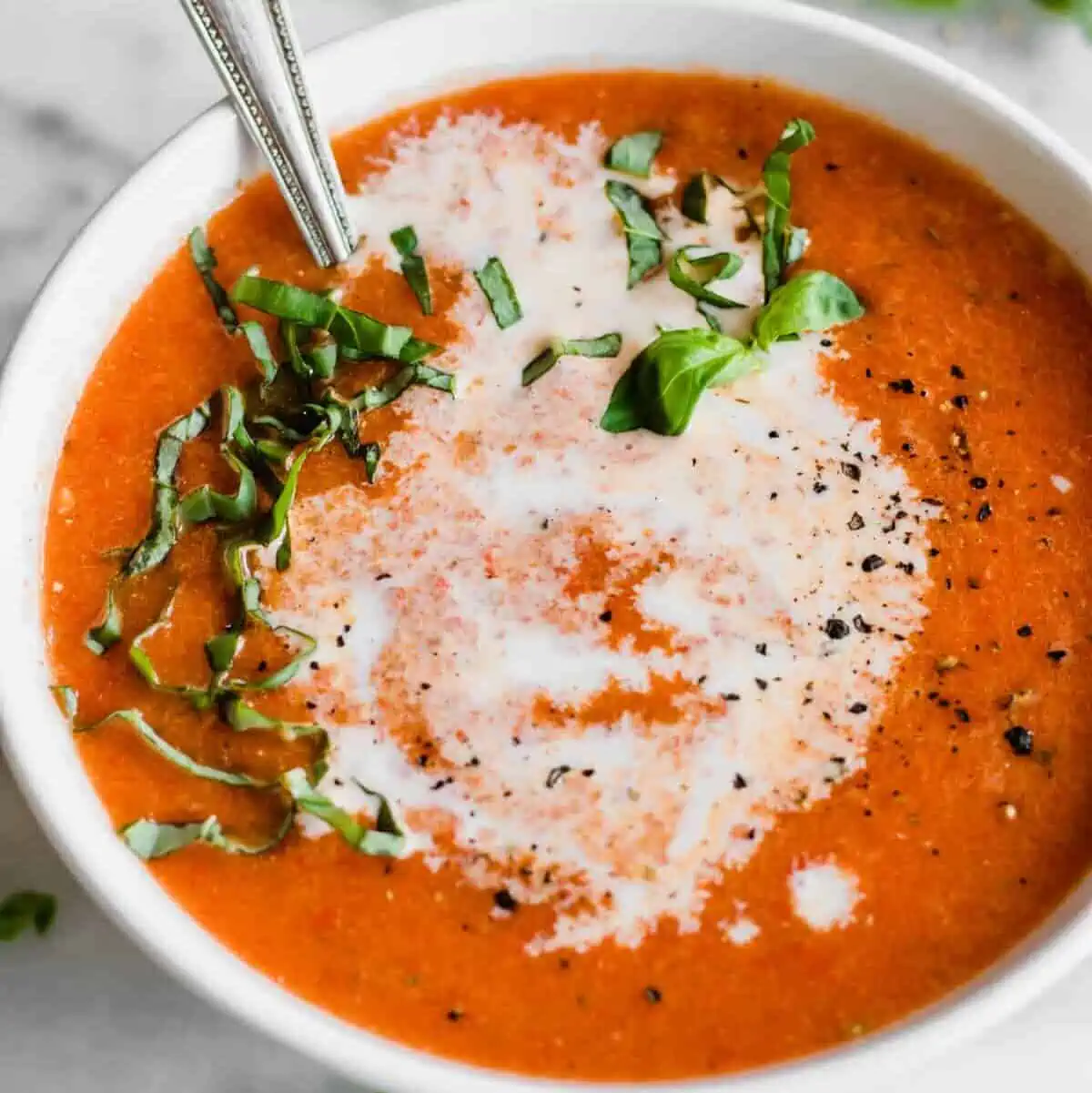 This bold and flavorful soup is made from roasted red peppers. My kids say it tastes like pizza! The perfect warm and comforting dish!
---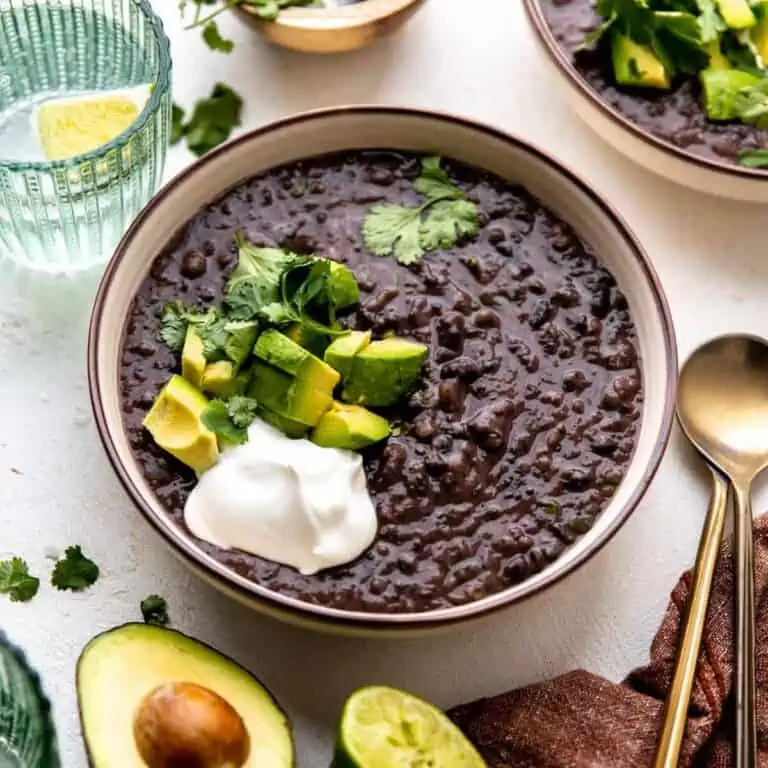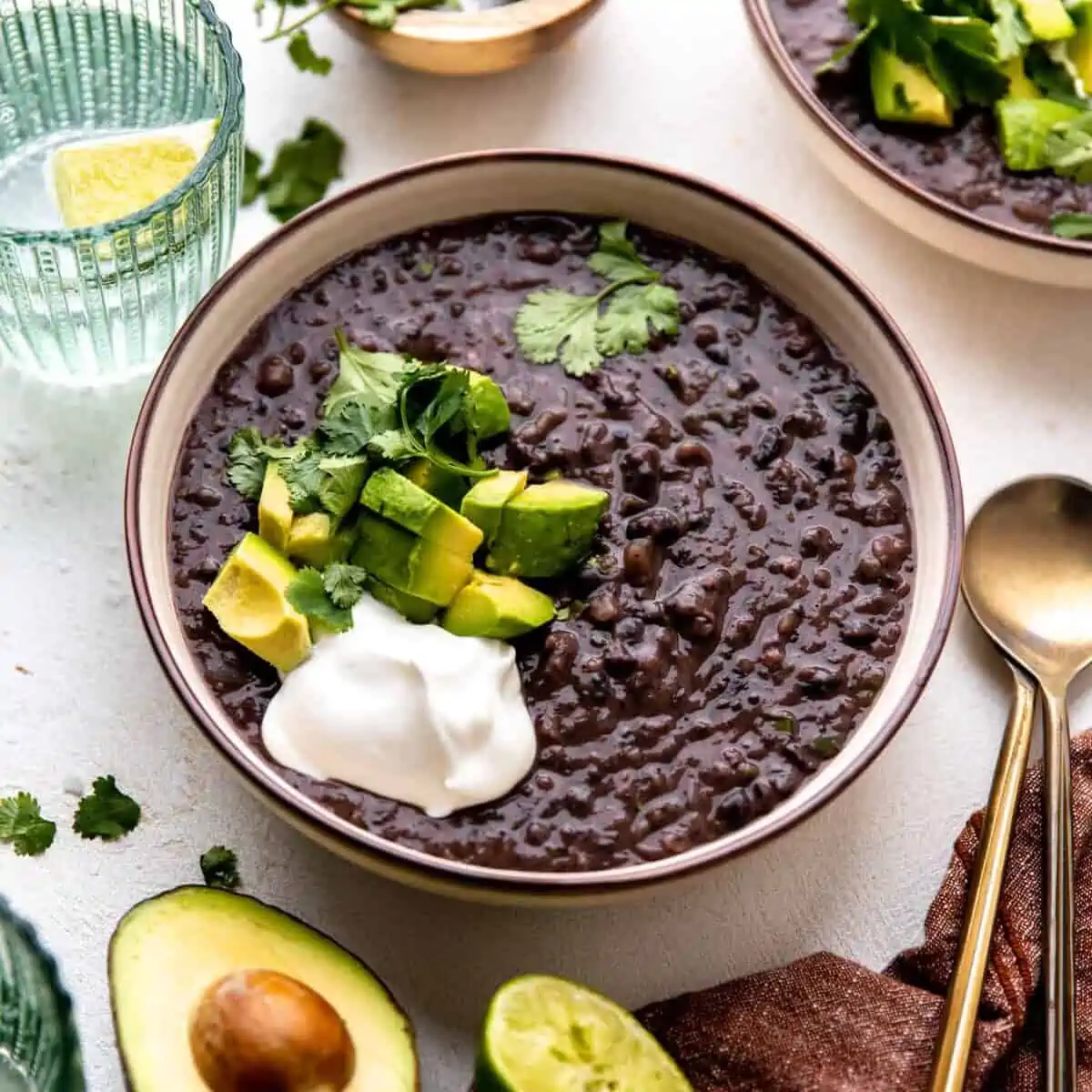 This hearty black bean soup recipe is loaded up with veggies! Thick and creamy, this soup is quick and easy to put together.
Chili Recipes:
These Chili recipes are all hearty, flavorful and perfect for feeding a crowd. Plus these are great meals to prep ahead of time, freeze, or share with others.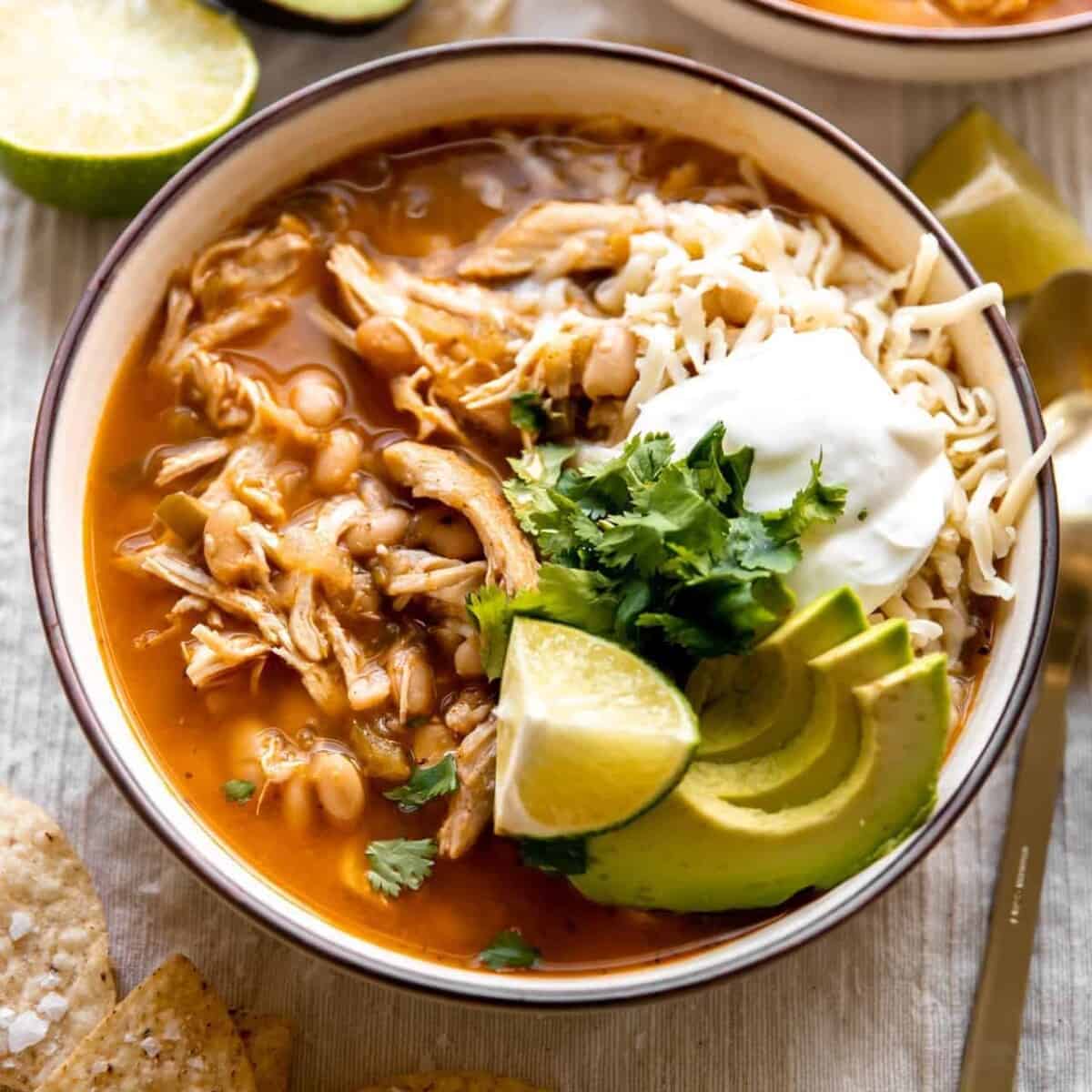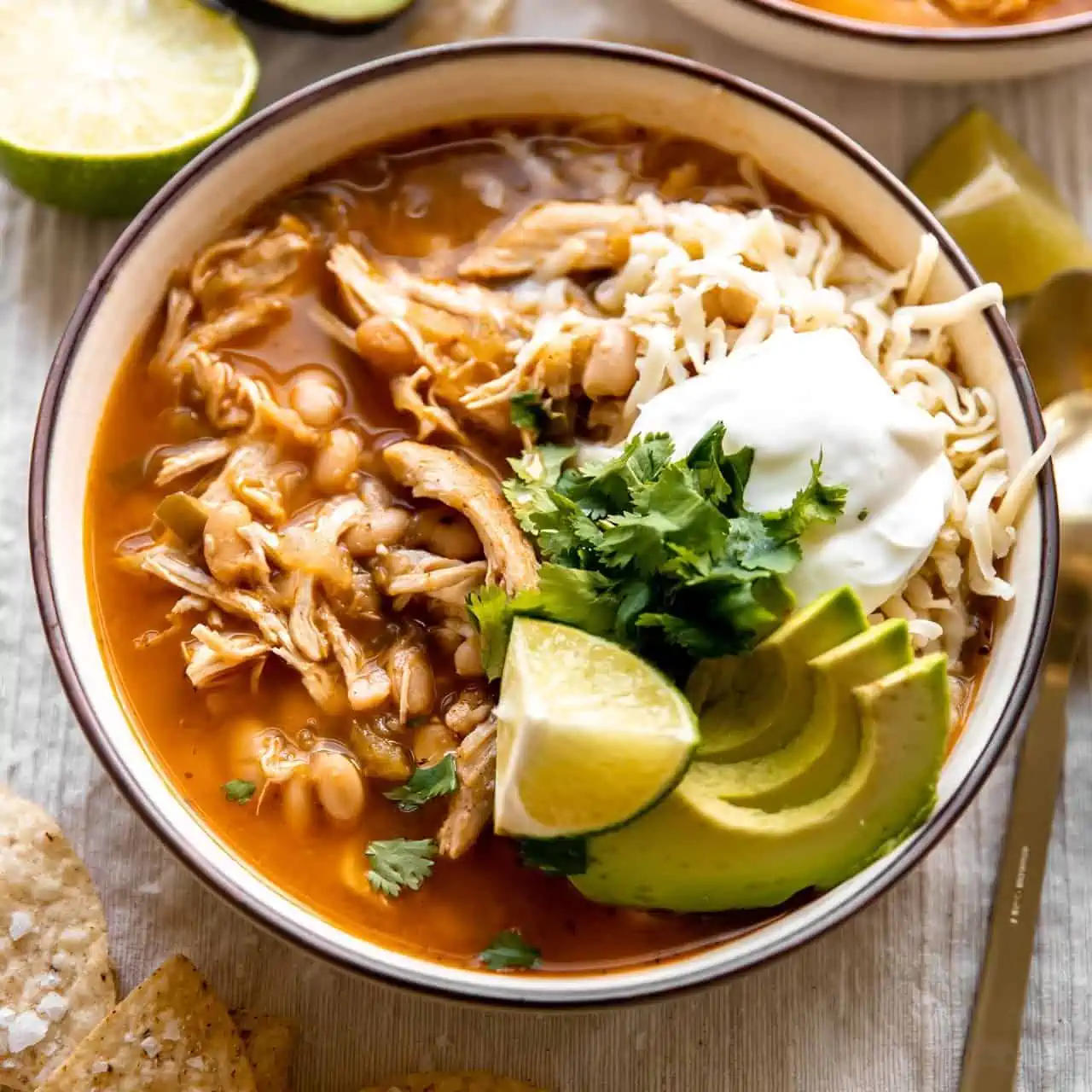 This white chicken chili is loaded up with chunks of juicy chicken and has a smooth mild flavor with just a hint of heat. Made in one pot and just over 30 minutes this is a perfect family friendly recipe.
---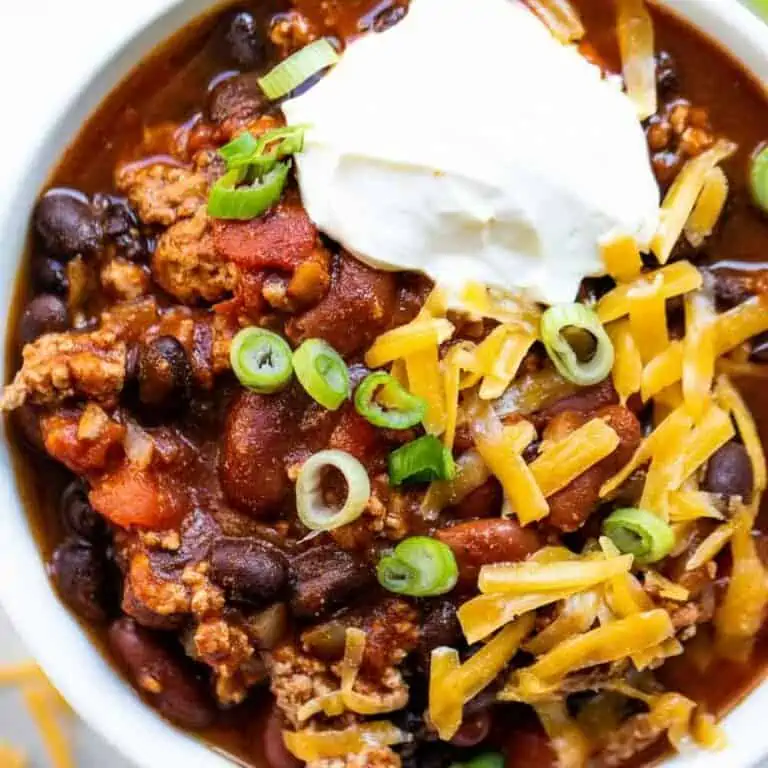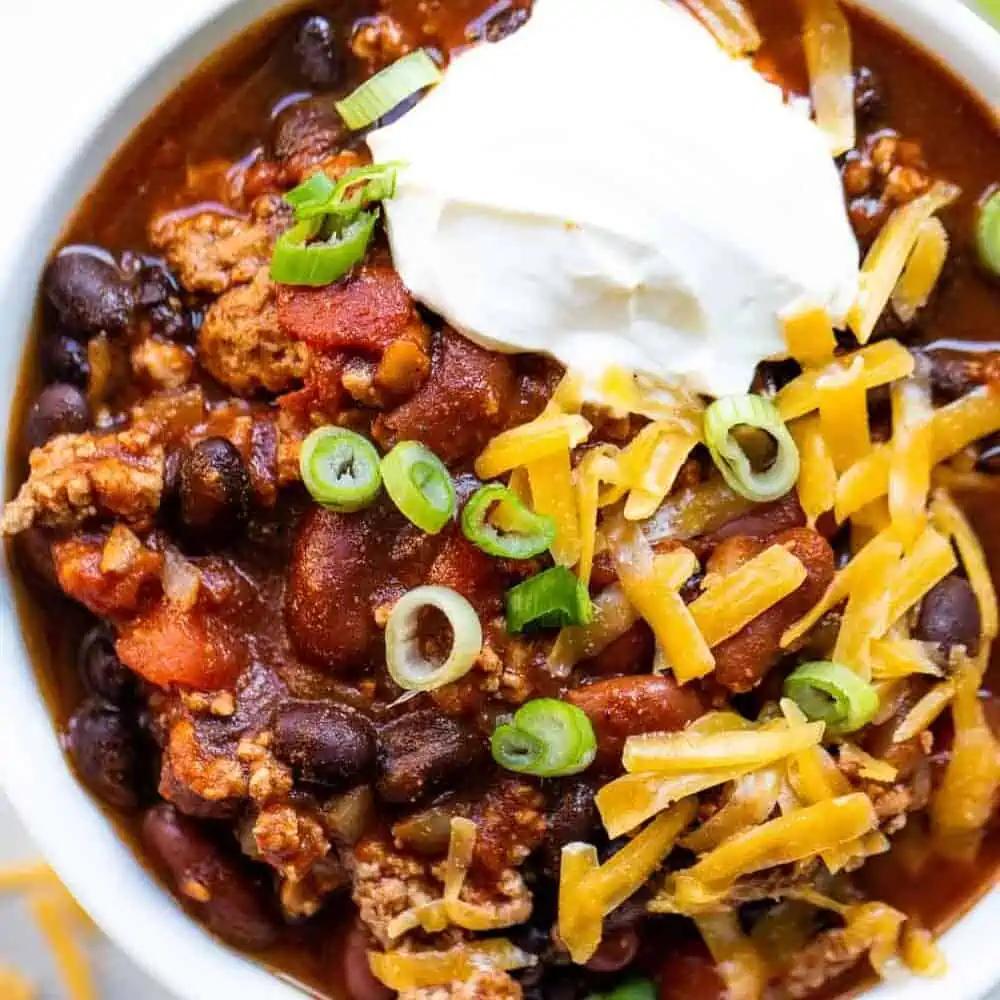 This healthy turkey chili recipe is thick and hearty and bursting with flavor. Loaded with lean ground turkey, tender beans and the perfect spice blend.
---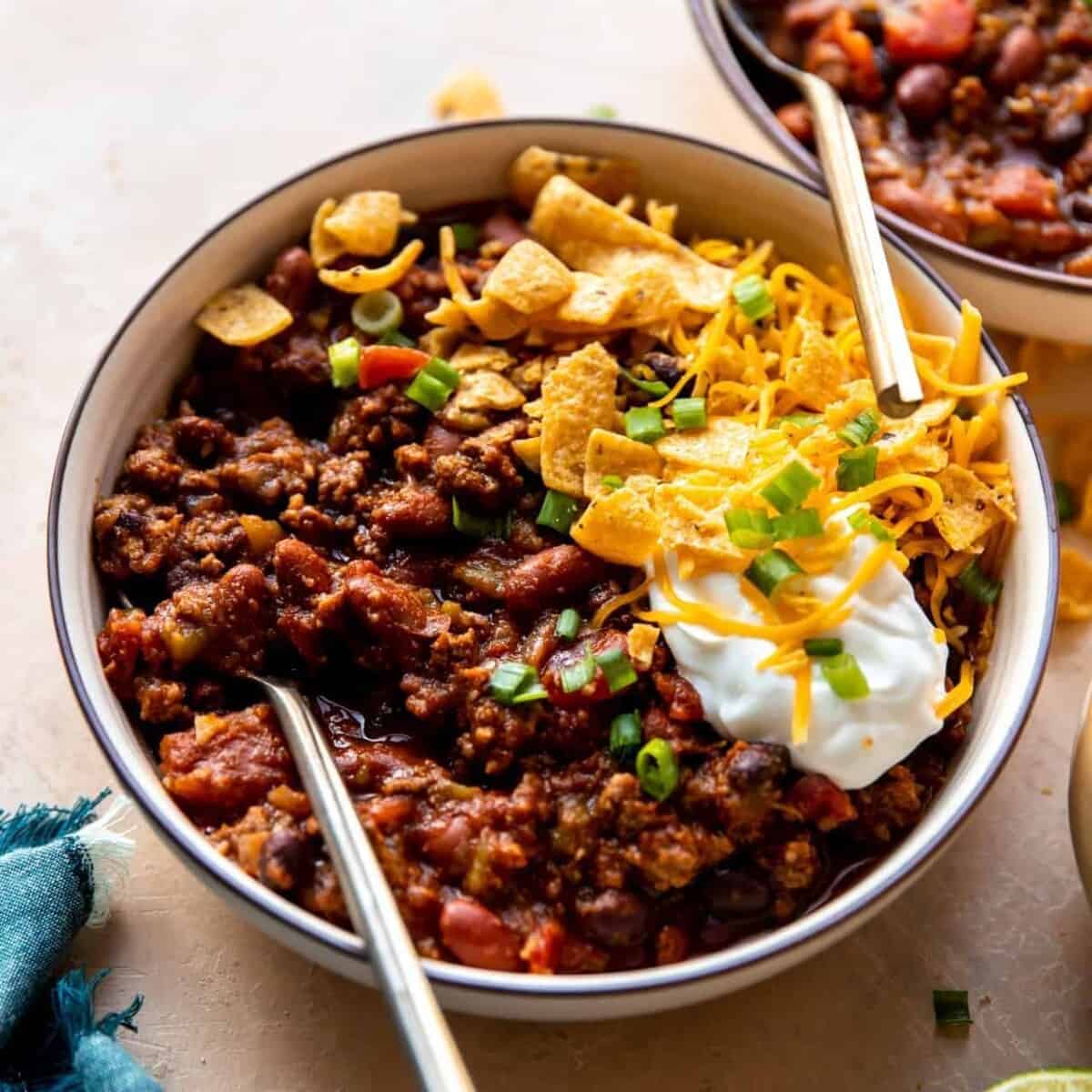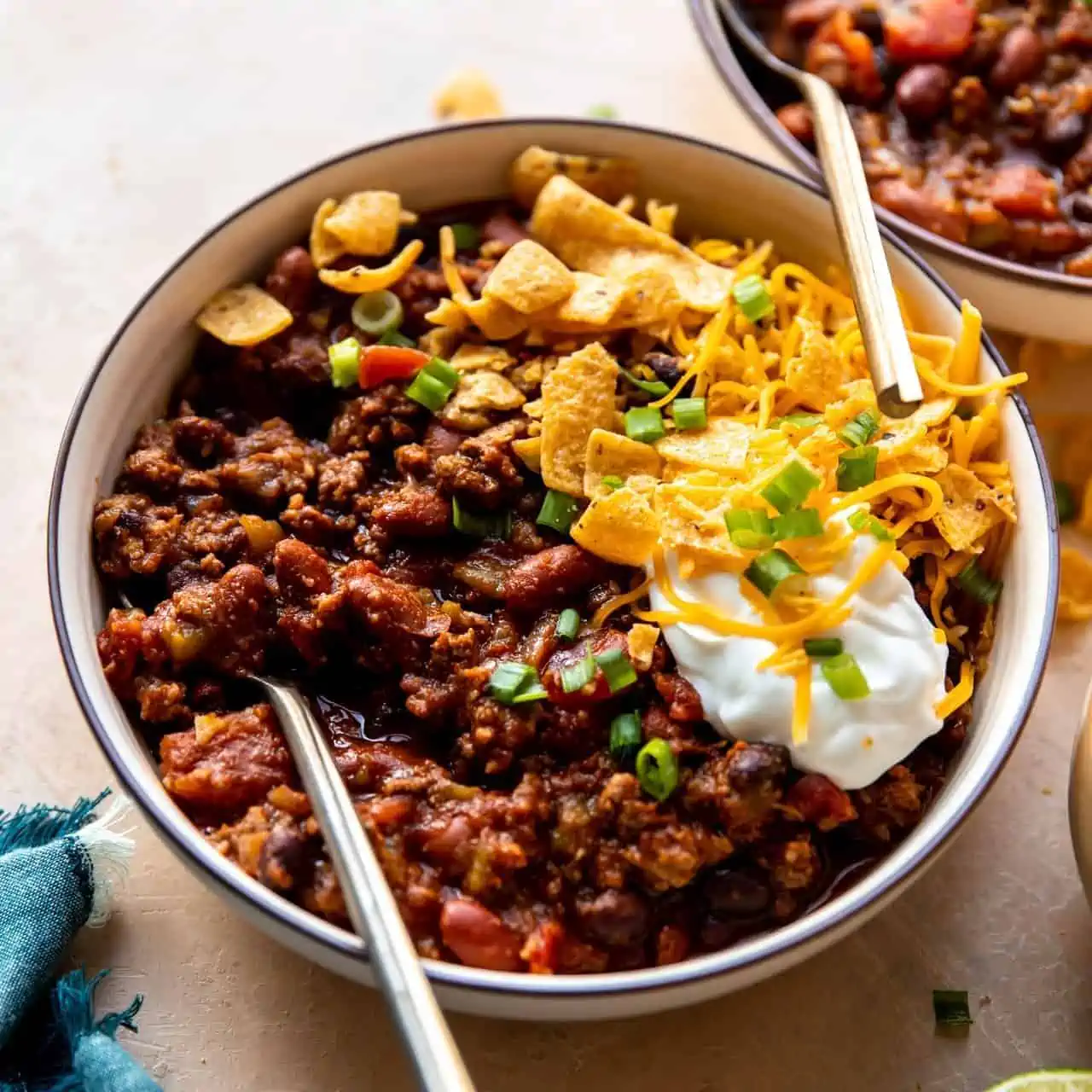 Quick and filling, this easy chili recipe can be made in the slow cooker or as a one pot 30 minute meal. Loaded with ground beef, beans, chiles and more this hearty chili is perfect for loading up with all your favorite toppings.
---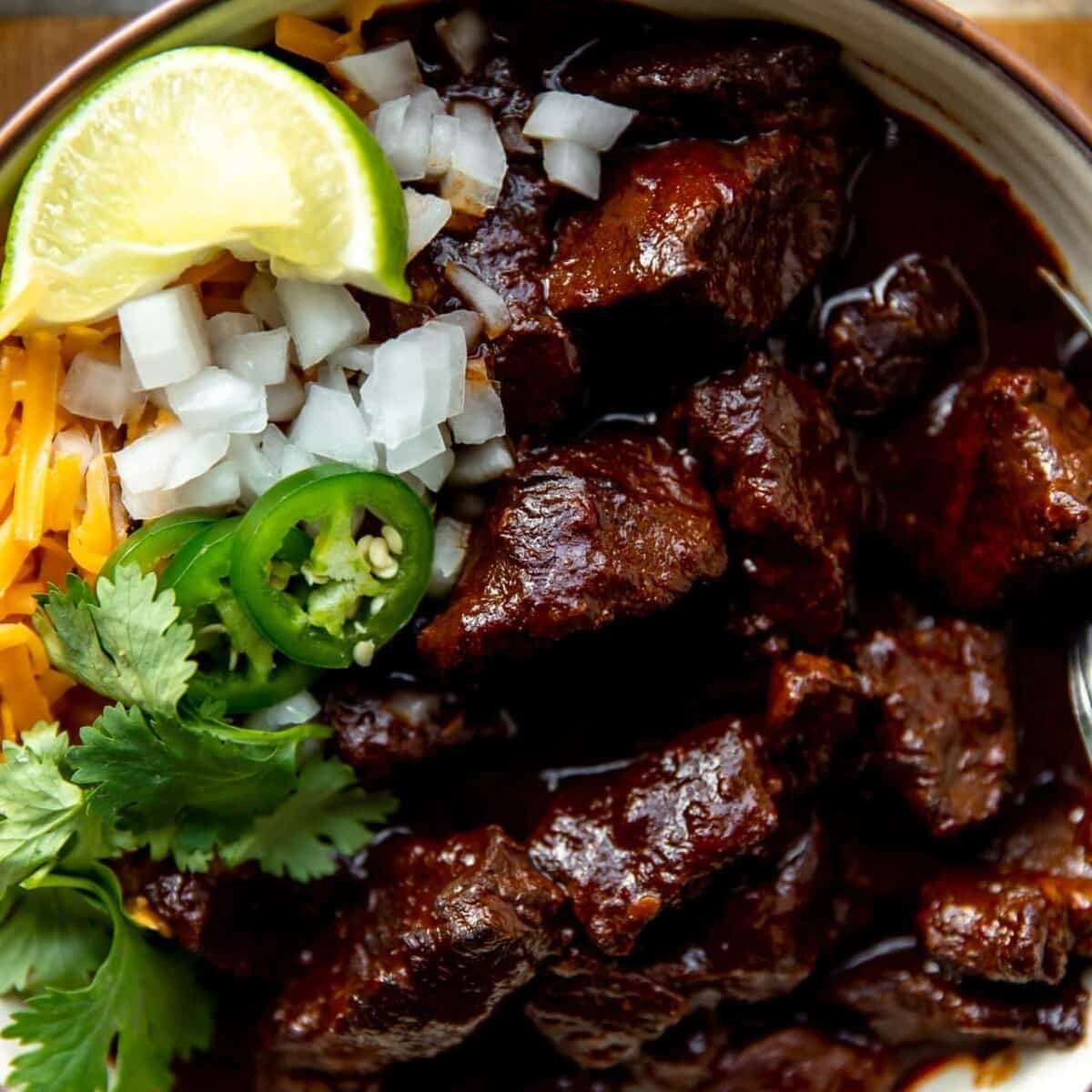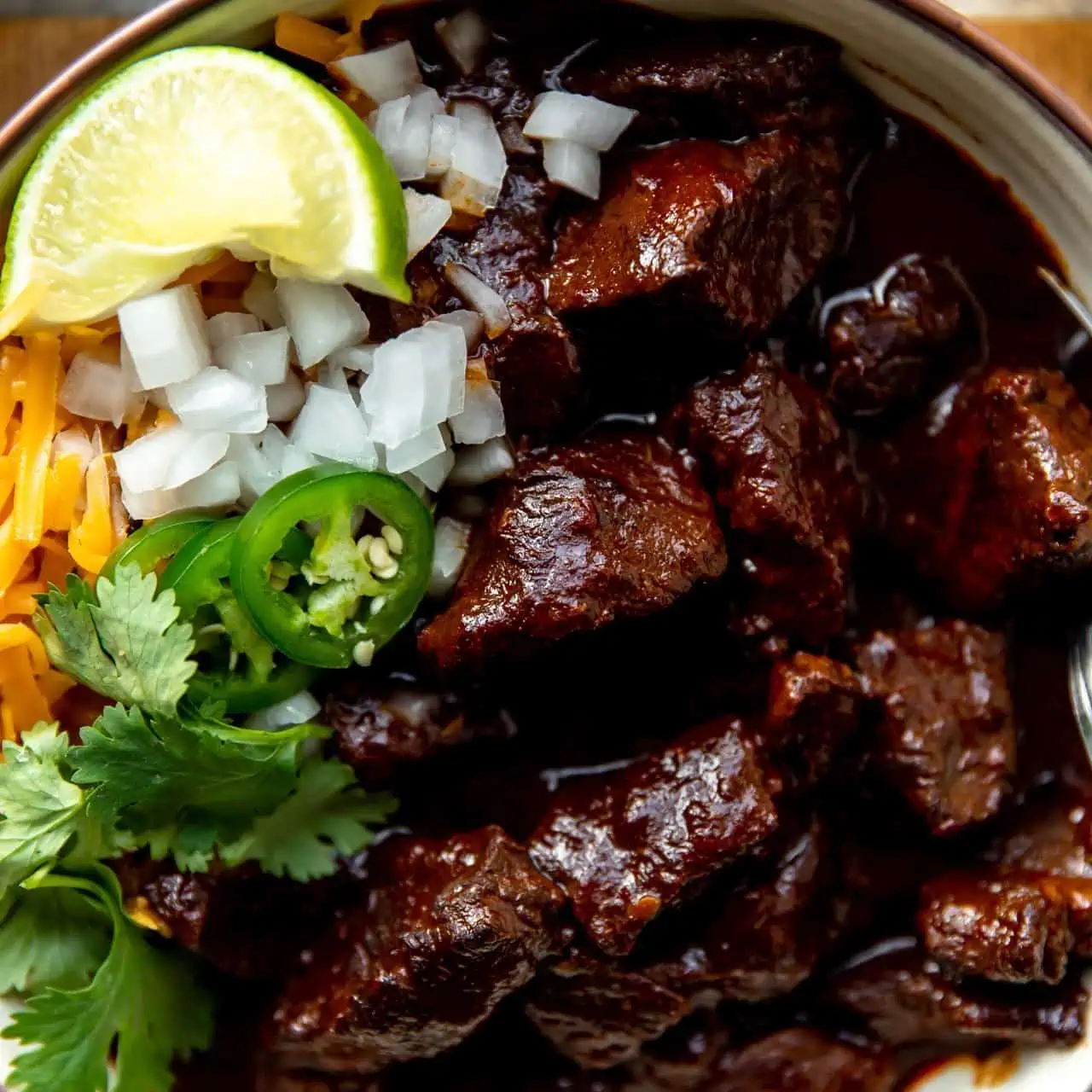 This authentic chili recipe results in tender, flavorful chunks of meat coated in chili sauce that has just the right amount of smoky heat. Learn all you need to know to create an Award Winning True Texas Chili and how to customize it to make it your own.
---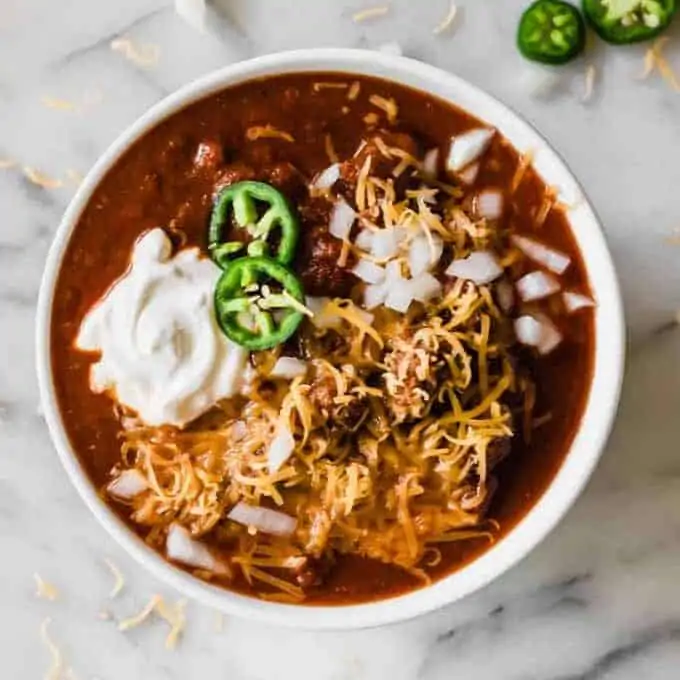 This Texas style chili is bursting with meat and spice, and only takes 20 minutes to come together. Perfect for game days or an easy weeknight family dinner!
Favorite Soup Making Supplies
One of my favorites for making soup on the stovetop is a classic Dutch Oven.
If youre looking for a less expensive option, this enameled cast iron is a winner.
This Stainless Steel Pot is another great option.
Short on time? This Instant Pot makes cooking soups quick and easy.
Want dinner ready when you get home? This Slow Cooker always gets the job done.
This ladle is sturdy and made for scooping up your soups.