Homemade Flour Tortillas. These flexible, soft and tender tortillas are the PERFECT homemade tortilla! This recipe is easier than you may imagine and needs only 4 ingredients!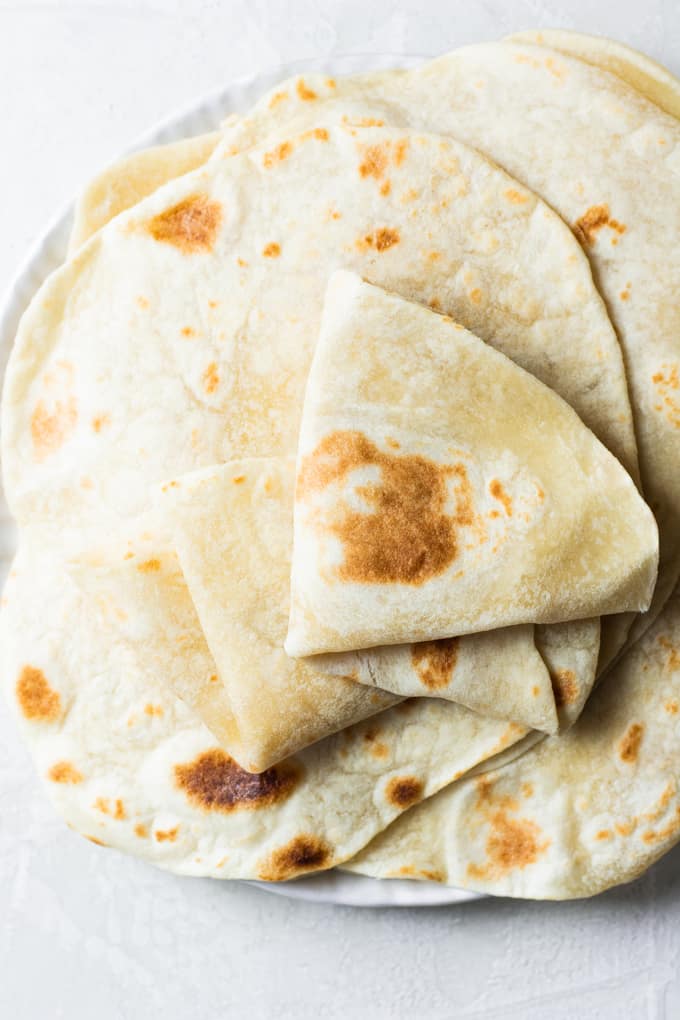 How to make the BEST homemade Flour Tortillas!
Tips for making the best easy homemade tortilla recipe:
Use a stand mixer with a dough hook if you have one, it saves time and is easy on the wrists. You can absolutely make these by hand. It involves kneading the dough for about 15 minutes. There's nothing wrong with either method. It's all about what works best for you.
Heat the water and melt the lard. I LOVE this method. Most recipes will tell you to mix the fat into the flour until it's like coarse meal. But I love being able to melt the lard into the warm water and then just pour that over the flour. I find that the fat is more evenly dispersed in the tortillas and that the entire process is just a bit easier.
No baking powder! I love my tortillas a bit thinner, easier to roll and fold for burritos. If you are wanting thicker tortillas you can add 1 teaspoon baking powder to the flour and salt mixture.
Let the tortilla dough rest. I like to divide the tortilla dough into the amount of tortillas I'm going to make, I typically get 12-14 tortillas with this recipe. It just depends on how big you're making the tortillas. Divide the dough, roll each section into a ball, set on a baking sheet sprinkled with flour. Cover and let rest for 20-30 minutes. This allows the gluten to develop and there will be less shrinking in your tortillas when you roll them and cook them.
Keep the skillet clean. If flour does start to accumulate in your pan it will burn. If you see black specks on the tortillas it's time to carefully wipe the skillet.

Find the perfect heat! Slightly increase the heat if a tortilla doesn't have golden spots after 1 minute. However, decrease the heat if the spots are dark brown or black. I find my sweet spot between low and medium.
Roll the tortillas pretty thin. You want them to look almost translucent, you should just barely see the counter through the tortillas when rolling. Thick tortillas won't be tender.
Avoid shrinking. If you try rolling out these tortillas and the dough keeps shrinking back, let it rest for another 15-30 minutes. The gluten just hasn't had enough time to relax.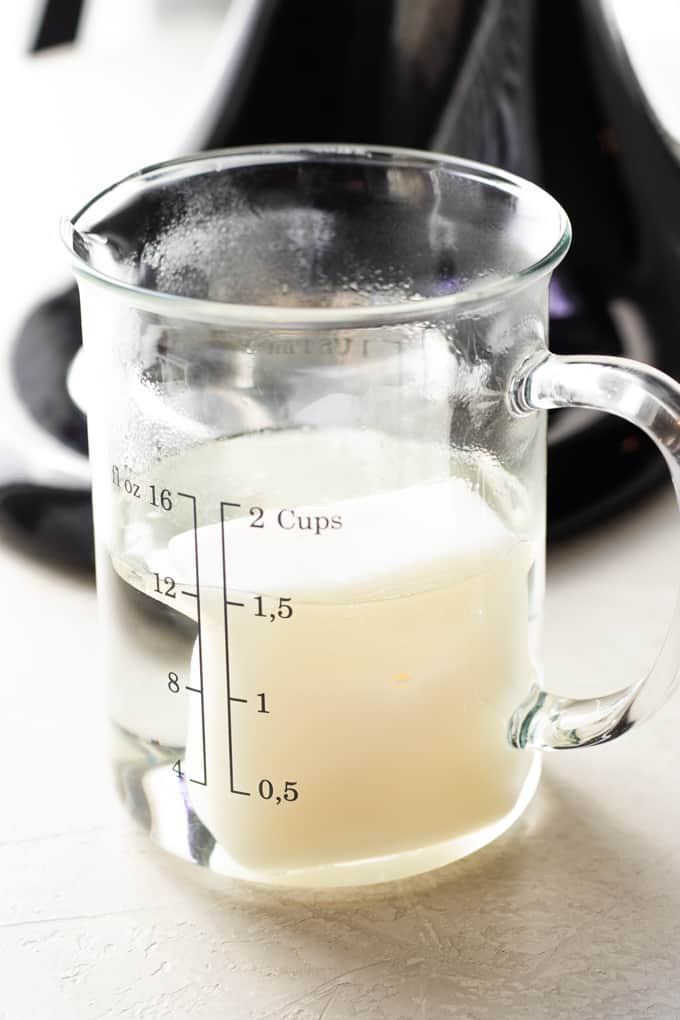 What should my tortilla dough look like?
Homemade flour tortilla dough should be smooth. If it has a stretched dough appearance, add a bit more flour and knead a bit longer. Once the dough is smooth and you can touch it and your hands come away clean, no dough sticking, then you are ready to separate the dough to rest!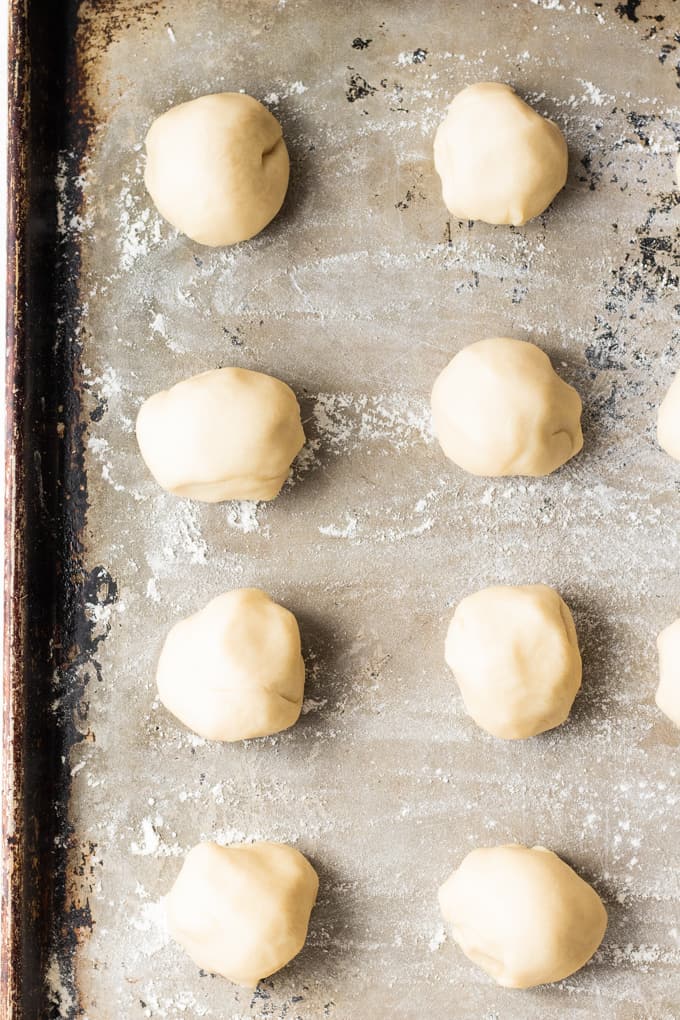 What can I use to make homemade flour tortillas besides lard?
To make tortillas you need to use a fat. This is a major ingredient. However, you can switch up what you are using for that fat. Lard is the traditional fat used, and it can be found in most markets in the Latin American food aisle.
Here are some other options if you would prefer:
Butter
Oil (vegetable, corn, avocado or olive oil)
Bacon fat (uuuhhhh yes please!)
Shortening
Although! I do want to point out that lard is actually a great option! If done right, lard is a fairly "clean" source of fat. Meaning it's natural, it's rendered pork fat.

Can You Freeze Flour Tortillas?
Yes! If you'd like to make a large batch of flour tortillas for future use, they actually freeze really well. It is important to separate each flour tortilla with a piece of waxed or parchment paper, so that they don't stick together.
Once separated, wrap the tortillas in foil and place in a freezer resealable plastic bag. Freeze for up to six months.
When ready to use, place the tortillas in the refrigerator to thaw overnight. To reheat place the tortillas on a hot skillet briefly just to heat through, or place on a heat safe plate, cover with a wet paper towel and microwave for 15-20 seconds until warm.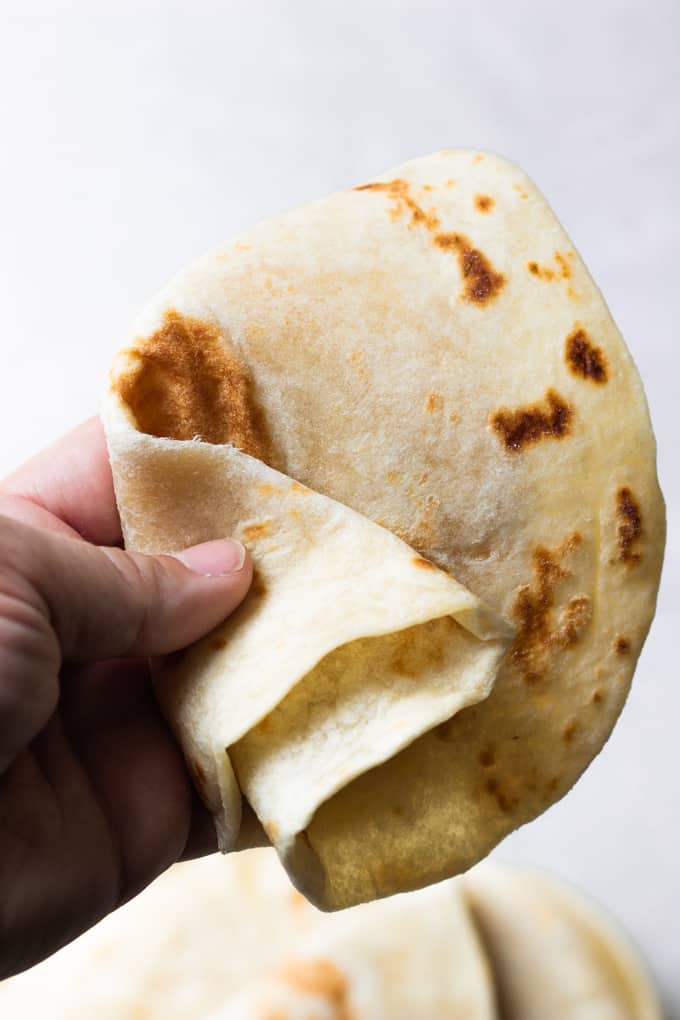 More Recipes You may enjoy:
Homemade Flour Tortillas
Homemade Flour Tortillas.
These flexible, soft and tender tortillas are the PERFECT homemade tortilla! This recipe is easier than you may imagine and needs only 4 ingredients!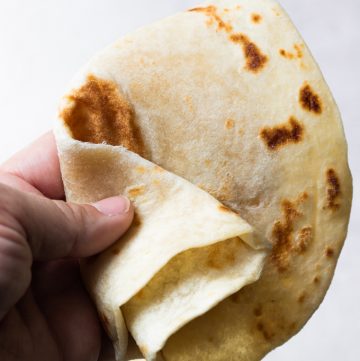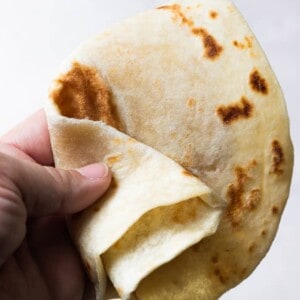 Instructions
In a large mixing bowl add the flour and salt. Whisk together to combine.

Heat the water to a hot temperature, not boiling, either in a small saucepan or in a heat safe container in the microwave. Add the lard and stir, allow the lard to completely melt.

Pour the melted lard and water into the mixing bowl with the flour mixture. Knead with the dough hook on a stand mixer on low for about 10 minutes. If not using a stand mixer, knead the dough by hand on a lightly floured surface for 10-15 minutes. Once the dough is no longer sticky and you have no dough sticking to your hands, the dough has a smooth appearance, then it's ready.

Divide the dough into 12 equal sections. Roll and pinch each portion of dough to form a small ball. Place the dough portions on a lightly floured baking sheet, or on a floured counter. Cover with a clean kitchen towel and let sit for 30 minutes.

Lightly sprinkle flour on a clean counter top and lightly sprinkle a rolling pin.

Using your fingers, gently flatten out one tortilla, spinning as you go so that it flattens and creates a circle. If you notice a lot of resistance in the dough, let it rest a bit longer to allow more gluten formation.

If the tortilla dough is soft and pliable, easy to press out with your fingers, continue and roll out the tortilla nice and flat in a round shape. The tortilla should be rolled thin and be slightly transparent.

Place the tortilla on the hot skillet, allow to cook for about 60 seconds, you will notice bubbles forming, don't press them down. After 60 seconds, take a peek at the bottom to check the color of the tortilla, brown spots should have formed, if not, increase the heat slightly. If dark, almost black spots have formed, decrease the heat.

Flip the tortilla and continue to cook the other side for another 30-45 seconds, bubbles will still form and brown spots will appear.

Remove the tortilla from the skillet and place on a plate or in a tortilla warmer. If you don't have a tortilla warmer you can place the tortillas on a clean towel that you will be able to cover cooked tortillas with to help retain warmth.

Continue this process until all tortillas are cooked. Do not roll several tortillas at a time and stack them since they will stick.

Tortillas are best served warm. Serve immediately and enjoy.
Notes
If you're looking for fluffier tortillas you can add 1 teaspoon baking powder to the flour and salt before adding in the fat and water.
Store leftover tortillas in a resealable plastic bag. Can be stored at room temperature. Reheat briefly in a microwave or on a skillet.
Nutrition
Serving:
1
|
Calories:
191
kcal
|
Carbohydrates:
24
g
|
Protein:
3
g
|
Fat:
9
g
|
Cholesterol:
8
mg
|
Sodium:
194
mg
|
Fiber:
1
g
Nutrition information is automatically calculated, so should only be used as an approximation.
Like this? Leave a comment below!