Classic Beef Stew
Classic Beef Stew. Melt in your mouth tender bits of beef simmered in a thick, flavorful broth. Loaded up with chunks of potatoes and carrots. This classic beef stew will warm your soul from the inside out.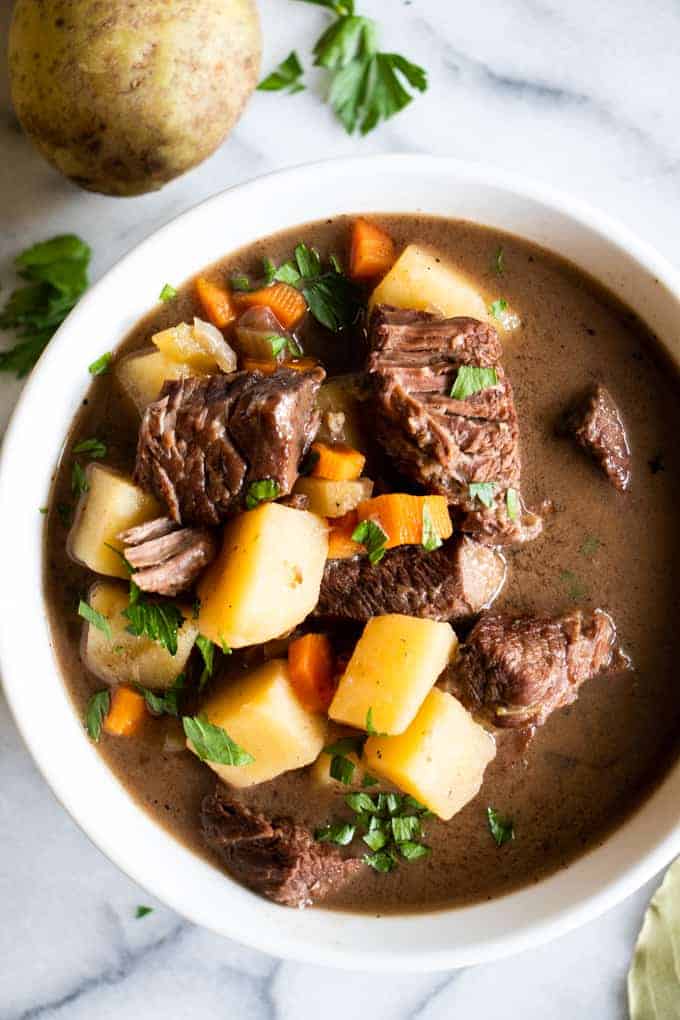 Perfectly comforting. This Classic Beef Stew recipe is the one and only recipe you will ever need! Easy to put together, plus I have instructions on how to make this as a stovetop OR slow cooker recipe. Make sure you read the post for all the tips and tricks involved with making the perfect beef stew!
First off, let's start with some basics.
What kind of meat is used in beef stew?
I typically use a chuck roast. You can also use brisket (the point), bone in short ribs or of course, stew meat! 
What is beef stew meat? 
Beef stew meat is typically packaged at the market with all the pieces cut off from steaks that didn't fit in the package or parts that were trimmed purely for looks. These packs of beef stew meat from the market are usually reasonably priced and perfect for using to make this beef stew recipe! 
How to make sure the meat gets tender:
Basically we want a fatty piece of meat. Because as it cooks in the broth over time the fat will break down, causing the meat to be fall apart tender, to the point it melts in your mouth. It also adds flavor to the broth as it cooks. Lean meats will stay tough, even as they cook over time.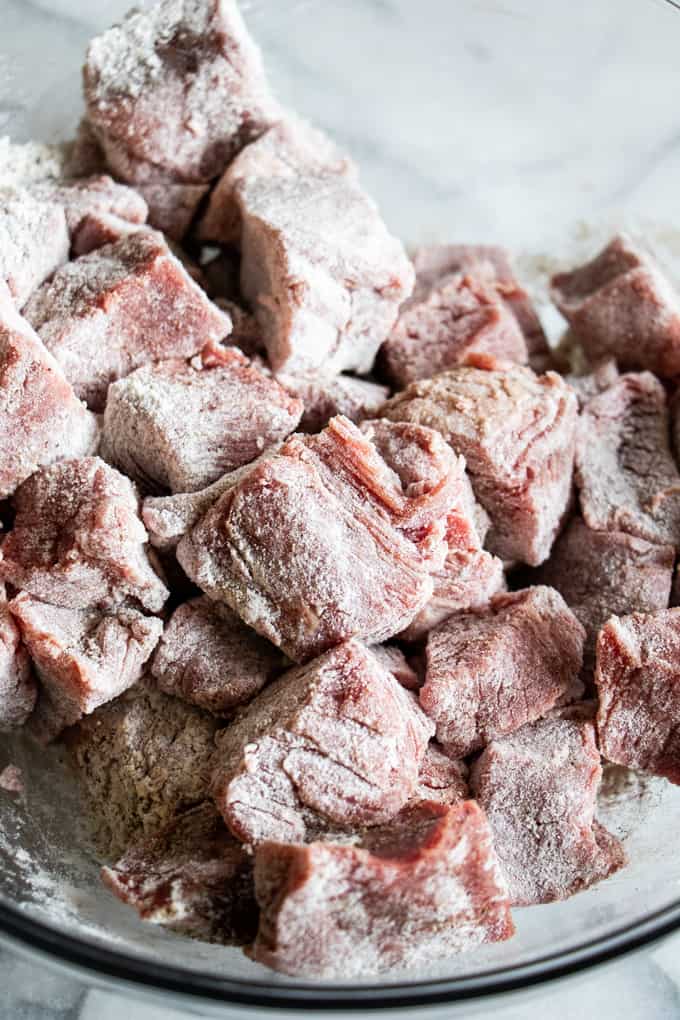 How to make this Beef Stew recipe on the stovetop:
This is an easy way to make the stew if you're going to be home. It can be made in one pot, making for less dishes than using a slow cooker method.
Cut the meat, then sear on all sides. Get a nice crust with a healthy dose of salt and pepper. Mix salt and pepper with some flour, this will help to thicken the stew without any clumps. We want an almost gravy-like broth.
Deglaze the pan with the wine and broth. This just means to pour the liquids in the pot while it's still hot and use a wooden spoon to scrape all the bits off the bottoms. This gives so much flavor to the stew.
Add the seasonings. Let the meat simmer for about 30-40 minutes. At this point we can add the veggies and potatoes. Continue to simmer until the meat is tender and the potatoes and veggies are soft.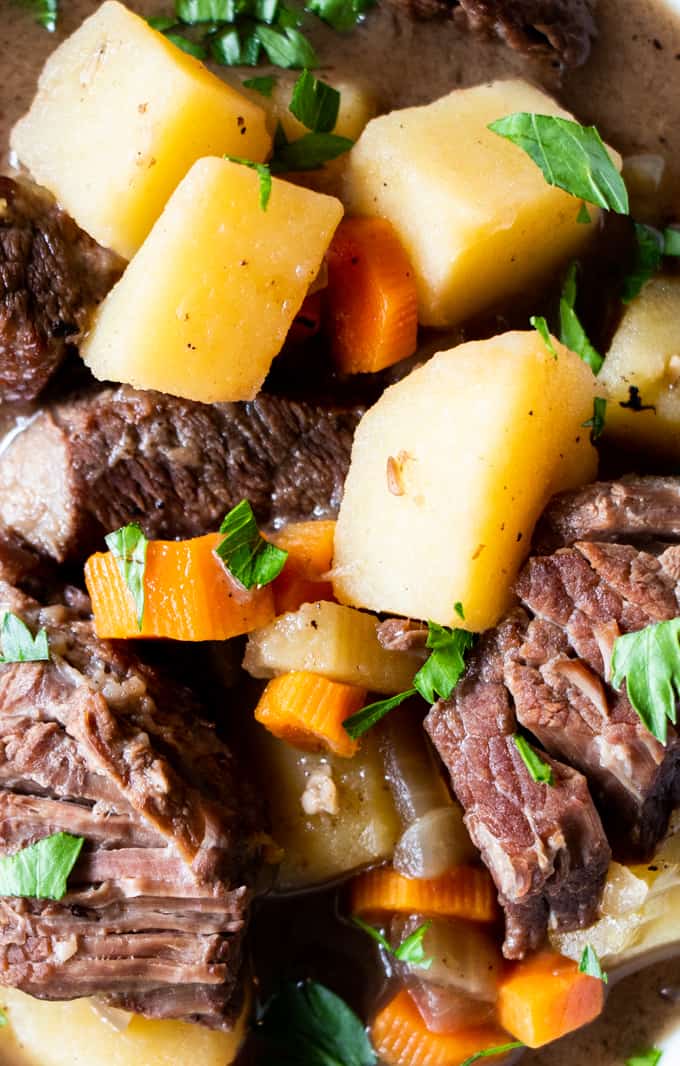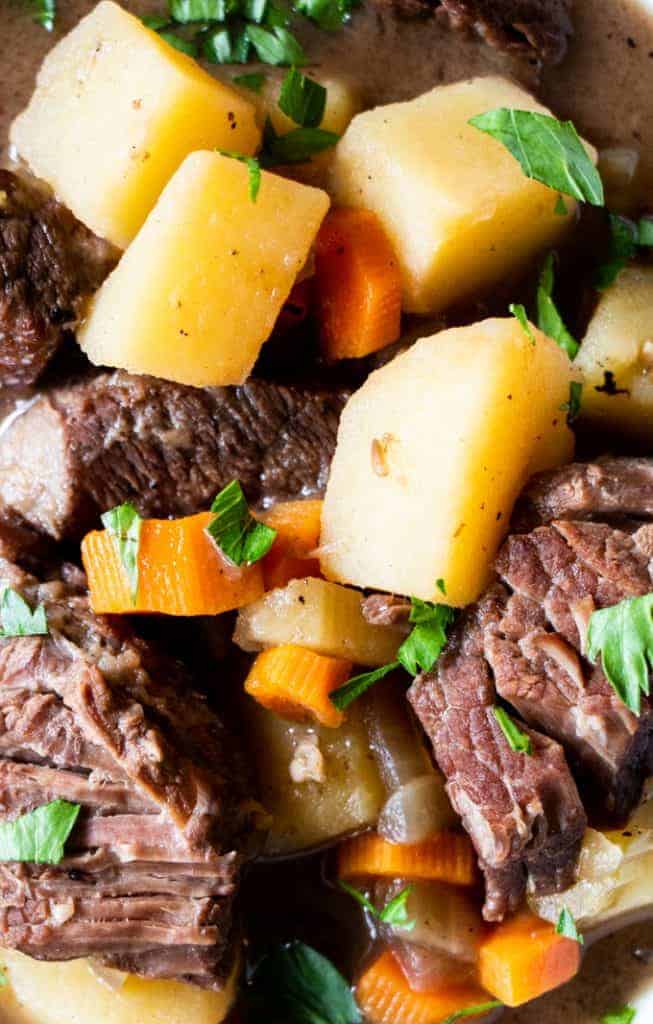 How to make Slow Cooker Beef Stew:
This is a great way to make the stew if you're looking for something a little more hands off after the initial prepwork. It can cook all day in the slow cooker and be ready for dinner. Instructions for crockpot beef stew are also below in the recipe card! 
Sear the meat and deglaze the pan to get the most flavor.
Add the meat, and the broth to the slow cooker. Along with seasonings. Let it cook on low about 6 hours then add the veggies and potatoes. Cover and cook another 30-40 minutes. Until the veggies and potatoes are tender.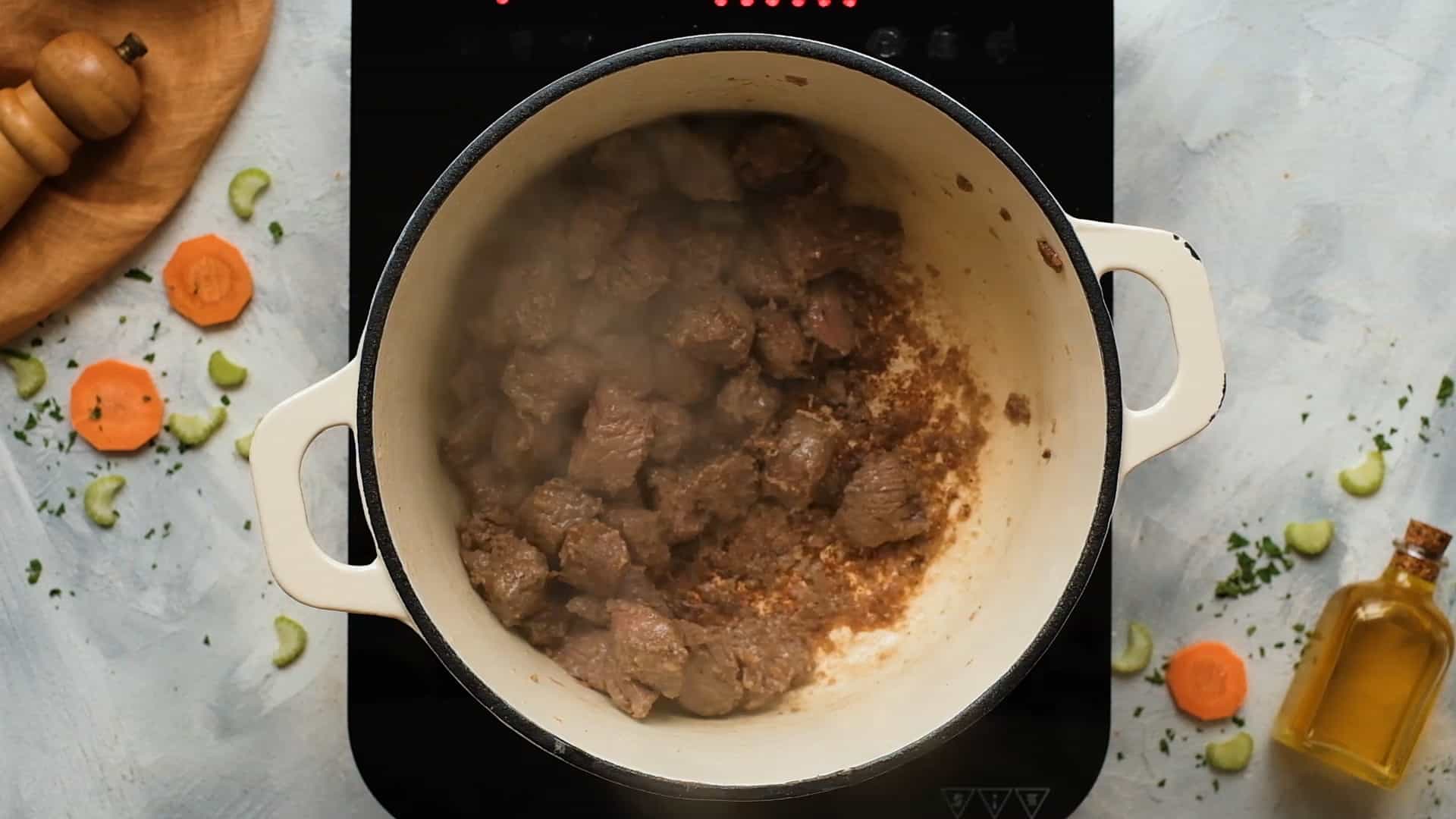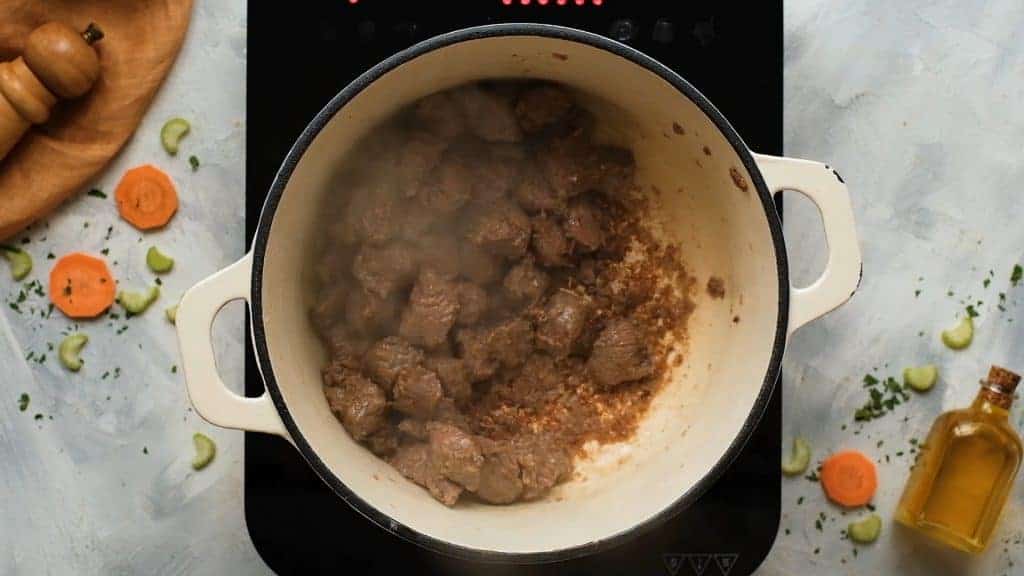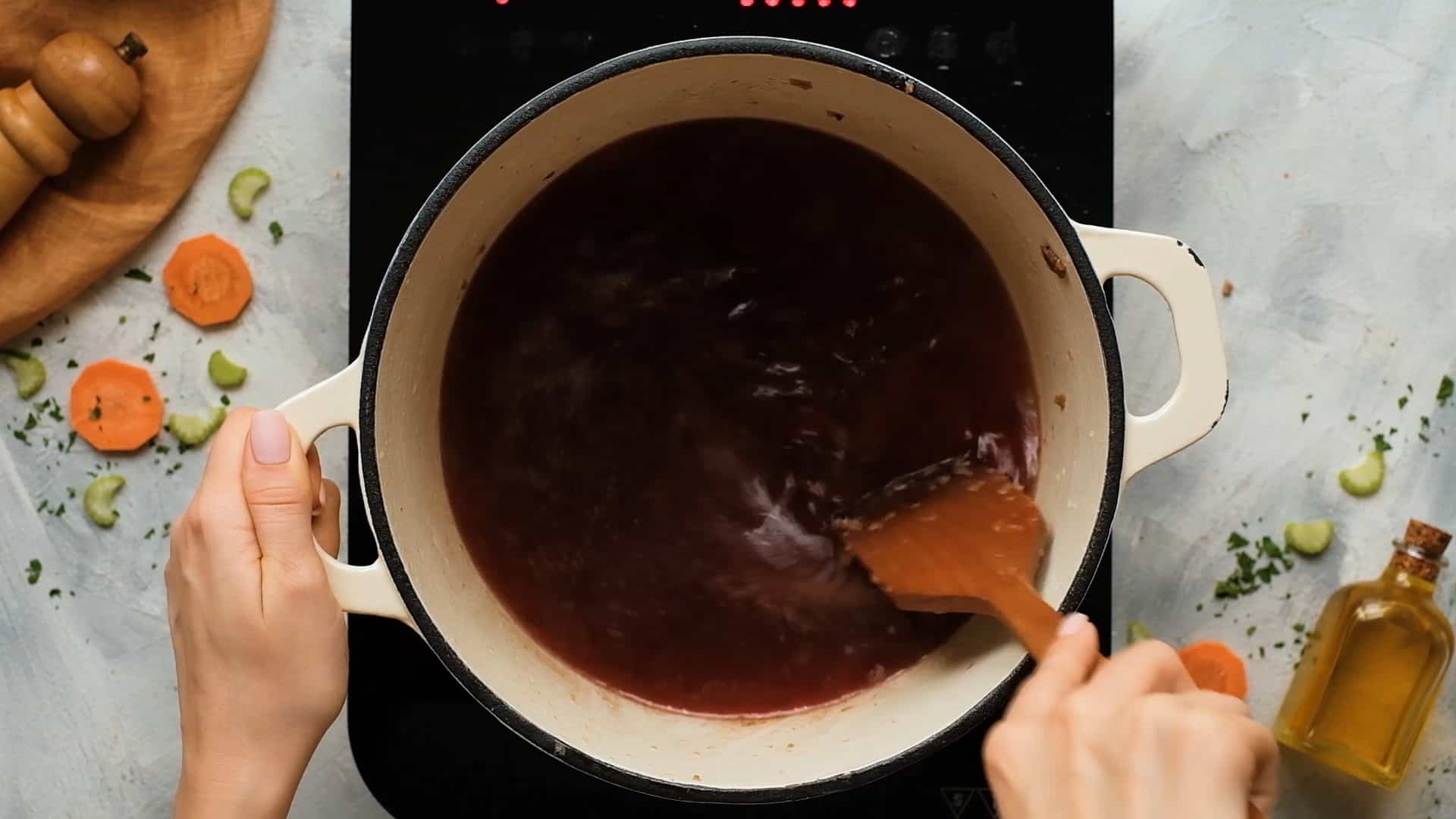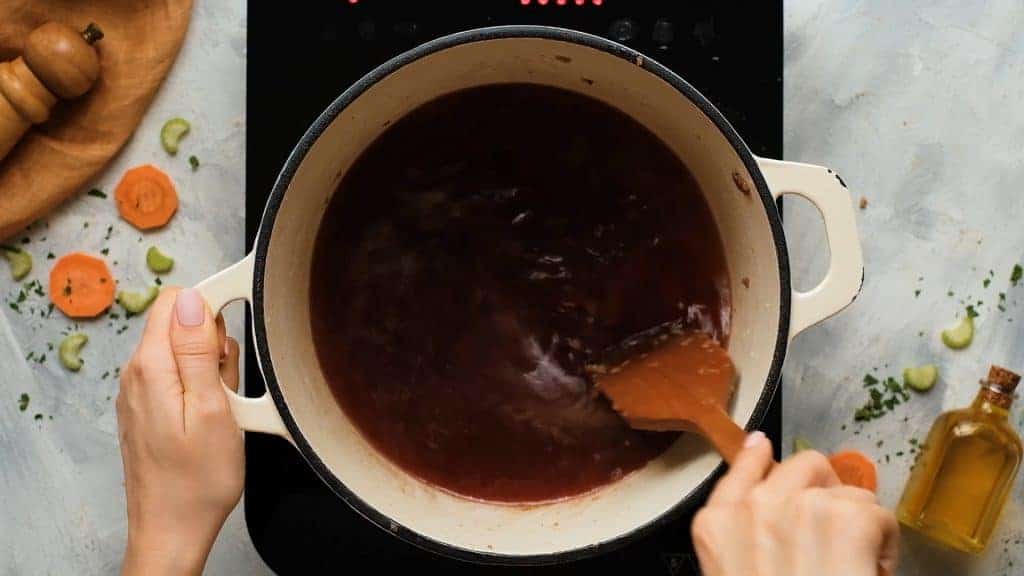 Tips for making this Beef Stew Recipe:
Use a low starch potato. This could be yellow gold potatoes, or a red potato. Using something high starch, like a russet potato will add a lot of starch to the stew as they cook.
Add the veggies about 40 minutes into cooking. At this point there's still about 30-40 minutes of simmering time to get the meat ultra tender. This makes it so our veggies aren't mush when the stew is done.
Skim the top of the stew before serving. This removes any extra fat from the broth.
Wine. I love using wine when making a beef stew because it gives a wonderful flavor. You can leave it out if you prefer. However, when using wine you want to use a dry red wine. I typically have a bottle of Merlot on hand for cooking purposes. Other options that work well in this stew are: Cabernet Sauvignon, Pinot Noir, Shiraz/Syrah, Zinfandel.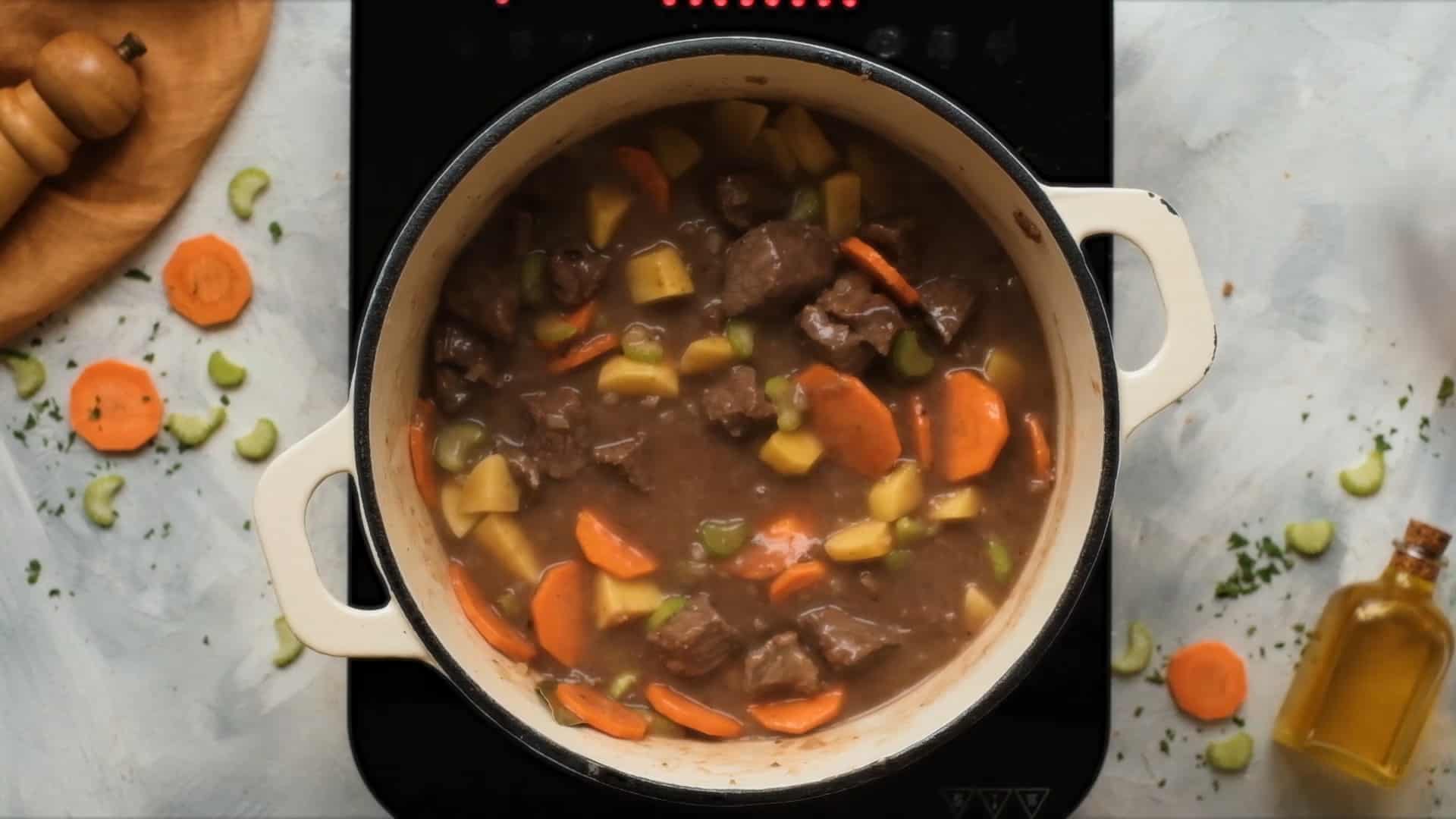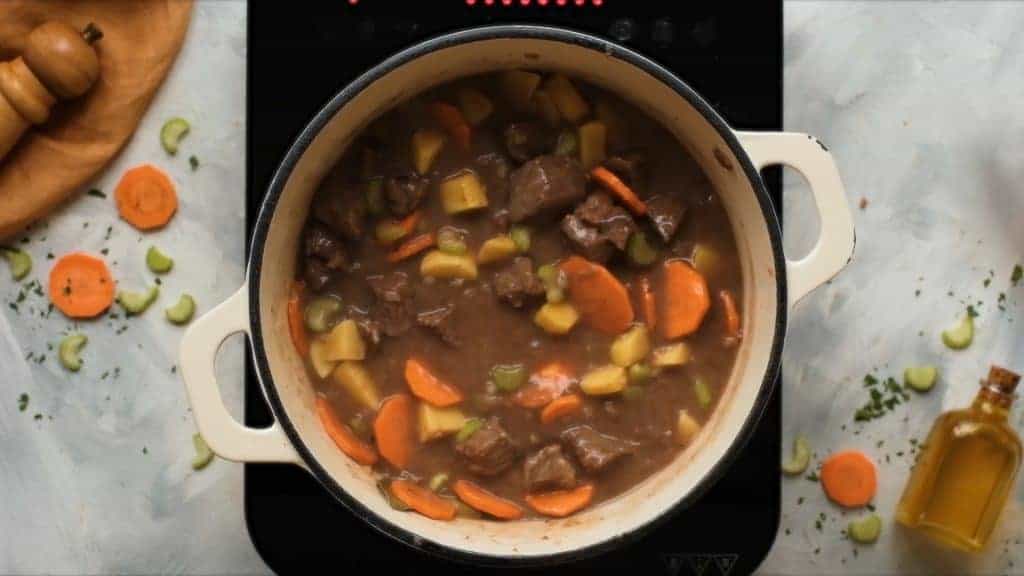 How to thicken beef stew:
Add flour to the stew. 
In this recipe we are adding flour to the meat before searing it. This will help create a thickness to our stew while it simmers. 
You could also create a slurry using flour or cornstarch to add at the end of cooking the stew. Simply add a tablespoon of the flour or cornstarch to a small bowl. Use a measuring cup to remove about 1 cup of the stew liquid, add it to the bowl with the starch. Whisk together until the flour is well mixed in. Then add this to the stew.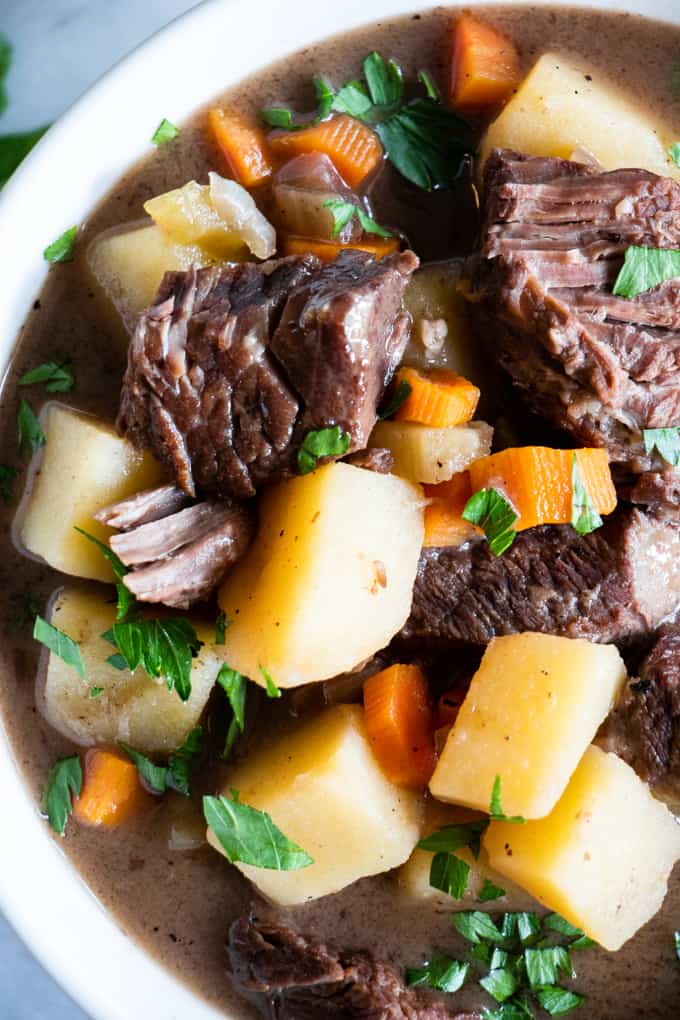 Can you freeze beef stew? 
Yes you can freeze this stew recipe! It is easiest to freeze soups and stews in large resealable plastic bags, Fill the bags and lay them flat on a baking sheet. Place this in the freezer and allow the soup to freeze in a flat shape. Then you can easily stack them in the freezer without taking up too much space. You can also pour the stew into a freezer safe dish, seal and store. Freeze for 3-6 months. To defrost, move the stew to the refrigerator overnight. Then reheat in a pot on the stovetop. 
Serve this Beef Stew with:
My favorite tools used to make this recipe:
Dutch Oven (affiliate link)
Slow Cooker
WANT TO TRY THIS CLASSIC BEEF STEW?
PIN IT NOW! 
FIND ME ON PINTEREST FOR MORE GREAT RECIPES!
Print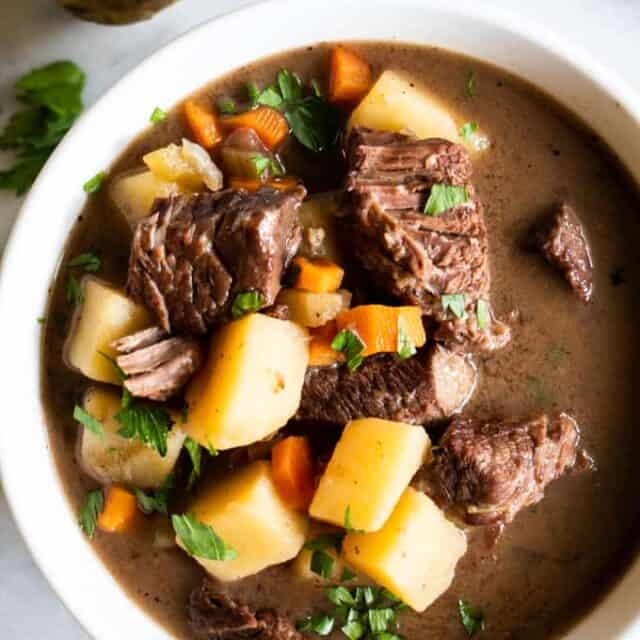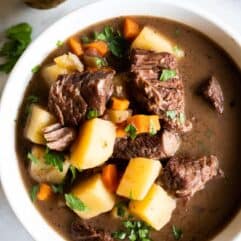 Classic Beef Stew
---
Author:
Prep Time: 10 mins
Cook Time: 90 mins
Total Time: 1 hour 40 minutes
Yield: 8 1x
Description
Classic Beef Stew. Melt in your mouth tender bits of beef simmered in a thick, flavorful broth. Loaded up with chunks of potatoes and carrots. This classic beef stew will warm your soul from the inside out.
---
Scale
Ingredients
2 pounds chuck roast (or other meat as mentioned above: brisket or short ribs)
1/4 cup all purpose flour
1 teaspoon salt
1 teaspoon black pepper
2 tablespoons oil (olive oil, vegetable, canola oil, or bacon fat if you have any on hand!)
1 cup dry red wine (Merlot, Pinot, Shiraz, Cabernet Sauvignon)
3 cups no sodium beef broth
2 bay leaves
1 small yellow onion diced
2 carrots peeled and sliced
2 stalks of celery sliced
3 yellow gold potatoes peeled and chopped
salt and pepper to taste
fresh parsley- optional topping
---
Instructions
Cut the chuck roast into 1 inch pieces. In a medium size bowl combine the flour, salt, and pepper. Stir to combine. Add the meat and stir to coat the meat completely.
Heat the oil in a large dutch oven, or large pot. Add the meat in batches. Don't over crowd the pan. Cook the meat, searing on all sides. Cook each side about 30-45 seconds. Remove the meat to a plate or cutting board once seared. Continue until all meat is seared.
Pour the wine and beef broth into the pot, it will sizzle because the pot is still hot. Use a wooden spoon (so you don't damage the pot) and scrape the bottom of the pan to remove all the bits from searing the meat. Once all the bits are removed you can add the meat back into the pot, along with the bay leaves and onion. Bring to a simmer. Cover. Let simmer about 40 minutes.
Remove the lid, stir the stew. At this point we can add the carrots, celery and potatoes. Continue to simmer for another 30-40 minutes. Check the meat, it will become very tender and you will be able to easily break it apart. Also check that the potatoes are tender.
Skim any extra fat off the top of the stew. Add salt and pepper as needed to the broth to taste.
Serve and top with fresh parsley if desired.
Notes
IF making this as a
CROCKPOT BEEF STEW:
Treat the meat the same way, coat with flour, salt and pepper. Sear. Deglaze the pan with the wine and broth. Add the meat and the broth, with all the flavorful bits from the pot into the slow cooker. Add the bay leaves and onion.
Cook on low for 6 hours.
Add in the carrots, celery and potato. Continue to cook on low for another 45-60 minutes.
Serve warm, top with fresh parsley if desired.
If you prefer not to use wine, substitute with 1 cup of beef broth.
Category: stew
Method: stovetop, slow cooker
Cuisine: American
Nutrition
Serving Size: 1
Calories: 396
Sugar: 2 g
Sodium: 393 mg
Fat: 22 g
Carbohydrates: 15 g
Fiber: 1 g
Protein: 23 g
Keywords: beef stew, soup, beef stew crockpot, beef stew recipe, slow cooker beef stew,
House of Yumm is a participant in the Amazon Services LLC Associates Program, an affiliate advertising program designed to provide a means for us to earn fees by linking to Amazon.com and affiliated sites.