This creamy, comforting beer cheese soup can be done and ready to eat in 30 minutes!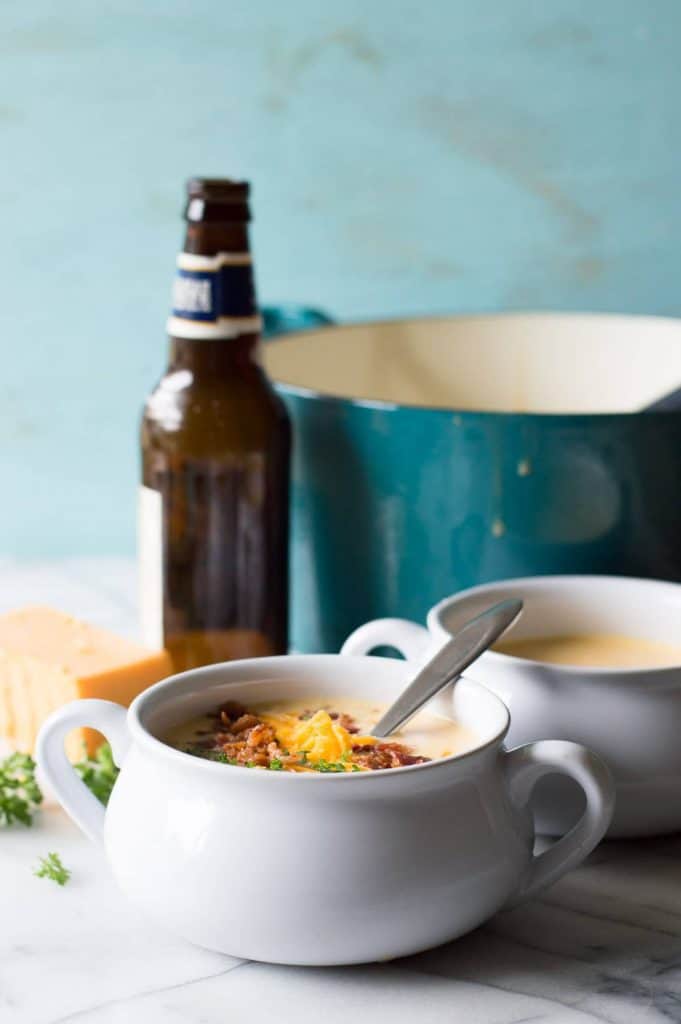 30 minute beer cheese soup y'all!  A quick and easy dinner recipe that even the kids will love, because it's loaded with cheese and topped with bacon of course.  Plus I have a special treat for you guys today.  This recipe comes from a new favorite cookbook of mine: 30-Minute One-Pot Meals by Jonna Cismaru of the Jo Cooks blog.
We're back in school, soccer practices are in full swing, and 30 minutes is about all I can spare for dinner some nights.  This book is a definite life saver for me!  And if you've ever stopped by Jo Cooks, you know that Jo is a master of flavorful dinners.  This is one of my favorite sites to click over to for dinner ideas.
Why am I telling you all this??  Well, I want to make sure that everyone knows about this book since it's newly released, and also..drumroll please…
I have one copy to give away!!!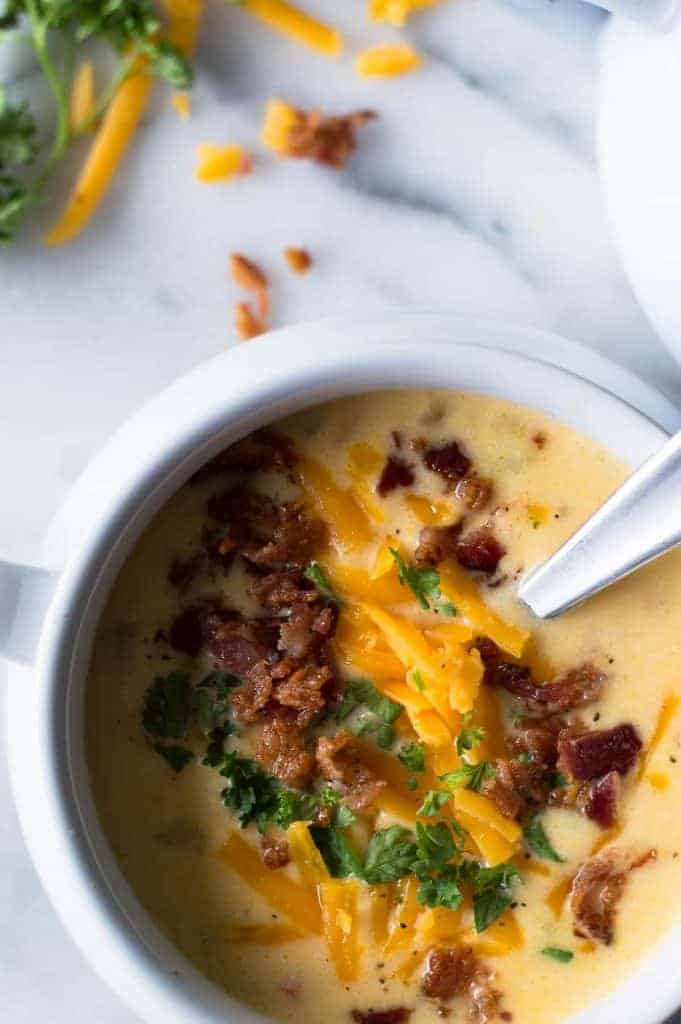 So if you think this Beer Cheese Soup looks super tasty and easy, then you will be quite happy with your own copy of this cookbook.
Every recipe can be prepared in one pot or one pan, meaning not only less time cooking, but less time cleaning.  Hallelujah.
Hello my weeknight best friend.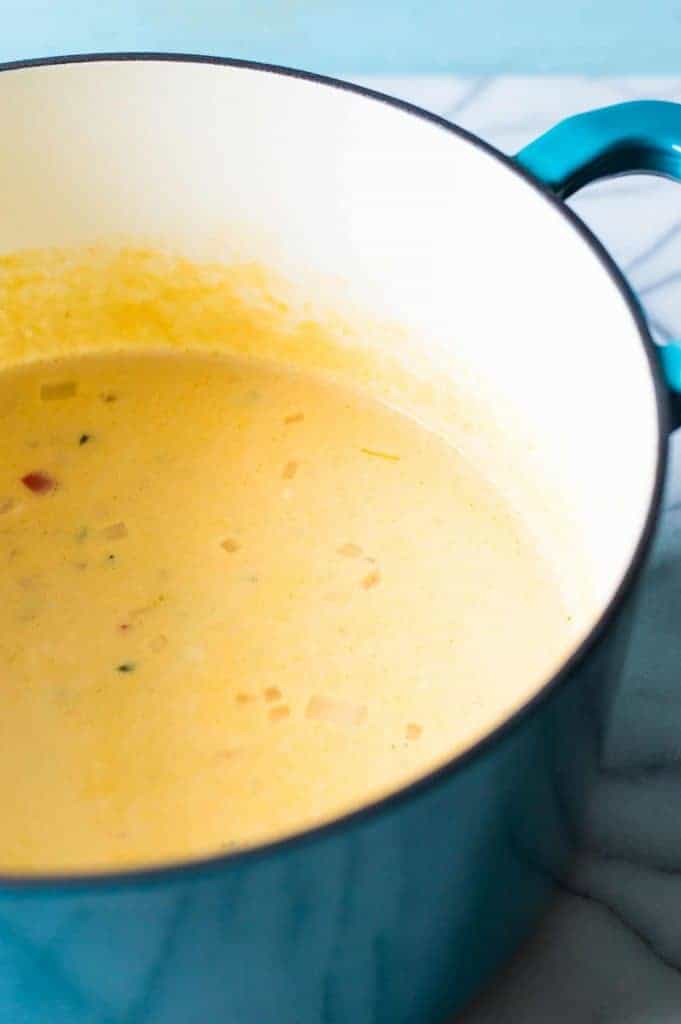 The book is conveniently organized into chapters based on which type of pan or pot you will be using.  Baking pan, saucepan, skillet, casserole dish, bowl, Dutch oven, and even wok.
Now that you're thoroughly excited about this book we can talk a bit about this recipe!  Make sure you scroll down all the way to get entered into the giveaway for a chance to win your own copy of 30-Minute One-Pot Meals.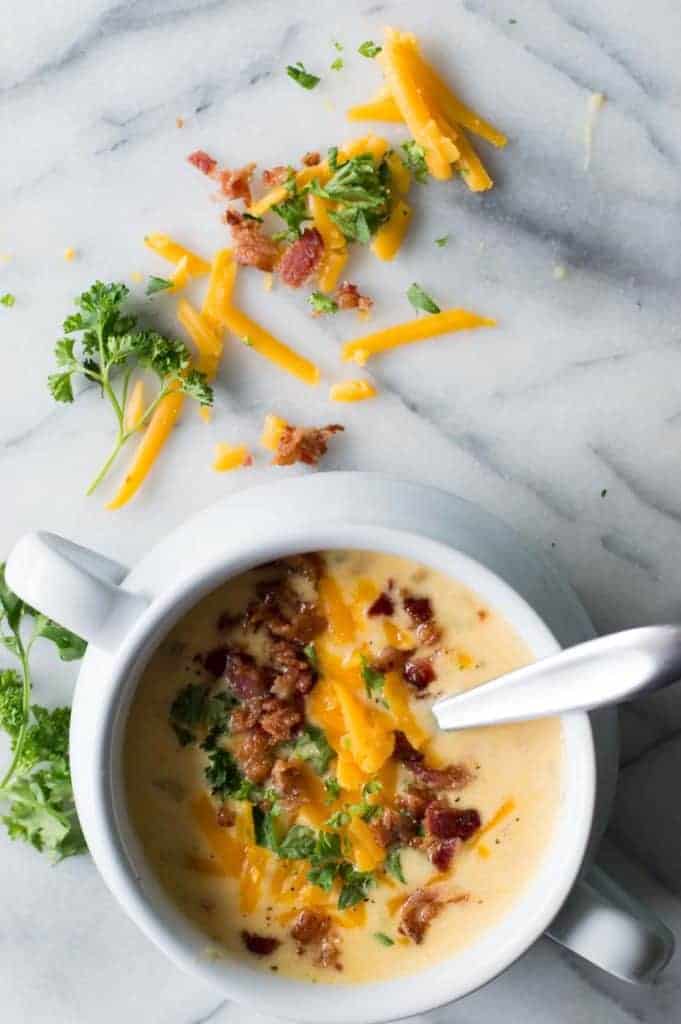 This Beer Cheese Soup is quick and easy to make.  I used my large Dutch oven.  Saute some veggies.  Add the stock, beer, and heavy cream.  Yes.  Beer and heavy cream.  Swoon.
For the beer you can use any beer you may have on hand..hence my choice.  Or pick up a single bottle from the market of something tasty.  The alcohol will cook out, but the taste will remain.  So pick a good one!
And heavy cream.  Which is what makes life worth living.  Decadent and thick, creamy and wonderful.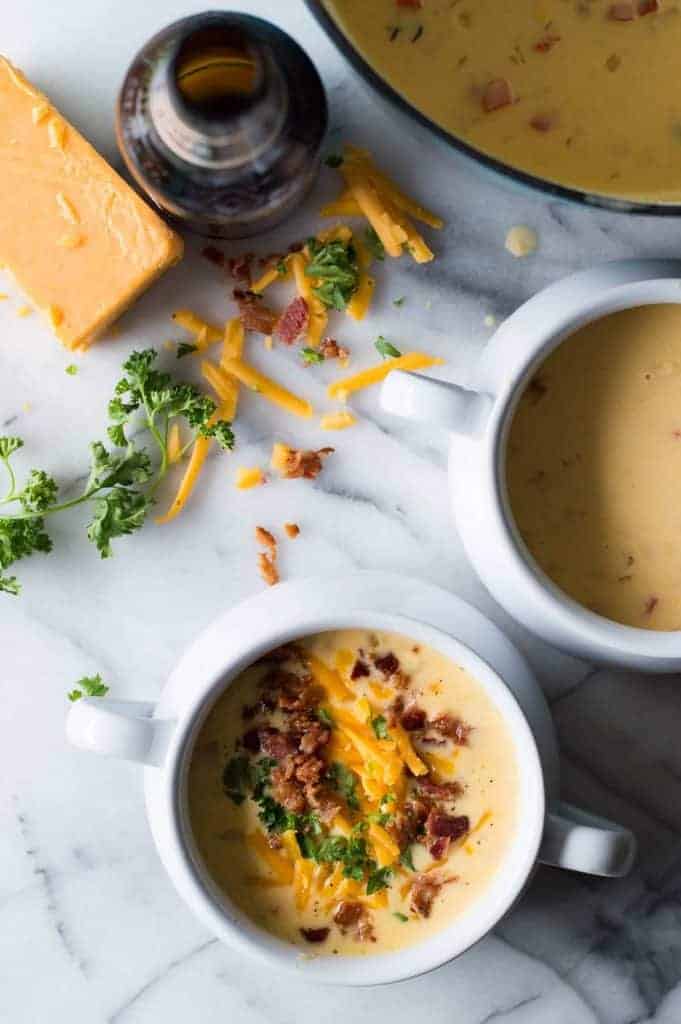 This beer cheese soup seriously comes together really quick and easy.  My kids loved it.  Only one pot was dirty.  This was a total win for us!  And I can't wait to continue trying out the other recipes that I have my eye on in this book.. I think the Santa Fe Chicken Tortilla Casserole is next up!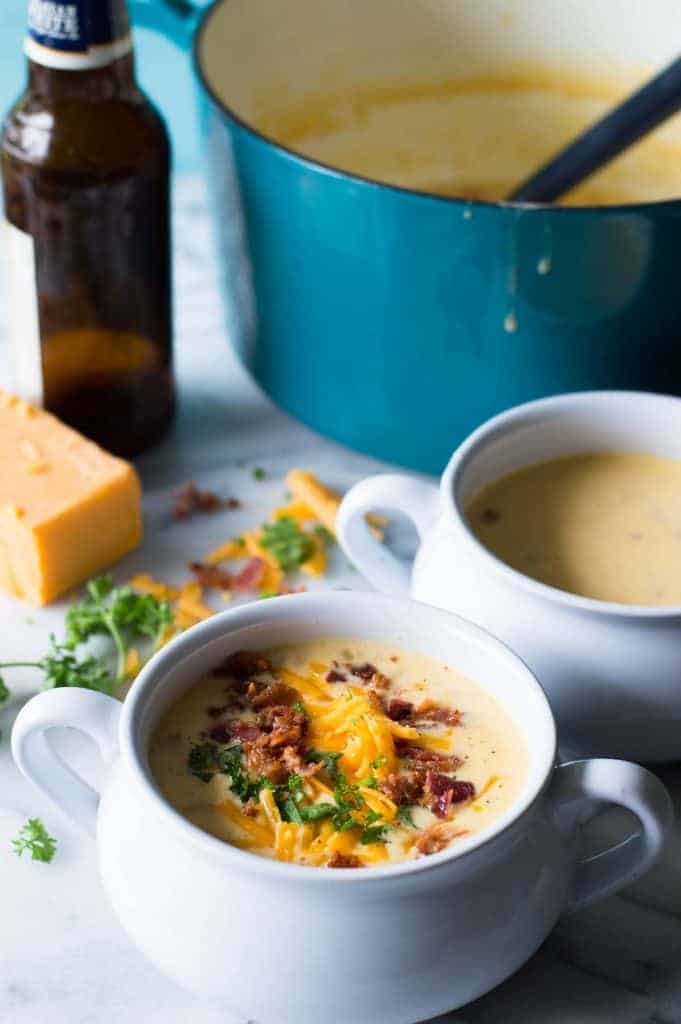 Need some more dinner inspiration?!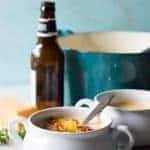 30 Minute Beer Cheese Soup
Author:

Prep Time:

5 minutes

Cook Time:

25 minutes

Total Time:

30 minutes

Yield:

4
---
Description
This creamy, comforting beer cheese soup can be done and ready to eat in 30 minutes!
---
Ingredients
4 tablespoons unsalted butter
1 celery stalk chopped
1 small onion chopped
1 bell pepper seeded and chopped
2 cloves of garlic minced
1/4 cup all purpose flour
1 teaspoon dried thyme
1- 12 ounce bottle of beer
1 and 1/2 cups chicken stock
1 cup heavy cream
4 ounces sharp yellow cheese, plus extra for topping when serving
4 ounces smoked cheddar cheese
salt and pepper to taste
fresh parsley chopped
2 slices fried bacon chopped
---
Instructions
Melt the butter in a large Dutch oven or soup pot over medium-high heat. Add the celery, onion, bell pepper and minced garlic. Stir while sautéing for about 5 minutes until the veggies are tender and the onion is translucent.
Add the flour and stir until the vegetables are coated in the flour. Add the thyme, beer, chicken stock and heavy cream. Stir until fully combined. Bring to a boil then lower the heat to medium.
Continue to cook for another 15 minutes.
Remove the pot from the heat and stir in the sharp and smoked cheddar cheese. Add salt and pepper as needed. Stir while the cheese melts.
Serve soup warm garnished with parsley, more shredded sharp cheddar cheese and fried bacon on the top.
Enjoy!
---
Notes
Recipe from 30-Minute One-Pot Meals by Joanna Cismaru
Products I Recommend for this Recipe:
**This post may contain affiliate links, but I only recommend products that I actually use and <3. Thanks for supporting House of Yumm!
16