Creamy Potato Soup. This simple potato soup is ultra creamy and comforting! With only a few ingredients this soup comes together quickly on the stovetop. Load it up with all your favorite toppings for the ultimate in comfort food!

How do I make Creamy Potato Soup?
This easy to make potato soup is the creamiest I've ever had thanks to a few things:
Create a roux out of the bacon grease and some flour. This will thicken the soup as it cooks.
Use waxy potatoes. I love using gold potatoes. The low starch of these potatoes is perfect for blending into pure creaminess.
Use mixture of milk AND cream. Because it does make a difference.
Mix in sour cream and cheese at the end.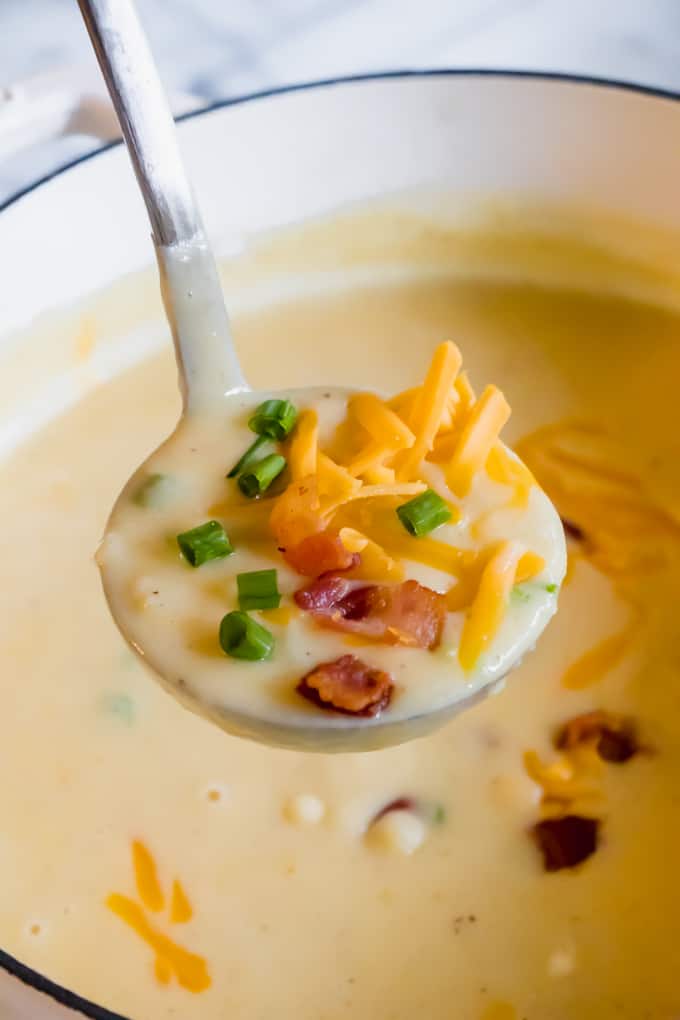 How do I make loaded potato soup?
The phrase loaded potato soup refers to the soup being 'loaded' up with all the toppings you would find on a baked potato. For example: bacon, cheese, sour cream and green onion.
How do I make a healthy potato soup?
I am so glad that you asked!! This particular version that you're looking at now is loaded with all the goods. Cream. Bacon. Nutrition information is included in the recipe card below if you're curious. BUT if you're looking to maybe lighten things up a bit and still enjoy a potato soup I have a Secretly Healthy Potato Soup recipe you may be interested in!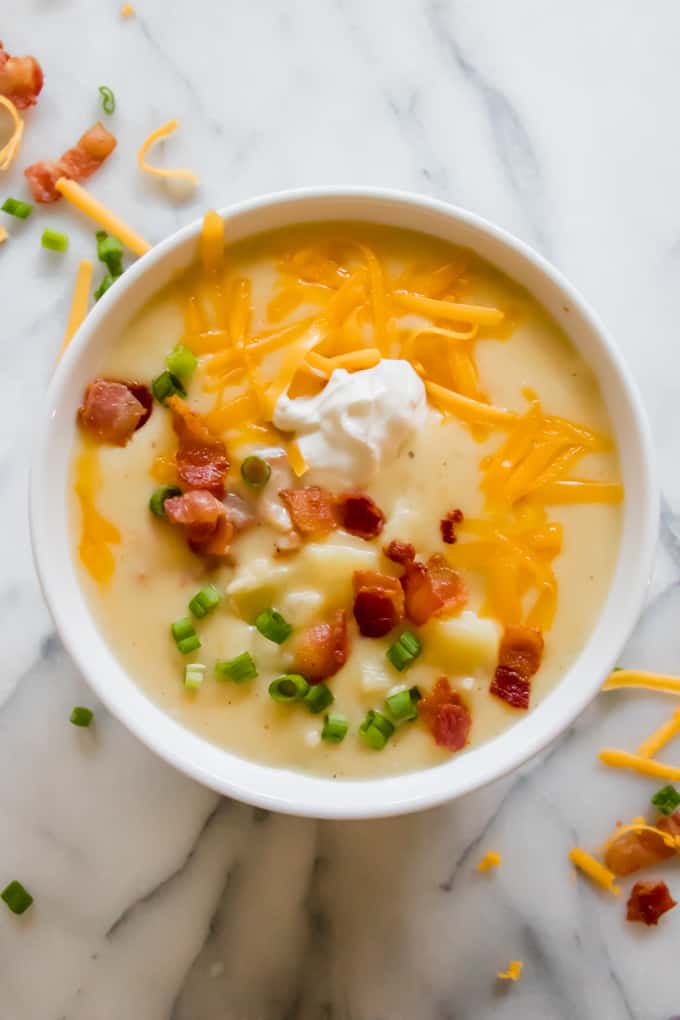 How do I make the BEST Potato Soup? Tips and Tricks:
Of course everyone has their own idea of what the BEST is. Basically what I'm sharing as with all my recipes is what my family and I find to be the best. With that disclaimer out of the way here's some things that I find make this the best potato soup.
Cook the bacon first! Then remove the bacon and leave the grease. This lets you cook the onion and garlic up in the bacon grease and this flavoring becomes the base for the soup. Plus it gets the bacon out of the way so we don't blend it up with the potatoes when we get to that part.
Use a low starch, or waxy potato. I know it's so easy to use russet potatoes because they are large and you can peel three potatoes and be done. But peeling the smaller gold potatoes is definitely worth it. The waxy potatoes blend up super creamy unlike the starchy potatoes like russets.
Dice the potatoes fairly small. This helps them to cook up quicker. The quicker they cook, the quicker you can get dinner on the table.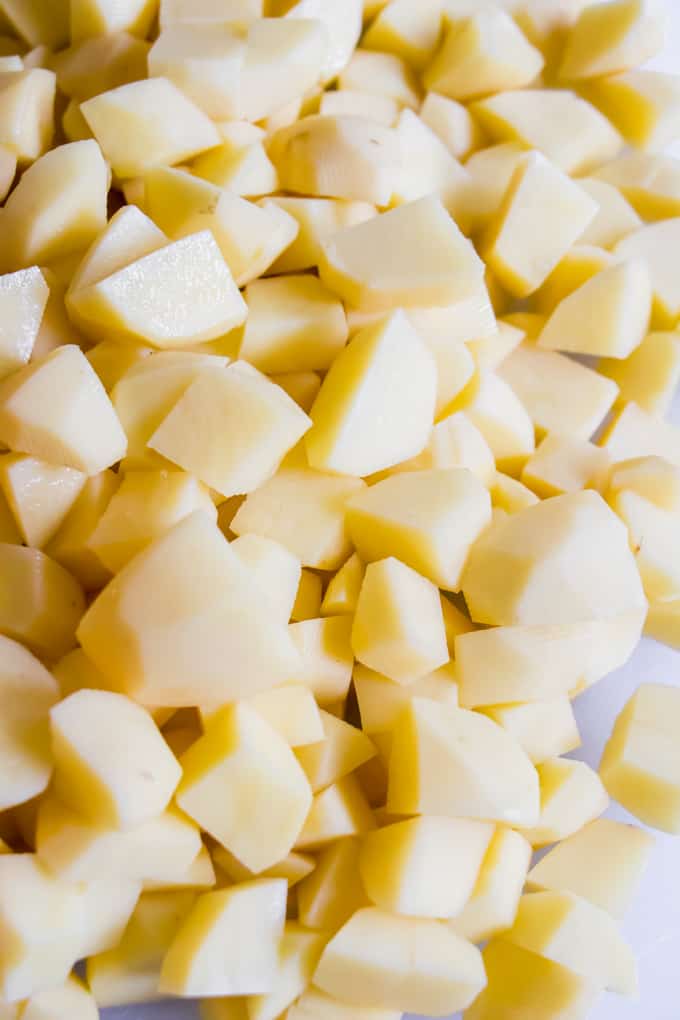 Blend the Potato to make the soup extra creamy! The reason we're using a waxy potato is because it blends up ultra creamy. So make sure you blend it up! I have an immersion blender (affiliate link) that I use. Which is very easy to use. Just turn the heat off the burner and blend the soup right in the pot. You can control how blended you make it, I personally like having a few chunks of potato left in my soup. If you don't have an immersion blender you will need to carefully remove portions of the soup, add it to a blender or a food processor and blend the soup.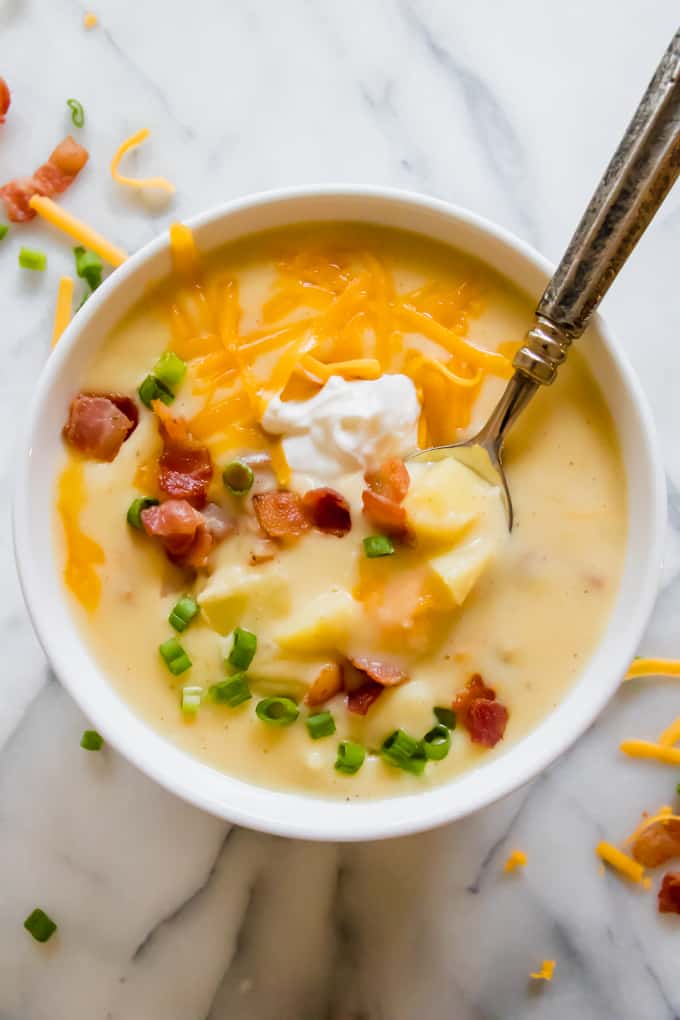 More Soup Recipes to Make:
Kitchen tools you might find useful for this recipe (affiliate links):
Watch How to Make Potato Soup:
WANT TO TRY THIS CREAMY POTATO SOUP?
PIN IT NOW!
FIND ME ON PINTEREST FOR MORE GREAT RECIPES!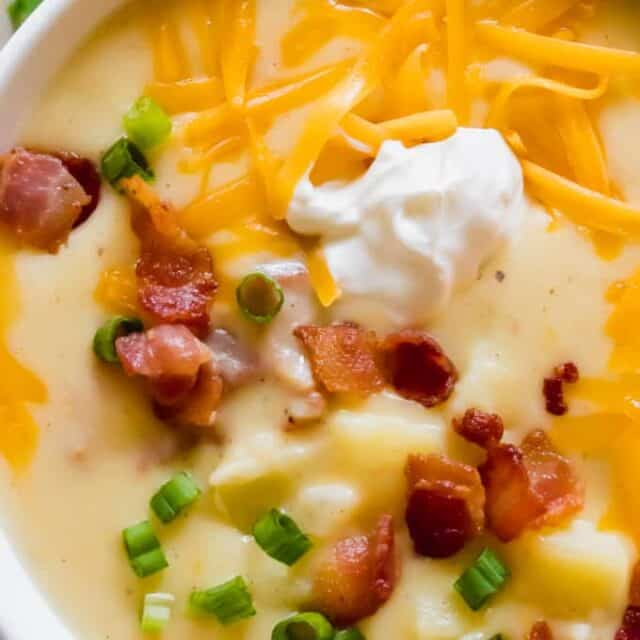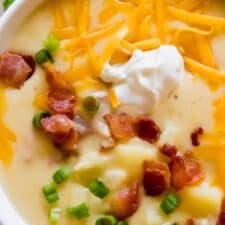 Creamy Potato Soup
Creamy Potato Soup. This simple potato soup is ultra creamy and comforting! With only a few ingredients this soup comes together quickly on the stovetop. Load it up with all your favorite toppings for the ultimate in comfort food!
Ingredients
6 slices bacon , chopped
1 yellow onion, diced
3 cloves garlic , mincedd
3 tbsp all purpose flour
4 cups chicken broth, unsalted
1 cup milk
1 cup half and half, or cream
3 lbs potatoes, peeled and diced to 1 inch size cubes, use waxy potato like Gold Potatoes
1½ tsp salt
¼ tsp ground black pepper
⅓ cup sour cream
1 cup sharp cheddar cheese, shredded
Optional Toppings:
diced green onion
diced bacon
shredded cheese
sour cream
Instructions
Add the bacon to a large dutch oven or pot and cook over medium high heat until the bacon is crispy. Remove the bacon to a plate lined with a paper towel and set aside, leave the grease in the pot.

Add the diced onion and cook until softened and translucent. Add the minced garlic and cook for an additional 30 seconds or until fragrant.

Stir in the flour until a paste forms and allow this to cook for about 2-3 minutes until a light golden color. This cooks the flour.

Pour in the chicken stock, milk and cream. Add in the diced potatoes, salt and pepper. Stir to combine.

Bring the pot to a simmer and cook stirring occasionally until the potatoes are softened and easily mashed.

Turn heat off and using an immersion blender, blend the soup until most of the potatoes are blended and the soup is creamy. IF you don't have an immersion blender then carefully pour portions of the soup into a blender or food processor and blend until smooth. Return soup to the pot after blending.

With the heat still off, stir in the sour cream and shredded cheese. Return the bacon to the soup. Stir to combine.

Serve warm with any additional toppings of your choice.
Nutrition
Serving: 1, Calories: 195kcal, Carbohydrates: 8g, Protein: 10g, Fat: 12g, Cholesterol: 39mg, Sodium: 638mg, Sugar: 2g
House of Yumm is a participant in the Amazon Services LLC Associates Program, an affiliate advertising program designed to provide a means for us to earn fees by linking to Amazon.com and affiliated sites.