This easy, homemade Chicken and Dumplings recipe is loaded with juicy, tender chicken, veggies, and fluffy garlic and herb dumplings. Made from scratch, this recipe is comforting and filling.
Why we love this chicken and dumplings recipe…
Hearty: this soup is loaded with chunks of chicken, veggies and topped with herby biscuits. It's a full meal in one bowl. If needed perhaps a small side salad served with or before the soup, but nothing else is needed!
Comforting: the classic flavors of a creamy chicken soup topped with tender, fluffy herb and butter biscuits gives all the cozy feelings.
Wholesome ingredients: this soup is made from scratch and lets you feel good about the food you are serving to your people.
Ingredients Needed: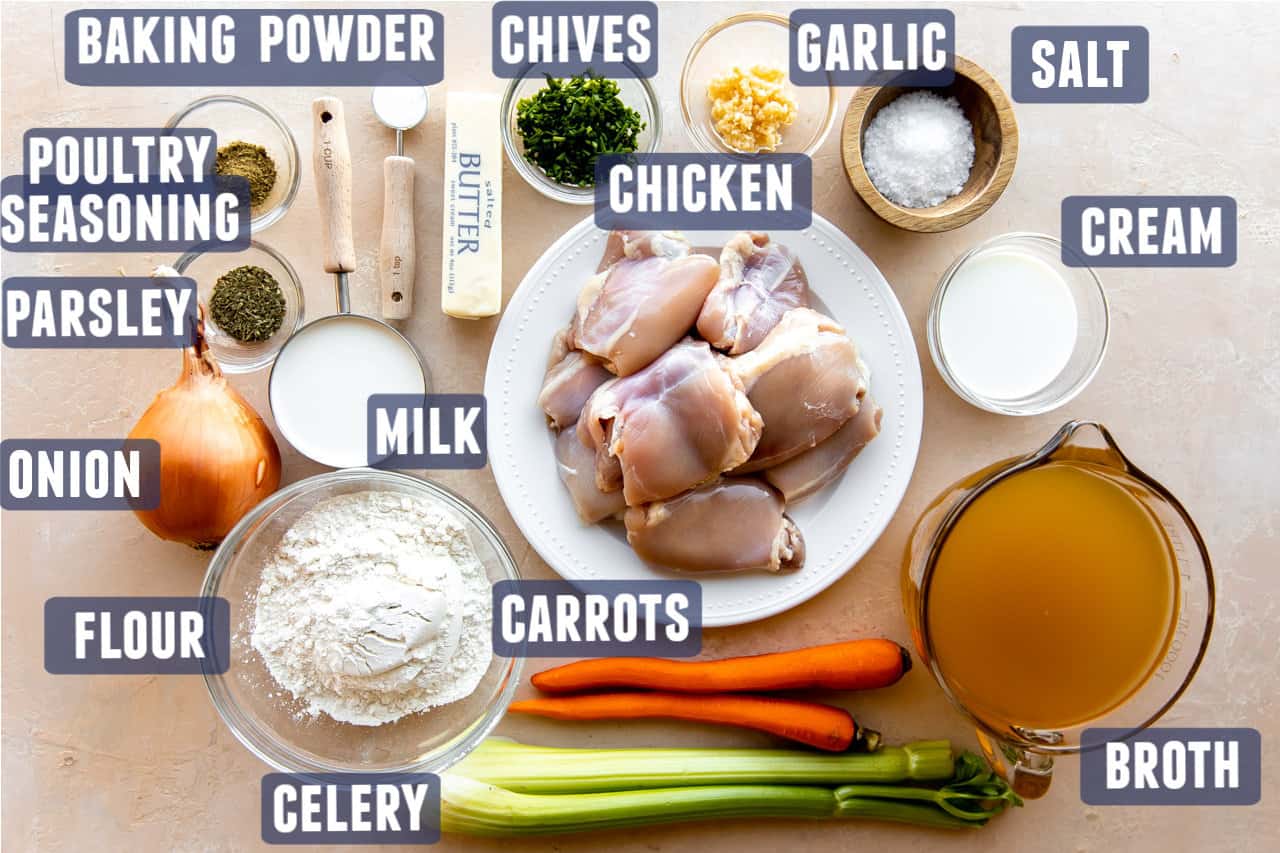 Ingredient Notes:
Chicken: recipe includes instructions on cooking the chicken with the soup, to save time you can use precooked, shredded chicken.
Broth: be sure to grab unsalted broth or adjust the recipe accordingly to ensure it's not overly salted.
Poultry Seasoning: use a premade mix of poultry seasoning or you can use a combination of ground sage, dried thyme, dried rosemary and dried marjoram to get a similar flavoring.
How to make Chicken and Dumplings (step-by-step):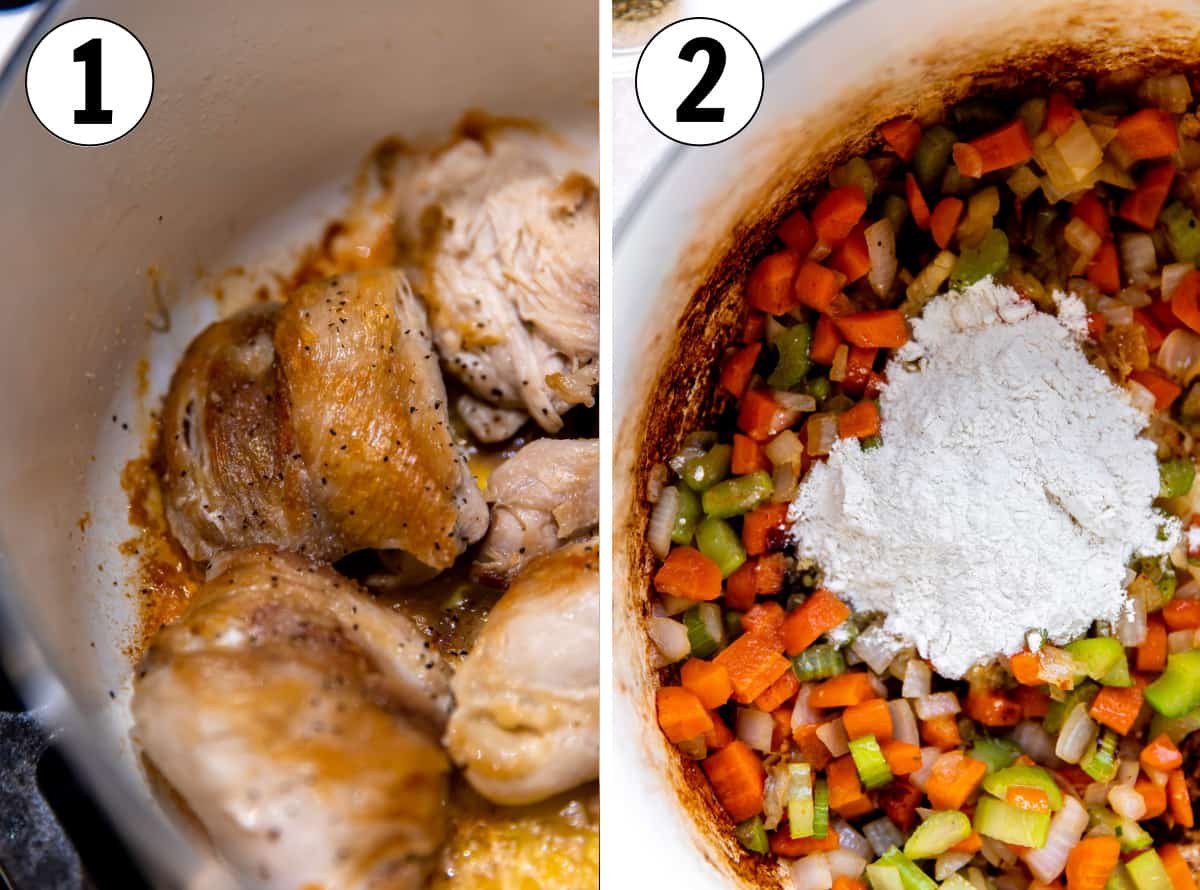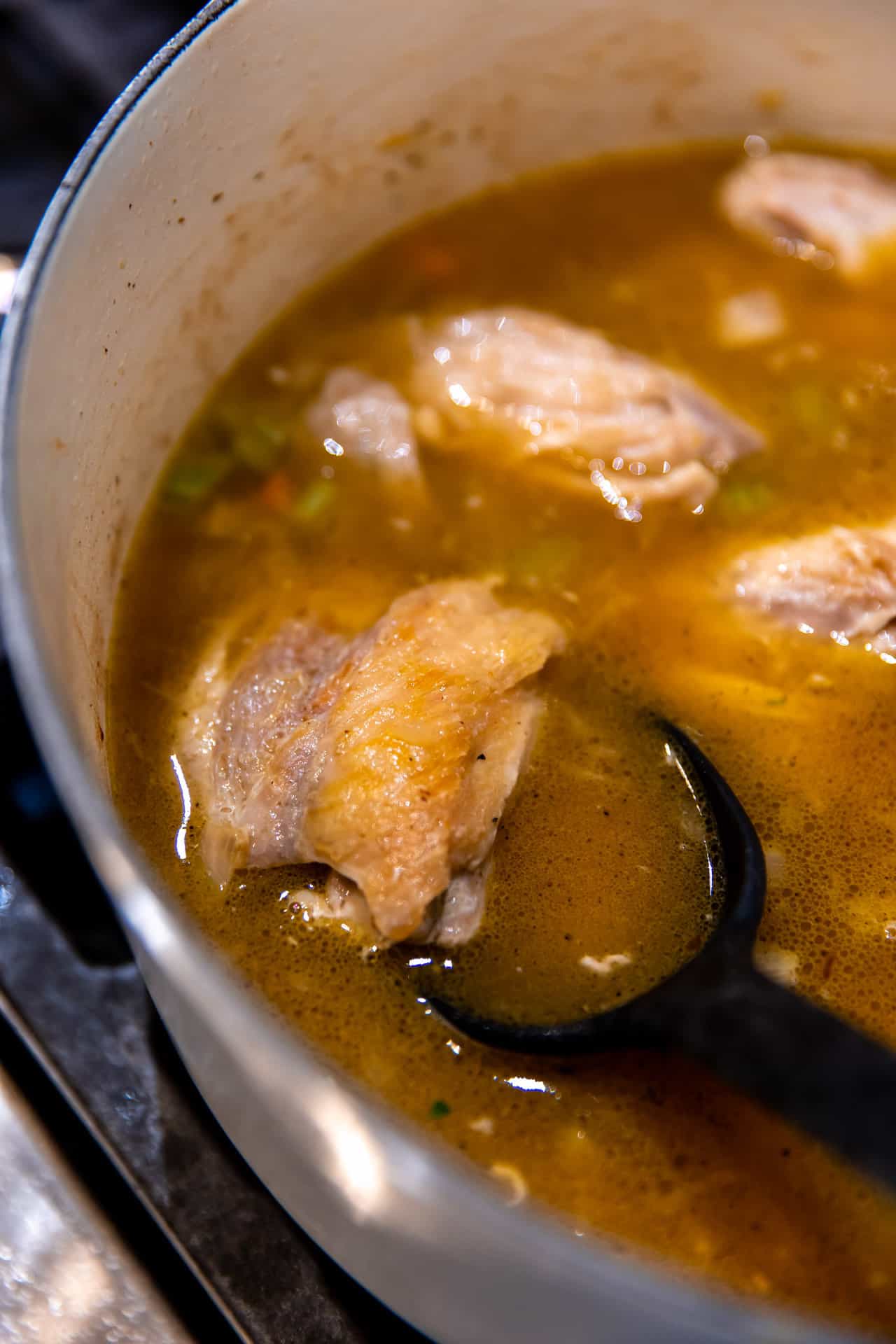 Sear the chicken. This helps develop the flavor. I love using chicken thighs for this recipe because the chicken stays nice and tender and doesn't dry out. But you can use chicken breasts also.
Saute the veggies. Cook the onion, celery and carrots until they are soft and tender. Then sprinkle in flour. This helps absorb the oils left in the pot and thicken the soup while it cooks.
Add the broth and seasonings. Then add chicken back into the pot. Bring to a boil, cover and turn to low to let simmer for about 15-20 minutes. This will fully cook the chicken, once cooked, remove and shred the chicken.
Mix up the dumpling batter. Spoon into the soup.
Cover and cook for 15-20 minutes until the dumplings are cooked through.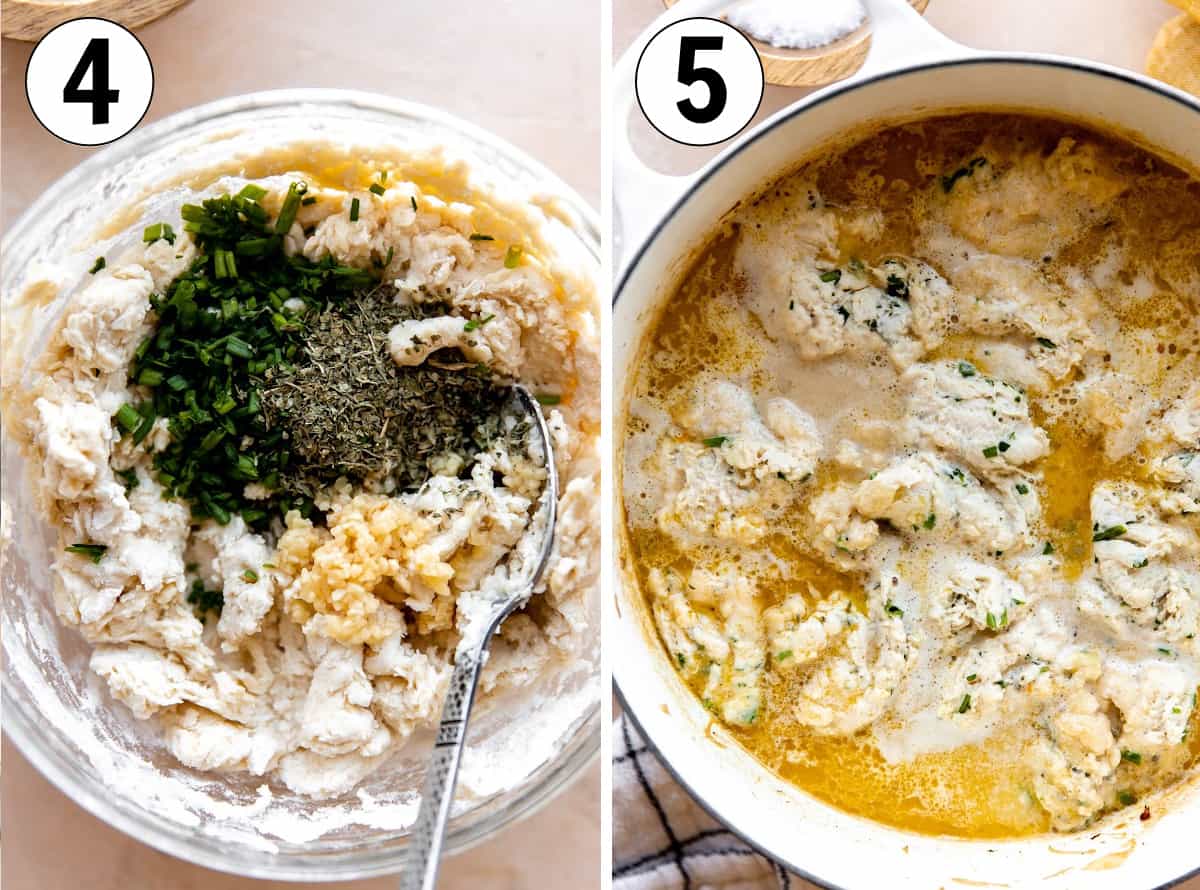 Tips:
Searing the chicken. This gets the best flavor.
Use chicken thighs. The chicken won't dry out and you will have juicy bits of chicken throughout the stew.
Keep the lid closed while cooking the dumplings. We want them to cook with the steam and the hot liquid. This creates tender dumplings.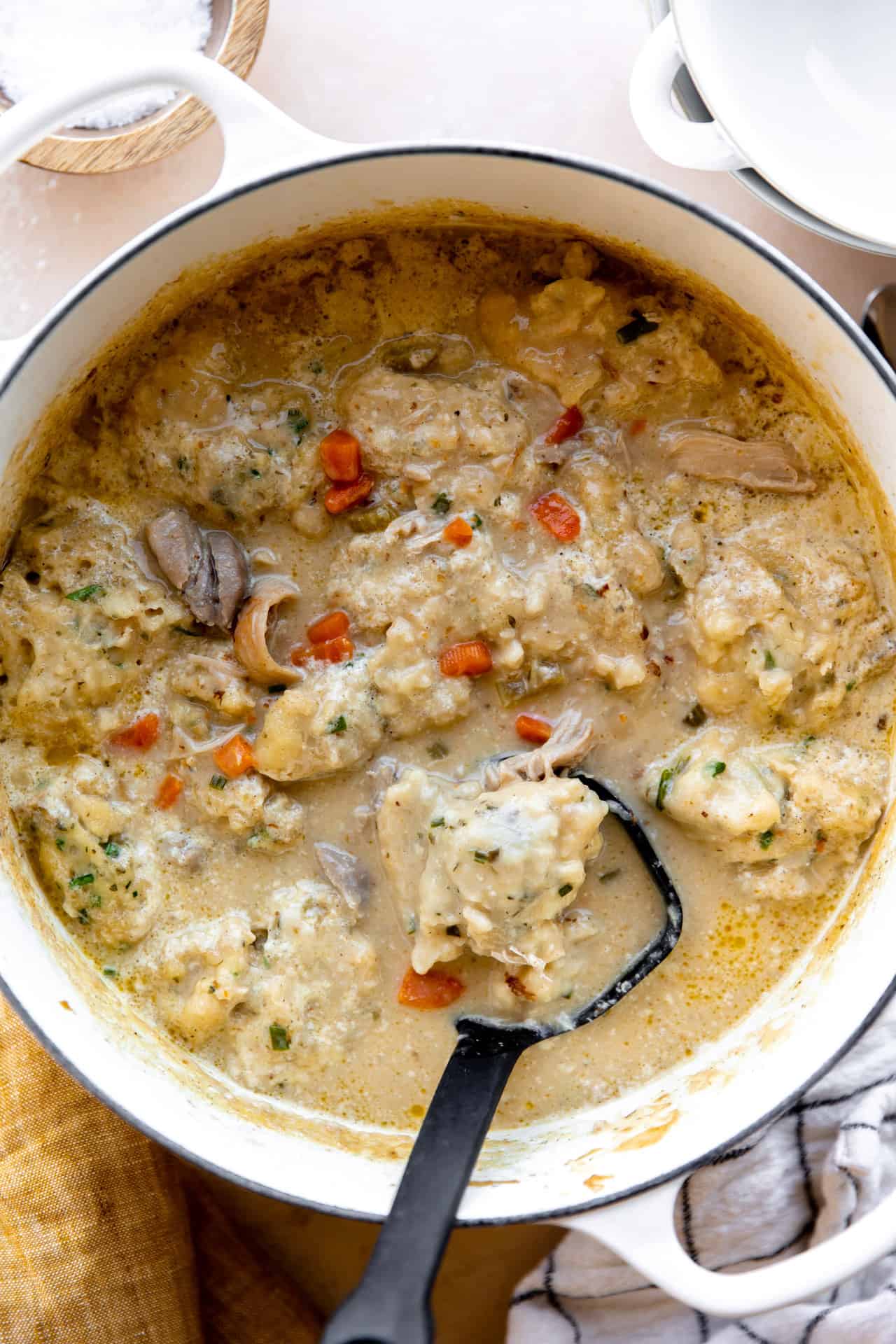 Chicken & Dumplings: FAQ
What is the secret to good dumplings?
Just like when making biscuits, you don't want to overwork the dough. Overworked biscuit dough will turn out tough.
What goes with Chicken & Dumplings for dinner?
Since we're serving biscuits on our soup, the best sides are going to be grilled or roasted veggies or a salad, perhaps an Autumn Apple Salad or a side salad with homemade ranch dressing.
How long do you boil dumplings for?
It depends on the type and size of the dumplings you are cooking. This recipe uses biscuit style dumplings and they need to cook for about 15 minutes.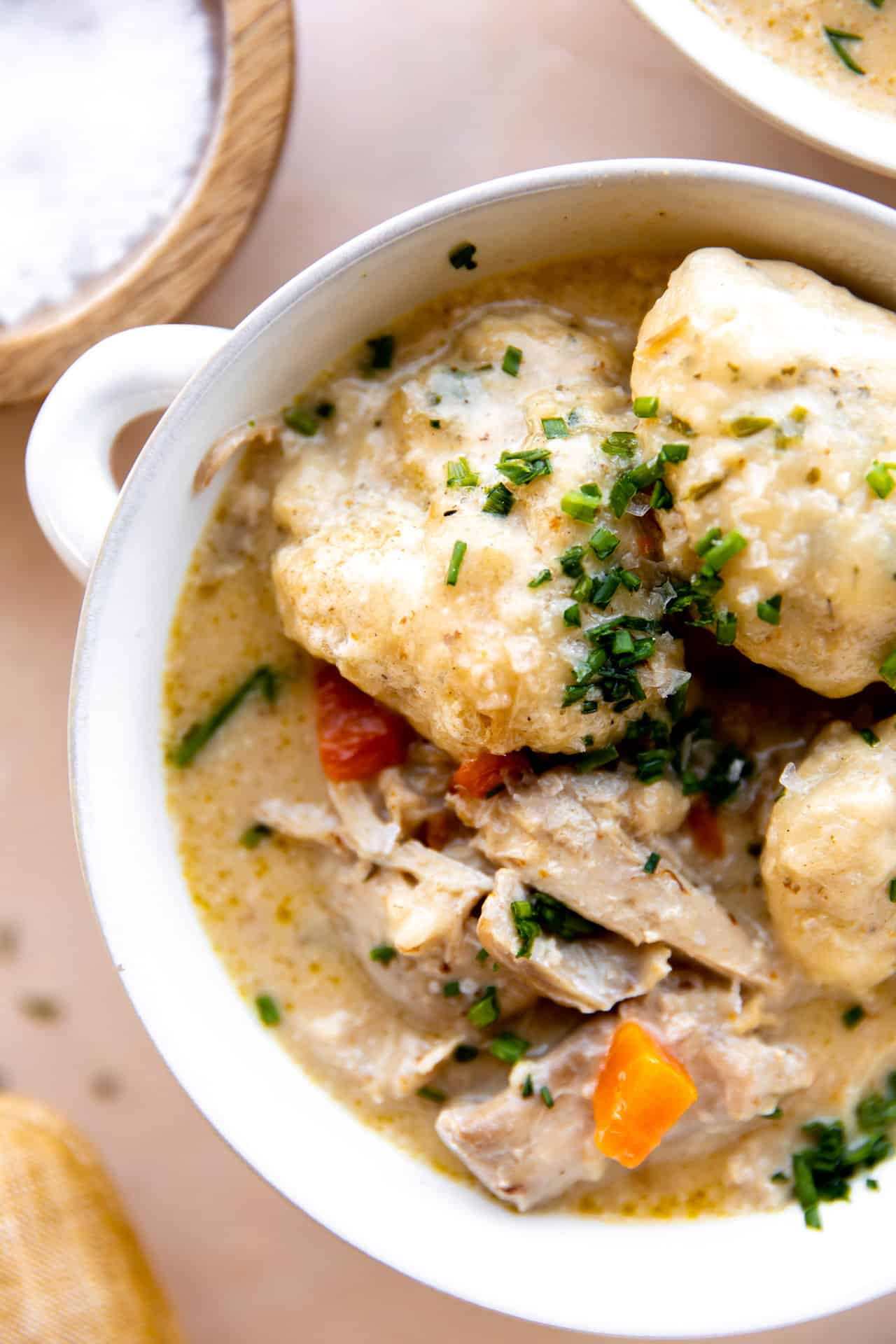 More Soup Recipes:
If you tried this recipe please leave a comment and a ⭐️⭐️⭐️⭐️⭐️ rating below! Thank you so much!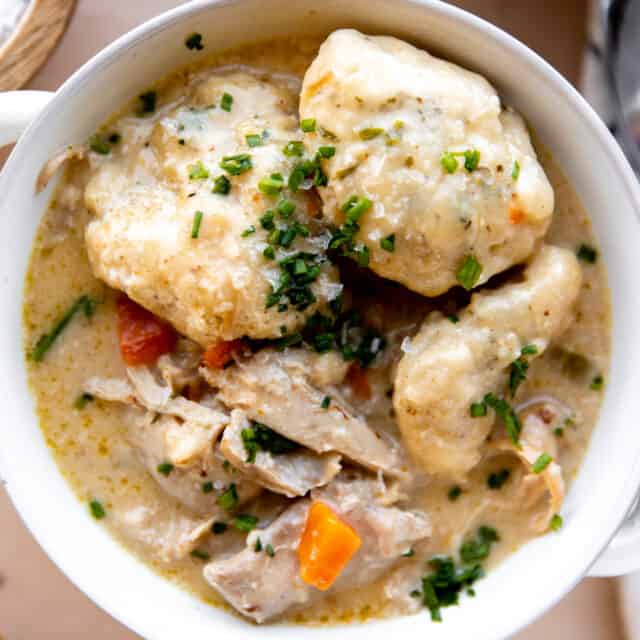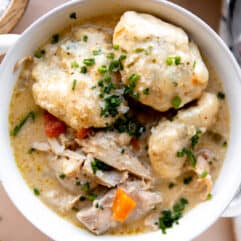 Comforting Chicken and Dumplings
This easy Chicken and Dumplings recipe is loaded with juicy chicken, veggies, and fluffy garlic and herb dumplings. Made from scratch, this recipe is comforting and filling.
Ingredients
1 tablespoon extra virgin olive oil
2 pounds chicken thighs, boneless, skinless
salt and pepper
2 medium size carrots, diced
2 stalks of celery , diced
1/2 medium onion , diced
2 cloves garlic, minced
3 tablespoons all purpose flour
4 cups chicken broth, unsalted
1/2 teaspoon salt
1/2 teaspoon poultry seasoning
1 cup heavy cream
Dumplings
1 and 1/2 cups all purpose flour
1 and 1/2 teaspoon salt
1 and 1/2 teaspoons baking powder
3 tablespoons unsalted butter, melted
3/4 cup milk
1 tablespoon diced chives
1 teaspoon dried parsley
2 cloves garlic, minced
Instructions
Heat olive oil in a dutch oven or large stockpot over medium heat.

Add the chicken thighs, and sprinkle with salt and pepper.

Sear the chicken for 2-3 minutes, then flip and sear the other side. Remove the chicken from the pot and set aside (they don't need to be cooked fully since they will poach in the soup)

Add the diced carrots, celery and onion to the pot. Cook until tender, about 5 minutes. Add in the garlic and cook for an additional 30 second.

Sprinkle the flour into the pot, stir until the veggies are coated.

Pour in the chicken broth. Add the salt and poultry seasoning. Stir to combine.

Add the chicken back in and bring soup to a boil, reduce heat and let the soup simmer for about 20 minutes. Chicken should reach a temperature of 165℉.

Shred the chicken. And add back to the soup. Turn heat to low.

Pour in the heavy cream and stir to combine.

In a medium size bowl combine the dry ingredients for the dumplings (flour, salt and baking powder) stir with a fork to combine.

Pour in the melted butter, and milk. Stir to combine.

Add in the herbs and garlic. Mix.

Spoon the dough into the soup, keep the size consistent to help with even cooking.

Cover and let simmer for 15-20 minutes until the dumplings are cooked through.

Serve warm and enjoy.
Equipment
Notes
Slow Cooker Instructions:
Add the chicken to a 6 quart slow cooker. Add in the broth and seasonings.
Cook on LOW for 5-6 hours or HIGH for 3-4 hours.
Shred the chicken.
Create a slurry using the cornstarch and some of the broth. Whisk into the stew.
Prepare the dumpling batter and spoon onto the top of the stew. Cook for an additional hour on HIGH heat.
Nutrition
Serving: 1, Calories: 328kcal, Carbohydrates: 26g, Protein: 34g, Fat: 9g, Sodium: 828mg, Fiber: 1g
Recipe first published September 13, 2019. Updated December 5, 2022 with information and new photographs. Recipe has been updated to use flour to thicken instead of cornstarch at the end.
Photography by the talented @KJandCompany.co
House of Yumm is a participant in the Amazon Services LLC Associates Program, an affiliate advertising program designed to provide a means for us to earn fees by linking to Amazon.com and affiliated sites.