White Chicken Chili. This hearty chili is loaded up with chunks of juicy chicken and has a smooth mild flavor with just a hint of heat.
Made with shredded chicken, white beans, diced green Chiles and flavorful spices. If you have shredded chicken on hand already this recipe can be put together start to finish in ONLY 30 MINUTES!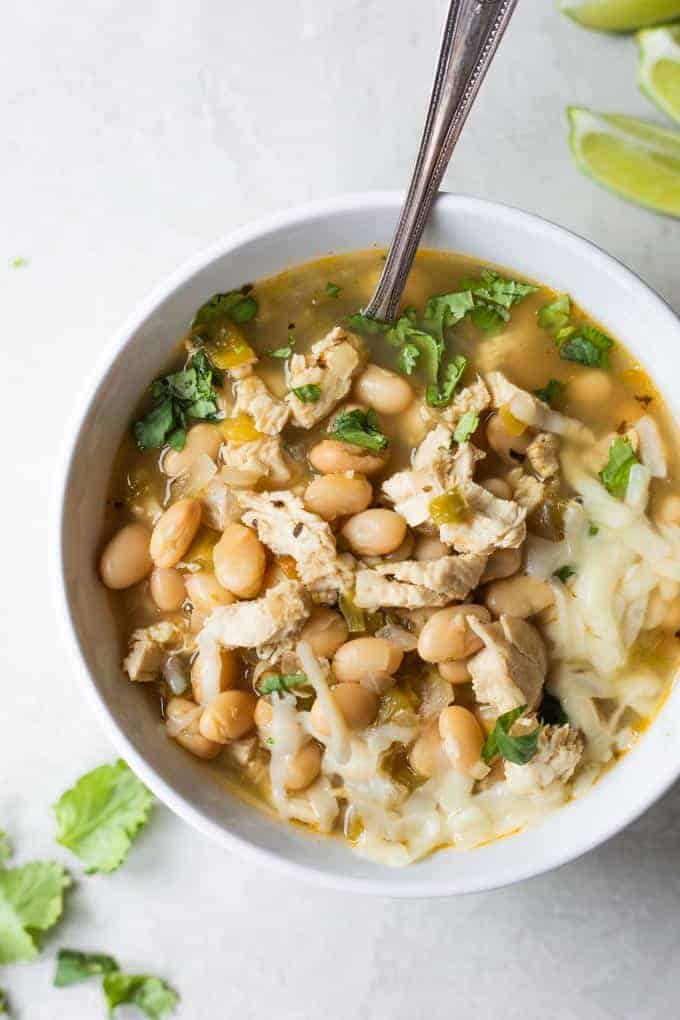 How to make Chicken Chili:
Sear the chicken. We're not concerned with cooking the chicken, just getting a good sear on it and getting some chicken flavoring into our pot for our broth.
Saute the onion, jalapeño and garlic.
Pour in broth.
Blend one-third of the beans to create a paste, this will thicken the chili and make it creamy.
Add in all remaining ingredients: beans, green chiles, bean paste, seasonings and chicken.
Bring to a simmer, cover and cook about 15-20 minutes until the chicken is fully cooked to 165 degrees.
Shred the chicken and add back to the chili to cook an additional 5 minutes.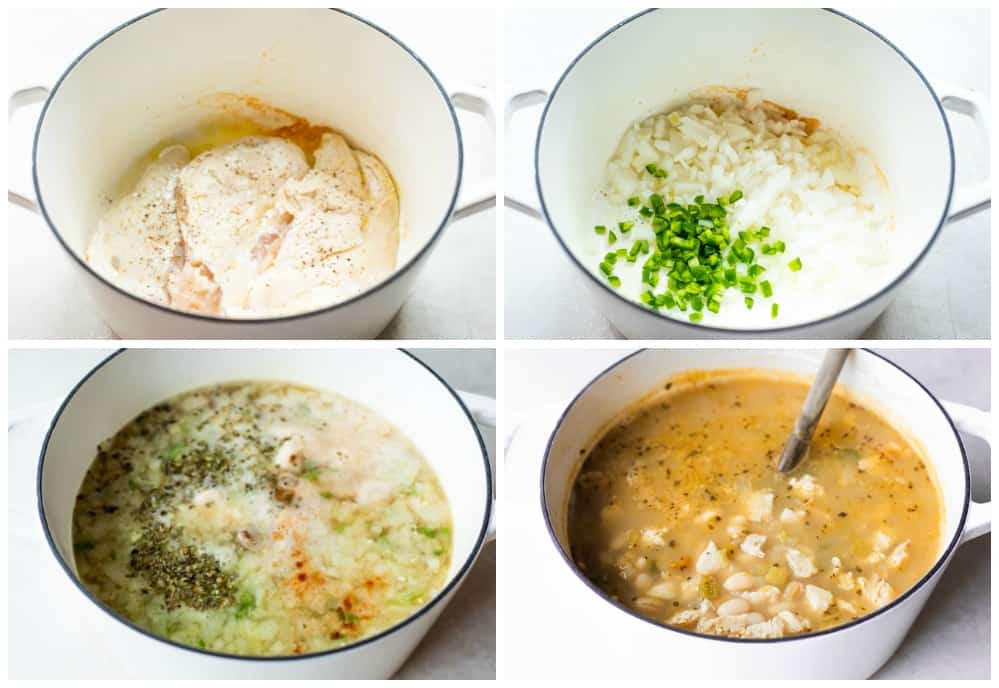 Important Tips!
You can use jalapeno or diced green chiles or both depending on how much heat you want.
If NOT using a low sodium broth, cut back the salt in the recipe.
Instructions on how to convert this to cook in the slow cooker are included in the recipe card below.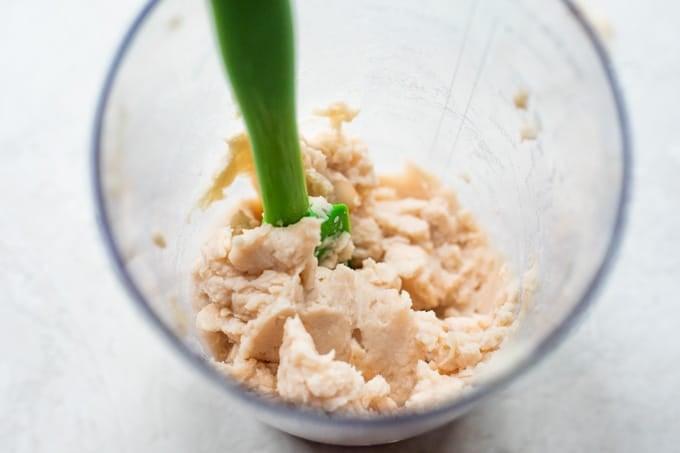 Blending a portion of the beans gives a wonderful thick creamy texture to the chili without using any cream!
How to Store chicken chili:
This chili keeps well in a sealed container in the refrigerator for 3-5 days. Reheat in a microwave safe dish or on the stovetop in a saucepan.
How to freeze white chicken chili:
If you made a large batch to save you can definitely freeze this chili. Simply allow it to come to room temperature.
Pour the chicken chili into a freezer resealable bag.
Lay it flat on a baking sheet or flat surface in the freezer.
Then once frozen you can easily stack the bags in the freezer.
To thaw, remove the chili from the freezer and place in the refrigerator overnight.
Reheat in a saucepan on the stovetop.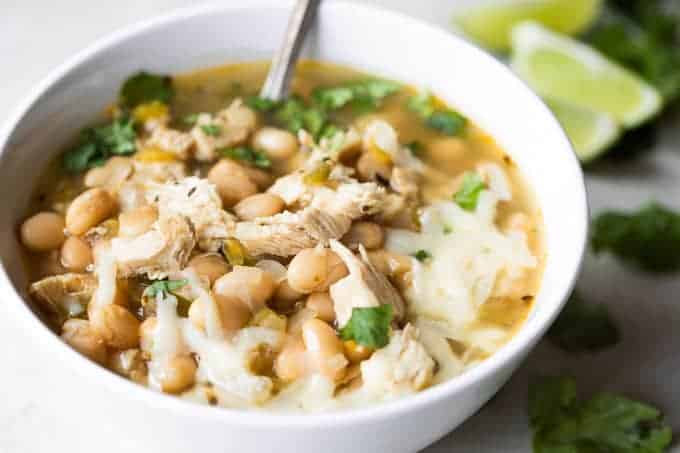 Other hearty soup recipes that will warm from the inside: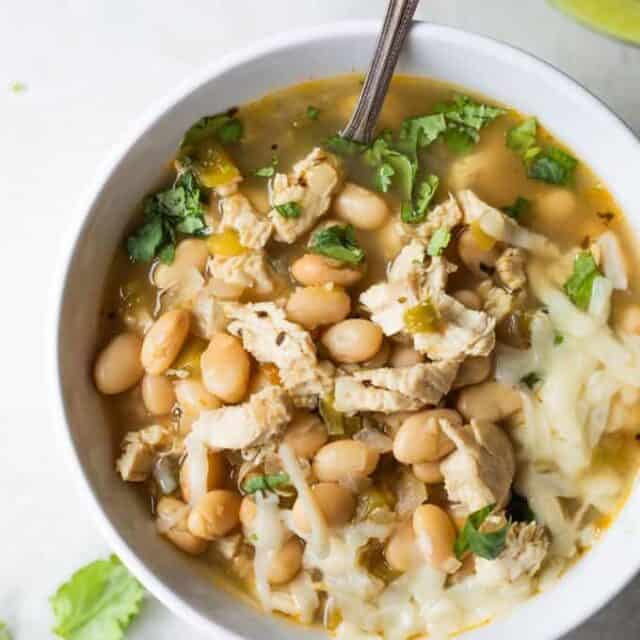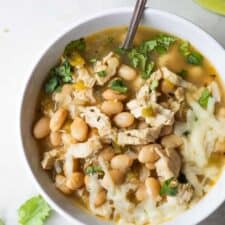 White Chicken Chili
This white chicken chili is loaded up with chunks of juicy chicken and has a smooth mild flavor with just a hint of heat.
Ingredients
1 tbsp Extra Virgin Olive Oil
1½-2 lbs chicken, boneless and skinless
½ cup onion, chopped
3 cloves garlic, minced
1 jalapeno, seeds & membranes removed, diced
4 cups chicken broth, low or no sodium
3 (15 ounce cans) great northern beans, drained and rinsed
1 (7 ounce can) diced green chilies
2 tsp cumin
1 tsp salt
½ tsp paprika
½ tsp cayenne
½ tsp dried oregano
Optional Toppings:
Monterey Jack cheese, shredded
cilantro
sliced jalapeno
sour cream
lime wedges
Instructions
Sear Chicken: heat olive oil in a large dutch oven or stock pot over medium heat. Add the chicken and sprinkle with salt and pepper, cook for 2-3 minutes on each side to sear the chicken. Remove and set aside. 

Saute Veggies: Add the onion and jalapeno to the pot and cook over medium heat until softened and the onion is translucent. Add the minced garlic and cook an additional 30 seconds. 

Create Broth: Pour in the chicken broth and scrape the bottom of the pot with a wooden spoon. 

Puree Beans: Blend one-third of the beans using an immersion blender or a food processor. Add the beans to the pot and stir to combine. 

Season: Stir in the diced green chiles and seasonings (salt, cumin, paprika, cayenne and dried oregano). 

Simmer: Add the chicken back into the pot, bring to a simmer, cover and reduce heat to low, let cook for 15-20 minutes until the chicken has reached an internal temperature of 165 degrees Fahrenheit. 

Shred Chicken: Remove the chicken, shred (or chop) and return to the chili. Let the chili cook in the chili for an additional 5 minutes. .

Serve and add toppings as desired. 
Notes
How to adapt this recipe for a slow cooker: Place the chicken into a 6 quart slow cooker. Pour in the chicken broth, diced onion, minced garlic, chopped jalapeno, white beans, diced green chiles and spices. Cover and cook on LOW for 6-8 HOURS of HIGH for 5-6 HOURS. Remove the chicken and shred. Return to the slow cooker. Top with cilantro and lime juice. 
Nutrition
Serving: 1cup, Calories: 162kcal, Carbohydrates: 4g, Protein: 11g, Fat: 11g, Saturated Fat: 3g, Trans Fat: 1g, Cholesterol: 41mg, Sodium: 905mg, Potassium: 297mg, Fiber: 1g, Sugar: 1g, Vitamin A: 224IU, Vitamin C: 17mg, Calcium: 31mg, Iron: 1mg
SaveSave
SaveSave
House of Yumm is a participant in the Amazon Services LLC Associates Program, an affiliate advertising program designed to provide a means for us to earn fees by linking to Amazon.com and affiliated sites.