True Texas Chili. This authentic chili recipe results in tender, flavorful chunks of meat coated in chili sauce that has just the right amount of smoky heat. Learn all you need to know to create an Award Winning True Texas Chili and how to customize it to make it your own.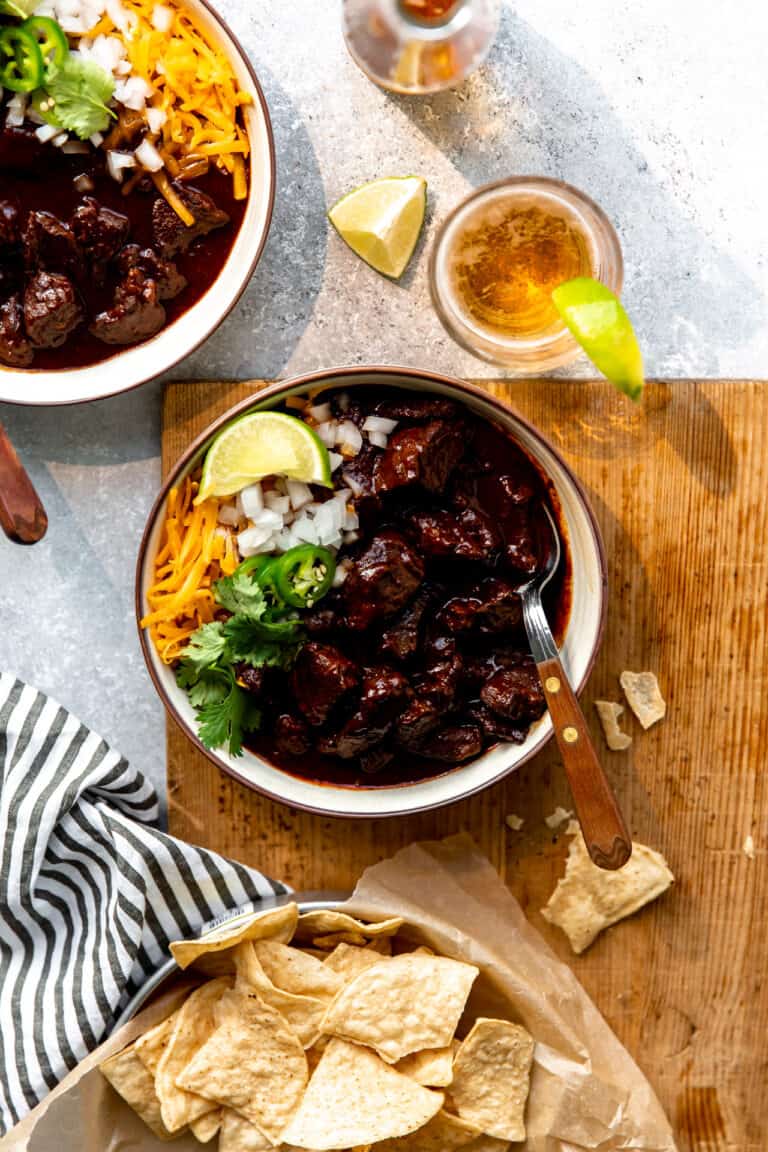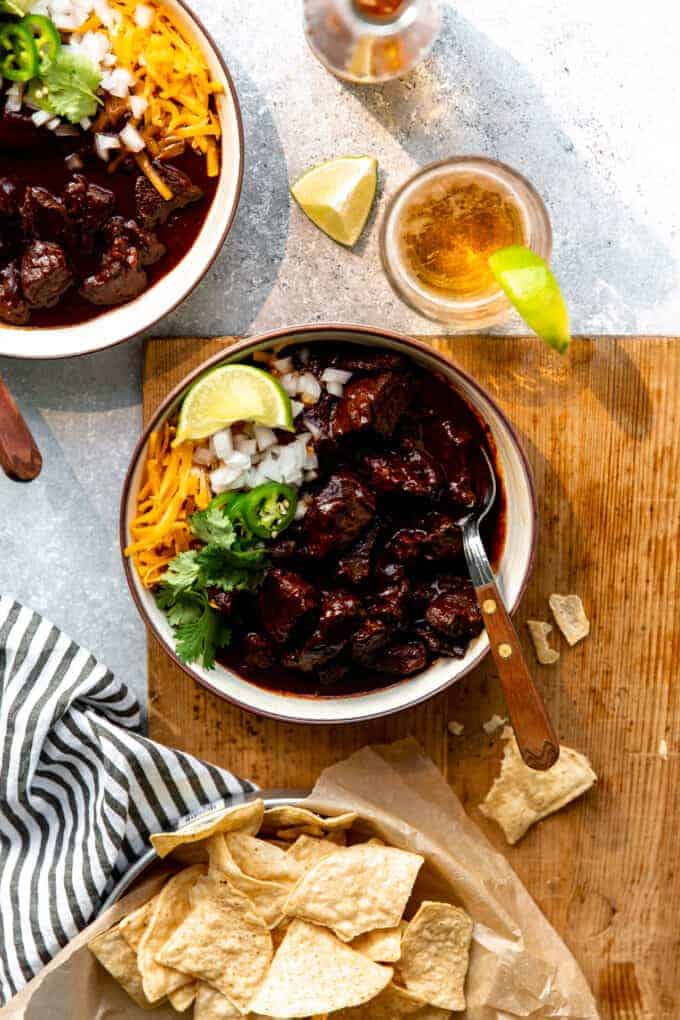 What makes Texas Chili different?
Authentic Texas Chili, or chili con carne, stands out from all others in it's ingredients. The main focus is the meat and the chili peppers, and there isn't a whole lot else. There are no tomatoes or tomato products, no onions, no beans, no chunks of anything other than meat in this chili. Which is how it has earned it's name chili con carne, "chili with meat".
Ingredients needed for this Chili Recipe:
Meat: Chuck Roast is a great option, make sure you are getting a SELECT or a CHOICE, do not use PRIME. This is because Prime has too much marbled fat and it gets too tender as it simmers away, turning the meat into mush. We want nice thick chunks of meat in our finished dish.
Peppers: ancho chili peppers are a great option for this dish. Use 2 per lb of meat for a mild chili, can use up to 4 chilis per lb of meat if you want a kick. If you are unable to find dried peppers you can substitute with a Chili Powder, I would recommend the Texas standard of Gebhardts Chili Powder. Use 1 tbsp of chili powder per dried pepper as a substitution.
Garlic: fresh minced garlic is best. Garlic powder can be a substitute.
Salt: use 1 tsp of salt per pound of meat you are using.
Oregano & Cumin: the only other seasonings needed. Adjust to taste.
How to make an Authentic Texas Chili:
Prepare Peppers
Remove stems and seeds from your chili peppers.
Soak the peppers
in boiling water, simply bring a pot of water to a boil. Remove the water from the heat, add the peppers and cover with the lid. Let the peppers sit for about 30 minutes until softened.
Remove the skins from the peppers
This task does take a couple minutes, but trust me it's worth it! Other recipes will state to simply blend the peppers, but no matter how well blended you will end up with strings and bits of skin in your peppers. To remove the skins is very easy. Slice the peppers in half, lay them down skin side down on a cutting board, then using a paring knife scrape the flesh off of the skin. The remaining pepper that you have minus the skin will be mostly mashed, just give it a quick chop back and forth with your knife and it will be perfect for adding to your chili.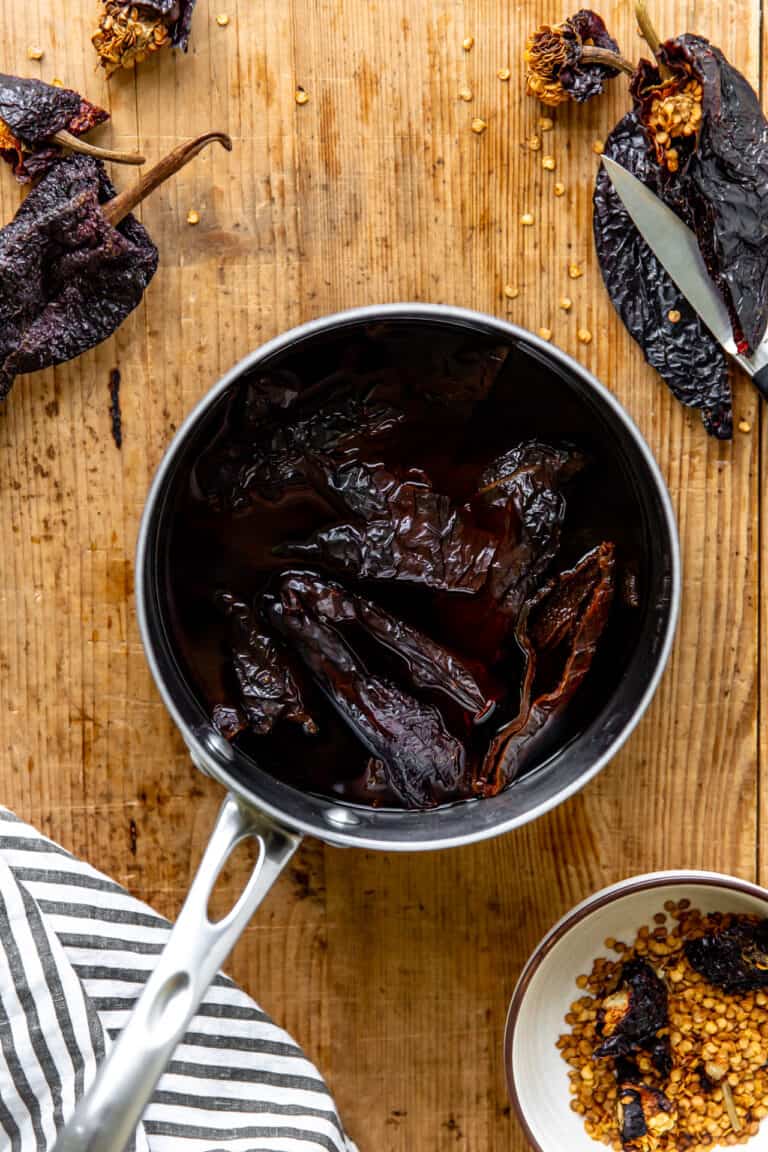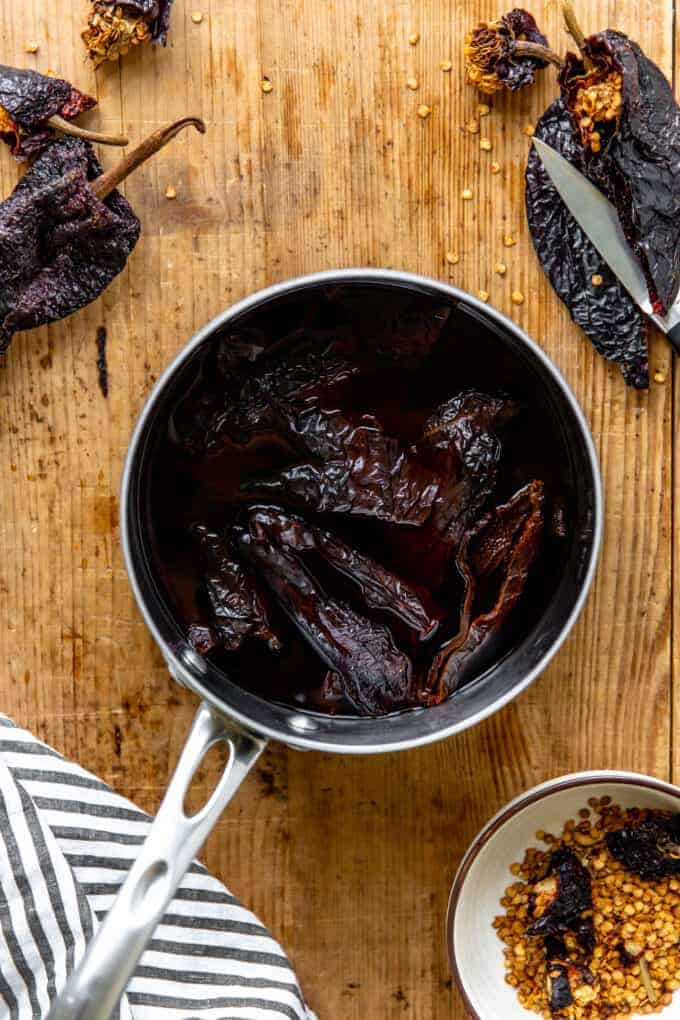 Trim the meat
Remove all excessive bits of fat off of the meat. This will greatly reduce the amount of grease that will cook out of the meat.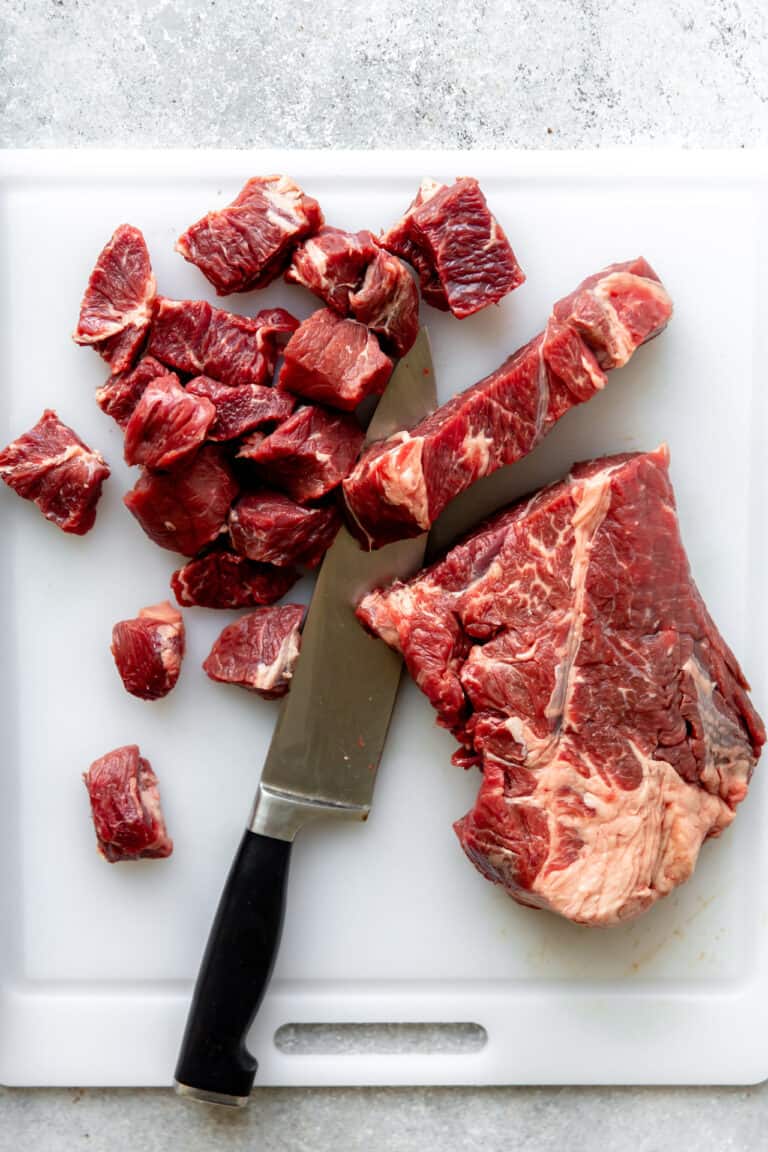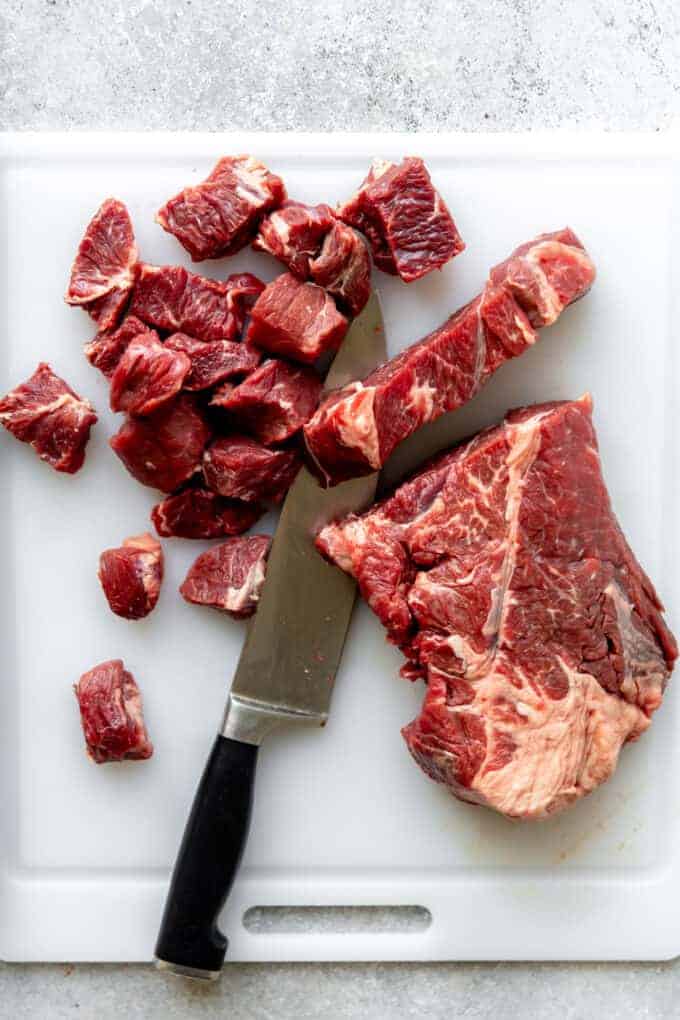 Sear the beef
I have no problems giving the meat a quick sear in the same pot I'm going to be cooking my chili. I don't use oil, to reduce the grease in my chili. Sear the meat for 2-3 minutes, making sure all sides of the meat are seared. This leaves some flavorful juices in the pot and gives more flavor to the meat.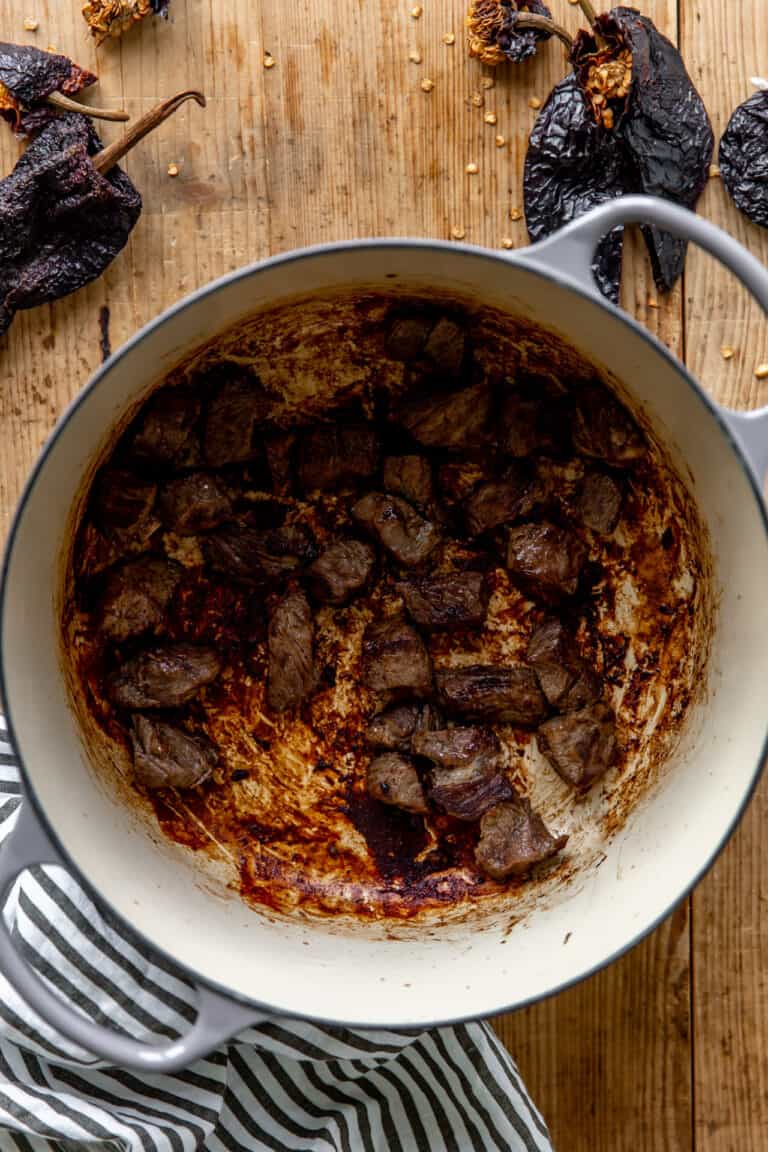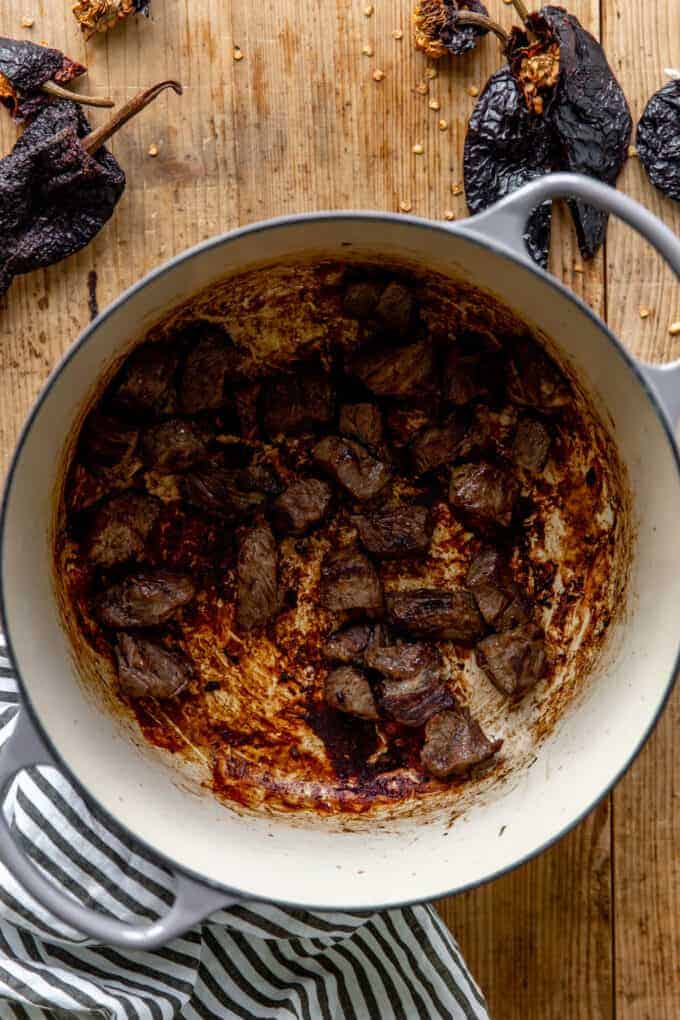 Create the broth
saute a bit of garlic then add in the chili pepper broth. Scrape the bottom of the pot to get all the bits from searing the meat. This gives great flavor. Add the meat in and let this come to a simmer.
Spice dump
after the chili has been simmering with the lid on for a while, check the liquid levels, adding more if needed. And add in the spices to season.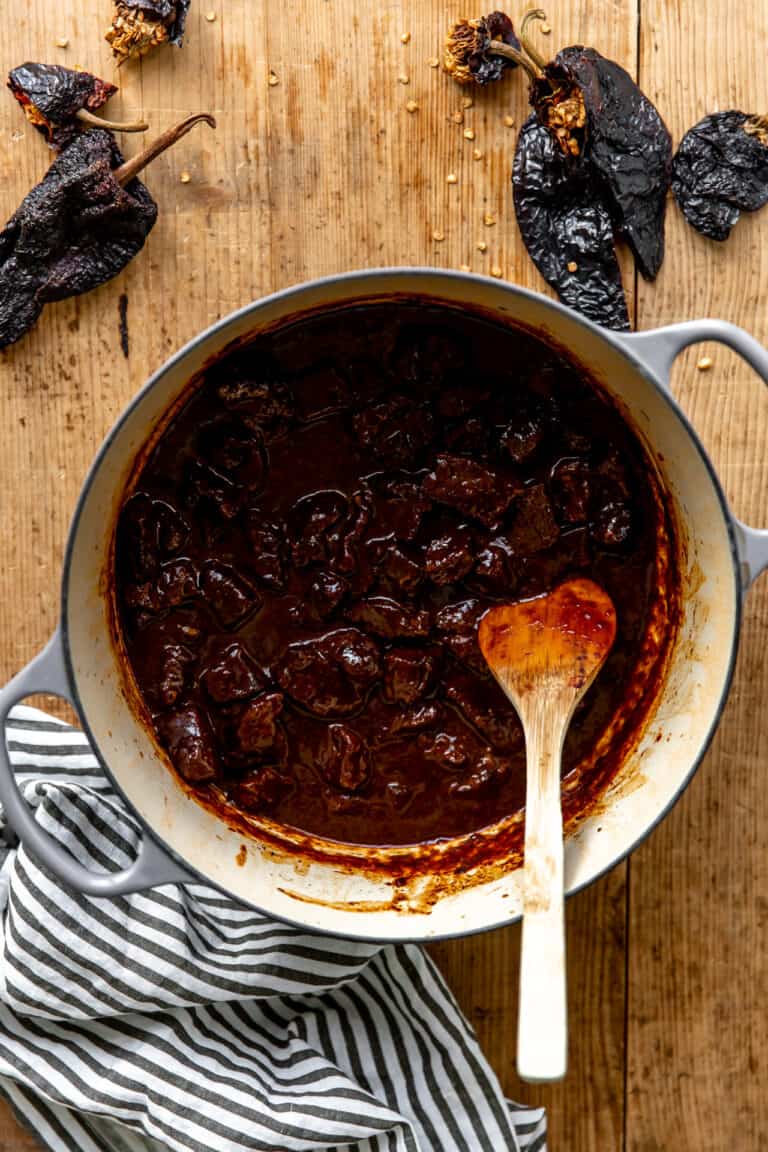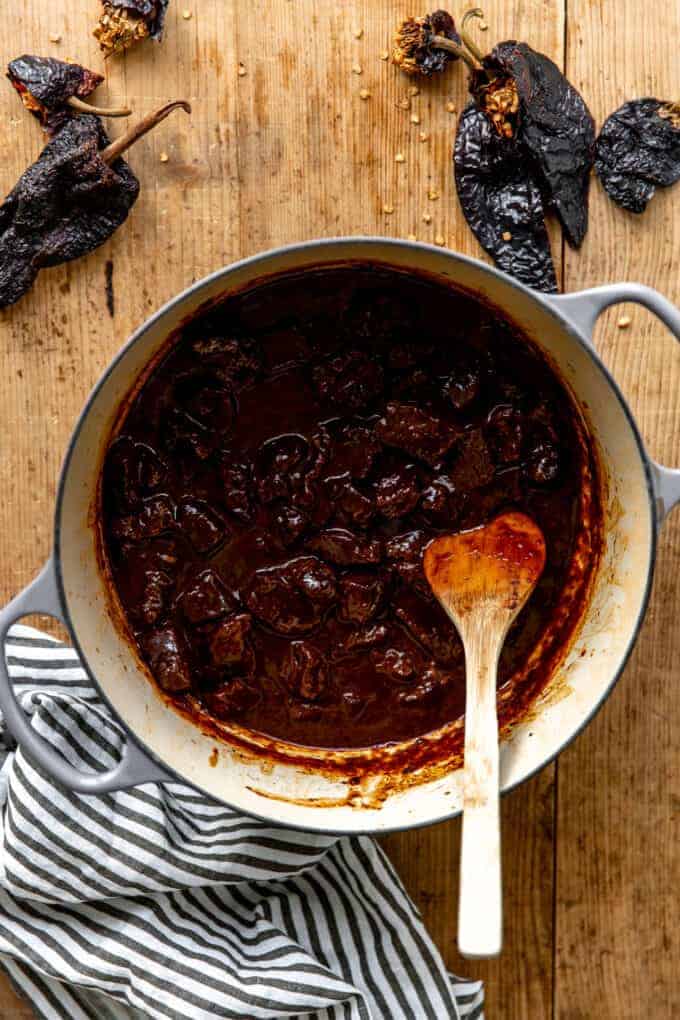 Simmer
let the chili continue to simmer to develop the flavor and cook the meat until it's tender. Skim any excess grease off the top as needed.
Thicken
stir in a bit of masa (or flour if needed as a substitution) to help thicken up the chili.
Important Tip
The most important things to keep in mind when making this chili is the ratios of the ingredients. It's based on the amount of meat you are using in your recipe.
1 lb of beef will need approximately 1 cup of liquid, 2-4 chili peppers depending on the amount of heat you prefer, 1 clove of garlic (or more if desired), and 1 tsp of salt.
(ie 6 lbs beef will need approximately 6 cups liquid, 12 dried peppers, 6 cloves of garlic, and 6 tsp of salt.)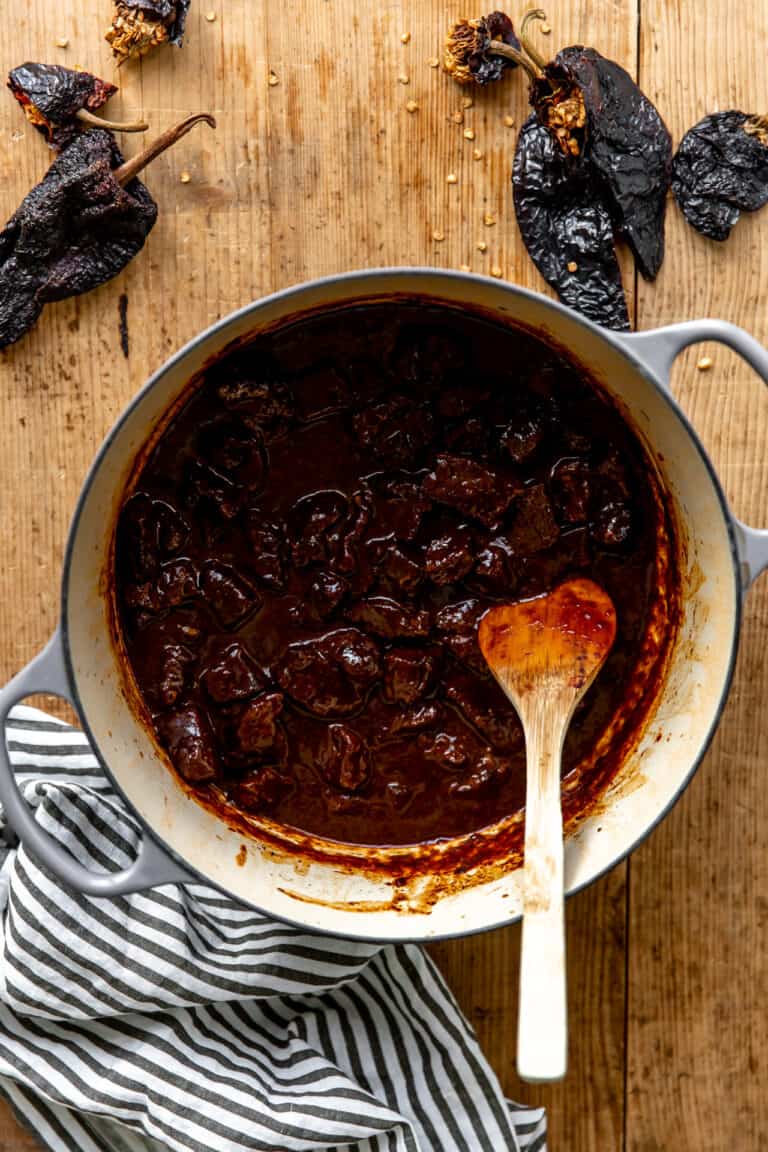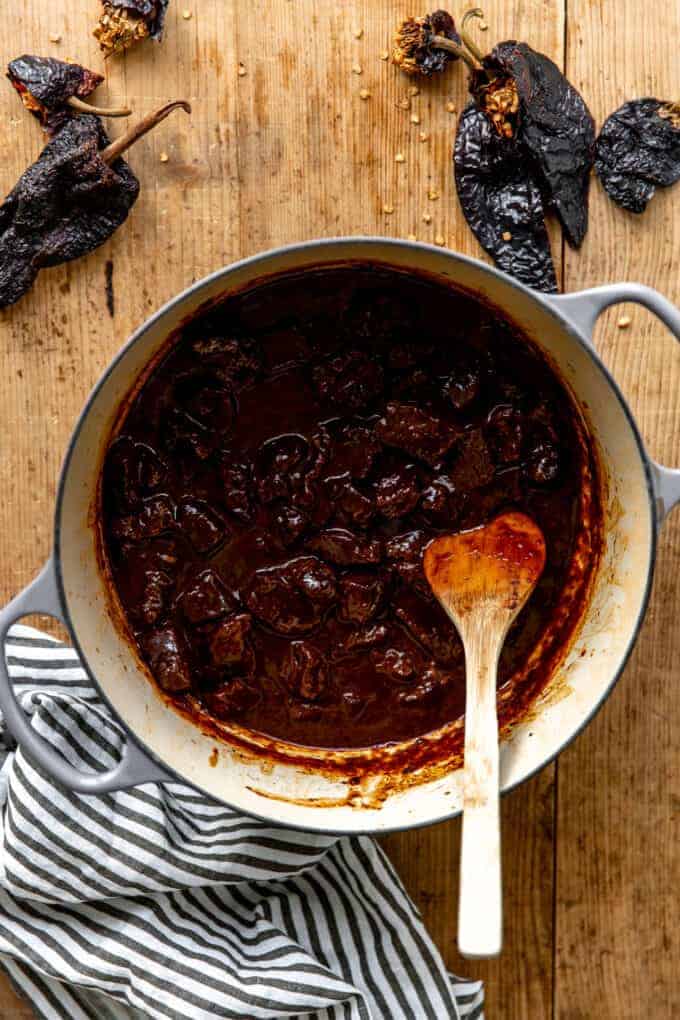 Frequently Asked Questions:
Does True Texas Chili have beans?
No. An authentic Texas Chili, or chili con carne, will not have beans. Simple answer. When this recipe/dish originated, there were no beans, no onion, no tomato added. There was a concern that it would resemble a stew and not a chili. There are of course people who prefer to add those things when they make their own recipes at home though and there is nothing wrong with that. Make it to where you will enjoy eating it!
What chili peppers do I use in my chili?
This particular recipe calls for Ancho Chili Peppers. Next to Ancho the next most popular option would be Guajillo. Of course you can always do your own variety of peppers. Here is a quick run-down of some options:
Ancho: (dried poblano): have a rich, smoky taste with a moderate heat. (1,000-2,000 SHU)
Guajillo: delivers a sweet, mild heat. (2,500- 5,000 SHU)
Arbol: these small, vibrant peppers pack a bit more heat if desired. (15,000-30,000 SHU.. some instances they have been known to come in at 65,000 SHU)
Pasilla: has a mild to hot, rich flavor. (1,000- 3,999 SHU)
Chipotle: (smoked until dry jalapeno) these add a wonderful smoky flavor, very common in Tex Mex cooking. (2,500- 8,000 SHU)
New Mexico: has an earthy, sweet flavoring with a very mild heat. (500-1,000 SHU)
Cascabel: gives a nutty flavoring. (1,000- 3,000 SHU)
How to Serve Chili con Carne:
Serve this chili dished up in a bowl, top with shredded cheese and diced onion to complete it. This isn't the type of chili that I would use to make a Frito pie, just because the meat is thick chunks. Personally I prefer my quick and easy 20 Minute Texas Chili with ground beef for that.
How long does it take to make Texas Chili:
The longer you can simmer the better. The prep work of getting the pot of chili simmering on the stove can vary depending on how many chili peppers you are using. But once you have the pot simmering on the stove, it can take 3, sometimes up to 4 hours for the meat to become tender and to get a full flavor.
Keep in mind that the spices are dumped at different times during the cook also. This allows the flavors to develop over the duration of the cooking process.
Plus if you have the time, seal and store the chili in the refrigerator overnight to help seal in the spices. Plus this allows all the grease to harden at the top of the chili, making it easy to scoop off before reheating.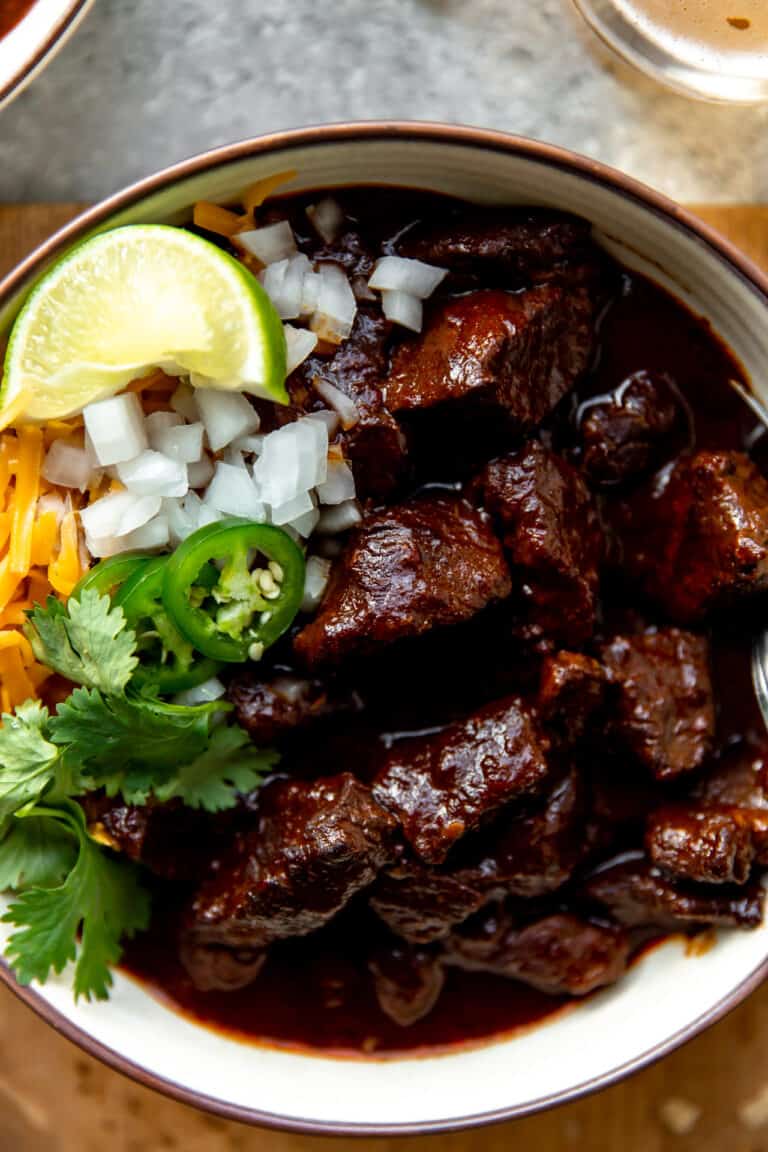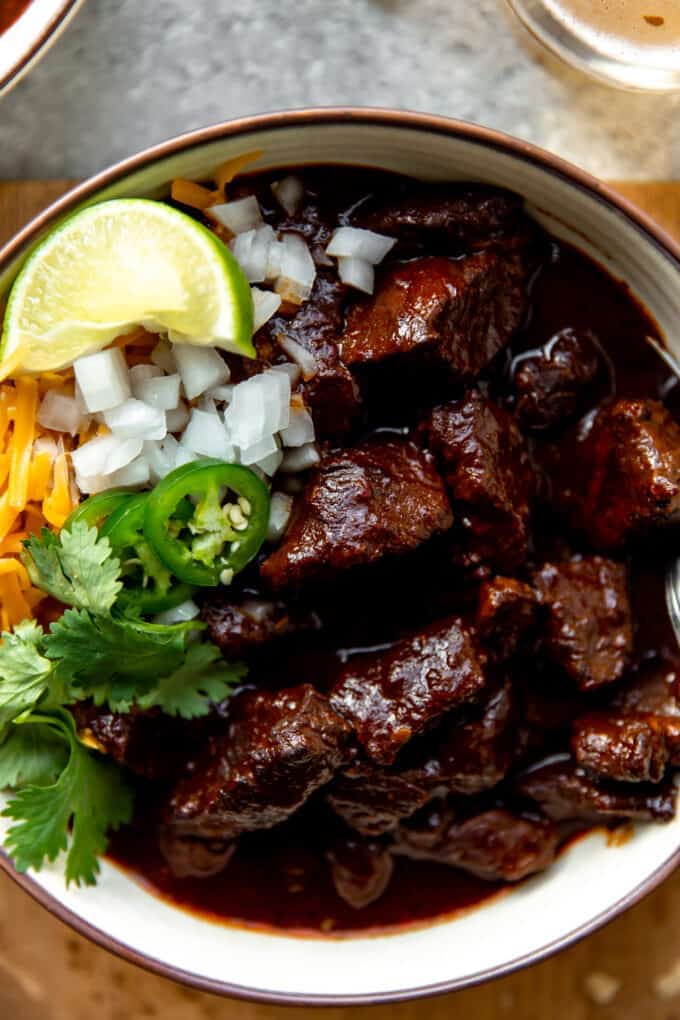 Ingredient Variations & Substitutions (if you must..)
Seriously, every cook has their own version of chili. They know how to make it just right for them and for their family. The great thing about this recipe is how simple and basic it is. It's so easy to customize to make it just how you like it.
Keep in mind the ratios as discussed above (how many peppers, how much liquid and how much salt per pound of beef) and you can add and adjust other ingredients as desired.
Here's some ideas of some things you can add or substitute to customize your bowl of chili:
Beer or coffee: use this as part of the liquid used to create the broth, simply add to the chili liquid from soaking the chilis.
Chocolate or Mexican Chocolate: chocolate can help to counteract the heat from peppers. Mexican chocolate does have additional ingredients added to it including sugar and spices.
Mexican Oregano: a great spice complement, very authentic to the dish.
Tomatoes: some cooks love adding fresh or diced tomatoes to their chili. Feel free to do so if desired!
Vinegar: brightens up the finished broth flavoring.
Paprika: add some if you want a deeper red color to the chili. This won't affect the flavor much at all.
Onion and garlic: feel free to add these if desired, saute the onion after searing the beef. And add the garlic once the onion is softened just before adding the broth into the pot.
And since we're making an authentic Texas Chili, that's all I'm going to recommend.
More Chili Recipes to try: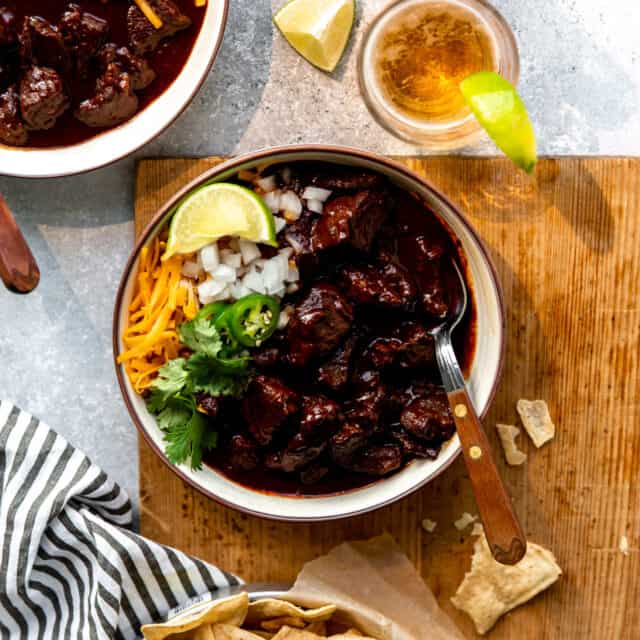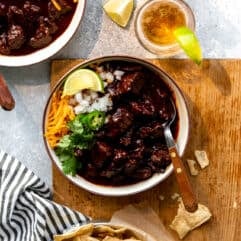 True Texas Chili
True Texas Chili. This authentic chili recipe results in tender, flavorful chunks of meat coated in chili sauce that has just the right amount of smoky heat. Learn all you need to know to create an Award Winning True Texas Chili and how to customize it to make it your own.
Ingredients
6 Ancho peppers, dried, (Use 2 per lb of meat for a mild chili, can use up to 4 chilis per lb of meat if you want a kick)
3 lbs chuck roast, Select or choice, NOT PRIME
4 cloves garlic , minced
½ tsp dried oregano
½ tsp ground cumin
3 tsp salt
1-2 cups beef broth, if needed
2 tbsp masa harina
Instructions
Prep The Chili Peppers
Boil Water: Bring 4 cups of water to a boil in a medium size pot. 

Remove Seeds Use a sharp knife to cut off the stem of the peppers, remove the seeds. 

Toast: Heat a cast iron skillet over medium heat and add the peppers, cook 2-3 minutes just to toast them. 

Soak: Remove the boiling water from the heat, add the peppers to the boiling water, cover the pot with a lid and let the peppers soak in the hot water for 30 mins

After soaking, remove the peppers from the water to a cutting board. They should be nice and soft and not hot to the touch. (RESERVE THE WATER FROM SOAKING THE PEPPERS)

Remove the skins from the peppers: Easiest way is to slice the peppers in half, lay them flat skin side down and gently scrape the flesh of the pepper off of the skin. The peppers will be mostly mashed by this point, just give a few chops to the peppers to ensure they are nice and mashed, almost like a paste.
Prepare the Meat: 
Trim: Remove all excess fat from the meat—just large chunks of fat, not marbling (too much fat will make the chili greasy) 

Chop: Cut the meat into 1 inch cubes.

Sear: Working in batches, cook the meat in a large dutch oven or iron pot over medium heat. Sear the meat on all sides, once seared, remove the meat to a plate and continue until all meat is cooked. (I never have any issues not using any oil for this step..again it cuts down the grease in the chili. Just be sure to turn the meat often while cooking to prevent sticking or bits burning in the pot.)

After all the meat is cooked and on the plate, saute the garlic in the pot for about 30 seconds. 

Deglaze: Pour 2 cups of the reserved chili water (from soaking the peppers) into the pot. Stir and scrape the bottom of the pot with a wooden spoon to loosen any bits stuck to the pan. 

Stir in the mashed chili peppers until mixture is smooth.

Add the meat into the pot. Add additional chili water, just enough to cover the meat. (Start with less liquid than you think.. you can always add more as it cooks, the goal is to not make it too liquid-y) If needed you can use beef broth if you run out of chili water. 

Bring to simmer, then reduce heat to low. Cover and let cook for 30 mins. 
Seasonings: 
Spice Dump: After simmering for 30 minutes, uncover and stir in the oregano, cumin, and salt. Check liquid levels, add additional chili water/beef broth as needed to keep the meat covered in liquid.

Bring back to a simmer, lower heat, cover and let cook for 45 minutes. Keep stirring limited during this time to help prevent meat from breaking apart.

Seasoning: After simmering 45 minutes, uncover, skim any grease off of the top. Test the flavoring and adjust as needed (additional salt, chili powder for more heat, etc.) Add additional liquid if needed.

Thicken: In a small bowl add 2 tbsp of masa, pour in 1/4 cup of the broth from the chili. Whisk this together, then pour this into the pot of chili. The masa will help thicken the chili and bind it all together. 

Bring to a simmer, lower heat, cover and let simmer a final 30 minutes. 

Serve bowls of chili topped with diced onion and shredded cheddar cheese, or additional toppings if desired! 
Notes
IF you have the time and ability, store the chili overnight. This makes it easy to remove any excess grease from the top of the chili and also helps the flavoring to develop giving a deeper flavor the next day. 
Nutrition
Serving: 1bowl, Calories: 810kcal, Carbohydrates: 42g, Protein: 72g, Fat: 43g, Saturated Fat: 18g, Cholesterol: 235mg, Sodium: 2292mg, Potassium: 2169mg, Fiber: 15g, Sugar: 22g, Vitamin A: 13950IU, Vitamin C: 17mg, Calcium: 97mg, Iron: 11mg
Photography done by KJandcompany.co
House of Yumm is a participant in the Amazon Services LLC Associates Program, an affiliate advertising program designed to provide a means for us to earn fees by linking to Amazon.com and affiliated sites.