Get cozy with this delicious Taco Soup that you can make in under 30 minutes! It's the perfect quick and easy dinner!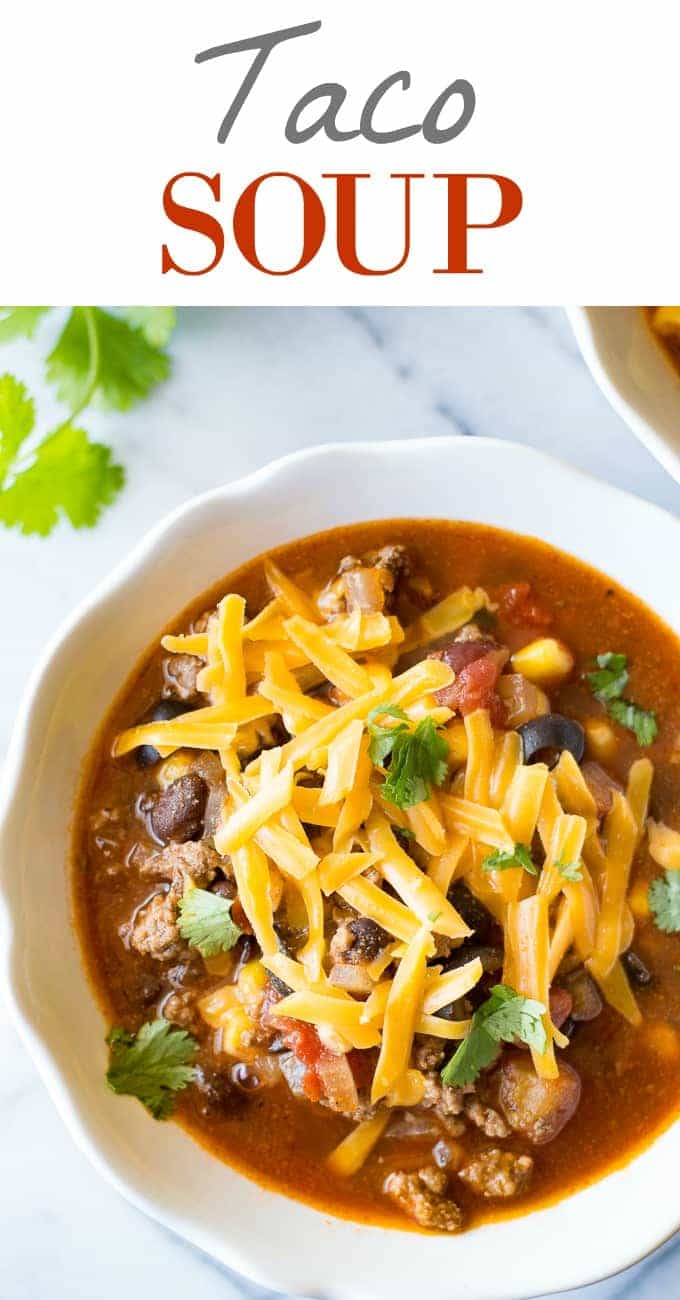 Taco soup is a definite winner for dinner time.  This meal can be made in 30 minutes.  The hardest part?  Cutting the onion.  Seriously though, this soup comes together super quick, it's flavorful, it really does taste like tacos, and it's perfect for the whole family.
So..how have you been?!  How was your Valentine's Day weekend?  I didn't post on Monday because it occurred to me.  It was a holiday!  And guess what..I also realized, I'm self-employed, and I should definitely take advantage of that. So I took the weekend off and enjoyed it with the hubs and kids.  We celebrated all weekend! The hubs took the girls out on a date.  They had so much fun.  And I took lil Bubba Man on a date. Then the next day we got a babysitter.  Probably the second date we've had just the two of us in about 2 years.  Serious.  And it was spectacular.  We went to sushi and it was perfect.  Neither of us had to cook, or do dishes.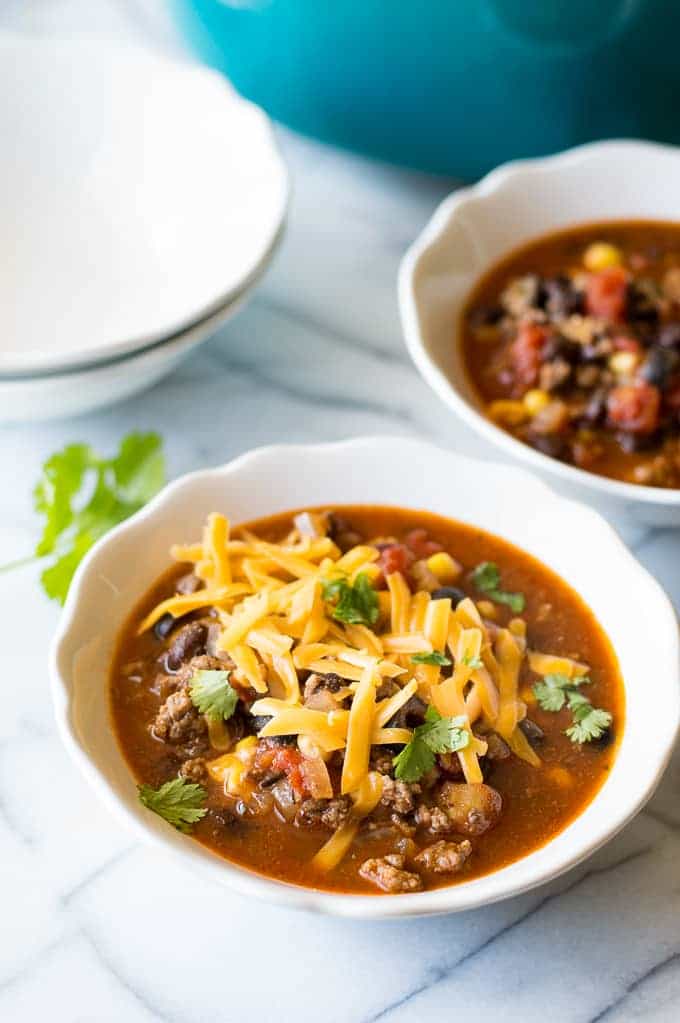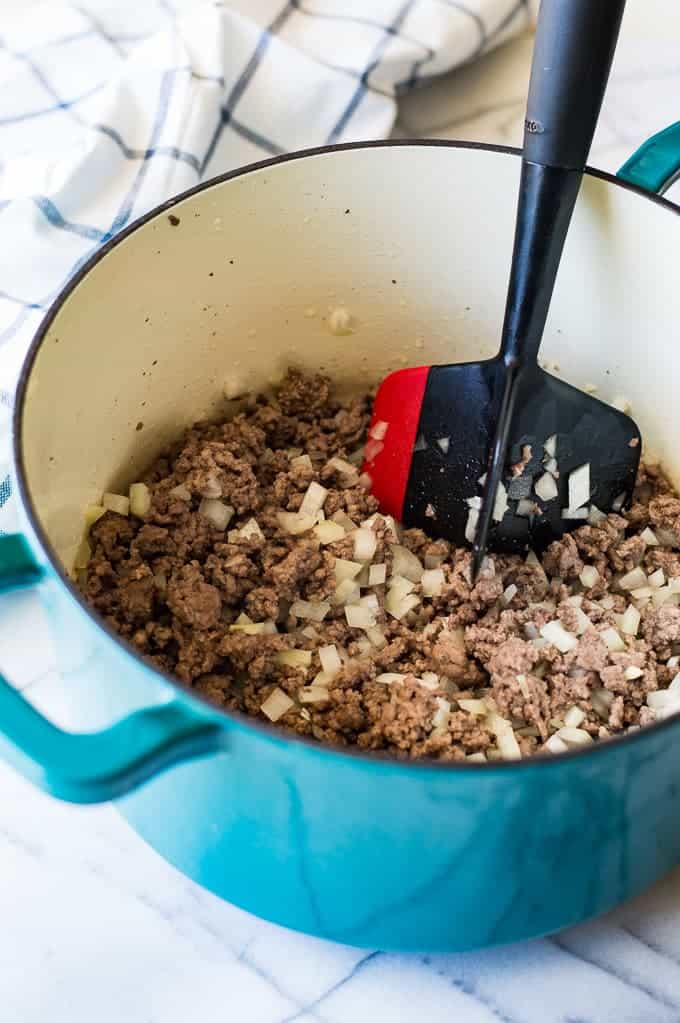 One of my favorite things about this recipe is that there is basically no prep work needed.  Not much slicing or dicing is needed.  And I can set one of the kids up with the can opener and most of the work is done!
Another thing I love about this recipe is that my kids absolutely loved it!  And what's not to love, it's flavorful, and you get to load it up with your favorite toppings.  Which means cheese.  Lots and lots of cheese.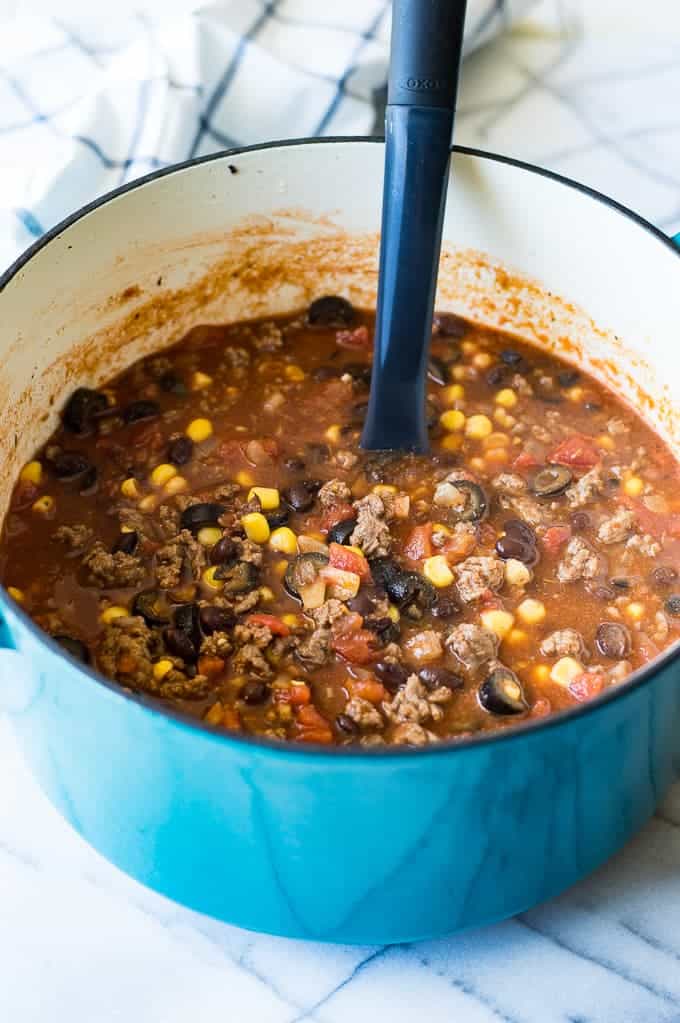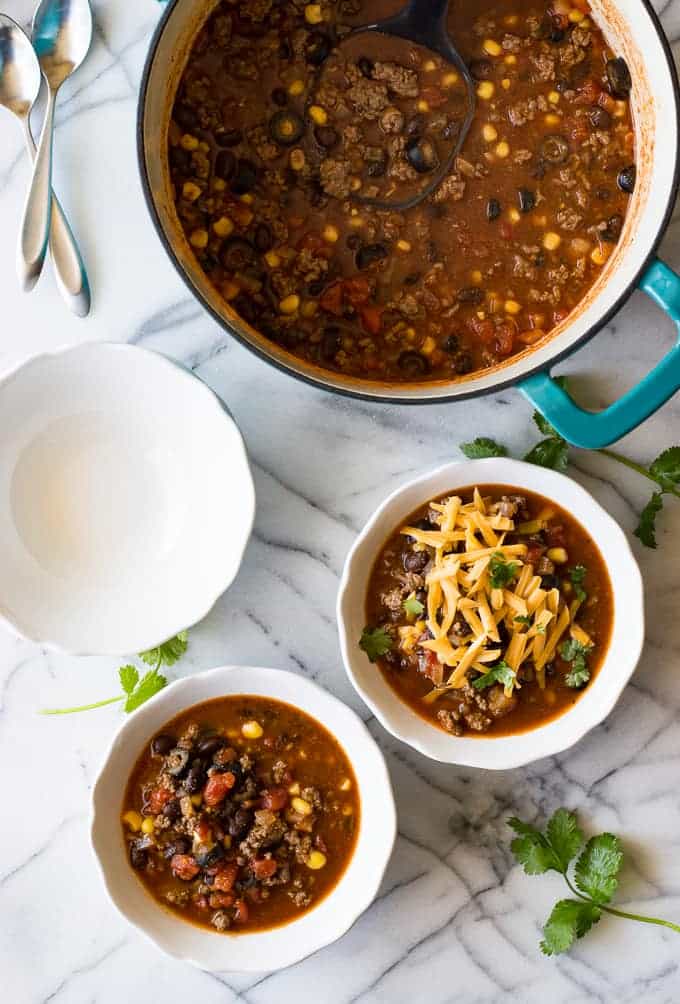 This taco soup is a new favorite in our home.  Especially since lil bubba man has been eating several bowls full of it for his lunches.  He's a big fan.  And when lil bubba man is happy, the rest of the house is happy.  Now we just need to teach this lil guy how to sleep.  Not even going to lie to y'all.  I'm feeling like a zombie lately.  So don't mind me if I start rambling in posts or not making sense.  That's just how I roll these days.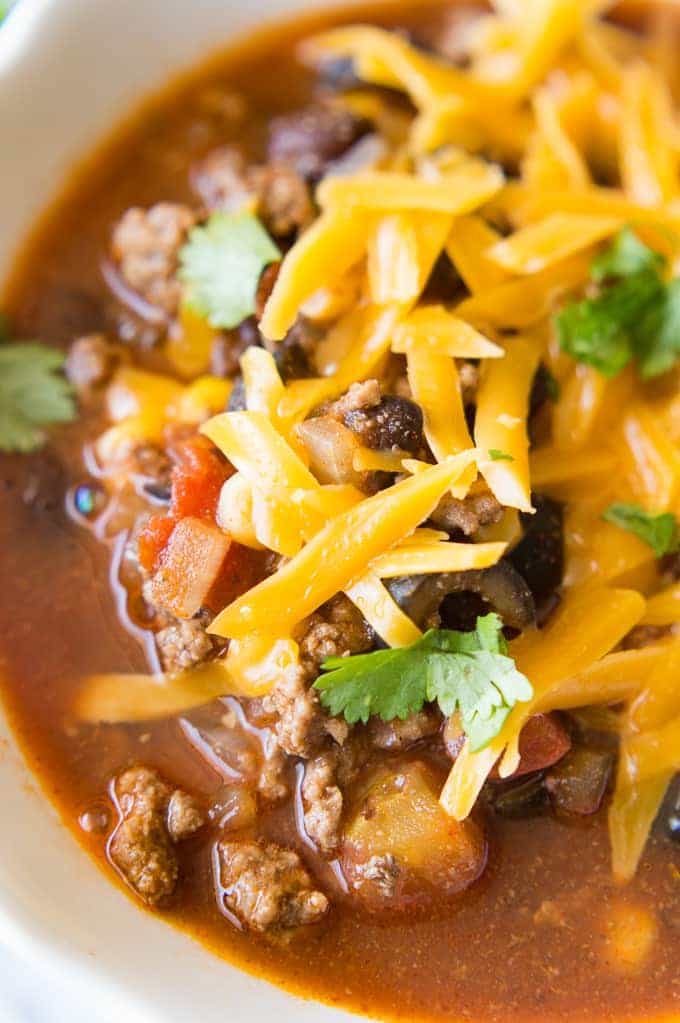 PS..in case you missed it above, this soup should definitely be topped with cheese.  It's one of my favorite things about soups and chilis.  The toppings.  So go crazy.  Go nuts.  Sour cream.  Cilantro.  Green onion.  Tortilla strips.
 I hope you enjoy the recipe!  You can follow along with me and never miss a recipe by signing up for my newsletter.  Follow me on Instagram and tag #houseofyumm so I can see all the recipes you make.  Plus follow me on snapchat! @houseofyumm 💜
Print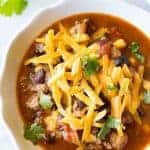 Taco Soup
Author:

Prep Time:

5 minutes

Cook Time:

20 minutes

Total Time:

25 minutes

Yield:

6-8
---
Description
Get cozy with this delicious Taco Soup that you can make in under 30 minutes! It's the perfect quick and easy dinner!
---
Ingredients
1/2 small yellow onion diced
1 lb ground beef
2 cloves garlic minced
1 15 ounce can tomato sauce
1 10 ounce can diced tomatoes with green chiles
1 15 ounce can black beans drained and rinsed
1 15.25 ounce can whole kernel golden sweet corn
1 3.8 ounce can sliced olives
2 tablespoons chili powder
1/2 teaspoon black pepper
3/4 teaspoon salt
2 teaspoons cumin
1 teaspoon oregano
1 teaspoon garlic powder
2 cups beef stock
---
Instructions
Add the ground beef to a large pot, cook the meat over medium heat until mostly browned, add the diced onion and continue cooking, stirring occasionally until the meat is browned. Add in the minced garlic and cook for another 30 seconds.
Drain the grease and return the pot to the stovetop. Pour in the tomato sauce, diced tomatoes with green chiles, black beans, corn, and olives. Stir to combine. Add in the chili powder, black pepper, salt, cumin, oregano, and garlic powder. Stir until mixed. Pour in the beef stock.
Allow the soup to come to a boil, then reduce the heat and allow to simmer for about 10 minutes.
Serve and enjoy!
54