Chile Relleno Soup.  A creamy poblano soup topped with an open faced chile relleno.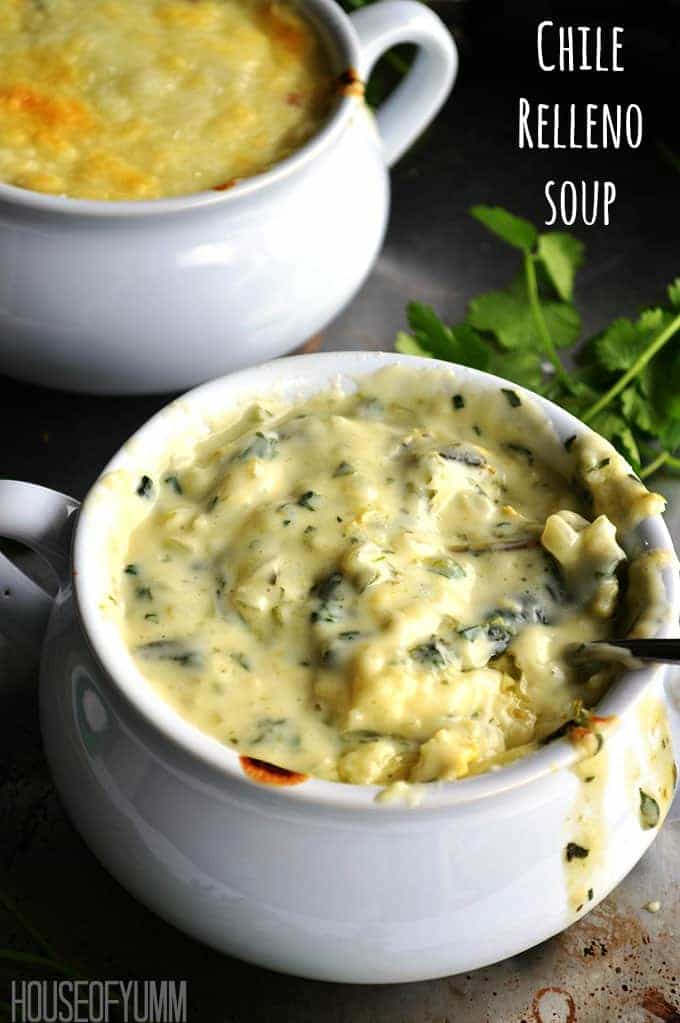 Who loves a big bowl of comfort?  This chile relleno soup is exactly that.  A rich, creamy poblano soup topped with an open faced chile relleno and of course melty cheese.  Best part?  It tastes like a chile relleno.
The hubs is known for his brilliant ideas.  As we're sitting having dinner one night, a typical meal of soup and sandwiches, he has the amazing idea for me to make a chile relleno soup, french onion style.  Of course, I smile and say "Alright! I'm on it!"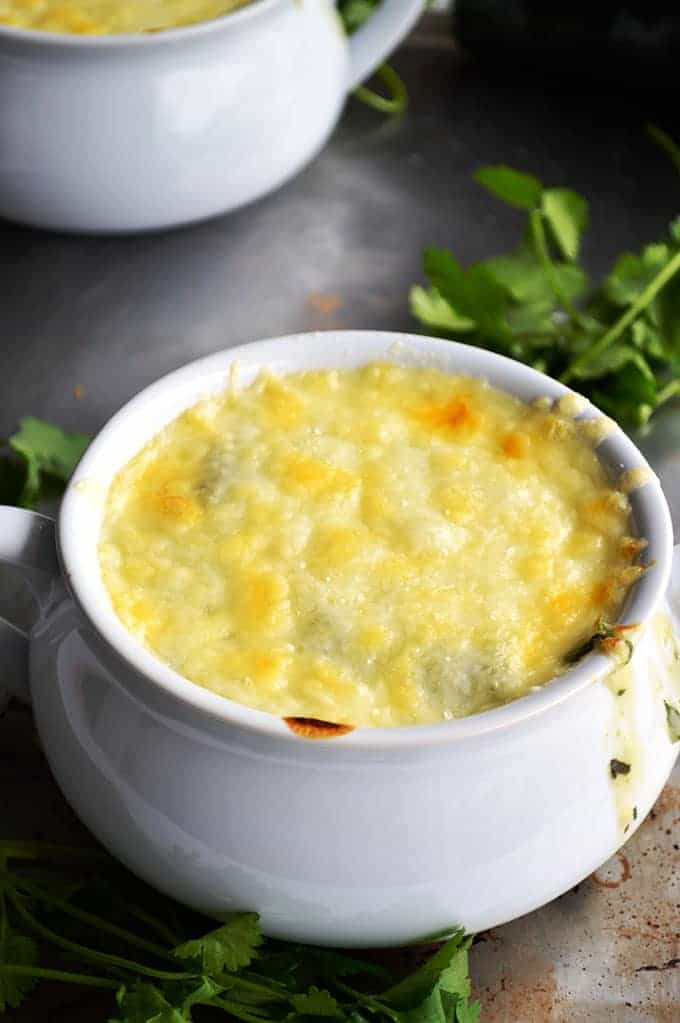 So what exactly does that mean?  Chile relleno soup but done french onion style?  Well basically, he wanted the cheesy, crusty topping.  And the taste of pure chile relleno.  Which duh..an open faced chile relleno on top smothered and covered in cheese.  And the soup, is so rich and creamy and has just a hint of heat from the poblanos.  Definite comfort in a bowl.  And this folks, is why the hubs loves me.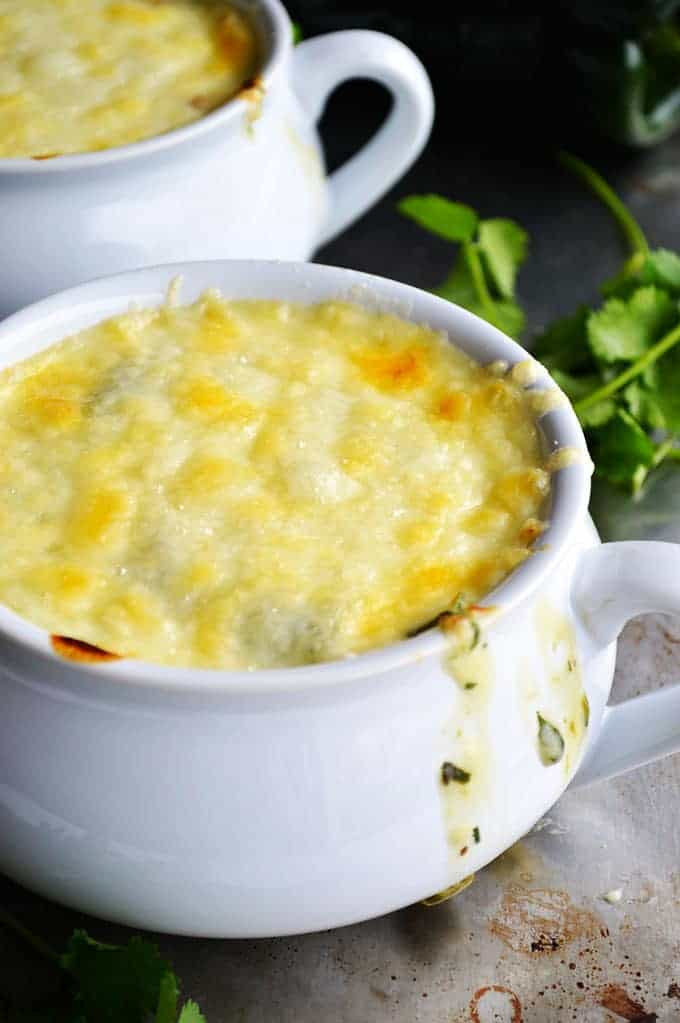 The main flavor from this soup comes from the use of roasted poblano chiles.  So easy to roast chiles, if you haven't done it before, just place them under the broiler for a few minutes on each side until the skin gets nice and black.  Pop them into a plastic bag, this allows the steam to work it's magic and make the skin just peel right off of them when the time comes.  Just give them about 20 minutes or so, otherwise you may burn your fingers while handling them.  Trust me.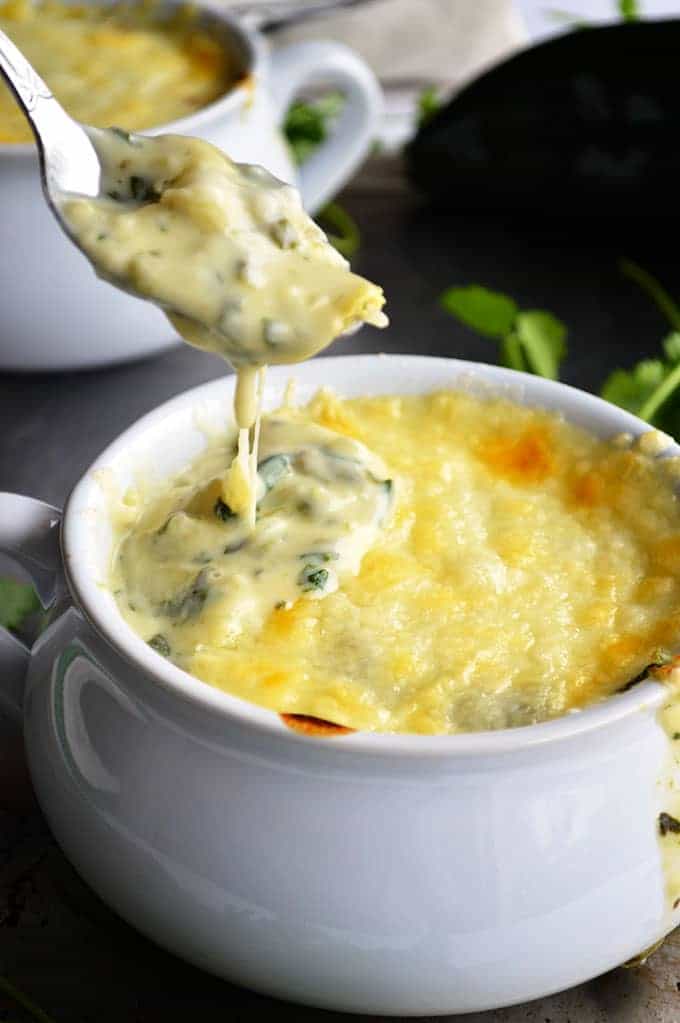 While the chiles are steaming away you can prepare the rest of the soup.  Onion, garlic and cilantro cooked with some olive oil and butter.  Add some flour to make it nice and thick.  Chicken stock, milk, and…avert your eyes if needed, heavy cream.  I know, I know.  But trust me.  This soup is so rich and creamy.  And now we know why!  But it's totally worth it.  Then a dash of salt and pepper.
Once we can peel those peppers, they get chopped and added to the soup to simmer. Lastly, a little bit of cheese for extra richness.  Again, trust me.  It's worth it. Top it off with the chile relleno and some extra cheese and all will be right in the world.  Scroll on down for the handy printable recipe!
Print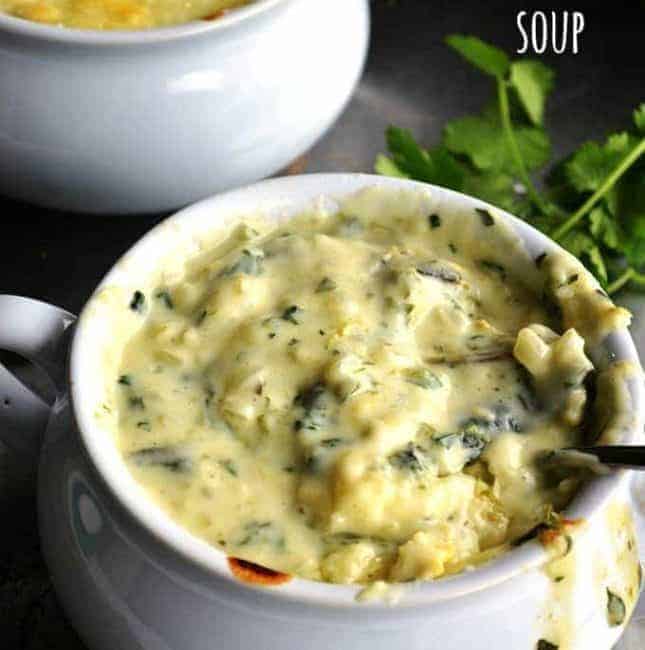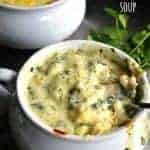 Chile Relleno Soup
Author:

Prep Time:

10 minutes

Cook Time:

40 minutes

Total Time:

50 minutes

Yield:

4

-

5

1

x
---
Description
Chile Relleno Soup. A creamy poblano soup topped with an open faced chile relleno.
---
Scale
Ingredients
5

poblano chiles

2 tablespoon

s olive oil

1 tablespoon

butter

1

onion chopped

4

cloves of garlic minced

1/4 cup

of cilantro chopped

1/2 cup

of flour

2 cup

s chicken broth

1 cup

heavy cream

1 cup

milk

1 teaspoon

salt
Chile Relleno Topping
2

eggs

2 tablespoon

s flour

1/2 cup

cooking oil

1/2 teaspoon

pepper

1 cup

shredded jack cheese
---
Instructions
Clean and dry the poblano chiles. Places them on a cookie sheet covered in foil. Place under the broiler for 5 minutes. Turn the chiles over and broil for another 5 minutes. Chiles should be roasted with black skin. Remove from the oven and place the chiles in a sealable plastic bag. Set aside
In a large saucepan heat the olive oil and butter over medium heat. Add the onions and cook for about 2 minutes until softened. Add the garlic and cilantro. Cook for about 3 minutes.
Add the 1/2 cup of flour to the saucepan and stir to coat the veggies. Cook for about 2 minutes. Then add the chicken broth, cream, milk, salt and pepper. Bring to a low simmer.
Once the chiles have cooled to the touch, remove from the plastic bag. Cut off the top, remove the seeds, and then remove the skin. (I found it easiest to use a paring knife to remove the skin)
Set one of the chiles aside for the chile relleno topping. Chop up the other 4 chiles and add to the soup. Allow the soup to continue simmering approximately 15-20 minutes.
While the soup simmers make the chile relleno topping. Slice the remaining chile in half (should already have the seeds and skin removed). This will give you two large pieces of chile.
Set up two small bowls. Using the two eggs separate so that whites are in one bowl and yolks are in the second bowl. Beat the egg whites for about a minute and add the 2 tablespoons of flour. In the other bowl beat the egg yolks. Set up a small frying pan and heat the cooking oil over medium heat. Dip one of the chile slices into the egg yolk, then into the egg white/flour mixture. Add to the cooking oil and fry on each side about 1-2 minutes until golden. Repeat with the other chile slice.
Just before serving the soup, add 1/2 cup of shredded Jack cheese and stir until completely melted. Serve the soup into bowls, top with the chile relleno and extra shredded jack cheese. You can place the bowls under the broiler if desired to melt the cheese on top, however, this step is not required.
---
---
Nutrition
Serving Size:

1

Calories:

627

Sugar:

8 g

Carbohydrates:

15 g

Protein:

14 g
 More Comfort Meals to Enjoy: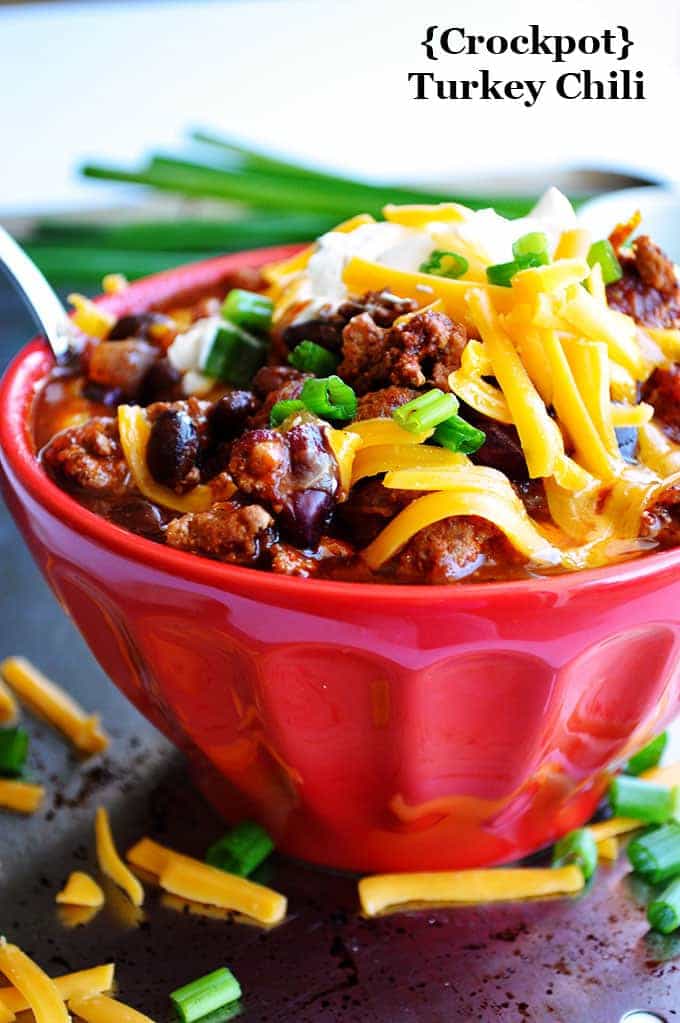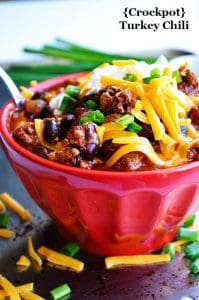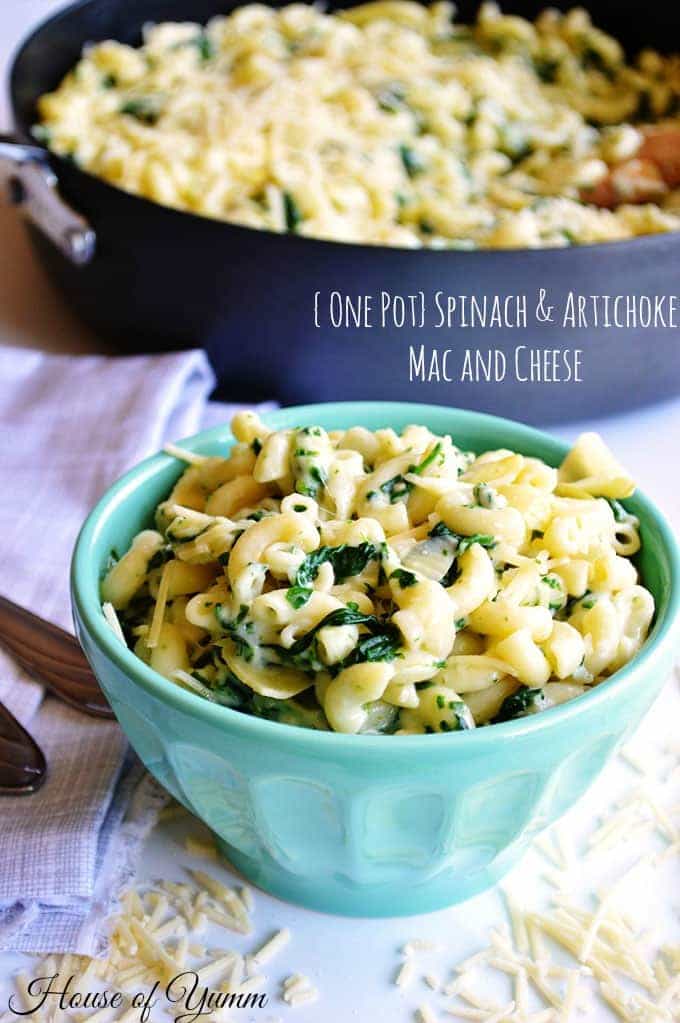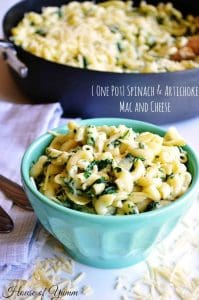 {One Pot} Spinach Artichoke Mac and Cheese
SaveSave
768