Sitting down with family and friends for a big Easter meal and fellowship is a wonderful way to celebrate! Whether you are a seasoned pro at hosting, this is your first year hosting, or you are bringing a dish to share with others, we have Easter Dinner Ideas for you! From a sweet and spicy Jalapeno Honey Glazed Ham, to an Old Fashioned Hummingbird Cake and everything in between.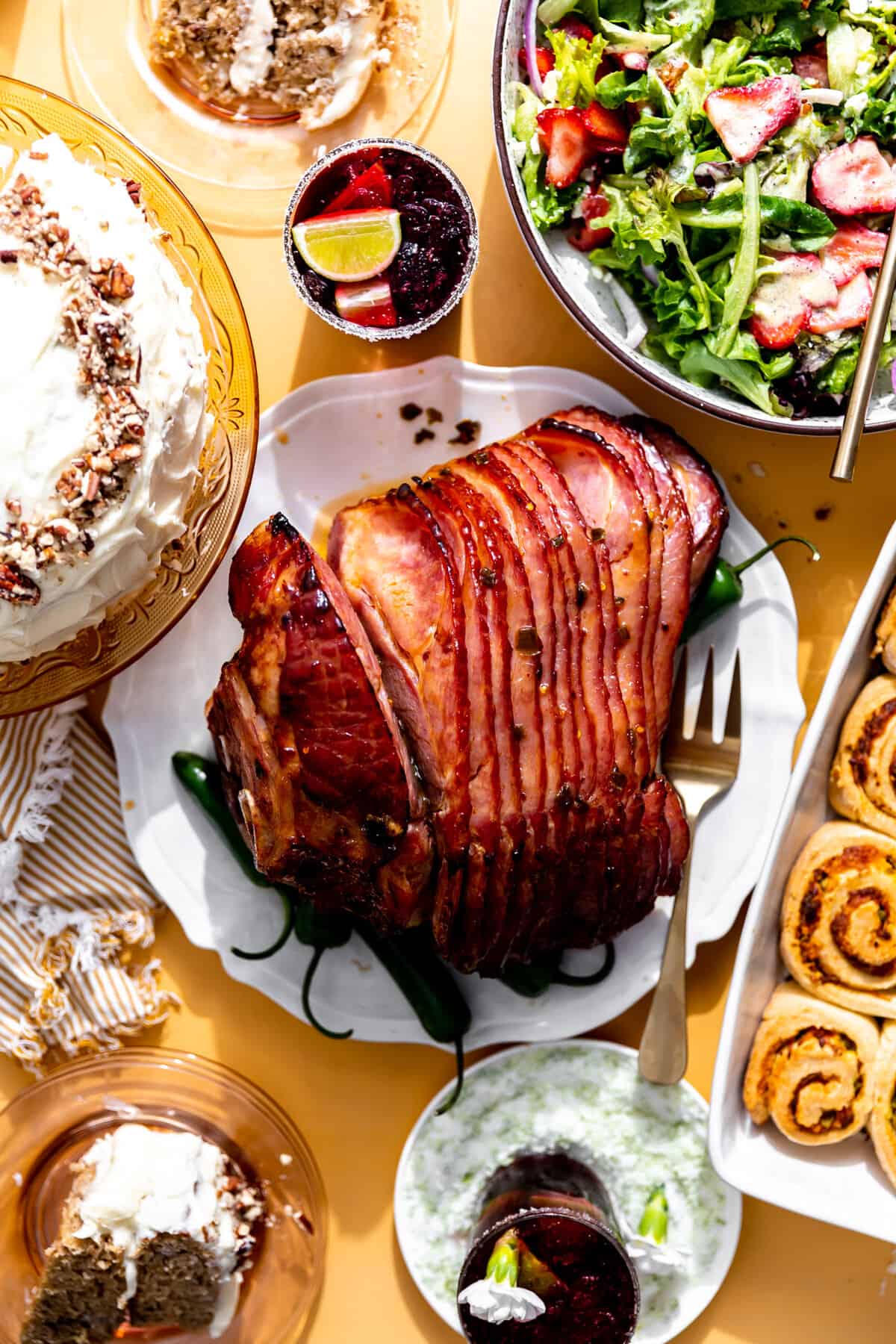 We've put together some flavorful recipes to share for an Easter meal. The highlight is an easy to make, Jalapeno Honey Glazed Ham. Ham is a great main dish for large meals because it's extremely low key and flexible. Our sides are a colorful Strawberry Salad with Poppyseed Dressing, and soft and fluffy Jalapeno Cheese Rolls.
A floral Hibiscus Margarita for the adults, and a kid friendly Agua de Jamaica for a non-alcoholic version. All finished with a popular Southern Hummingbird Cake made with bananas, pineapple, and topped with luscious swirls of cream cheese frosting.
Of course, if you're looking for other options, we have included several substitutes below! Main dishes that aren't ham, more sides, salads, drinks and desserts. Whatever you're looking for, we're sure you'll find something you will love!
Main Dishes That Aren't Ham
If you're looking for something a little different than ham this year, we have options! Everything from smoked meats done Texas style, to the perfect creamy quiche made with whatever fillings you choose.
Easter Salads
Bright, fresh and flavorful. Easter salads should be full of colors and flavors. Here's some options for filling pasta salads, a Tex Mex Elote Corn Salad and a Classic Wedge Salad with homemade dressing, take your pick between Blue Cheese Dressing or a Homemade Ranch Dressing.
Easter Side Dish Ideas
All of the favorite side dishes are here. We highly recommend some perfect mashed potatoes, or take it a step further with our Mashed Potato Casserole, which is a great side dish to prep ahead and bring to a dinner.
Drinks to Serve at Easter Dinner
Cold and refreshing, we have cocktails and non-alcoholic drinks that will pair with whatever your Easter menu includes.
Easter Dessert Ideas
Sweet and fruity, all of these desserts feature fresh fruits making them perfect to grace your Easter table. Whichever you choose is sure to be a hit, all of these recipes are crowd pleasers!
Easter table image by KJandCompany.co