Texas Smoked Pulled Pork. This simple, smoked Pork Shoulder/Butt creates the most tender, flavorful pulled pork. Cooked low and slow, this pork is melt in your mouth good!
One of the basics when it comes to BBQ is a good pulled pork. This simply seasoned pork is smoked over a blend of hickory wood. The end result is a classic Texas BBQ version of pulled pork! The best part? This is a super simple recipe, and while there's lots of information included, this is a great starter recipe to get used to smoking in your own backyard.
Load this meat up on a toasted bun for a sandwich. Drizzle some Texas BBQ sauce on if desired. And serve with a side of cold and tangy Coleslaw.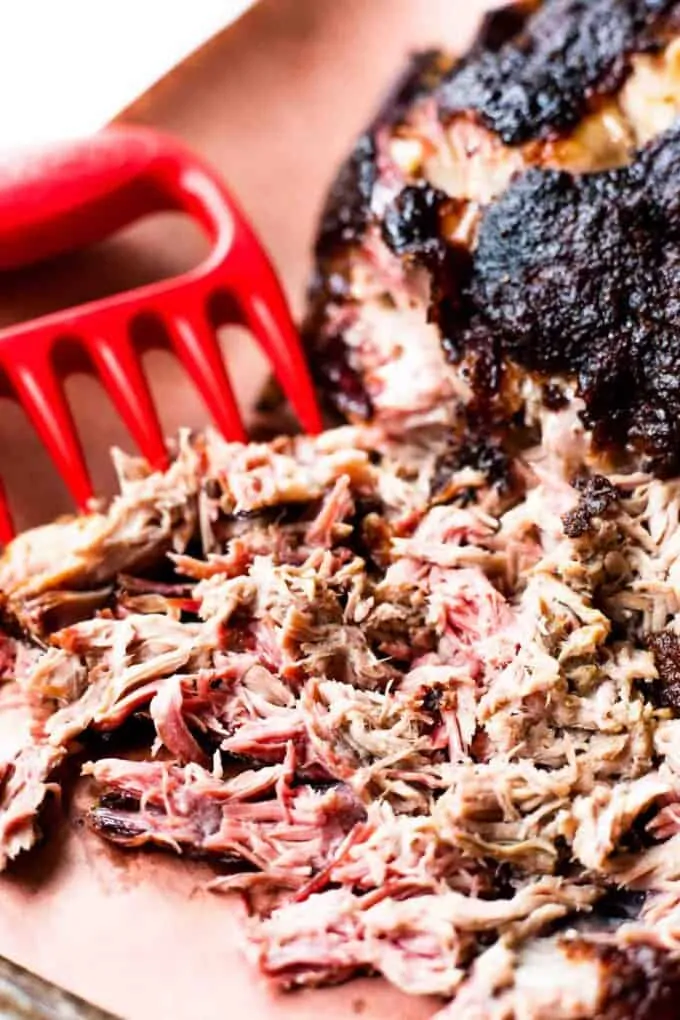 What cut of meat do I use?
The best cut of meat to use for pulled pork is the pork shoulder. Which is not actually called that at the markets. This particular cut is called a Pork Butt.
A whole pork shoulder can be divided into two sections: the top is the Boston butt, labeled as pork butt at the market. The lower part is called the picnic roast.
Pork butt/Boston Butt is going to be the most common cut you will find pre-packaged at the market. And it's perfect for pulled pork, it has more connective tissue and less bone. Which means after cooking this cut low and slow all day, you end up with a lot of tender meat.
When picking your meat, try to find the bone-in. Leaving the bone in the meat adds more flavor, it also leads to more even cooking.
How to smoke a pork butt:
Trim: some cuts will come with a thick fat cap on the bottom of the roast. Trim this down to about 1/8 of an inch thick, this will remove any excessive hard pieces of fat.
Score the fat: in the remaining fat cap on the bottom of the roast, cut slices, in a grid/tic-tac-toe shape, just deep enough to go through the fat to reach the meat. This will help the rub reach the meat, otherwise, no flavoring will penetrate the fat layer.
Apply binder: this can be anything that gives a tacky/sticky layer on the pork to help the rub stick. Options would be water/oil/vinegar/mustard.
Rub: sprinkle the rub in an even layer on all sides of the roast. If you want a sweeter rub this Sweet Texas Style Dry Rub is a great option. Or there's a more classic Central Texas version included in the recipe card below.
Place in smoker: fat side up/fat side down. Either way will work. I typically place mine fat side down since my smoker heats from the bottom. This helps protect the meat from the higher heat.
Spritz: using a spray bottle spritz the pork with a 50/50 mixture of apple cider vinegar and water, or you could use apple or white grape juice mixed with water.
Wrap at 160: carefully remove the pork and wrap in paper or foil.
Continue cooking to reach desired temperature (195-205℉)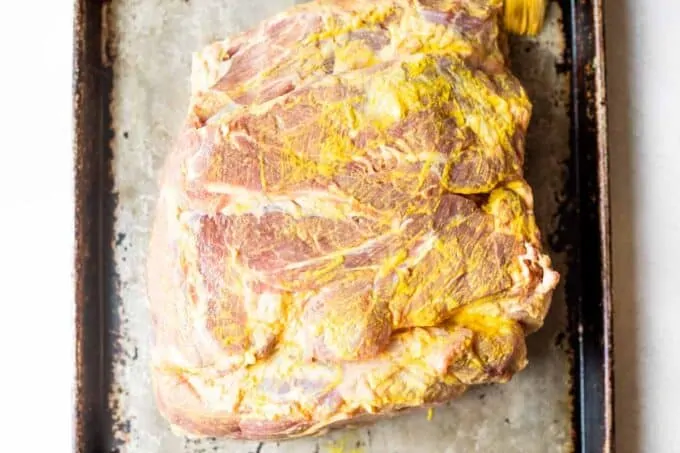 Cook Time:
Cook to temperature. Not time. To give an estimate, plan on about 2 hours of cook time per pound if cooking at 225 degrees.
As always with meat, check the internal temperature to determine doneness.
What temperature to pull from smoker: If you look above in the important temperatures you will see that there is a wide range of 190-205
To monitor the temperature use a probe hooked up to an external monitor. And always double check the temperature before pulling out of the smoker using an instant read thermometer also. (affiliate links)
Important temperatures:
Wrap at 160℉
Collagen breakdown occurs at 160-180℉
Remove from smoker 195-205℉
Best woods for pork:
Pork tastes best when smoked with a mild to medium flavored smoke. The best options include:
Apple
Cherry
Hickory
Maple
Oak
You can use any of these on their own, or do a pairing. Using either Hickory or Oak and pairing with a sweeter fruity wood gives great options. Think Hickory & Cherry. Or Oak & Apple. Using Hickory or oak will provide a nice, rich, dark bark to the outside of the pork, while the sweeter wood gives a hint of sweetness to the smokey flavor the meat takes on.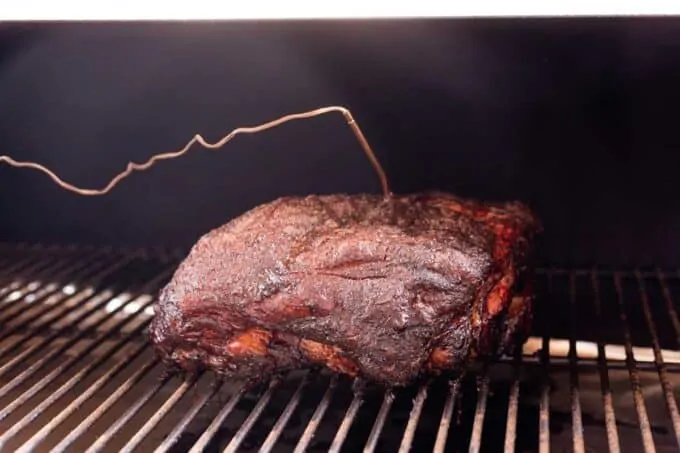 To wrap or not wrap:
This really comes down to preference. I have seen recipes that don't call for the pork to be wrapped, and I have smoked a couple without wrapping before. However, my preference is to wrap it.
One reason to wrap is what is referred to as the Texas Crutch, it gets you through the stall, which is where the temperature stops rising as the collagen breaks down. This can take hours to push through when cooking.
Not to mention, wrapping the pork makes it so much easier to remove it from the smoker when it's done! Otherwise, be prepared to very carefully hold the pork butt together when picking it up, or it just may fall apart on you.
You can wrap by using foil, placing in a disposable metal roasting pan and covering with foil, or using a food grade peach paper.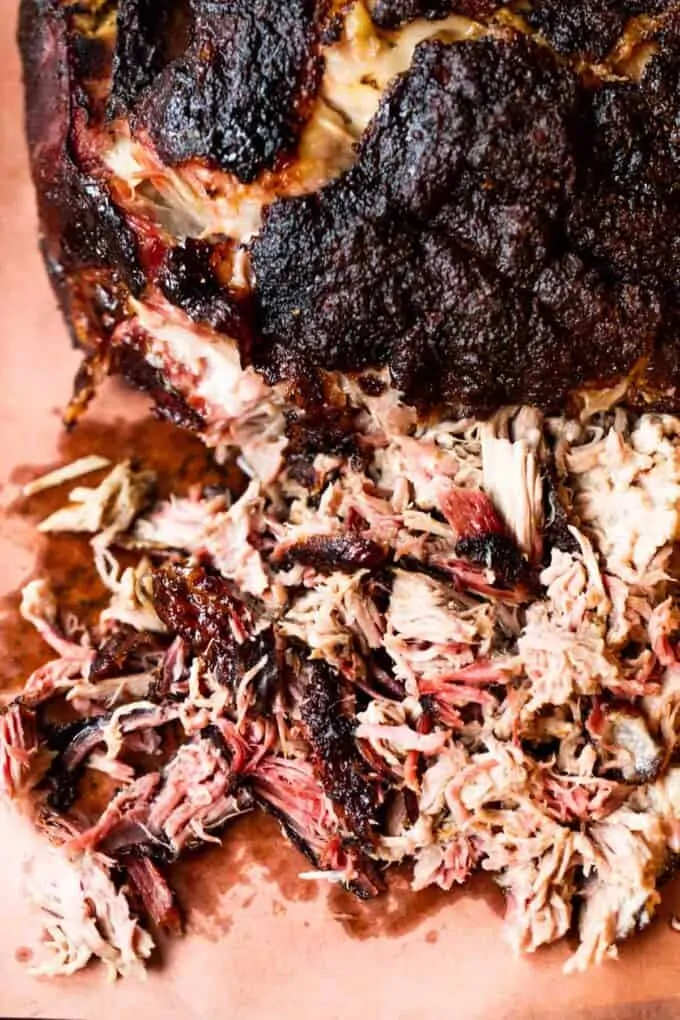 Serve this pulled pork with:
Have leftovers?
Texas Style Smoked Pulled Pork
Texas Smoked Pulled Pork. This simple, smoked Pork Shoulder/Butt creates the most tender, flavorful pulled pork. Cooked low and slow, this pork is melt in your mouth good!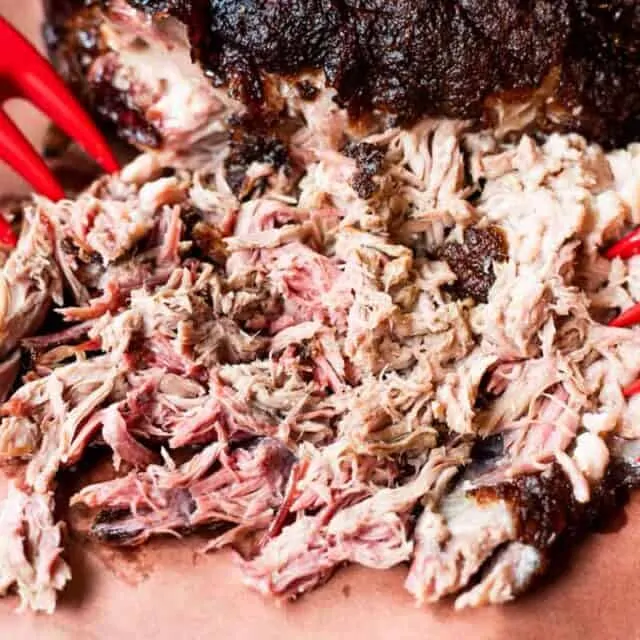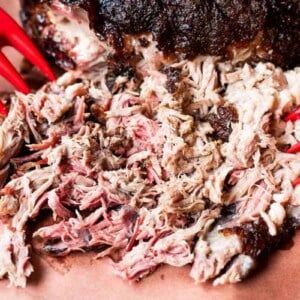 Ingredients
6

pound

pork butt

can use any size, just be sure to adjust cook time

¼

cup

yellow mustard

1

tbsp

coarse salt

1

tbsp

coarse ground black pepper

1

tsp

garlic powder

1

tsp

paprika
Instructions
Preheat grill or smoker according to directions to 225℉.

Trim the pork shoulder. Removing portions of the fat cap, so that it is only approximately 1/4 of an inch thick. Then score the fat, cutting a grid pattern into the fat cap, cutting just enough to get through the fat to the meat.

Slather the entire pork shoulder with mustard, as a binder.

In a small bowl combine the ingredients for the rub: salt, pepper, garlic powder, and paprika. Stir together.

Evenly sprinkle the rub over the entire pork shoulder. Press the rub into the mustard before turning the pork over to sprinkle the other side.

Place the pork in the center of the smoker or the grill on the grate. Insert probe to monitor the temperature.

In a spray bottle combine the apple cider vinegar and water. Shake to combine.

Smoke for 2 hours before opening smoker. At this point open and spritz the pork, continue spritzing the pork every hour until the pork reaches an internal temperature of 160℉. This helps with the creation of the smoke ring and keeps humidity in the smoker.

Once the pork reaches an internal temperature of 160℉ wrap using foil or peach paper. Place back in smoker to continue cooking.

Cook until pork reaches an internal temperature of 195-205℉. Depending on the texture of pork you prefer will determine when you will want to pull off. At 195 pork is more moist but less tender, more string. At 205 pork is more tender, more chunky than stringy, but less moist. Any temperature in this range will yield great pulled pork!

Once internal temperature is reached, pull from the smoker, make sure the pork is wrapped nice and tight. Let rest for 1-2 hours before shredding. Store in a clean empty cooler, or in a turned off oven.
Notes
If using a pellet grill remember to shuffle around the pellets, as time goes by a divet will form in the pellets and they will stop feeding in. Also ensure that you are refilling pellets, since this is a long cook you will most likely have to refill at least one time.
Storage:
How to Store and Reheat: Store any leftover pulled pork in a sealed container in a refrigerator for up to 5 days. To reheat, place pork in a sealed plastic bag, and place the bag in a pot of boiling water. This helps the pork to retain all moisture during the reheating. Can also wrap the pork in a wet paper towel and microwave as a quicker option.
Freezing: store in a freezer safe container for up to 3 months. To thaw, remove to refrigerator the night before using. Then reheat following instructions above.
Nutrition
Serving:
1
|
Calories:
244
kcal
|
Carbohydrates:
1
g
|
Protein:
34
g
|
Fat:
11
g
|
Saturated Fat:
4
g
|
Cholesterol:
109
mg
|
Sodium:
631
mg
|
Potassium:
629
mg
|
Fiber:
1
g
|
Sugar:
1
g
|
Vitamin A:
66
IU
|
Vitamin C:
1
mg
|
Calcium:
28
mg
|
Iron:
2
mg
Nutrition information is automatically calculated, so should only be used as an approximation.
Like this? Leave a comment below!