Strawberry Shortcake. Juicy strawberries layered with fresh homemade whipped cream all with a tender, sweet buttermilk shortcake biscuit.
Strawberry Shortcake is one of my all time favorite desserts. This recipe comes together fairly easy even though we are making everything from scratch! Starting with the sweetened buttermilk shortcakes. These shortcakes are based on my southern biscuit recipe. But they're even easier to make because there's no need to bother with layering the dough, just simply press it together and cut.
How to make Strawberry Shortcake:
Prepare the strawberries. Dice up the berries, give a squeeze of lemon juice, a splash of vanilla and sprinkle with some sugar. Let this sit and the berries will soften and create a delicious juice that you can drizzle on your dessert!
Make the biscuit dough. Cut the butter into the dry ingredients, this can be done with a pastry cutter, knives/forks, or a food processor. Press the dough together with your hands into a rectangular shape, half an inch thick, then cut with a biscuit cutter.
Bake the biscuits. After cutting the biscuits brush the tops with a bit of melted butter or milk/cream. Give them a sprinkle of coarse sugar and bake for 15-17 minutes.
Make the homemade whipped cream. This is as easy to whipping together heavy cream, powdered sugar and a splash of vanilla. Use a stand or hand mixer to make this step go quick and easy.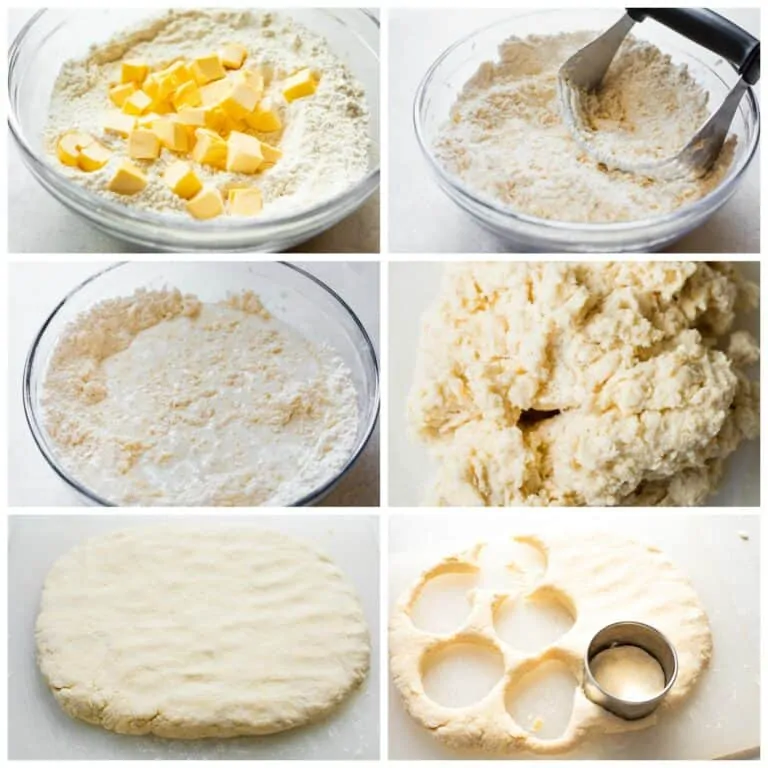 Overview of the biscuits for shortcake:
The shortcake biscuits are based on my basic biscuit recipe, with a few changes.
More sugar: these biscuits have a bit more sugar added to them than regular biscuits. Which makes them sweeter and worthy of dessert status.
Buttermilk: My regular biscuits use heavy cream. And you can do the same for these biscuits. I love using heavy cream in my regular biscuits because it does tend to make them a bit sweeter. Thanks to the extra sugar in these shortcake biscuits, they are sweet enough. The buttermilk adds that nice moisture we want, with a bit of a tang, which is a nice balance with the sweetness from everything else.
Topping: these biscuits are brushed with milk/cream or melted butter. Add an extra sprinkle of coarse sugar on top. this completes them and adds a nice crunch to the top of the biscuit.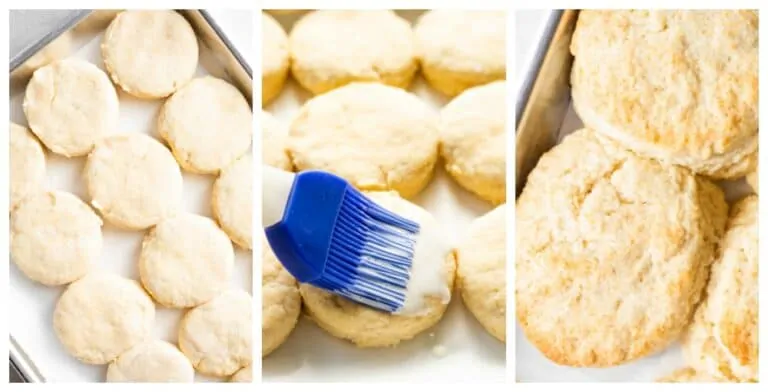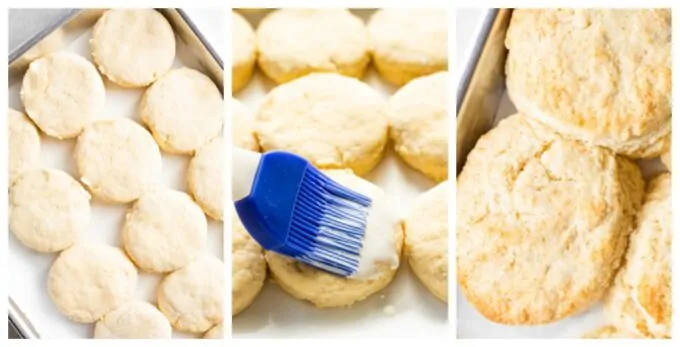 Storage:
Want to make this dessert recipe ahead of time?
Biscuits:make and store in a sealed container for 3-5 days.
Strawberries:mix and store in a sealed container in the refrigerator the day you want to serve. They get mushy if left overnight. It's best to use them within 12 hours of mixing.
Homemade whipped cream:store in a sealed container in the refrigerator. This whipped cream will keep 3-4 days. Whisk it or use the mixer again to help stiffen it back up before serving.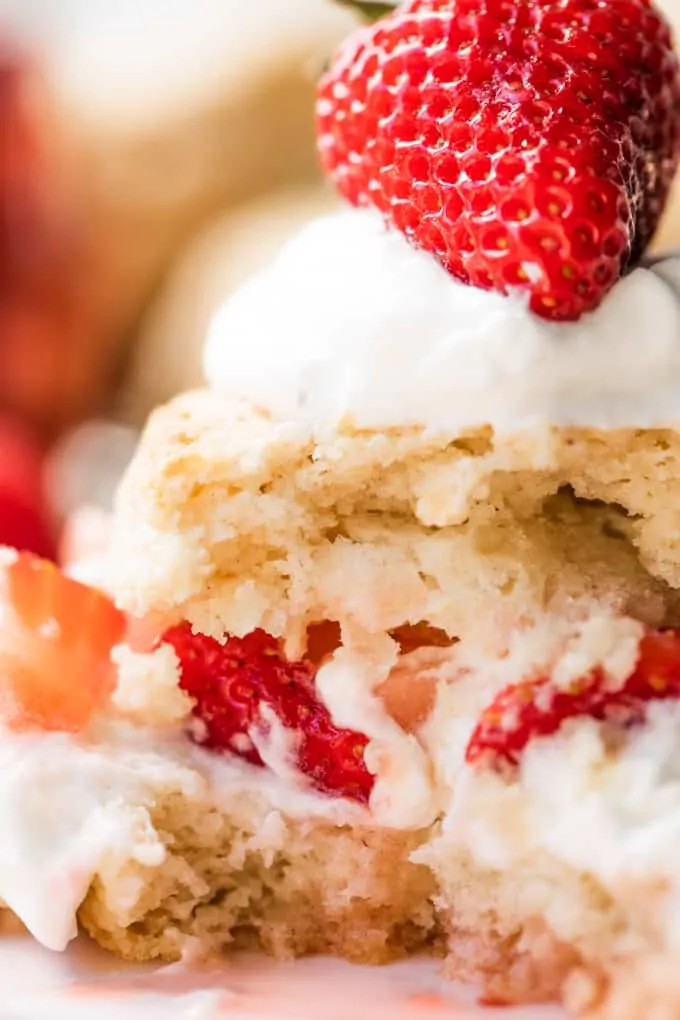 To save time and energy, skip the biscuit cutter and simply cut your biscuits into square shapes. This prevents having to press the dough back together multiple times to use it all!
More Strawberry Recipes: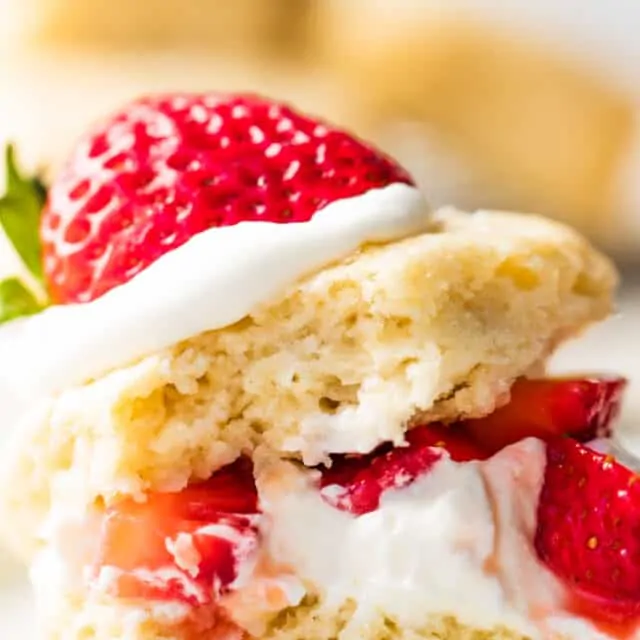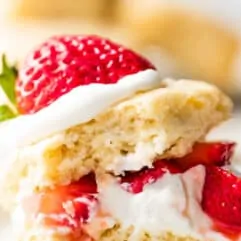 Strawberry Shortcake
Strawberry Shortcake. Juicy strawberries layered with fresh homemade whipped cream all with a tender, sweet buttermilk shortcake biscuit.
Ingredients
1 lb strawberries, diced
1/2 tsp lemon juice, freshly squeezed
1/2 tsp vanilla extract
2 tbsp sugar, (25g)
Biscuits
2½ cup all purpose flour, (300g)
1 tbsp baking powder, (12g)
¼ cup sugar, (50g)
½ tsp salt
½ cup unsalted butter, cold (113g)
1 cup buttermilk, (240ml)
1 tbsp unsalted butter, melted
1 tsp coarse sugar
Homemade Whipped Cream
1 cup heavy cream, (240ml)
2 tbsp powdered sugar, (14g)
½ tsp vanilla extract
Instructions
In a medium size bowl stir together the strawberries, lemon juice, vanilla, and sugar. Cover and store in the refrigerator.
Biscuits
Preheat oven to 425°F. Cover a baking sheet with parchment paper or silicone baking mat and set aside.

In a large mixing bowl combine the flour, baking powder, salt and sugar. Stir together.

Cut the butter into small cubes, and add to the dry ingredients. Cut into the flour using a pastry blender or food processor. Should have the texture of coarse meal, no large chunks of butter left.

Pour in the buttermilk and gently stir together. Will result in a shaggy dough.

Sprinkle a small amount of flour onto a clean work surface. Lay the dough on the floured surface and genly press together. Sprinkle small amounts of flour as needed on the dough if sticky.

Press dough together into a rectangular shape with the dough being 1/2 inch thick.

Cut using a 2-3 inch biscuit cutter. Press together remaining dough and cut additional biscuits until all dough has been cut.

Place the cut biscuits on the baking sheet close together, not quite touching. This helps the biscuits to rise.

Brush the tops of the biscuits with melted butter and sprinkle with coarse sugar.

Bake for 15-17 minutes until tops are golden and biscuits are baked through. Remove to wire rack and let the biscuits cool for 10 minutes before layering and serving.
Homemade Whipped Cream
Pour the heavy cream into a large mixing bowl. Add in the powdered sugar and vanilla extract.

Mix together on medium speed until cream is thickened and soft peaks form.

Serve by slicing biscuits in half and layering with whipped cream and berries. Top with additional whipped cream and berries as desired.
Notes
Biscuit recipe will make 9-10 biscuits depending on the size of biscuit cutter used. Can use more or less sugar in the berries and whipped cream to get desired sweetness.
Nutrition
Calories: 355kcal, Carbohydrates: 39g, Protein: 5g, Fat: 20g, Saturated Fat: 13g, Cholesterol: 63mg, Sodium: 280mg, Potassium: 153mg, Fiber: 2g, Sugar: 13g, Vitamin A: 714IU, Vitamin C: 27mg, Calcium: 128mg, Iron: 2mg
House of Yumm is a participant in the Amazon Services LLC Associates Program, an affiliate advertising program designed to provide a means for us to earn fees by linking to Amazon.com and affiliated sites.