Perfect Mashed Potatoes. These potatoes come out perfectly creamy and buttery! These are sure to become your family favorite!
How to Make Perfect Mashed Potatoes
Mashed potatoes are a staple side dish in our home. They come together easily and pair so well with so many things! They can be served alongside some turkey or chicken. In a casserole. Or under some Swedish Meatballs.
This recipe is my all time favorite! The use of the sour cream allows us to use less butter, and still end up with epically creamy mashed potatoes. Plus the tang of the sour cream adds to the flavor.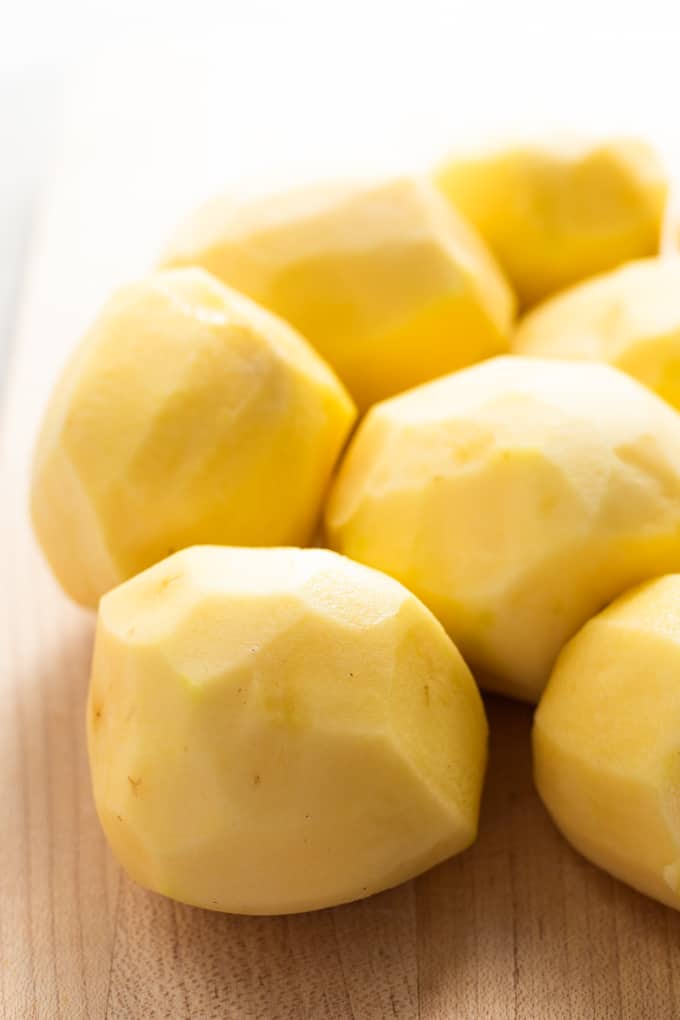 How to make Homemade Mashed Potatoes:
Peel and chop the potatoes. Add the potatoes to a large pot and cover with water. Add salt and bring to a boil.
Boil the potatoes until they are fork tender. Once boiling it can take about 10-15 minutes.
Drain the potatoes.
Dry the potatoes. This is a quick and easy step of just adding the potatoes back into the pot, placing them back over the heat for a brief 2 minutes, letting more of the excess moisture evaporate off.
Mash the potatoes. Use your preferred method of mashing.
Add warm milk, butter and salt, then stir in the sour cream.
How to mash potatoes:
For Rustic: Meaning a mash that still has some chunks, but mostly smooth. Use a handheld masher, like this OXO Stainless steel potato masher (affiliate link)
For Epically Smooth and Creamy: these potatoes come out smoother than silk! Use a Potato Ricer, like this OXO Good Grips (affiliate) version.
For Whipped Mashed Potatoes: These potatoes come out light and airy. Just be careful not to overmix. Then you will end up with gummy mashed potatoes. Use a hand or a stand mixer. This KitchenAid Hand mixer (affiliate) will get it done.
Tips and Tricks for making the BEST Mashed Potatoes every time!
Pick your potatoes wisely– choose either a starchy Russet potato or a waxy Yukon gold. My personal preference is the Yukon Golds which give a creamy, buttery mash.
Peel and chop your potatoes before boiling– this allows for quick and even cooking of the potatoes.
Salt your water– after you add the potatoes to the pot, cover with water, add a generous helping of salt. We will have a chance to salt to taste later on as well when making the final dish.
Don't over mix- one method of mashing potatoes is to use a hand mixer or stand mixer. If we're not careful the potatoes can become over mixed which gives them a gummy, almost glue like texture.
Warm your milk and butter before adding to the potatoes. This keeps your mashed potatoes nice and warm and helps them to absorb the moisture easier.
Adjust to get the right consistency. If your potatoes aren't creamy enough, add a bit more milk, or stir in a bit more sour cream.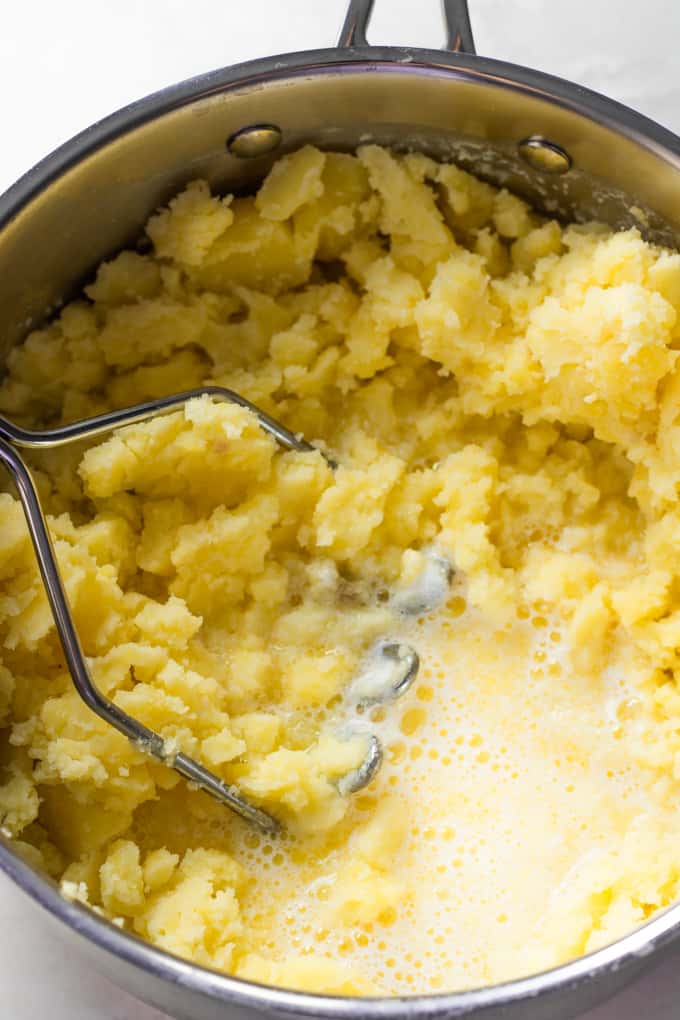 How to Store Mashed Potatoes:
Store the potatoes in a sealed container in the refrigerator. These potatoes can be stored in the fridge for up 3-4 days.
How to Reheat Mashed Potatoes:
Mashed potatoes can be reheated in the oven or in a large skillet on the stovetop. Simply add a small amount of milk into the potatoes while they are heating or after armed to help get the desired consistency. They will be slightly dried out after refrigerating.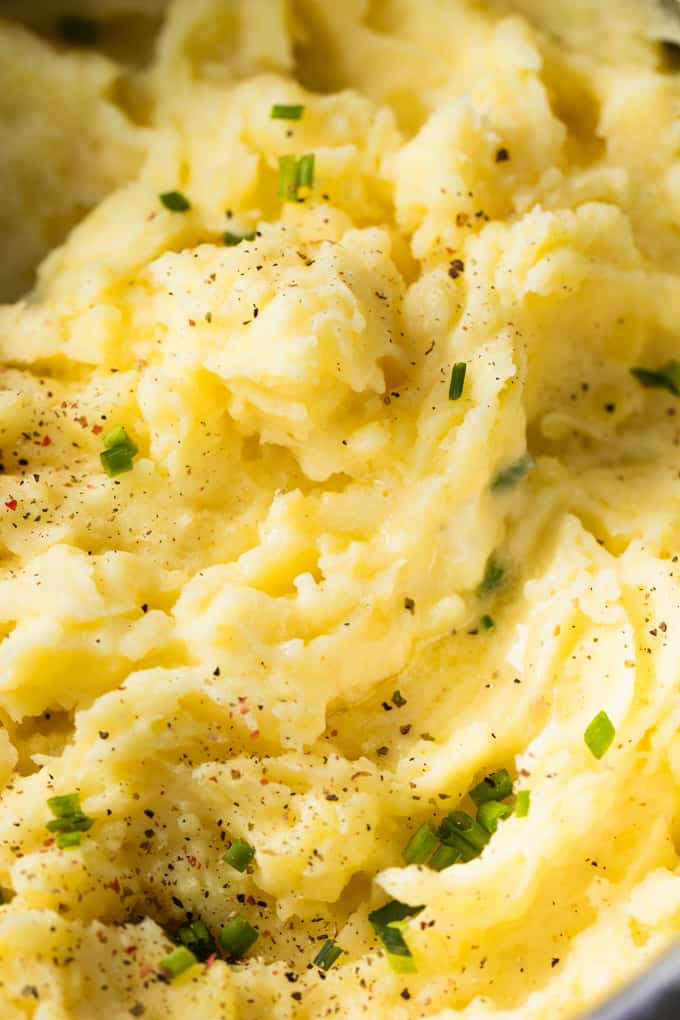 How many potatoes do I need to prepare to feed people?
Since mashed potatoes is one of those recipes that we prepare often for large gatherings and holidays, you might be wanting to make a large batch! To give you an idea, you want to allow about 1/2 pound of raw potato per person. So if you are expecting 15 people you will want to plan to make about 8 pounds of potatoes..always round up!
How to Prep Mashed Potatoes Ahead of Time:
Prep the ingredients: Peel and chop the potatoes and chill in a large bowl of ice water for up to 4 hours prior to boiling. Just make sure to keep the water cold.
Make up to 3 days ahead of time: Follow the recipe completely. Place the mashed potatoes in a large sealed container, or store in a casserole dish covered. Potatoes can be reheated in the oven in the casserole dish, cover with foil and bake at 350 for about 30-35 minutes until heated through.
Make earlier in the day: simply keep the potatoes warm in a slow cooker until ready to serve!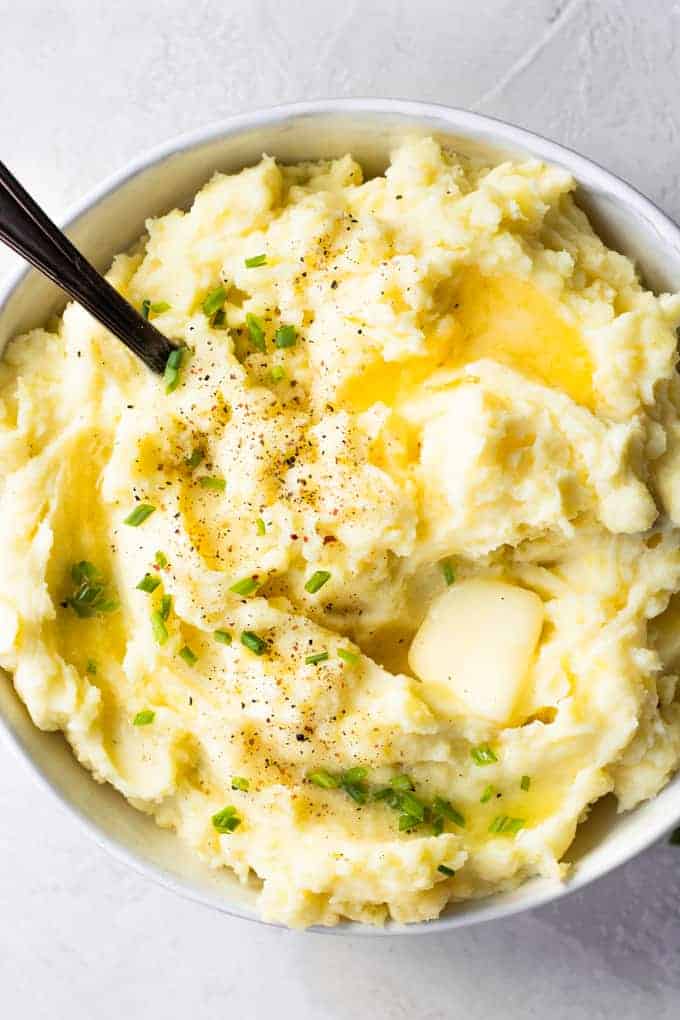 Other Side Dish Recipes you may enjoy: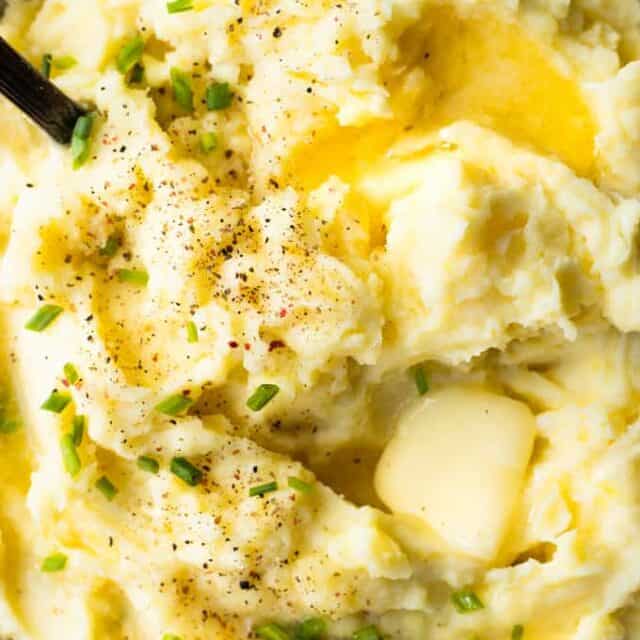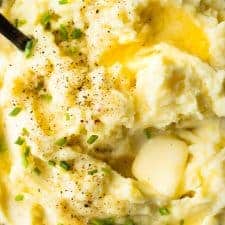 Perfect Mashed Potatoes
Perfect Mashed Potatoes. These potatoes come out perfectly creamy and buttery! These are sure to become your family favorite!
Ingredients
3 pounds potatoes, russet or gold
3 cloves garlic, minced
3 tbsp unsalted butter
½ cup milk
¼ cup sour cream
1 ½ tsp salt
Instructions
Peel and chop the potatoes. Potatoes should be cut to about 1 inch squares.

Place potatoes in large pot, cover with water, add the minced garlic and sprinkle in some salt.

Heat over medium high heat. Once boiling, allow the potatoes to simmer about 10-15 minutes until they are tender and easily mashed with a fork.

Strain the water out, return the potatoes to the pot, place over low heat and cook while stirring the potatoes for another 1-2 minutes to help dry the potatoes.

Mash the potatoes using your desired method.

Pour milk and butter into small saucepan. Heat over medium heat, just until the milk is warm. Do not bring to a boil.

Add the warm milk mixture to the potatoes and stir together. Stir in sour cream and salt (add more salt to taste if needed).
Equipment
Notes
If potatoes are too thick you can add a bit more milk. Add in small amounts and mix in completely.
Nutrition
Serving: 1, Calories: 243kcal, Carbohydrates: 41g, Protein: 5g, Fat: 8g, Cholesterol: 16mg
House of Yumm is a participant in the Amazon Services LLC Associates Program, an affiliate advertising program designed to provide a means for us to earn fees by linking to Amazon.com and affiliated sites.