Garlic Herb Prime Rib. This magnificent beef dish has a garlic herb crust on the outside and tender, juicy meat on the inside. This recipe is easy to make and always impresses!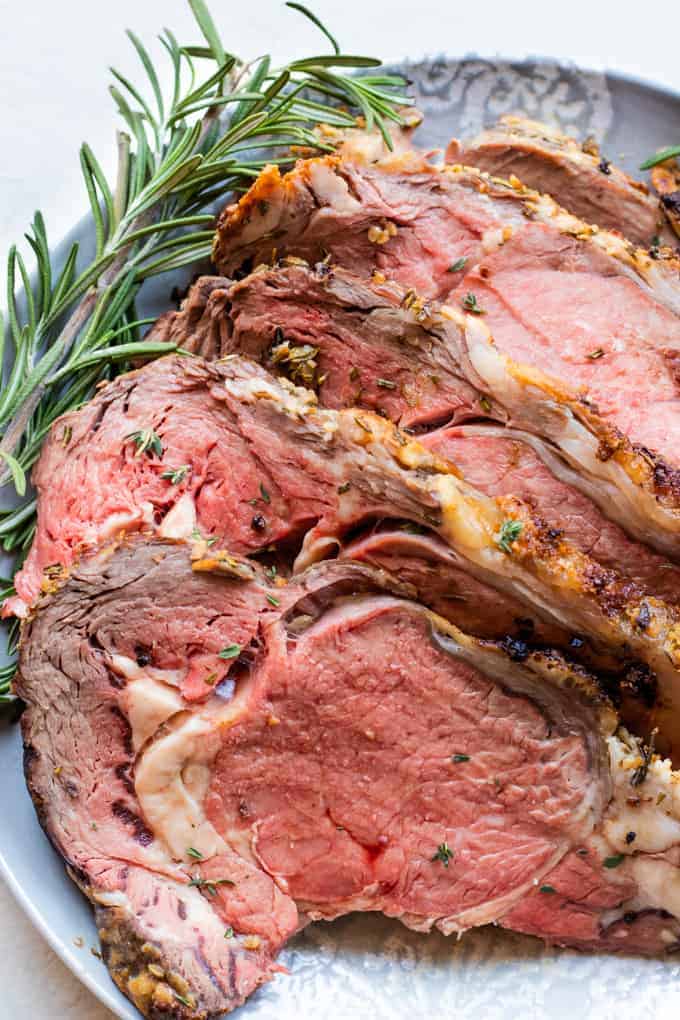 Glorious prime rib always takes center stage! This cut of meat is
tender
juicy
flavorful
easy to cook
The ends of the roast cook quicker and will have a medium-medium well cook for those that want their meat more "done" while the center remains wonderfully rare-medium rare for those that prefer it.
For this particular recipe I share a salted, garlic herb butter that is slathered on the roast before cooking. This creates a flavorful crust on the outside of the roast and imparts even more flavor to the meat.
What you need to know about Prime Rib (the meat):
1. The cut
When you go to the meat counter at the market what you want to look or ask for is a "Bone in Rib Roast" or they may call it a Ribeye Roast.
This is a cut of beef from the primal rib and can contain up to seven ribs. Prime rib is made of a section of the ribs leaving the bones in a rack. A ribeye steak would be a section of the rib roast that is cut off the rack before being cooked.
It's also important to note that the name "prime" is not referring to USDA Prime beef ratings. You will want to check the rating of the meat you are purchasing to determine if it is a Prime rated beef.
When asking the butcher for this particular cut of beef, you can also ask that they cut and remove the bones and tie them back on for you. Or you can do this step on your own at home, it's very simple and just uses a bit of food grade twine.
2. The bone
The reason we want to keep the bones is that it helps to create a natural rack for the meat to cook on. It's also said that keeping the bones in while cooking helps conduct the heat leading to more even cooking.
3. The cost
It's true, this particular cut of meat is not cheap. That's why it's usually reserved for special occasions like Christmas or dinner parties. The reason? This cut of meat has a fat marbled muscle that isn't heavily used, making this cut of meat tender, juicy and very flavorful.
It also means that we are paying good money for the fat on this cut. Typically you won't need to trim any fat off the cut you receive from the butcher. Keep that fat on there.
4. The amount
It's important to know what size roast you need to purchase based on how many people you will be feeding.
Some averages that may help you is to estimate 1 pound of roast per person. Another way you can look at it is that each bone in the roast will feed 2 people. If you are getting a roast with 4 bones, it will feed approximately 8 people, and will weigh about 4 pounds.

How to prepare a Prime Rib:
Cut the bones off the roast. Use a sharp knife and carefully cut along the bones, let them lead you.
Salt under where the bones were.
Use food safe twine to tie the bones back onto the roast. This allows us to cook the meat with the bones and makes it easy to remove them and slice and serve the meat once cooked.
Salt the rest of the roast. Due to the size and thickness of the roast, you want to salt generously.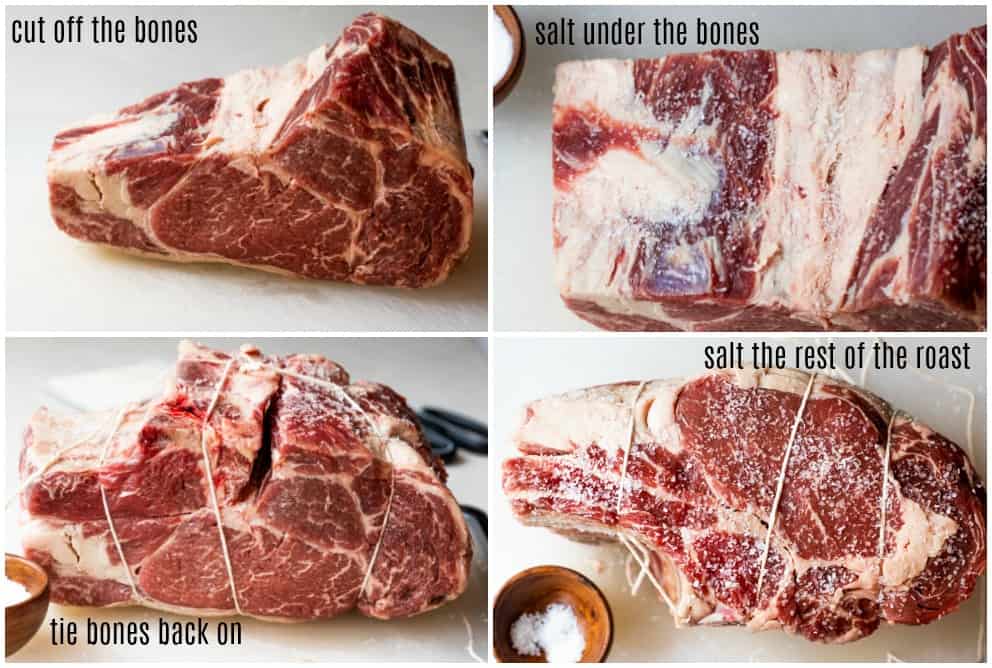 After the salt has been added let the roast sit at room temperature for at least 45 minutes. It's perfectly safe. FDA recommends not leaving meat out of refrigeration for longer than 2 hours. During this time, the salt is going to draw out moisture from the meat, the salt will then mix with that liquid and it will be re-absorbed by the meat. It's wonderful science and makes the meat even more tender and flavorful.
Prime Rib Roast Temperatures:
Rare: 120-129℉
Medium Rare: 130-134℉
Medium: 135-144℉
Medium Well: 145-154℉
Well Done: 155-164℉
Keep in mind that all of these temperatures are FINAL temperatures.
You will need to pull from the heat source 5-7℉ below your desired doneness.
The meat will continue to cook and temperature will rise during the carryover cooking time. Cook your meat to temperature not time.
Methods for cooking Prime Rib:
Heat Sources:
A prime rib can be made using two cooking styles:
Sear with high heat and then roast at a low temperature to cook to desired done-ness.
Roast at a low temperature and then sear with high heat, also known as a reverse sear method.
I personally prefer to sear first and then roast, as it allows me greater control over temperature and it takes less time. Starting with a blast of high heat helps the roast cook quicker. Doing a reverse sear is a longer process since it's starting with a low temperature.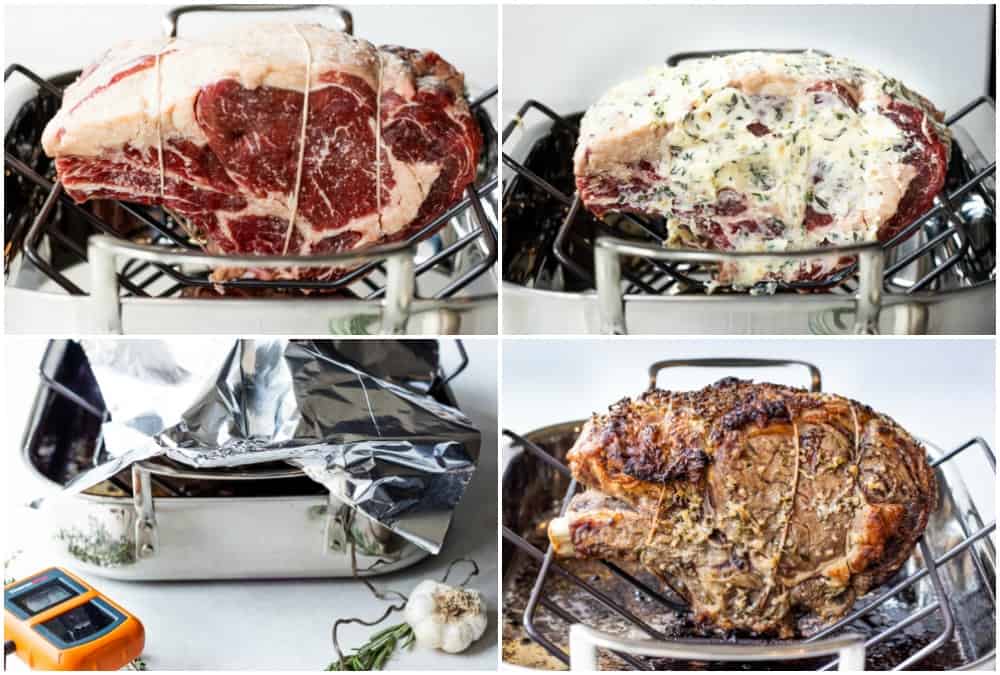 After the roast has sat with the salt for at least 45 minutes, you can get ready to cook.
Place in roasting pan. Place bone side down. If you have the bones in you don't need a rack in the roasting pan, the bones will act as a natural rack.
Cover with the garlic herb butter, or seasoning of choice.
Bake at a high heat of 500 degrees for 15 minutes. Then reduce the heat to 325 and continue cooking to desired temperature. Use a leave in thermometer to help you track the temperature. But keep in mind these can be off due to metal conducting heat, so always double check your temperature with a digital instant read thermometer also.
Remove from the oven once desired temperature is reached.
Tent with foil and let the roast sit for 30 minutes prior to cutting.
Garlic Herb Butter
This is one of my favorite butters to use on beef and the ingredients are simple.
salt
minced garlic
rosemary
thyme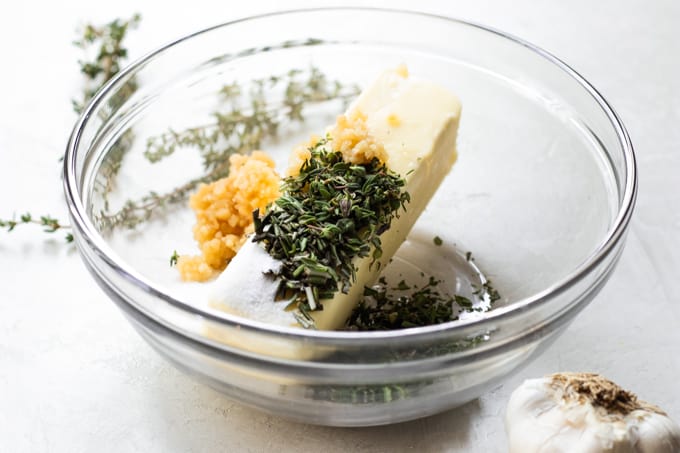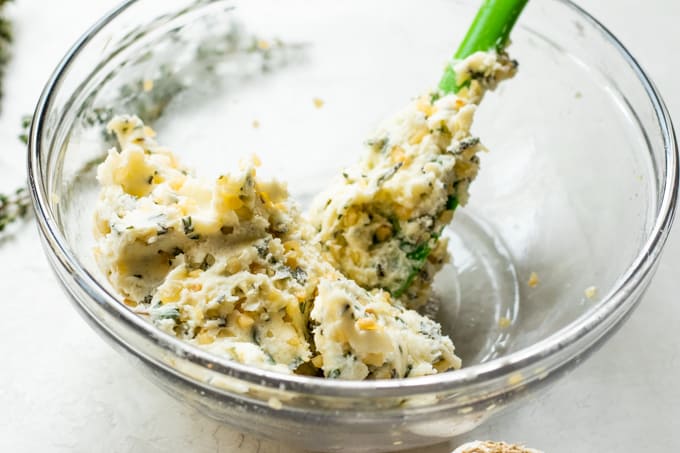 Storage and Reheating Information:
Storage: cooked prime rib can be stored in the refrigerator in a sealed container for 3-4 days.
Freezer: cool the prime rib to room temperature and place in a freezer safe container or freezer bag. Store in the freezer for 2-3 months. To thaw move to the refrigerator overnight.
Reheating: place slices of prime rib in a baking pan with about 2 tablespoons of beef broth or water, cover with foil, and reheat in the oven at 250℉ for 10-20 minutes until warmed through.
Side Dishes to serve with this Garlic Herb Prime Rib:
Garlic Herb Prime Rib
Garlic Herb Prime Rib
. This magnificent beef dish has a garlic herb crust on the outside and tender, juicy meat on the inside. This recipe is easy to make and always impresses!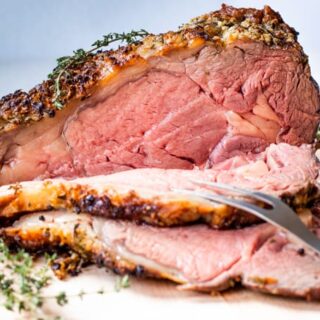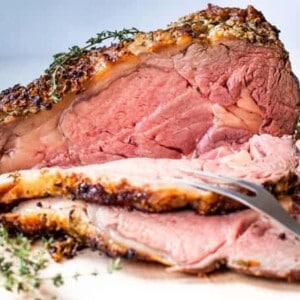 Ingredients
1

Bone In Rib Roast (3-7 ribs)

estimate 1 rib per every 2 people

salt

(approx 1 tablespoon for 4 lbs)
Instructions
Cut bones from bone in rib roast using a sharp knife.

Salt under the bones and tie the bones back on using food safe twine. Salt the rest of the roast. Let the roast sit at room temperature for 45 minutes with the salt.

Pat the roast dry and place in a roasting pan bone side down.

Prepare the garlic herb butter by mixing the ingredients together in a small bowl.

Using your fingers, smear the garlic herb butter mixture all over the outside of the roast.

Cook the prime rib in the oven for 15 minutes, then reduce the heat to 325℉. Track the temperature using a digital thermometer.

Cook the prime rib until the desired temperature is reached. For rare remove when the roast registers 115℉. 125℉ for medium rare, 130℉ for medium, 140℉ for medium well, 150℉ for well done.

Once removed, tent the prime rib in the roasting pan with foil and let sit for 30 minutes.

Slice and serve immediately.
Notes
Cook to temperature, as a general guideline expect to cook 11-12 minutes per pound to reach rare.
Nutrition
Serving:
1
|
Calories:
550
kcal
|
Protein:
51
g
|
Fat:
50
g
Nutrition information is automatically calculated, so should only be used as an approximation.
Like this? Leave a comment below!
Recipe first published December 10, 2019. Updated December 16, 2020.