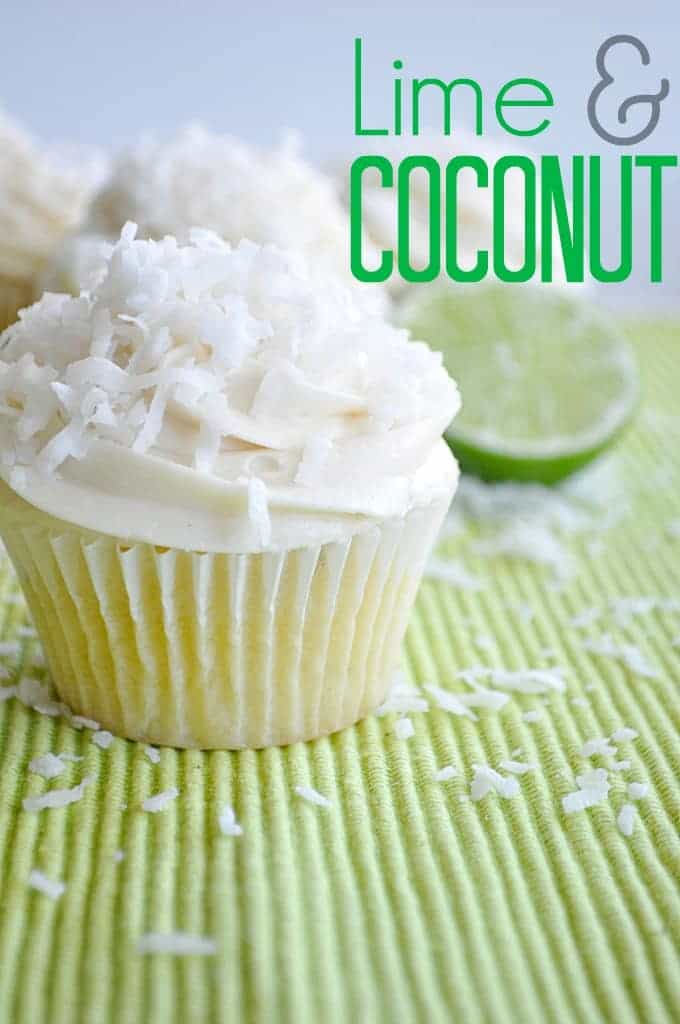 Yum!!  Lime and coconut cupcakes!?!  According to the calendar it's winter.  According to the high 80's temperature that we've been having here in Southern California, it's Summer!!  Which makes me want to eat summer treats!  Nothing is more refreshing than the flavors of lime and coconut.  So of course I had to make it into a cupcake!
These cupcakes turned out better than I had even hoped!!  The cake is moist and flavorful.  I was worried I was adding too much lime into the batter, but it's the perfect amount!  It gives the cake just the right lime flavor without it being too overwhelming.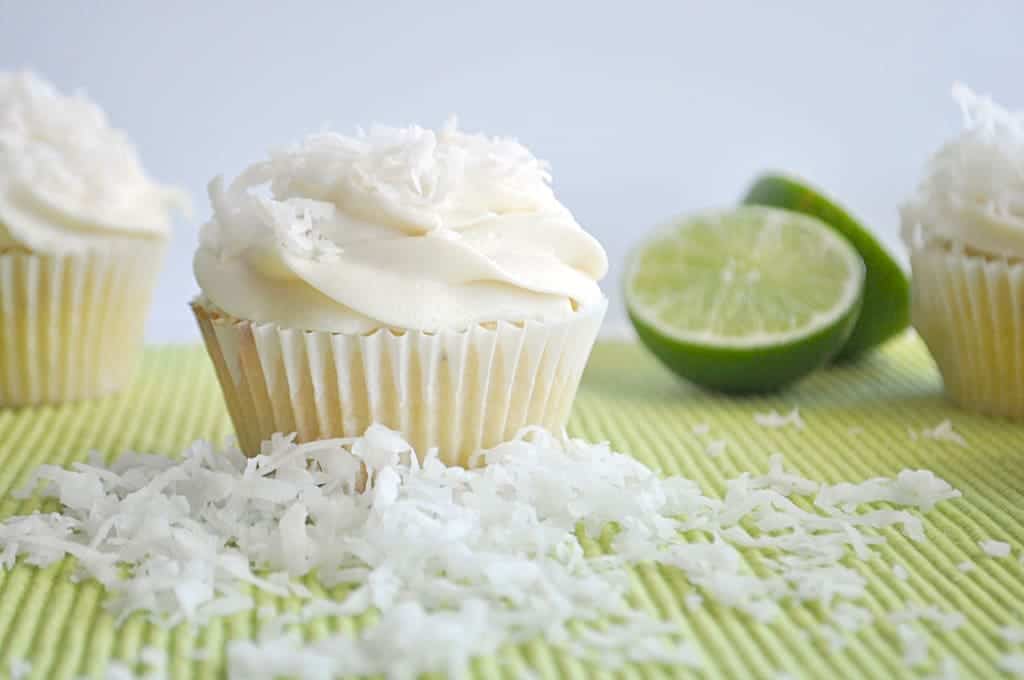 The filling for these cupcakes is a creation meant to taste like the inside of an Almond Joy.  You know that creamy coconut-y wonderful center of the Almond Joy??  That's what I have in the center of these cupcakes!  So if the cake isn't moist and tasty enough for you?  There's this extra special surprise in the middle just waiting.
Top this all off with a coconut buttercream frosting.  This decadent yet simple frosting is bursting with coconut flavor and perfectly complements the rest of the cupcake.
If you are a fan of lime and coconut then this is THE cupcake for you!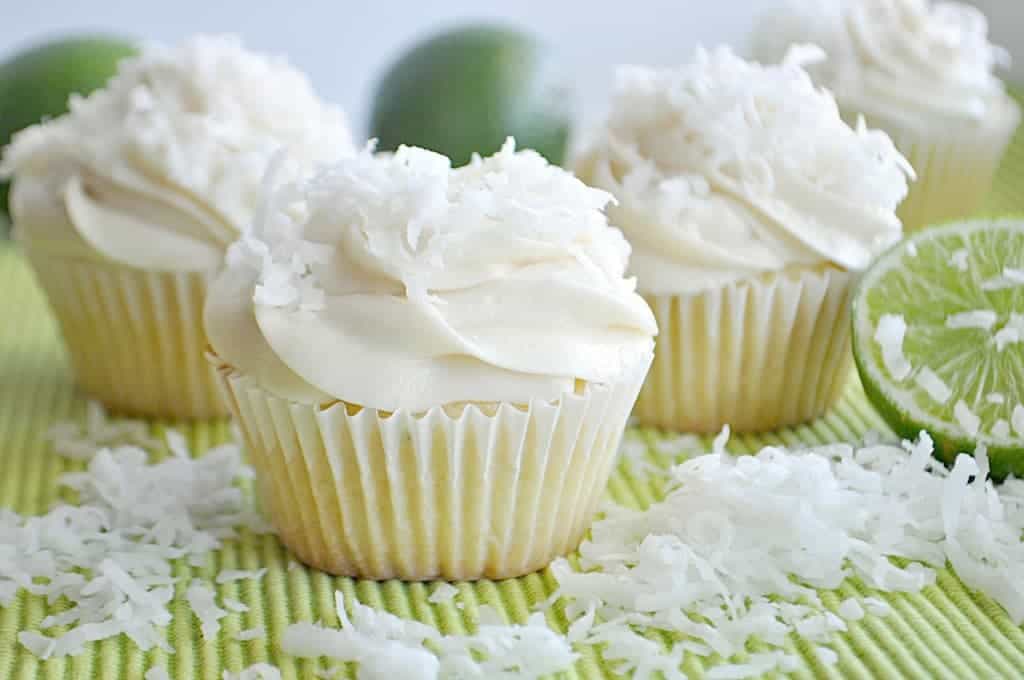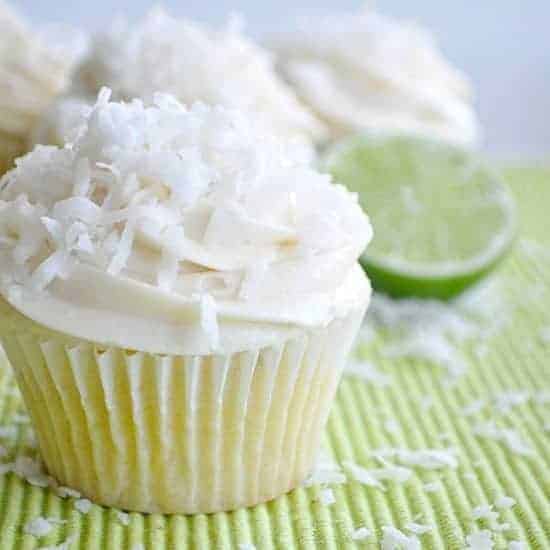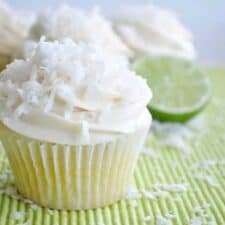 Lime Coconut Cupcakes
Ingredients
For the cake
Coconut Filling
¼ cup sweetened condensed milk
⅛ tsp salt
1 tsp vanilla
1 cup powdered sugar
1 cup sweetened shredded coconut
Coconut Frosting
½ cup butter softened
1 tsp vanilla
4 cups powdered sugar
⅓ cup flour
½ cup canned coconut milk, reduced
Instructions
For the cupcakes:
Mix all dry ingredients (flour, sugar, baking powder and salt) together in a small bowl. Mix all wet ingredients (eggs, vanilla, sour cream) together in a large bowl. Slowly combine the dry ingredients into the wet ingredients. Stir until combined. Add in the lime juice and zest, stir until mixed.

Bake cupcakes at 350°F for 16 minutes.
For Filling:
Combine sweetened condensed milk, salt, and vanilla together. Add in powdered sugar and stir until mixed. Add in shredded coconut. Stir until mixed.
For Frosting:
Add coconut milk to saucepan and bring to a boil. Once boiling lower heat to a simmer and simmer the milk for 20-25 minutes until it has reduced to about half its original amount, about 1/4 cup. Allow milk to cool to room temperature. Add all ingredients to large mixing bowl and beat on low speed until combined.
Nutrition
Calories: 436kcal, Carbohydrates: 69g, Protein: 4g, Fat: 17g, Saturated Fat: 11g, Cholesterol: 54mg, Sodium: 234mg, Potassium: 101mg, Fiber: 1g, Sugar: 55g, Vitamin A: 413IU, Vitamin C: 1mg, Calcium: 49mg, Iron: 1mg
House of Yumm is a participant in the Amazon Services LLC Associates Program, an affiliate advertising program designed to provide a means for us to earn fees by linking to Amazon.com and affiliated sites.