Nothing beats this fresh Homemade Peach Cobbler! Made with fresh, frozen or canned peaches warmed and swimming in a sweet syrup and topped with a buttery, vanilla flavored biscuit like topping. Top with creamy vanilla ice cream for the ultimate summer dessert.
Why this Peach Cobbler is the BEST!
Easier than pie! Instead of working with a pie crust we are making an easy biscuit, cake like topping. No complicated steps are needed, simply mix the topping batter together and spoon onto the top of the peaches.
Basic Ingredients: mostly basic pantry ingredients are needed for the batter: flour, salt, baking powder. With the addition of butter, milk and fruit.
Short Cooling Time: again, unlike pie, this dessert can be served up soon after baking.
Seasonally flavorful: using fresh fruits in season give the best results!
Easily adaptable: if you're wanting to enjoy this recipe all year round this recipe can be made using frozen or even canned peaches. All instructions are below.
Ingredients Needed: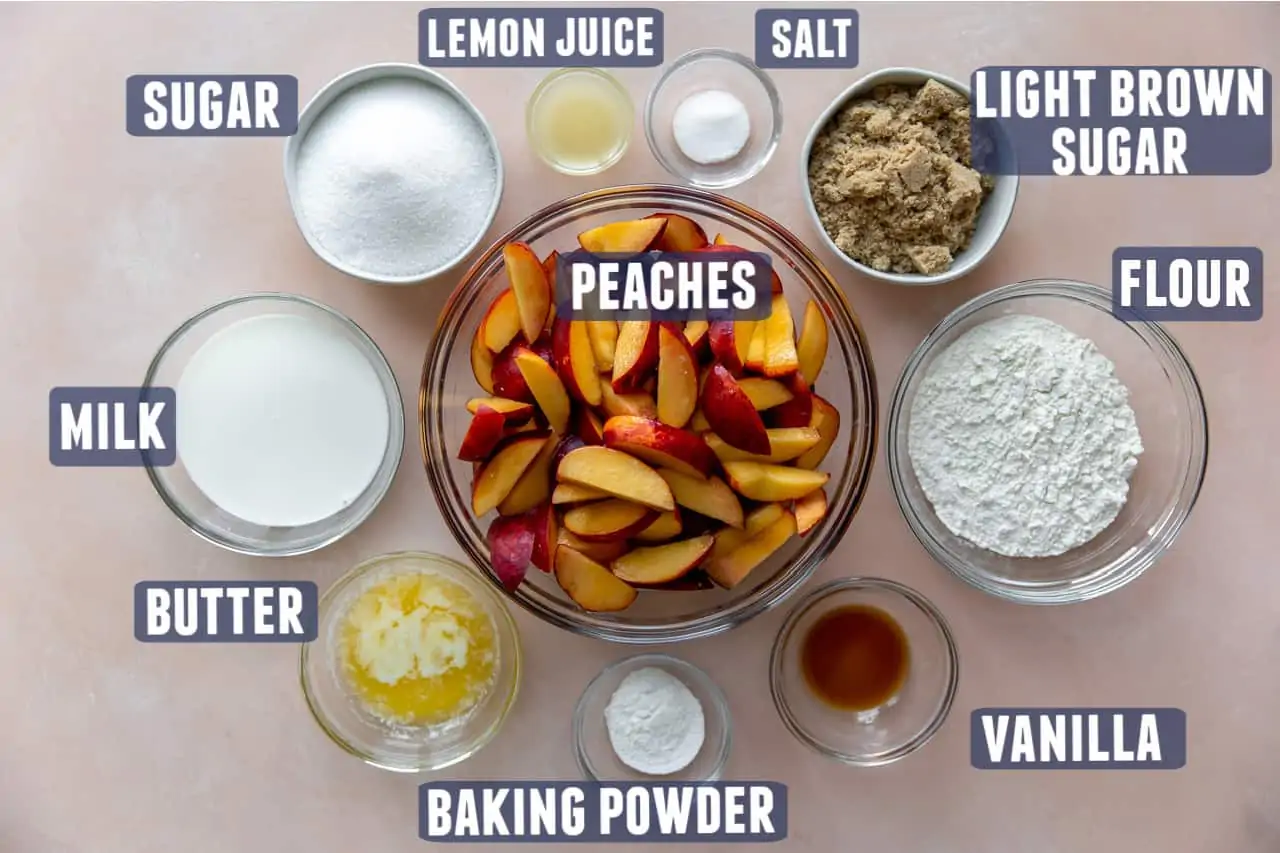 Notes on some ingredients:
Peaches: use fresh, canned, or frozen peaches.
Butter: unsalted allows you to control the amount of salt in your dessert.
Lemon juice: freshly squeezed, avoid using juices with additional sweeteners added.
Milk: can use whole milk, or 2%, or any dairy free milk you have.
How to Make (Step by Step):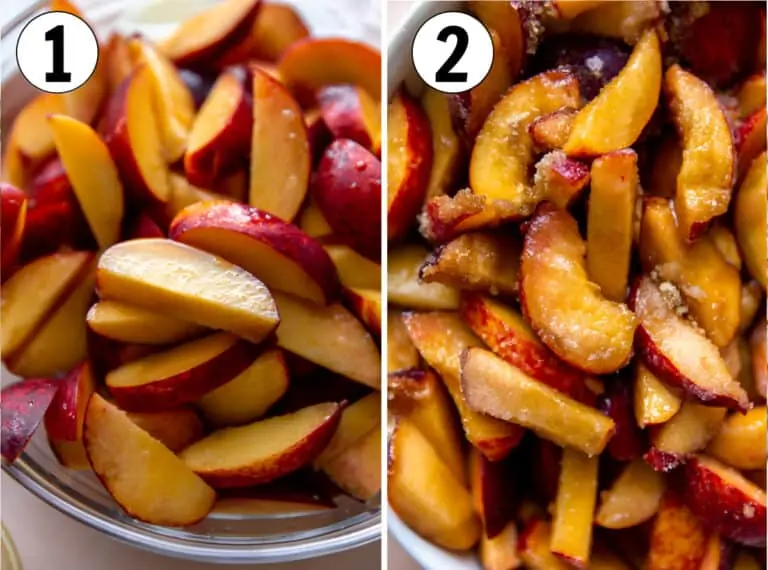 Step 1: Prepare the peaches you will be using. You can use fresh, canned or frozen. I have notes on how to use all of these.
Step 2: Sweeten and pre-bake: Add the sugar and lemon juice to the peaches and stir around. And prebake fresh peaches to help them soften
Step 3: Make the cobbler batter while pre-baking.
Step 4: Spoon the cobbler topping on. No need to make it perfect, we want a bumpy cobbled look, this is why it's called cobbler.
Step 5: Bake for 35-50 minutes, depending on the type of peaches you are using (fresh, frozen or canned) more information in recipe card below.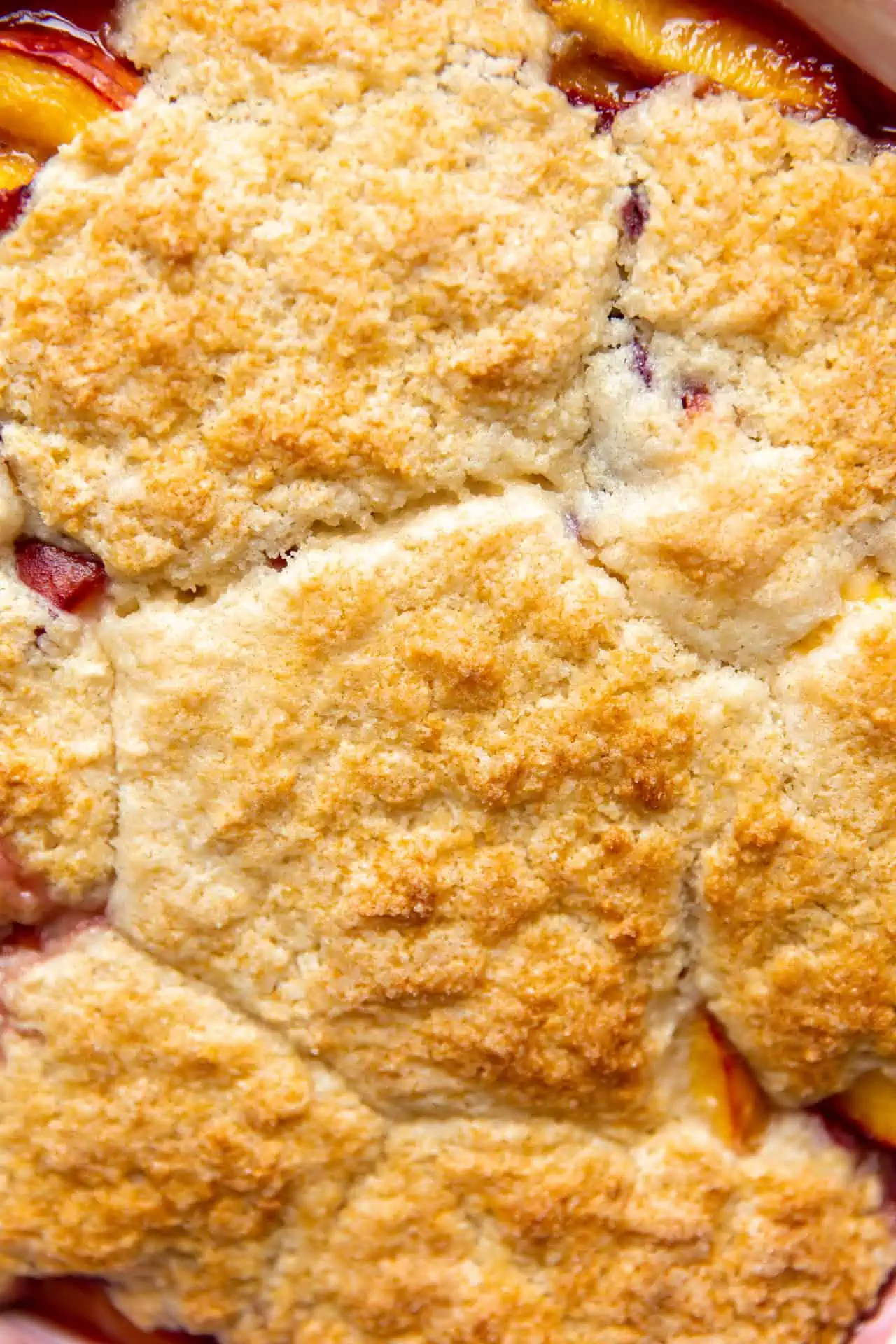 Expert Tips:
Freestone peaches: if you are given the option go for freestone! This means that the peach pit is "free" and when you slice the peach in half the pit is already separated and falls out easily. The other variety is clingstone, in these peaches, the pit clings to the peach and you need to slice around the pit to get the fleshy insides of the peach.
Spice it up: are you a fan of cinnamon and spice in your cobbler? Simply add it into the peaches with the sugar. Options would include: cinnamon, cardamom, nutmeg or ginger.
Make Ahead: Due to the fruit juices and the cake-like topping, freezing can result in a mushy dish. If you want to make this dish ahead of time, the fruit portion can be made, covered and stored in a refrigerator. Make topping and bake for 35-45 minutes when ready.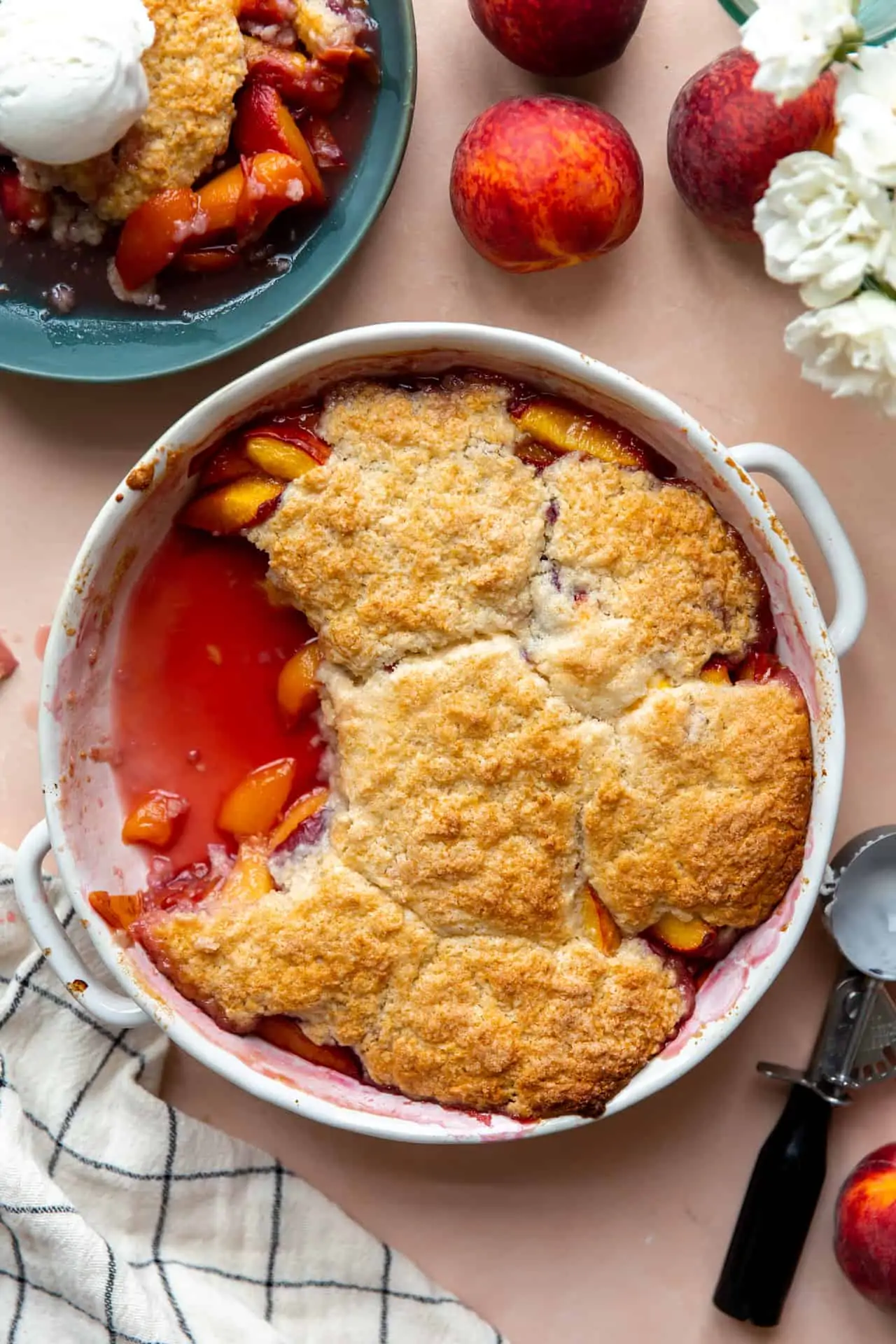 Frequently Asked Questions:
Do I need to remove the peach skins?
This is your preference. It's not needed since they bake enough that the skins soften. If you prefer to remove them, bring a large pot of water to a boil, carefully add the fruit, let it boil for 30 seconds, remove them to a bowl of ice water to cool, then the skins will easily peel off.
Can I make cobbler with frozen peaches?
Yes! Thaw the peaches, then add to the baking dish with the sugar and lemon juice. Let this sit while you prepare the batter, there is no need to pre-bake.
Can I make cobbler with canned peaches?
Canned fruits already have sugar added. Simply drain, then add to the baking dish and add the topping and bake. There is no need to pre-bake.
What is the difference between crisp and cobbler?
Cobblers are made with a dense, biscuit like topping that bakes up with a "cobbled" appearance. While crisps are baked fruits topped with oats and streusel. Both are easy options for fruit desserts.
More Dessert Recipes:
Homemade Peach Cobbler
This classic Peach Cobbler has a crisp, buttery, vanilla topping. Plus this recipe can be made with fresh, frozen or canned peaches so that you can enjoy it year round.
Ingredients
4 cups fresh peaches, sliced (notes on canned and frozen below)
½ cup sugar
¼ cup light brown sugar
1 tsp lemon juice, fresh squeezed
Topping
1 cup all purpose flour
½ cup sugar
½ tsp salt
1 tsp baking powder
4 tbsp butter, melted, cooled to room temp
1 tsp vanilla extract
¾ cup milk
Instructions
Preheat: Preheat oven to 375℉.

Prepare Peaches: Add the sliced peaches to a 3 qt ceramic baking dish. Add the sugar, light brown sugar, and lemon juice. Stir to coat in the mixture.

Prebake Peaches: Bake for 10 minutes. (this step is only done if using FRESH. More information in post and notes)

Prepare Batter: While pre-baking, in a medium size mixing bowl add the flour, sugar, salt and baking powder. Stir to combine.

Add Wet Ingredients: Pour in the milk, melted butter, and vanilla extract.

Batter: Remove the peaches from the oven and spoon the batter over the top of the baked peaches.

Bake: Continue to bake at 375℉ for another 35 minutes until the top is crispy and golden brown.

Serve: Serve cobbler warm or room temperature. Pairs wonderfully with vanilla ice cream.
Notes
Peaches: you will need 5-6 peaches to get the 4 cups needed.
Peach Skins: it is not a requirement to remove the skins, the peaches bake long enough that there is no texture left. IF you do want to remove the skins briefly boil the peaches (30 seconds), then place in an ice bath, the skins will easily peel off.
Canned: Use two 29 ounce cans, drain the juice, add to the baking dish, stir in 2 tablespoons of sugar. Do not pre-bake the peaches, add the cobbler topping and bake the entire dish for about 35-45 minutes, until the topping has a nice golden crust.
Frozen: let the peaches thaw for about 10 minutes, stir in the sugars and lemon juice. There's no need to pre-bake, add the topping and bake the dish for about 40-50 minutes.
Want Cinnamon? Add 1/4 tsp of cinnamon and 1/4 tsp of ground nutmeg to the peaches with the sugars before baking them. You can also create a sugar and cinnamon mixture to sprinkle on top of the topping prior to baking. This will give a wonderful sweet and spicy flavor!
Pre-baking: Only pre-bake the fresh peaches to give them more time to cook and soften.
Baking Dish: All baking times have been determined using a ceramic 3 quart baking dish that measures 8×10.5. If using a different size pan please be mindful of baking time. Using a 9×13 pan will need less baking time.
Storage and Reheating: cover it and store in the refrigerator for up to a week. To reheat: preheat the oven to 375℉, cover the cobbler with foil and bake until it's warmed to your liking, about 15-20 minutes.
Make Ahead Directions: Due to the fruit juices and the cake-like topping, freezing can result in a mushy dish. If you want to make this dish ahead of time, the fruit portion can be made, covered and stored in a refrigerator. Make topping and bake for 35-45 minutes when ready.
Nutrition
Serving: 1serving, Calories: 373kcal, Carbohydrates: 70g, Protein: 4g, Fat: 9g, Saturated Fat: 5g, Cholesterol: 23mg, Sodium: 489mg, Potassium: 270mg, Fiber: 2g, Sugar: 53g, Vitamin A: 617IU, Vitamin C: 7mg, Calcium: 171mg, Iron: 2mg
Recipe first published May 29, 2019. Updated June 18, 2021 with new information and images.
Photography done by the talented @KJandCompany.co
House of Yumm is a participant in the Amazon Services LLC Associates Program, an affiliate advertising program designed to provide a means for us to earn fees by linking to Amazon.com and affiliated sites.