Homemade Peach Cobbler
Peach Cobbler. This classic southern dessert recipe is perfected and may even be the best cobbler you've ever had! Made with fresh peaches and a crispy, buttery, vanilla topping this cobbler recipe is quite possibly perfect!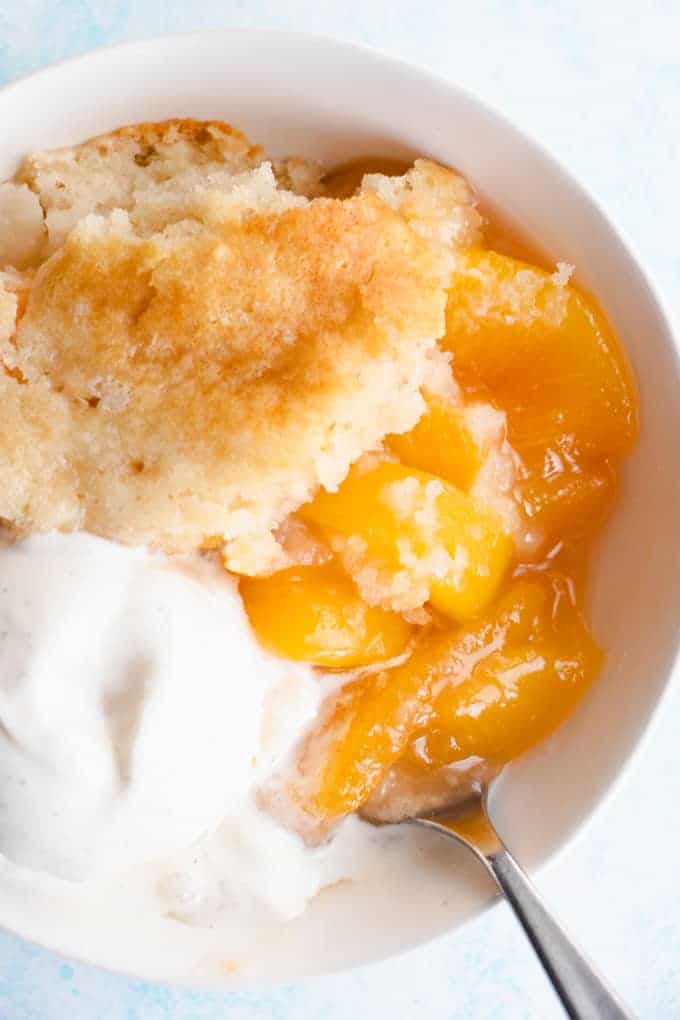 There is no better dessert dish than a classic peach cobbler! And while there are many recipes and varieties of cobbler, this is my personal favorite! The cobbler topping is between that of a cake and a biscuit. It has a golden crust that forms on top, but then is soft, fluffy almost cake like underneath.
How to Make Peach Cobbler:
Prepare the peaches you will be using. You can use fresh, canned or frozen peaches. I have notes on how to use all of these.
Add the peaches to the baking dish, I typically use a rectangle 3 qt baking dish, it measures 8×10. I have also used a deep dish pie dish, but sometimes it spills over the edge, so make sure you place a cookie sheet underneath. You can also use a 9×13 dish, but keep in mind the baking time may be less since the cobbler will be a bit thinner.
Add the sugar and lemon juice to the peaches and stir around.
Prebake fresh peaches to help them soften.
Make the cobbler batter while the peaches are baking.
Spoon the cobbler topping onto the peaches, spread around. No need to make it perfect, we want a bumpy cobbled look, this is why it's called cobbler.
Bake for 35-50 minutes, depending on the type of peaches you are using (fresh, frozen or canned).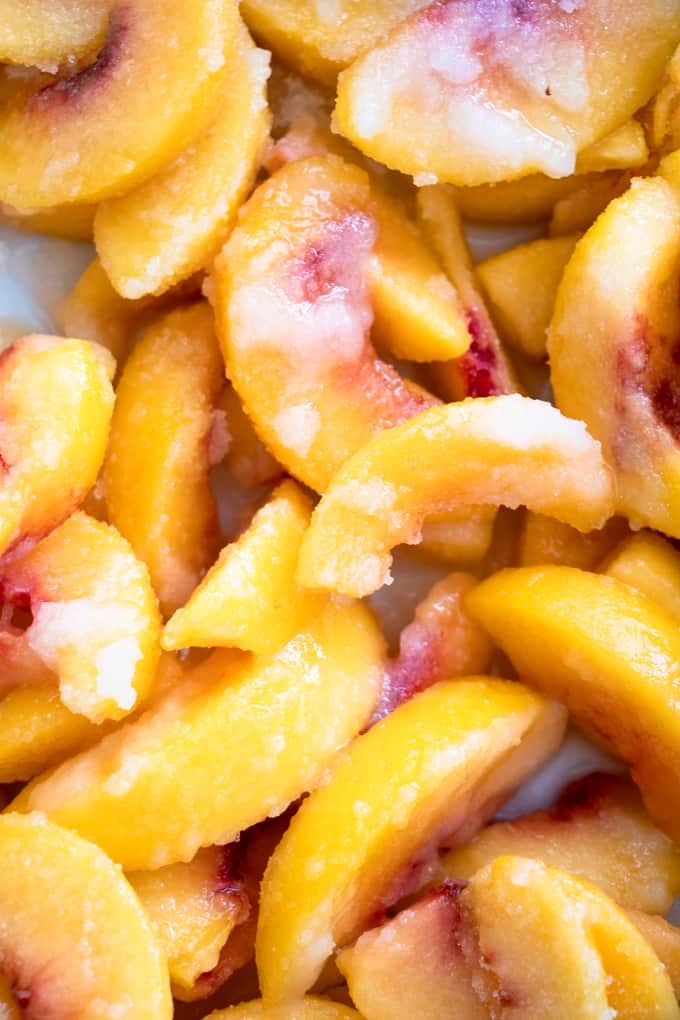 What Kind of Peaches do I use to make Cobbler?
This peach cobbler is easy to make, and best of all? You can use any kind of peaches you can get your hands on. Fresh, frozen or canned.
How to make cobbler using fresh peaches:
It's up to you if you want to remove the skin from the peaches. Leaving the skin on still gives a great cobbler since the skins bake and soften.
However, if you are wanting to remove the skins,
How to Easily Peel Peaches:
Bring a large pot of water to a boil. Carefully lower the peaches into the water using a slotted spoon. Let them boil in the water for 30 seconds, then remove and place directly into an ice bath. This will allow you to remove the skins easily with just your fingers.
Once the peaches are peeled, you can slice the peaches. Make sure to slice them thinly as this will help them bake.
I always pre-bake the peaches when using fresh peaches, since they need a bit more time of baking to soften.


How to make cobbler using frozen peaches:
When you remove the frozen peaches from the freezer, add them to the baking dish, add in the sugar and lemon juice. Stir around. Let sit for about 10 minutes for the peaches to slightly thaw, use this time to prepare the batter, then add the cobbler topping and bake for about 45-50 minutes.
You will know the cobbler is done when it has a golden crust and you can't see any batter bubbling while it cooks.
How to make cobbler using canned peaches:
If you are using canned peaches, keep in mind that these already have sauce and sugar added.
If using canned peaches we can skip the other ingredients that we use with the peaches, just spread the canned peaches in the baking dish, stir in 2 tablespoons sugar.
Make the topping according to directions and spoon on top of the canned peaches. No need to pre-bake the peaches since they're already softened.

How to Store, Reheat, and Freeze Peach Cobbler:
Peach cobbler is best served and enjoyed warm out of the oven after baking. However, if you need to store this cobbler, you can cover it and store in the refrigerator for up to a week.
To reheat simply heat the oven to 375, cover the cobbler with some foil and bake until it's warmed to your liking, about 15-20 minutes.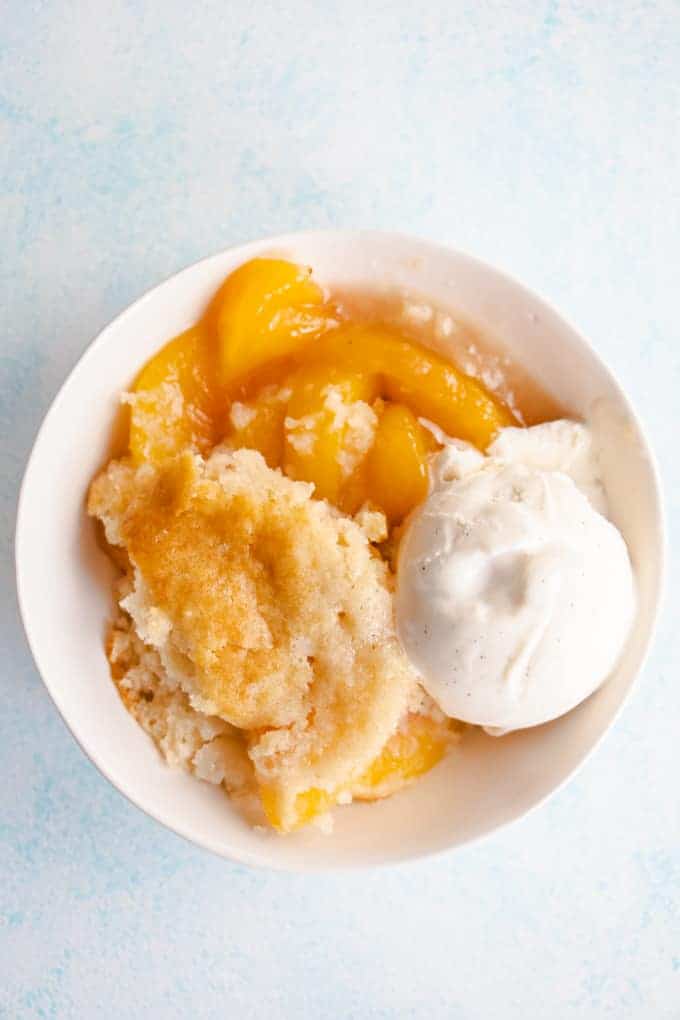 F.A.Q's about Peach Cobbler:
Can I add cinnamon to this?
Yes! Add 1/4 teaspoon of cinnamon and 1/4 teaspoon of ground nutmeg to the peaches with the sugars before baking them. You can also create a sugar and cinnamon mixture to sprinkle on top of the topping prior to baking. This will give a wonderful sweet and spicy flavor!
Can I make this ahead of time and freeze it?
Due to the fruit juices and the cake like topping, freezing can result in a mushy dish. If you want to make this dish ahead of time, the fruit portion can be made and stored, covered, in a refrigerator. Then the topping made and the entire dish baked for 35-45 minutes.
How do I freeze fresh peaches?
Do you have a ton of peaches on hand you want to save?
Toss 1 lb of peaches with 1 tbsp of lemon juice. Lay the peaches in a single layer on a parchment paper lined baking sheet. Place in freezer and let freeze overnight. Then gather the peaches and add them to a large plastic freezer bag. Remove as much air as possible when you seal it. Store in freezer. Then you can use these peaches throughout the year to make cobbler on demand!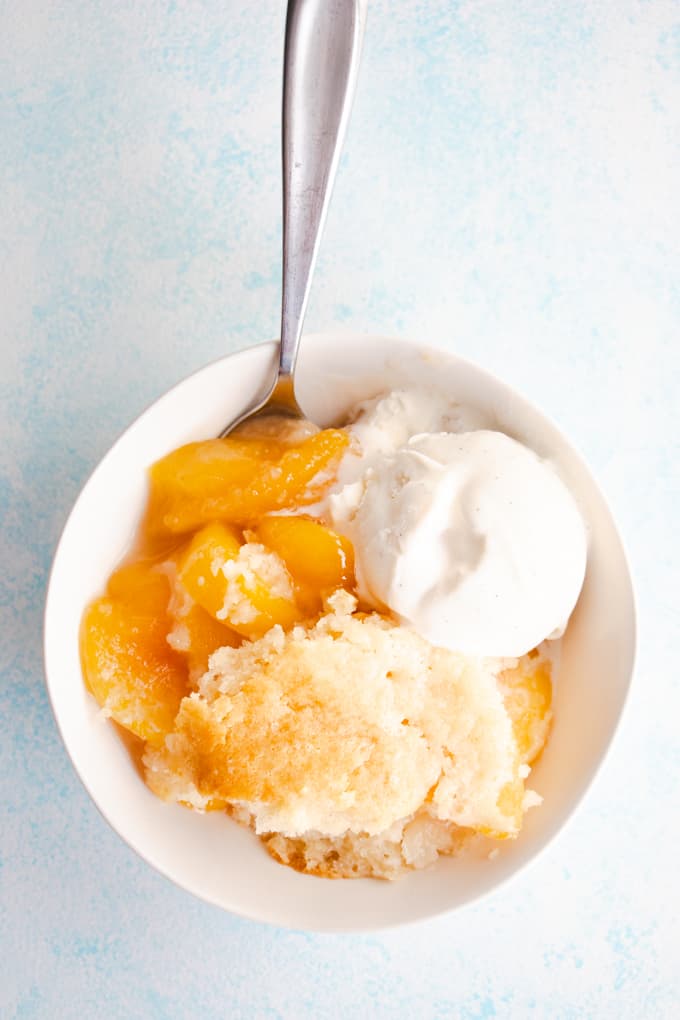 More dessert recipes using peaches:
WANT TO TRY THIS PEACH COBBLER?
PIN IT TO YOUR DESSERTS BOARD TO SAVE FOR LATER!
FIND ME ON PINTEREST FOR MORE GREAT RECIPES!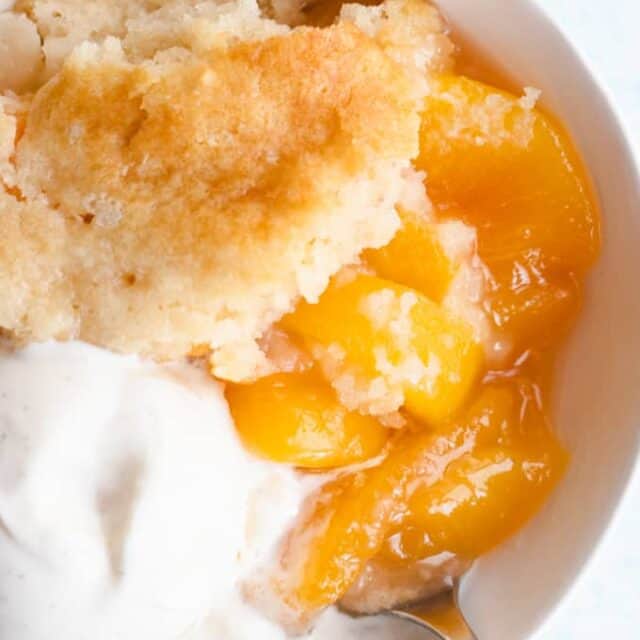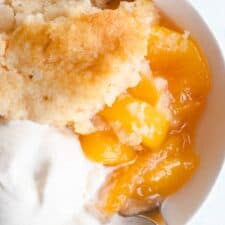 Homemade Peach Cobbler
Homemade Peach Cobbler. This classic southern dessert recipe is perfected and may even be better than your own Mamaw's recipe! Made with fresh peaches and a crispy, buttery, vanilla topping this cobbler recipe is possibly the BEST EVER!
Ingredients
4 cups fresh peaches, sliced
½ cup sugar
¼ cup light brown sugar
1 tsp lemon juice
Topping
1 cup all purpose flour
½ cup sugar
½ tsp salt
1 tbsp baking powder
4 tbsp butter, melted, cooled to room temp
1 tbsp vanilla extract
¾ cup milk
Instructions
Preheat oven to 375℉.

Add the sliced peaches to a 3 qt ceramic baking dish.Add the sugar, light brown sugar, and lemon juice. Stir to coat the peaches in the mixture.

Bake for 10 minutes.

While the peaches bake, in a medium size mixing bowl add the flour, sugar, salt and baking powder. Stir to combine.

Pour in the milk, melted butter, and vanilla extract. 

Remove the peaches from the oven and spoon the batter over the top of the baked peaches.

Continue to bake at 375 for another 35 minutes until the top is crispy and golden brown.

Serve cobbler warm or room temperature.
Notes
Canned Peaches: drain the juice from the peaches, add to the baking dish, stir in 2 tablespoons of sugar. Do not pre-bake the peaches, add the cobbler topping and bake the entire dish for about 35-45 minutes, until the topping has a nice golden crust.  Frozen Peaches: let the peaches thaw for about 10 minutes, stir in the sugars, cornstarch, and lemon juice. There's no need to prebake the peaches, add the topping and bake the dish for about 40-50 minutes.  Only pre-bake the fresh peaches to give them more time to cook and soften.  All baking times have been determined using a ceramic 3 quart baking dish that measures 8x10.5. If using a different size pan please be mindful of baking time. Using a 9x13 pan will need less baking time. 
Nutrition
Serving: 1g, Calories: 373kcal, Carbohydrates: 70g, Protein: 4g, Fat: 9g, Saturated Fat: 5g, Cholesterol: 23mg, Sodium: 489mg, Potassium: 270mg, Fiber: 2g, Sugar: 53g, Vitamin A: 617IU, Vitamin C: 7mg, Calcium: 171mg, Iron: 2mg
House of Yumm is a participant in the Amazon Services LLC Associates Program, an affiliate advertising program designed to provide a means for us to earn fees by linking to Amazon.com and affiliated sites.