Cheese Grits. Perfectly creamy and cheesy. This Southern classic is perfect as a side dish, loaded up as a main dish, or served as breakfast!

What are grits?
Grits are a classic southern dish. Made from corn that has been ground into coarse meal. They are traditionally boiled and mixed with milk and butter,. This is a traditional breakfast in the south!
You will see people making them a variety of ways, from simple with nothing but a bit of milk and butter, to grits loaded with cheese and topped with bacon, ham, sausage and a poached egg. Or you can also go a sweeter route and mix with cinnamon or maple syrup and top with granola.

How to make the BEST grits:
Combine the milk and chicken broth in a medium size saucepan. Heat over medium heat.
Bring to a boil, stir in the salt, and add in the grits. Stir to combine.
Reduce the heat to low, cover and cook for 3-4 minutes.
Stir with a wooden or silicone spoon.
Continue to cook over low heat while stirring occasionally (at least every 2 minutes) for another 6-8 minutes.
Turn off the heat and add in the butter and cheese. Stir until the butter and cheese is melted.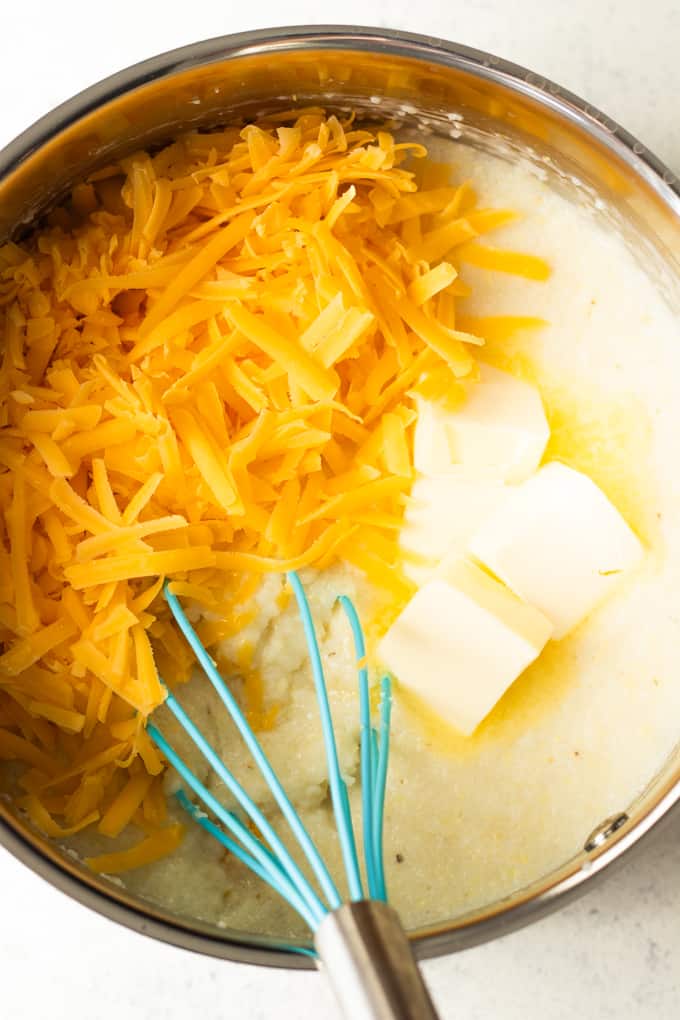 Types of Grits:
Choosing grits is similar to choosing oatmeal. It depends on how they are ground and what they're ground from.
Stone-ground: made from whole dried corn kernels that are coarsely ground. After being cooked, these grits will have a more "toothsome" texture, meaning they are coarser, and they have a rich corn flavor. These take about 40 minutes to cook on the stovetop.
Quick or Regular: quick grits are finely ground and can cook in 5 minutes. Regular grits have a medium grind and take about 10 minutes to cook.
Instant: you will often see these sold in packets, they are finely ground and have been precooked and dehydrated so all you need is to add boiling water and let them soak for a moment.
Hominy grits: made from corn kernels soaked in a lime solution which softens the outer hull, then rinsed to remove the hull. Depending on how they are ground they can take anywhere from 5 minutes to 1 hour to cook.
I typically will use Quick Grits. They have a finely ground texture and they cook up nice and quick. But this recipe can be made with any type, just keep in mind that the type will determine how long they need to cook.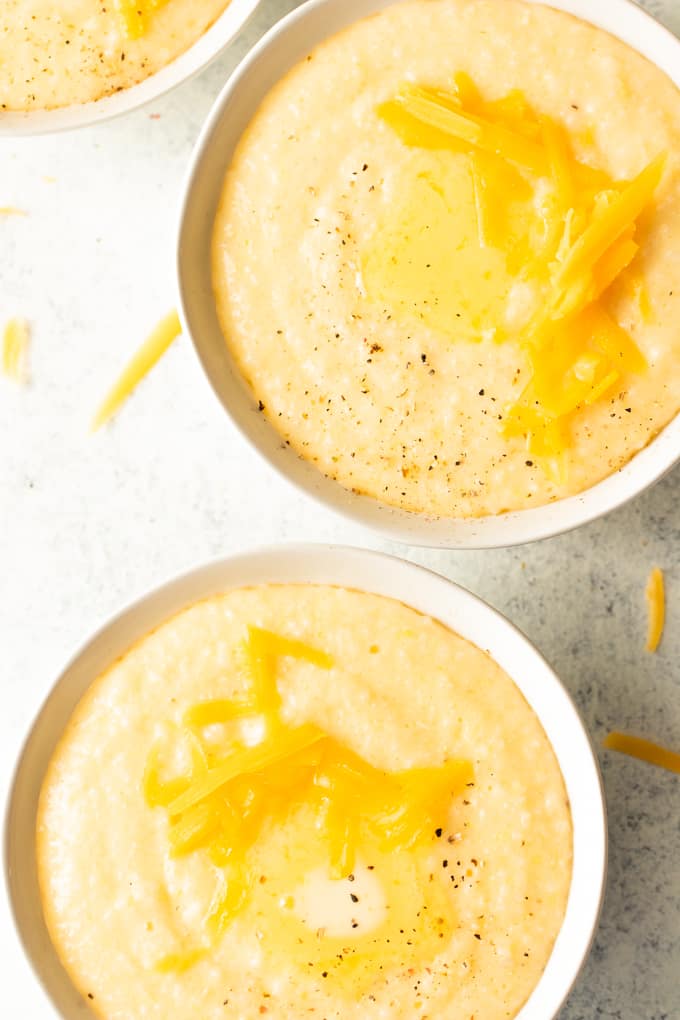 Are grits and polenta the same thing?
This gets complicated seeing as how different types of corn are grown in the south vs. Italy. But if you're wanting to know if you can use polenta when making this recipe? Yes you can. Can you use cornmeal to make this recipe? Yes. Cornmeal has a slightly finer texture than regular ground grits though.
Tips and tricks:
On their own they have NO flavor. They take on the flavor of whatever you add to them. Do yourself a favor and cook them using chicken broth instead of water. The extra flavor in the broth goes a long way.
Add the salt to the broth and milk before adding the grits, this way they are sure to absorb the most flavor possible.
The thickness is up to you. If you prefer them to be a bit runnier, add a bit more milk. If you want them a bit thicker, cut back just a bit. This recipe will provide you with a consistency pretty much in the middle.
To reheat: add to a medium size saucepan on the stovetop, heat over low, and slowly add in small amounts
Other recipes you may enjoy: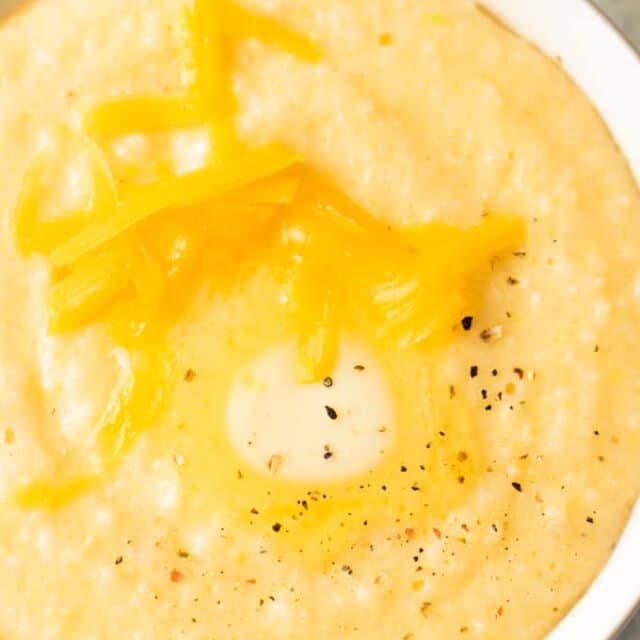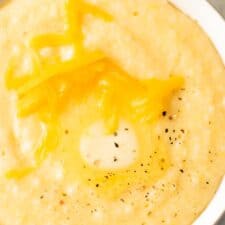 Cheese Grits
Cheese Grits. Perfectly creamy and cheesy grits. This Southern classic is perfect as a side dish, loaded up as a main dish, or served as breakfast!
Ingredients
2 cups chicken broth , unsalted
2 cups milk
½ teaspoon salt
1 cup quick grits, or substitute with other grits just read above to be able to adjust cooking time
1/4 cup unsalted butter
1 cup sharp cheddar cheese, shredded
Topping
pads of butter
black pepper
extra shredded cheese
Instructions
Combine the chicken broth and milk in a medium size saucepan. Heat over medium heat. Bring to a simmer.

Stir in the salt. Then add the grits slowly while stirring. Stir until all grits are well mixed.

Cover and reduce heat to low for 3-4 minutes. Remove the lid and stir the grits. Continue stirring while cooking over low for an additional 1-2 minutes. The grits will be tender when done cooking.

Turn the heat off. Add in the butter and cheese. Stir until well mixed.

Serve immediately. Top with additional shredded cheese, butter and fresh pepper if desired.
Notes
To reheat add the grits to a medium size saucepan and heat over medium heat. Pour in small amounts of milk or broth to help thin them out while reheating. The grits thicken when cooled. Adjust the amount of liquid to give the consistency you prefer.
Types of grits and cooking time: Quick grits will cook in 5 minutes. Stone ground grits can take 40-45 minutes. Regular grits will take 10 minutes. Instant grits only need 1 minute in boiling water. Be sure to take note of which type of grits you are using.
Nutrition
Serving: 1, Calories: 185kcal, Carbohydrates: 28g, Protein: 7g, Fat: 4g, Cholesterol: 17mg, Sodium: 274mg, Fiber: 2g, Sugar: 8g
Recipe first posted on August 20,2019. Updated on March 23, 2020. Recipe unchanged.
House of Yumm is a participant in the Amazon Services LLC Associates Program, an affiliate advertising program designed to provide a means for us to earn fees by linking to Amazon.com and affiliated sites.