Homemade Ranch Dressing. Cold, creamy and loaded up with fresh herbs this dressing can be drizzled over your salads or served as a dip.
Homemade Ranch Dressing. The perfect salad dressing and dip! Loaded with fresh or dried herbs this dressing is tangy, fresh, and creamy. Use as a dip with some fried pickles or even pizza. Or drizzle all over your freshly made salads.
How to make Homemade Ranch Dressing:
Combine mayonnaise, sour cream, and buttermilk: this allows you to control the consistency of the dressing.
Add herbs & seasonings: this recipe can be made with fresh herbs or dried seasonings. Both amounts are included below.
Stir in lemon juice: a little bit of acid from the lemon juice completes the flavor! Can also substitute with vinegar if needed.
Ingredients Breakdown:
The base of ranch dressing is made with a combination of the following:
Mayonnaise
Sour cream
Buttermilk
The herbs and seasonings used in ranch:
Parsley
Dill Weed
Chives
Garlic Powder
Onion Powder
Salt
To add a bit more flavor and tang to the dressing use a splash of fresh lemon juice or vinegar.
Variations:
Chipotle: blend some chipotle peppers and adobo sauce to add to the ranch for a spicier version.
Greek Yogurt: replace the mayonnaise/sour cream mixture with greek yogurt for a lighter version.
Avocado Ranch Dressing: this version includes avocado, cilantro and lime juice.
Salsa Ranch: replace a portion of the buttermilk with salsa. Perfect for using on Taco Salads.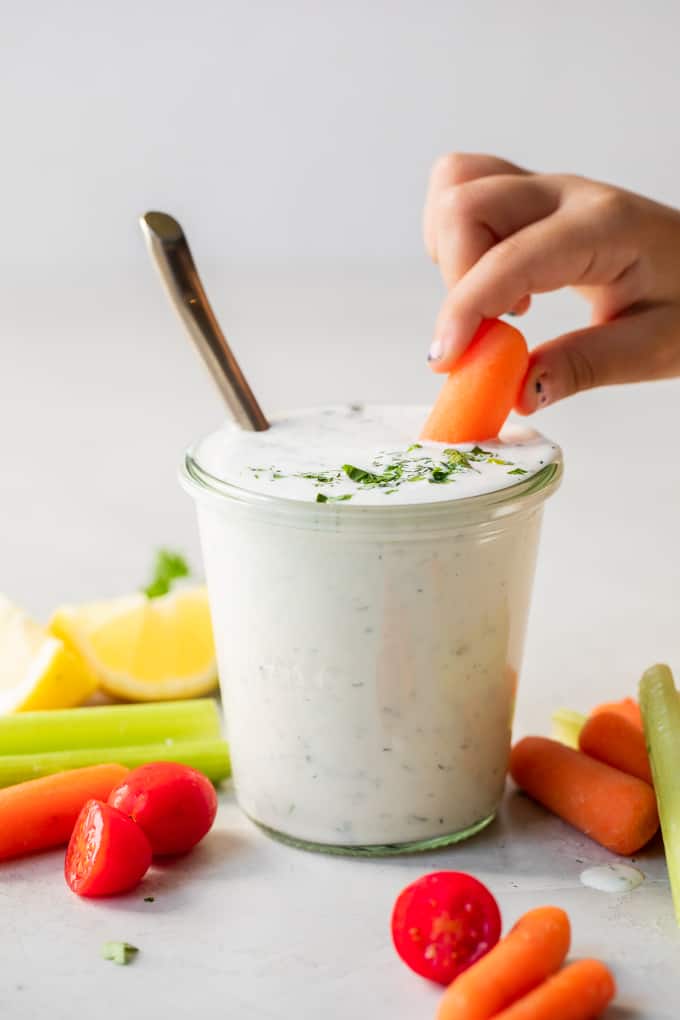 Pro Tips: To make a thicker dip leave out the buttermilk and create the sauce using mayonnaise and sour cream. For pourable dressing add buttermilk!
More Recipes To Try: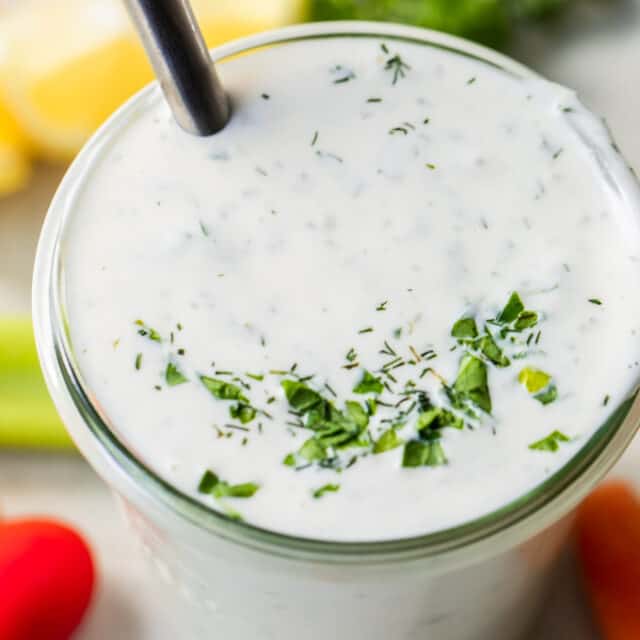 Homemade Ranch Dressing
Homemade Ranch Dressing. Cold, creamy and loaded up with fresh herbs this dressing can be drizzled over your salads or served as a dip.
Ingredients
½ cup mayonnaise
½ cup sour cream
½ cup buttermilk, add to preference
1 tsp garlic powder
1 tsp onion powder
1 tsp fresh dill, Chopped, (¼ tsp dried dill)
1 tbsp fresh parsley, Chopped, (1 tsp dried parsley)
1 tsp fresh chives, diced,(½ tsp dried chives)
¼ tsp salt
1 tbsp lemon juice, freshly squeezed, or apple cider vinegar
Instructions
In a small mixing bowl combine the mayonnaise and sour cream. Add the buttermilk as needed to get desired pourable consistency. If making a dip replace buttermilk with more mayo/sour cream.

Add the herbs and seasonings. Mix together.

Stir in lemon juice.

Cover and store in refrigerator until ready to serve.
Notes
Storage: Store in a sealed container in the refrigerator for up to 5 days. Stir before serving.
Nutrition
Serving: 1serving, Calories: 135kcal, Carbohydrates: 2g, Protein: 1g, Fat: 14g, Saturated Fat: 4g, Cholesterol: 15mg, Sodium: 190mg, Potassium: 45mg, Fiber: 1g, Sugar: 1g, Vitamin A: 163IU, Vitamin C: 1mg, Calcium: 33mg, Iron: 1mg
House of Yumm is a participant in the Amazon Services LLC Associates Program, an affiliate advertising program designed to provide a means for us to earn fees by linking to Amazon.com and affiliated sites.