Banana Pudding. Creamy custard pudding made from scratch is layered with vanilla wafers, slices of banana, and topped with a whipped topping! Serve in a large baking dish or individually.
Homemade Banana Pudding is a classic southern dessert recipe. Made from layering a custard based pudding over shortbread or vanilla wafers and slices of banana. This pudding can be served warm or cold, topped with either meringue or whipped cream. This dessert is the perfect crowd pleaser if you're just serving your family or a group!
How to make Banana Pudding:
Heat milk and cream: bring this mixture with sugar and salt to a simmer, where it starts to boil along the edge of the saucepan.
Temper eggs: mix the egg yolks with cornstarch until smooth. Pour a small amount of the warm milk mixture in a slow and steady stream into the eggs while whisking. This helps bring the eggs temperature up without cooking them and causing lumps.
Add eggs: add the egg mixture into the cream in the saucepan. Bring to a simmer while whisking. Let this cook until nice and thick, the cream should coat a spoon.
Remove from heat: remove the pan from the heat, and stir in the butter and vanilla. Stir until the butter is melted and mixed in. Let this cool for several minutes before laying the pudding.
Layer the pudding: working in either a 1.5-2 qt baking dish or smaller jars or cups layer vanilla wafers, sliced bananas and pudding.
Chill or Bake: depending on if you want to enjoy your pudding warm or cold this is the stage where you will bake it or chill it in the refrigerator.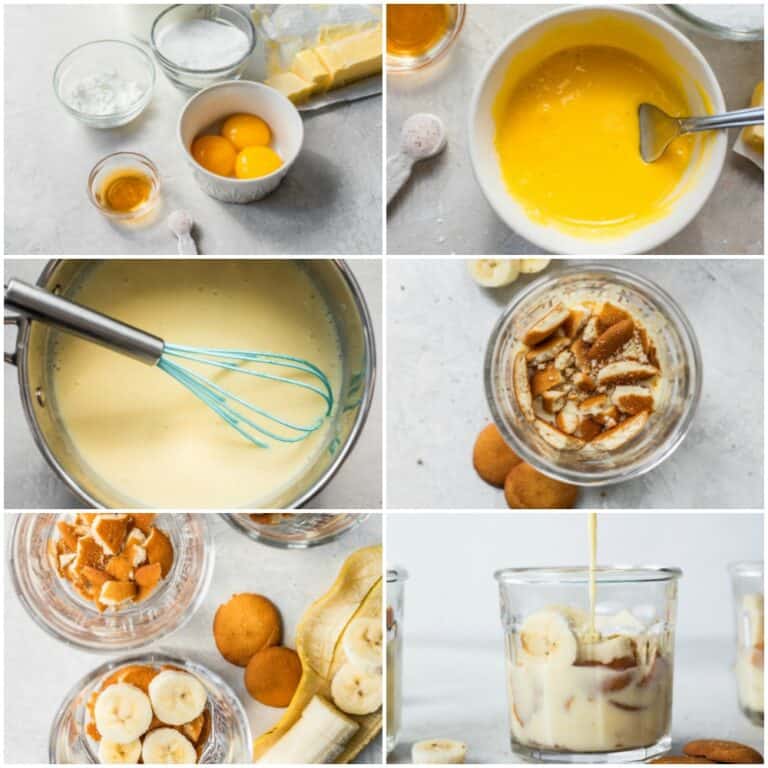 Is Banana Pudding served warm or cold?
Warm: To serve warm, scoop meringue (made from the egg whites leftover from making pudding) on top and bake in an oven preheated to 325℉ for about 15-20 minutes until the meringue has a nice golden toasted look to it. Serve immediately while the dish is warm.
Cold: To serve cold, chill the pudding, then top with whipped cream. Since we're not heating up the pudding and cooking the topping, whipped cream takes the place of meringue. Serve while cold.
It's completely up to you and your preference which way you want to enjoy.
How to Serve Banana Pudding:
Depending on how many people you are serving and the presentation you want to make will determine what kind of dish you will use to serve the banana pudding. For your family a casserole dish is perfect for dishing up the amount needed. For individual amounts to set out at a small gathering, jars, glasses and ramekins are a great option.
Casserole Dish (1.5-2 quarts)
Ramekins
Jars
Glasses
Pro Tips:
Break the cookie to make them easier to eat with a spoon.
Slice the bananas thick so that they don't break down in the pudding while it rests.
Use yellow bananas with very few brown spots.
Enjoy within 48 hours.
Ensure the bananas are covered with the custard, this helps prevent browning by covering them and preventing air exposure.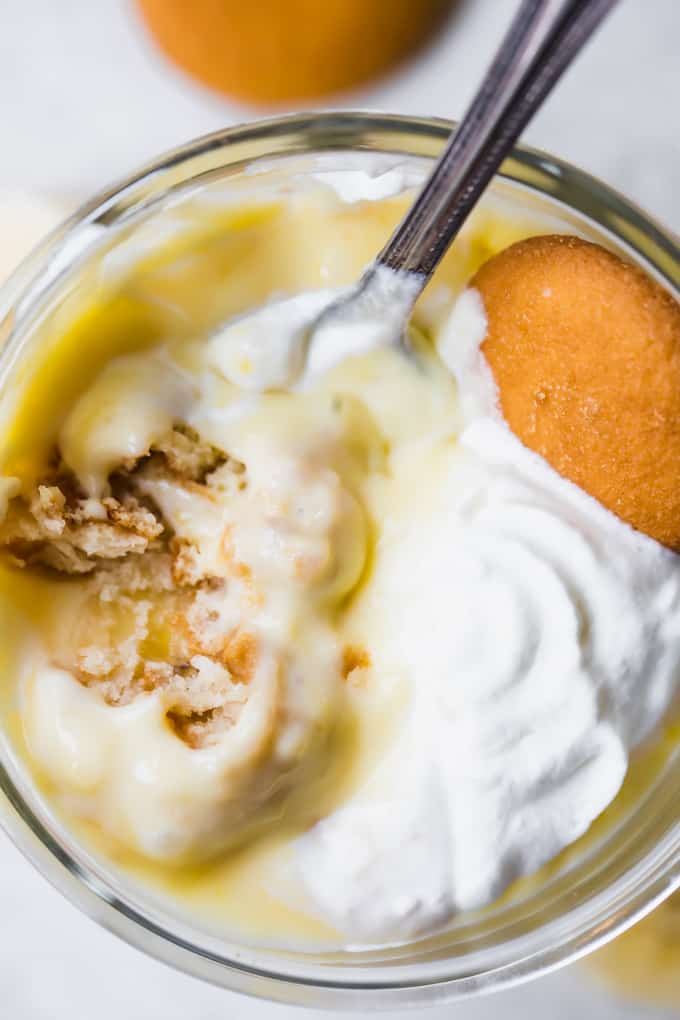 More Southern Recipes to Enjoy: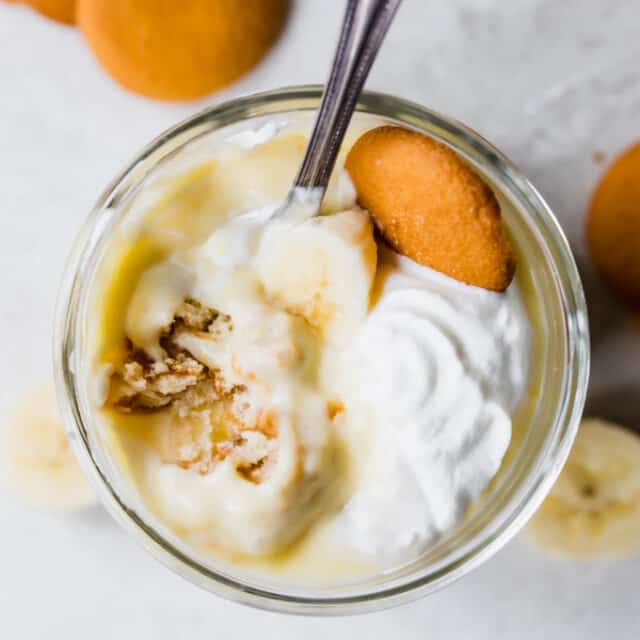 Banana Pudding
Banana Pudding. Creamy custard pudding made from scratch is layered with vanilla wafers, slices of banana, and topped with a whipped topping! Serve in a large baking dish or individually.
Ingredients
3 egg yolks, (keep whites for meringue)
3 tbsp cornstarch
1½ cup whole milk
1 cup heavy cream
¼ tsp salt
¾ cup sugar
3 tbsp unsalted butter, softened to room temperature
2 tsp vanilla extract
10 ounces nilla wafers
3 bananas, sliced
Meringue
3 egg whites
¼ tsp cream of tartar
6 tbsp sugar
½ tsp vanilla extract
Homemade Whipped Cream
1 cup heavy cream
2 tbsp confectioner's sugar
½ tsp vanilla extract
Instructions
Separate eggs, set aside whites. Whisk together egg yolks and cornstarch. Set aside.

In a medium size saucepan combine the milk, cream, sugar, and salt. Bring to a simmer over medium heat until milk starts bubbling around edge of pan.

Remove 1/2 cup of heated milk mixture and in a slow and steady stream pour into the egg yolk cornstarch mixture while whisking. Add the egg mixture into the saucepan with the heated cream.

Bring cream and egg mixture to a simmer while whisking occasionally. Continue cooking until mixture is thickened. Remove from heat.

Stir in the butter and vanilla extract. Let this pudding mixture sit and cool for 5 minutes before layering.

Break apart the vanilla wafers to make them easier to eat with a spoon. Layer a baking dish or jars/glasses with a layer of vanilla wafers, a layer of banana slices, and then a layer of custard pudding. Then repeat.
Warm Banana Pudding with Meringue
Preheat oven to 325℉.

Beat egg whites with a hand or stand mixer on high speed.

Once the egg whites start to foam add the cream of tartar and gradually add the sugar one tablespoon at a time while mixing.

Continue to beat the egg whites until smooth and stiff peaks form. Add in the vanilla and mix together.

Spoon the meringue on top of the banana pudding. Bake for 15-20 minutes or until the meringue is browned on the top. If using jars for the banana pudding, place the jars on a large baking sheet for baking. Ensure only heat safe containers are used in the oven.
Cold Banana Pudding with Homemade Whipped Cream
Cover the pudding(s) and place in the refrigerator to chill for at least 2 hours. This will help the cookies soften.

When ready to serve prepare the whipped cream. Pour the cream into a medium size mixing bowl.

Beat or mix on medium speed until cream starts to thicken. Add the confectioners sugar and vanilla and continue mixing until soft peaks form.

Spoon whipped cream onto the top of the chilled banana pudding and serve.
Notes
Storage & Freezing:
Store covered in the refrigerator. Best if enjoyed within 48 hours.
Freezing is not recommended.
Nutrition
Calories: 522kcal, Carbohydrates: 70g, Protein: 6g, Fat: 25g, Saturated Fat: 13g, Cholesterol: 130mg, Sodium: 270mg, Potassium: 312mg, Fiber: 2g, Sugar: 47g, Vitamin A: 770IU, Vitamin C: 4mg, Calcium: 83mg, Iron: 1mg
House of Yumm is a participant in the Amazon Services LLC Associates Program, an affiliate advertising program designed to provide a means for us to earn fees by linking to Amazon.com and affiliated sites.