Homemade Mac and Cheese (Irresistibly Cheesy!)
Homemade Mac and Cheese on the Stovetop. This irresistibly cheesy macaroni recipe comes together quick and easy. Not to mention the homemade cheese sauce is thick and creamy. Use your favorite cheese to make this a dish the whole family will love!
Smooth and creamy, this Easy Homemade Mac and Cheese comes together in less than 30 minutes on the stovetop. This is the perfect family dinner! It also doubles as a side dish and pairs wonderfully with BBQ meats, like this smoked pulled pork.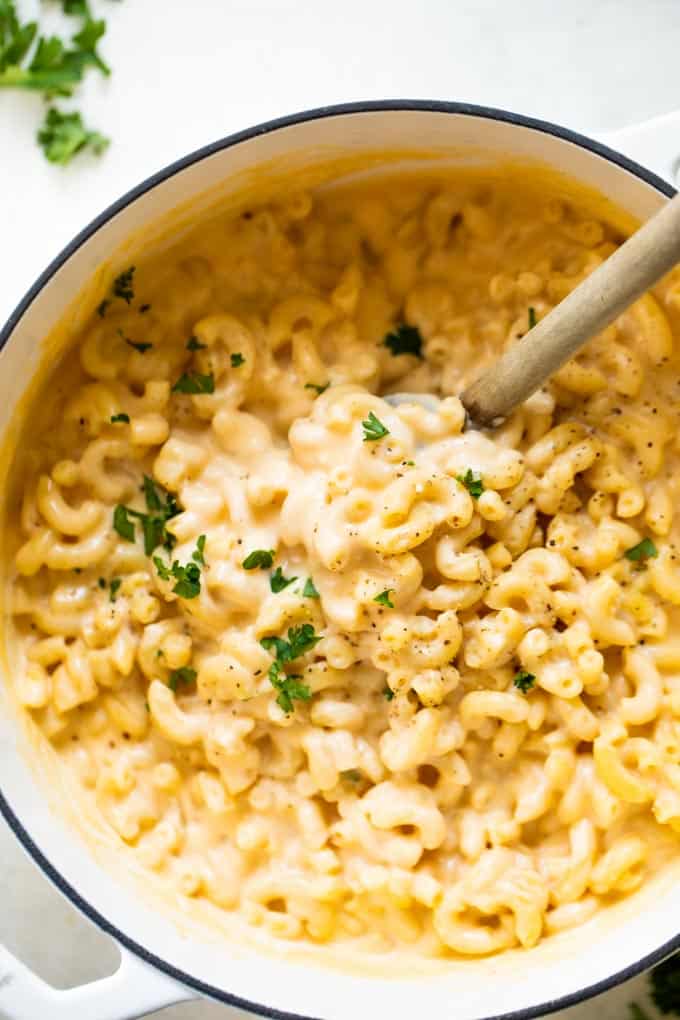 How to make Homemade Mac and Cheese on the Stovetop:
Cook pasta: add the macaroni noodles to a pot of boiling hot water. Cook about 5 minutes until noodles are al dente (have a slight chew to them). Strain and rinse the noodles with cold water to stop the cooking.
Prepare roux: melt butter, stir in flour and spices. Let this cook briefly.
Stir in milk and let this cook for several minutes. The sauce will thicken while it cooks. Let cook at a gentle simmer.
Remove from heat and stir in cheese and the cream cheese.
Add the cooked noodles, stir to coat in the sauce.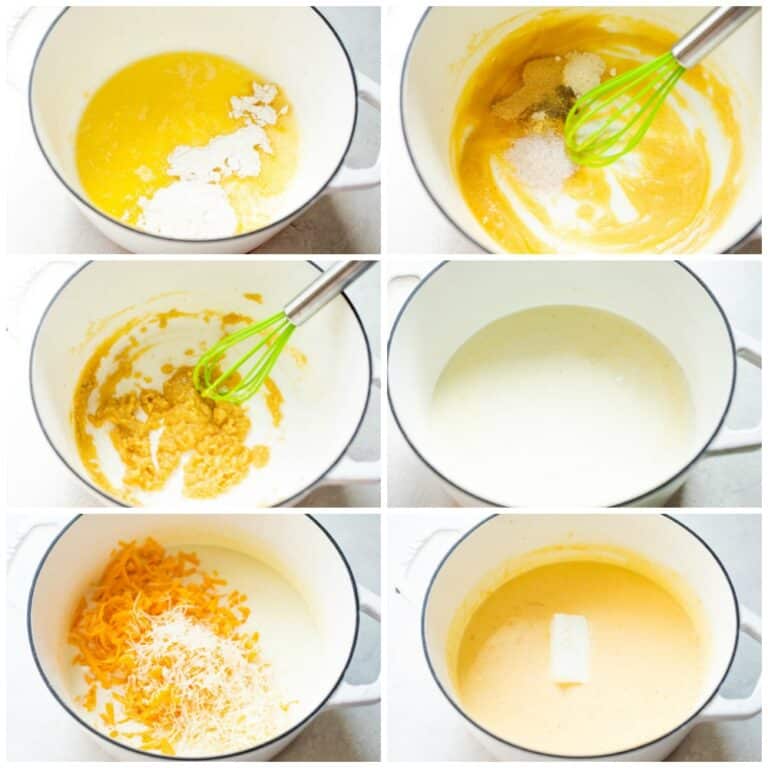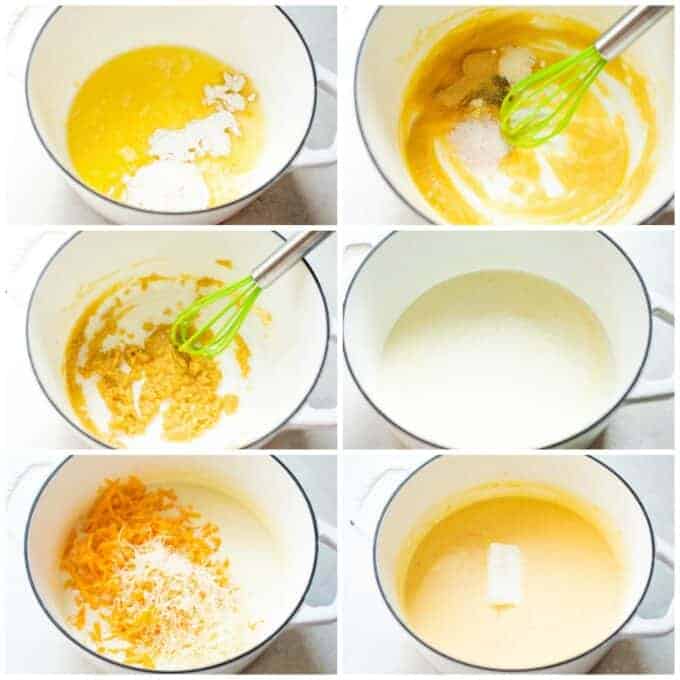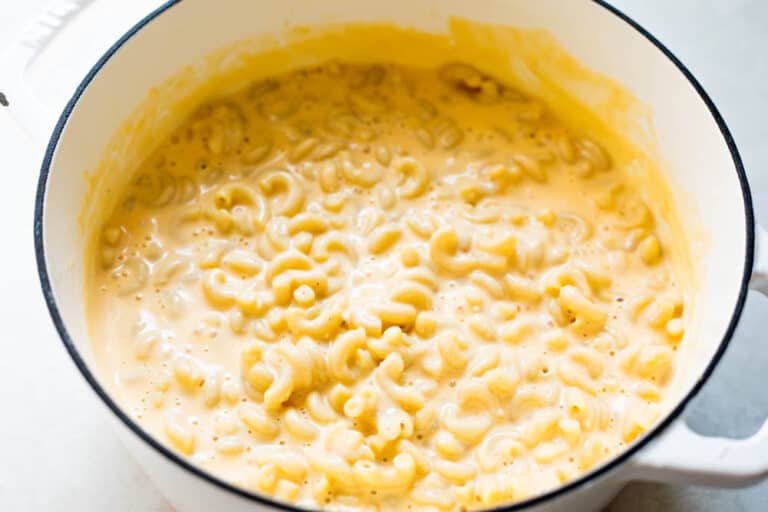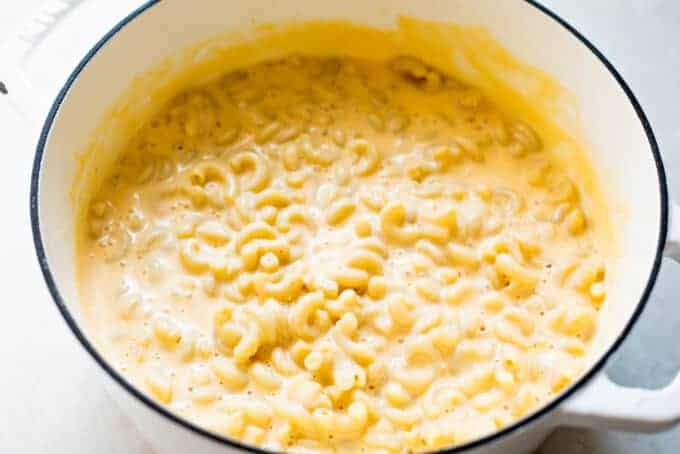 Customize with Additions:
Veggies: broccoli, peas, spinach, artichoke hearts, 
Meats: chicken, sausage, hot dogs, bacon, 
Seasoning: sprinkle on some paprika, cajun seasoning, Italian breadcrumbs, etc. 
Cheese: my preference is a combination of sharp cheddar and fresh parmesan. Other options would be: gruyere, Monterey Jack, pepper jack.

Important Tips:
Don't use preshredded cheese: the cheese you buy in the bags has a powder substance that can affect how the cheese melts.
Use whole milk or add a splash of cream to help get a nice thick cheese sauce.
Add in cream cheese. You see that cream cheese is an ingredient in the recipe card. This is to help stabilize our cheese sauce, since we're using real cheese. It makes it so that when you reheat your leftovers, the sauce doesn't separate and become greasy.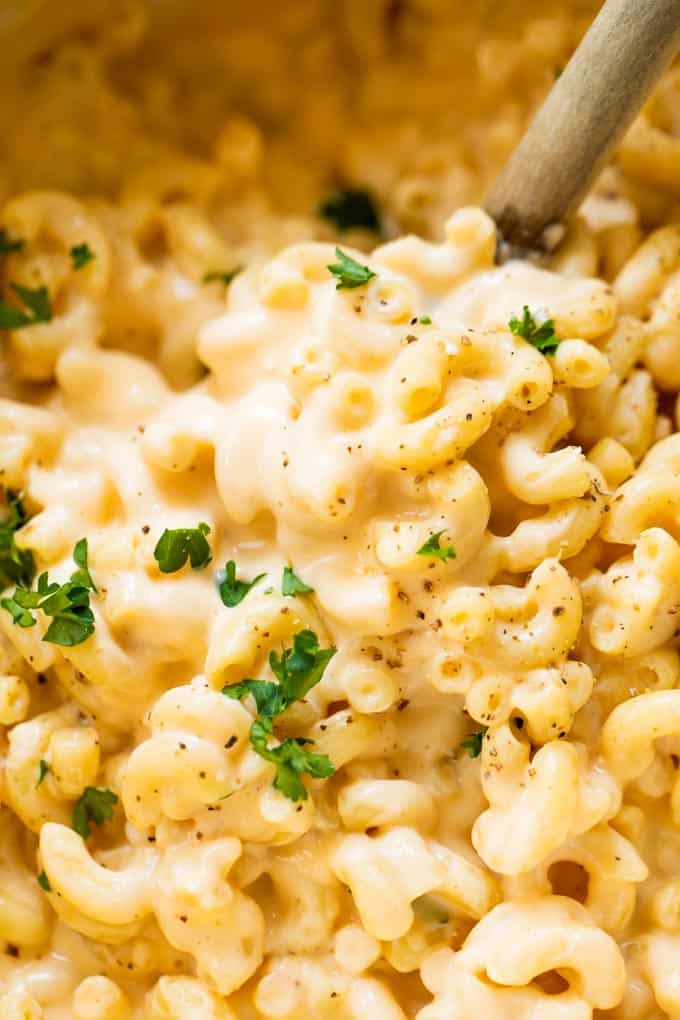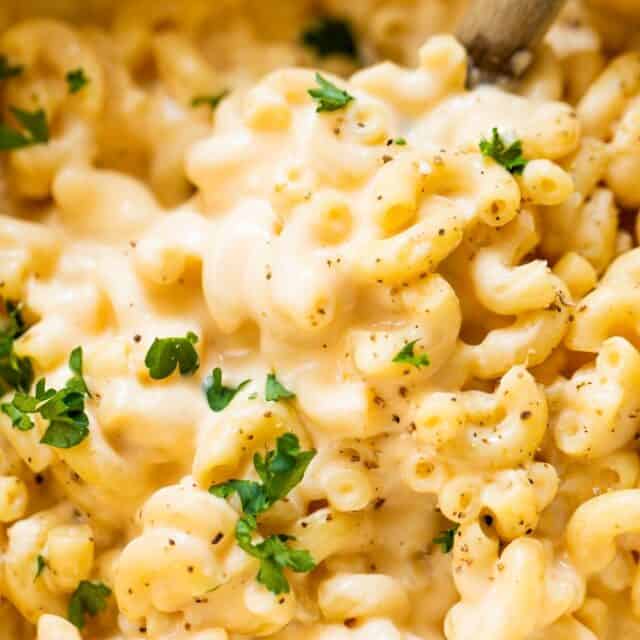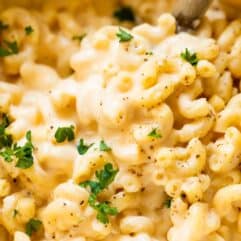 Stovetop Mac and Cheese
Smooth and creamy, this easy homemade Mac and cheese comes together in less than 30 minutes on the stovetop. 
Ingredients
water
1 tbsp salt
12 ounces dried elbow macaroni noodles
Instructions
Bring a medium size pot of water to a boil over medium heat. Stir in 1 tbsp salt. Add macaroni noodles and boil for about 5 minutes until noodles are al dente (still have a slight bite).

Strain the noodles and rinse with cold water. Set aside.

In a large pot melt butter over medium heat. Stir in flour.

Add the seasonings. Stir to combine. This will be a thick paste. Cook for 3-5 minutes to cook the flour.

Pour in milk. Whisk to combine. Cook at just below a simmer for about 5-7 minutes, while continuing to stir occasionally. Sauce will thicken and be able to coat a spoon.

Remove from heat, then stir in cheeses while they melt. Then add in the cream cheese and stir until that is completely melted.

Add the cooked macaroni noodles to the cheese sauce. Stir to coat the noodles.

Serve warm and enjoy.
Notes
Storage:
Store leftovers in a sealed container in the refrigerator 3-5 days. Leftovers can be reheated in a heat safe container in the microwave. Or in a small saucepan over low/medium heat. 
Freezer options: this can be frozen in a freezer safe container. For best results use within 1-2 months. However, can be stored for 3-4 months. To thaw place in the refrigerator overnight. Then reheat in a saucepan over low/medium heat. 
Nutrition
Serving: 1g, Calories: 281kcal, Carbohydrates: 10g, Protein: 12g, Fat: 22g, Saturated Fat: 13g, Cholesterol: 66mg, Sodium: 639mg, Potassium: 175mg, Fiber: 1g, Sugar: 6g, Vitamin A: 753IU, Calcium: 330mg, Iron: 1mg
House of Yumm is a participant in the Amazon Services LLC Associates Program, an affiliate advertising program designed to provide a means for us to earn fees by linking to Amazon.com and affiliated sites.