Mexican Grilled Chicken. Juicy, tender grilled chicken that has been marinaded in a flavorful blend of fruit juices and chili powders. Quick and easy to put together this is sure to be a hit with your next BBQ!
This Mexican Grilled Chicken is such a great recipe to have on hand. The chicken comes out tender, juicy, and flavorful! Use this chicken to fill tacos, burritos, burrito bowls, salads, or just enjoy it on it's own with some of your favorite BBQ side dishes.
Mexican Chicken Marinade Overview:
Lime juice: freshly squeezed lime juice will help to tenderize the meat, as well as infuse a fresh citrus taste to the meat.
Pineapple juice: another fresh juice that will tenderize meat and give a great tangy flavor.
Worcestershire sauce: adds a savory taste.
Apple Cider Vinegar: you could use another type of vinegar, like white vinegar or a white wine vinegar also.
Garlic: always feel free to add extra!
Cilantro: if you happen to be opposed to the fresh herby blast of the diced cilantro you can omit.
Chili powder: brings a bit of warmth and gorgeous color. Feel free to add extra or use a smoked paprika in addition to. Up the heat in the recipe by using a Cayenne pepper instead.
Cumin: gives a great flavor.
Salt & Pepper: use 1 tsp of salt for every 2 lbs of chicken. If you are making a large batch of marinade keep that ratio in mind.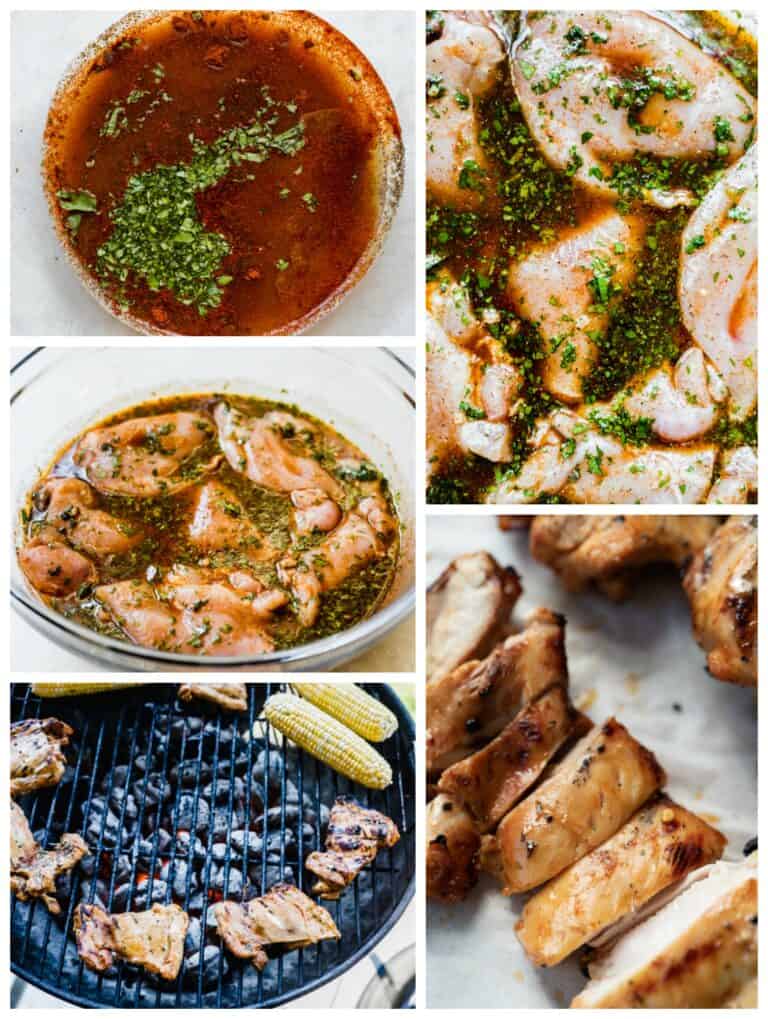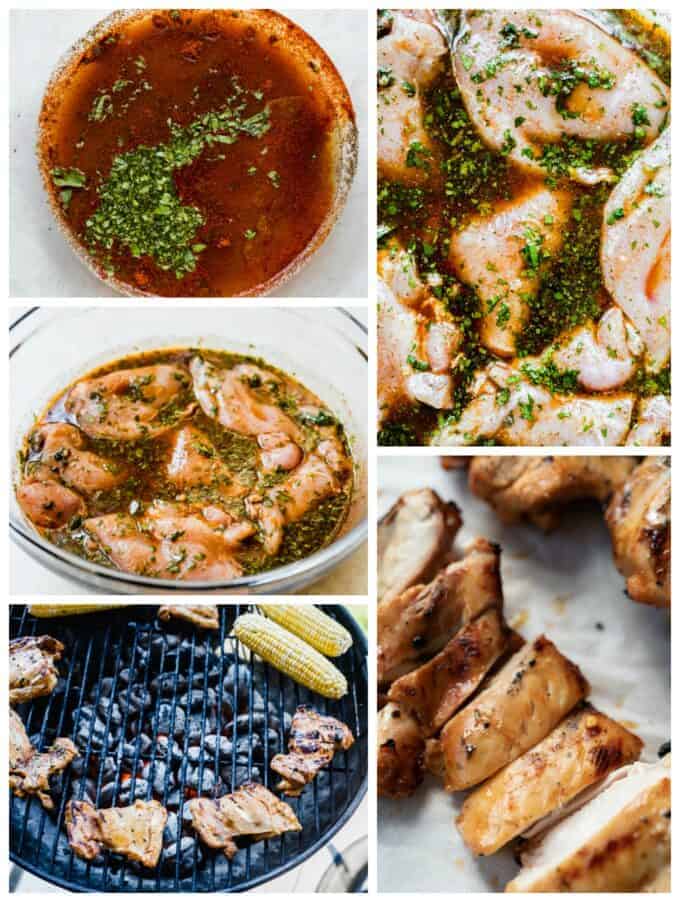 How to Perfectly Grill Chicken:
Preheat grill to about 425℉. Don't worry about being precise if your grill doesn't monitor temperature. But it should be fairly hot.
Sear the chicken over direct heat. Cook over the hottest part of your grill, for me that would be the center, since I pile the charcoal in the middle of the grill. Searing is going to give us those nice grill marks on the skin of our chicken. Sear for about 3 minutes before flipping the chicken.
Continue to cook over indirect heat. After you have the grill marks, move the chicken over to the cooler part, for indirect cooking. For me, that's the outer ring of the grill. This will continue to cook the chicken but not burn the outside skin.
Cover and cook until chicken reaches an internal temperature of 165℉. If you factor in carryover cooking, the rise in temperature that happens after you remove the meat from the heat source, you can remove the chicken at 160℉.
Uses for this Grilled Chicken:
Salads: Use this chicken as the protein for a Taco Salad. Or simply load up a salad with your favorites and drizzle some of this Avocado Ranch Dressing on top.
Burrito Bowls: nothing is better than having some diced grilled chicken on top of some fluffy Cilantro lime rice, some Charro beans, and all the toppings!
Tacos: make some street tacos by loading up some diced chicken in corn tortillas, serve with some pico de gallo or simply diced onion and cilantro.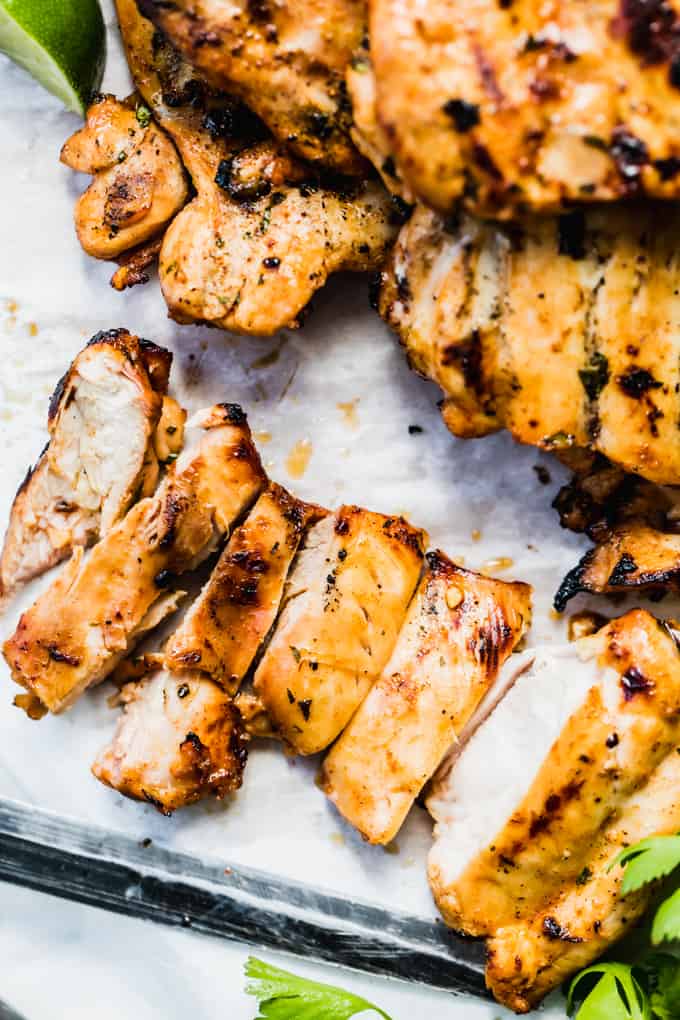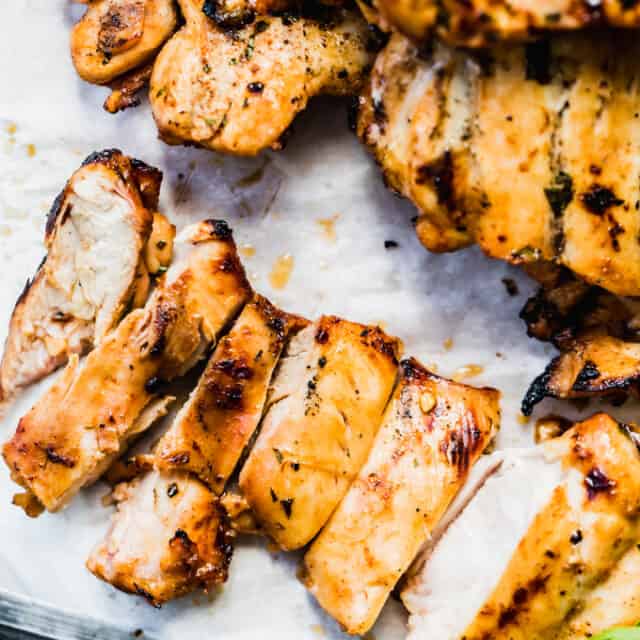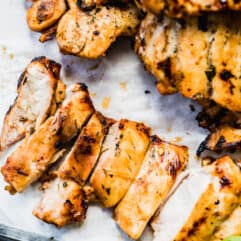 Mexican Grilled Chicken
Mexican Grilled Chicken. Juicy, tender grilled chicken that has been marinaded in a flavorful blend of fruit juices and chili powders. Quick and easy to put together this is sure to be a hit with your next BBQ!
Ingredients
2 lbs chicken
¼ cup lime juice, approx 2 limes
6 fl oz pineapple juice
¼ cup cilantro, diced
2 cloves garlic, minced
1 tbsp worcestershire sauce
2 tbsp apple cider vinegar
1 tbsp oil, avocado, extra virgin olive oil, vegetable oil,
1 tbsp chili powder
1 tsp ground cumin
1 tsp ground black pepper
1 tsp salt
Instructions
In a medium size mixing bowl combine the ingredients for the marinade. Whisk together.

Add the chicken and submerge in the marinade. Cover and place in refrigerator to marinate 2-4 hours (over marinating can cause mushy chicken).

Preheat grill to 425℉.

Remove chicken from the marinade and pat dry.

Place the chicken over direct heat on the grill and cook for 3 minutes then flip the chicken. Cook an additional 3 minutes.

Move the chicken to more indirect heat on the grill, cover and cook for an additional 5-7 minutes until the chicken reaches an internal temperature of 160°F in the thickest part.

Allow the chicken to rest (the internal temperature will continue to rise to 165°F). After resting the chicken can be sliced and served.
Equipment
Nutrition
Calories: 207kcal, Carbohydrates: 7g, Protein: 14g, Fat: 14g, Saturated Fat: 3g, Cholesterol: 54mg, Sodium: 490mg, Potassium: 244mg, Fiber: 1g, Sugar: 4g, Vitamin A: 542IU, Vitamin C: 8mg, Calcium: 24mg, Iron: 1mg
House of Yumm is a participant in the Amazon Services LLC Associates Program, an affiliate advertising program designed to provide a means for us to earn fees by linking to Amazon.com and affiliated sites.