This easy to make Dulce de Leche Ice Cream is cold, creamy and loaded with rich caramel flavor. Made with heavy cream and no eggs this homemade ice cream comes together quick and easy.
This creamy dulce de leche ice cream is soon to be your absolute favorite. Are you ready for that? It's super easy to make. No eggs or custard involved. It's just four ingredients! Milk, cream, vanilla, and the dulce de leche!
Ingredients
Heavy Cream: the base of this ice cream is made extra creamy thanks to the fat in the heavy cream.
Milk
Vanilla Extract: adds a pop of vanilla flavoring that pairs nicely with the richness of the dulce de leche. Substitute for vanilla bean paste or use the vanilla bean seeds from one whole bean.
Dulce de Leche: caramelized milk. You can use a can purchased from the market or you can make your own homemade versions. It has a rich, deep caramel flavoring.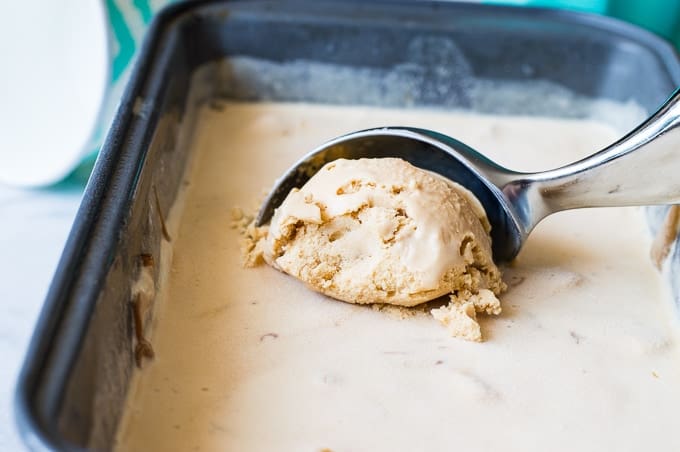 How To Make
Heat: bring the milk and cream to a simmer, this is to ensure that we are dissolving our sugar, the dulce de leche.
Combine: After heating the milk and cream, spoon in the dulce de leche, which will melt into the cream mixture and infuse the entire cream with a sweet caramel flavor.
Chill: since we heated the cream, we need to cool it again, this can be done by placing the bowl inside a large bowl filled with ice, or place the bowl in the refrigerator for at least an hour to cool down.
Churn: Use an ice cream churner or an ice cream attachment for your stand mixer to churn the ice cream until frozen and creamy.
Add Swirls: some of the dulce de leche is set aside in the beginning to allow you to add some to swirl in before freezing.
Freeze: let the ice cream chill in the freezer for several hours before serving.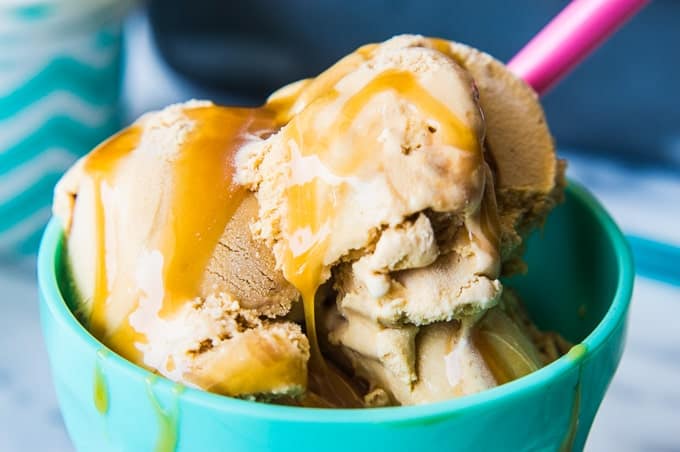 What flavor is Dulce de Leche ice cream?
The ice cream has a smooth, sweet, rich caramel flavor. Dulce de leche is richer than caramel since it's typically made by caramelizing sweetened condensed milk making it thicker than a homemade caramel sauce.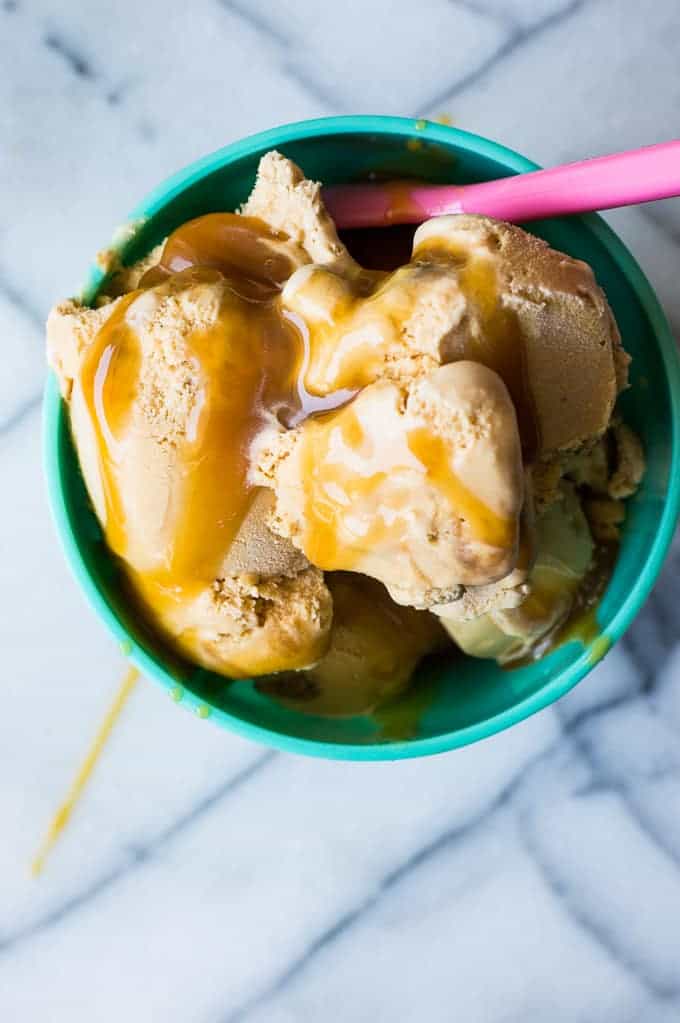 More Dessert Recipes
If you tried this recipe please leave a comment and a ⭐️⭐️⭐️⭐️⭐️ rating below! Thank you so much!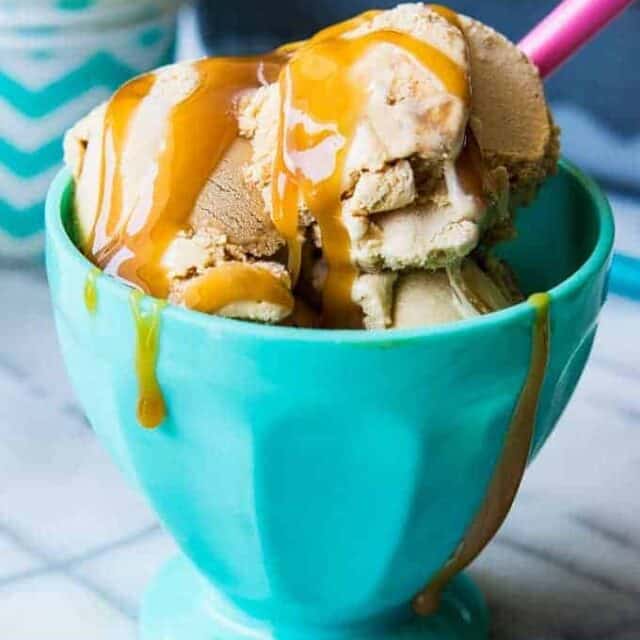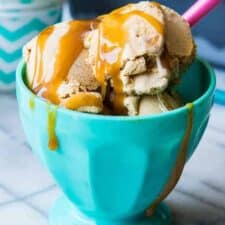 Dulce de Leche Ice Cream
An easy to make, creamy, Dulce de Leche Ice Cream! The tastiest way to cool down!
Ingredients
2 cups whole milk
1 cup heavy cream
1 (13.4 ounce can) dulce de leche
¼ tsp vanilla extract
Optional topping
Instructions
Pour the milk and cream into a medium size saucepan and bring to a boil over medium heat, reduce to a simmer and simmer for about 5 minutes. Then remove from heat and whisk in most of the dulce de leche until dissolved (save some to pour in later).

Whisk in vanilla extract and transfer to a metal bowl. Chill the mixture by putting the metal bowl in a larger bowl of ice water for about 15 minutes.

Pour the cold mixture into the frozen bowl of the ice cream maker. Churn for about 15 to 20 minutes until creamy and frozen.

Transfer ice cream to a freezer safe container. Swirl remaining dulce de leche into the ice cream mixture. I spooned it in and swirled it around with a butter knife. Cover and place in freezer. Allow to freeze about 3 hours prior to serving.
Nutrition
Calories: 224kcal, Carbohydrates: 6g, Protein: 4g, Fat: 21g, Saturated Fat: 13g, Cholesterol: 75mg, Sodium: 60mg, Potassium: 165mg, Sugar: 5g, Vitamin A: 858IU, Vitamin C: 1mg, Calcium: 141mg
House of Yumm is a participant in the Amazon Services LLC Associates Program, an affiliate advertising program designed to provide a means for us to earn fees by linking to Amazon.com and affiliated sites.