Mexican Shrimp Cocktail. This shrimp cocktail is perfectly tart, spicy, and fresh! Cold and refreshing this is a perfect dish for a hot day!
Mexican Shrimp Cocktail is the ultimate summer meal. Cold and refreshing, this dish is loaded up with shrimp, diced veggies, and jalapeno. All soaked in spicy lime and tomato juice.
How to make Mexican Shrimp Cocktail:
Cook Shrimp: briefly boil shrimp that has been deveined, peeled, and tails removed. Can add flavoring to the water for boiling, options would be: cilantro, onion, garlic, cumin.
Prepare the Clamato: store-bought Clamato or homemade Clamato can be used.
Dice add-ins: the add-ins included in this recipe are tomato, cilantro, cucumber, avocado, and red onion.
Mix together: combine the diced vegetables, shrimp, Clamato, lime juice, hot sauce, salt, pepper and any other desired spices.
What kind of shrimp is best?
For this particular recipe medium size shrimp is great, it's not too large or too small. To help make the preparation/cooking quick and easy buying already peeled and de-veined shrimp is best. Can also use already cooked shrimp to skip the step of boiling to cook the shrimp.
What to serve with shrimp cocktail:
Saltine crackers: can use to dip or crumble into your dish.
Tortilla chips: use to dip.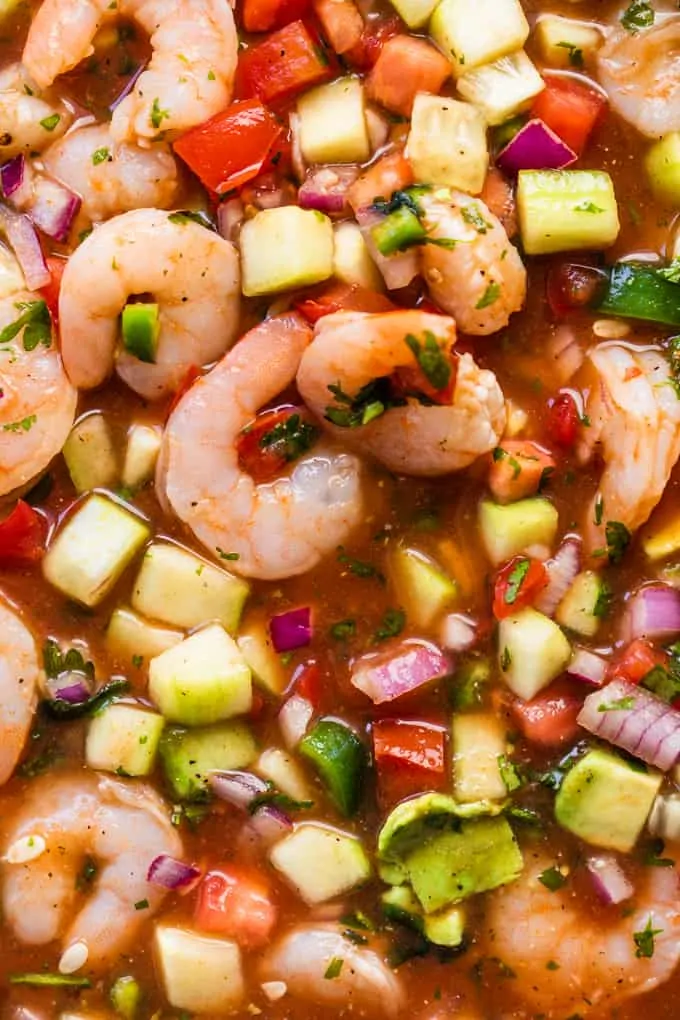 Pro Tips:
To help cut the acidity of the tomato and citrus juice add a small sprinkle (1 tsp or less) of sugar.
More Shrimp Recipes: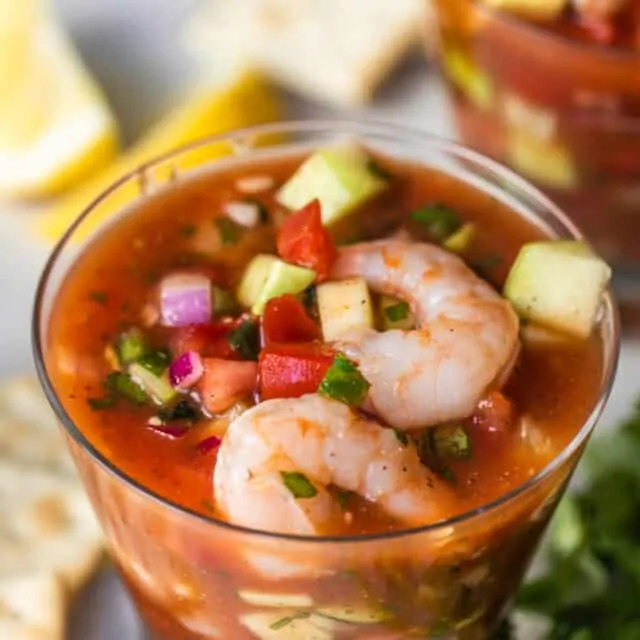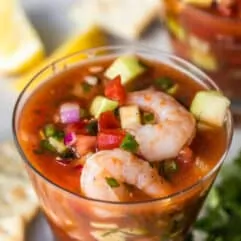 Mexican Shrimp Cocktail
Mexican Shrimp Cocktail. This shrimp cocktail is perfectly tart, spicy, and fresh! Cold and refreshing this is a perfect dish for a hot day!
Ingredients
1 lb shrimp, (medium) peeled and deveined
1 cucumber, peeled and diced
1 jalapeno, seeds & membranes removed, diced
2 roma tomatoes, diced
½ cup red onion, diced
1½ cup clamato juice
2 tbsp lime juice, freshly squeezed
1 tsp salt
½ tsp black pepper
½-1 tsp sugar
hot sauce, as desired
Instructions
Bring a medium size pot of water to boil (can add any aromatics as desired: onion, garlic, cilantro, lemon juice, etc). Add the shrimp and cook for 2-3 minutes until the shrimp is pink in color. Remove the shrimp from the water and place in an ice bath or rinse with cold water.

In a large glass bowl combine the diced cucumber, jalapeno, tomatoes, red onion, and cilantro. Stir together. Add in the shrimp.

Pour the clamato juice and lime juice over the ingredients in the bowl. Add the salt and pepper. Taste and adjust if needed. Add sugar if desired to cut the acidity. Add hot sauce as desired.
Nutrition
Calories: 105kcal, Carbohydrates: 7g, Protein: 17g, Fat: 1g, Saturated Fat: 1g, Cholesterol: 191mg, Sodium: 984mg, Potassium: 336mg, Fiber: 1g, Sugar: 4g, Vitamin A: 507IU, Vitamin C: 24mg, Calcium: 128mg, Iron: 2mg
House of Yumm is a participant in the Amazon Services LLC Associates Program, an affiliate advertising program designed to provide a means for us to earn fees by linking to Amazon.com and affiliated sites.