Swedish Meatballs. Juicy, tender meatballs made with warm spices, simmered in a creamy gravy. Serve with creamy mashed potatoes or over noodles for a perfect comfort meal.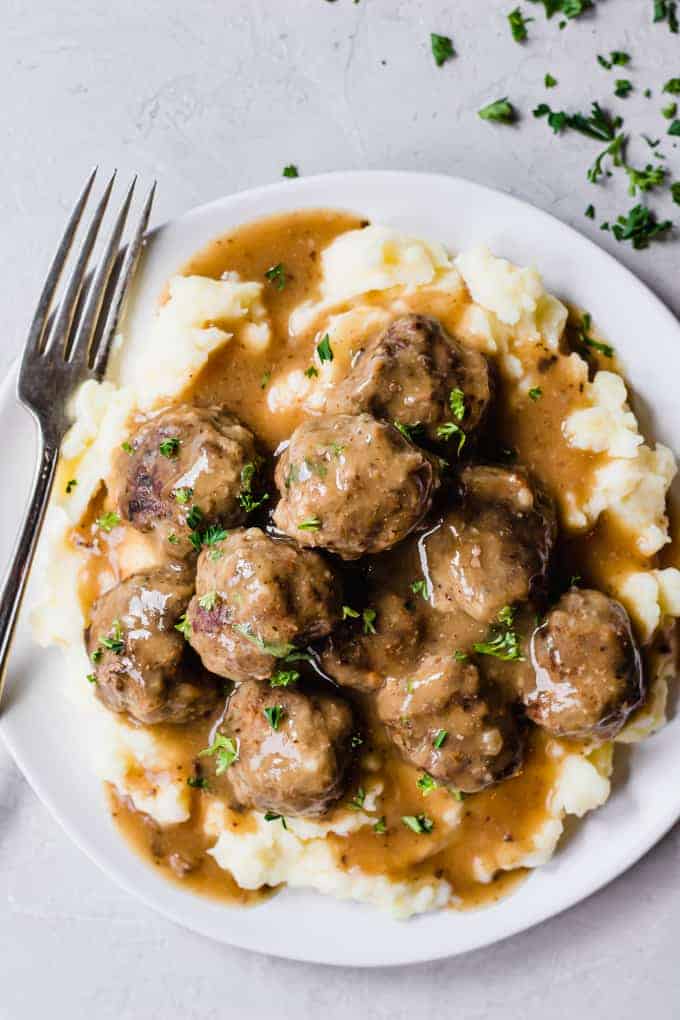 I'm sure most of us have been exposed to Swedish Meatballs thanks to Ikea. Meatballs that are swimming in a creamy gravy, mashed potatoes and lingonberry jam. These meatballs are perfect as a family dinner, served over noodles, rice or mashed potatoes. Or you can have them set out as party food.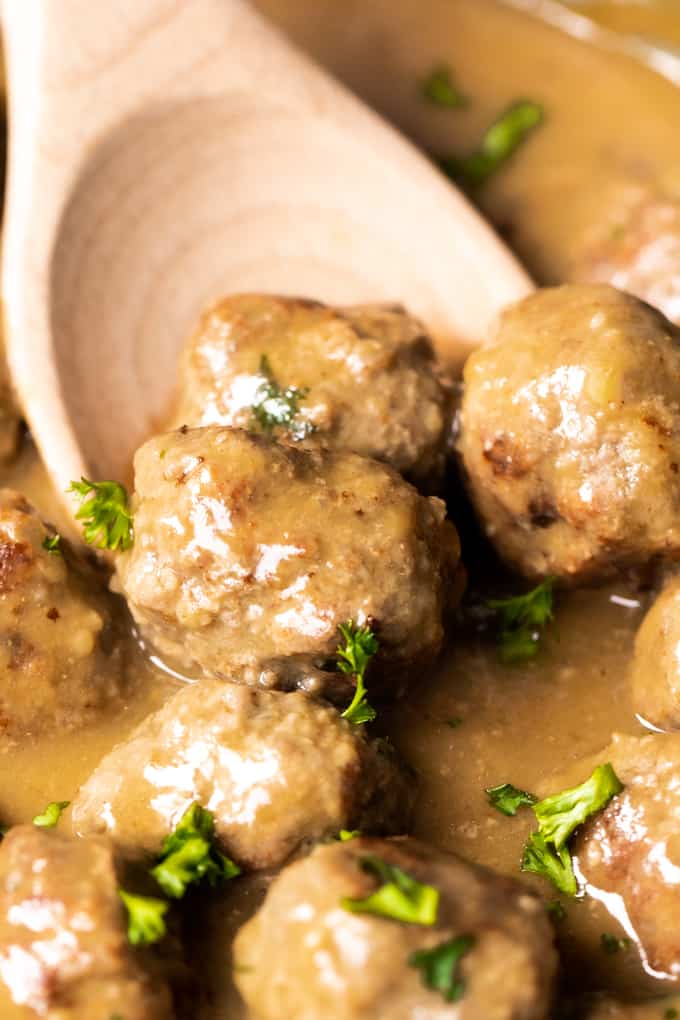 What are Swedish Meatballs?
Swedish Meatballs are meatballs that are made with warm spices like nutmeg and all spice. They are simmered in a roux based gravy that is made with beef broth.
How to make Swedish Meatballs:
Make Meat Mixture- Combine the ingredients for the meatballs. Mix the meat either with a mixer or with your hands. You want to make sure that the meat and all ingredients are well mixed together. This is what is going to give us the tight texture to the meatballs, and helps them keep their shape.
Cook the meatballs- Drizzle a small amount of olive oil into a large skillet. Use a cookie scoop or a large rounded spoon to scoop the meat mixture. This keeps the meatballs all the same size. Roll the meat around in your hands to get a ball shape. Cook in the skillet over medium heat until all sides are seared and the meatballs are cooked through.
Make the roux based gravy- using the same skillet, drain most of the grease, leaving about 3 tablespoons. Return skillet to the heat, whisk in the flour and let cook for a couple minutes. Then pour in the broth and season. I don't find the need to add dairy to the gravy, however if you would like you can add some heavy cream to the gravy before adding the meatballs back in.
Simmer the meatballs- Add the meatballs back to the gravy and let them simmer in the sauce for about 10 minutes, this helps get some of the gravy flavor into the meatballs.
Ingredients for Swedish Meatballs:
Meat: these can be made with a mixture of pork and beef or just ground beef. An 80/20 mix of fat is good for making meatballs. If using both pork and beef use 1:1 or a 2:1 ratio of ground beef to pork. Veal was also commonly used for this recipe traditionally, but is a bit more difficult to come by.
Breadcrumbs: dried breadcrumbs have such a fine texture that works perfectly to bind the meatball and keep them nice and juicy.
Onion- the onion can be grated or finely minced and added to the meat mixture. If you would prefer to saute the onion prior to adding to the meat mixture you can, I love the crunch of the fresh onion in my meatballs. Sauteing first will give you a deeper, slightly sweeter flavoring. You can also do a mixture of half sauted onion and half fresh.
Garlic: minced garlic can be added at the end of sautéing onion if desired, or added raw to the meat mixture.
Parsley: fresh parsley adds a bit of freshness and vibrance to the dish.
All Spice: a mixture of spices including cloves, nutmeg, cinnamon and pepper.
Ground Nutmeg
White Pepper: traditionally used. Has less heat than regular black ground pepper.
Eggs: Use 2 large eggs. I use both yolk and whites.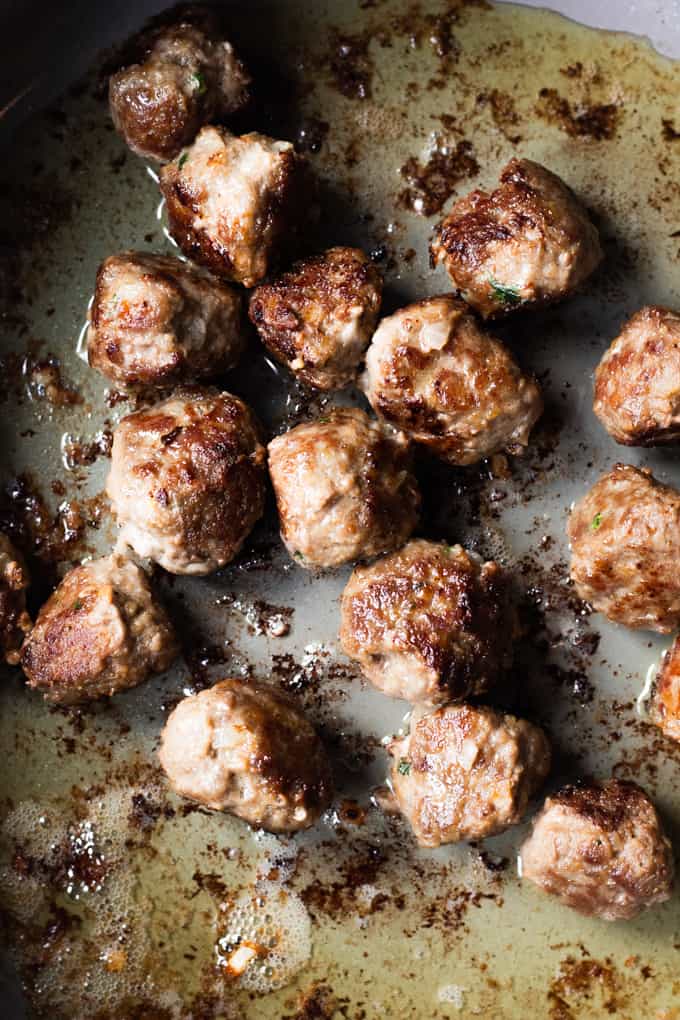 Tips & Tricks to make the BEST Swedish Meatballs:
To test the seasoning of your meatballs you can put together a small patty of meat and cook in the skillet. This way you know what the meatballs will taste like before cooking all of them.
Sear and cook the meatballs in a large skillet, this way you can use the same skillet with the drippings to make your gravy. This gives a much deeper flavor to the gravy.
Use a cookie scoop to scoop the meat mixture, this helps to ensure that the meatballs are the same size, which helps them cook evenly.
Cook the meatballs in two batches so that the pan doesn't get too crowded.
Use a beef broth for the gravy. This gives more flavor, you can substitute with chicken or vegetable if needed, but I would recommend adding some Worcestershire sauce if you do that, this way you still get that savory flavoring.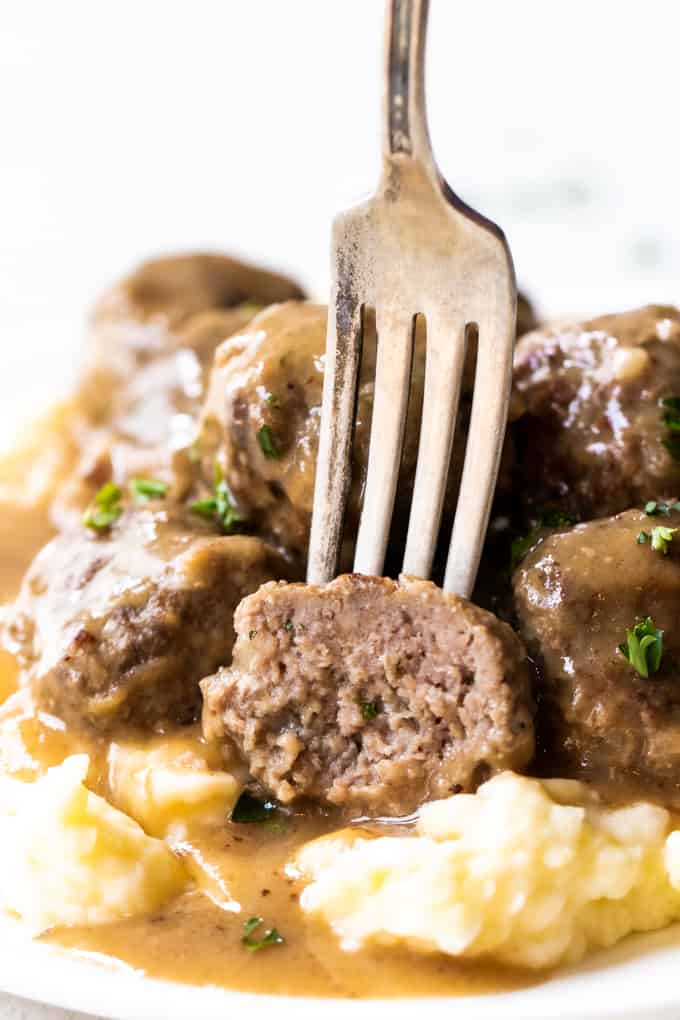 What to serve with these Swedish Meatballs:
Rice or Egg noodles
Salad
Asparagus
Green Beans
Other Recipes you may enjoy: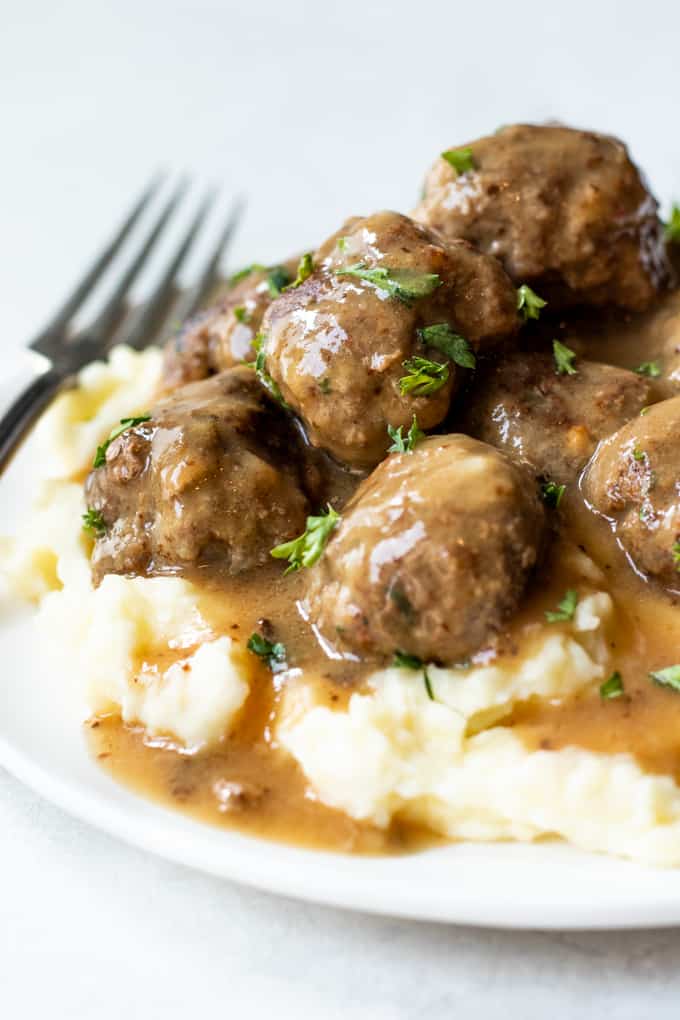 Swedish Meatballs
Swedish Meatballs.
Juicy, tender meatballs made with warm spices, simmered in a creamy gravy. Serve with creamy mashed potatoes or over noodles for a perfect comfort meal.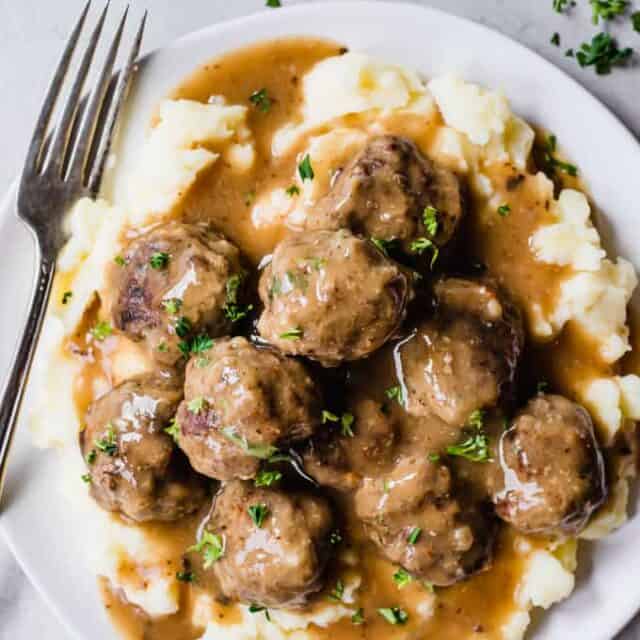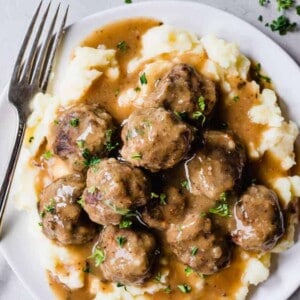 Ingredients
2

pounds

ground beef

can also use 1 pound ground beef, 1 pound ground pork

1/2

cup

dried bread crumbs

1/2

onion

minced

4

cloves

garlic

minced

2

tablespoons

fresh parsley

diced

2

large eggs

1/4

teaspoon

allspice

1/4

teaspoon

ground nutmeg

2

teaspoons

salt

1/4

teaspoon

white pepper

1

tablespoon

extra virgin olive oil
Cream Gravy
2

tablespoons

leftover grease from meatballs

or 2 tablespoons unsalted butter

1/3

cup

all purpose flour

4

cups

beef broth

unsalted

1

teaspoon

salt

1/4

teaspoon

white pepper

1

teaspoon

Worcestershire

optional--advised if not using beef broth
Instructions
Combine the ground meats, dried bread crumbs, onion, garlic, parsley, eggs, all spice, nutmeg, salt and white pepper in a large bowl. Mix thoroughly with a stand mixer or with your hands.

Heat the extra virgin olive oil in a large skillet over medium heat.

Scoop the meat mixture using a spoon or cookie scoop. Keep the meatballs uniform in size, about 1 inch in diameter. Roll the meat between your hands to shape into a ball. Place in the skillet and cook, turning the meatballs as they cook so all sides get a sear and the meatballs cook through. To check you can cut into a meatball to ensure that no pink remains in the center. Continue until all meatballs are cooked, should take two batches to prevent overcrowding.

Remove the meatballs from the skillet. Drain most of the grease, keeping about 2 tablespoons.

Return the skillet to the stovetop. Whisk in the flour until a thick paste forms. Cook for 2-3 minutes.

Whisk in the beef broth. Whisk until smooth and all flour is incorporated.

Add salt and pepper. Whisk. Bring to a simmer.

Add in the meatballs and let simmer for 10 minutes.
Notes
If not using beef broth recommend adding 1 teaspoon Worcestershire sauce.
Nutrition
Serving:
1
|
Calories:
506
kcal
|
Carbohydrates:
14
g
|
Protein:
32
g
|
Fat:
35
g
|
Saturated Fat:
13
g
|
Cholesterol:
162
mg
|
Sodium:
1957
mg
|
Potassium:
577
mg
|
Fiber:
1
g
|
Sugar:
1
g
|
Vitamin A:
192
IU
|
Vitamin C:
3
mg
|
Calcium:
69
mg
|
Iron:
4
mg
Nutrition information is automatically calculated, so should only be used as an approximation.
Like this? Leave a comment below!
Recipe first published October 8, 2019. Updated September 4, 2020 with information and video.