Tender Mexican Shredded Beef that is loaded with flavor! Quick and easy, this fall apart beef comes together with little prep in the slow cooker or instant pot. Perfect for using in your favorite Tex Mex meals, including making shredded beef tacos!
All about these Shredded Beef Tacos…
Tender, fall apart pulled beef in a a rich, flavorful broth that comes together quick and easy in a slow cooker or instant pot! This shredded beef is perfect for making tacos, burritos, enchiladas and more!
Quick and easy: there are several cooking methods in the recipe card below (slow cooker, instant pot, stovetop, and oven) choose the one for you! Most methods are fairly hands off making this a great option for a weeknight dinner.
Meal Prep: store the meat in the refrigerator or freezer and portion out during the week (or months) as needed for different meals for you or the family.
Multiple uses: this meat is a great complement to all your favorite Tex Mex meals, use it in burritos, burrito bowls, as a low carb dinner protein option with grilled vegetables, in tacos, Gorditas, nachos, tostadas, enchiladas, taco salads and more!
Ingredients Needed: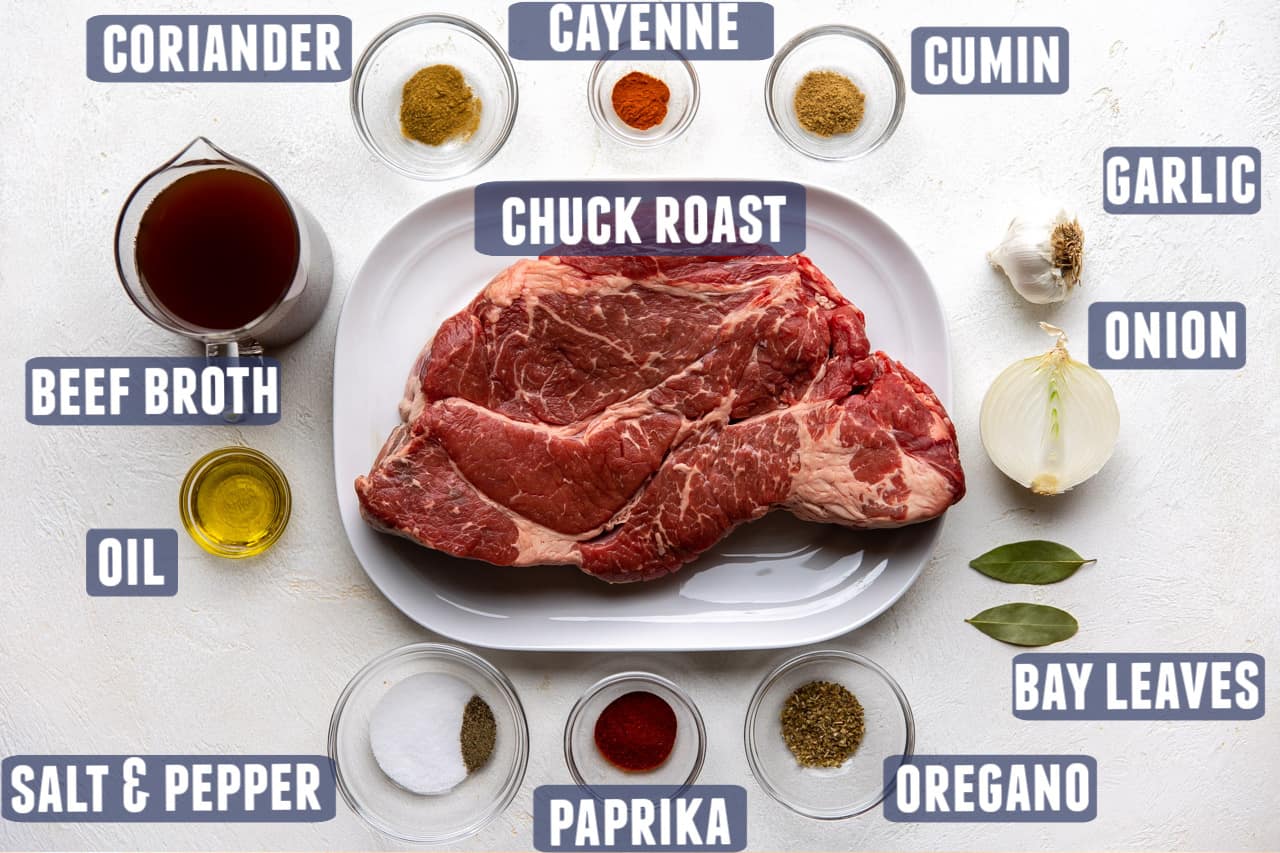 Notes on Some Ingredients:
Chuck Roast: this is a cut from the shoulder/neck area and may also be labeled as shoulder steak, boneless chuck roast, chuck shoulder pot roast, chuck seven-bone pot roast, or beef chuck arm. This is a tough cut of meat and needs to be slow cooked to become tender.
Oil: this is used to sear the meat, high smoke point oils are best, extra virgin olive oil or avocado oil are great options.
Beef Broth: always grab unsalted broth from the market so you can control the salt content of your meals.
How to Make (step-by-step):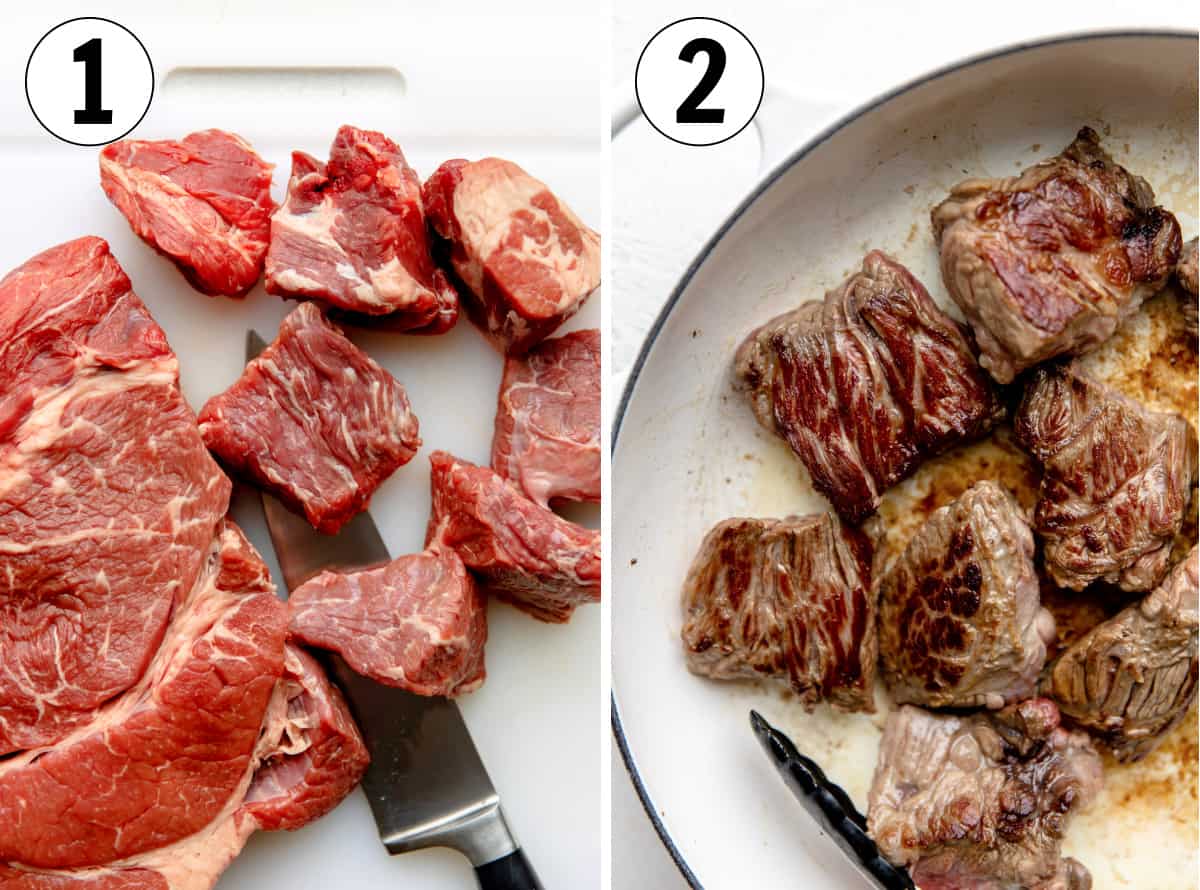 Step 1: Trim the meat, remove any excessively hard pieces of fat, this will not render out during the cooking. But leave all the soft fat bits, this will break down during cooking and create a nice tender finished dish. Chop the meat into 2-3 inch chunks for ease of cooking.
Step 2: Sear the meat in a hot skillet with cooking oil. This will bring out more flavor in the meat and create those nice seared bits in your final dish. Work in batches so that the pan is not crowded. Be sure to deglaze the pan when you are finished to get all the flavor into the slow cooker.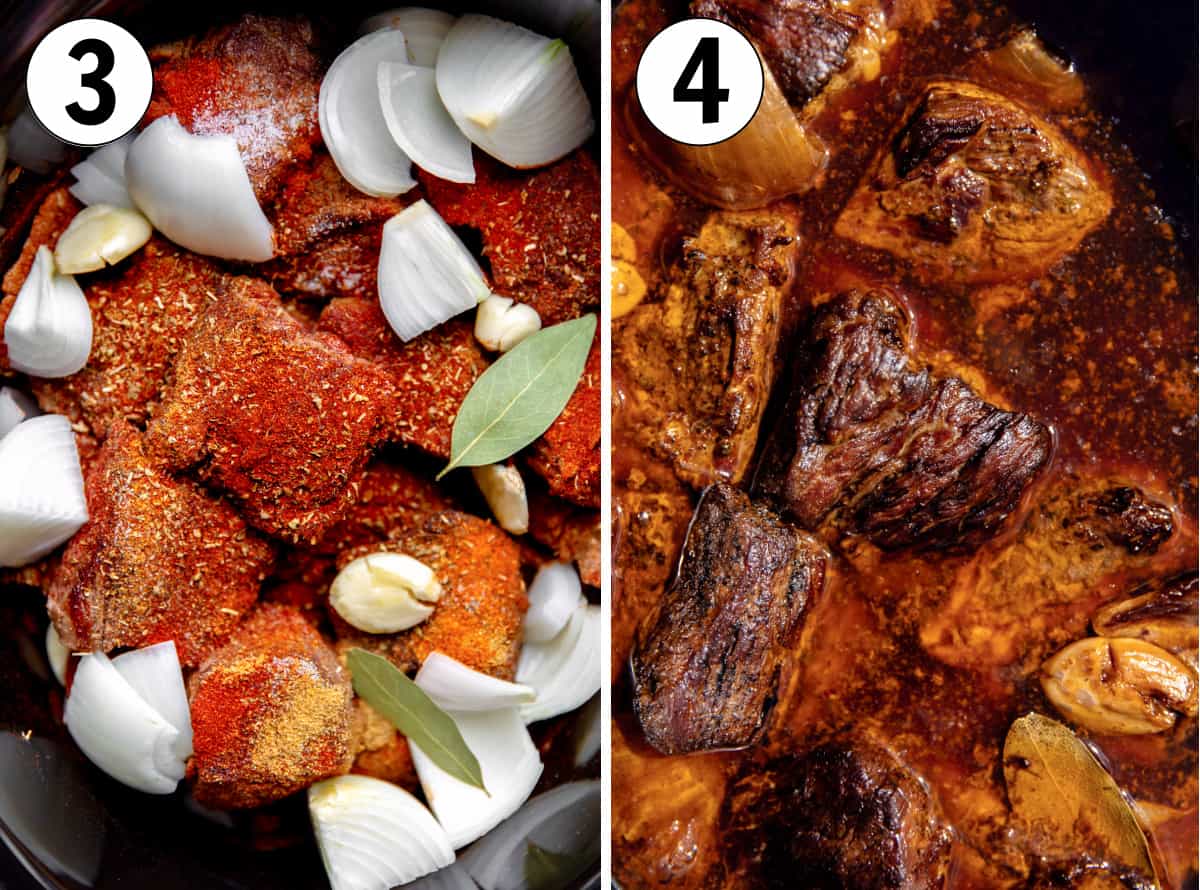 Step 3: Add all the seasonings and flavors to the slow cooker with the seared meat. Pour in the beef broth, don't be concerned at the low amount of liquid, the meat will release more liquid as it slow cooks all day. Cook on low for 8 hours or until the meat easily shreds.
Step 4: Shred the meat, remove the chunks of onion, garlic and bayleaves, set aside for serving later with the meat if desired. Once the meat is shredded return it to the slow cooker to simmer in the remaining juices for 30 minutes to get as much flavoring as possible.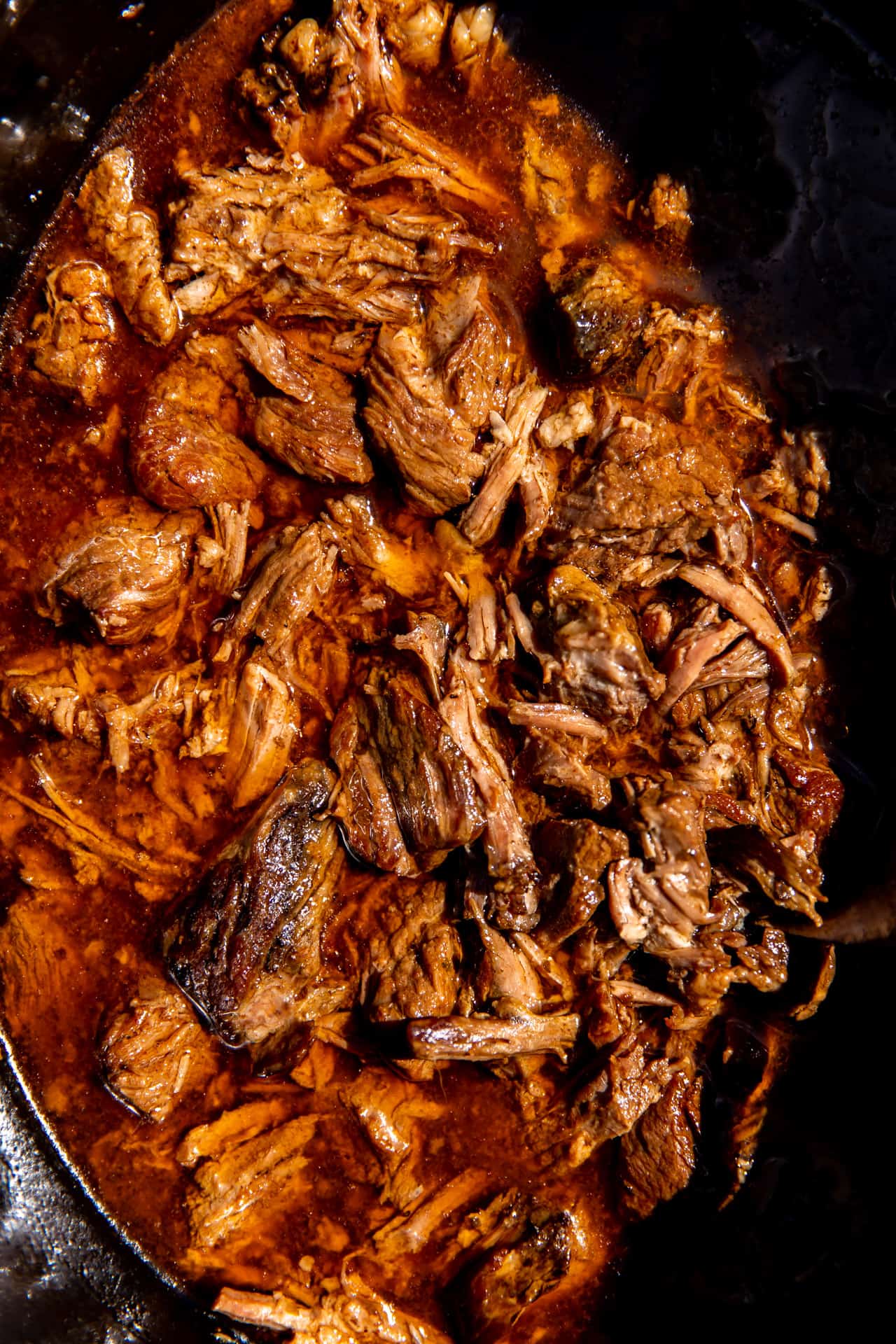 Expert Tips:
Cooking Method: this can easily be made on the stove top, in the oven or in an instant pot. Notes on cooking methods can be found below in the recipe card.
Freezer Friendly: allow the meat to cool and store in freezer safe containers. Store in the freezer for 3-4 months and use as desired for tacos, burritos and more!
Cut the meat into equal size portions: this will help to ensure that there is even cooking throughout the process.
FAQ's:
What is the best cut of meat for shredding?
The chuck roast, or rump roast, even a brisket when cooked low and slow. If needed you can follow my Slow Cooker Brisket Taco recipe. Chuck roast will be an easier (and cheaper) cut of meat to find at the markets though.
How do I make Shredded Beef Tacos?
Heat up some corn tortillas, layer the cooked shredded beef and add your favorite toppings: fresh cilantro, diced onion, fresh Pico de Gallo or homemade salsa, cheese, shredded lettuce, sour cream, guacamole, fresh or pickled jalapeños, the possibilities are endless!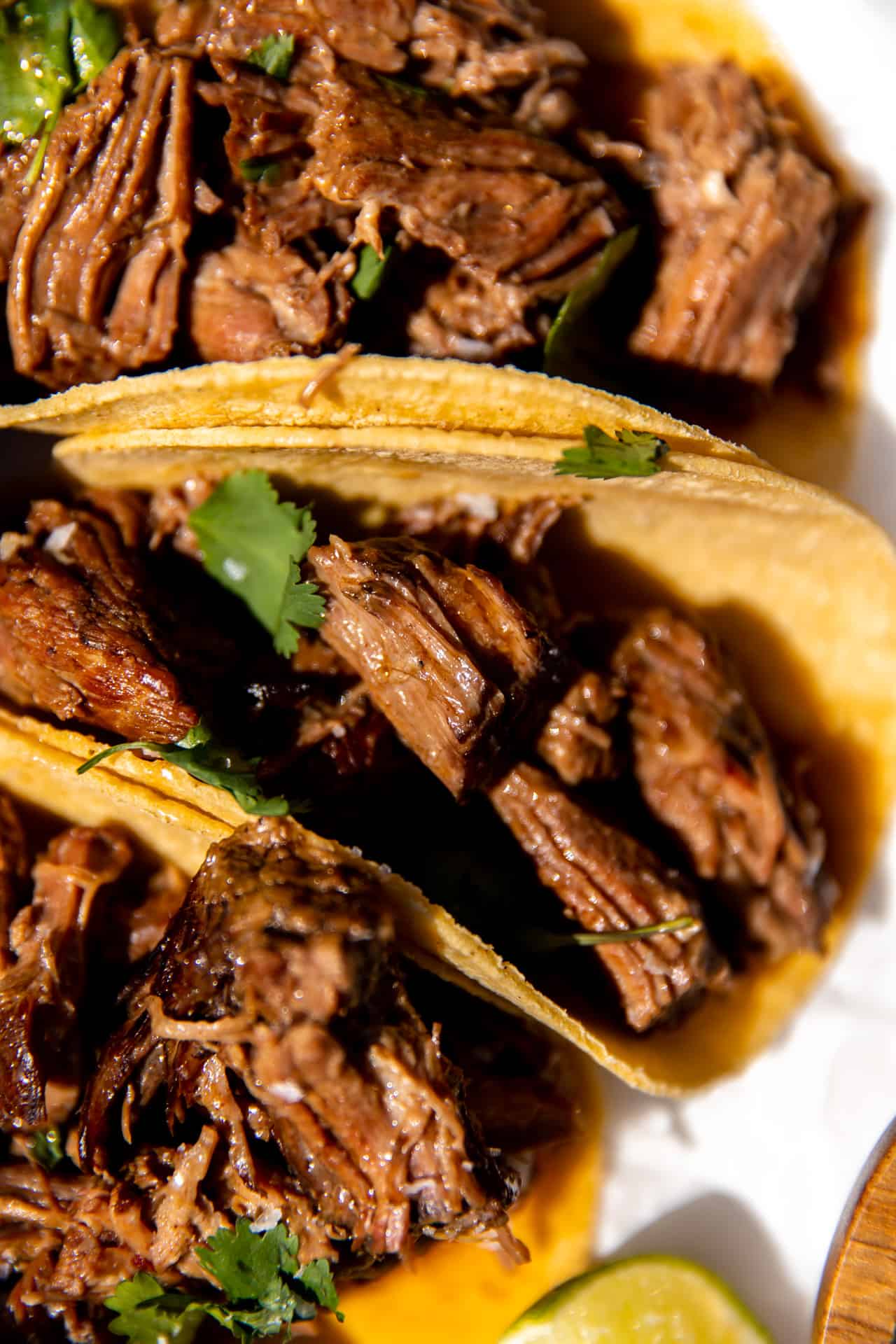 More Taco Recipes to Try: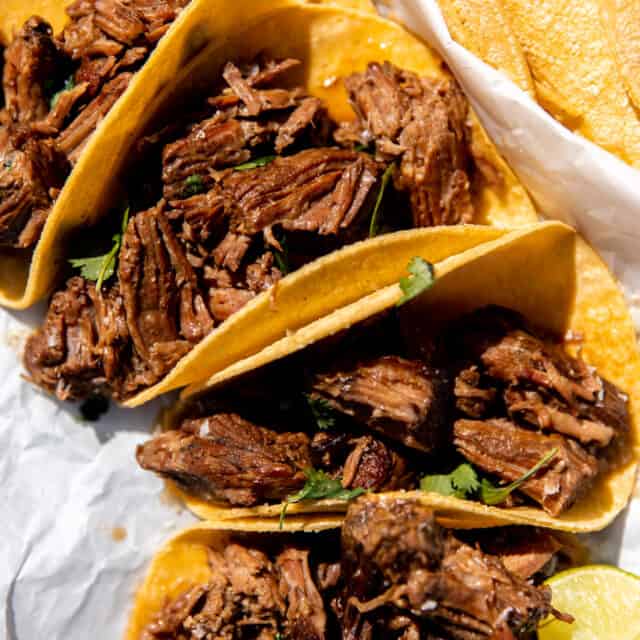 Mexican Shredded Beef
Quick and easy, this flavorful and tender Shredded Mexican Beef is perfect for loading into tacos and more! Easy prep, this meal can be made in the slow cooker or instant pot. (Oven and stovetop instructions also included!)
Ingredients
3 pounds chuck roast
1 tablespoon cooking oil
3 teaspoons salt
½ teaspoon ground black pepper
1 teaspoon ground cumin
1 teaspoon ground coriander
2 teaspoons smoked paprika
½ teaspoon ground cayenne
1 teaspoon dried Mexican oregano
½ white onion, quartered
4 cloves garlic, smashed
2-3 cups beef broth, unsalted
2 bayleaves
Instructions
Prepare the beef: Cut into large chunks approximately 3 inches in width. Remove any excessive hard pieces of fat.

Sear: Heat a large skillet with a tablespoon of cooking oil over medium high heat. Working in batches, careful not to overcrowd the pan, sear the meat briefly on all sides. Once seared remove from the skillet and add to a slow cooker. Continue until all meat has been seared. Pour a small amount of the beef broth into the skillet to deglaze the pan, scraping with a wooden spoon, and pour this into the slow cooker to get all the bits for flavoring.

Season: Add the seasonings into the slow cooker sprinkling over the meat: salt, black pepper, cumin, coriander, paprika, cayenne, and oregano.

Add in the quartered onion and smashed garlic cloves.

Pour the remaining beef broth into the slow cooker, just enough to cover the meat, pressing down into the broth. Add in bayleaves.

Slow Cook: Cook on LOW for 7-8 hours until meat is tender and easily shredded.

Remove the onion, garlic cloves and bayleaves. (You can serve the onion and garlic with the meat if desired.)

Remove the meat, shred and return to to the slow cooker for another 30 minutes on LOW. At this point you can taste and adjust salt or seasonings as desired.

Serve on corn tortillas with your favorite taco toppings, or inside burritos, gorditas, or tostadas.
Equipment
Notes
Cooking Method:
Stovetop: sear meat in a large dutch oven, then add the remaining ingredients. Cook at a low simmer for 3-4 hours checking periodically to add more liquid as needed until the meat is tender and easily shreds.
Oven: after searing the meat, add meat and all ingredients to a roasting pan, cover with foil and bake at 325 degrees F for 3-4 hours until meat is tender and easily shreds.
Instant Pot: sear the meat in the instant pot on a saute function. Add all ingredients and cook at High Pressure for 35 minutes and allow to release naturally.
Chuck Roast: this is a cut from the shoulder/neck area and may also be labeled as shoulder steak, boneless chuck roast, chuck shoulder pot roast, chuck seven-bone pot roast, or beef chuck arm. This is a tough cut of meat and needs to be slow cooked to become tender.
Shredded Beef Taco Toppings: meat best served on corn tortillas. Top with your favorite toppings: cilantro, diced onion, pico de gallo, salsa, guacamole, cheese, sour cream, shredded lettuce, diced tomato.
Nutrition
Calories: 268kcal, Carbohydrates: 1g, Protein: 27g, Fat: 17g, Saturated Fat: 7g, Polyunsaturated Fat: 2g, Monounsaturated Fat: 9g, Trans Fat: 1g, Cholesterol: 94mg, Sodium: 988mg, Potassium: 509mg, Fiber: 1g, Sugar: 1g, Vitamin A: 260IU, Vitamin C: 1mg, Calcium: 35mg, Iron: 3mg
Photography by the talented @KJandCompany.co
House of Yumm is a participant in the Amazon Services LLC Associates Program, an affiliate advertising program designed to provide a means for us to earn fees by linking to Amazon.com and affiliated sites.