Perfect Tex Mex Enchiladas you can make with ANY Filling! Smothered in a bold Tex Mex Chili Gravy enchilada sauce. Learn all the tips and tricks you need to know to make enchiladas better than your favorite restaurant!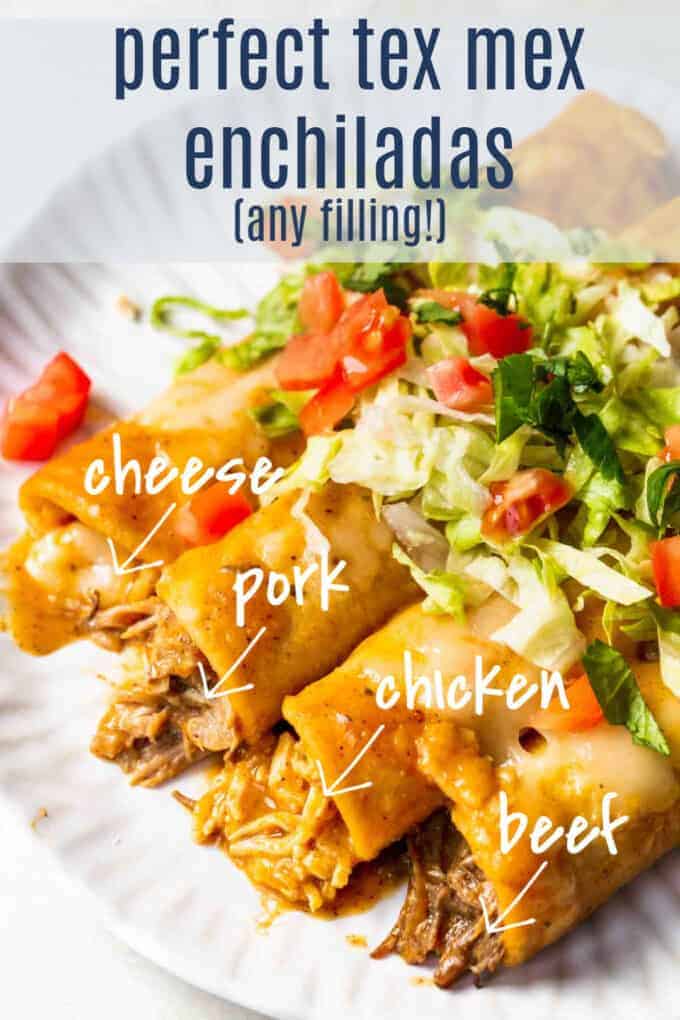 First, A little history..
Enchiladas are embedded in Mexican history, dating back to the Mayans. The practice of rolling tortillas around fillings is something that has been around for some time. When Texas gained it's Independence from Mexico in 1836, the people retained a love for the foods.Traditional Mexican foods were now being prepared slightly different, in their own way, to please and feed the people of Texas.
So what makes Tex Mex enchiladas different than traditional enchiladas? The main difference is the sauce.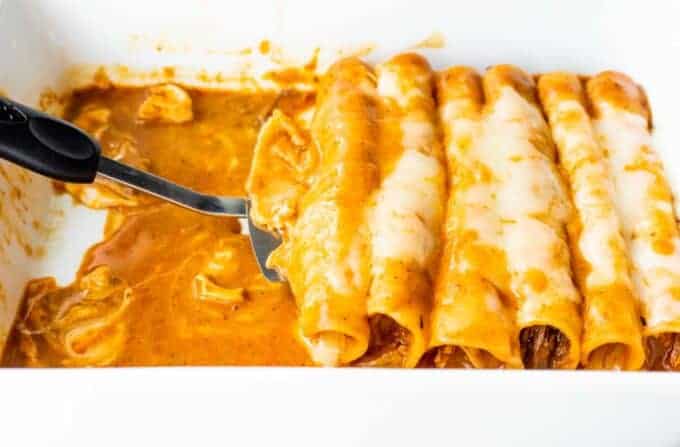 The Sauce:
Tex Mex enchiladas are smothered in a chili gravy sauce. This sauce was created to provide a "non-spicy"enchilada. A mash up of gravy like you would find smothering a steak, and the Mexican Chile sauce that would adorn red enchiladas. It's thick and smooth, loaded with a smokey Chile flavor. Even though it doesn't have a heat that you would expect from a red sauce, that doesn't mean it lacks in flavor.
For more detailed information on the sauce and a video showing how to make it check out this post: Tex Mex Chili Gravy Enchilada Sauce.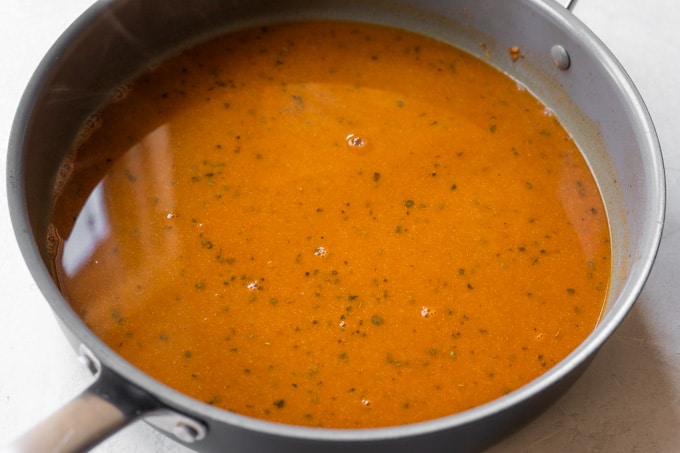 The Tortillas:
White corn tortillas are my go-to. My favorite brand to buy is Guerrero (not sponsored..they're just my favorite!) they are fresh, flexible and don't break. I've had other brands be brittle and more prone to splitting or breaking.
I personally can't do flour tortillas for enchiladas. They tend to break down when drenched in sauce and they get soggy.
When making enchiladas it's so important to get the tortillas ready! Giving the tortillas a quick fry can add to their flavoring, it heats them to make them more flexible, and it prevents the tortillas from soaking in too much sauce and becoming soggy.
Fry the tortillas briefly on each side, only 10-15 seconds. We aren't trying to make the tortillas crisp like if we were making tacos. Just warm and soft.
After frying, stack the tortillas on a plate. When all the tortillas are briefly fried, then you can work one by one coating the tortillas in the enchilada sauce.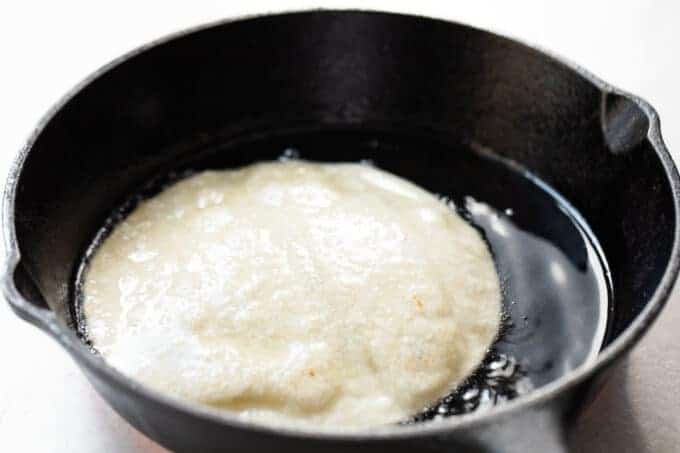 The Fillings:
The video for this recipe shows making the enchiladas with cheese. My favorite choice when it comes to cheese is to use a Monterey Jack.
Although the beauty of enchiladas is that you can use whatever you have to make them. They can be filled with any choice of cheese, meat, or vegetable.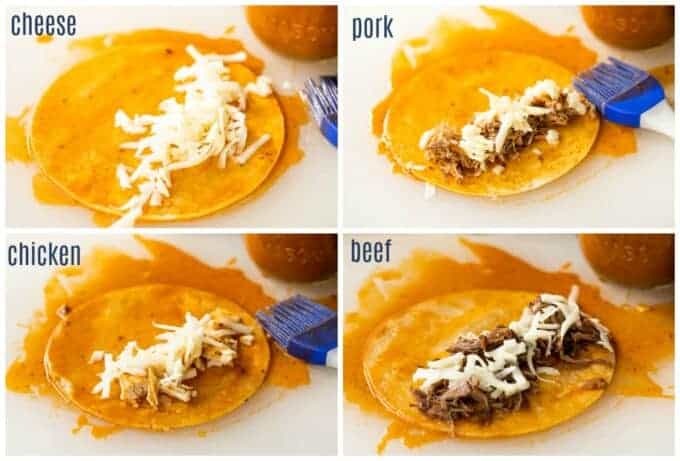 Some enchilada recipes I have on the site:
Some recipes for meats that make excellent enchilada fillings:
And of course, you can always make vegetable heavy enchiladas:
Butternut Squash
Black Beans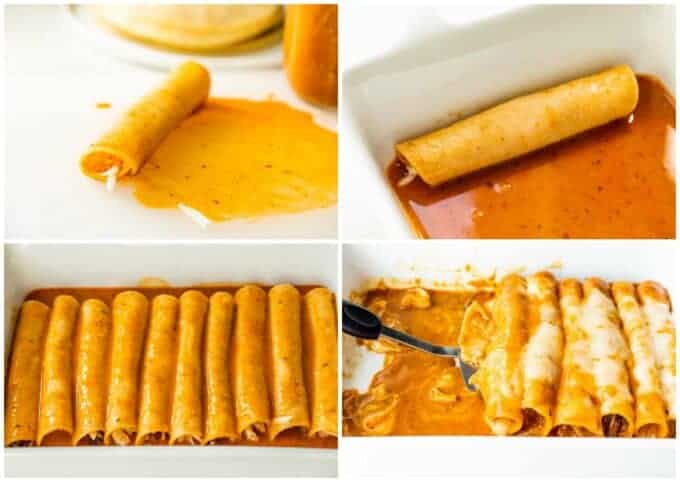 Important Tips for making Enchiladas
Only briefly fry the tortillas. Not to crisp them up.
Don't overfill the tortillas, they will be hard to roll and will have a hard time staying rolled.
Pour a small amount of sauce in the dish to coat the bottom of the dish.
Place the rolled enchiladas into the dish with the seam side down, this helps them hold their shape.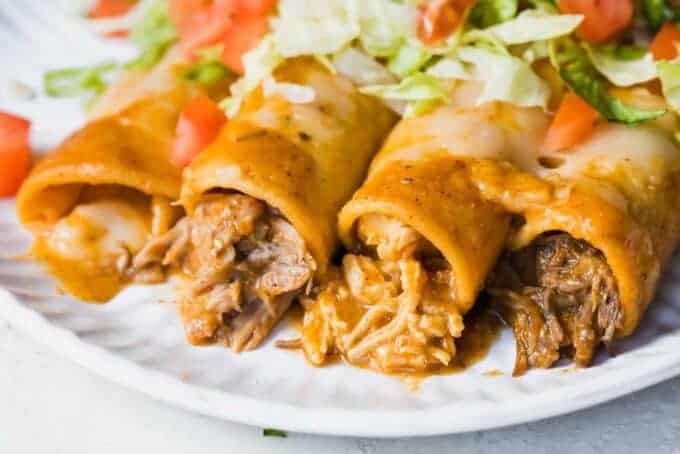 Perfect Tex Mex Enchiladas (Any Filling!)
Perfect Tex Mex Enchiladas you can make with ANY Filling! Smothered in a bold Tex Mex Chili Gravy enchilada sauce. Learn all the tips and tricks you need to know to make enchiladas better than your favorite restaurant!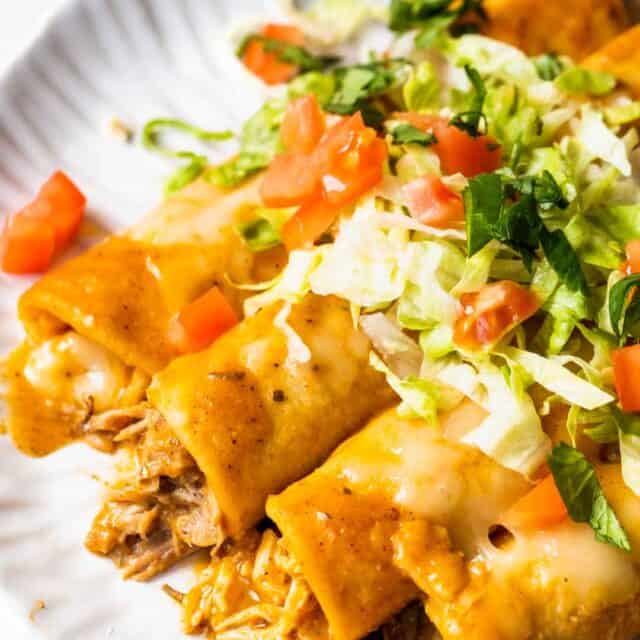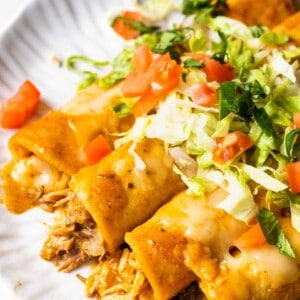 Instructions
Heat a small skillet over medium heat. Pour in the oil and let the oil heat to 350℉. You can test the temperature by dipping a tortilla in the oil, when it bubbles around the tortilla the oil is ready.

Carefully lay tortillas, one at a time, in the oil. Frying briefly for 10-15 seconds, then carefully turn the tortilla, using tongs, to fry the other side for another 10-15 seconds.

Remove the tortillas from the oil and place on a plate, stacking the tortillas that have been fried.

Preheat the oven to 350℉.

Pour 1/4 cup of enchilada sauce into a 3 quart baking dish, just enough to coat the bottom of the dish.

Working with one tortilla at a time, coat with the enchilada sauce, either by dipping the tortilla into the sauce, if it sauce is in a skillet. Or brush the sauce onto the tortilla if using sauce from a jar/can.

Add approximately 2 tablespoons of filling of choice. If using meat you can sprinkle with a small amount of shredded cheese as well.

Roll the tortillas so that the filling is rolled inside.

Place the rolled enchilada into the baking dish with the seam side down, this helps the enchiladas hold their shape.

Continue until the baking dish is filled with enchiladas.

Pour remaining enchilada sauce over the top of the rolled enchiladas.

Top with 4 ounces of shredded cheese.

Bake for 10 minutes, until the cheese is melted and enchiladas are warmed through.
Notes
How to Freeze Enchiladas: Prepare enchiladas, but do not sprinkle cheese on the top, bake for 10 minutes. Allow enchiladas to cool to room temperature. Cover enchiladas tightly with plastic wrap, then aluminum foil. Can store in the freezer up to 3 months. To bake: remove from freezer and allow to thaw in refrigerator overnight. Remove foil and plastic wrap, cover and bake for 30 minutes at 350℉. Uncover and continue baking an additional 5-10 minutes, or until warmed through and cheese is fully melted.
If making ahead: Enchiladas can be prepped and stored in the refrigerator for up to 48 hours prior to being baked. Cover the tray of un-baked enchiladas, store in the refrigerator. When ready, bake at 350℉ for 30 minutes covered. Uncover and bake an additional 5-10 minutes until completely warmed and cheese is fully melted.
Nutrition
Serving:
1
|
Calories:
340
kcal
|
Carbohydrates:
37
g
|
Protein:
10
g
|
Fat:
18
g
|
Saturated Fat:
5
g
|
Cholesterol:
20
mg
|
Sodium:
804
mg
|
Potassium:
147
mg
|
Fiber:
6
g
|
Sugar:
6
g
|
Vitamin A:
694
IU
|
Vitamin C:
2
mg
|
Calcium:
192
mg
|
Iron:
1
mg
Nutrition information is automatically calculated, so should only be used as an approximation.
Like this? Leave a comment below!