Brisket Tacos. This easy, slow cooker beef recipe has been simmered with chiles, and spices making it so easy to shred. Perfect for making tacos, nachos, burritos, salads, or anything you want!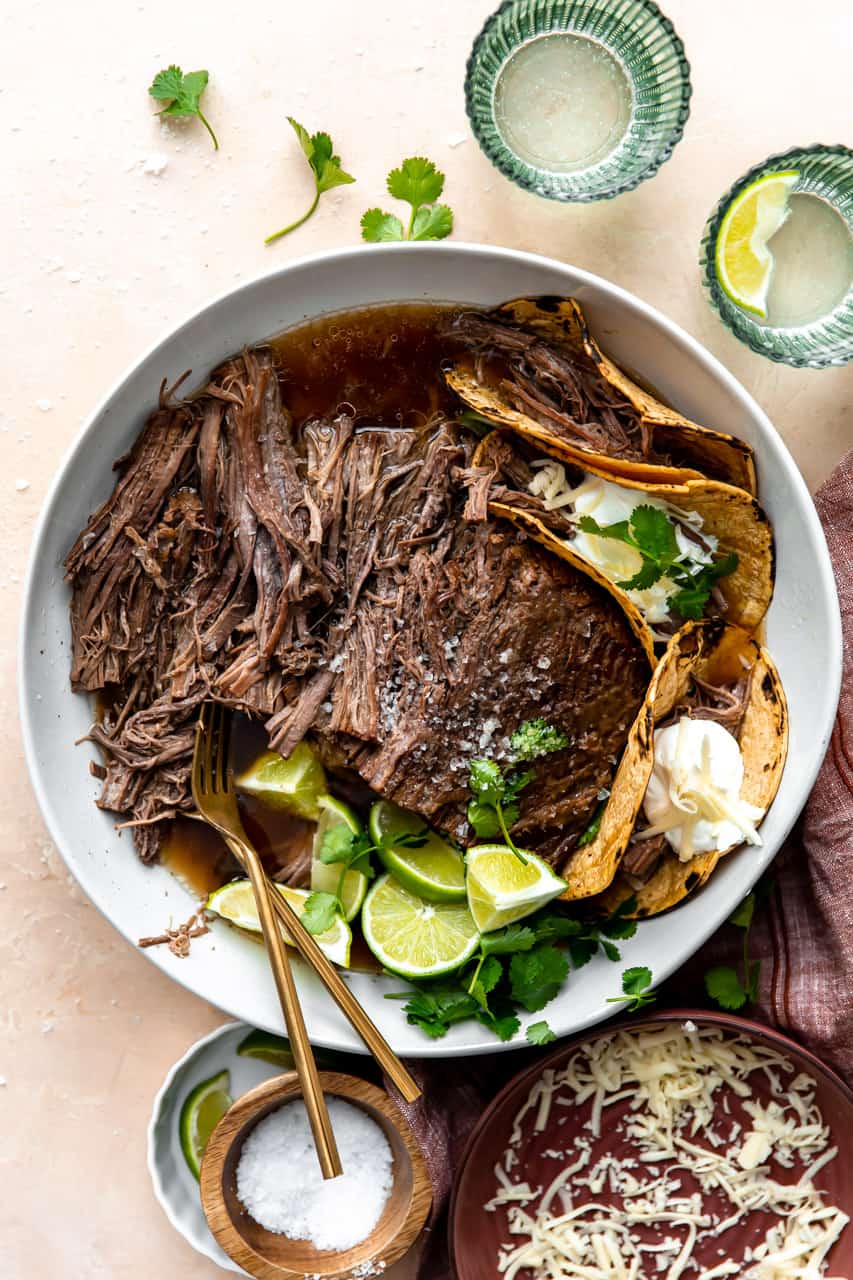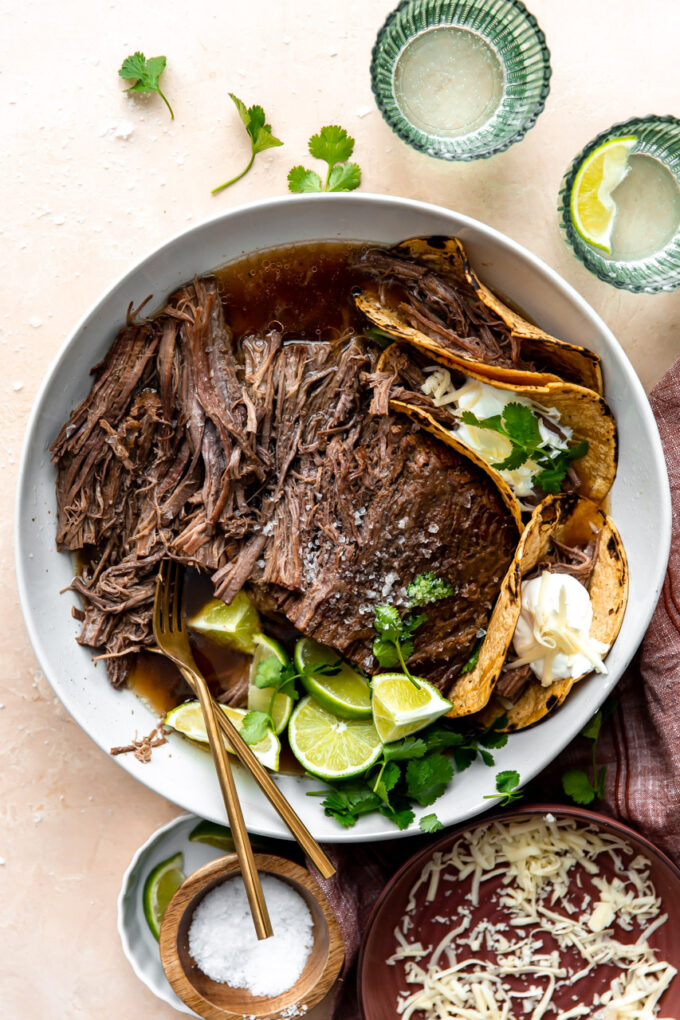 How to Make Shredded Brisket for Tacos:
Prepare the Ingredients: De-seed the pepper and chop (leave the seeds if you want more heat. Chop the onion, and mince the garlic.
If you want more heat you could use a different type of pepper. Anaheim, jalapeño, or serrano peppers would all increase the heat by different amounts.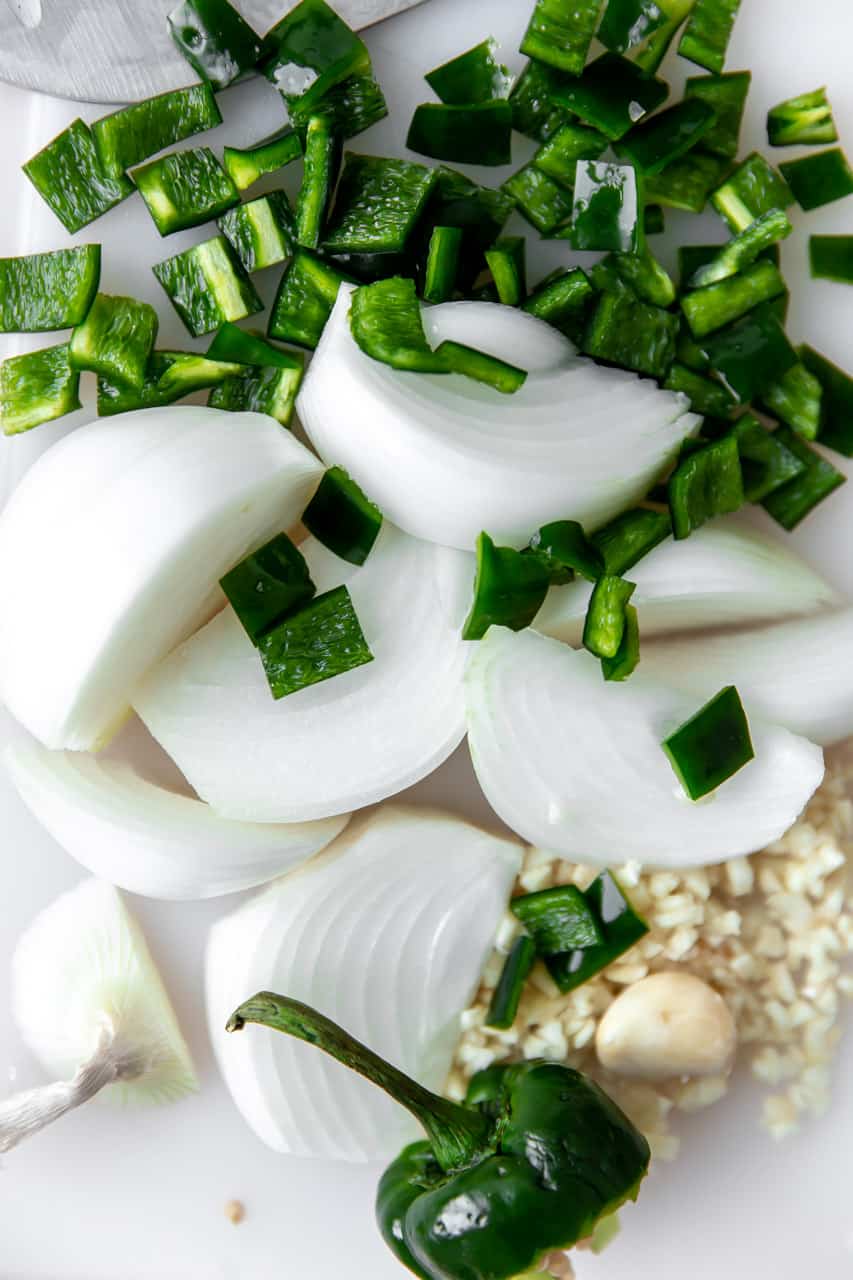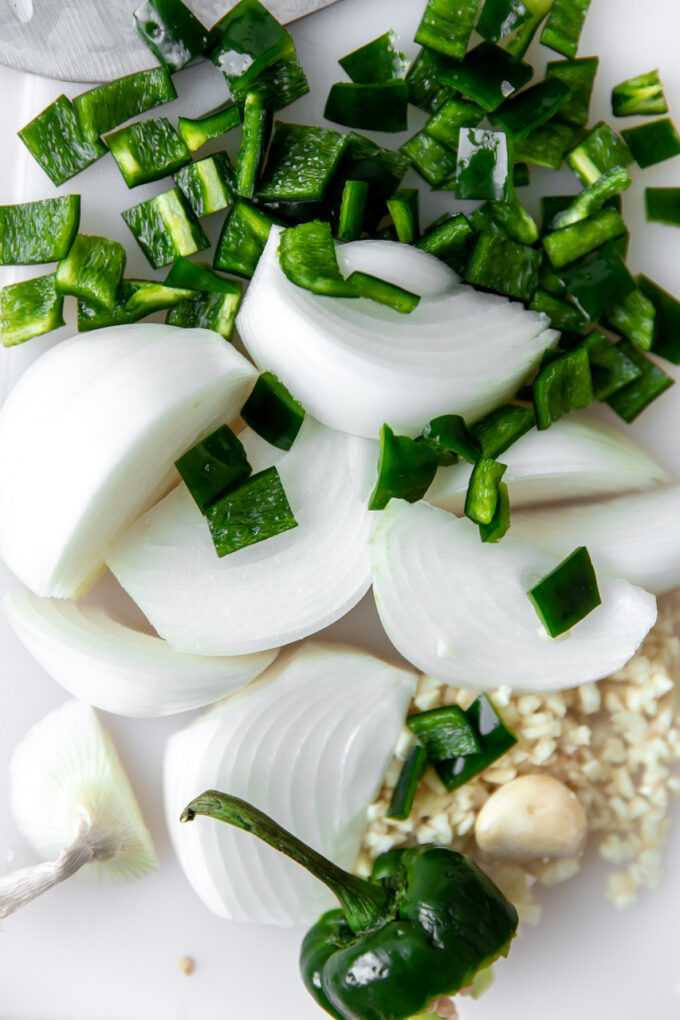 Add the Ingredients to the Slow Cooker: Place the brisket into the slow cooker fat side up. This helps to keep the moisture in the meat. Add the remaining ingredients to the slow cooker and then pour beef broth over the top.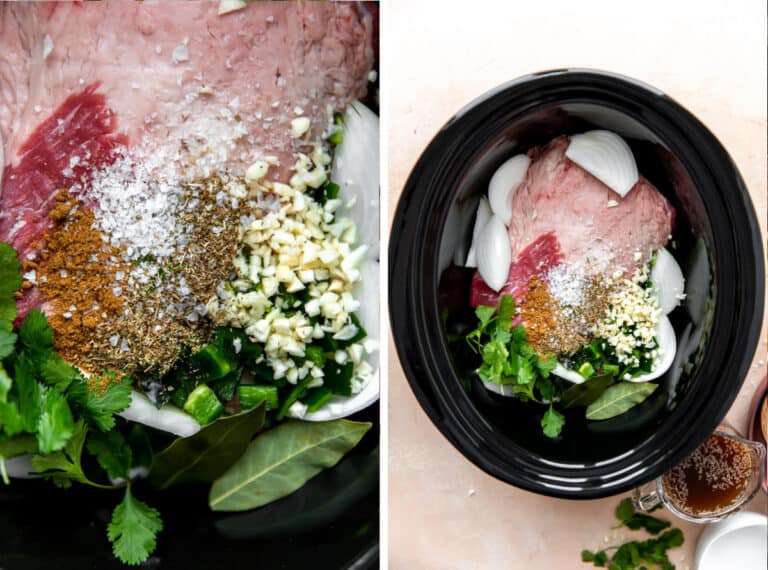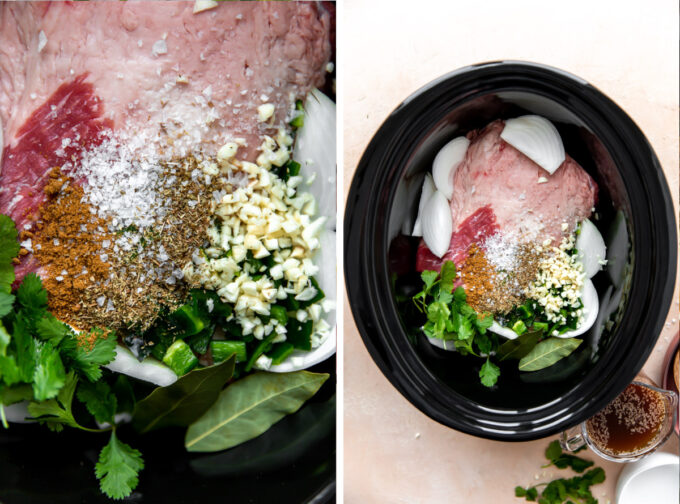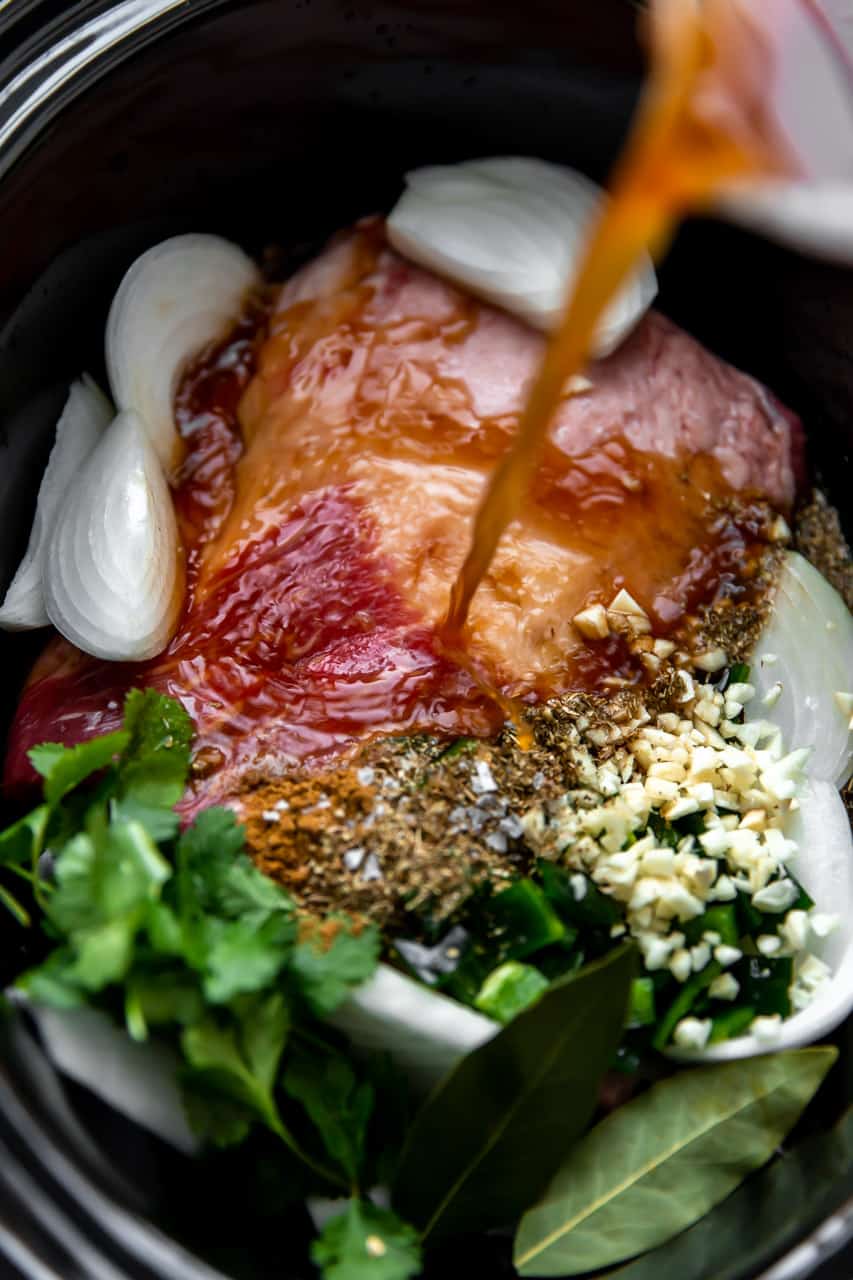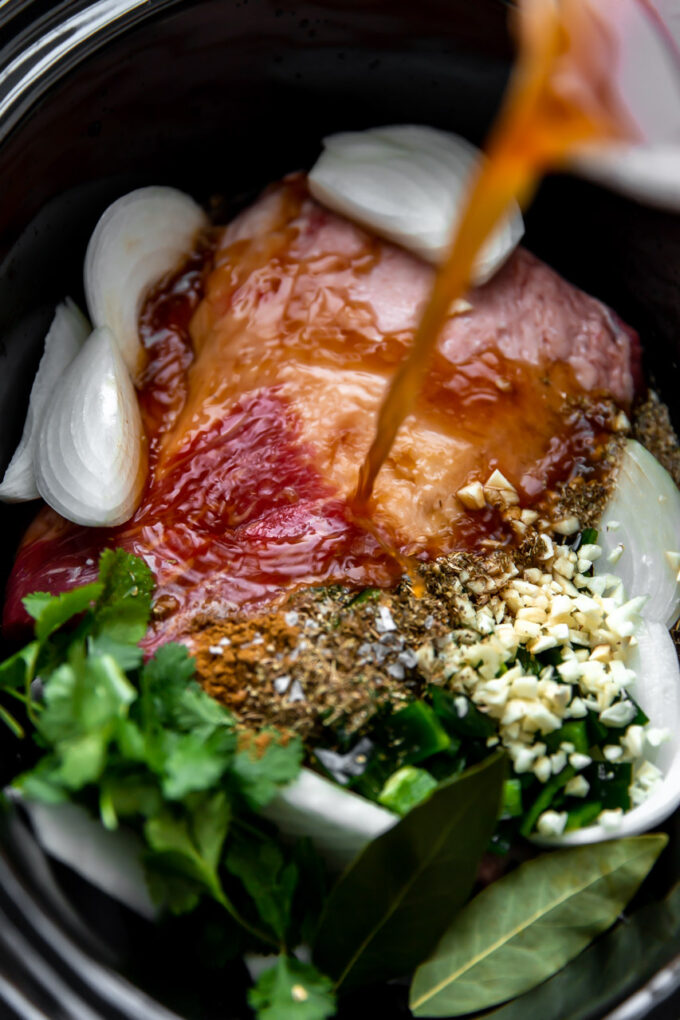 Serving: Keep the juice you cook the meat in!! Strain it and skim the grease off. Hang onto it! Spoon some on the meat after you shred it, this will keep it moist. Keep the juice in the fridge and if you have leftover brisket just spoon a little of the juice over it before you re-heat to help keep the meat moist.
How to Serve this Shredded Brisket:
Make Brisket Tacos: this is my favorite way to enjoy this shredded beef. Heat up some corn tortillas, fill with the meat and add all of your favorite toppings.
Enchilada Filling: use this shredded beef for filling up enchiladas. Follow the instructions in our How to make Tex Mex Enchiladas using ANY Filling.
Brisket Burritos: fill up a large flour tortilla with the shredded brisket meat and any other fillings you want. You can even use it to make a Smothered Burrito.
Low Carb. Simply grill up some fajita vegetables by slicing up some bell peppers and onions and grilling them in a cast iron skillet. Add some salt and pepper and let them get some caramelized flavors.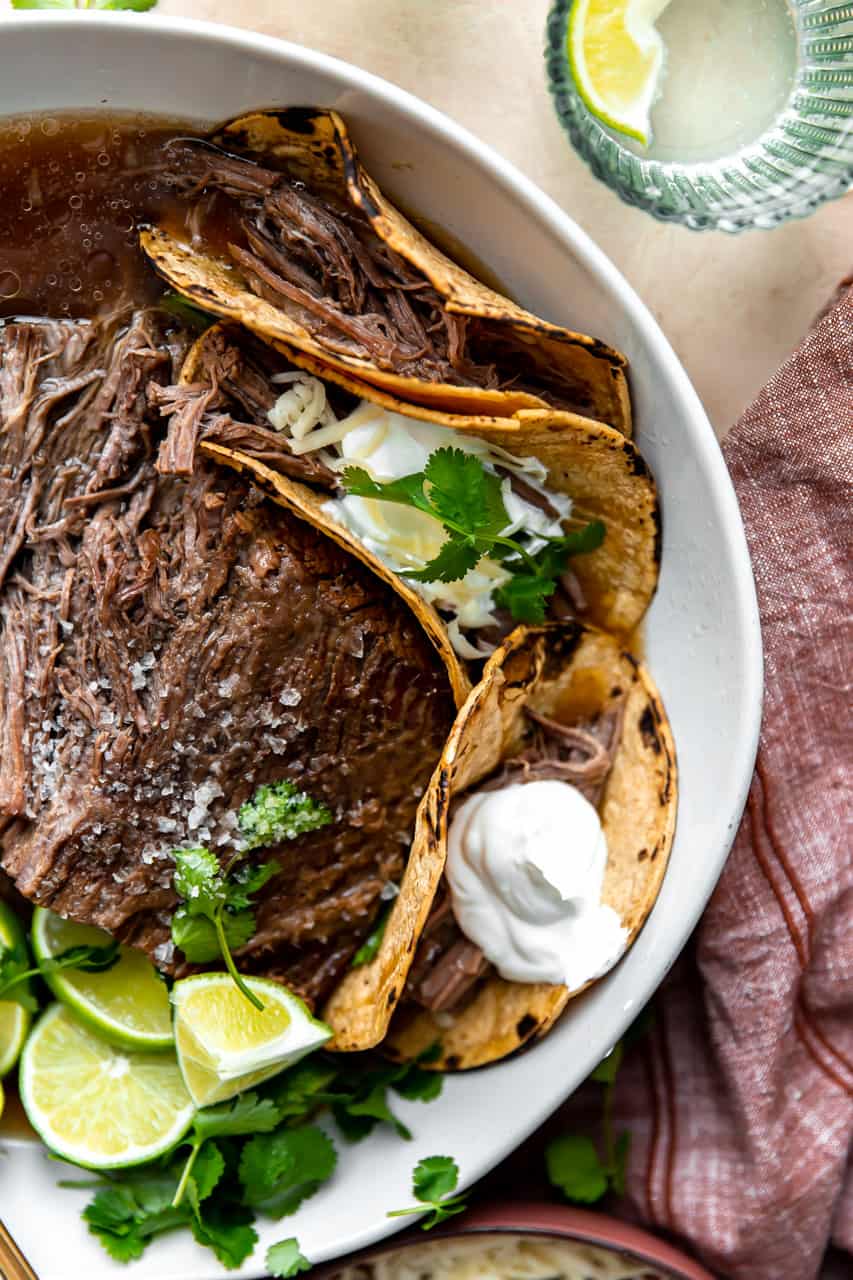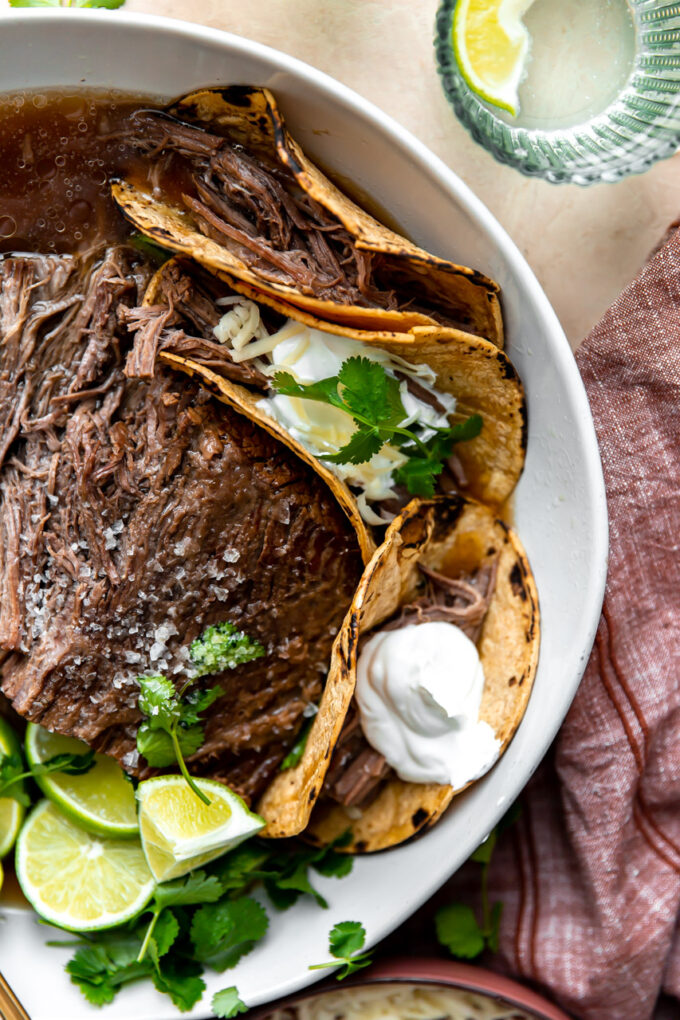 More Slow Cooker Recipes: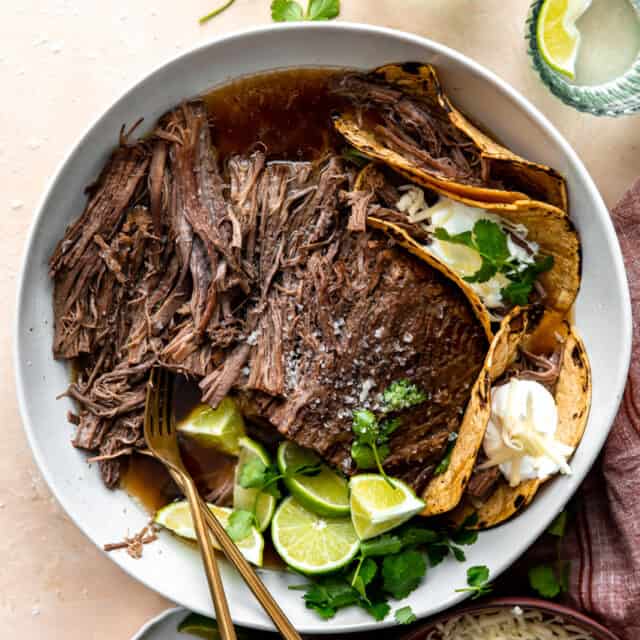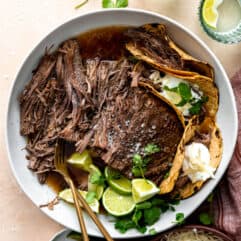 Brisket Tacos
Brisket Tacos. This easy, beef slow cooker recipe has been simmered with chiles, and spices making it so easy to shred. Perfect for making tacos, nachos, burritos, salads, or anything you want!
Ingredients
3 lbs beef brisket
3½ cups beef broth, low sodium
1 yellow onion , quartered
1 poblano chile , de-seeded and chopped
5 cloves garlic, minced
½ tsp salt
1 teaspoon cumin
1 tsp dried oregano
2 stems cilantro leaves
2 bay leaves
Instructions
Prepare Beef: Place beef brisket in crockpot with the fat side up.

Add Ingredients: Add in the chopped onion, chile, minced garlic, salt, cumin, oregano, cilantro leaves, and bay leaves. Pour in the beef broth.

Slow Cook: Cook on LOW for 8-10 hours until meat is fully cooked and easily shredded. Remove the brisket from the slow cooker and place on a tray or large plate. Shred the meat using a fork and knife, or two forks.

Save Juices: Pour the juices that the brisket was cooking in from the slow cooker into a strainer to strain out all the onions and leaves from the juice. (SAVE the juices)Skim the top of the juices to remove excess grease and then spoon a small amount, just a couple of tablespoons onto the meat.

Serve: Serve the meat inside of burritos, tacos, or enchiladas. Or enjoy low carb with some grilled vegetables.
Notes
Reserve Juices: Keep some of the juice if you will be saving some brisket to reheat later. Store in a sealed jar in the refrigerator. Storage: store leftover meat in a sealed container in the refrigerator for 3-4 days.  Freezing: wrap the meat with plastic wrap or foil, then place in a plastic freezer bag or freezer safe container. Refrigerate until chilled then place in the freezer. Freeze for 2-4 months. To thaw remove meat to the refrigerator and let thaw overnight.  Reheating Instructions: Prior to re-heating pour another couple of tablespoons of juice over the meat. This will keep it moist and prevent drying out during re-heating. To reheat place meat and juices in a baking dish, cover with foil and bake at 375℉ for 15 minutes or until meat is heated through. 
Nutrition
Calories: 378kcal, Carbohydrates: 4g, Protein: 49g, Fat: 17g, Saturated Fat: 6g, Cholesterol: 141mg, Sodium: 896mg, Potassium: 903mg, Fiber: 1g, Sugar: 1g, Vitamin A: 103IU, Vitamin C: 18mg, Calcium: 34mg, Iron: 5mg
Recipe first published February 3, 2016. Updated on February 26, 2021 with new images and information.
Photography done by KJandCompany.co
House of Yumm is a participant in the Amazon Services LLC Associates Program, an affiliate advertising program designed to provide a means for us to earn fees by linking to Amazon.com and affiliated sites.