Easy Slow Cooker Mexican Brisket recipe, simmered with chiles, and spices making it so easy to shred.  Perfect for making tacos, nachos, burritos, salads, or anything you want!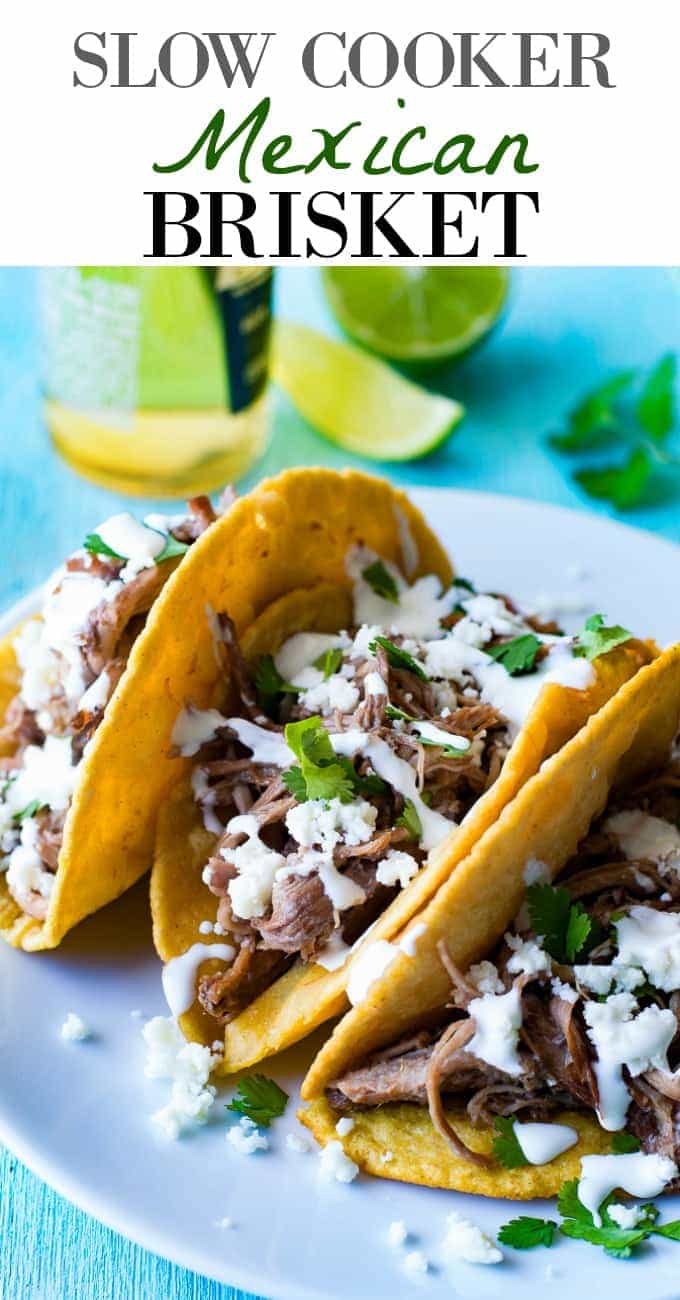 Brisket tacos.  I believe these are true Tex Mex.  The heart and soul of Texas.  And the feature of brisket tacos.  The slow cooked mexican brisket of course.  I'm not talking BBQ brisket.  Not the smokey delicacy from the BBQ joints that requires no sauce and is the stuff I dream about at night.  No.  I'm talking tender, juicy brisket that has been cooked in spices and chiles and is perfect for tacos.  Burritos.  Nachos.  Salads.  Tostadas.  Whatever you want really.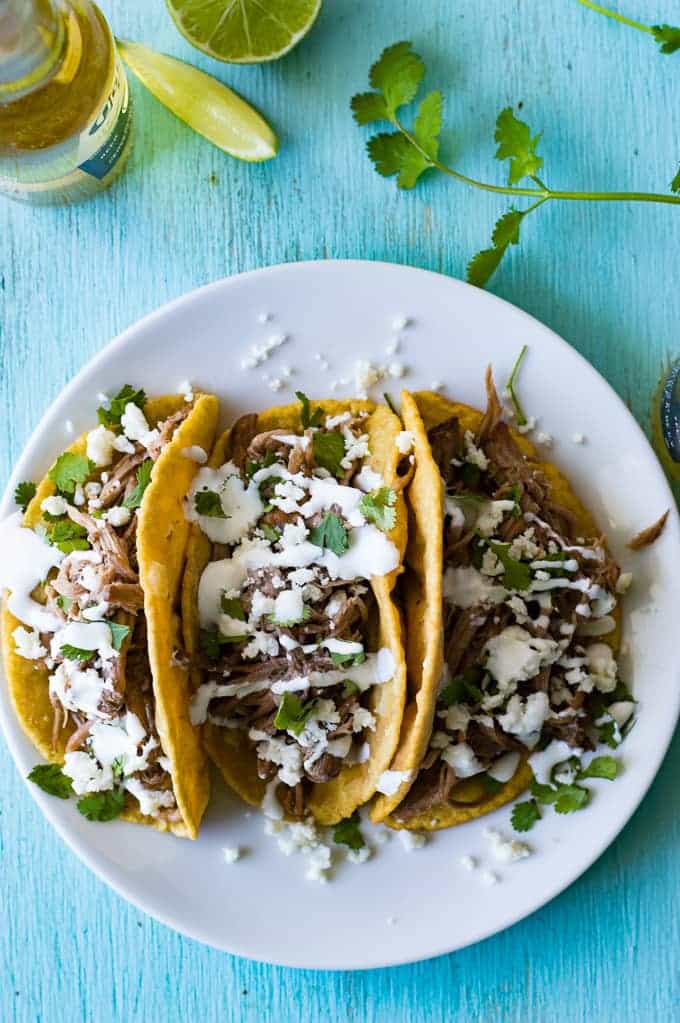 I'm a true fan of cooking meat in the slow cooker.  The hubs handles the grill, but basically, if I'm going to cook meat, it goes in the slow cooker.  Just like my carnitas and sweet barbacoa.  It's so easy, uncomplicated.  The meat comes out super tender to the point of falling apart.  And you can really impart whatever flavorings you want by what you toss in there with the meat.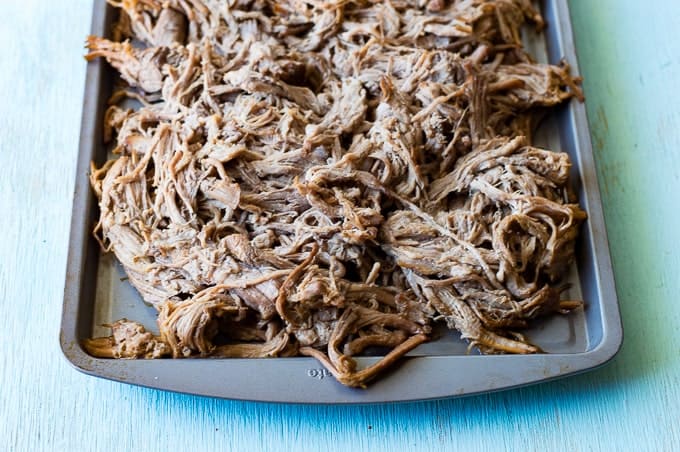 Just look at that beautiful brisket ready to be made into whatever meal your little heart can imagine up.  I love the tacos.  So simple.  I loaded mine with a little queso fresco, some crema, and fresh cilantro leaves.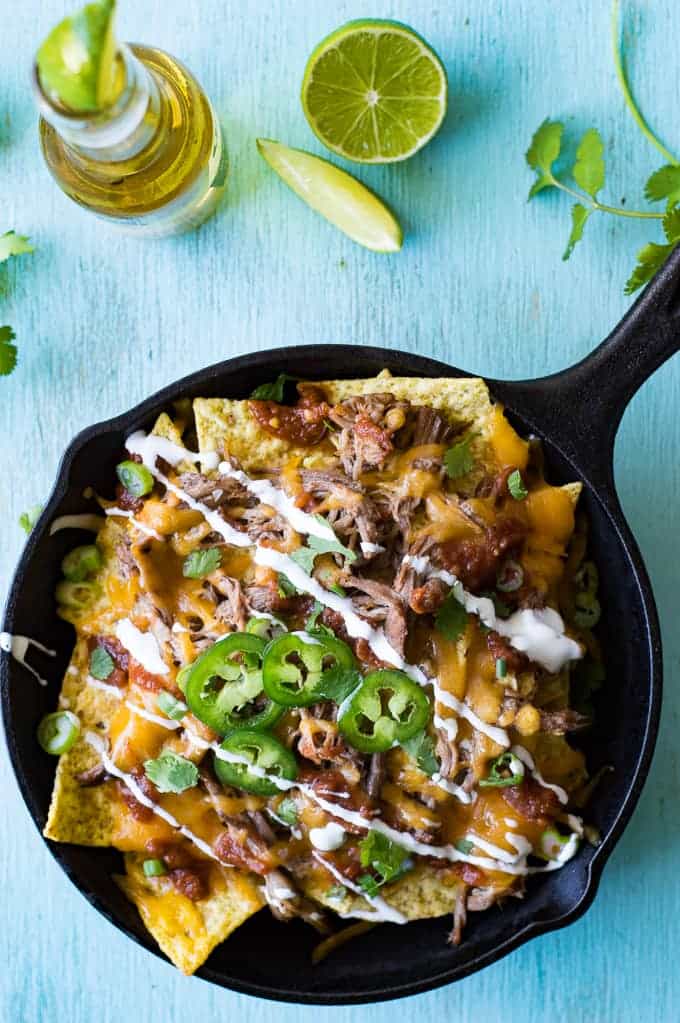 Although tacos are my favorite.  I'm not opposed to the nachos.  For this masterpiece just load up some chips with the brisket, and cheese.  Toss in the oven under the broiler for a minute or two to melt the cheese and load up with all the usual toppings.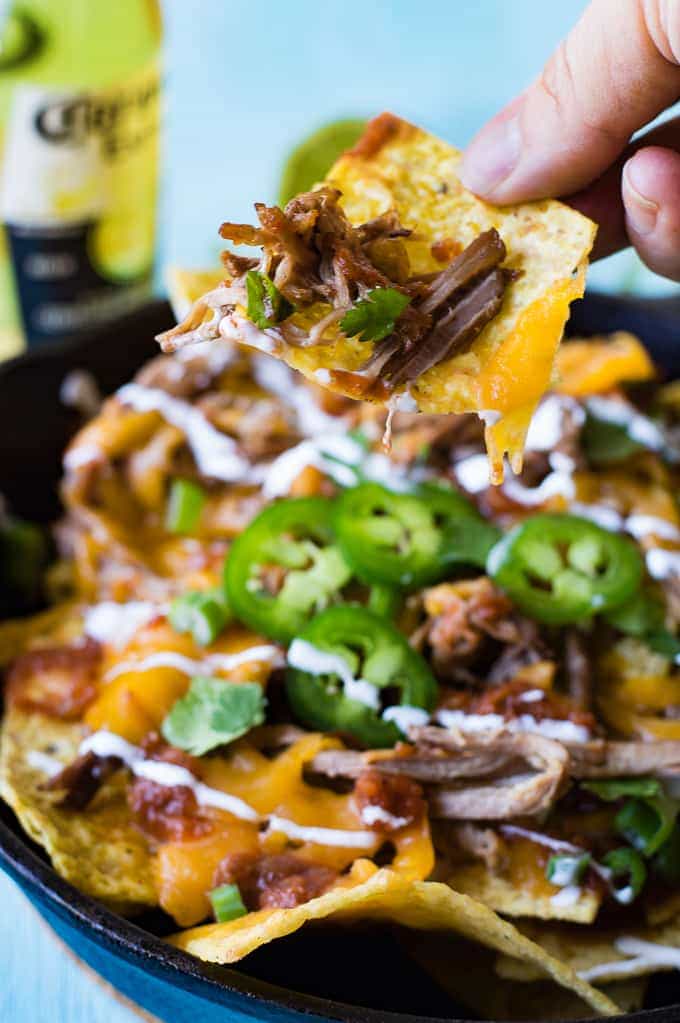 Tips for Slow Cooker Mexican Brisket
When buying the brisket you want to look for Beef Brisket, I used boneless.  Also look for good marbling.  Which is just that you can see the thin lines of fat (white) laced through the brisket.  This will make sure your meat is nice and tender and shreds perfectly!
Place the brisket into the slow cooker fat side up.  This helps to keep the moisture in the meat.
I used a fresh poblano pepper, which is a fairly mild pepper.  If you want more heat you could use a different type of pepper.  Anaheim, jalapeño, or serrano peppers would all increase the heat by different amounts.
Keep the juice you cook the meat in!!  Strain it and skim the grease off.  Hang onto it!  Spoon some on the meat after you shred it, this will keep it moist.  Keep the juice in the fridge and if you have leftover brisket just spoon a little of the juice over it before you re-heat to help keep the meat moist.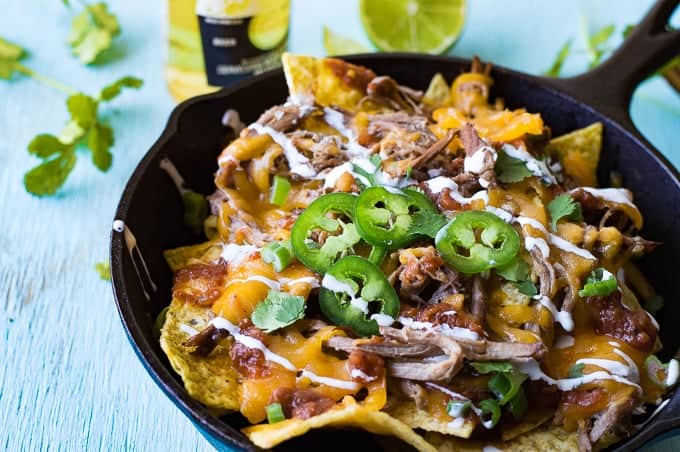 I hope you enjoy the recipe!  You can follow along with me and never miss a recipe by signing up for my newsletter.  Follow me on Instagram and tag #houseofyumm so I can see all the recipes you make.  Plus follow me on snapchat! @houseofyumm ?
Print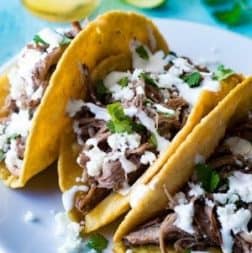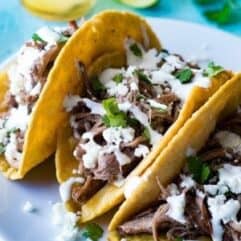 Slow Cooker Mexican Brisket
---
Author:
Prep Time: 10 minutes
Cook Time: 8 hours
Total Time: 8 hours 10 minutes
Yield: 6-8 1x
Description
Easy Slow Cooker Mexican Brisket recipe, simmered with chiles, and spices making it so easy to shred. Perfect for making tacos, nachos, burritos, salads, or anything you want!
---
Scale
Ingredients
3 lbs beef brisket
3 and 1/2 cups beef broth
1 small yellow onion largely chopped
1 poblano chile seeded and chopped
5 cloves of garlic minced
1/2 teaspoon salt
1 teaspoon cumin
1 teaspoon dried oregano
2 stems of cilantro leaves
2 bay leaves
---
Instructions
Place beef brisket in crockpot with the fat side up.
Pour in the beef broth. Add in the chopped onion, chile, minced garlic, salt, cumin, oregano, cilantro leaves, and bay leaves.
Cook on low for 8-10 hours until meat is fully cooked and easily shredded. Remove the brisket from the slow cooker and place on a tray or large plate. Shred the meat using a fork and knife, or two forks.
Pour the juices that the brisket was cooking in from the slow cooker into a strainer to strain out all the onions and leaves from the juice.
Skim the top of the juices to remove excess grease and then spoon a small amount, just a couple of tablespoons onto the meat. Keep some of the juice if you will be saving some brisket to reheat later. Prior to re-heating pour another couple of tablespoons of juice over the meat. This will keep it moist and prevent drying out during re-heating.
Serve and enjoy!
---
House of Yumm is a participant in the Amazon Services LLC Associates Program, an affiliate advertising program designed to provide a means for us to earn fees by linking to Amazon.com and affiliated sites.