Barbacoa. This authentic tasting Texas barbacoa recipe is easy to make at home in the slow cooker. Simple, yet flavorful, this shredded beef recipe is perfect for loading into tacos, burritos, or putting on top of nachos! The perfect addition to all your Tex Mex meals.
Nothing beats a trip to the local taco shop! But this homemade slow cooker barbacoa is just as good! Serve alongside some Esquites for a truly authentic Tex Mex meal.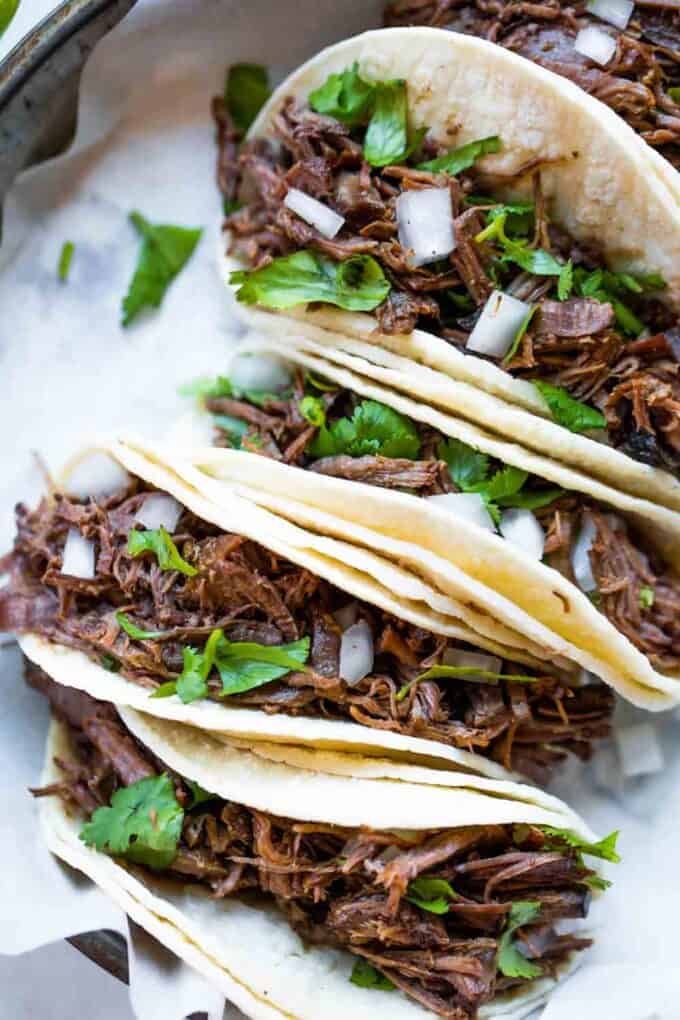 Warning
I'm going to start this recipe by advising you this is not the Barbacoa you will find at Chipotle. This is the barbacoa that you will find at the corner taco shop in Texas that serves up street tacos day in and day out.
What is barbacoa?
Barbacoa refers to the method of cooking meat, or the place where the meat was cooked. Originating in the Caribbean, the method of cooking made it's way to Mexico. Using lamb, goat, or beef, they would slow cook the meat in a fire pit, sometimes underground. Of course this came into Texas by way of Mexico. The word eventually evolved into barbecue. But Barbacoa is now used to refer to a seasoned beef, that has been slow cooked.
Most Tex Mex places offer a barbacoa and pile it high inside street tacos, on salads, in burritos. You name it. Although, to be honest, Barbacoa tacos are one of my favorites and typically on my order wherever I can get them! To keep it classic top the Barbacoa street tacos with some diced onion and cilantro.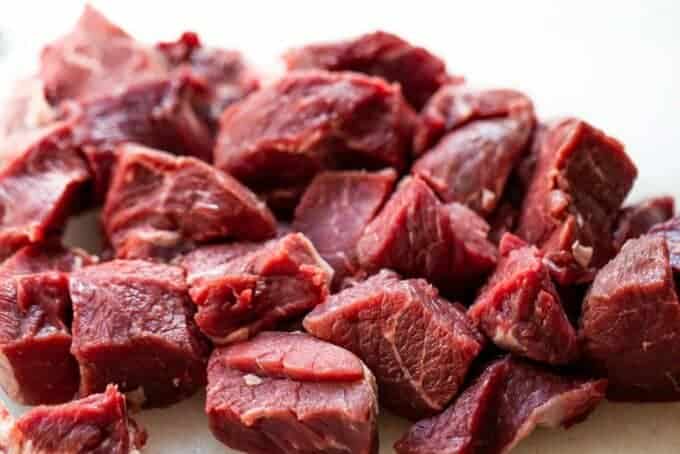 What meat do you use to make Barbacoa?
Beef Cheeks:
Traditionally in Mexico they would use a cut of Beef head meat, like Beef Cheek. When cooked long and slow it becomes extra tender. You may be able to find beef cheeks in your market. I have been able to find Rumba Meats in our local markets, if you're interested their website has a product locator on it and they do sell on Amazon. Here's a link to their site: https://rumbameats.com. Not sponsored, but I know it can be challenging to find certain cuts of meat.
Chuck Roast:
IF you aren't wanting to use Beef Cheeks, you can use a Chuck Roast instead. The images in this post are from a chuck roast. Chuck roast is readily available at the markets and still cooks up tender when cooked low and slow. Not AS tender as the beef cheeks but my personal preference is to use Chuck Roast. My husband prefers the beef cheeks.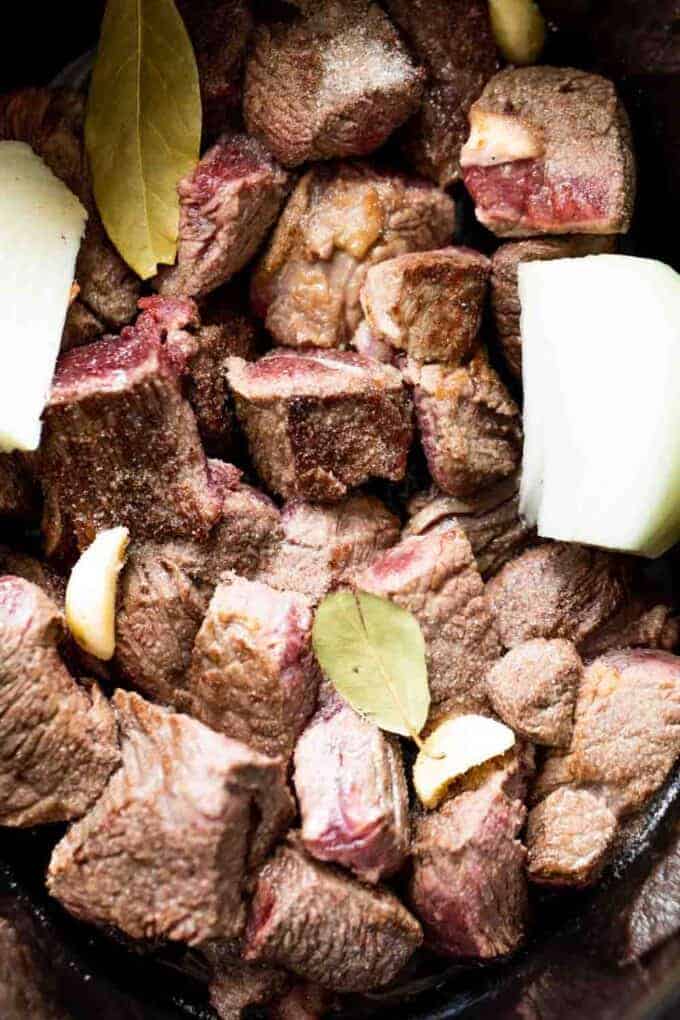 How to cook Barbacoa:
Slow Cooker:
Chop the roast into 1-2 inch chunks. Sear in a hot skillet with a small amount of oil. This helps create some crispy bits of meat and gives great flavoring!
Place the meat into the bottom of the slow cooker.
Sprinkle with salt. General rule of thumb is 1 teaspoon per pound of meat. We find that a slight bit salty, so I cut it down to 3/4 of a teaspoon per pound. You can add more if needed at the end when you shred the meat.
Add in the quartered onion and smashed garlic cloves. Top with 2 bay leaves.
Let cook on LOW for 6-7 hours. Shred the meat, removing bay leaves, and onion if you want, and return to the slow cooker to stir into the juices.
Let cook on LOW for another 20 minutes. Then serve warm.
I do NOT recommend cooking this recipe on HIGH heat, the meat needs to cook at the LOW setting.
Oven Roasting:
Cut and sear the beef.
Place the beef on a large piece of heavy duty aluminum foil. Sprinkle with salt and pepper. Top with quartered onion and garlic cloves.

Fold the foil to cover the beef.

Place in a large casserole dish.

Bake in the oven at 325 until the meat reaches at least 200 degrees and easily shreds with a fork (approximately 3-4 hours)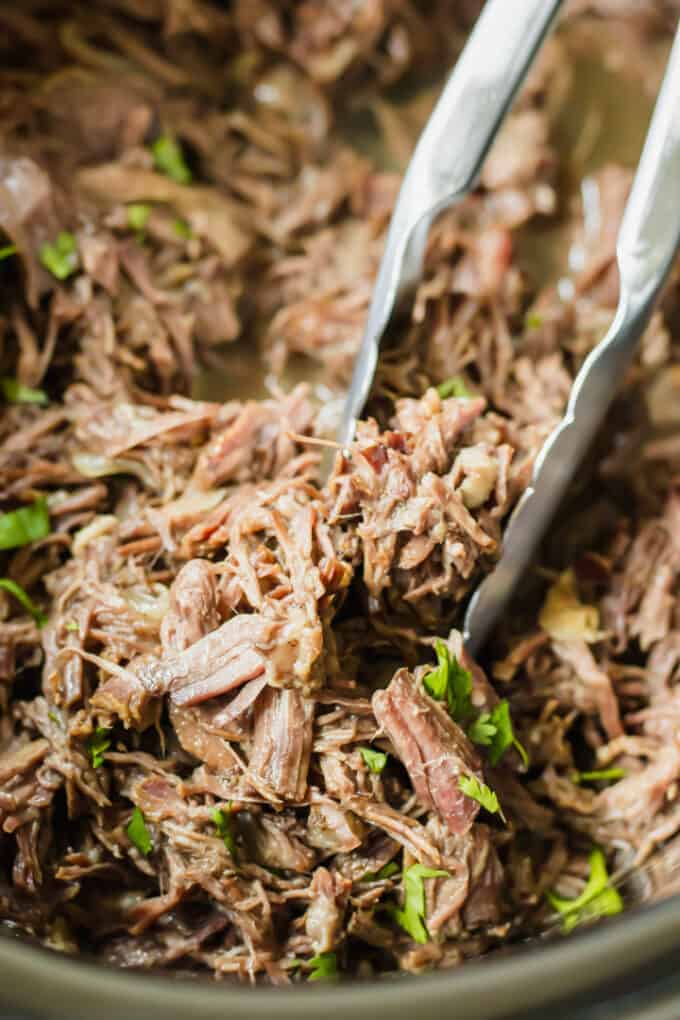 How to Serve Barbacoa:
Tacos
Burritos
Burrito Bowls
Tostadas
Nachos
Other Recipes you may enjoy:
Barbacoa (True Texas Style)
Authentic tasting barbacoa! This easy to make at home slow cooker barbacoa, is simply seasoned and perfect for loading into tacos!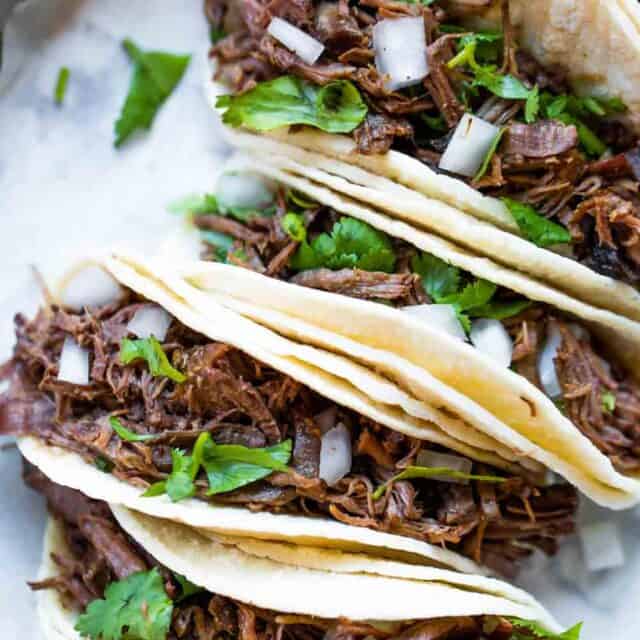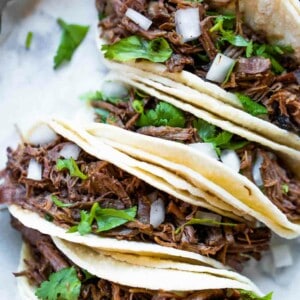 Ingredients
Instructions
Chop the beef into 1-2 inch chunks. Heat oil in a skillet over medium heat. Working in batches, sear the meat briefly on all sides. Careful not to crowd the pan. Continue until all meat is seared.

Place the beef into the bottom of the slow cooker. Sprinkle with salt.

Add in the quartered onion and smashed garlic cloves. Add in the bay leaves.

Cook on LOW for 6-8 hours until the meat easily shreds. Remove the bay leaves and large pieces of onion.

Shred the meat. Return the meat to the slow cooker, stir into the juices. Let cook for another 20-30 minutes on LOW.

Serve warm on corn tortillas to make street tacos.
Notes
1. Beef Cheeks: this cut is a lot fattier, I would recommend purchasing double the amount of meat you need since half of it will render out as fat during cooking. 2. Salt: use 3/4 teaspoon of salt per pound of beef. 3. Storage: refrigerate in a covered container for up to 5 days. Freezer for up to 3 months.
Nutrition
Serving:
1
|
Calories:
221
kcal
|
Protein:
23
g
|
Fat:
14
g
|
Cholesterol:
65
mg
|
Sodium:
280
mg
Nutrition information is automatically calculated, so should only be used as an approximation.
Like this? Leave a comment below!
Recipe was first published September 11, 2019. Updated February 28, 2020 with a step by step video. Recipe remains unchanged.