Wondering what the difference is between pico de Gallo vs salsa? Learn the differences between these two popular Mexican condiments. Come discover their definitions, key characteristics, textures, heat levels, flavors, and nutritional values so you can enhance your Mexican dishes.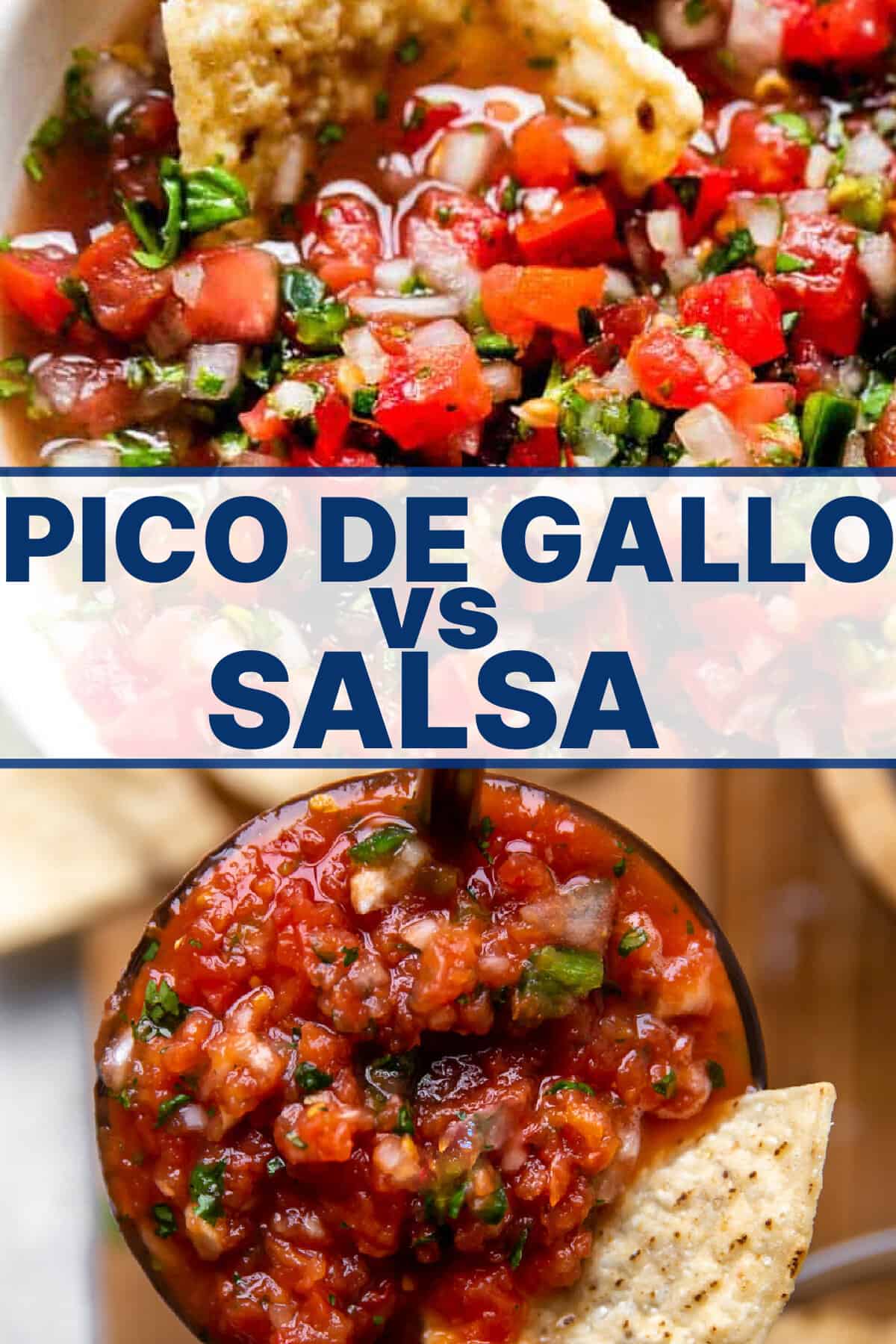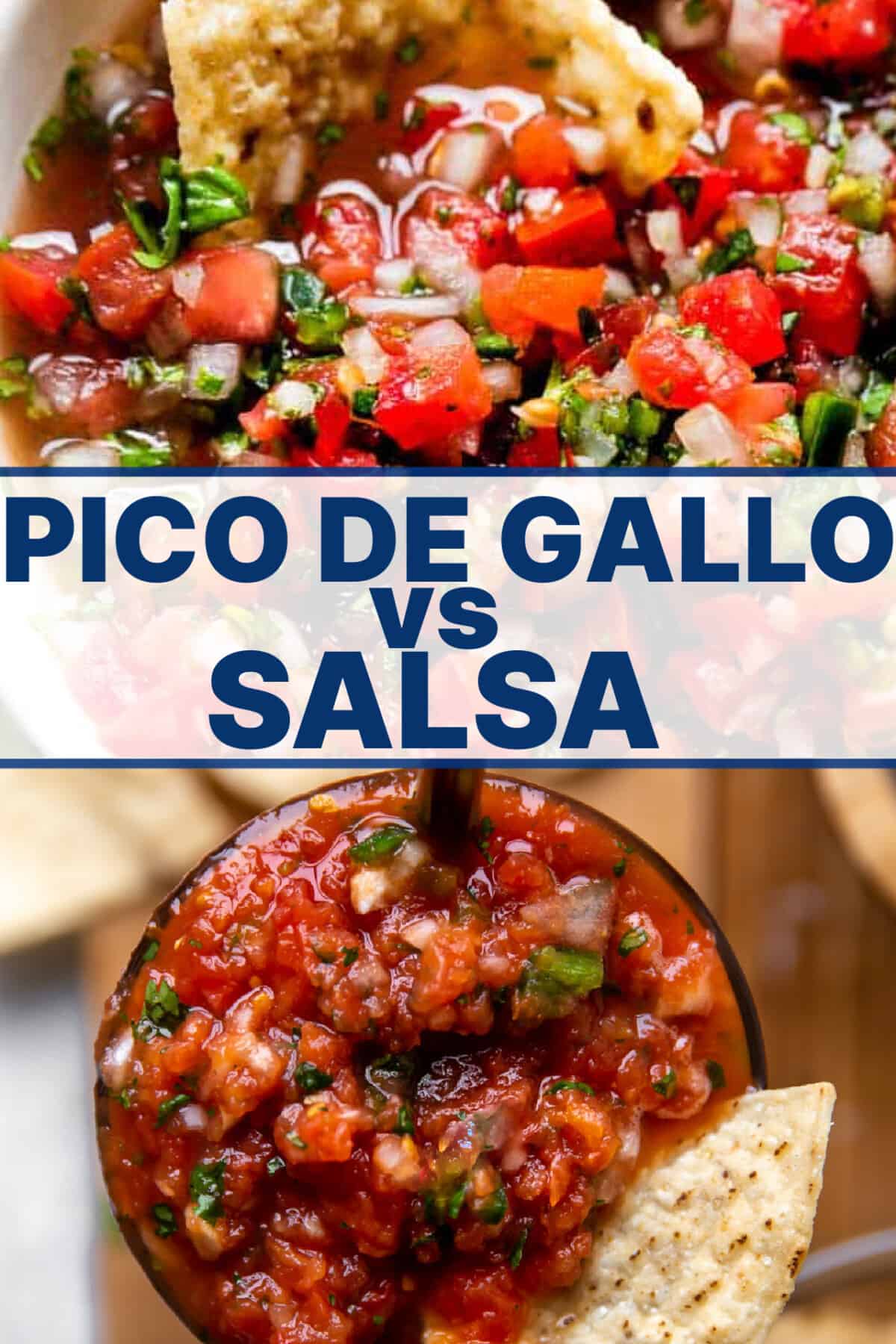 What is Pico de Gallo?
Pico de gallo, also known as "salsa fresca", is a simple mixture of chopped fresh ingredients, typically tomatoes, onions, jalapeños, cilantro, and freshly squeezed lime juice.
The name "pico de gallo" literally means "rooster's beak" in Spanish, which some sources claim is a reference to the small size of the chopped ingredients resembling birdseed.
The key characteristic of pico de gallo is its chunky texture. The ingredients are typically chopped into small, uniform pieces and mixed together. Salsa frescas are not blended or pureed like a traditional salsa. This gives the mixture a fresh, crisp texture that is perfect for topping grilled meats, fish, or vegetables.
Pico de gallo is often served as a side dish or topping for tacos, burritos, or other Mexican dishes, but it can also be used as a dip with tortilla chips.
What is Salsa?
Salsa is a broad term that includes a wide range of sauces made with tomatoes, chiles, onions, and other ingredients. Salsa can be cooked or raw, smooth or chunky, mild or spicy, and can be used in a variety of ways.
Some common types of salsa include salsa roja (red salsa), salsa verde (green salsa), and salsa negra (black salsa).
One key characteristic of salsa is its versatility. Salsa can be used in a wide variety of dishes, from enchiladas and quesadillas to scrambled eggs. Salsa can be used as a dip, a marinade, a condiment, or a sauce, and its flavor can be adjusted to suit a variety of tastes. Salsa can be made spicier or sweeter with the addition of other ingredients or different chile peppers.
What is the difference between Pico de Gallo and Salsa?
Texture: pico de gallo is a chunky mixture of fresh ingredients, while salsa can be smooth or chunky, depending on how it's prepared. Some salsas are pureed in a blender or food processor to create a smooth, silky texture, while others are left chunky for a more rustic feel.
Heat Level: Pico de gallo is typically made with jalapeño peppers, which have a moderate level of heat. However, the seeds and membranes can be removed to reduce the heat level even further. Salsa, on the other hand, can be made with a variety of peppers, ranging from mild to extremely hot.
Flavor: pico de gallo has a bright, fresh taste that comes from the combination of lime juice, cilantro, and fresh vegetables. Salsa, on the other hand, can have a more complex flavor profile, depending on the ingredients used. Some salsas are sweet and smoky, while others are tangy and spicy.
Nutrition: When it comes to nutrition, both pico de gallo and salsa are relatively low in calories and high in nutrients. Both are made with fresh vegetables and herbs, which provide vitamins, minerals, and antioxidants. However, some salsas may contain added sugar or salt, which can increase their calorie and sodium content.
FAQs
Can I substitute salsa for pico de gallo?
These two ingredients can sometimes be used as a substitute for each other. Especially if being used as a topping. In some instances pico would be a poor substitute for salsa if being used as a marinade or sauce since there is little to no liquid in the pico de gallo.
Is salsa just blended pico?
Salsa and pico can use the same ingredients. Typically salsa will contain cooked ingredients being blended, not always though.
Fresh Salsa Recipes
Blended Salsa Recipes
Pico de Gallo
This refreshing Pico de Gallo recipe features fresh tomatoes, onions, jalapeños, cilantro, and lime juice for a bright and flavorful condiment that's perfect for tacos, burritos, or as a dip with tortilla chips.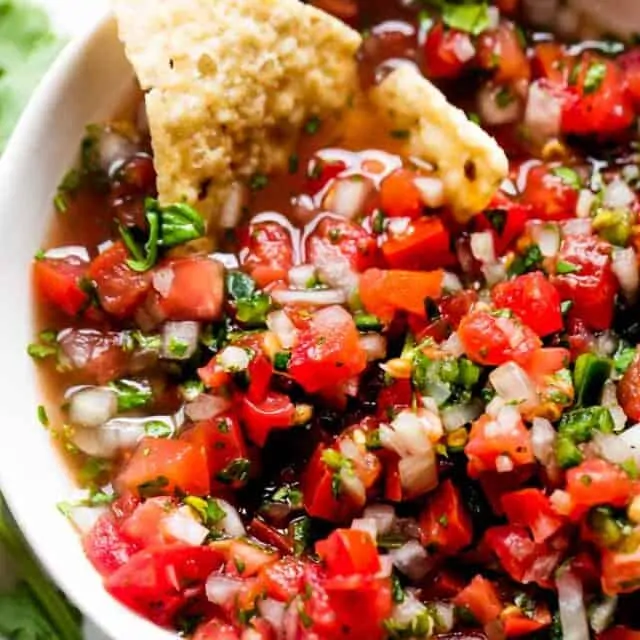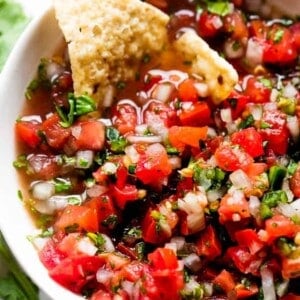 Ingredients
Instructions
Finely dice the tomato, onion, jalapeno and cilantro.

Add the diced ingredients to a medium size bowl.

Squeeze the lime juice over the ingredients. Sprinkle with salt and pepper. Taste and add more lime/salt/pepper to taste.

Cover and let this sit in the fridge for at least 30 minutes to chill and let the flavors meld together. This also lets the juices release from the tomato and softens the jalapeno and onion.
Notes
Storage: refrigerate in a sealed container for up to 5 days.
Nutrition
Calories:
18
kcal
|
Carbohydrates:
4
g
|
Protein:
1
g
|
Fat:
0.1
g
|
Saturated Fat:
0.02
g
|
Polyunsaturated Fat:
0.05
g
|
Monounsaturated Fat:
0.02
g
|
Sodium:
52
mg
|
Potassium:
140
mg
|
Fiber:
1
g
|
Sugar:
2
g
|
Vitamin A:
420
IU
|
Vitamin C:
13
mg
|
Calcium:
13
mg
|
Iron:
0.2
mg
Nutrition information is automatically calculated, so should only be used as an approximation.
Like this? Leave a comment below!